This post may contain affiliate links.
Please read my disclosure policy.
Puff Pastry Desserts are flaky, delicious and so versatile. It's easy to get started on making your own French desserts with store-bought puff pastry.
We've rounded up 21 Best Puff Pastry Desserts that you can easily make at home. You can use add fruits, cream cheese, jam, or Nutella, there are endless delicious options.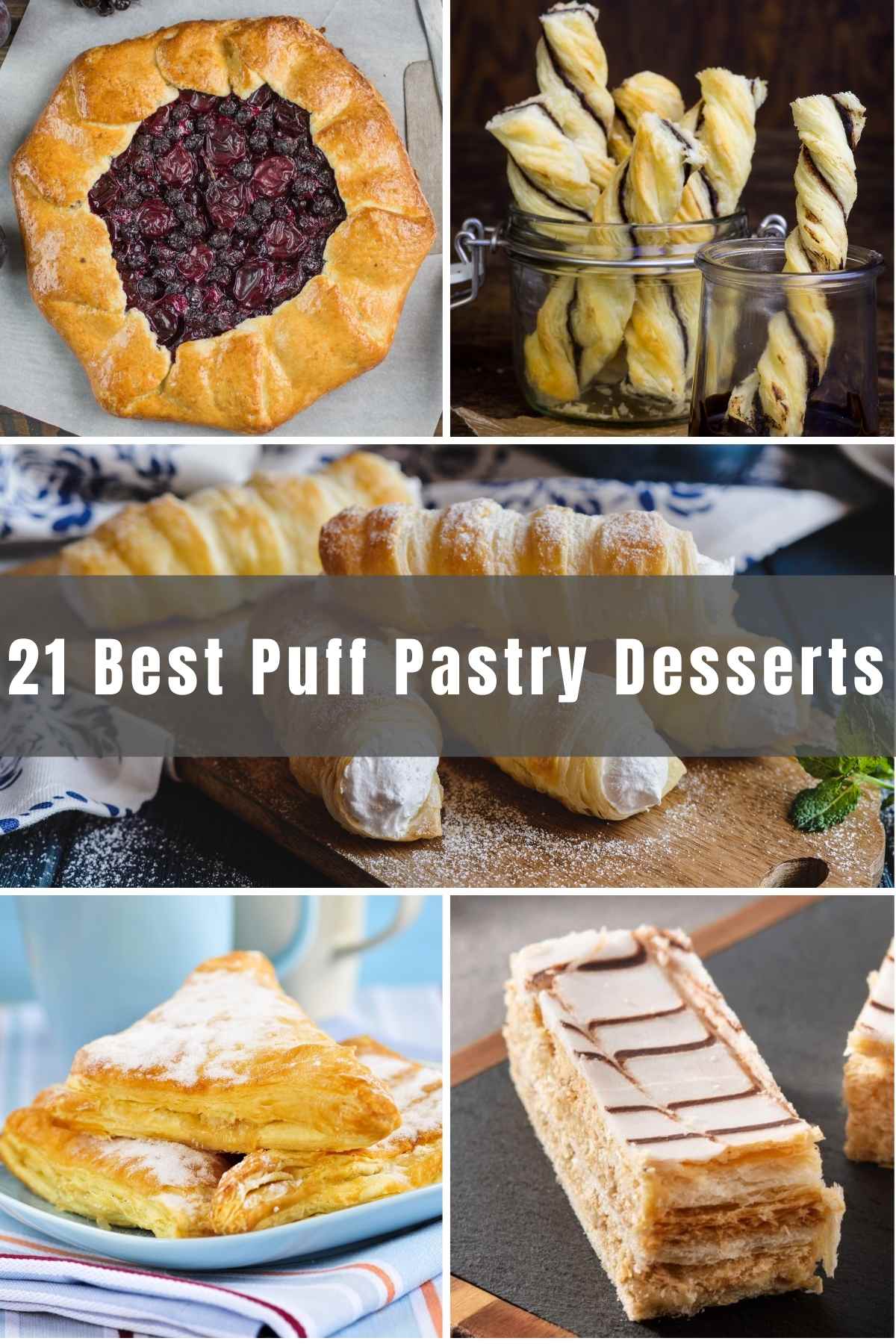 If you're adventurous and want to make the dough from scratch, you'd need to learn the technique of the pros by layering butter and dough and folding repeatedly for that flaky and buttery result.
Let's get started!
How Long Does Puff Pastry Last in the Fridge?
If unbaked, puff pastry dough can be wrapped tightly in plastic wrap and stored in the refrigerator for 2 or 3 days.
Frozen puff pastry lasts for up to 1 month in the freezer. Baked and filled pastries are best on the day they are made and don't refrigerate well. Baked and unfilled pastry can be frozen for up to 6 weeks in airtight containers. When pressed for time, thaw and enjoy with your favorite fillings.
Tips for Baking with Frozen Puff Pastry
It's best to thaw the frozen puff pastry overnight before baking. Once thawed, unfold the pastry gently, and flour the work surface before rolling out the pastry.
Best Puff Pastry Desserts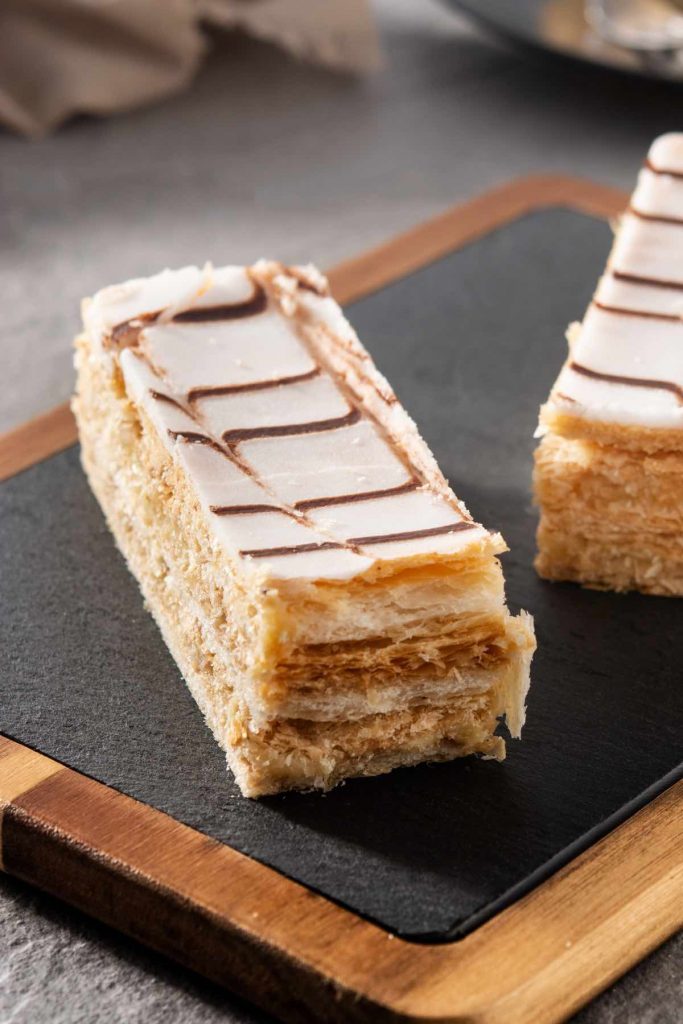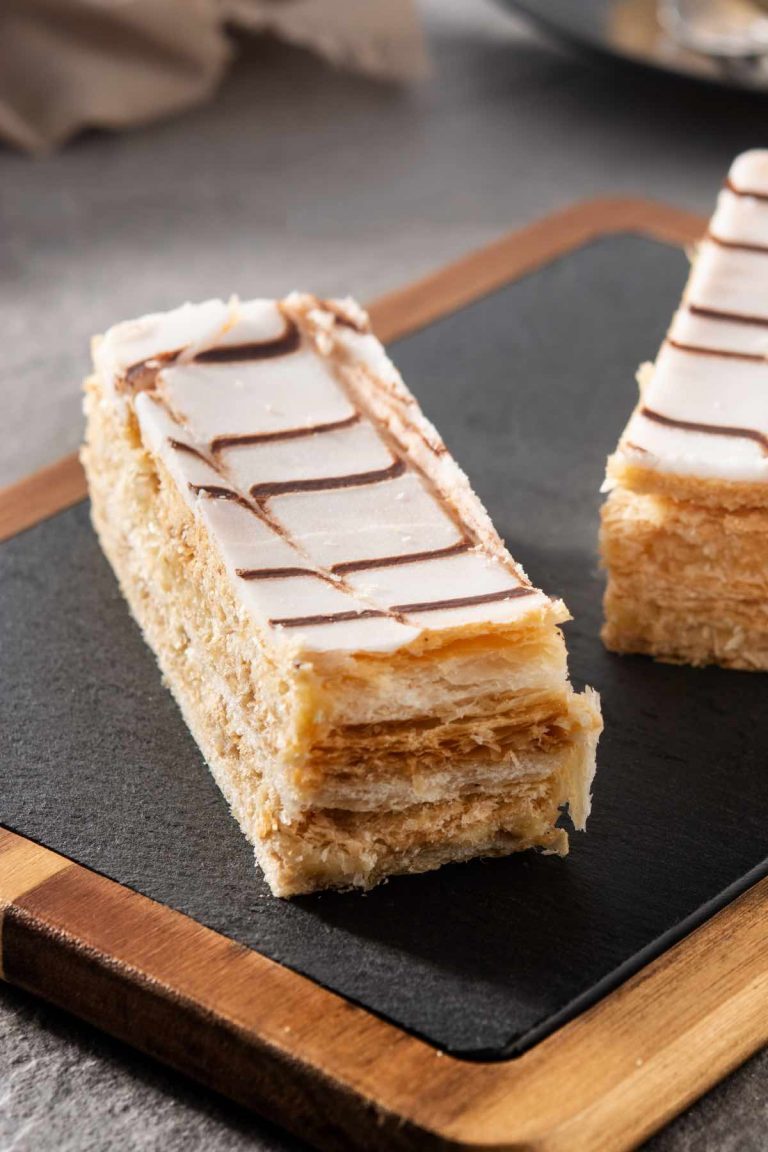 This dessert is layered with pastry dough and cream filling or almond paste then topped with a chocolate or white glaze. It's a must-try and the perfect complement for your tea or coffee. If you're feeling creative, you can shape the glaze into a typical chevron design. This requires 2 hours of chilling time and is so worth the wait.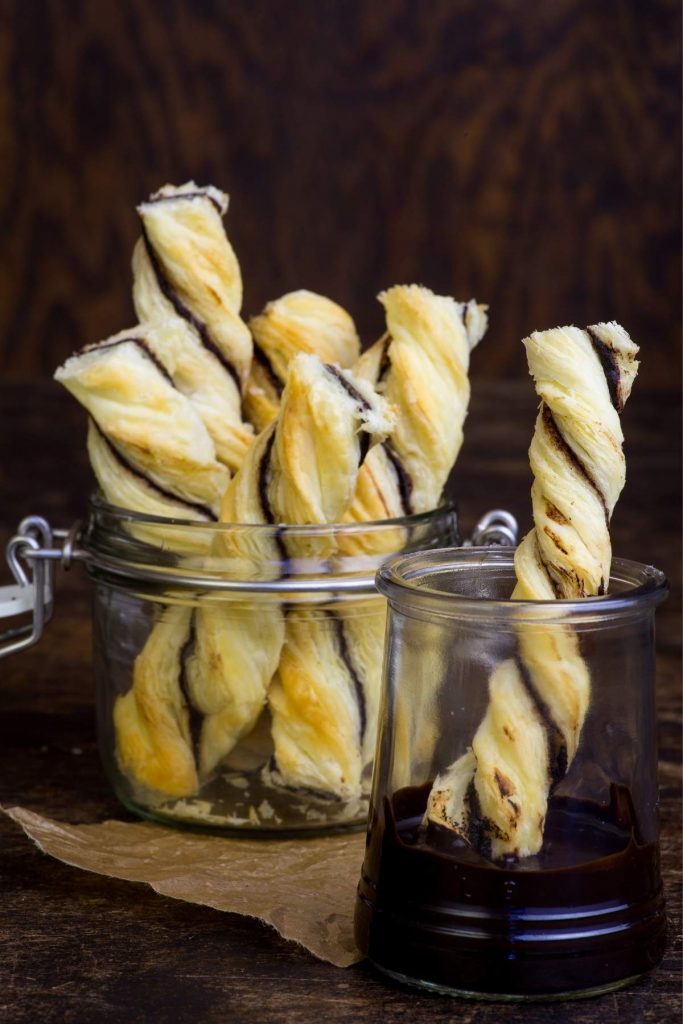 These are also called torsades and are flaky pastries filled with creamy vanilla custard and chocolate chips. For a different taste, try filling with Nutella instead. Enjoy these chocolatey twists any time for breakfast, snack, dessert or mid-afternoon treat.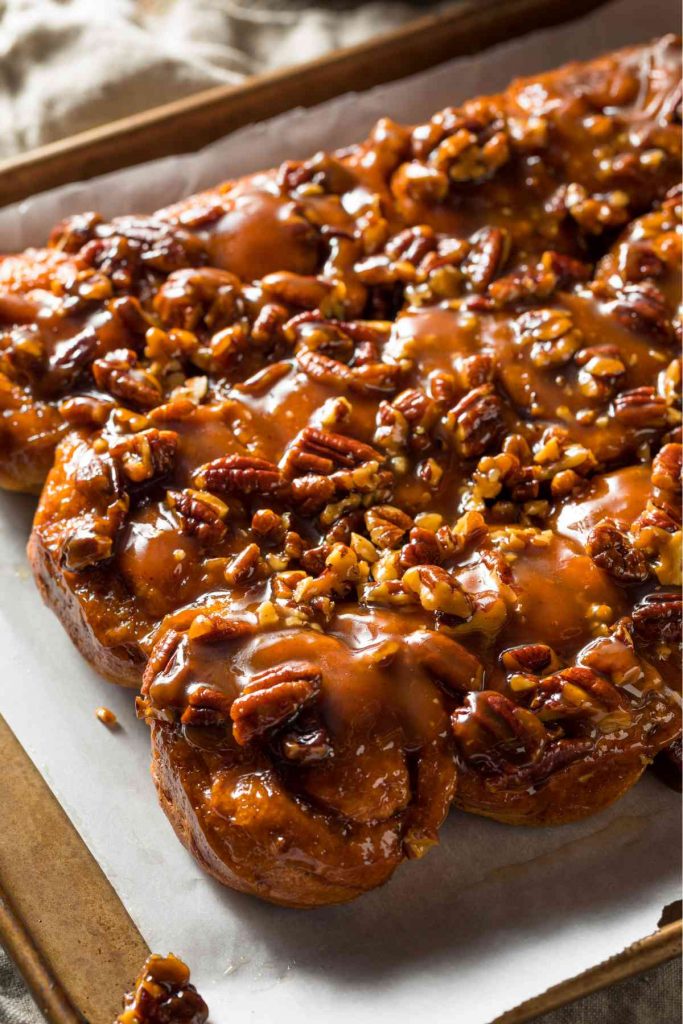 These golden brown sticky buns are always a hit! The addition of walnuts or pecans is really what takes the flavor up a notch. Wait as the lovely scent of cinnamon fills your kitchen as they bake then enjoy them while they're still warm.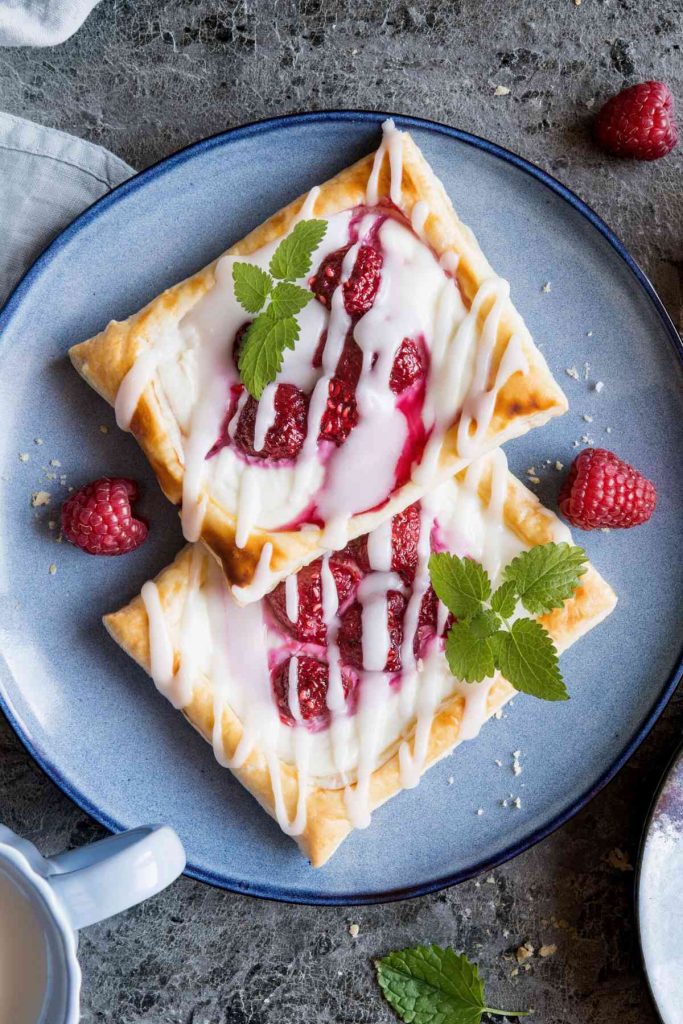 For a cream cheese Danish that's quick, easy, and so much better than the ones you buy at the store then try this recipe. Use your choice of pie filling to make these puff pastry squares, such as blueberry, strawberry and cherry, or go for diced fresh fruit. The combination of fruit and cream cheese is definitely a crowd-pleaser. 
Apple desserts are traditional classics and family favorites. This easy apple pandowdy recipe is made with a yummy baked apple pie filling topped with toasted puff pastry bites then lightly dusted with powdered sugar. The best part is it has all the great flavors of apple pie…without the work required to make a pie!
As if croissants weren't already great on their own, try filling them with chocolate. That's pain au chocolate! With store-bought dough this fluffy puff pastry takes only 15 minutes to make and is perfect for those mornings when you're craving a sweet breakfast or something different.
All you need are four ingredients to make this fast, easy and yummy dessert. Fill your pastry dough with banana cream, seal and dust with powdered sugar after baking. You're sure to enjoy this so much that we bet you won't be able to just eat one.
These homemade strawberries and cream cheese Toaster Strudels are so simple to make and are filled with fresh berries and cream. You can even substitute with the fruit of your choice but strawberries are a favorite when it comes to strudels. The best part is they're ready in under 30 minutes.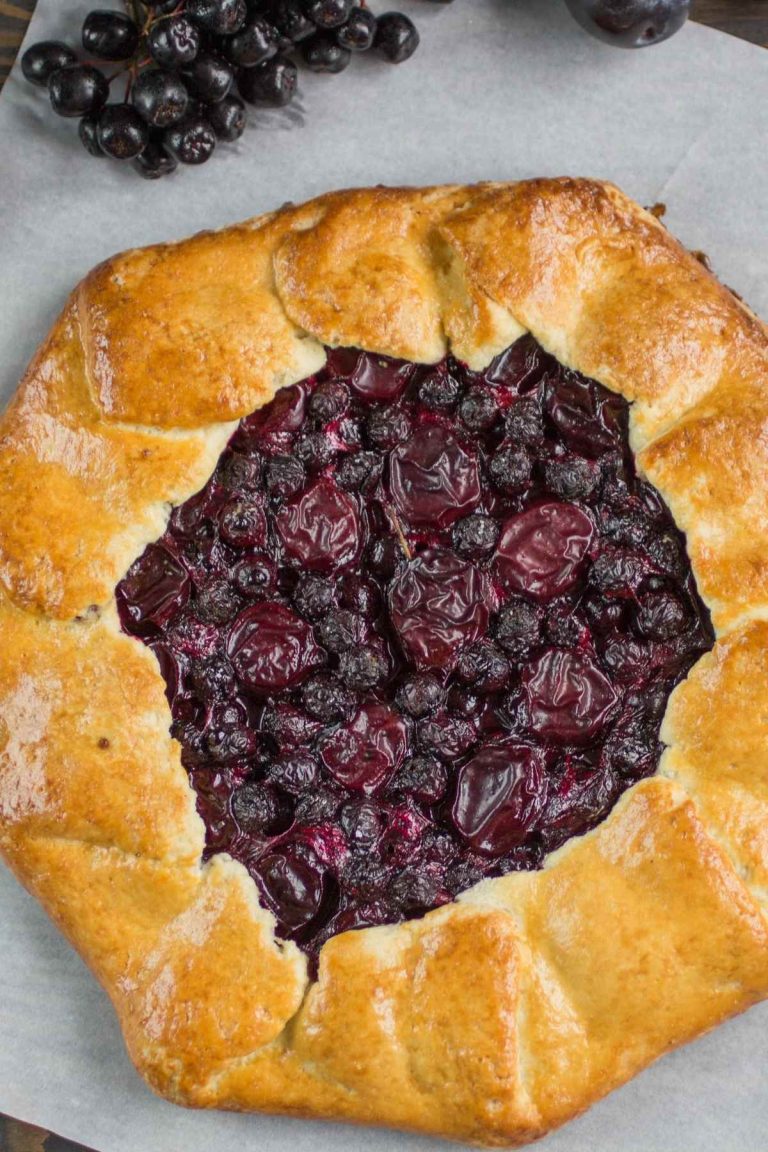 Thyme and plum may sound like an unlikely combination but don't knock it until you try it. This galette is easy, all you have to do is crinkle puff-pastry dough into a skillet, add the fresh fruit and your dessert will be ready in less than an hour.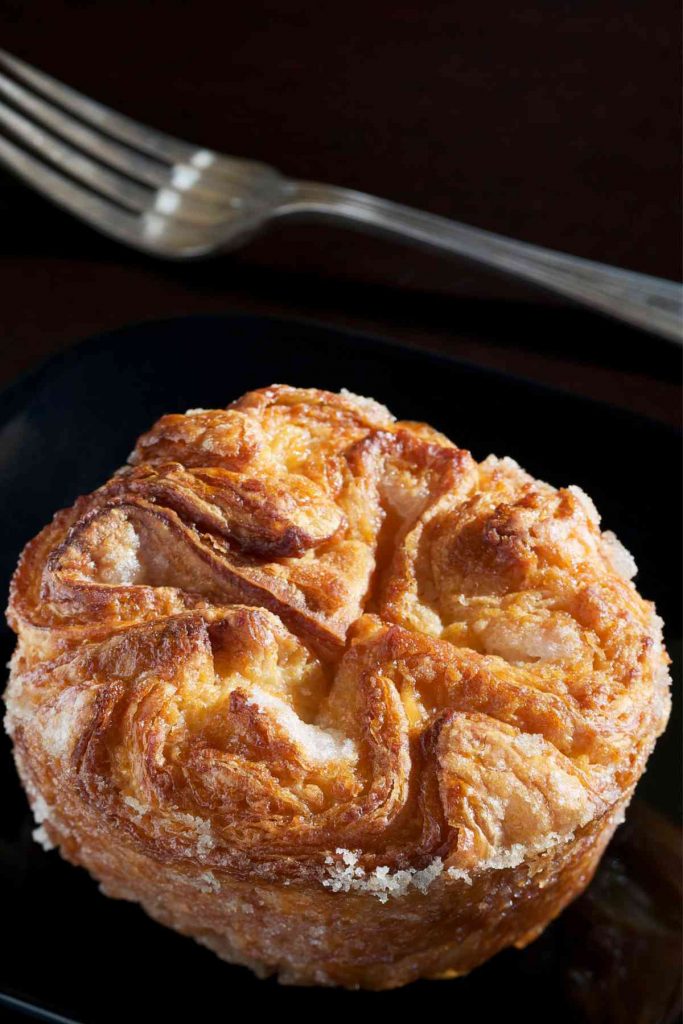 Kouign-Amann are made with sugared, laminated dough which are shaped and baked in muffin tins. Think of them as a delicious cross between a sticky bun and a croissant. They take quite some time when you're making the dough from scratch but it's worth every second.
Have you ever tried a fruit pizza? If not then you're missing out and should make it at least once. Chances are it'll be the first but not last time you do. Use a variety of fruits for a burst of flavor and color. Blackberries, strawberries, blueberries and kiwi are great options.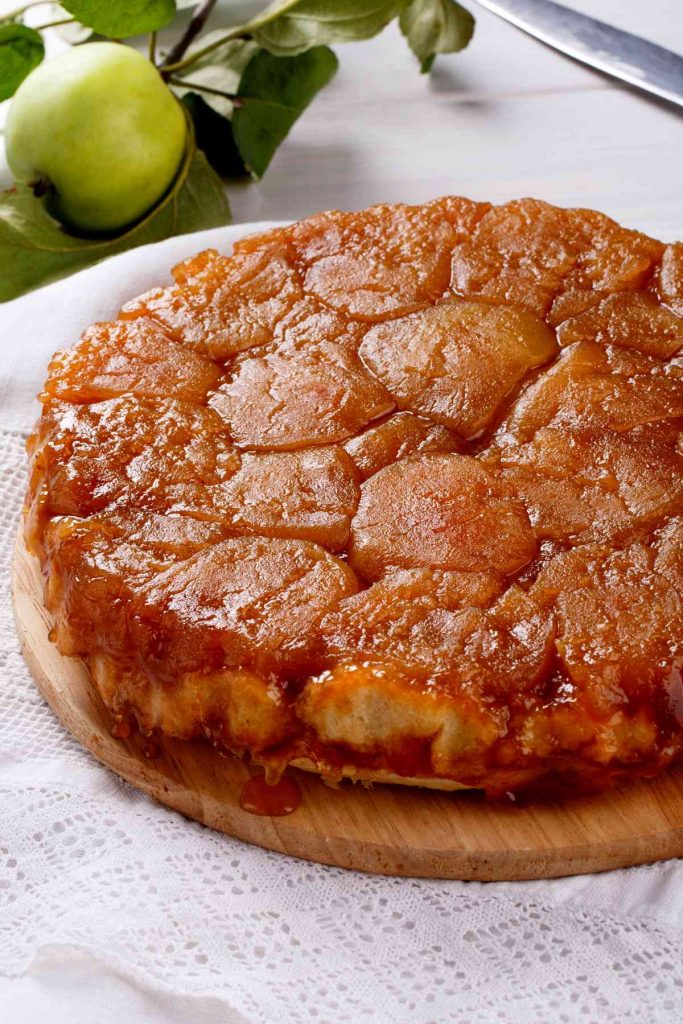 This upside-down tart is one of the less popular desserts but not for lack of flavor. It combines the flaky crust of puff pastry with the decadent taste of caramelized apples. Top with a dollop of whipped cream before eating and enjoy. Leftovers stay well in the fridge although we doubt you'd have much left.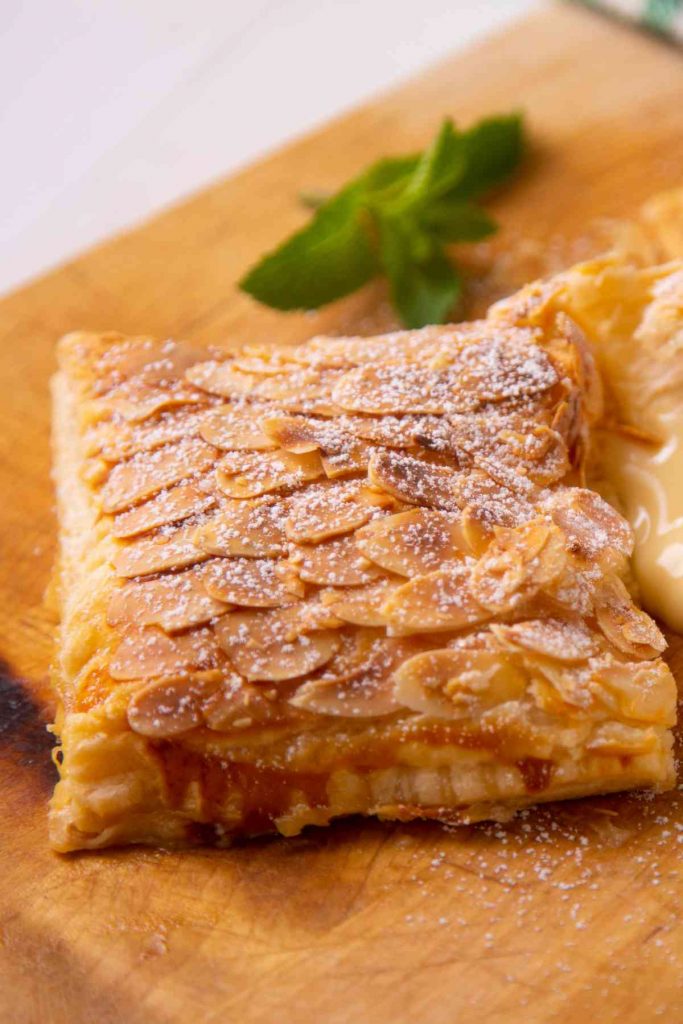 This bite-sized dessert may be small but it's so full of flavor. This quick dessert is a bit of a cheat that's made with puff pastry instead of croissant dough. Once you have the time, make the croissant dough from scratch before filling with the almond paste. Did we mention that they're melt-in-your-mouth good? For almond lovers who can't get enough, top these with slivered almonds before baking.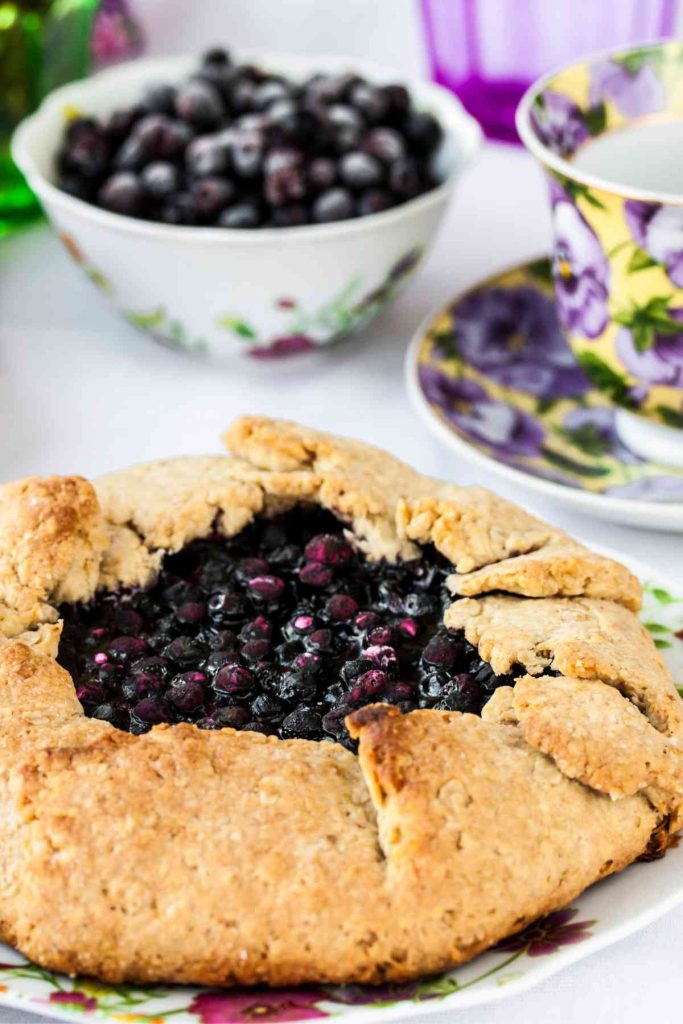 This easy blueberry galette is the prefect summer treat. Use fresh blueberries if you can but frozen blueberries work well too. The sweet fruit along with the flaky and savory pastry crust is a great combination. Add a scoop of ice cream or whipped cream to take your galette to the next level!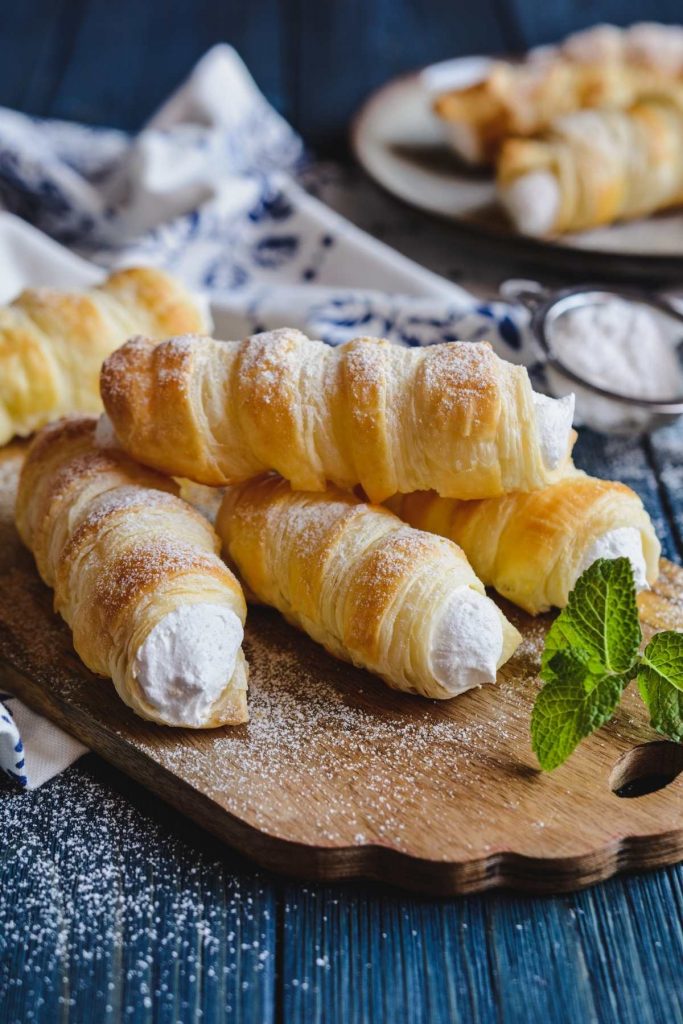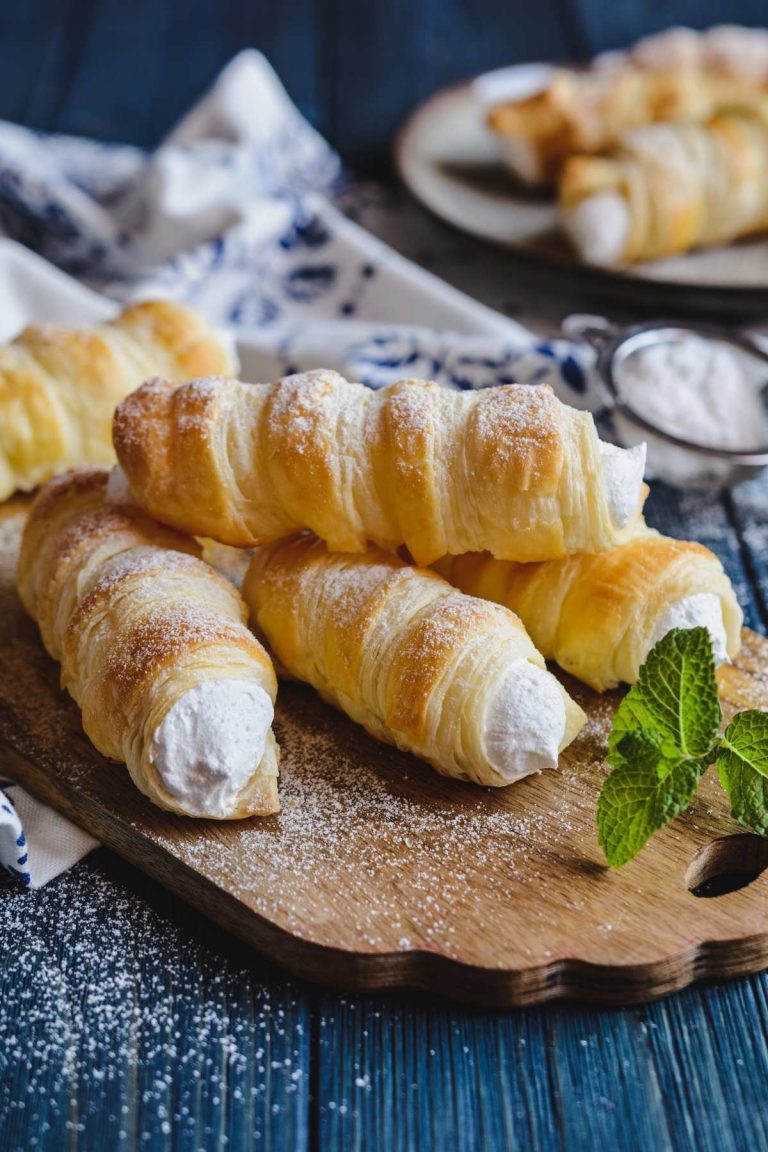 Making these at home seems difficult at first, but with practice and the right technique they can turn out beautifully. These scrumptious cream horns are so much fun to eat. Enjoy them crunchy or soft based on your preference but either way they're delicious. When it comes to these, there's no such thing as too much cream.
Apple turnovers are easy. All you need is puff pastry and a flavorful apple filling. Bake them immediately and enjoy or prepare them in advance and freeze. Once you get the craving for a warm, flaky apple breakfast or dessert, it's easy as taking it out the freezer and baking. How's that for a life hack?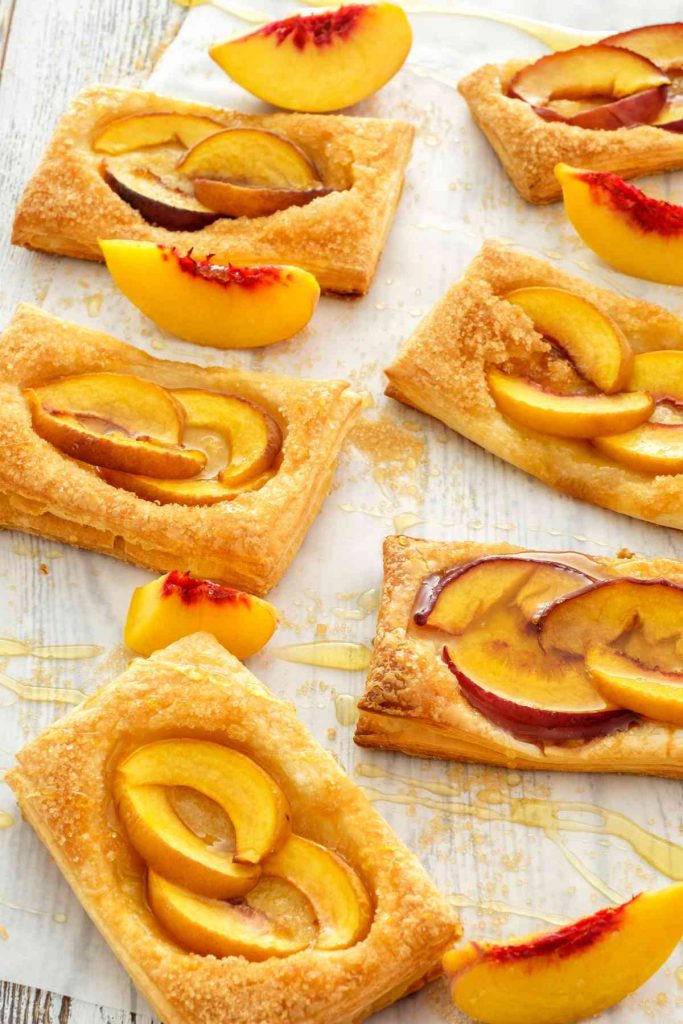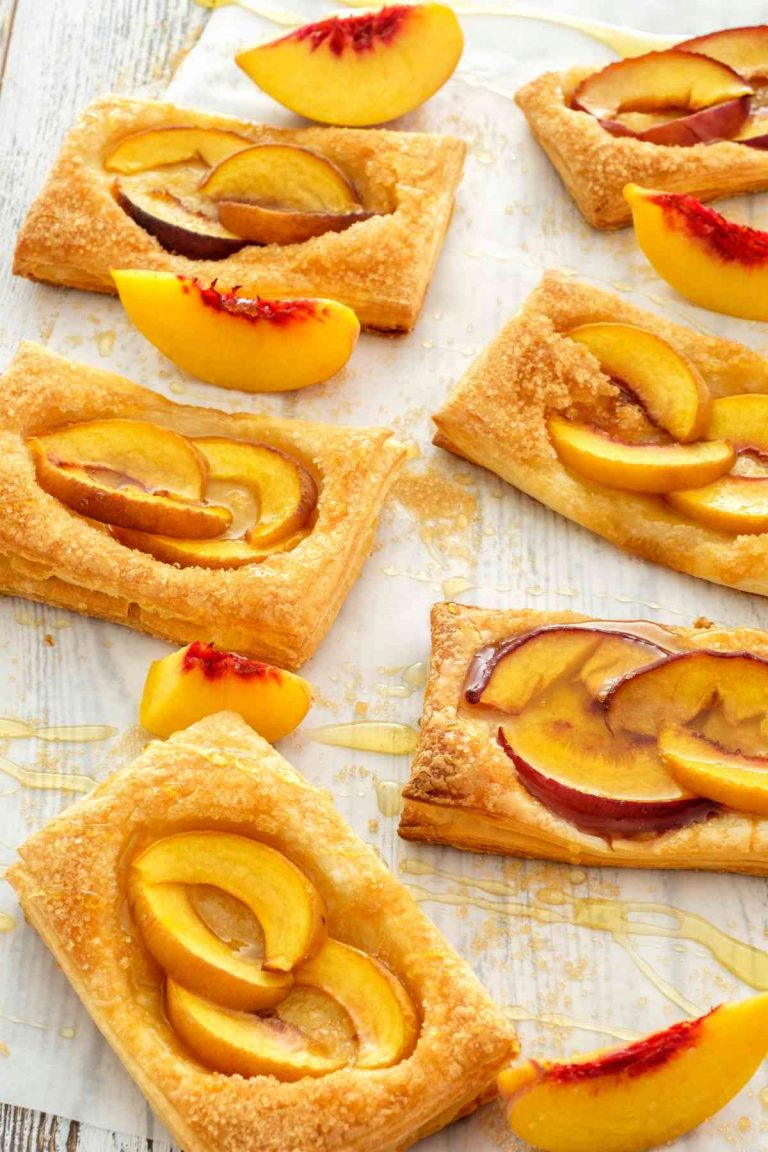 Juicy cinnamon peaches, toasted almonds and a tasty vanilla glaze over a flaky crust is sure to please. The ingredients are simple and you can feel free to use drained canned peaches when they're not in season. It's a delicious treat that you can whip up in no time.
This strawberry tart recipe is a simple summer sweet treat that's sure to become a favorite. It's easy to make, and delicious on its own or topped with vanilla ice cream! Take them to the next family gathering and watch them disappear before your eyes.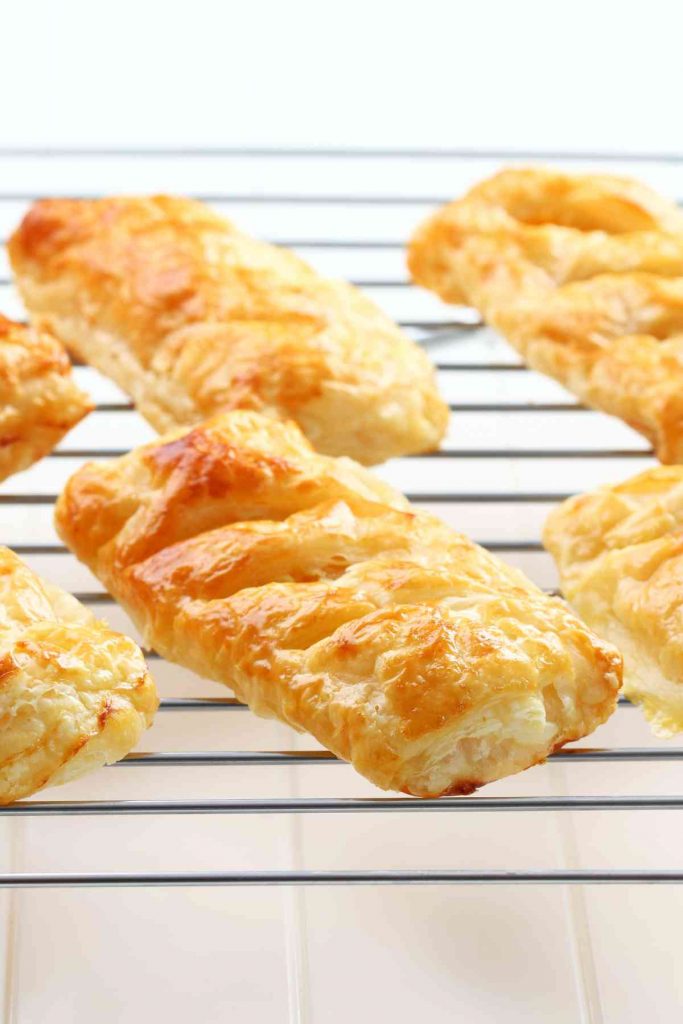 Enjoy bakery-quality cherry pastry pies in under an hour. These cherry hand pies are easy to make and so delicious you'd want to make them all the time. Kids love them and they're great for picnics, afternoon snacking or breakfast-on-the-go.
If you love figs and enjoy lollipops then this recipe is for you. They mix both sweet and savory flavors. Have fun making them into any shape you like and feel free to use them with or without the stick.
These puff pastry rolls are a twist on classic cinnamon rolls with an added crunch and buttery goodness. When it comes to easy and delicious entertaining recipes, add these to your list. They work well as a dessert, for brunch or to add something special to your breakfast spread.
You May Also Like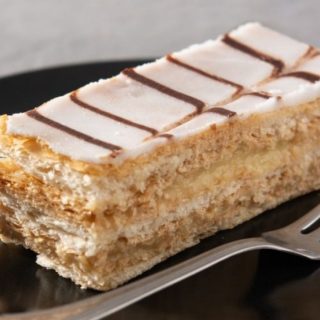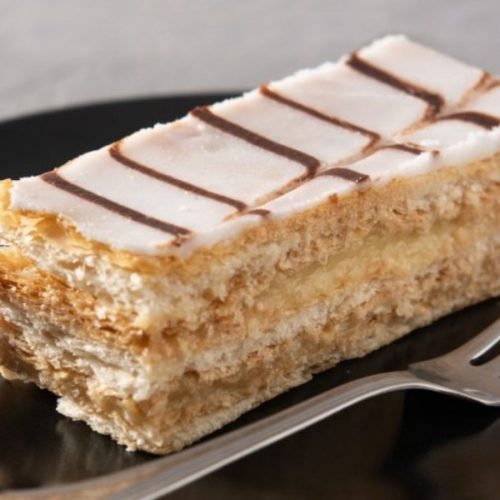 Best Puff Pastry Desserts (Napoleon Dessert Recipe and More)
This dessert is layered with pastry dough and cream filling or almond paste then topped with a chocolate or white glaze. It's a must try and the perfect complement for your tea or coffee. If you're feeling creative, you can shape the glaze into a typical chevron design.
Print
Pin
Rate
Ingredients
Pastry Cream
2

cups

milk

½

teaspoon

vanilla extract

2/3

cup

sugar

¼

cup

cornstarch

6

egg yolks

1

tablespoon

unsalted butter keep it cold
For the Glaze
3

cups

powdered sugar

1

teaspoon

vanilla extract

¼

cup

milk

¼

cup

cocoa powder
Pastry
1

package frozen puff pastry
Instructions
Make the Pastry Cream
Add milk and vanilla extract to a saucepan over medium-high heat.

Bring it to a boil, and then remove from heat.

Whisk together sugar and corn starch in a large mixing bowl.

Add egg yolks. Whisk until fluffy.

Add the hot milk mixture into the egg mixture gradually. Mix well.

Transfer everything back in the saucepan over medium-high heat. Stir constantly until thickened.

Remove from heat. Then add in butter, stirring constantly.

Let it cool and cover with plastic wrap. Chill in the refrigerator for about 2 hours.
Make the Pastry Layers
Preheat oven to 400 °F. Line a baking sheet with parchment paper. Set aside.

Thaw the frozen puff pastry at room temperature. Unfold one sheet, and roll out to about 1/16 inch.

Cut the sheet into 2×4 inch rectangles using a kitchen knife. Place them onto the baking sheet, leaving about 2 inches apart.

Place another sheet of parchment on top and then cover with another baking sheet.

Bake for 10-12 minutes until golden brown. Repeat with the rest of the pastry.
Make the Glaze
In a large bowl, add powdered sugar, vanilla extract, and 3 tablespoons of milk. Whisk until combined. Transfer it to a piping bag and cut the tip off.

Pour 1/3 cup of the glaze into a separate bowl. Add cocoa powder and 1 tablespoon of milk. Whisk until combined. Transfer to a piping bag and cut the tip-off.
Assemble Napoleon Dessert
Spread vanilla glaze onto 9 pieces. Then pipe stripes chocolate glaze on top. Create a chevron pattern across the chocolate stripes by dragging a toothpick tip along the surface. Let the surface set.

Transfer the chilled pastry cream to a piping bag or zip-top bag. Pipe pastry cream onto one piece of cooked puff pastry without the glaze. Place another pastry on top. Pipe more pastry cream and add one piece with the glaze. Repeat with the rest of the pastry. Serve and enjoy!
Notes
It's best to chill your pastry cream in the refrigerator for about 2 hours before using it.
You can add whipped cream to your pastry cream if you find your pastry cream is too thick.
Tried this recipe?
Follow or tag us on Pinterest @izzycooking