If you have a special occasion coming up, or simply want to spoil yourself, take a look at this collection of 40 of the Best Brunch Food Ideas. From delectable Belgian waffles to baked breakfast donuts, you're sure to find a recipe you'll love!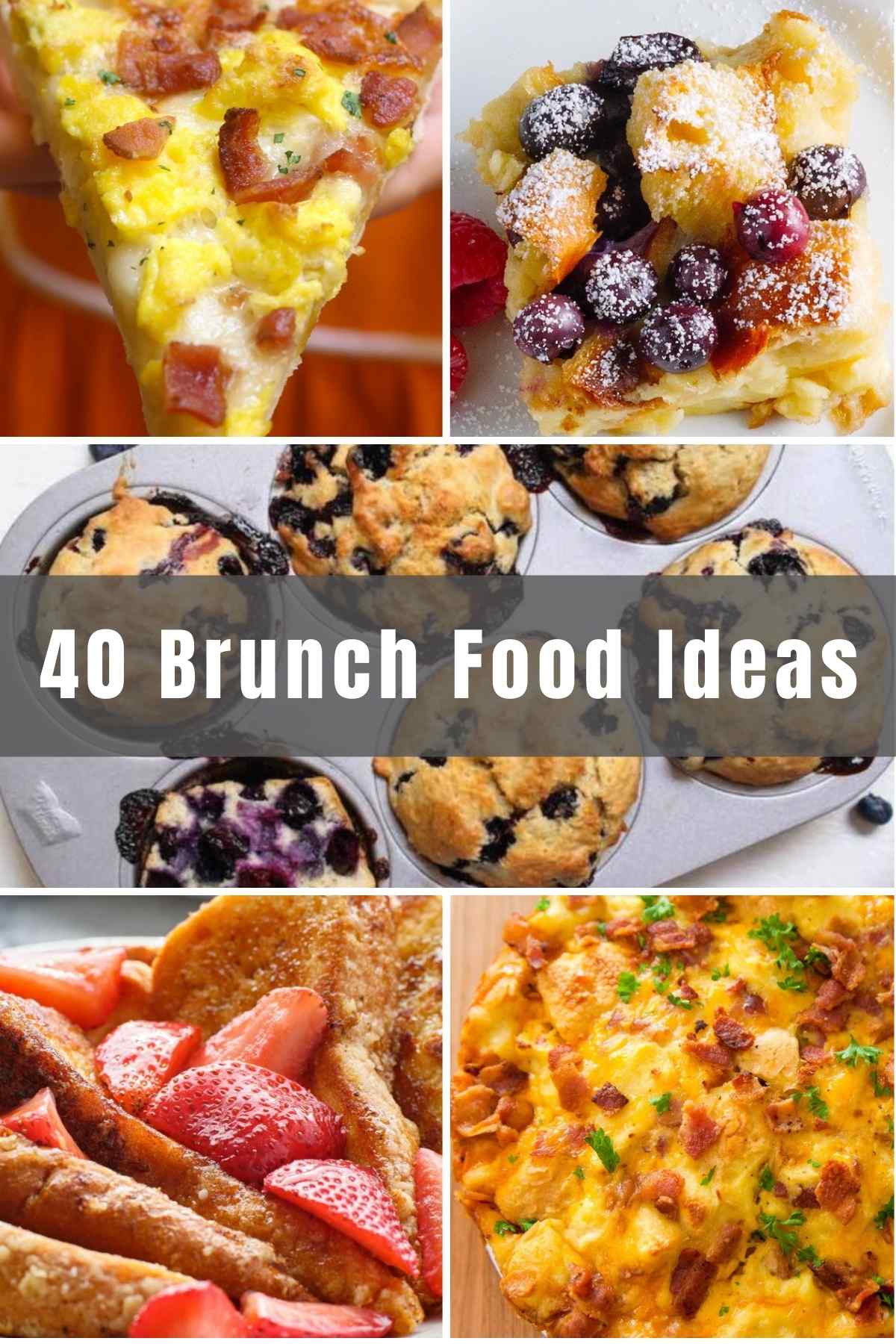 There's no better way to celebrate the weekend than with a delicious meal. Whether you're meeting friends, or enjoying a lazy Sunday morning at home, a plate of French toast or creamy eggs benedict will always get top marks.
Best Brunch Food Ideas
Ideal for egg lovers, this 20-minute dish is also loaded with veggies, bacon, and shredded cheddar cheese. Enjoy it with a side of fresh tomatoes to keep it low-carb, or add a couple of slices of buttered toast for a hearty and filling meal!
Do you have any pizza fans in your house? Then you're about to make them happier with this bacon egg cheese breakfast pizza. It's delicious and easy to make right in the oven. Plus, you can even get your kids to help make this!
Is there anything more comforting than warm bread? How about bread pudding? It's irresistible and will easily become your family's favorite breakfast dish! Be sure to serve this meal warm and right out of the pan to experience all its goodness!
These fluffy waffles are flavored with cinnamon and vanilla – tasty enough to enjoy on their own, but if you love waffles with maple syrup, go ahead and indulge! They'd also be great with fresh fruit and whipped cream or ice cream for a yummy dessert.
This recipe will change your relationship with bacon. If you're making breakfast for a crowd, cook the bacon in the oven instead of on the stovetop! The bacon turns out perfectly crisp, clean-up is easier, and it'll be ready to eat in less than 20 minutes. Give it a try!
If you love McDonald's Sausage & Egg McMuffins you need to try this recipe. It's ready to enjoy in just 15 minutes, and is absolutely delicious! The best part is the sausage, made from ground pork and the perfect blend of seasonings. Your family will ask you to make these again and again!
If you've shied away from making crepes because you think it's hard, think again! These crepes take just 5 minutes of prep time, followed by an hour to rest, and then just 15 minutes to cook! Serve them with your favorite berries, maple syrup, and a dusting of powdered sugar!
Grab your apron – it's time to make cinnamon rolls! Your home will be filled with the irresistible scent of warm spices while these beauties are baking. They do take some time to prepare but believe us, they're totally worth it. Make an extra batch and freeze them to enjoy later!
A breakfast staple in many homes, pancakes are perfect any day of the week! This recipe helps you make them easily, so they turn out light and fluffy every time! Serve them with jam, fruit, or syrup!
Don't be turned off by the name – eggs benedict is easier to make than you think, and tastes better too! Here you'll get a step-by-step video tutorial that'll even give you a homemade hollandaise sauce! Perfect for any special occasion, or even a time you want to treat yourself.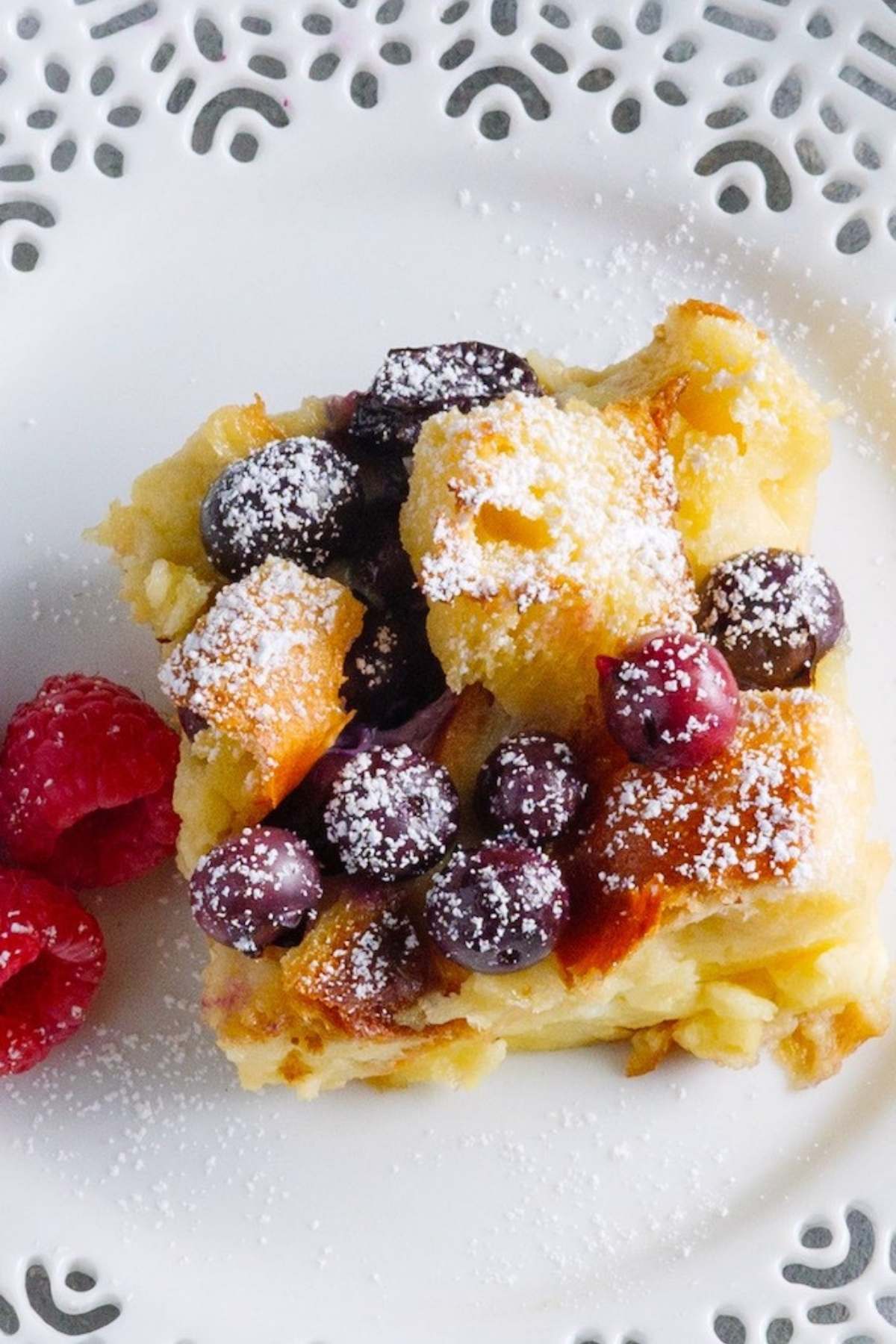 This recipe is for the French toast lovers! Baked in a casserole dish, this delicious dish is similar to bread pudding. The blueberries add a wonderful burst of flavor. Enjoy it with maple syrup for brunch, or ice cream for dessert!
Love IHOP but not the prices?! Then you've come to the right place! It's a copycat recipe that's super easy to make! French toast is made with brioche bread, cinnamon, and vanilla! Serve with some fresh fruit and syrup!
If you love the donuts at Dunkin' Donuts, give this copycat recipe a try. It comes together super easy with boxed cake mix, store-bought creamer, oil, egg, and cinnamon! And instead of being fried, these donuts are baked in the oven – it couldn't be easier!
Here's something different to serve the next time you're hosting brunch. Perfectly seasoned baked salmon is served on toasted English muffins with eggs, tomatoes, bacon, and even guacamole! Get as creative as you want! Your guests will love them. 
These delicious enchiladas are a terrific blend of pork sausage, diced veggies, hash browns, and shredded cheese. Serve them with a side of guacamole and a dollop of sour cream and you've got a meal that can be enjoyed any time of the day!
This is a unique dish that is sure to impress everyone at your next get-together. Made with eggs, cheddar cheese, and bacon, this savory bread is ready to enjoy in just 50 minutes, and is a meal of its own!
Let your slow cooker do the heavy lifting with this delicious bread! It takes just 20 minutes to prepare, and then cooks up beautifully in the slow cooker. The recipe calls for diced apples, but feel free to use pears, peaches, or your favorite fruit instead!
Skip the prepackaged, store-bought version and make your own breakfast sausage at home! They're delicious, seasoned and have no preservatives! Plus, if you make extra you can freeze them to use again!
Remember those little tater tots you would buy and pop into the oven? Now you get to be a little creative and make a whole casserole out of them! Plus, this dish is loaded with peppers, meats, and eggs! It certainly doesn't get better than that!
Pie for breakfast? Nope, but close! It's quiche! Another great make-ahead meal that's filled with all your favorites – from cheese to veggies, it has it all!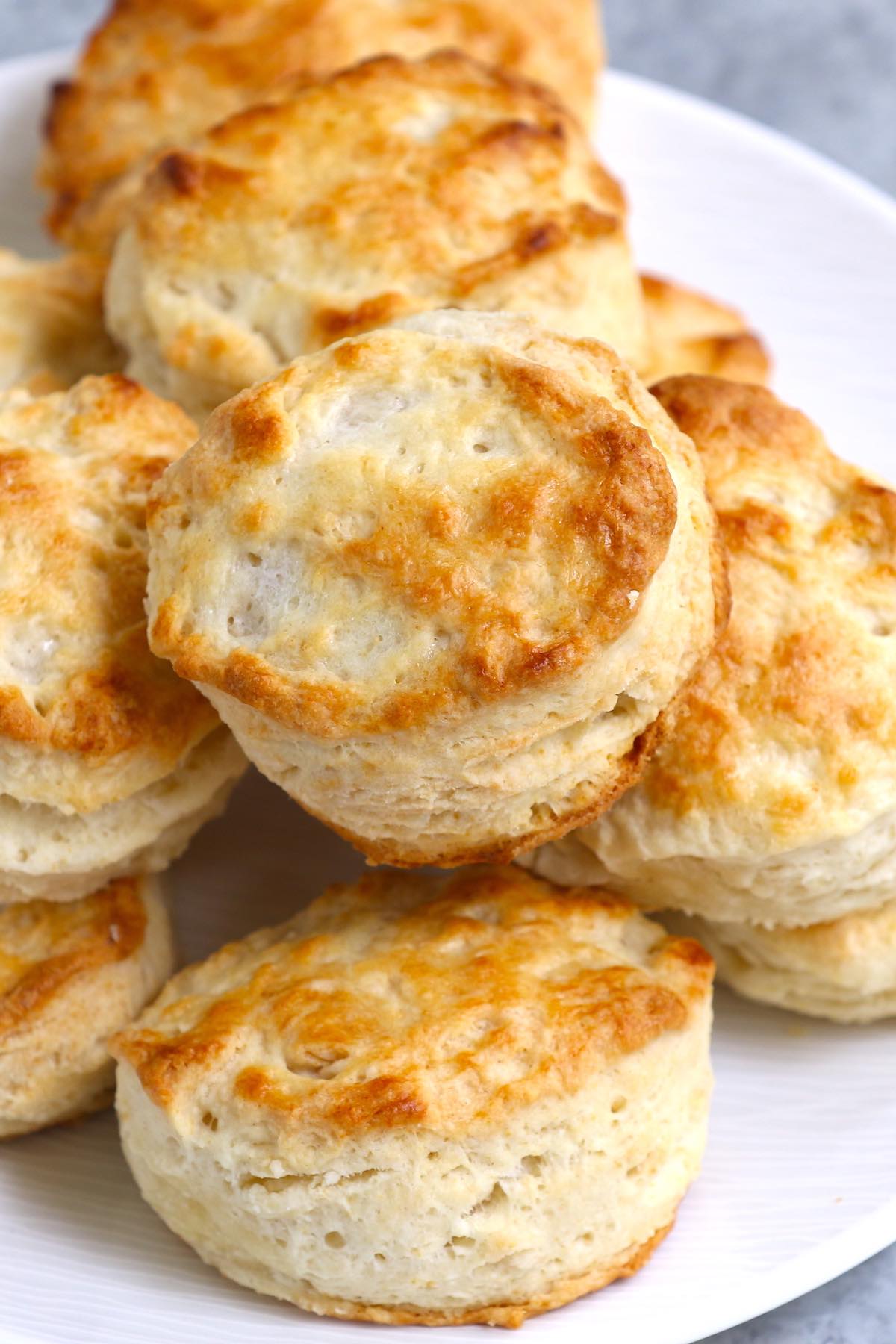 Serve these tender and flaky biscuits alongside eggs for brunch, or with fried chicken for brunch or dinner! They have a wonderful buttery flavor and are ready to enjoy in just 30 minutes.
This recipe won't fill your house up with amazing smells, but it'll save you rushing in the morning. Overnight breakfast oats are perfect for meal prepping too! It's an easy dish for beginners, plus you can add in some of your favorite toppings too!
It's a coffee cake made from Bisquick! Moist, buttery, and incredibly tasty! Just wait, it gets better – this treat is topped with a cinnamon streusel. This treat will easily satisfy your morning sweet cravings.
Picture this, scrambled eggs, sauteed vegetables and salsa stuffed inside a tortilla shell! Now imagine eating that for breakfast! Wouldn't that just put a little pep in your step?
Hashbrown breakfast casserole is easily the best casserole dish you will ever make and eat! Made with frozen hashbrowns, eggs, sausage, and cheese – it certainly is a dish that will fill you up all day long!
This recipe gives sweet potatoes a new purpose! Made in one skillet, mixing sweet potatoes, kale, bacon, onions, and bell peppers! Not entirely healthy, but certainly hearty! Making this dish a must-try!
Gone are the days where you just ate omelets for breakfast and welcome the days of a breakfast strata! With just 10 minutes of prep time, this recipe is perfect when looking for a more laid-back breakfast!
Who doesn't love a buttery crescent roll? This recipe takes that love and steps it up a notch! It's an easy and hearty breakfast that is sure to please! Made with just 5 ingredients, this crescent roll breakfast casserole is loaded with sausage and ooey gooey cheese!
Whether on the go or looking for a lighter breakfast option – you've come to the right place! These parfaits are quick, easy to make ahead and will help you start your day right! Made with just combining yogurt, granola, and fruit.
Made with eggs, cheese, bacon and veggies, these breakfast egg muffins are the answer to easy meal prepping! With just a few minutes required to put this together, this recipe allows you to freeze and pop in the microwave when you're ready to eat.
Deviled Eggs with Bacon are one of our go-to appetizers featuring a smooth and creamy filling accentuated with crispy bacon. They're a total crowd-pleaser for brunch, parties, holidays, Game Day or anytime you're entertaining. You only need 20 minutes to make and are always a hit!
These healthy muffins are loaded with blueberries! Full of flavor, moist and fluffy – what more could you ask for? Low in sugar and fat too!
Have you ever attempted a breakfast and failed miserably? Well now's your chance to shine! This American omelet recipe is not only foolproof but turns out incredibly delicious. Only 3 minutes of cooking time needed her, plus you can customize the fillings to your taste!
Holiday breakfast croissant boats are a creative meal option that can be used for breakfast or brunch. Made with eggs, ham, and cheese, baked right in the croissants! Top with some veggies and you're good to go!
Craving something a little heartier? Try this breakfast burrito recipe! They're loaded with sausage, eggs, cheese, and a homemade avocado-tomato salsa.
These easy breakfast quesadillas are a recipe you don't want to miss out on! Filled with veggies, bacon cheese and eggs filled with fluffy scrambled eggs, green peppers, bacon, and cheddar cheeses, right between two tortilla shells!
Easy Brunch Drink Recipes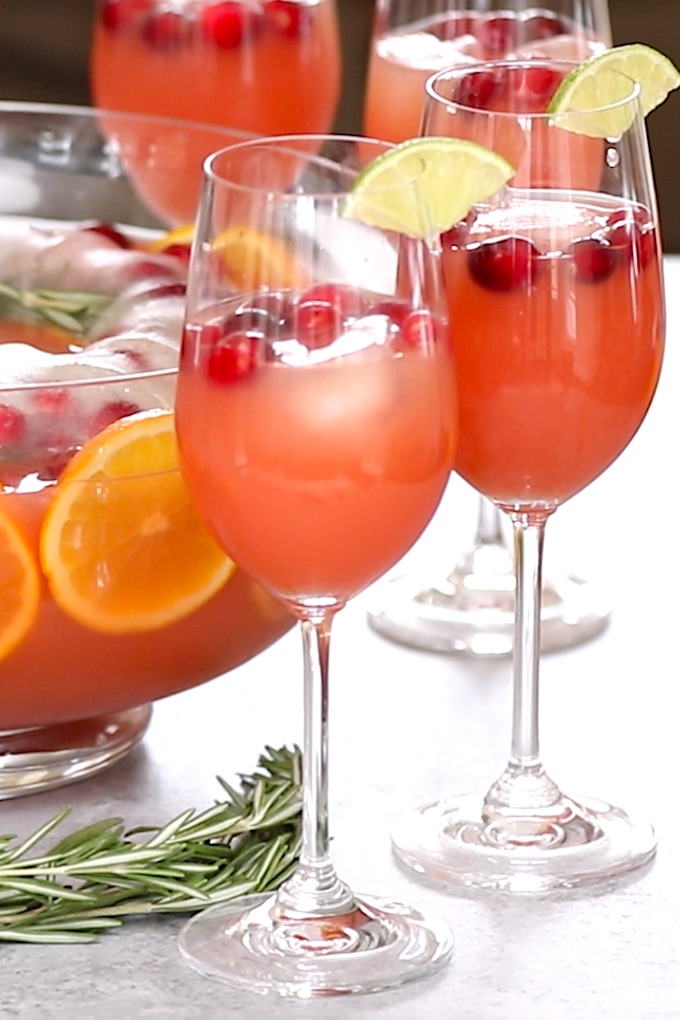 Make brunch a little more festive with a refreshing mimosa. All you need is fresh orange juice and champagne, and you're good to go! Switch things up by using grapefruit juice instead!
Here's your chance to try dragon fruit! It's a breakfast smoothie that's ready in less than 5 minutes! Bonus, this recipe is dairy-free and vegan!
Looking for something on the lighter side? Then here's one for you! Berry banana smoothies are healthy and vegan! Easy to make, this recipe is a great way to start your day! Plus, it's a good detox dish with all the antioxidants and vitamins!
Yes, it's alcohol for breakfast! So be careful! Tasting just like a pancake, this recipe can really be enjoyed all hours of the day. Made with Jameson, butterscotch schnapps, and orange juice. You could easily say that this is a true breakfast of champions.
You May Also Like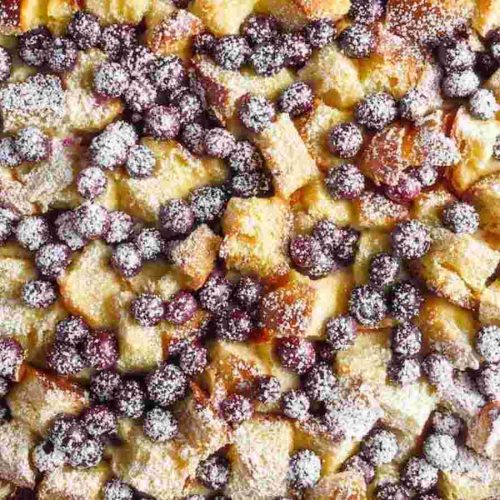 Blueberry French Toast Casserole for Brunch
This recipe is for the French toast lovers! Baked in a casserole dish, this delicious dish is similar to bread pudding. The blueberries add a wonderful burst of flavor. Enjoy it with maple syrup for brunch, or ice-cream for dessert!
Print
Pin
Rate
Ingredients
Blueberry French Toast Casserole:
1

large loaf bread challah

French loaf, etc. Cubed, about 10 cups

2 ½

cups

blueberries fresh or frozen

5

large eggs lightly beaten

2

cups

whole milk

1/2

granulated sugar

1

teaspoon

vanilla extract

½

teaspoon

ground cinnamon

¼

cup

unsalted butter melted

pinch

salt
Optional Toppings for Serving:
powdered sugar

vanilla ice cream

caramel sauce
Instructions
Preheat oven to 350°F (175°C). Grease a 13X9 inch baking dish and set aside.

On a cutting board, cut bread into 1-inch cubes.

Add bread cubes into prepared baking dish and sprinkle blueberries evenly across the top.

In a medium bowl whisk together eggs, milk, melted butter, cinnamon, vanilla, sugar and salt.

Pour the mixture evenly over the cubed bread and blueberries.

(If bake immediately) Bake for 35-40 minutes or until a knife inserted in the center comes out clean.

(If make ahead the night before) Bake for 40-50 minutes.

Remove from the oven set aside to cool for 5 minutes.

Dust with optional powdered sugar. Serve with ice cream and drizzle with caramel sauce!
Tried this recipe?
Follow or tag us on Pinterest @izzycooking