If you love apples, then you're about to fall even more in love with them with these 30 of the Best Apple Desserts! Don't worry if you're new to baking, these recipes are so easy to make and even better to eat!
Easy Baked Apple Desserts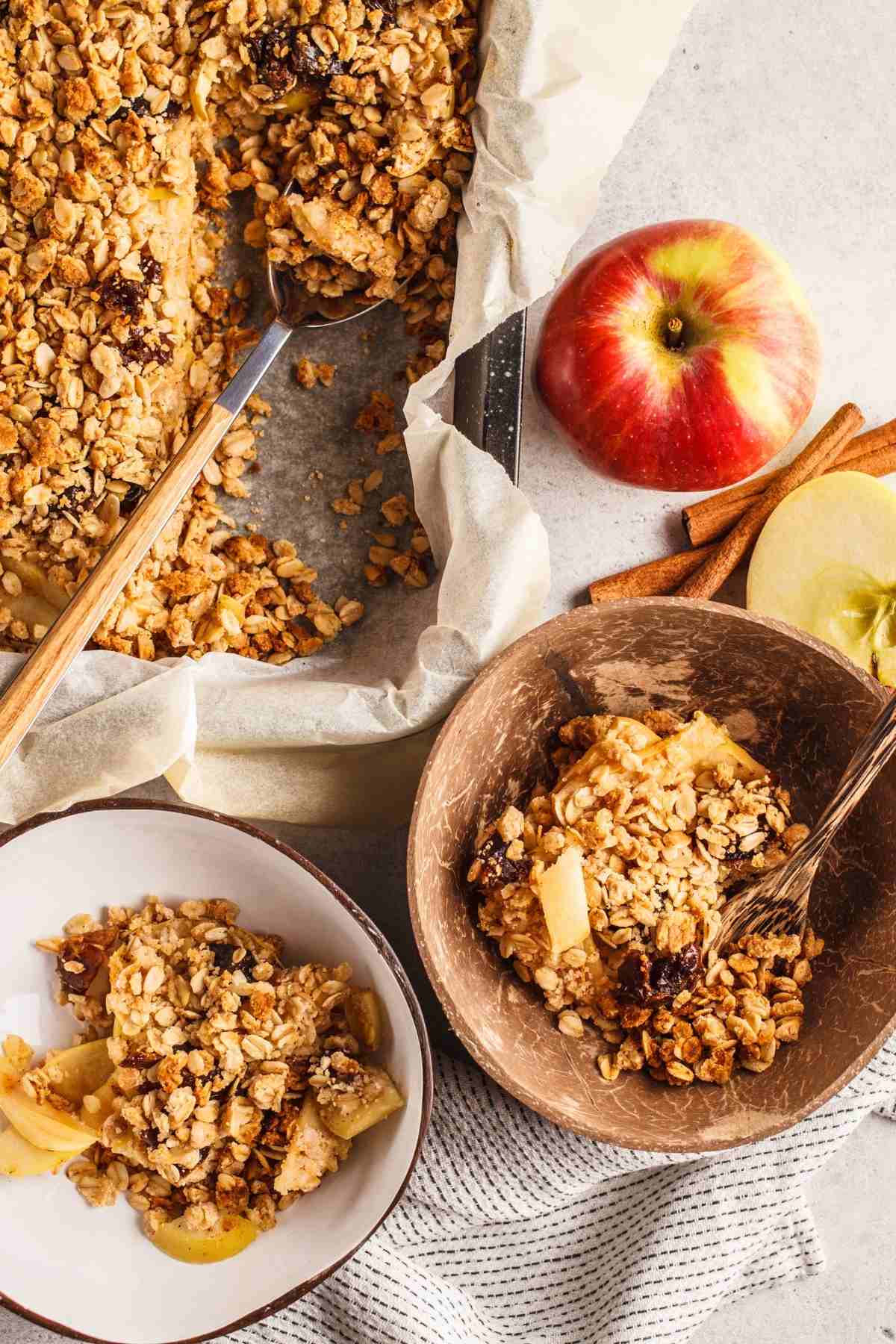 Apple crisp is a classic dessert made just like your grandma used to make. Paired perfectly with a scoop of ice cream, this dessert is made for those cool fall nights! Just pop this apple crisp right in the oven and fill your home with one incredible aroma!
Cinnamon roll apple rose tart is the dessert to make if you want to wow your guests! Made with just five ingredients, this recipe uses fresh apples and cinnamon rolls to make one mouth-watering treat. 
An easy recipe that can be made with apples or any type of fruit. Similar to apple crisp, this dessert shines when combined with some vanilla ice cream! It's easily a dessert that the whole family will love.
Skip the bakery or drive-thru and make this delectable treat right at home. By deep frying donuts filled with apples and cinnamon, you'll have a dessert that just screams delicious! Don't forget the 3-ingredient glaze. 
Filled with cinnamon, brown sugar, apples, raisins and more, apple strudel is a must-try recipe! Plus, this dessert features a crispy, flaky pastry you don't want to miss out on! 
Yes, apple cake is a thing and it is super moist and super delicious! Perfectly combining sweetness with spice, this dessert is perfect for those holiday guests! Plus, it's super simple to make! 
Is there any other better combination than caramel and apples? This recipe proves that there isn't! Caramel apple poke cake is easy to make, and features a caramel drizzle with toffee bits. Perfect during the fall.
Unique Apple Desserts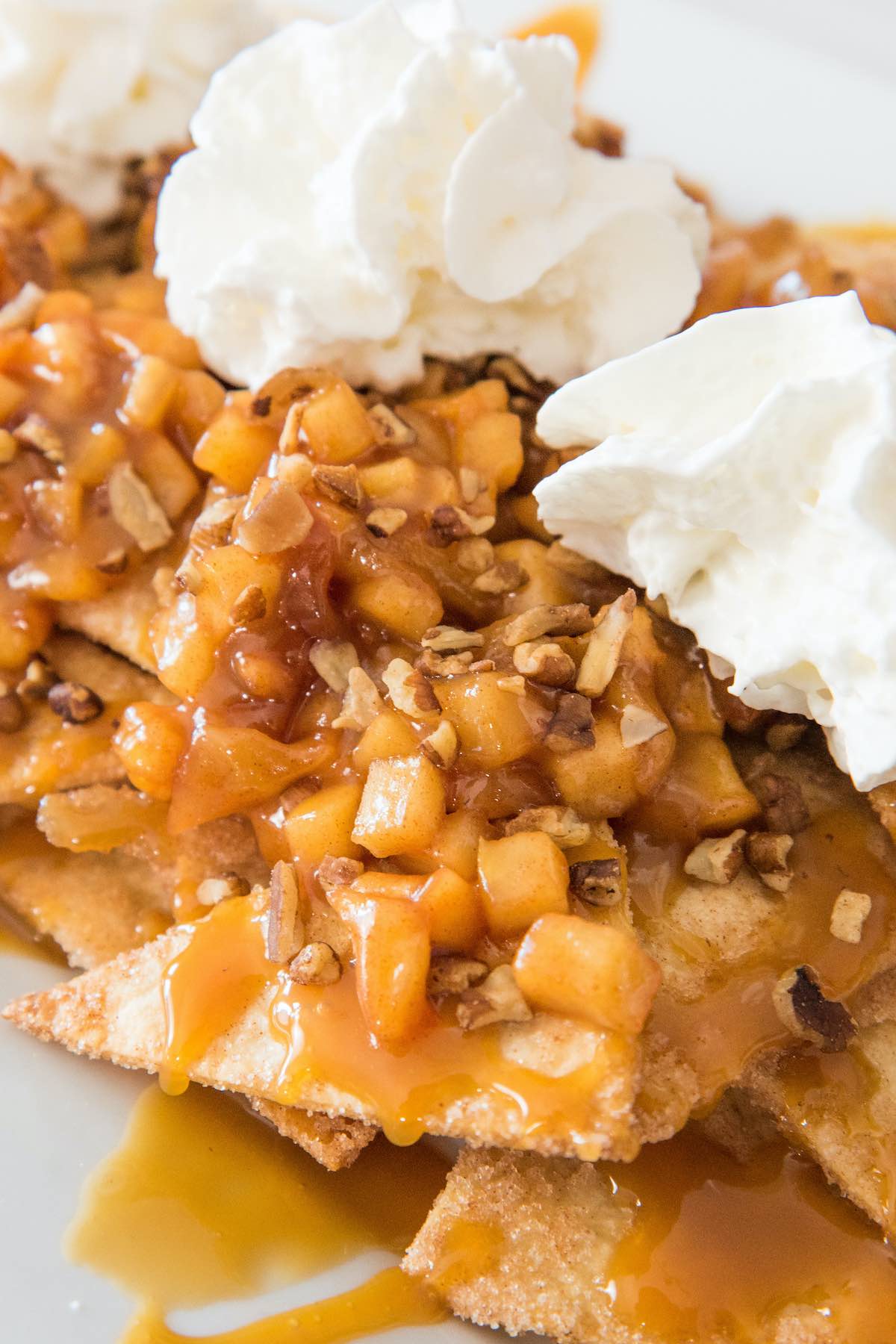 A mouth-watering dessert that's made for sharing and ready in just 20 minutes! Apple pie nachos feature tortillas that are covered in an apple pie filling. What's missing? The whipped cream topping! 
It's time to have pizza for dessert! Caramel apple pizza features fresh apples, candied pecans and a creamy filling that's to die for! The best part? The warm cookie crust! This dessert is just as fun to make as it is to eat.
Spiced to perfection, these apple cider donuts are about to become your new obsession. Loaded with warm cinnamon, spiced with fresh nutmeg and a tangy apple cider, it's a recipe you don't want to skip!
Healthy Apple Desserts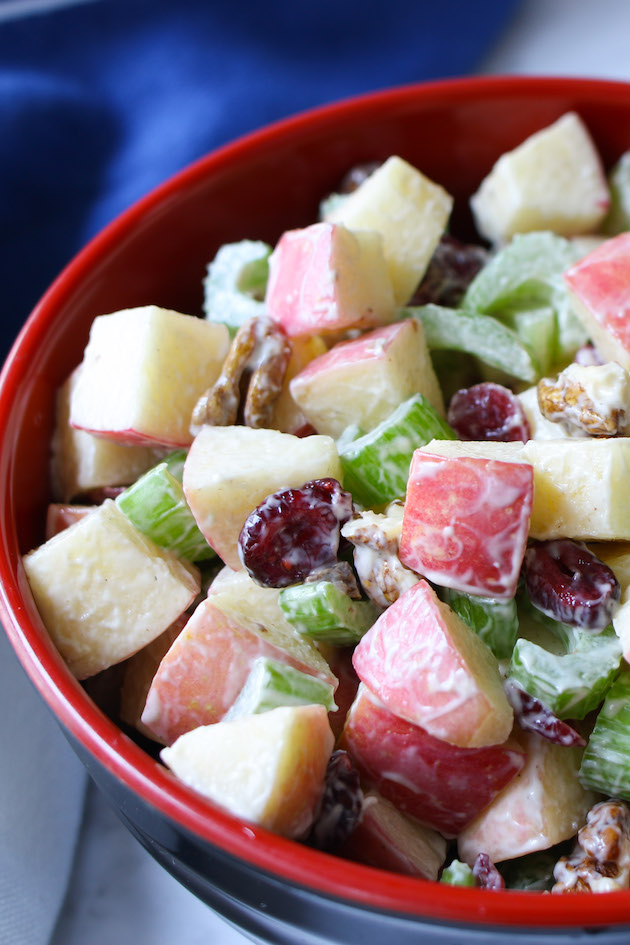 Both light and creamy, this apple salad is made to have an unforgettable crunchy texture. How? By combining apple chunks with celery, walnuts and raisins all in an easy mayo or yogurt dressing. Perfect for those healthy lunch ideas. 
Made with 100 percent whole wheat flour, these muffins are moist, fluffy and perfectly healthy. To top it off, these healthy apple muffins are naturally sweetened with maple syrup or honey. Can we say, irresistible? 
Yes, you can drink apples and not as a juice! Apple smoothies are creamy, spiced with cinnamon and perfect for the fall! Made without yogurt for vegans and burst with apple taste for the fruit lovers! 
Have you ever thought about making your very own oven-baked apple chips? It's just another simple way to enjoy apples. The best part here? These chips have a fruity taste and are healthier than your traditional potato chips. 
Mini Apple Desserts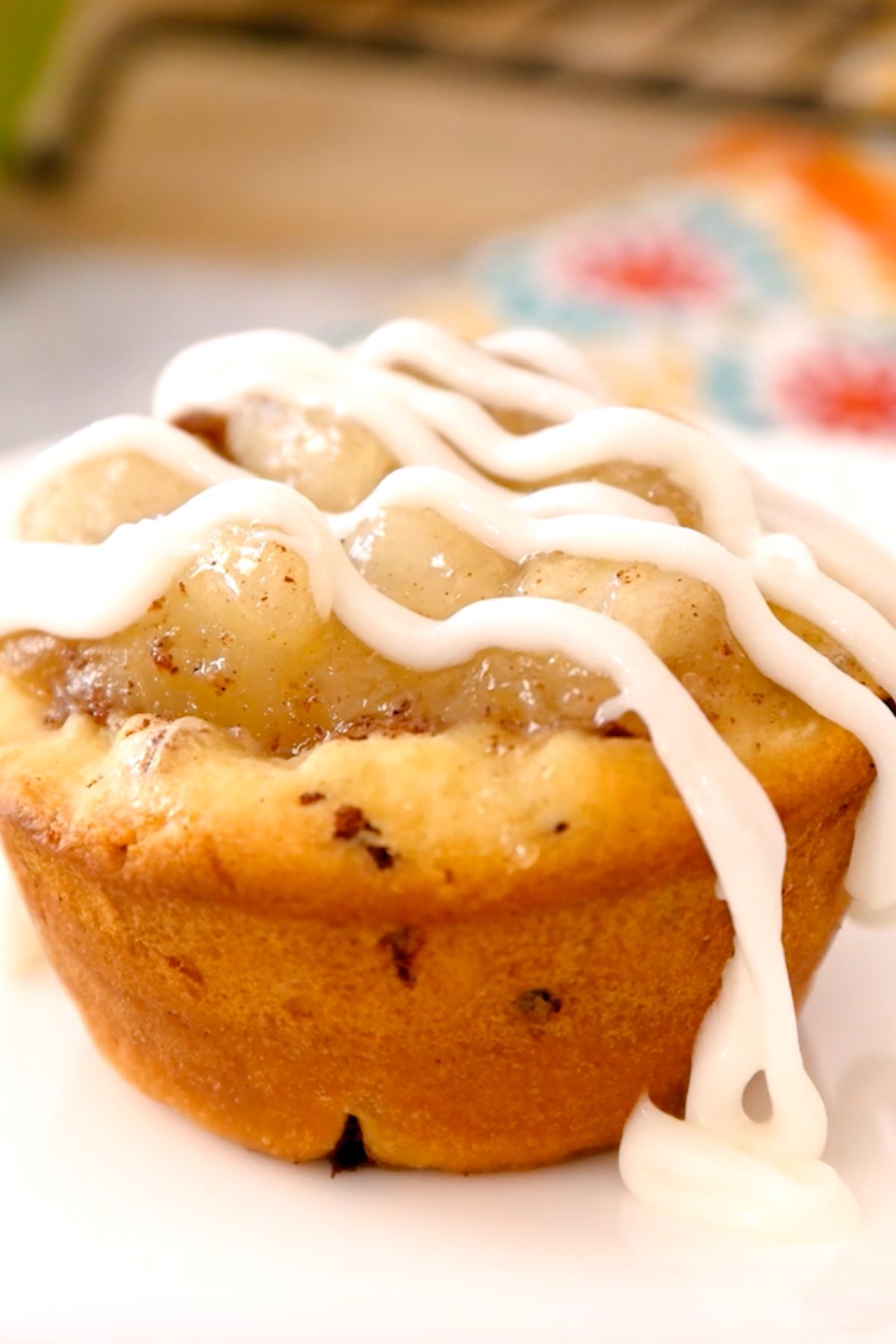 Three ingredients is all it takes to make these apple pie cupcakes! Featuring a pie filling that is sweet and full of cinnamon. They're soft and fluffy on the inside with a soft cinnamon roll crust. Mouthwatering and bite-sized treat that's ready in 20 minutes.
Is there anything that reminds you of the summer fairs more than candy apples? They're sweet, tart and crunchy. Plus, who doesn't love a bright and shiny red apple? 
Here's a recipe that perfectly takes your love of apples and peanut butter and turns them into a cookie. The result? A soft, chewy and delicious cookie with hints of cinnamon. 
From the homemade butter dough to the hints of cinnamon and brown sugar, it's tough to decide which part is best. Amish apple dumplings are loaded with apples and are easily the best apple recipe for the cooler fall. 
Featuring a shortbread crust, spiced apple filling, salted caramel and an unforgettable streusel topping – salted caramel bars are just as delicious as apple pie. You'll see how this treat takes a classic dessert and gives it a twist. 
Other Easy Apple Dessert Recipes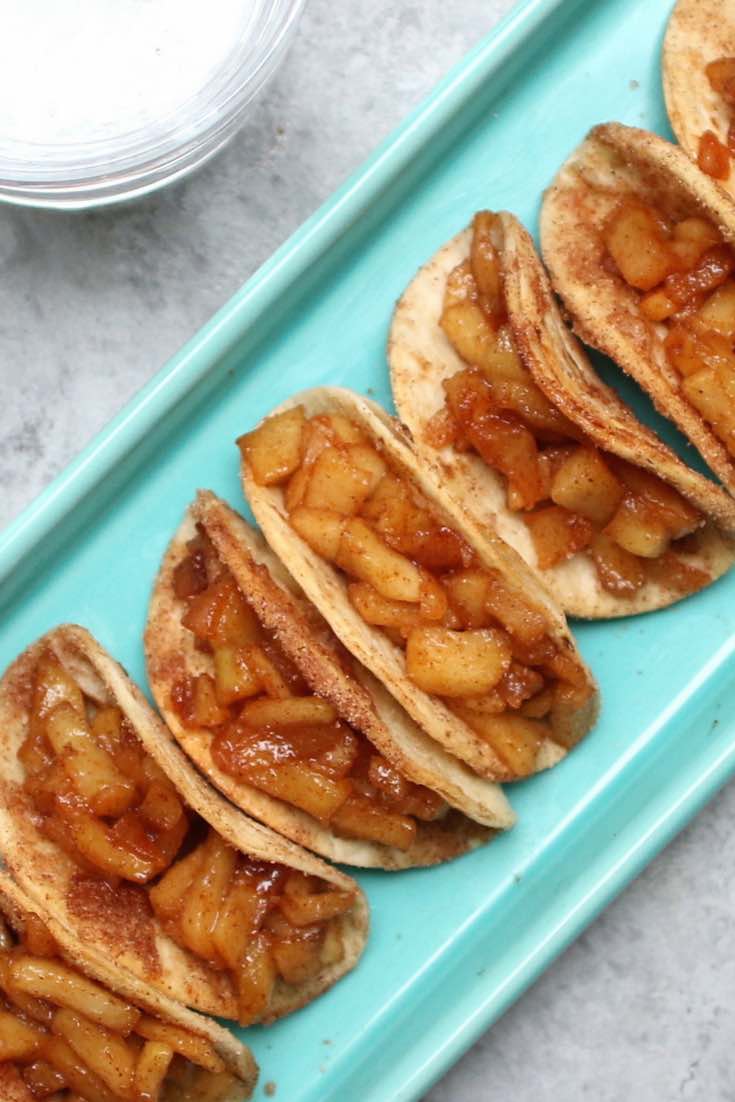 Tacos for dessert? It's true and it's about to happen. Fried apple with homemade tacos filled with a cinnamon-sugar mix, drizzled with a caramel sauce and then topped with whipped cream. It's an easy dessert that comes together in no time! 
Time to grab the puff pastry and get to making these apple turnovers! Filled with a warm apple pie filling, these treats are perfect for breakfast or dessert.
Time to dust off the crockpot and bring it out for this caramel apple dump cake. Loaded with everything that brings you warmth and tastes just like comfort. This recipe is one you never knew you were missing.
Apple coffee cake is commonly believed to have coffee in it, but in fact, it doesn't! This dessert is made with sour cream, cinnamon, streusel, and an apple glaze. The name actually implies that this treat goes well with a cup of hot coffee. 
Here's a recipe that takes your love of cheesecake and kicks it up a notch with some apples. Featuring a cinnamon graham crust with a creamy filling and finished with a caramel sauce. Can it get any better than that?
If you're a fan of apple crisp then you'll love these apple oatmeal bars! From the oats to the cinnamon and apples too, this dessert does not disappoint. Quick, easy and full of flavor!
With a brown sugar crumble and cinnamon apples, these caramel apple crumb bars are something to talk about! With a drizzle of salted caramel sauce, this recipe is warm, juicy and just what you need. 
Soft, moist and full of apples, perfectly describes what you'll get with this recipe. Apple streusel bars are topped with a warm cinnamon streusel making these bars so good, you won't be able to eat just one. 
A bite-sized treat that doesn't disappoint. Apple pie fudge is soft, sweet and perfectly captures the classic apple pie taste. Great for sharing with friends or bringing to a potluck, this recipe is definitely one to hang on to. 
Yes! This is where you get excited! It's apple pie ice cream. This recipe gives your traditional ice cream flavors of apple pie and is made with brown sugar, cinnamon, tender apples, and crushed oatmeal cookies.  Easy and tasty, what more could you ask for?
Keep that crockpot out! This is a warm dessert that you don't want to miss! Starring warm apples, a topping of cinnamon, a fluffy cake and an orange-flavored pudding. Simply place the batter at the bottom and watch it rise to make a soft, fluffy cake.
You May Also Like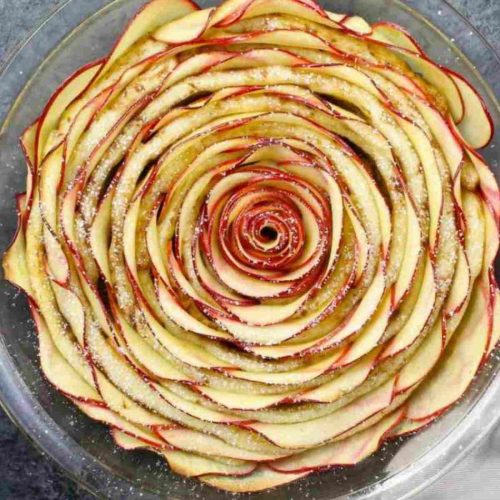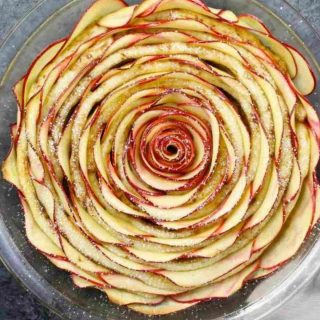 Cinnamon Roll Apple Rose Tart
Cinnamon roll apple rose tart is the dessert to make if you want to wow your guests! Made with just five ingredients, this recipe uses fresh apples and cinnamon rolls to make one mouth-watering treat.
Print
Pin
Rate
Ingredients
2

red apples

We used red delicious

1

can refrigerated cinnamon roll dough

see note

2

tbsp

lemon juice

freshly squeezed

4

tbsp

unsalted butter

melted

4

tbsp

brown sugar

powdered sugar

for serving
Instructions
Preheat oven to 375°F (191°C). Spray a 9-inch round baking dish with nonstick cooking spray and set aside.

Open the can of cinnamon rolls. Unwind several rolls and arrange into a large spiral to fill up the dish, following the video.

Halve each apple lengthwise. Remove the core and seeds.

Using a sharp paring knife, slice the apple halves lengthwise to 1/8-inch thick pieces.

In a large bowl, add apple slices and lemon juice, mixing well.

In a small bowl, mix brown sugar and melted butter together. Then add to the apple slices, stirring to coat.

Microwave for about 2 minutes or until the apple slices are pliable. Strain out any accumulated liquid.

Arrange about 8 apple slices in a straight row with an inch of overlap on each. Starting with one end, gently roll the slices together to make a rose. Place rose in the middle of the cinnamon dough spiral.

Insert apple slices to fill the gaps between the cinnamon rolls in the spiral.

When the dish is full, bake for 20-25 minutes until the dough is browning.

Remove from oven and dust with powered sugar. Serve and enjoy!
Tried this recipe?
Follow or tag us on Pinterest @izzycooking