French cuisine is very popular around the world, and it is especially known for its love of desserts and pastries! Here we've rounded up over 30 of the best French Desserts and pastries for you to try in your own kitchen! Good luck, and bon appetite!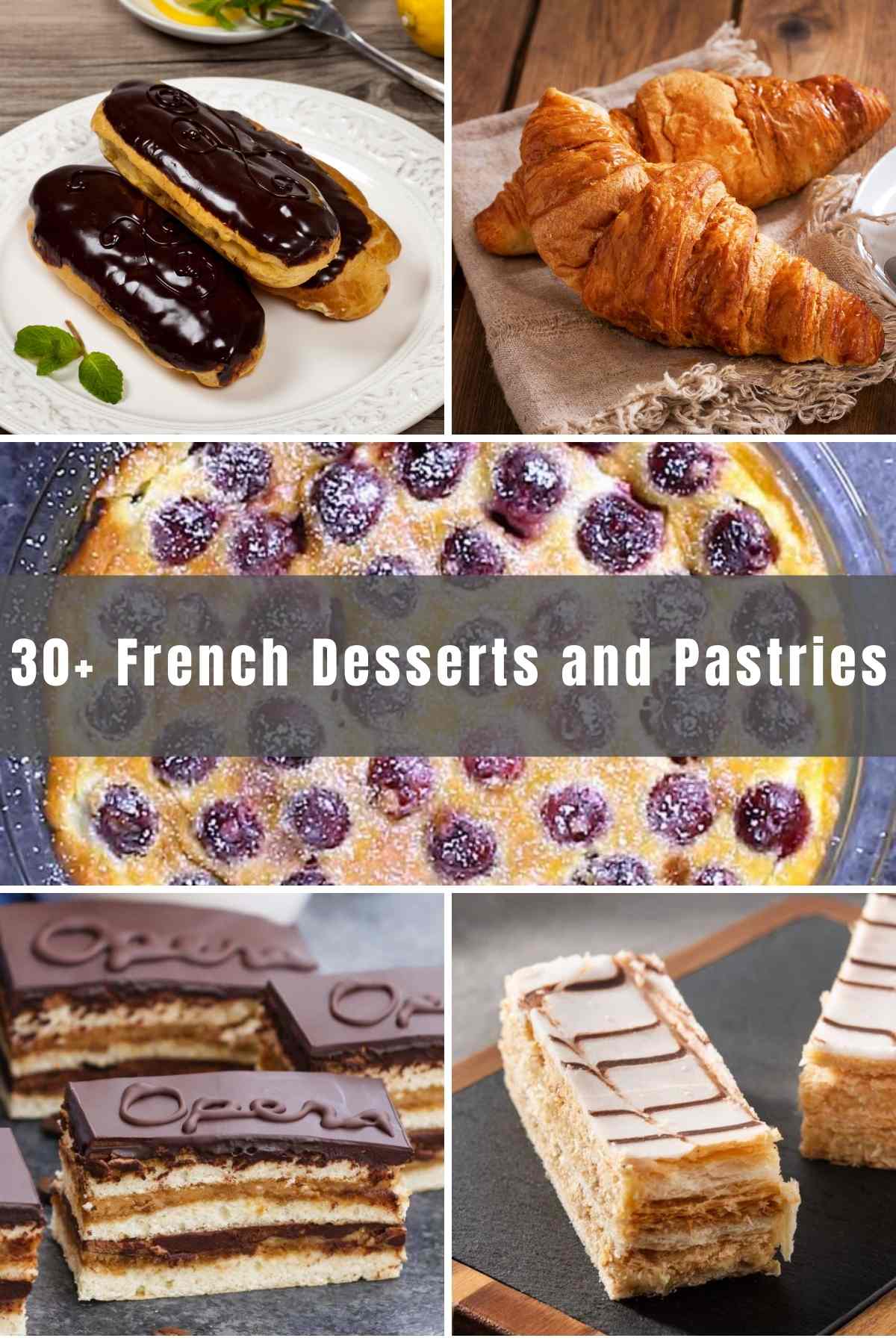 If you're a fellow foodie like us, you've probably dreamed about walking down the streets of Paris with a coffee and fresh pastry. While a trip to Paris is definitely on most people's bucket lists, you shouldn't have to wait until then to try authentic French desserts! 
With bakeries on seemingly every street, it's no surprise that French bakers have mastered delicacies such as croissants and clafoutis. With creamy custards and decadent layered cakes, French desserts are now well-loved around the world.
What is a Popular Dessert in France?
The most popular dessert in France would have to be its national dessert: crème brûlée. This sweet and creamy dish can be found all over the world but it was first made in France during the 1600s! It's made with a rich custard base underneath a hard, thin top layer of caramelized sugar. Simple and smooth, this elegant dish has stood the test of time!
What is the Famous Dessert in Paris?
France is well known for its appreciation of pastries, and its capital city is no different! Macarons are likely the most popular dessert in Paris, these pastries are made with two soft cookies that are held together with a smooth layer of buttercream. They can be found at most bakeries and have become popular all over the world. Some other famous Parisian desserts are éclairs, millefeuille and Paris-Brest pastries!
Easy French Desserts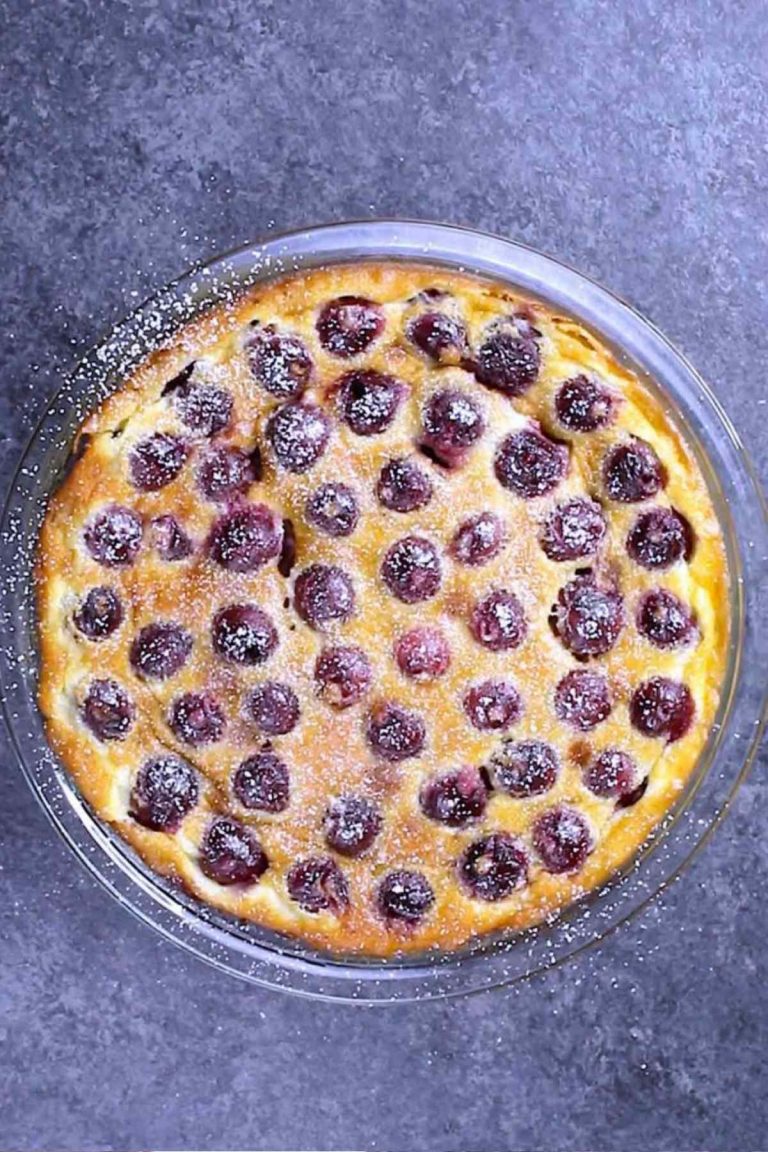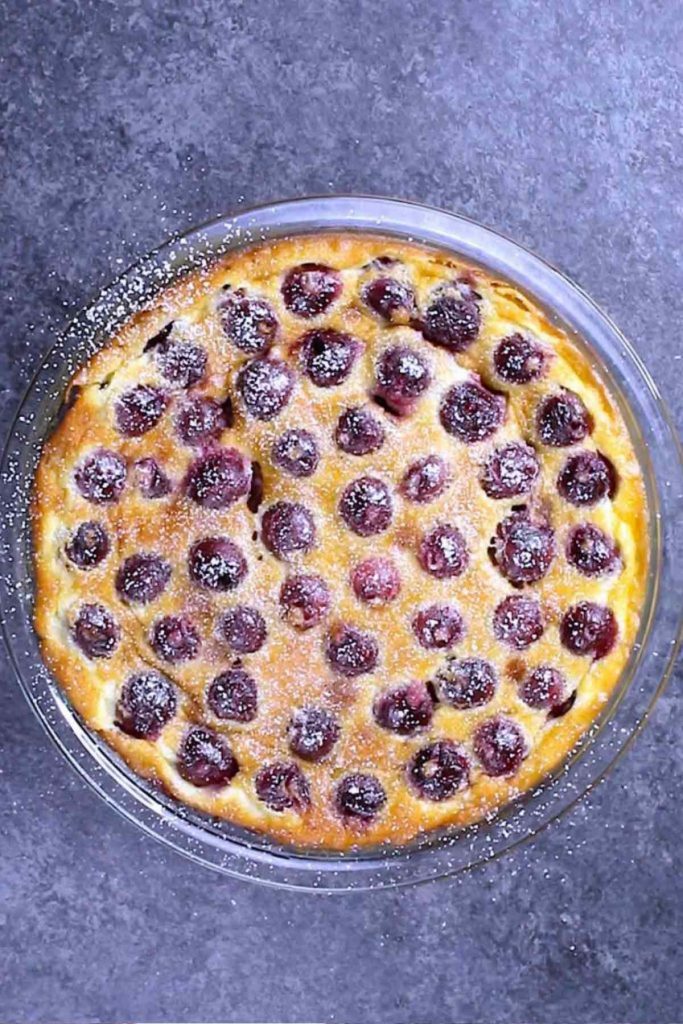 This classic French dessert is simple but delicious! Made with only 11 ingredients, this baked dessert looks like a large pancake but its consistency is soft like pudding. You can use cherries or customize this dish with your favorite fruit!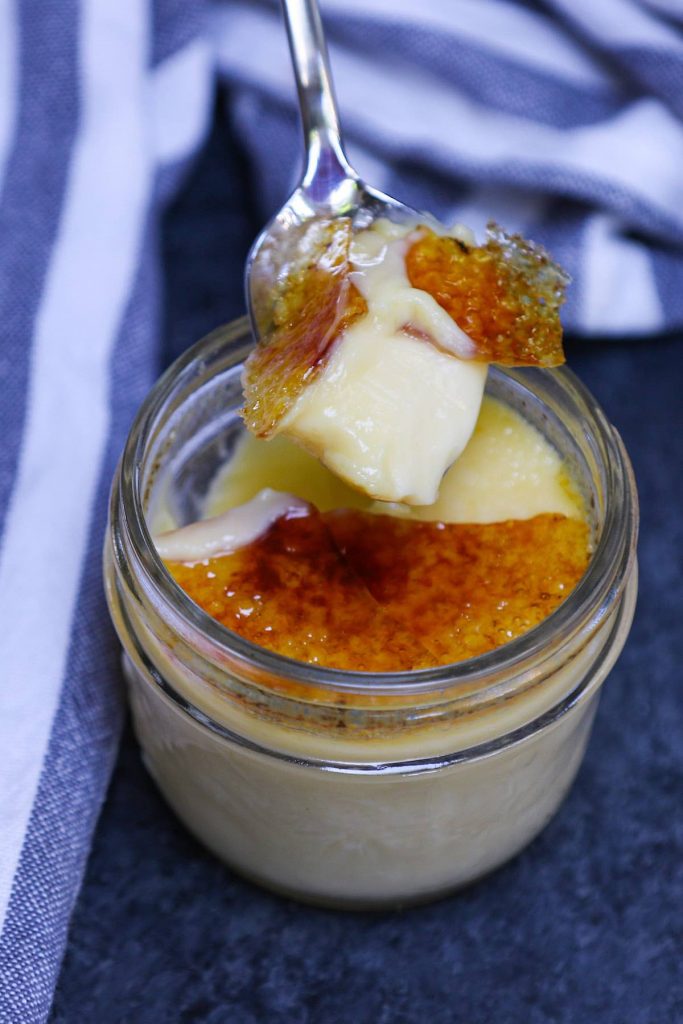 You can never go wrong with a creamy crème brûlée! This tasty dessert is a sweet custard base covered with a layer of caramelized sugar. Crack open the top layer with your spoon and dig in!
It doesn't get any easier than this! This silky chocolate mousse is super easy to make, with only 4 ingredients and 10 minutes of prep time, it may become your new favorite dessert!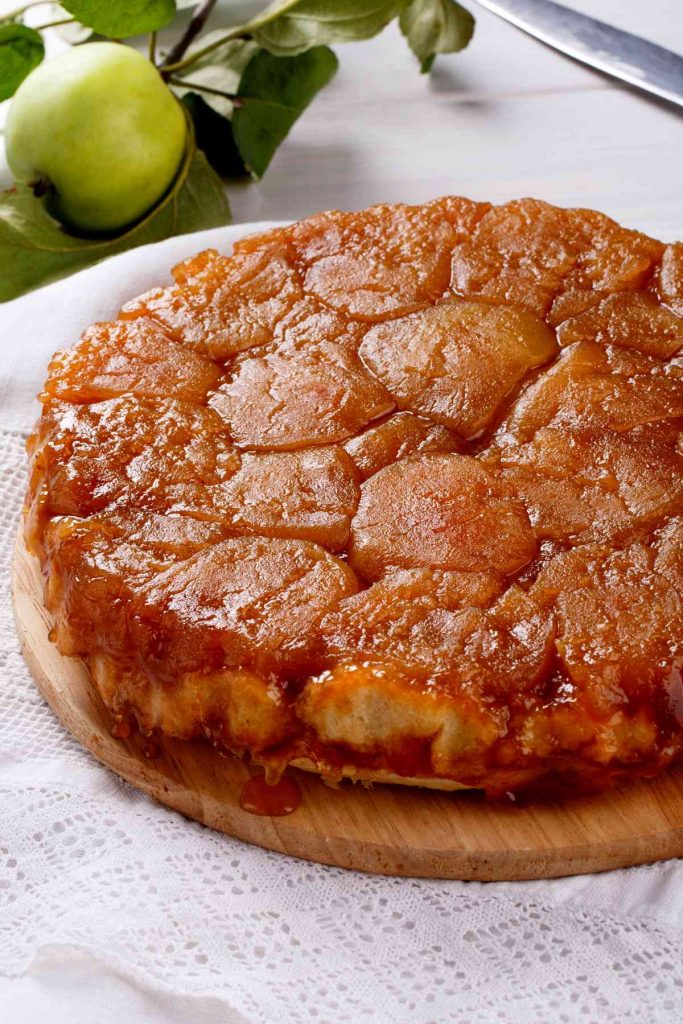 Delicious and tasty! Tarte Tatin is a delicious puff pastry filled with caramelized apples for a sweet and tender dessert. The best part? This recipe uses just 5 ingredients!
Here's another easy one for you! No baking needed for this pot de crème, this creamy dessert just needs 5 minutes of work before chilling in the fridge overnight. With this dessert, every spoonful is full of chocolatey goodness!
These popular French cookies are heart-shaped! This recipe will teach you how to make these tasty treats using only 2 ingredients. Once you've got the hang of it, this recipe also has a few variations that you can try out!
Classic French Desserts
This decadent layered cake is a coffee lover's dream! Opera cake had 3 alternating layers of almond sponge cake dipped in coffee, espresso cream and rich chocolate ganache. The final layer is topped with a smooth chocolate glaze for a mouth-watering dessert that will have you reaching for more!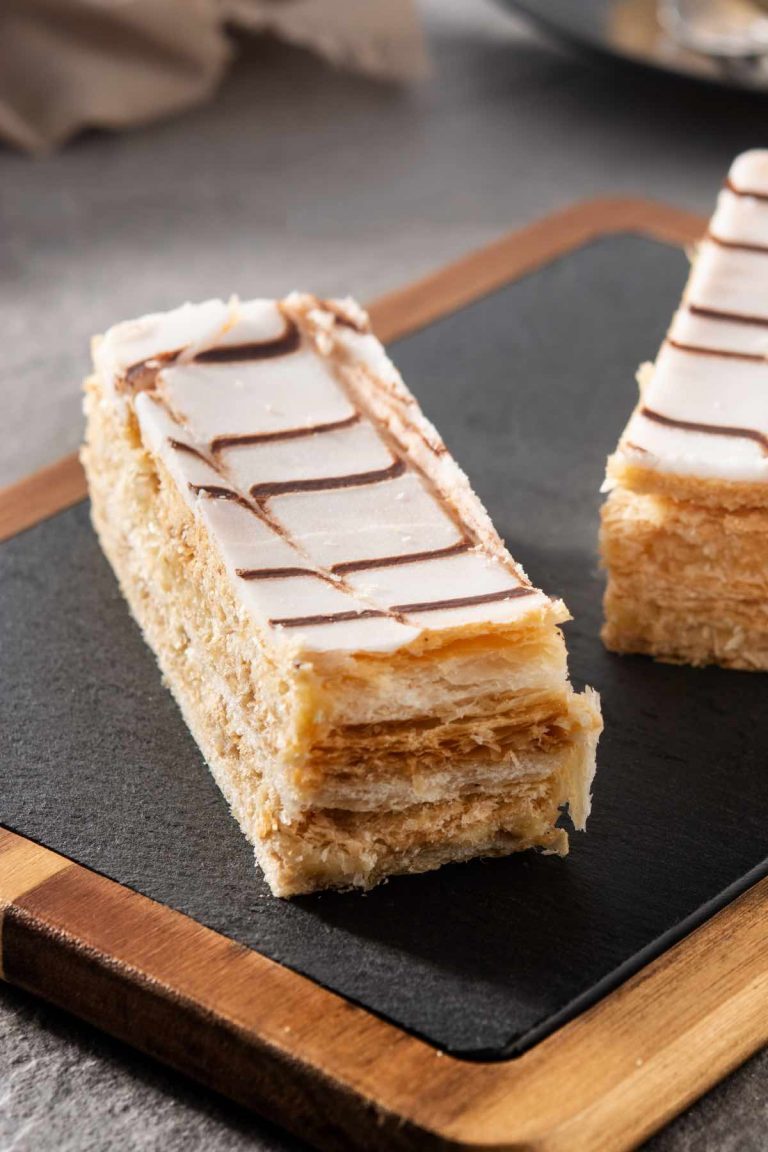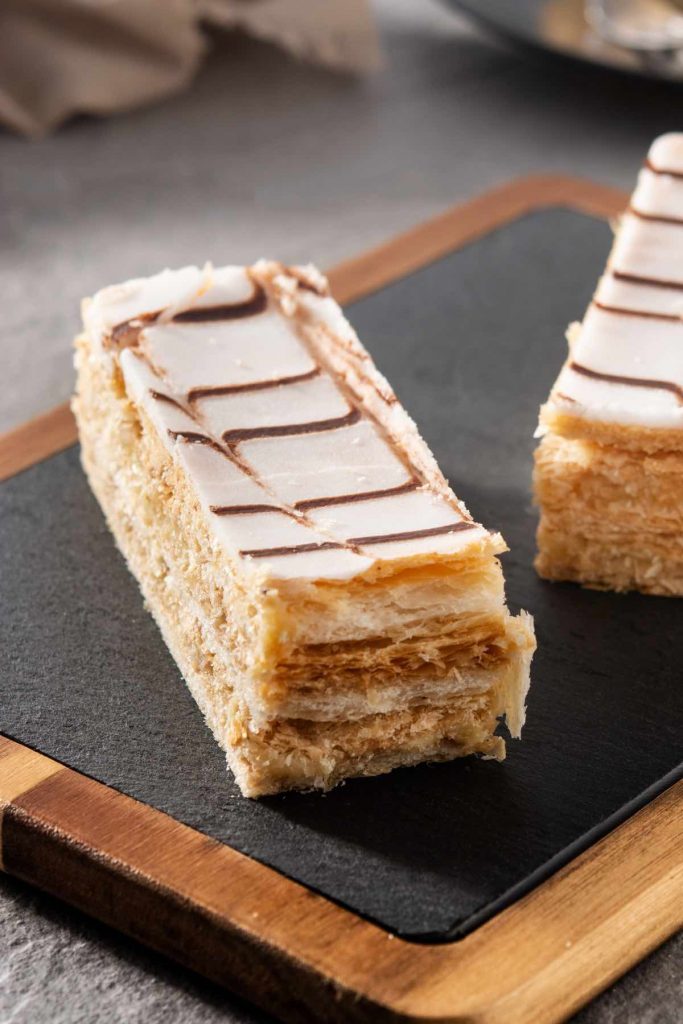 Here's another layered dessert that's sure to please! Made with alternating layers of puff pastry and pastry cream, this sweet dish is topped with a vanilla and chocolate glaze. Feel free to make extras, this dessert can be stored in the freezer for up to 6 months!
What's more French than macarons? These little pastries are easy to find in stores, but this recipe will teach you how to make them in your own kitchen. Foolproof macarons with just 7 ingredients!
With a smooth custard inside surrounded by a crispy outer crust, this tart is sure to impress! After baking, the top layer of the vanilla custard will be extra soft and turn a beautiful brown color.
A light dessert that's simple but delicious. Using just 5 ingredients, you'll learn how to make a satisfying chocolate soufflé that'll satisfy your sweet tooth. Plus, this recipe promises a perfect soufflé that won't fall!
Lemony fresh! Here you'll learn how to make your own pastry dough that'll serve as the base for your fresh tart! This simple dessert is the perfect blend of sweet and tangy!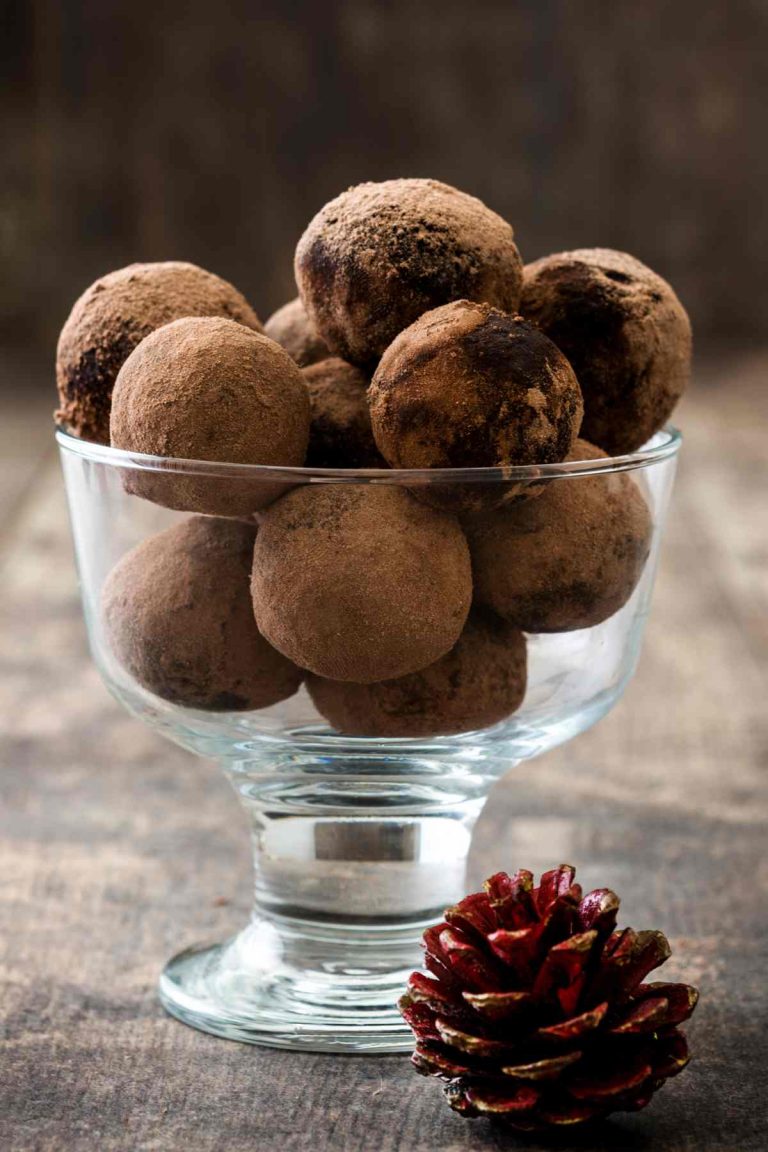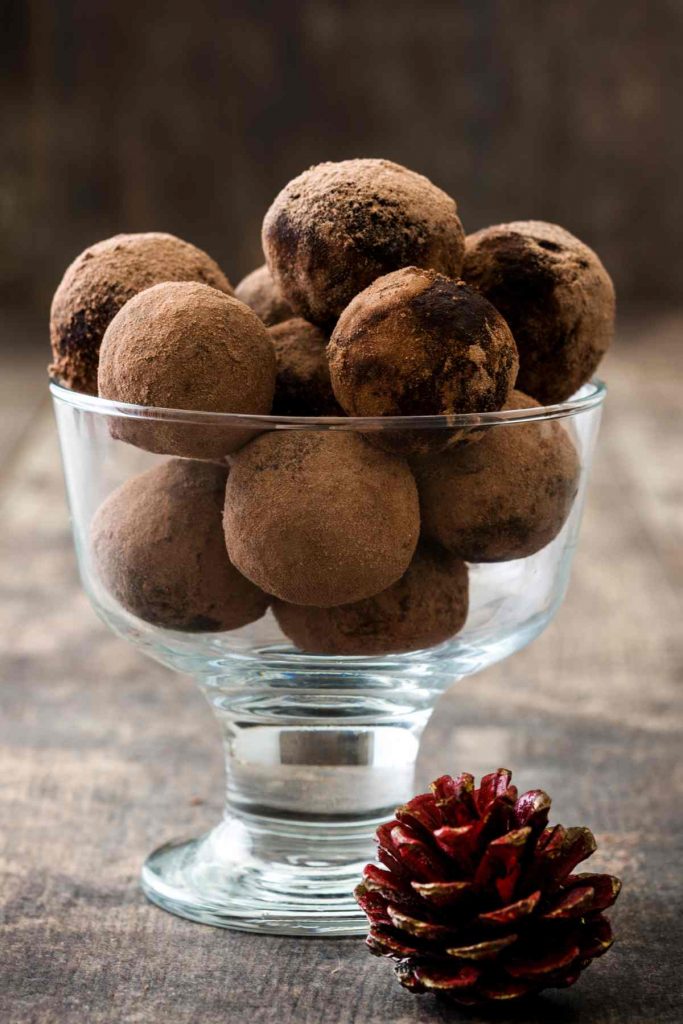 Decadent chocolate truffles made easy! Creamy truffles that melt in your mouth are bite-sized bliss that will satisfy all chocolate lovers. This recipe only needs 4 ingredients for you to make truffles like a professional chocolatier!
The French are masters of making delicious custard! While this dish is similar to crème brûlée, it has a firmer texture that's similar to gelatin. The best part? This tasty dish only needs 6 basic ingredients!
Only need 3 ingredients for these candied chestnuts! Here you'll learn how to make syrupy, soft and sweet chestnut treats with a fragrant aroma. This is probably one of the most time-consuming dishes, but we promise it's worth the wait!
Warm chocolate sauce is poured over tender poached pears in this recipe! The soft pears are poached in a sweet and zesty syrup for added flavor. Serve this simple with a scoop of vanilla ice cream!
Another irresistible tart recipe! The centrepieces are thinly sliced apples brushed with an apricot glaze. The apples are beautifully spread over a layer of nutty frangipane filling inside the buttery, homemade crust.
This dessert is a creamy custard sauce with a scoop of light and fluffy meringue sitting in the middle. Drizzle with fresh caramel sauce and top with fresh fruit for a delicious treat!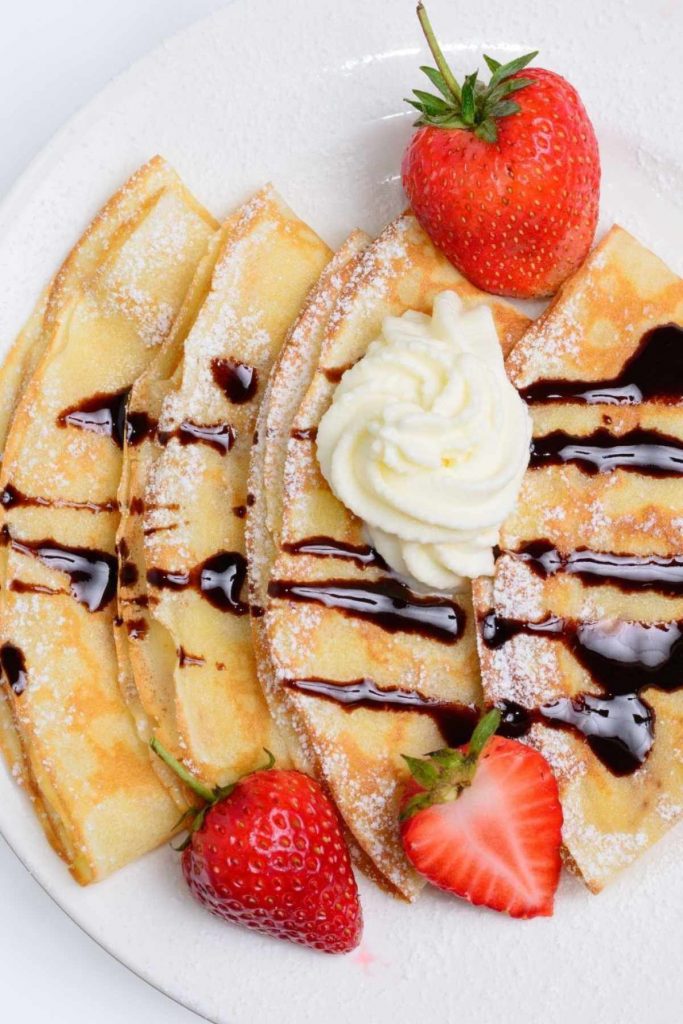 French pancakes or crêpes are one of France's culinary masterpieces! They are thinner than American pancakes and typically stuffed with delicious sweet or savory fillings. Perfect for breakfast, brunch or dessert!
Like cream puffs, but with ice cream instead! Profiteroles are made with choux pastry that's baked until it's tall and fluffy and then sliced in half. The half pastries are held together with a scoop of ice cream and then coated with warm chocolate sauce for a light but flavorful dessert!
This presentation is beautiful! Soft, tender cream puffs are stuffed with smooth pastry cream and layered on a serving plate in the shape of a tower. For finishing touches, these croquembouche are drizzled with fresh caramel for a gorgeous display.
Don't underestimate this simple-looking cake! The crisp and flaky puff pastry is filled with almond cream for an elegant dessert that melts in your mouth. With only 15 minutes of prep time, this recipe leaves all the hard work for the oven! 
French Pastries and Cookies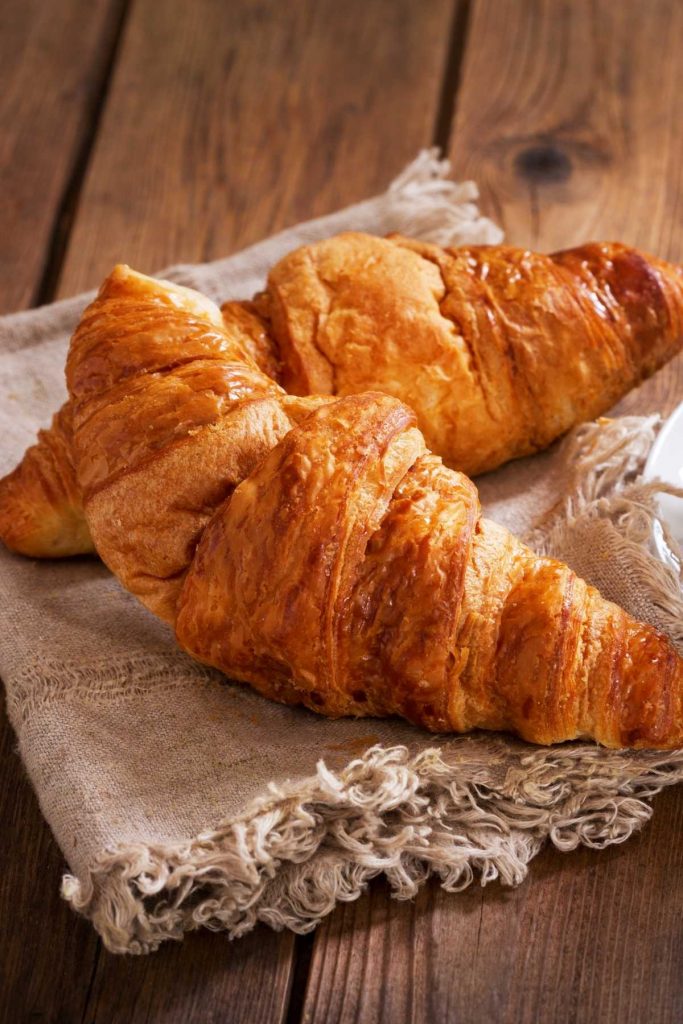 Our article wouldn't be complete without a recipe for classic croissants! These signature French pastries are butter and flaky with the perfect amount of crispiness. Here you'll learn how to make authentic croissants with just 9 ingredients!
Another classic French pastry! Éclairs are simple and crispy puff pastries filled with a smooth cream and covered in a thick layer of rich chocolate glaze. Plus, this recipe will teach you how to make 4 variations of chocolate or vanilla pastry cream!
Buttery and flaky, these perfect pastries are simple but stuffed with flavor! With a warm chocolate filling and crispy, sugary outer crust, biting into fresh pain au chocolat is an unforgettable eating experience!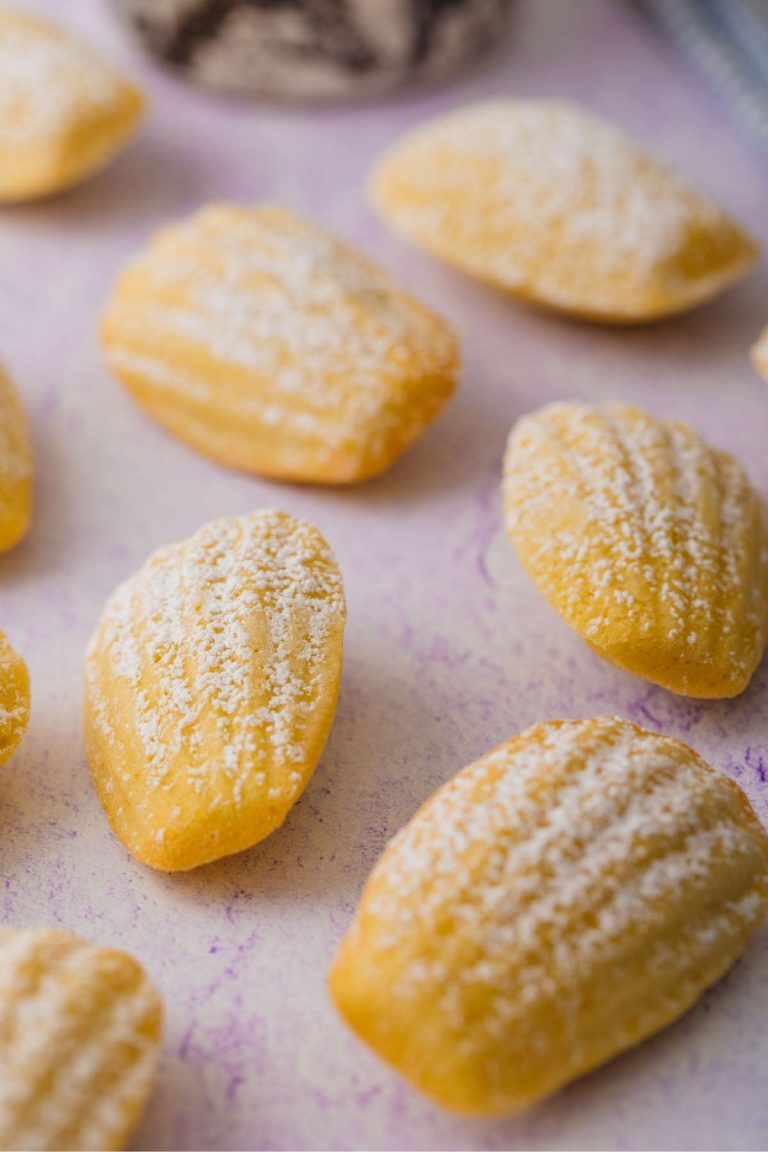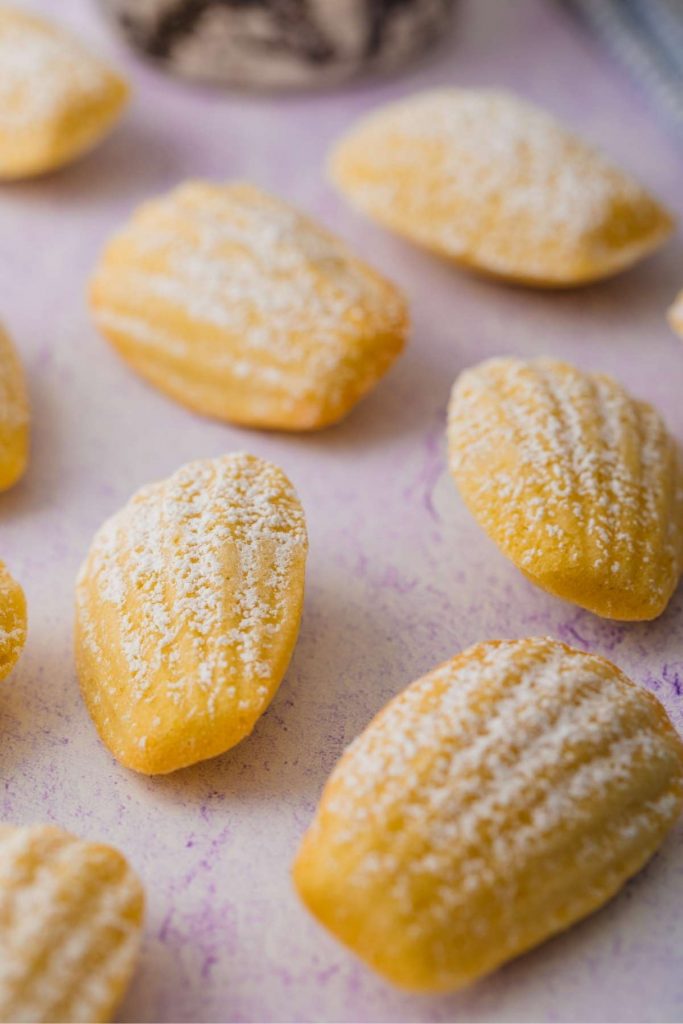 Soft and bouncy, these pastries are the perfect snack to go with your tea or coffee! Made with only 9 basic ingredients, these seashell-shaped treats are easy to make with only 20 minutes of prep time!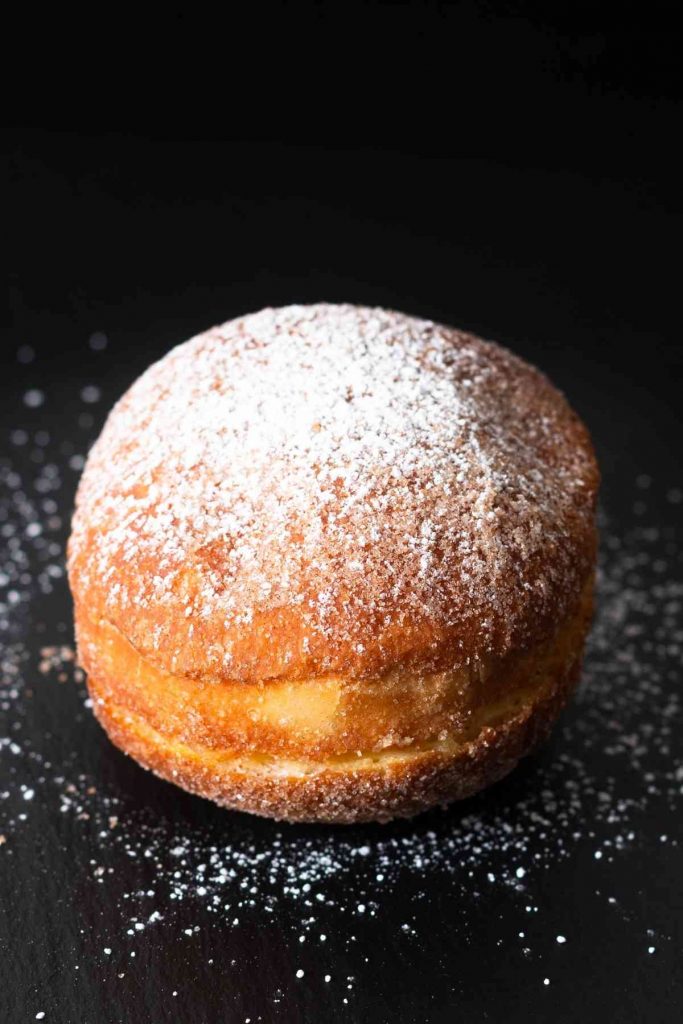 French donuts are dense and soft at the same time! Fried in oil and dusted with powdered sugar, these simple treats will melt in your mouth. While this recipe doesn't use any filling, they can easily be stuffed with pastry cream or Nutella for some added flavor! 
These beautiful flower-shaped pastries have a unique texture and irresistible flavour! The moist custard interior is super soft and will leave your mouth watering for more. Coated with a crispy caramelized shell, biting into these is an experience in itself!
These mini cakes have everything you want in a pastry! They're soft and moist on the inside but have crispy golden edges. Made with just 5 ingredients, these almond cakes are simple and easy to make!
Beautiful petal shaped cookies that look almost as good as they taste! They have a candied fruit and almond base that's topped with a thin layer of royal icing for a mouthful bursting with flavor.
Frosted cookies that look like hockey pucks! Buttery cookies topped with lemon zested icing are simple yet flavorful. Plus, with only 9 ingredients, these vanilla cookies are a breeze to make!
Buttery and crumbly cookies every time! Sablés are a traditional Christmas cookie that can be enjoyed all year round. The best part? These fluffy cookies keep well in the freezer for up to 1 month!
It doesn't get any easier than these simple mendiants! Made with just 2 ingredients, mendiants are made with a thin layer of chocolate topped with candied nuts and fruits!
You May Also Like
French Opera Cake Dessert
This decadent layered cake is one of our favorite French dessert! Opera cake had 3 alternating layers of almond sponge cake dipped in coffee, espresso cream and rich chocolate ganache. The final layer is topped with a smooth chocolate glaze for a mouth watering dessert that will have you reaching for more!
Print
Pin
Rate
Ingredients
Almond Sponge Cake (Joconde)
1/2

cup

almond flour

1/3

cup

powder sugar

1

egg

room temperature

1/2

cup

cake flour

2

egg white

room temperature

1/4

cup

sugar
Coffee Syrup
100

ml

hot water

2

teaspoons

instant coffee

2

tablespoons

sugar
Coffee Buttercream
2

egg yolks

room temperature

2

tablespoons

granulated sugar

1

tablespoon

water

7

tablespoons

unsalted butter

softened

1

teaspoon

espresso powder

2

teaspoons

rum

optional
Chocolate Ganache
5.5

oz

semisweet chocolate

1

cup

heavy cream
Chocolate Glaze
3 ½

oz

semisweet chocolate

1

tablespoon

canola oil
Instructions
Preheat the oven to 400°F. You'll need a medium-sized sheet pan. Line it with parchment paper and set aside. If you don't have the exact size, you can use a larger baking pan, and mark an 8×10-inch area.

Make almond sponge cake (joconde): Sifted almond flour and powdered sugar, and mix with the egg. Then add cake flour and mix well.

In another bowl, whip the egg whites, and add sugar until stiff peaks form. Combine the whipped whites and almond mixture. Pour the batter into a prepared sheet pan and bake for 8-10 minutes until slightly golden. Let it cool completely and divide the cake into 3 equal pieces.

Prepare coffee syrup: Add coffee and sugar into hot water and whisk to dissolve. Let it cool.

Make espresso-flavored buttercream: Beat the egg yolks until creamy. Then add sugar and water in a small saucepan on medium heat. Stir constantly. When it reaches 240°F, pour it over the creamy egg yolks and mix.

Add softened butter and beat until combined.

Whisk together espresso and rum, and add to the mixture. Mix until combined. Set aside.

Prepare chocolate ganache: Chop the chocolate finely and add it to a bowl. Heat heavy cream in a small saucepan until boiling. Pour over the chocolate immediately. Stir until combined. Set aside to cool. heavy cream and add to the mixture.)

Assemble the cake: Brush the sponge cake layer with coffee syrup. Spread half of the buttercream on top and even the surface with an offset spatula. Then spread half of the cooled chocolate ganache evenly on top. Add another sponge cake and brush with coffee syrup, and spread the other half of the buttercream. Add the last layer of sponge cake and brush with coffee syrup. Then spread the rest of chocolate ganache on top evenly.

Chill: Cover and refrigerate for 2 hours or overnight. You can chill it for up to 1 day, so it's a great make-ahead dessert recipe!

Prepare a double boiler for melting the chocolate: If you have a double boiler, use it in this step. If you don't, place a heat-proof bowl over a small pot of simmering water over medium-low heat. The water shouldn't touch the bottom of the bowl. Melt your chocolate in the bowl.

Make a chocolate glaze: Add oil to the melted chocolate and mix to combine. (Save small amount of the chocolate glaze for decoration).

Place the chilled cake over a rack placed on a baking sheet. Pour the chocolate glaze over the cake and use a spatula to smooth out the surface. Refrigerate for about 1 hour to set.

Pour boiling water over the knife and wipe with paper towel before cutting into the cake. Cut the cake into 5-6 even pieces.

Use the leftover chocolate glaze to write "Opera" on each piece. Serve and enjoy!
Tried this recipe?
Follow or tag us on Pinterest @izzycooking