If you're wondering what to do with pecans besides eating them raw or making pecan pie, you've come to the right place. Below you will find 28 of our favorite Easy Pecan Recipes, which include some must-try meals for nut fanatics!
What Can I Do with Fresh Pecans?
The question is – what can't you do with fresh pecans? The are many possibilities including pies, tarts, cookies, and cakes! It doesn't stop there! You can also add pecans to savory dishes such as chicken, salads, sweet potatoes and even seafood.
How Long Will Pecan Nuts Stay Good?
It can be hard to believe, but pecans can go bad. In-shell pecans last up to 18 months when stored correctly, but only 4 months at warmer temperatures. In contrast, unshelled pecans will only last up to 6 months in a cool and dry place and even less time at room temperature. If you don't plan on using them anytime soon, store them in a resealable plastic bag in the freezer.
Pecan vs. Walnuts
Do you like pecans or walnuts better? Pecans are smaller and darker than walnuts, which tend to have more of a golden color. As for the taste, pecans can have slightly bitter notes, while walnuts tend to have a sweeter flavor.
In terms of nutrition, pecans are good sources of zinc, magnesium, potassium, vitamins and antioxidant, while walnuts are higher in Omega-3 fatty acids, B vitamins and iron.
However, if it's the protein you're after, walnuts are your go-to with almost 10 percent of your daily recommend protein in one serving. Pecans have an extra 1 gram of fiber per serving versus walnuts.
Are Pecans Good for You?
Raw pecans are a natural food that's packed with protein, healthy fats, and fiber, keeping you energized! Plus, they are a great source of calcium, magnesium, and potassium. So the next time you're craving a healthy snack – grab a handful of pecans!
Dessert Pecan Recipes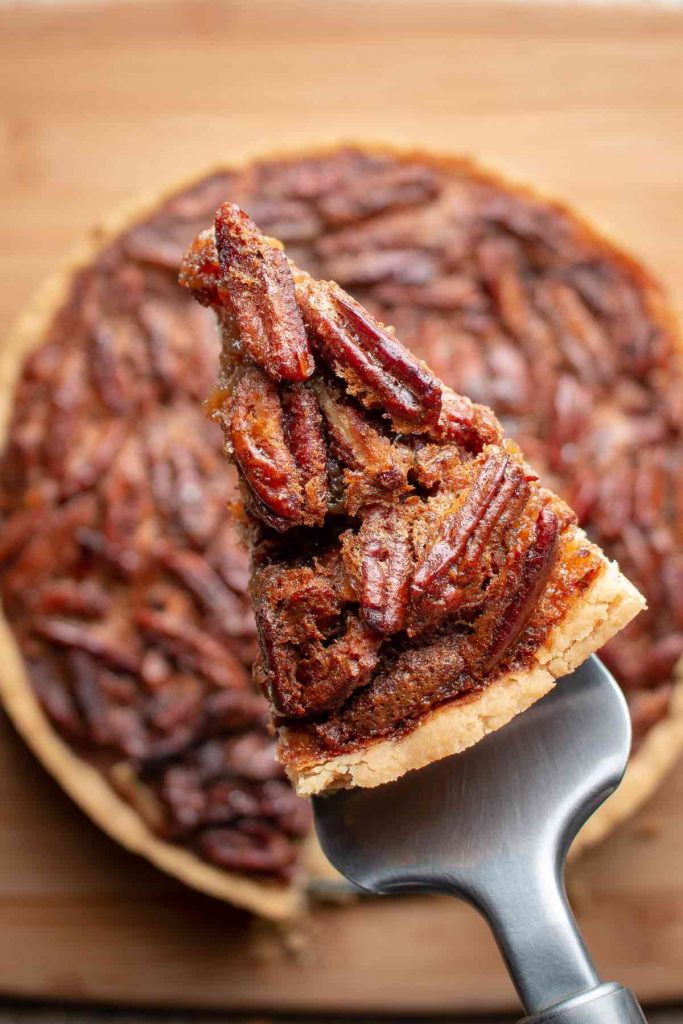 This homemade pecan pie is a classic dessert for Thanksgiving and Christmas holidays. It's quick to make with the perfect combination of sweet and savory flavors. Plus, it's easy to make, so get the kids involved.
These are easily the best Southern praline pecans with an unforgettable brown sugar and butter flavor. The crunchy texture is a cross between candy and cookies – yum!
These pecan sandies are crisp on the outside with a nutty and buttery inside. These may just become your new favorite cookies! 
Butter pecan ice cream is a rich custard ice cream with bits of candied pecans! This sweet treat is creamy, crunchy, refreshing and delicious!
Take your regular pecan pie to the next level with this bourbon pecan pie recipe! Don't worry about getting tipsy, since the alcohol boils off. However, it has an unforgettable flavor everyone will love!
Are you looking for a new cheesecake recipe? Then this one is for you! Made with a wafer crust, pecan pie filling, and a caramel pecan topping – it's worth the wait!
Perfect for those large gatherings, pecan tassies are a recipe to keep around! Made with cream cheese and a flaky pastry, they're sweet and gooey in every bite!  
These cookies are made with brown butter, brown sugar and loaded with pecans! They're thick, chewy, and incredibly delicious!
This is the perfect cake for any holiday! Bursting with buttery pecan flavor, it's soft and tender on the outside and moist inside. It's a recipe you'll definitely want to try.
Tender and sweet, these caramel pecan sticky buns are made with a delicious caramel sauce. With little time to prep, you'll be making these again and again.
If you're familiar with Canadian flavors, you know that it's all about the maple! This tart recipe combines pecan and maple flavors in every bite, so you don't need to choose between pecan pie and butter tarts!
Do you love making your own frostings? This is the one used on German chocolate cake and it's totally addictive with mouthwatering coconut and pecan flavors!
Savory Pecan Recipes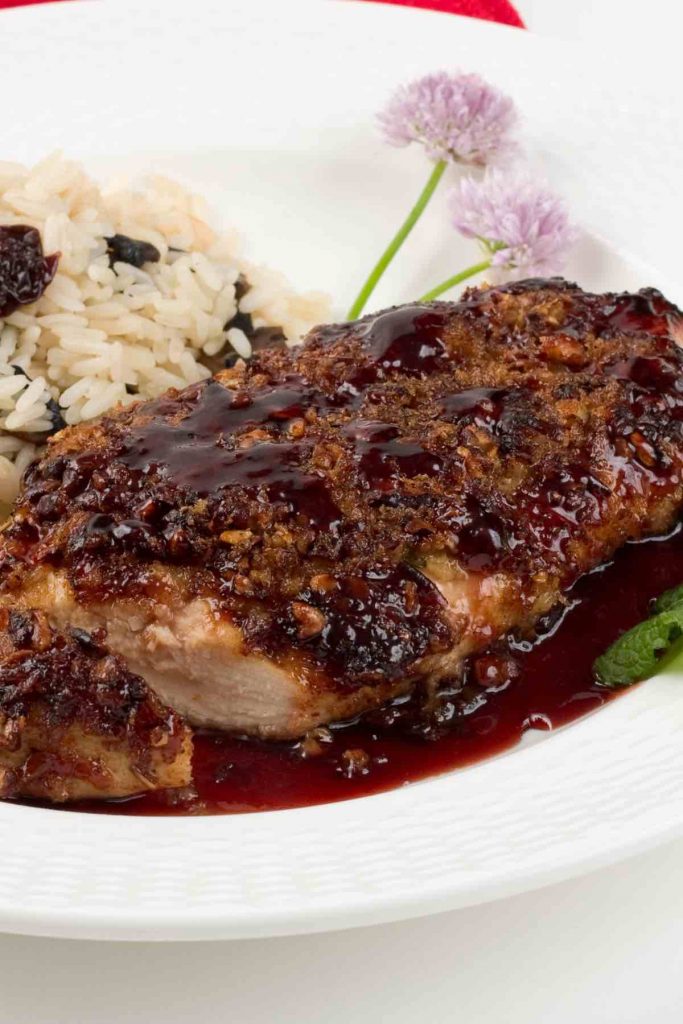 These mouthwatering recipe covers tender and juicy chicken breasts in a sweet and smokey pecan sauce. This keto-friendly recipe is light, crispy and incredibly moist!
Here's a recipe that will allow you to skip the drive-thru and make your own delicious salad right at home! This salad tastes just like Wendy's with pecans, apples and blue cheese!
With just 5 ingredients and 5 minutes of prep, you and your family can enjoy this healthy pecan crusted salmon before you know it! The best part? It's keto, dairy-free, paleo, gluten-free and Whole 30! 
This recipe takes sweet potato flavors to a new level! Sweet potato casserole has intense aromas and a pleasant sweet and nutty taste. Perfect for the holidays!
Healthy Pecan Recipes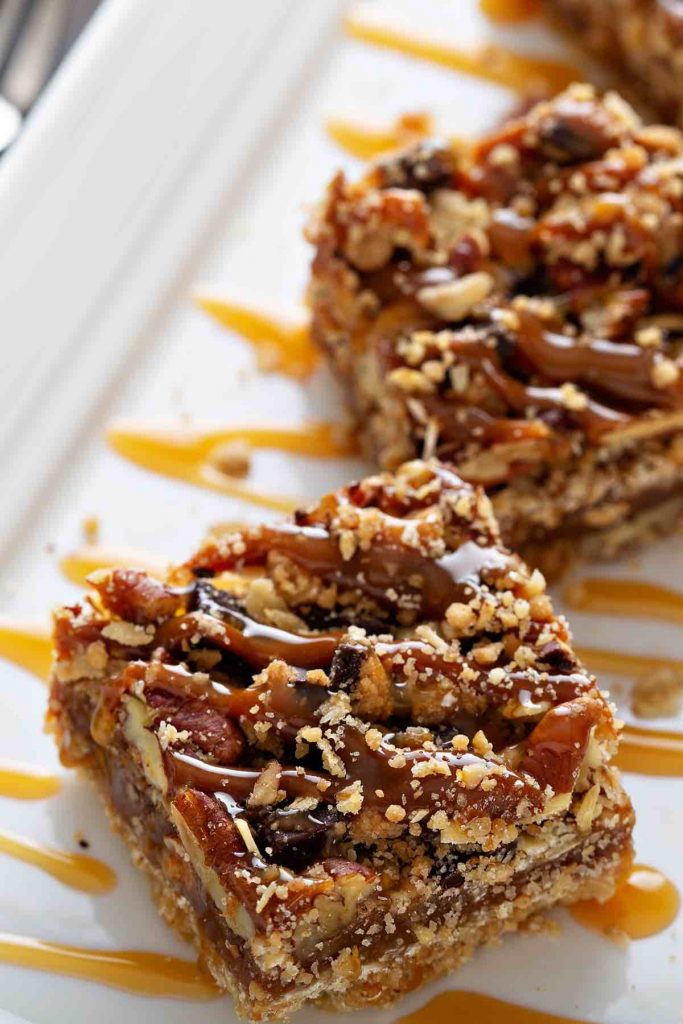 These vegan healthy pecan pie bars taste just like real pecan pie and have a delicious pecan filling on top! The best part? They are paleo and gluten-free with only 15 minutes of prep.
Here's a simple recipe that uses crunchy pecans with a sweet yet spicy coating! Plus, without having to use sugar or butter, you can enjoy this guilt-free! Ready in just 5 minutes.
These roasted pecans are simple and easy to make with just 3 ingredients. You can also choose to make this healthy snack sweet or savory to suit!
Made with a healthy pie crust and healthy filling, this recipe can help you achieve your dietary goals. The best part? it's easy and delicious too!
Other Simple Pecan Recipes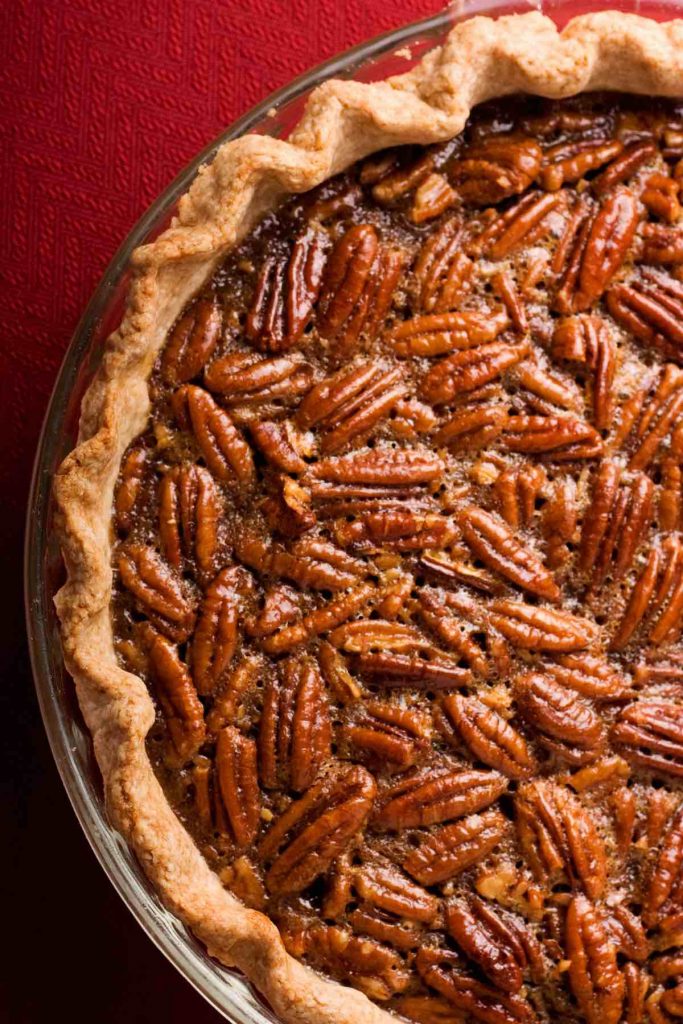 This recipe combines two favorites in one! It's your classic pecan pie with a delicious chocolatey twist. If you're short on time here, you can opt to use a pre-made crust.
Loaded with bananas and pecans, this recipe is baked to perfection! Think crunchy on the outside with a soft and moist inside!
This is a from-scratch pecan pie made with karo syrup, which is a less refined type of corn syrup. It's an all-time favorite that only requires 20 minutes of prep.
Combine two fall favorites in one with this pumpkin pecan pie! This recipe is sweetened with maple syrup, butter, and brown sugar. Your guests may want to skip dinner and head right to dessert!
This holiday dessert is great year-round! Pecan pie brownies are a decadent and tasty treat that will surpass any brownie recipe you've tried before!
Just when you thought shortbread cookies couldn't get any more delicious, along came pecans! These cookies are sophisticated with a buttery and nutty flavor!
Ok, if you're looking for a quick treat that is delicious and leaves you wanting more – then you've found it! Microwave pecan brittle takes just 15 minutes to cook! 
Summer meets fall with this pecan cobbler, a delicious dessert that produces its own caramel sauce as it bakes in the oven. Can you get better than that?
Does Pecan Pie Need to Be Refrigerated?
If you're serving your pie right away, just let it cool on the counter before serving.
You can also store pecan pie at room temperature for up to two hours safely. After that, due to the egg content it should be stored in the refrigerator for up to 4 days. Any longer than that and you should freeze it.
You May Also Like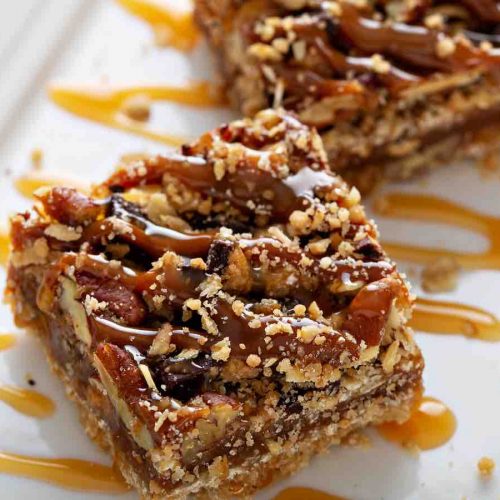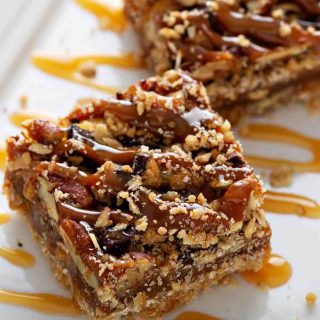 Easy Pecan Pie Bars
These pecan pie bars have a buttery crust with a sweet and crunchy pecan pie topping. It's one of my favorite pecan recipes.
Print
Pin
Rate
Ingredients
1 ½

cups

chopped pecans

3/4

cup

butter

room temperature

1/3

cup

granulated sugar

2

cups

all-purpose flour

divided

2/3

cup

light brown sugar

1 ½

cups

corn syrup

4

eggs

1

tablespoon

vanilla extract

1/2

teaspoon

salt
Instructions
Preheat oven to 350°F. Line a 9×13 baking pan with parchment paper and set aside.

Add butter and sugar to the bowl of the stand mixer fitted with the paddle attachment. Combine them together on a medium speed.

Lower the speed and add 1 ¾ cups of the flour. Mix until combined.

Pour the mixture into the baking pan, and press it evenly into the bottom of the pan.

Bake for about 18 minutes or until the surface is golden.

While the crust is baking you can make the filling. Whisk together the sugar, corn syrup, eggs, and vanilla in a bowl until smooth.

Add in the remaining flour and salt. Continue to whisk until combined.

Add the chopped pecans. Mix well.

When the crust is done, pour the pecan mixture on top of the hot crust.

Bake for about 30 minutes or until the center is set.

Let it cool completely. Serve and enjoy!
Tried this recipe?
Follow or tag us on Pinterest @izzycooking