Apple Cider Vinegar Shots (aka. ACV Shots) are sweet and sour, with a ton of health benefits, as well as with weight loss. Ever wonder whether this detox drink actually works, or how many shots of apple cider vinegar do you need to drink a day? Keep reading to find out what the scientific research says.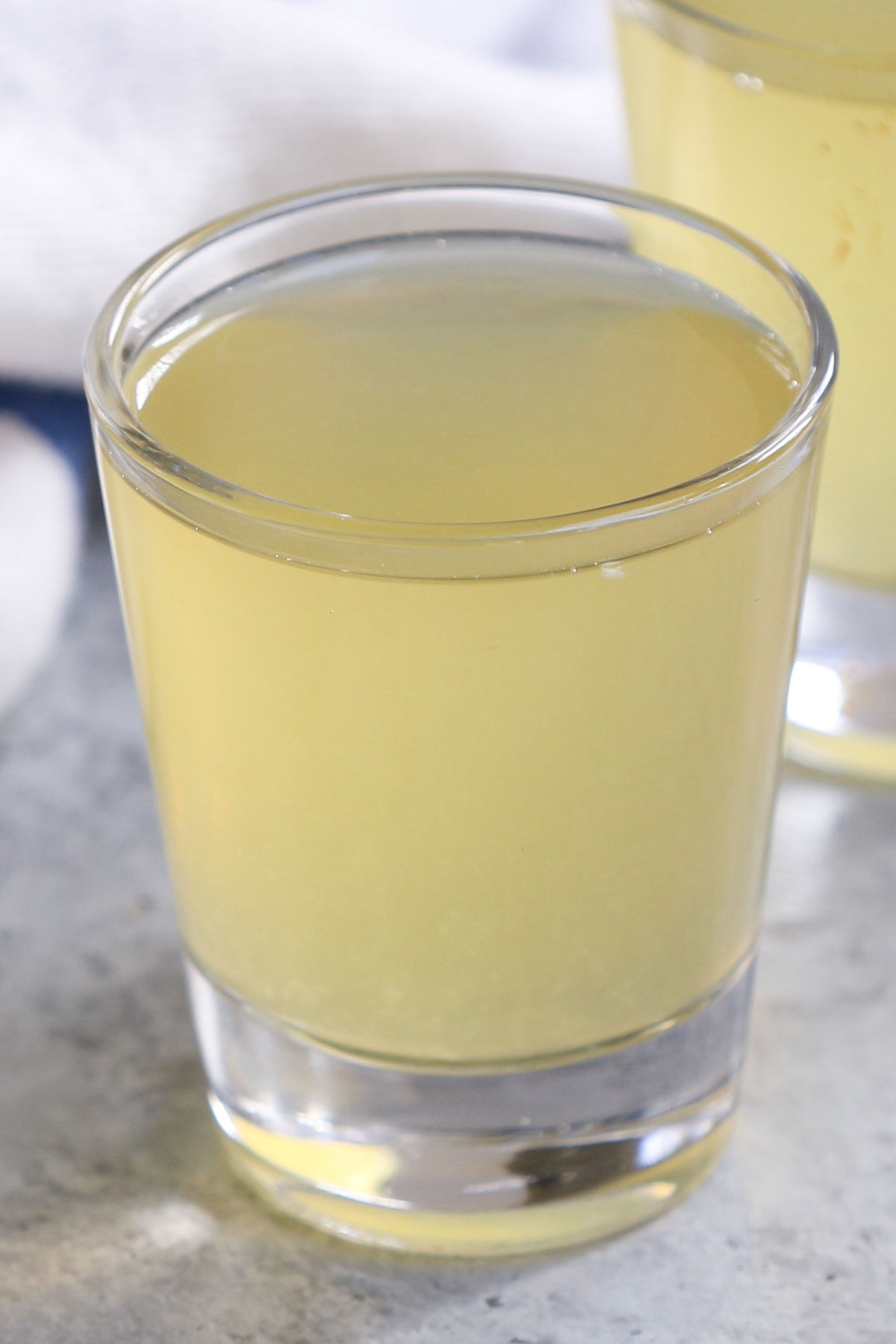 Many of Apple Cider Vinegar's health benefits come from the fact that it's so acidic, but that also brings about its biggest downfall too. Drinking it straight can actually erode the enamel of your teeth over time, so it's important to dilute it. This recipe not only helps with preventing that problem, but it will make the pungent liquid a little tastier too.
Some people suggest that drinking ACV before meals is the way to go, while others say its best first thing in the morning. This shot has lemon in it, which will give your whole system a good kick right when you wake up. If you're looking for a healthy way to shake up your routine, look no further than this powerful little shot.
What Are ACV Shots?
ACV shots are small, concentrated doses of apple cider vinegar. They are typically made by mixing a tablespoon or two of apple cider vinegar with water, and sometimes honey or other flavorings. The mixture is then consumed quickly, like a shot.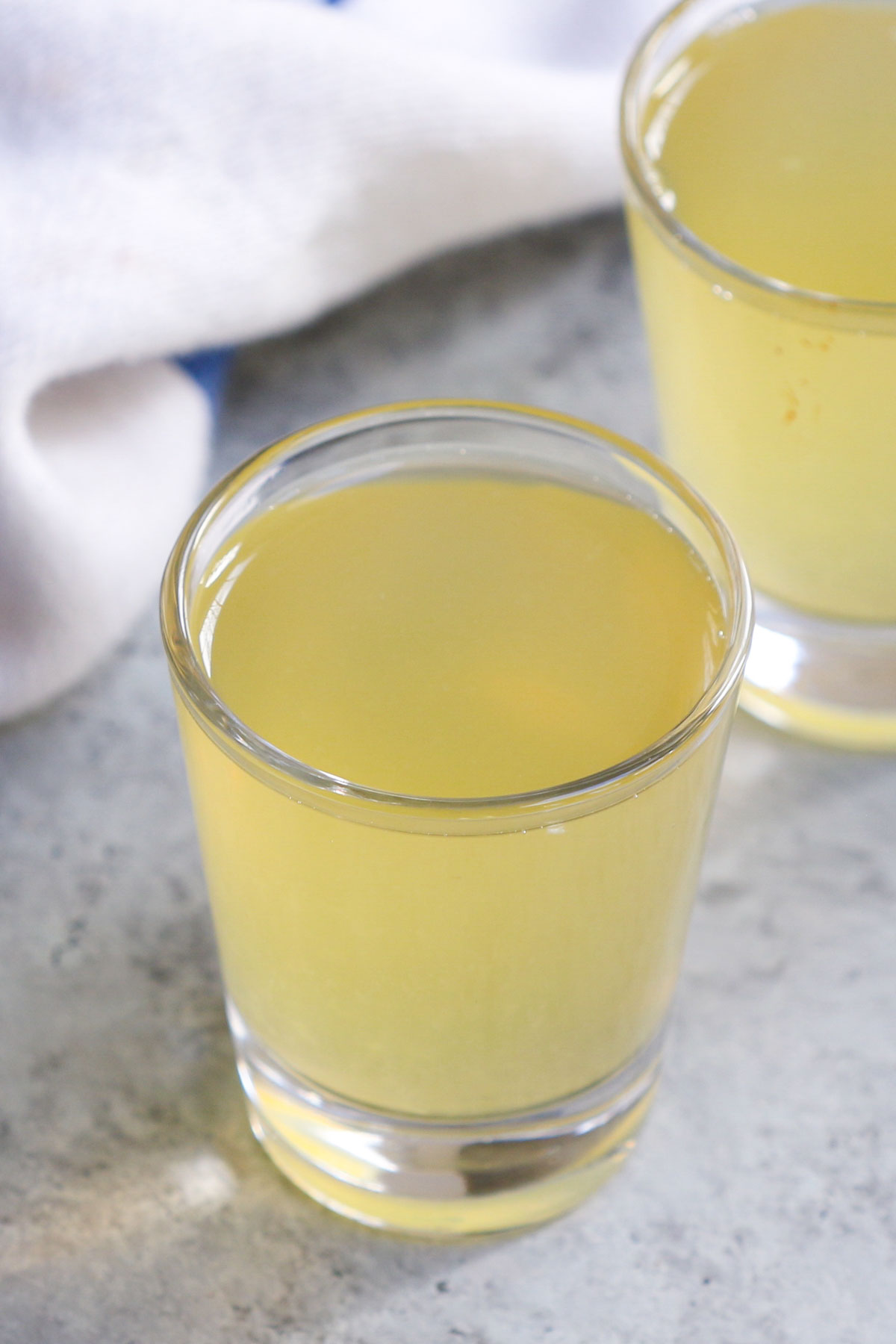 Health Benefits Of Apple Cider Vinegar Shots
There are so many health benefits to incorporating Apple Cider Vinegar into your diet. The vinegar itself actually contains quite a few vitamins and minerals like Potassium, Calcium, Iron and Vitamins A and C. But there are also claims that it can help in quite a few other ways.
While there isn't much scientific evidence behind it, there's a reason people have sworn by it for thousands of years. It has been said to help with weight loss, digestion and even improving your skin! It also works as a natural laxative and energy booster.
Risks and Side Effects
While apple cider vinegar is generally safe for most people, there are some risks and side effects to be aware of. Consuming too much apple cider vinegar can lead to digestive issues such as stomach pain, nausea, and diarrhea.
It can also erode tooth enamel and irritate the throat. Additionally, people who take certain medications, such as diuretics or insulin, should avoid apple cider vinegar as it can interact with these medications.
Ingredients For Apple Cider Vinegar Drink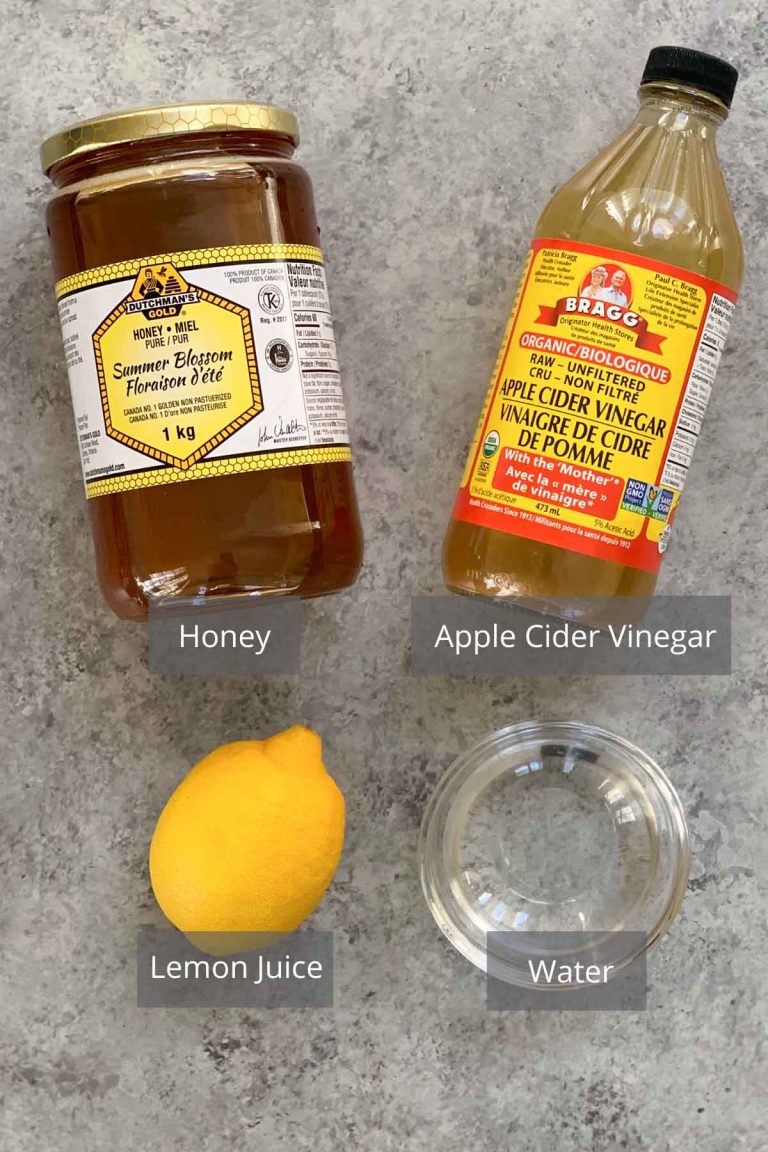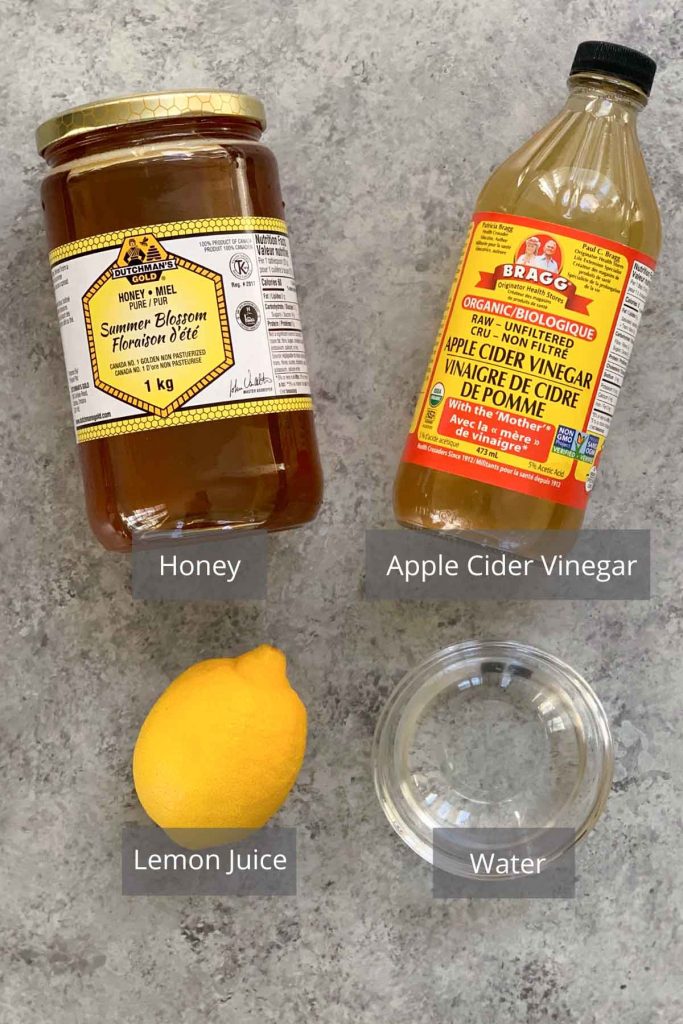 Apple Cider Vinegar: Apple Cider Vinegar is made from fermenting apples, but you don't have to worry about doing that yourself. It's pretty easy to find in stores and online. The most notable brand is Bragg.
Sweetener: Honey is the best sweetener for this recipe, because it brings in its own pleasant taste and health benefits, like being packed with antioxidants. However, if you're not a honey fan, or don't have it on hand, you can try other alternatives like Stevia or coconut sugar.
Lemon: Not only does lemon add a nice citrus tang to this drink, the fruit also has properties that assist with weight loss. It's the perfect complement to ACV and a great way to get some extra Vitamin C in your diet.
Water: Warm water will work best for this recipe, so it will break down the ingredients to mix them smoothly, but you won't have to wait for it to cool before drinking it.
How To Make Apple Cider Vinegar Shots (with Step-by-Step Photos)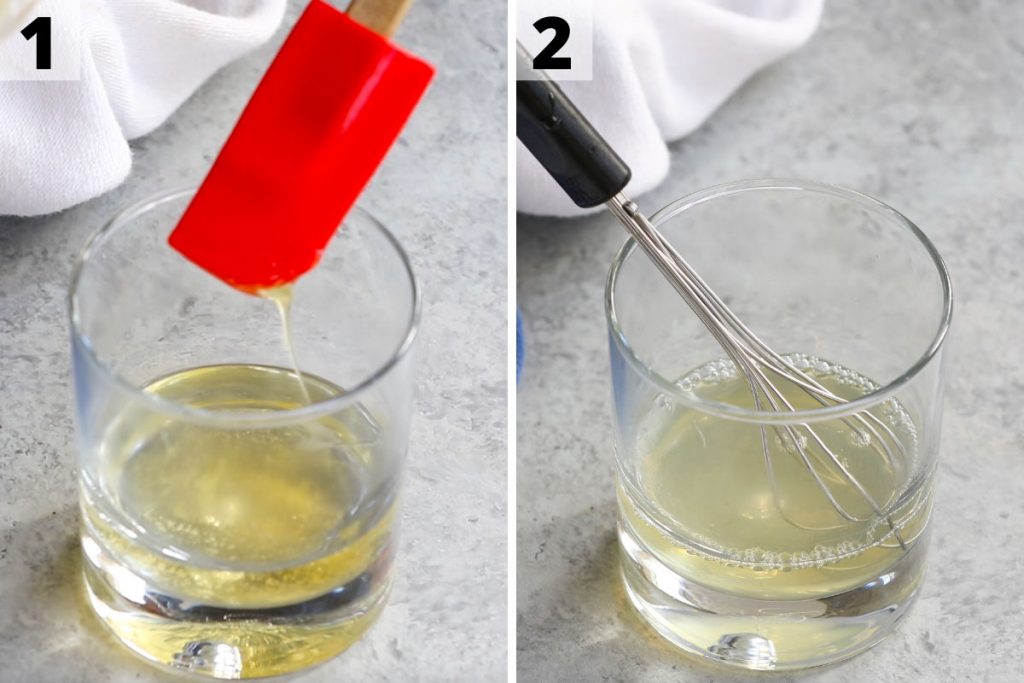 1. Whisk together warm water and honey in a large glass.
2. Make sure the honey is completely dissolved.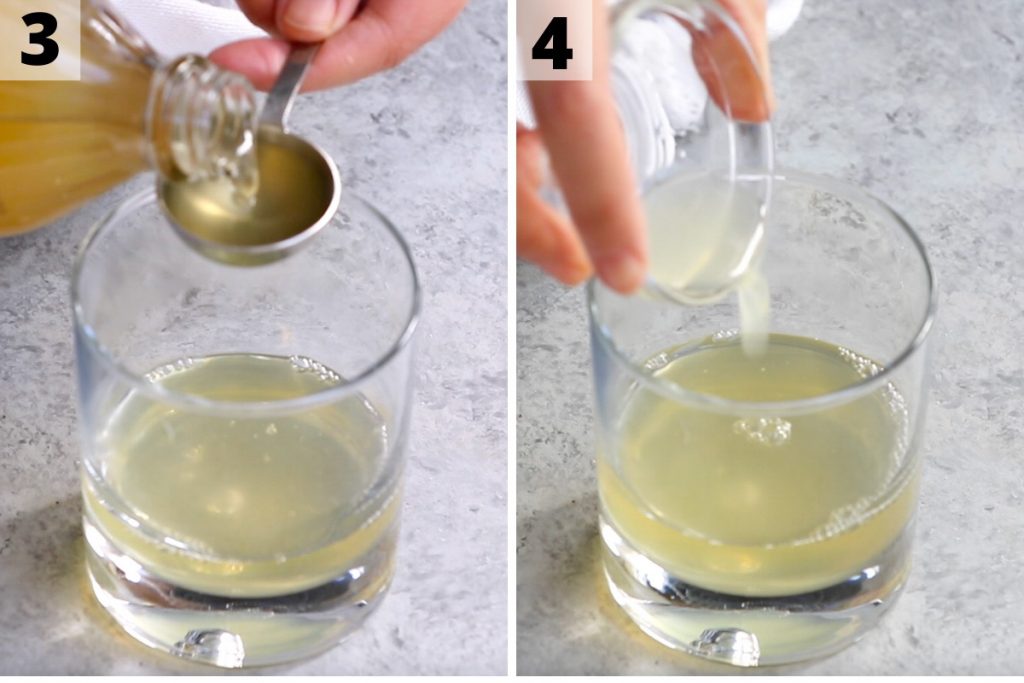 3. Add apple cider vinegar to the mixture.
4. Add lemon juice. Mix well.
5. Taste and add more honey if needed.
6. Pour into shot glasses. Serve warm or cold.
How To Drink Apple Cider Vinegar Safely?
You can drink Apple Cider Vinegar straight, but on top of being bad for your tooth enamel, it's pretty unpleasant. Even diluting it in water isn't always enough. This recipe is going to give you a healthy beverage that is still palatable, so you're not pinching your nose every time you drink it.
When To Drink Apple Cider Vinegar Shot?
It's best to drink your Apple Cider Vinegar Shot in the morning on an empty stomach or about 10 minutes before eating a meal.
Apple Cider Vinegar Shot Dosage?
Since Apple Cider Vinegar is incredibly potent, you don't want to have too much. The recommended dosage is between 1-2 tablespoons a day. If you haven't tried it before, you might want to start with just 1 tablespoon to test the waters before gradually adding more.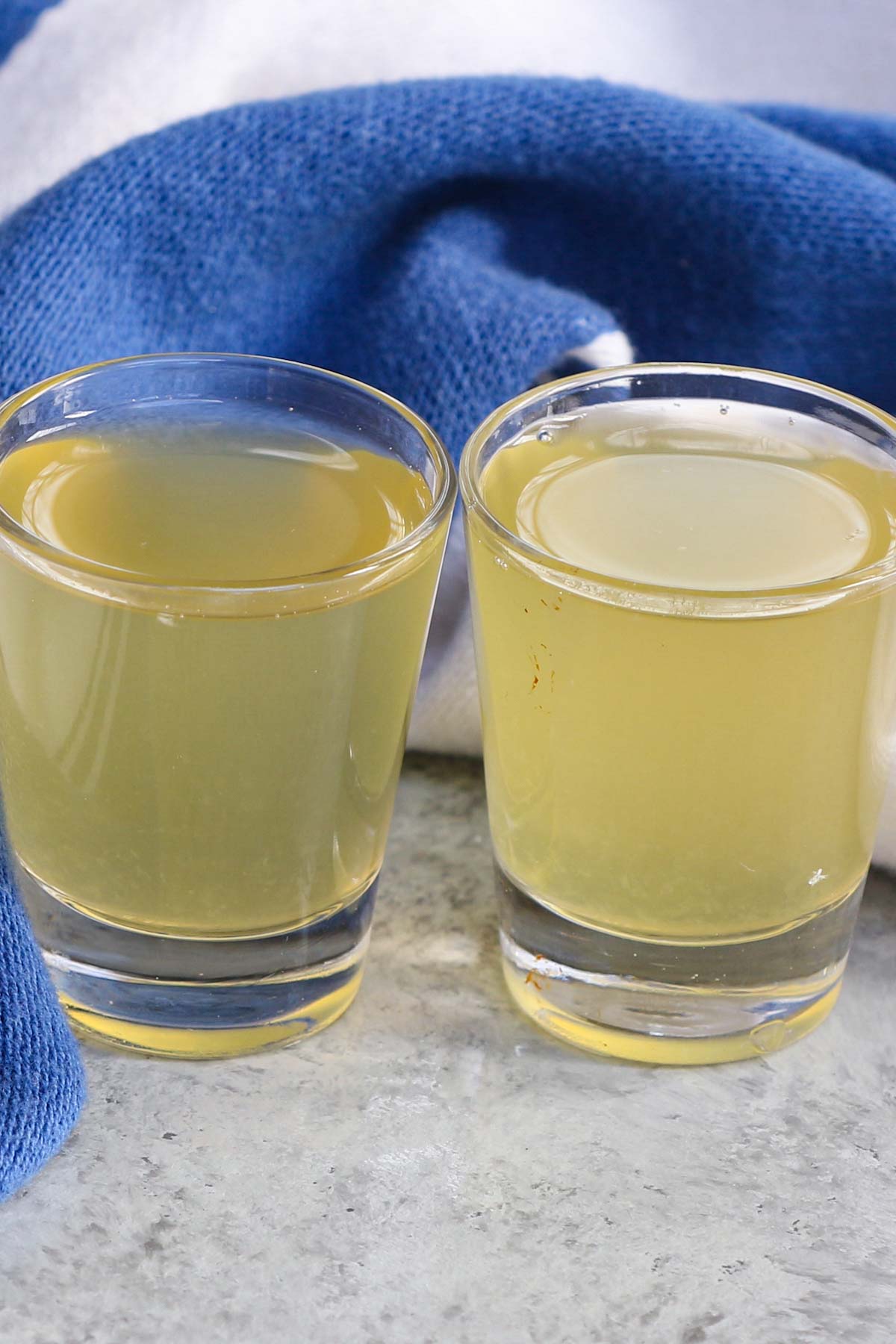 Apple Cider Vinegar Shots For Weight Loss
Studies have shown that ACV shots can be helpful in weight loss because it contains acetic acid, which can improve your metabolism. It has also been noted to cause a feeling of fullness, albeit some people may experience nausea too. The results are not drastic and have not been concluded to be long-lasting. So it can be a great step to incorporate in your existing weight loss regime, but alone, it won't do too much, so don't continue with it if it makes you feel ill.
FAQ
Can I Drink a Shot of Apple Cider Vinegar Every Day?
It's important to talk to your doctor if you have any pre-existing conditions before adding Apple Cider Vinegar into your daily diet. It can alter insulin levels and lower potassium levels, making it potentially dangerous for some diabetics and people taking certain medications.
Are ACV Shots Good For You?
Apple cider vinegar has been used as a natural remedy for a variety of health issues, from weight loss to digestive problems to lowering cholesterol. However, there is limited scientific evidence to support many of these claims.
While apple cider vinegar does contain some beneficial compounds, such as acetic acid, it is not a cure-all. That being said, incorporating apple cider vinegar shots into a healthy diet and lifestyle can be beneficial.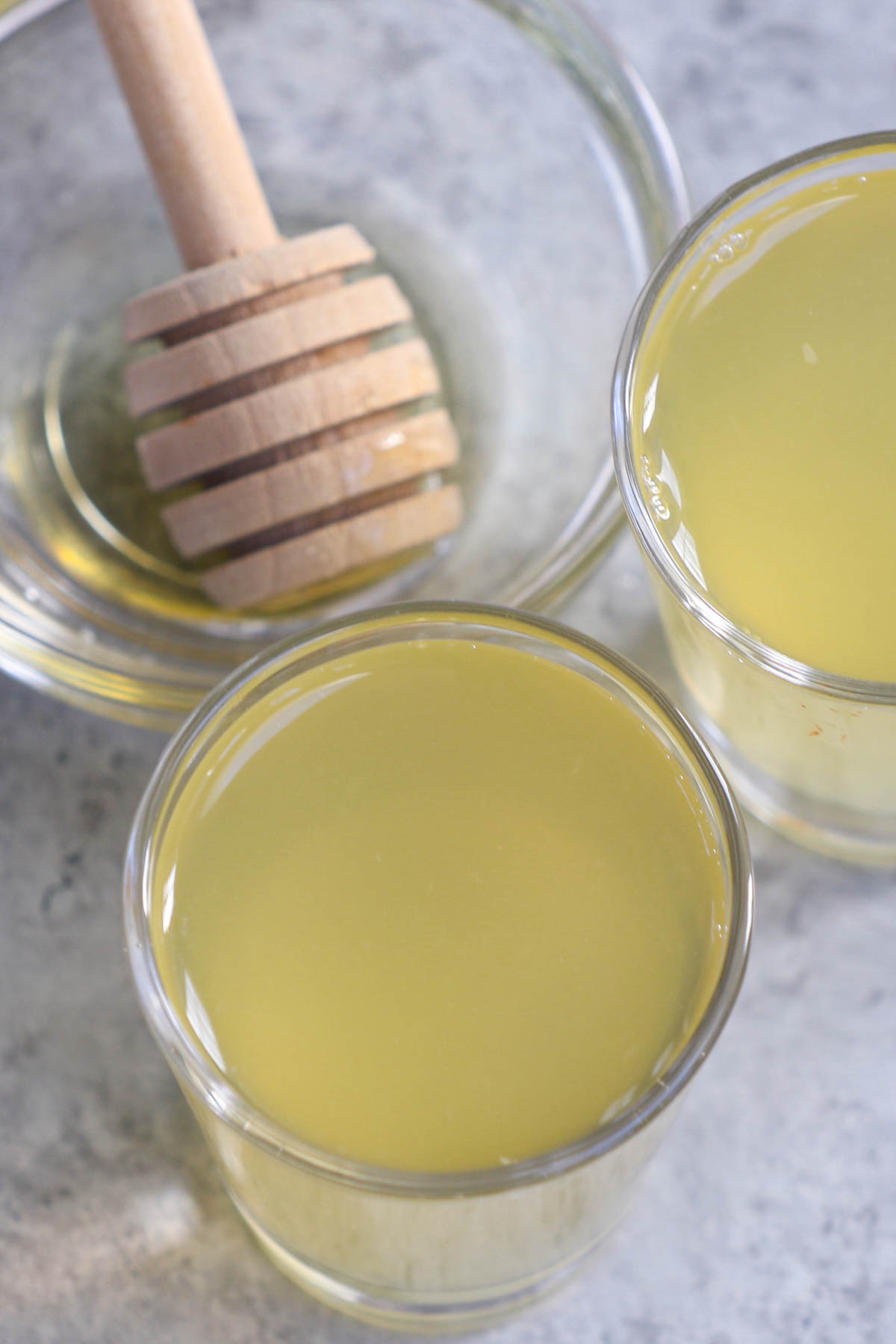 How Much Apple Cider Vinegar Can I Drink Every Day?
We recommend consuming no more than 1-2 tablespoons of apple cider vinegar per day. Consuming more than this can lead to negative side effects, as mentioned above.
Should I Drink Apple Cider Vinegar Shots in the Morning?
There is no specific time of day that is better for consuming apple cider vinegar shots. Some people prefer to drink them in the morning as a way to kickstart their metabolism and digestion, while others prefer to drink them before meals or as a midday pick-me-up.
Do ACV Shots Help Fight Cold?
While there is no scientific evidence to support this claim, some people believe that apple cider vinegar can help fight colds and other respiratory illnesses.
This is because apple cider vinegar contains acetic acid, which has antimicrobial properties. However, more research is needed to determine the effectiveness of apple cider vinegar for preventing or treating colds.
More Detox Drinks
If you're looking for more ways to incorporate detox drinks into your daily routine, there are plenty of options to choose from. Some popular options include lemon water, green tea, and ginger tea. Just be sure to consult with a healthcare provider before making any major changes to your diet or lifestyle.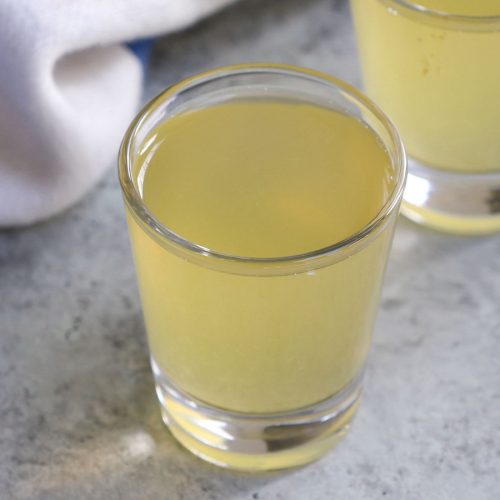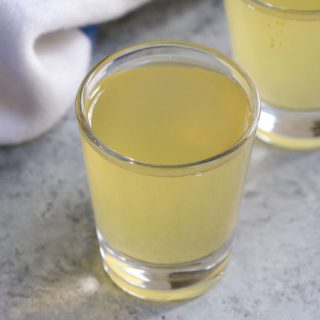 Apple Cider Vinegar Shot Recipe
Apple Cider Vinegar Shots (aka. ACV Shots) are sweet and sour, with a ton of health benefits, as well as with weight loss. Here's an easy recipe showing you how to make them at home.
Print
Pin
Rate
Ingredients
2

tablespoons

apple cider vinegar

1

tablespoon

honey

(or more to taste)

1

teaspoon

lemon juice

4

tablespoons

warm water
Instructions
In a large glass or mason jar, whisk together warm water and honey. Make sure the honey is completely dissolved.

Add apple cider vinegar and lemon juice. Stir to combine.

Taste and add more honey if needed.

Serve warm or cold.
Nutrition
Calories:
36
kcal
|
Carbohydrates:
9
g
|
Protein:
1
g
|
Fat:
1
g
|
Sodium:
1
mg
|
Potassium:
19
mg
|
Fiber:
1
g
|
Sugar:
9
g
|
Vitamin A:
1
IU
|
Vitamin C:
1
mg
|
Calcium:
2
mg
|
Iron:
1
mg
Tried this recipe?
Follow or tag us on Pinterest @izzycooking