The most incredible Oreo Cheesecake Bites – creamy and smooth mini cheesecakes with Oreo crust at the bottom. I've included the detailed tips for you to make the best bite-size Oreo cheesecake cupcakes and they will be a perfect dessert at any parties!
Watch Video: How to make oreo cheesecake bites
THE BEST MINI CHEESECAKE RECIPE
I am a big fan of cheesecakes and have shared lots of cheesecake recipes with you on my blog, from Oreo Cheesecake to No Bake Cheesecake Bites. But this Oreo cookie cheesecake is definitely my favorite! Individual cheesecakes each has Oreo crust at the bottom and baked with cream cheese and sour cream mixture.
I have tested different ratios among ingredients and baked them at different temperatures. This recipe is a winner! Baking your mini Oreo cheesecake at a low temperature is the secret to the perfect and fluffy cheesecake cups.
CHEESECAKE BITES MADE EASY
Oreo Cheesecake Bites are one of the easiest cheesecake cupcakes! All you need is 6 simple ingredients: Oreo, cream cheese, sugar, sour cream, eggs, vanilla. This bite-sized dessert is great for brunch, birthday or holiday parties.
These mini cheesecake bites are creamy, smooth and fluffy. You might think Oreo cookies are going to be crunchy, but the baked Oreos actually soak up the moisture from the cream cheese batter. They are soft and moist once baked!
HOW TO MAKE MINI CHEESECAKES
Use the mini cheesecake pan if you have one, otherwise you can bake the cheesecake in muffin tins.
Place paper cups into each muffin tin, and place one cookie into the bottom of each paper cup.
Mix room temperature cream cheese, sugar and eggs using a mixer. Then add sour cream and crumbled Oreo pieces. Mix gently using a spatula.
Spoon the mixture into each cup until they are almost full. Bake these miniature cheesecakes in the oven at 325°F for 20-25 minutes.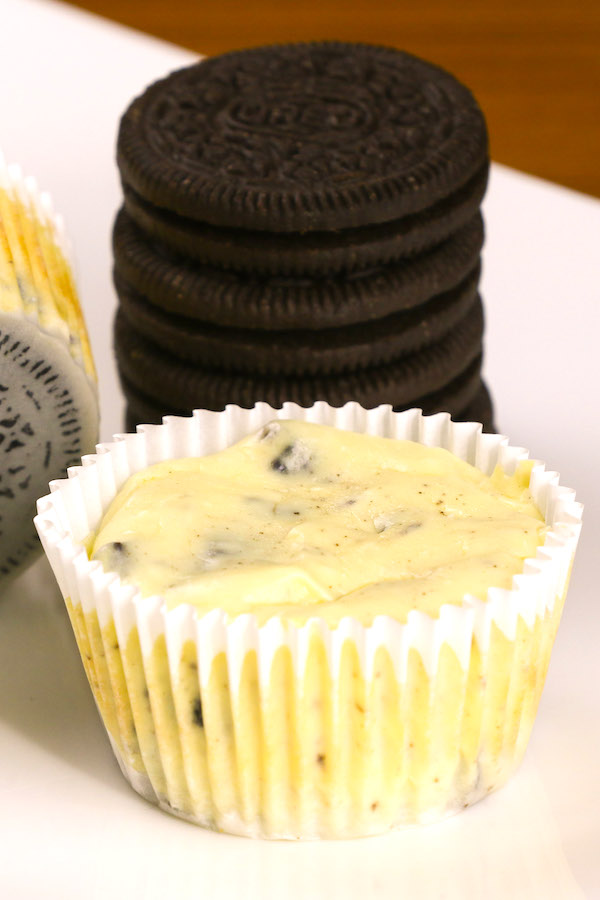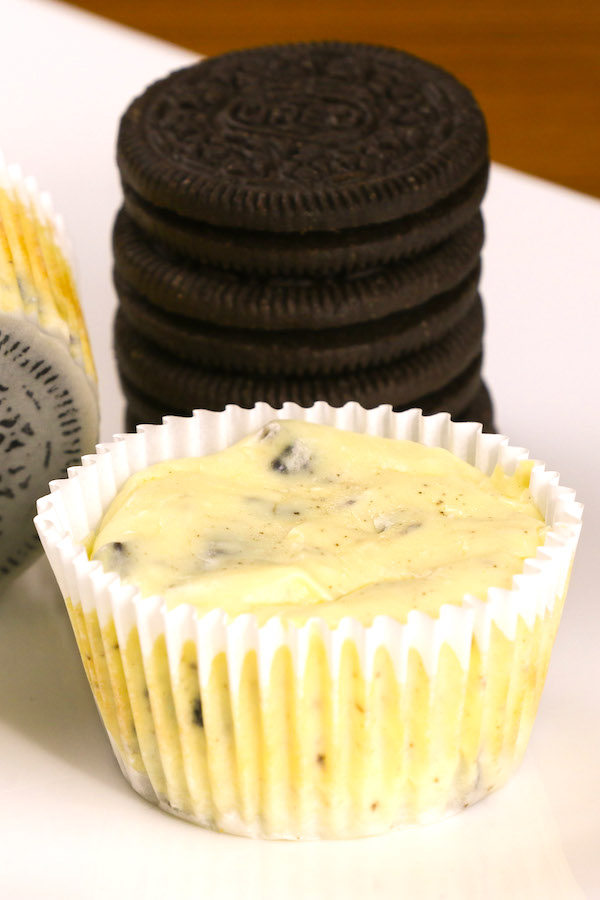 TIPS FOR MAKING THE BEST MINI CHEESECAKES
It's best to bring your cream cheese, eggs and sour cream to room temperature before you make the mixture, as this will ensure a smooth texture of your cheesecake bites.
Don't over-beat your eggs! Add eggs to the mixture one by one, and keep your mixer on low speed. Stop as soon as they are combined with the rest of the ingredients.
Bake your Oreo cheesecake bites in a low-temperature oven for the fluffy and light texture.
MINI CHEESECAKE RECIPE VARIATIONS
Although cookies 'n cream cheesecake is my favorite, this recipe is so versatile and you can easily turn it into many different recipes with small twists. The techniques are same. Here are some popular cheesecake recipes:
Oreo Strawberry Cheesecake: Simply top your cheesecake with strawberries or you can add pureed chocolate to the batter.
Graham Cracker Crusted Cheesecake: Instead of the Oreo crusted cheesecake, you can switch to Graham cracker crust. You will need to mix Graham cracker crumbs with melted butter and sugar to create the crust.
Oreo Peanut Butter Cheesecake: Add peanut butter into the batter for the flavor of peanut butter.
Oreo Pumpkin Cheesecake: Add pureed pumpkin to your batter and make it for Thanksgiving!
You can also make into no-bake oreo cheesecake bites or oreo cheesecake balls.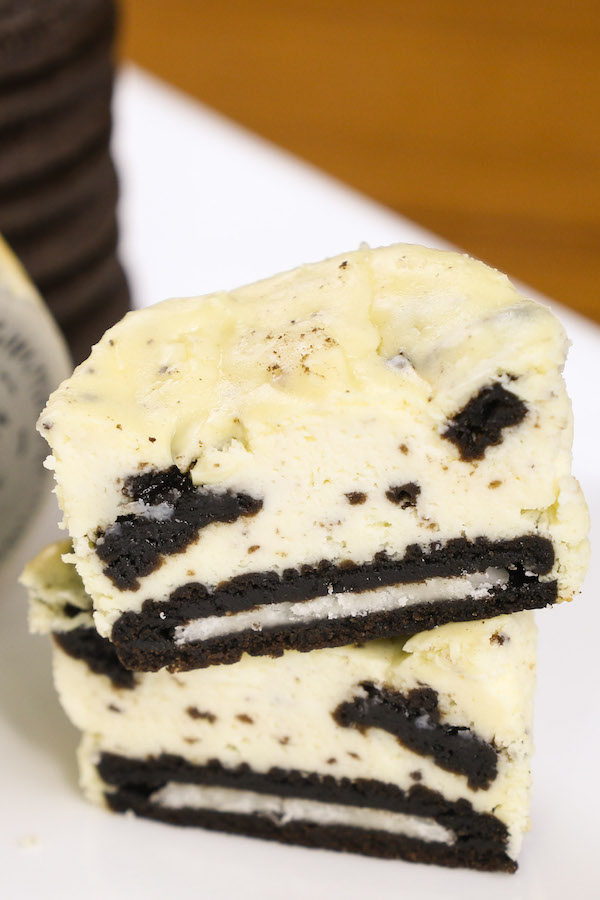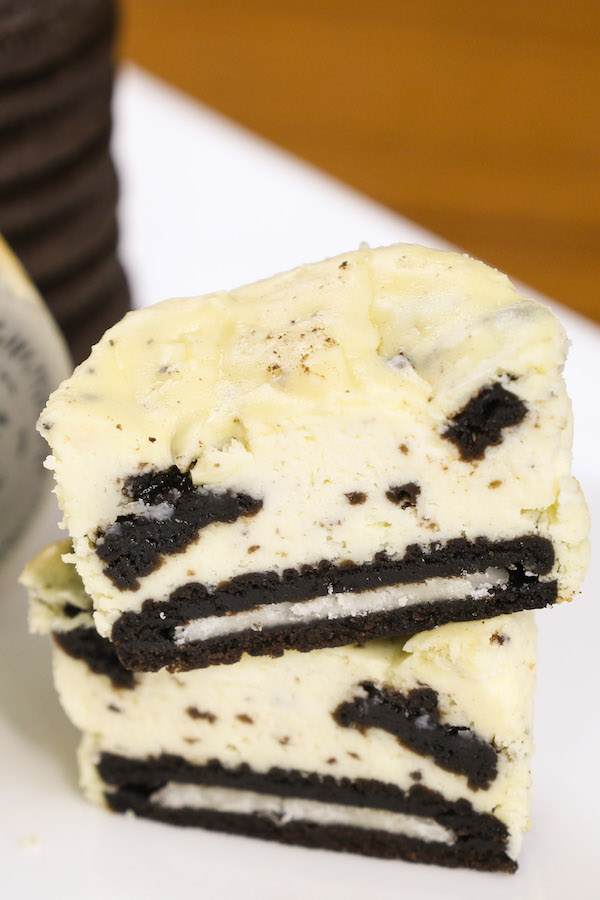 HOW TO STORE MINI OREO CHEESECAKES?
Store them in the refrigerator: Cheesecakes cannot be left at room temperature for more than 4-6 hours, so place these mini cheesecakes in an airtight container and store them in the refrigerator. It can last for up to 5 days.
Store them in the freezer: These Oreo cheesecake bites freeze well. Once they are cooled, you can wrap them in plastic wrap and place them in zip-loc bags. They will last for a few months. Allow frozen mini cheesecakes to defrost overnight in the refrigerator.
CAN I MAKE OREO CHEESECAKE BITES WITHOUT SOUR CREAM?
Yes, just replace the sour cream with the same amount of plain Greek yogurt.
Oreo Cheesecake Bites (+Video)
Oreo Cheesecake Bites are creamy and soft mini cheesecakes with a delicious oreo crust at the bottom. They are so easy to make and a guaranteed hit at any parties!
Servings
16
mini cheesecakes
Ingredients
22

Oreo cookies

(Chop 6 of them into small pieces)

16

ounces

cream cheese

softened

1/2

cup

granulated sugar

1/2

tsp

vanilla extract

2

eggs

1/2

cup

sour cream

or plain greek yogurt
Instructions
Preheat oven to 325°F. Set aside a muffin pan with paper cups.

Add one Oreo cookie into each paper cup.

In a medium bowl, beat softened cream cheese, in the meantime add sugar, eggs, vanilla, mixing well until smooth without lumps.

Add sour cream, mix well. Stir in chopped cookies, and mix generally using a spatula.

Spoon batter on top of the oreo, filling each to almost the top.

Place in the lower third of the oven and bake for about 25 minutes until the edges turn light brown.

Remove from oven and transfer to cooling racks.

Chill in the fridge for 4 hours. Serve and enjoy!
Video
MORE CHEESECAKE RECIPES YOU WILL LOVE