Many people avoid sushi because they are afraid of eating raw fish. The good news is that there are many sushi recipes that are made with vegetables, cooked seafood, or other proteins. Grab your chopsticks and dig into these 24 Popular Cooked Sushi that you can order at a Japanese restaurant or easily make at home!
From California roll sushi, to dragon roll sushi to vegan sushi, these cooked sushi recipes will get you inspired.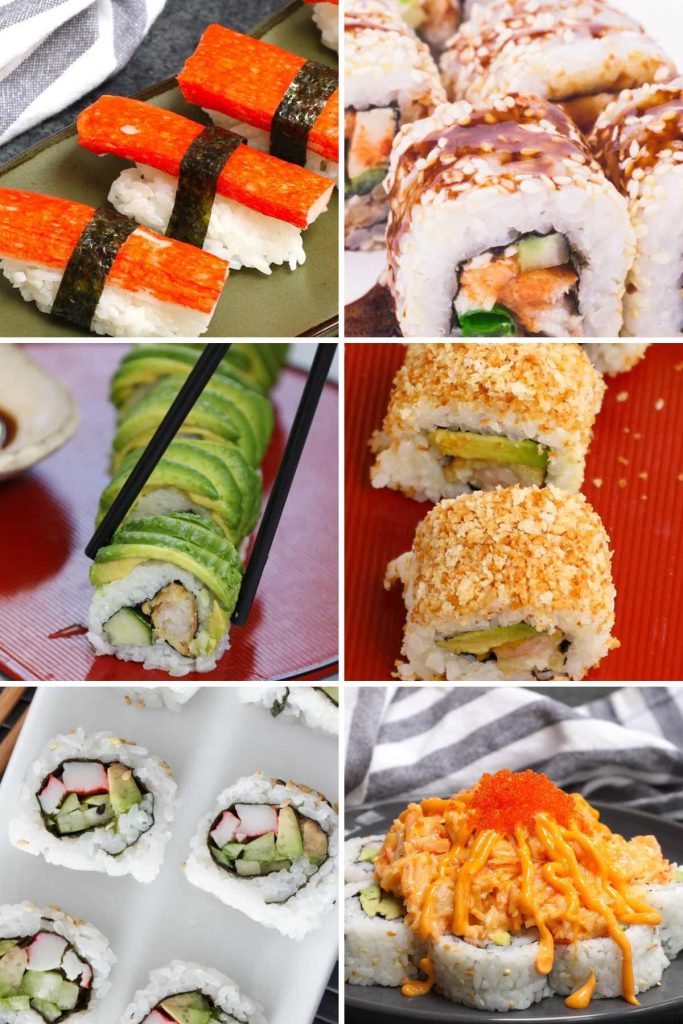 Different Types of Sushi
You can get overwhelmed when browsing the menu at a sushi restaurant, as there are so many different kinds of sushi and lots of ingredients to choose from. Before ordering sushi, it's best to have a good understanding of the different options available.
Maki Sushi Rolls: This is the most common kind of sushi. It's made by wrapping fillings in rice and nori (seaweed), then cutting the roll into bite-size pieces.
Uramaki Sushi Rolls: In the United States, Uramaki sushi is more popularly known as "inside out" sushi rolls. This means that the sushi is flipped over so that the rice is on the outside and the nori is on the inside
Nigiri: Nigiri translates to "two fingers" and it consists of a thinly sliced layer of fish such as salmon or tuna, on top of a ball of seasoned sushi rice.
Sashimi: Sashimi is like nigiri without the rice. Sashimi is simply a delicately sliced strip of meat, including fish, shrimp and even squid.
Temaki Hand Roll Sushi: Temaki rolls resemble ice cream cones. Rice, fish and other fillings are stuffed inside a cone of nori.
What Type of Japanese Sushi is Cooked?
You'll be happy to know that not all sushi is raw and many cooked sushi rolls are available. Some people "graduate" to having raw sushi after starting out with the cooked sushi. Below are some popular cooked sushi recipes that are delicious and easy to make at home.
Best Cooked Sushi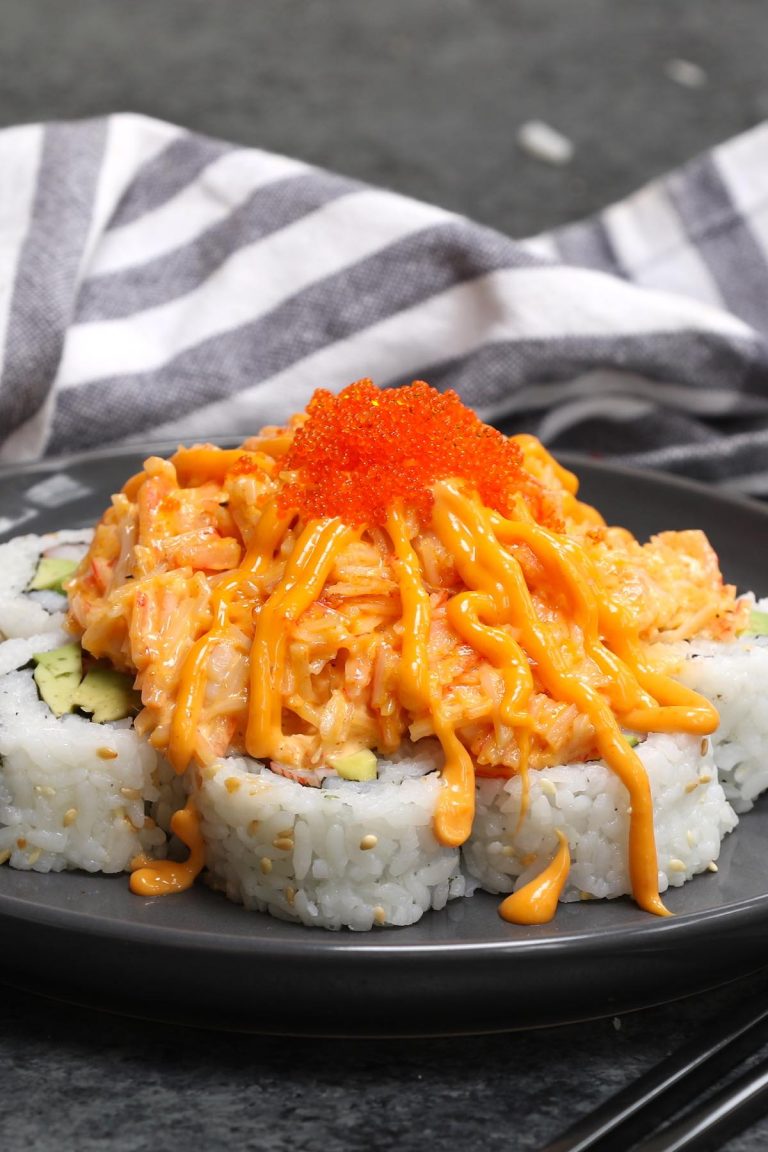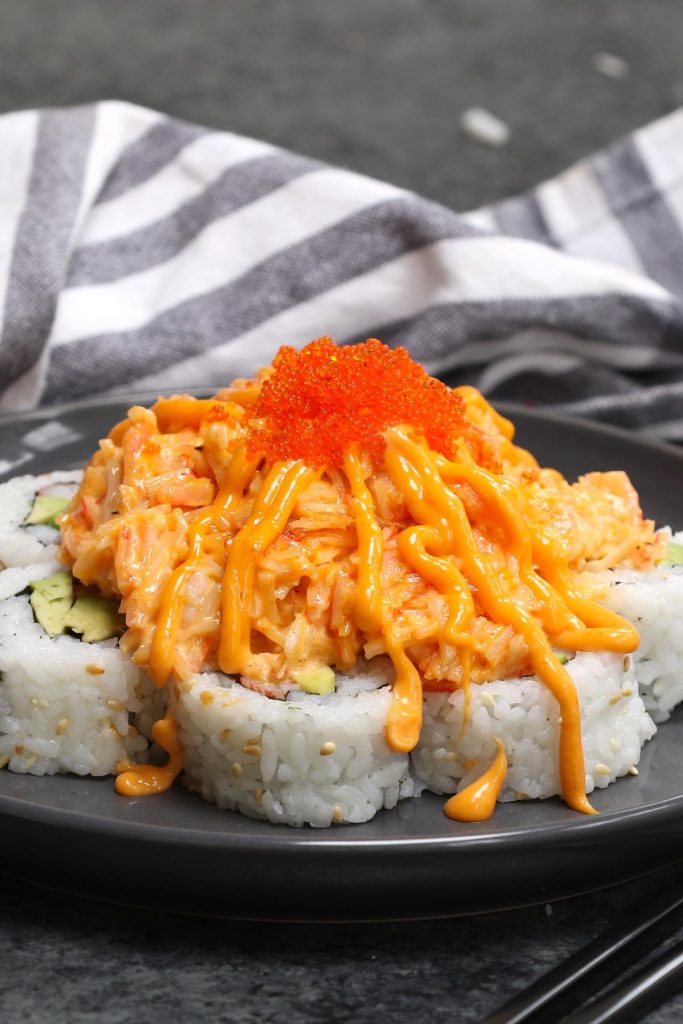 Cooked pieces of seafood such as shrimp or salmon are rolled with, vegetables and creamy avocado.
The spicy lava topping gives this sushi roll its name.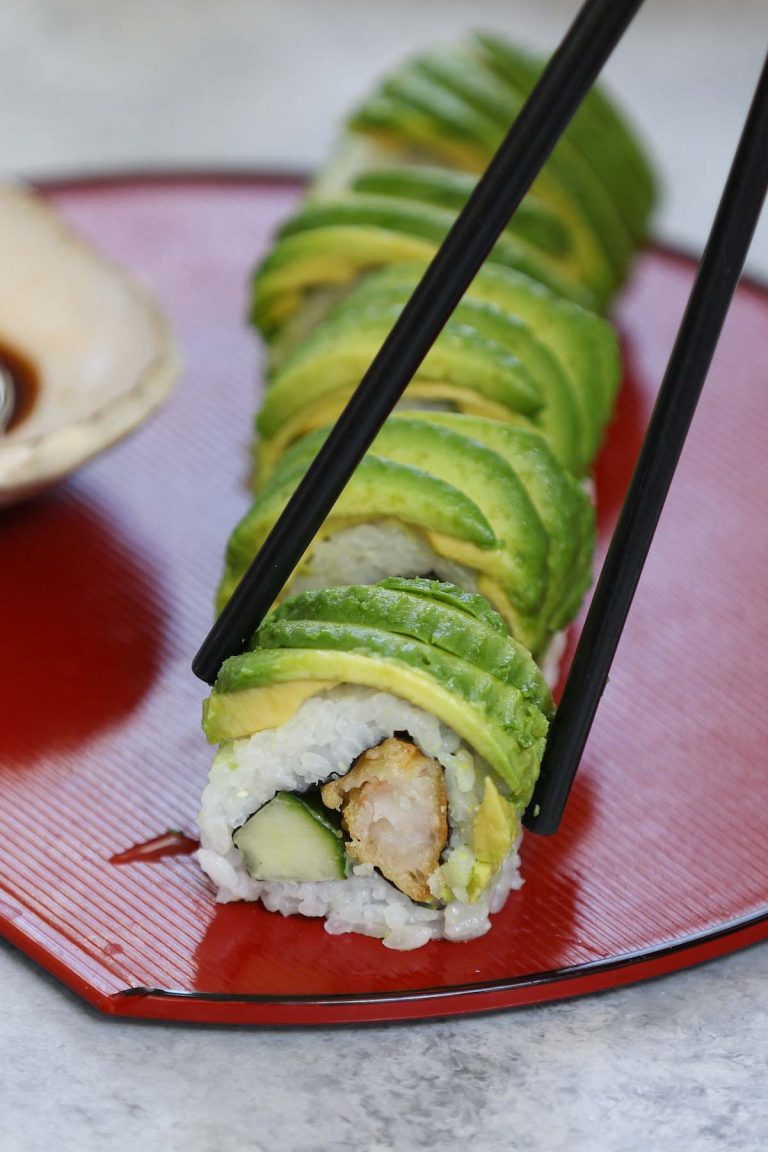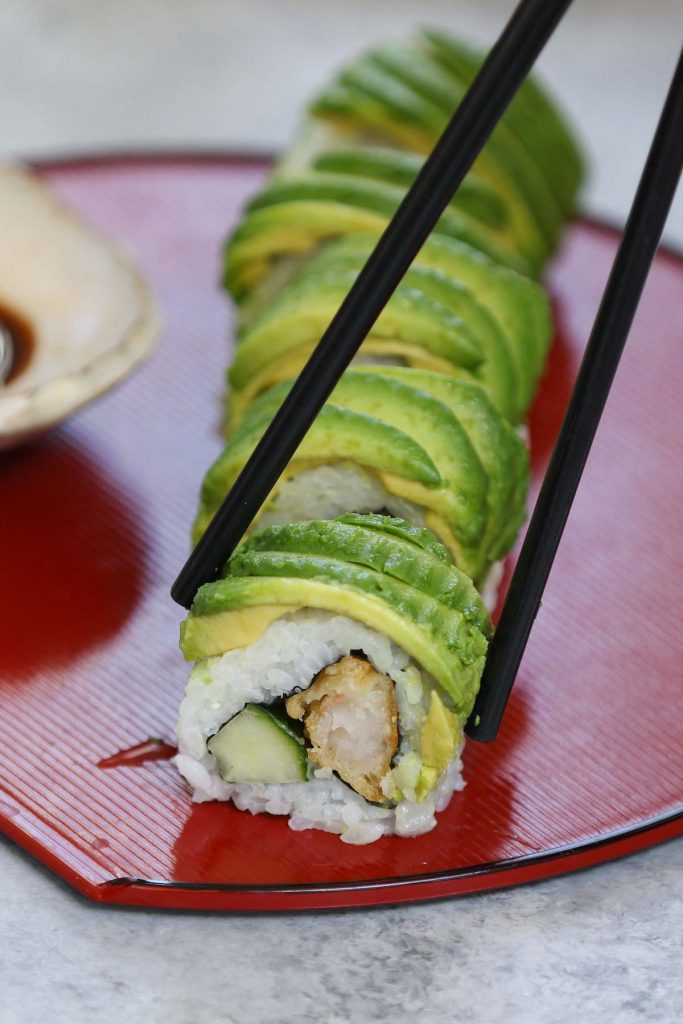 Shrimp tempura is so crispy and addictive! The dragon roll is basically a shrimp tempura roll with a delicious avocado topping!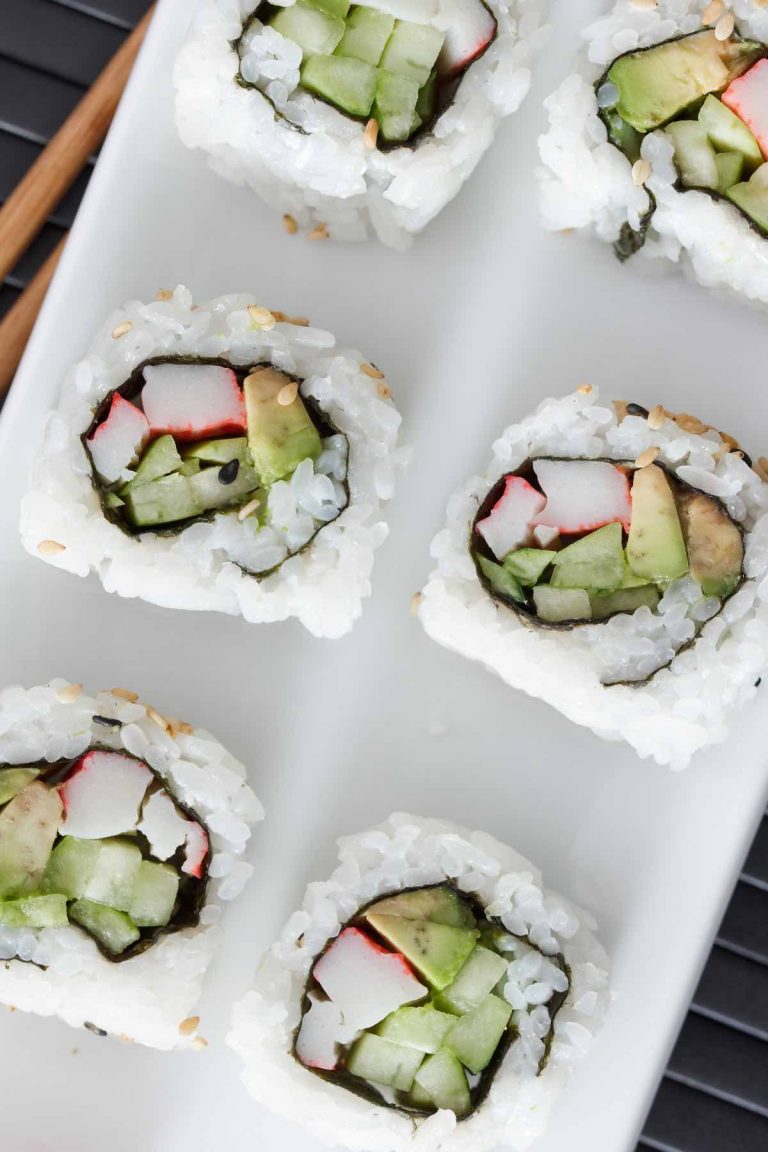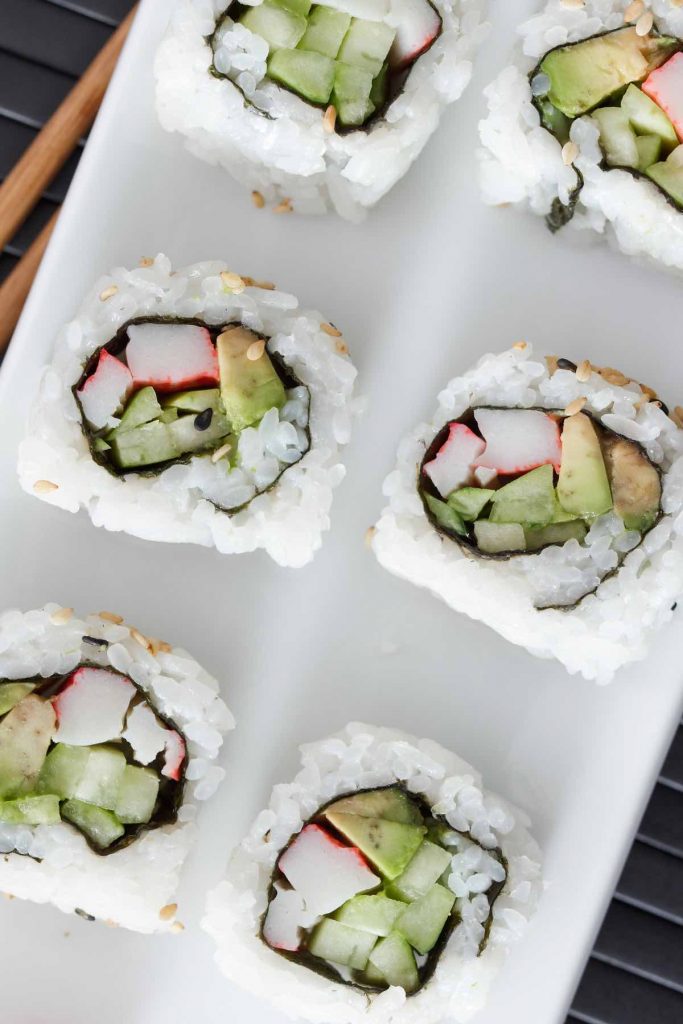 One of the most popular sushi rolls, this tasty sushi is made with imitation crab meat, cucumber, and avocado.
Make it at home for a light lunch or snack.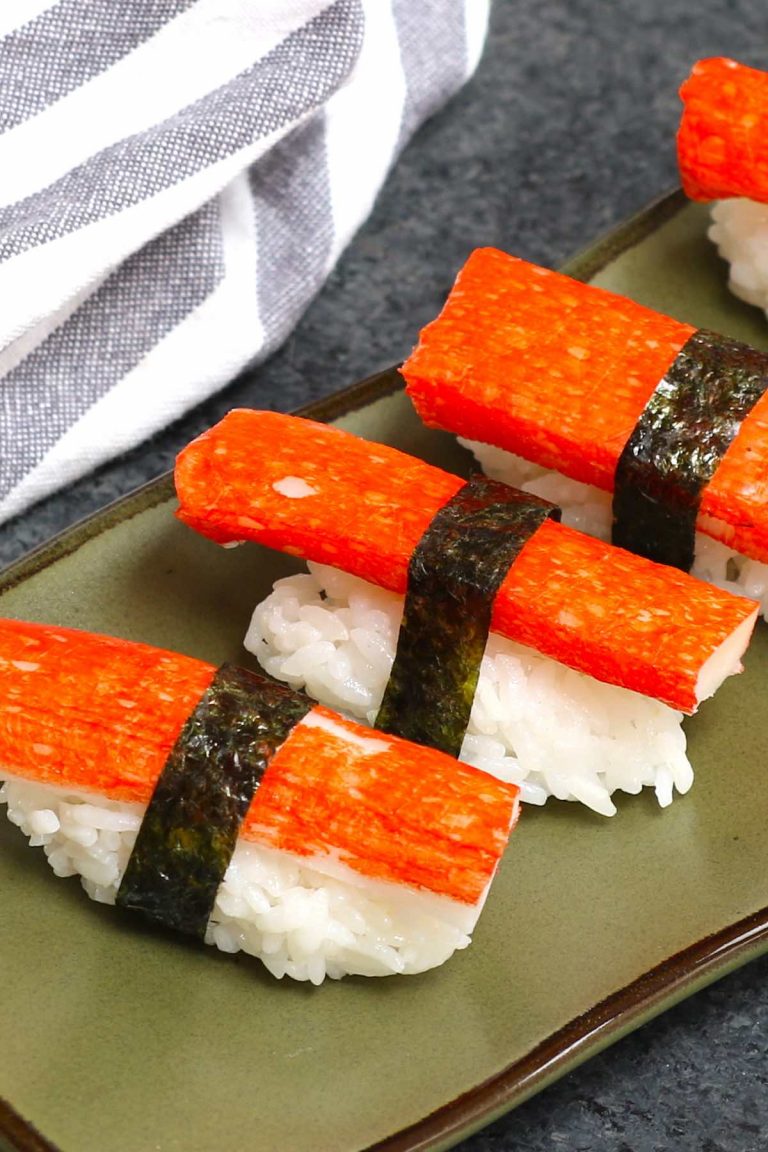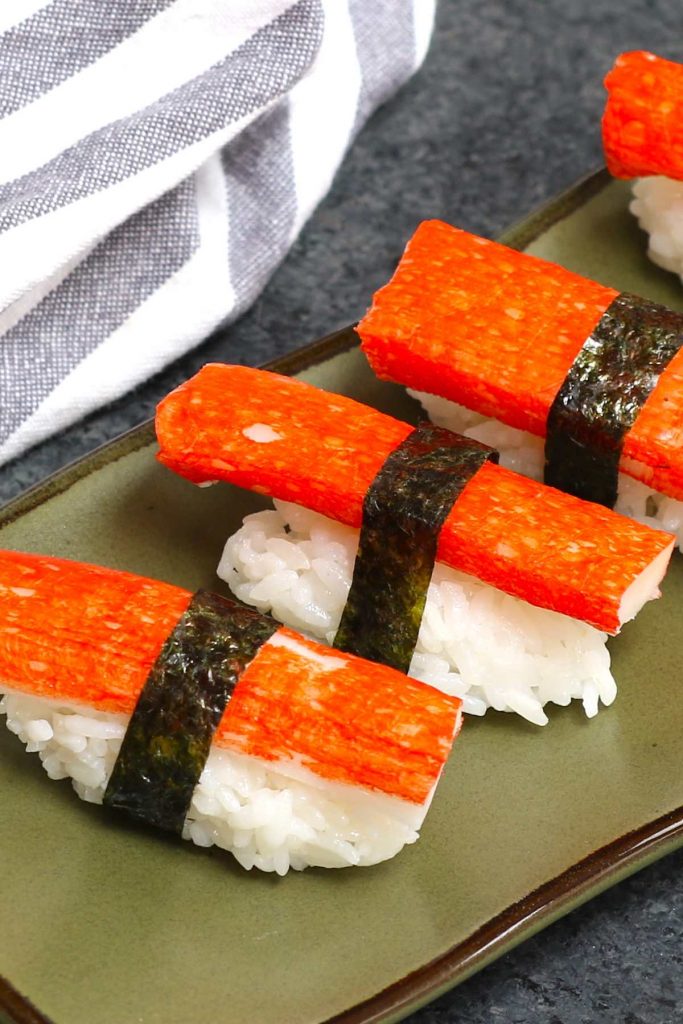 Nori is a necessary ingredient for maki, uramaki, and temaki sushi.
This nori sushi roll is made with your favorite fillings rolled in a seaweed sheet and sushi rice.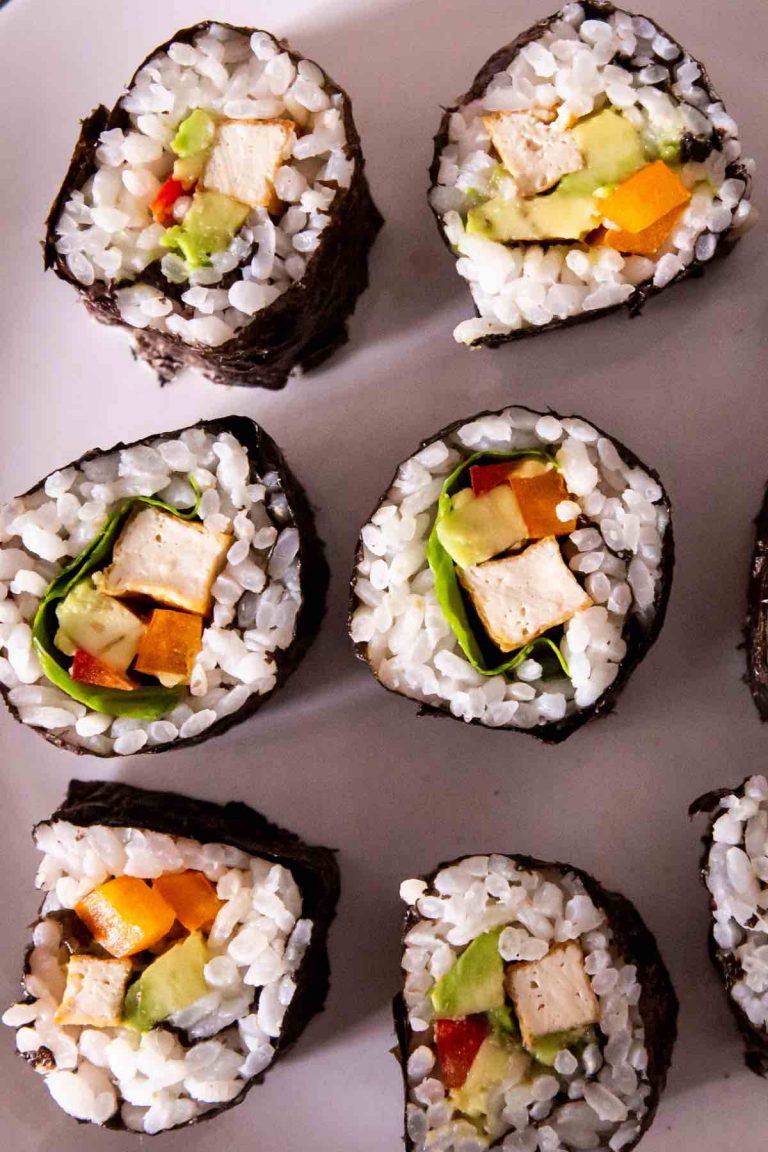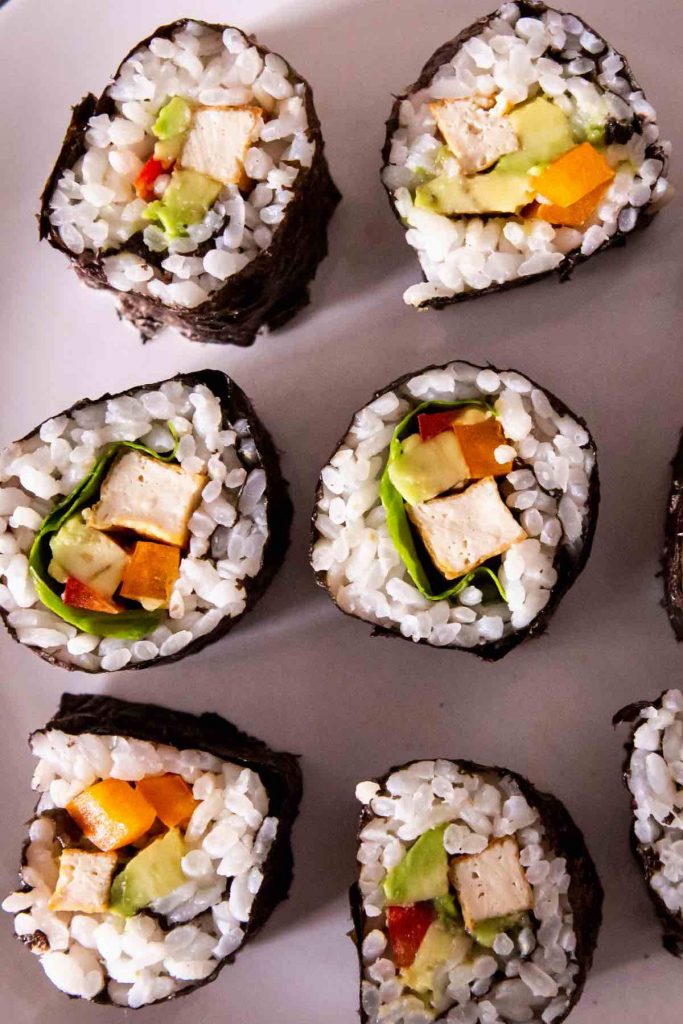 This plant-based sushi roll is easy to make and so tasty. Swap fish for tofu and enjoy this vegan-friendly uramaki.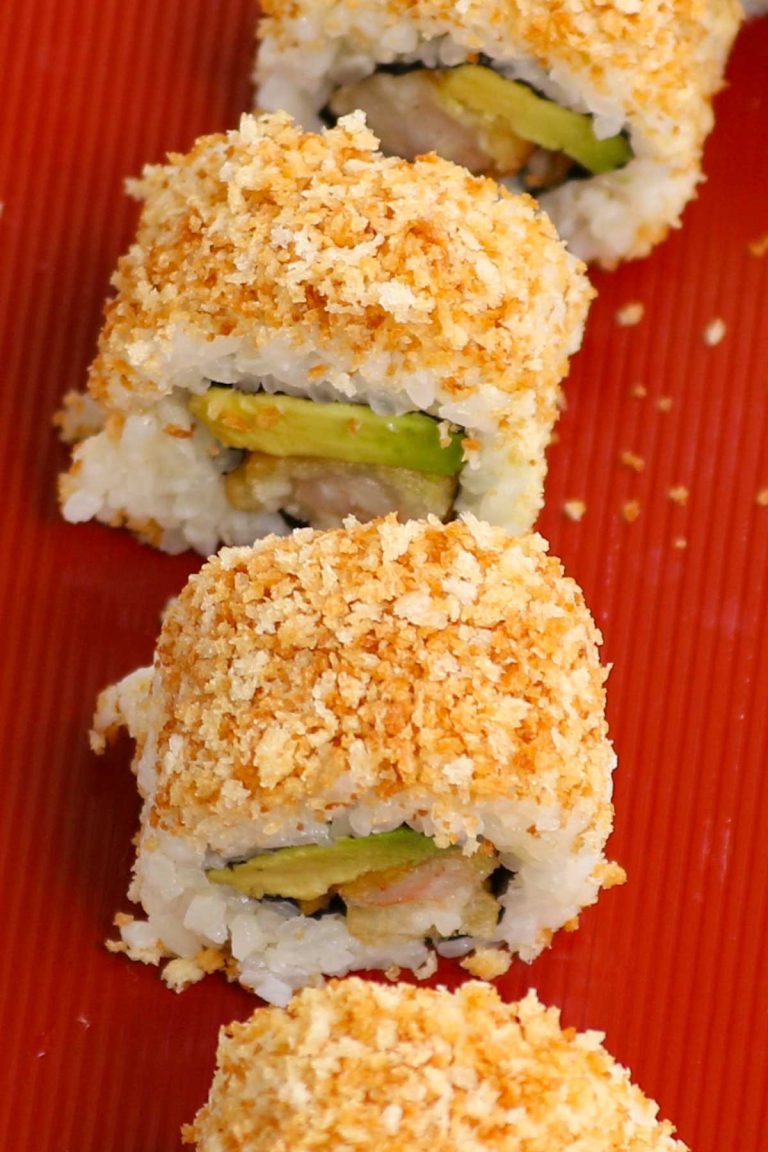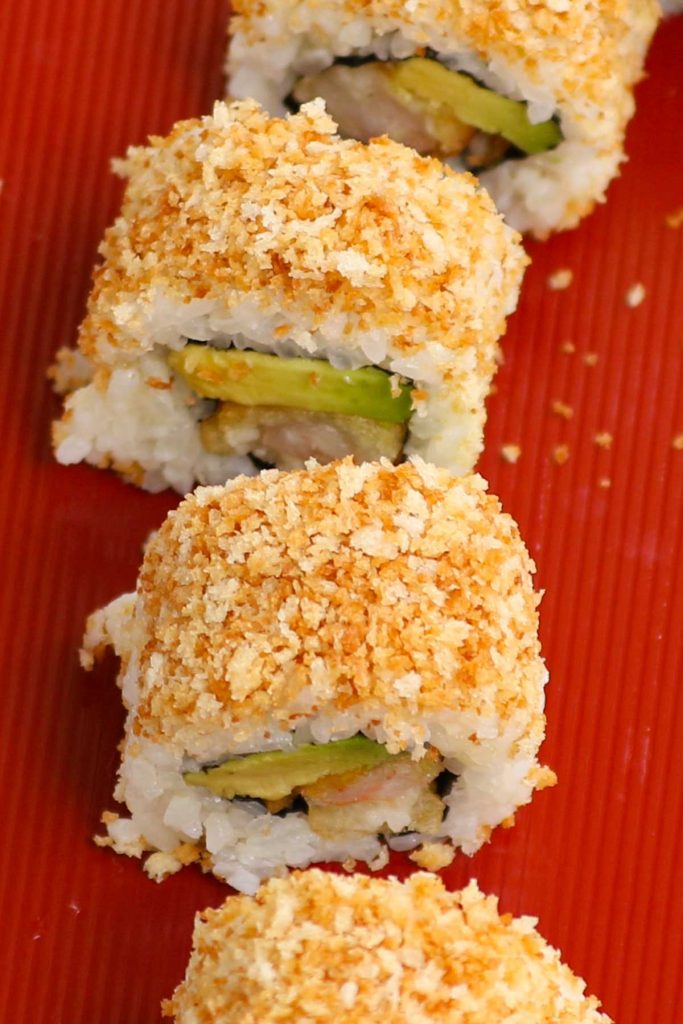 The crunchy roll is like a California roll with lots of texture. Get ready for crunchy shrimp tempura and a toasty breadcrumb topping.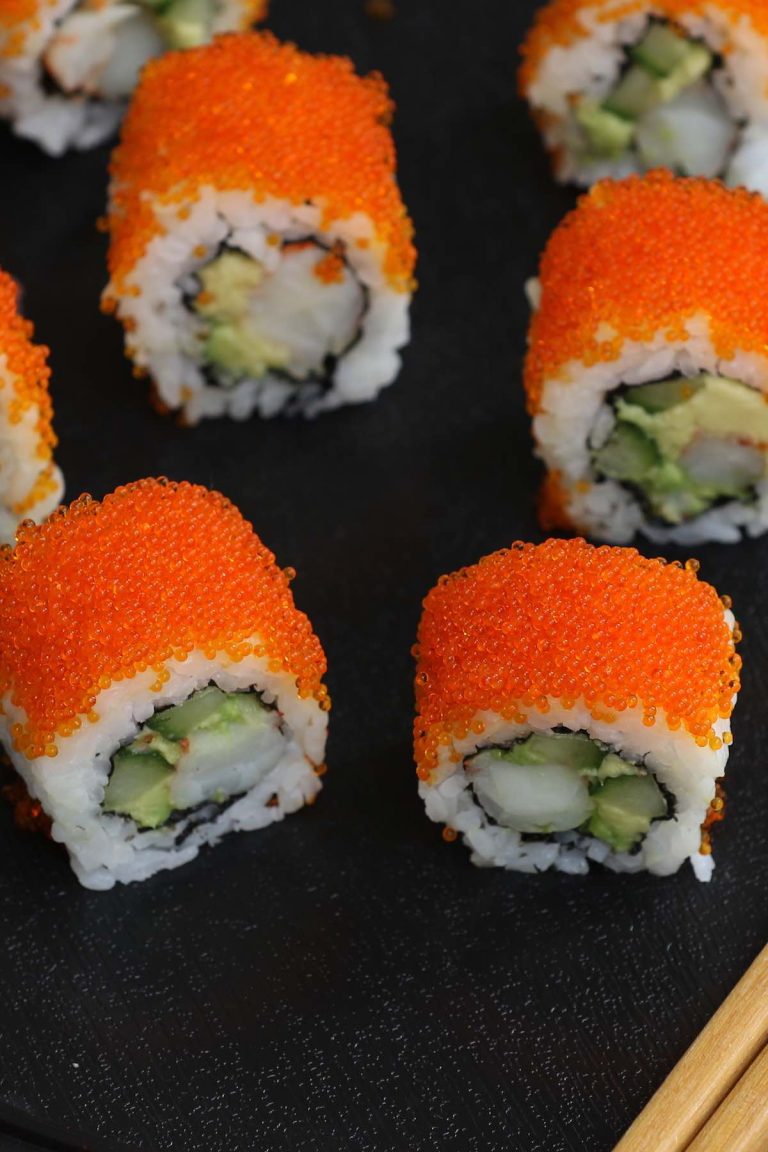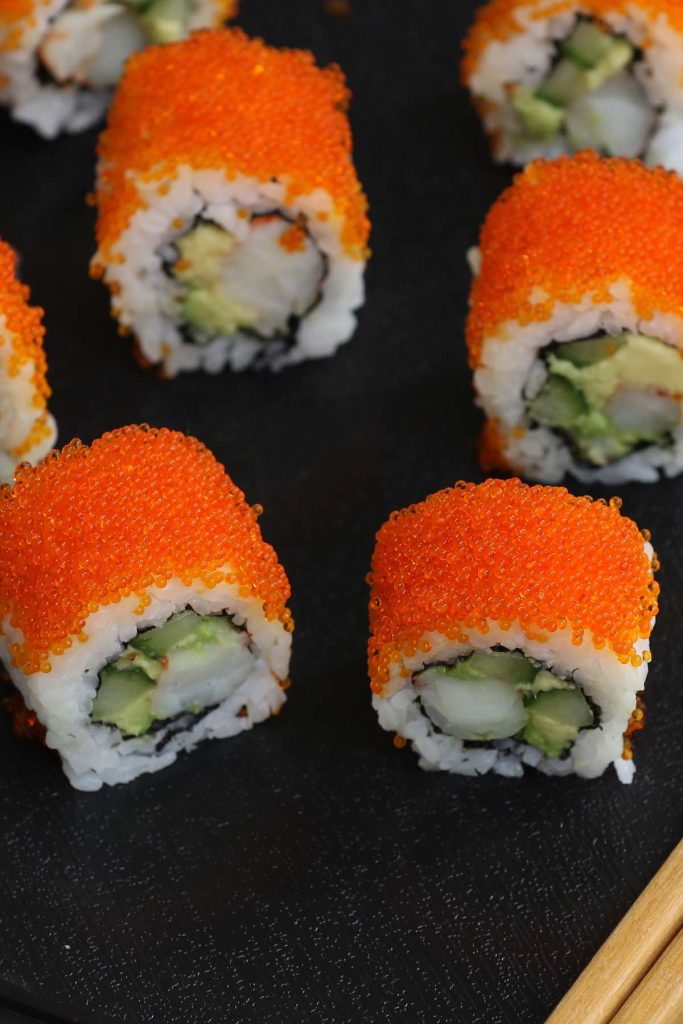 Tender pieces of poached shrimp, creamy avocado, and crunchy cucumber make this Boston roll so irresistable.
Garnish with tobiko or masago if you're feeling fancy.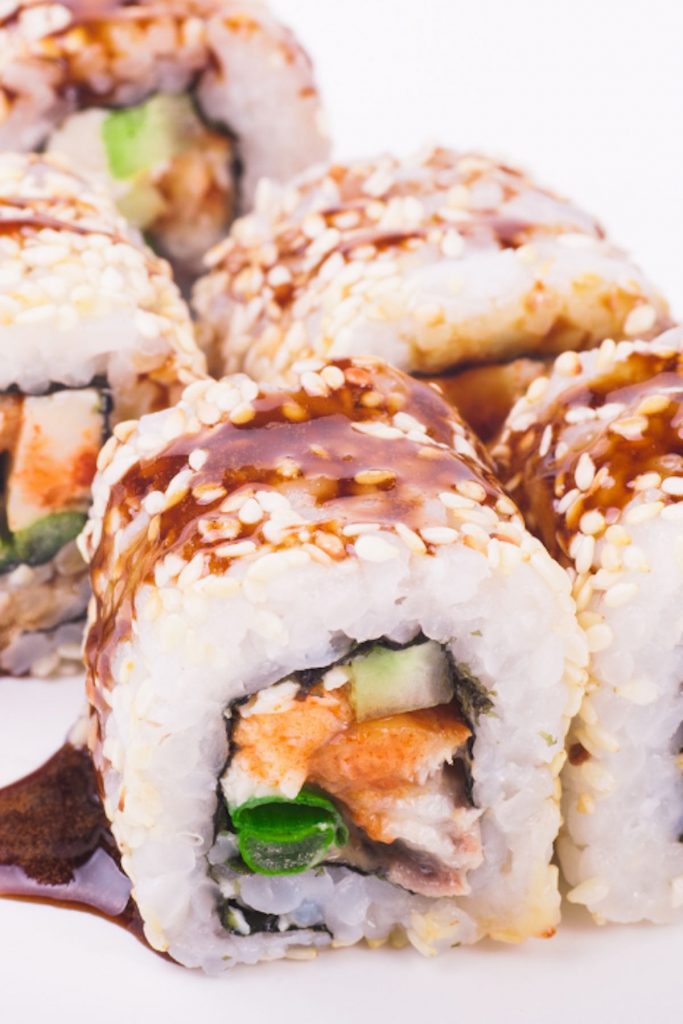 Unagi sushi is made with BBQ eel and cucumber, then drizzled with a sweet and spicy unagi sauce.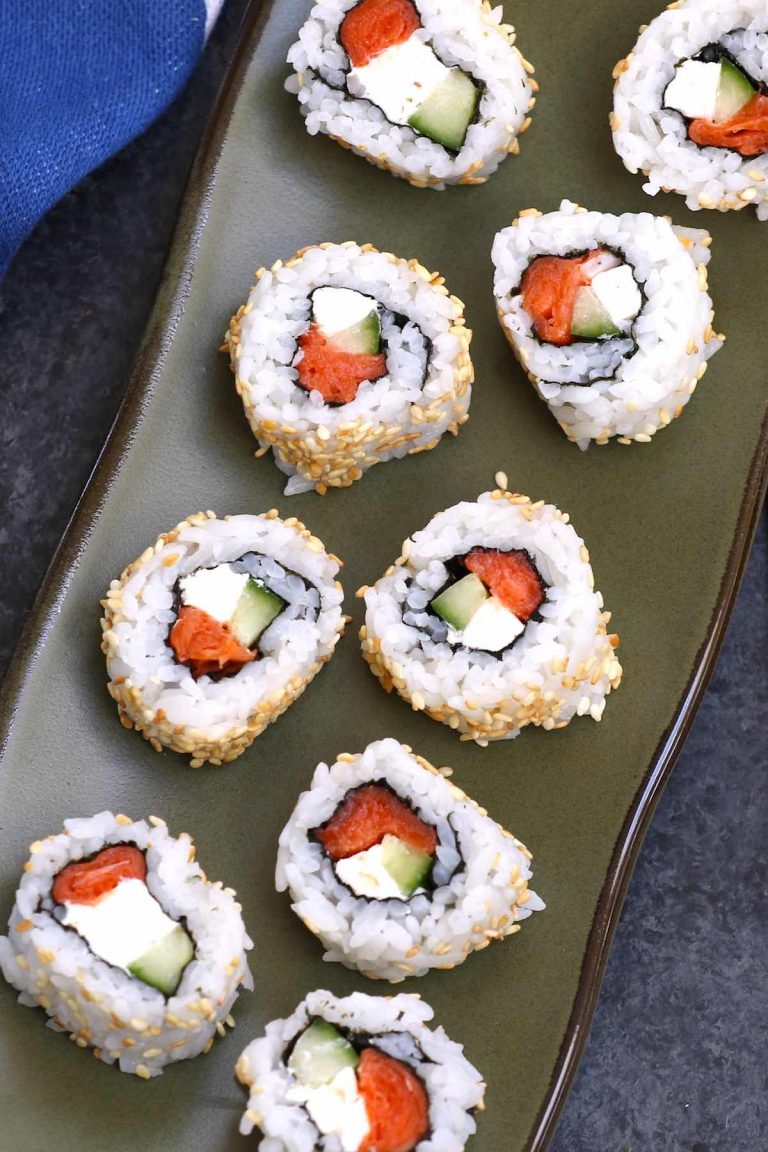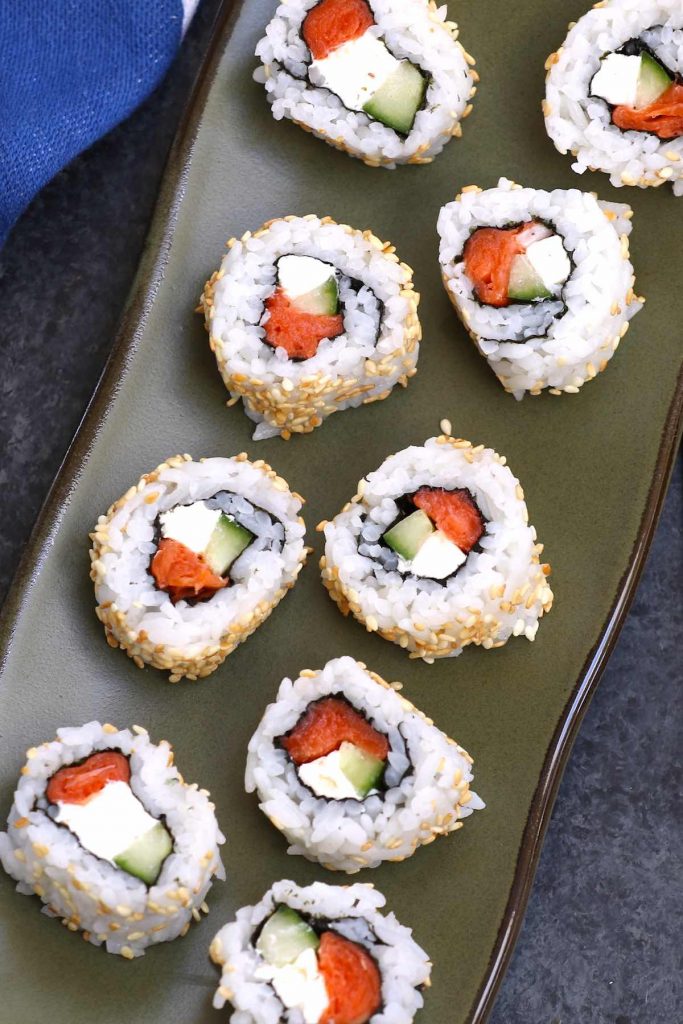 Delicious smoked salmon, cream cheese, and cucumber are wrapped in nori and rice for this delicious sushi roll.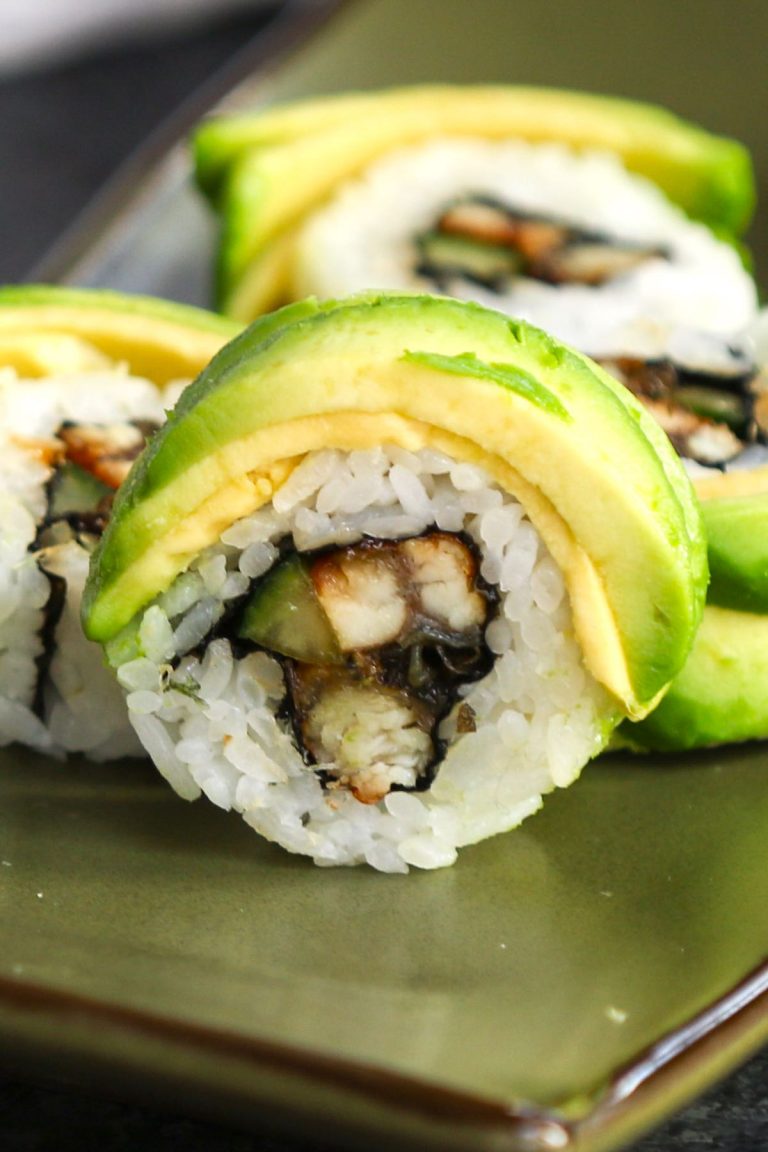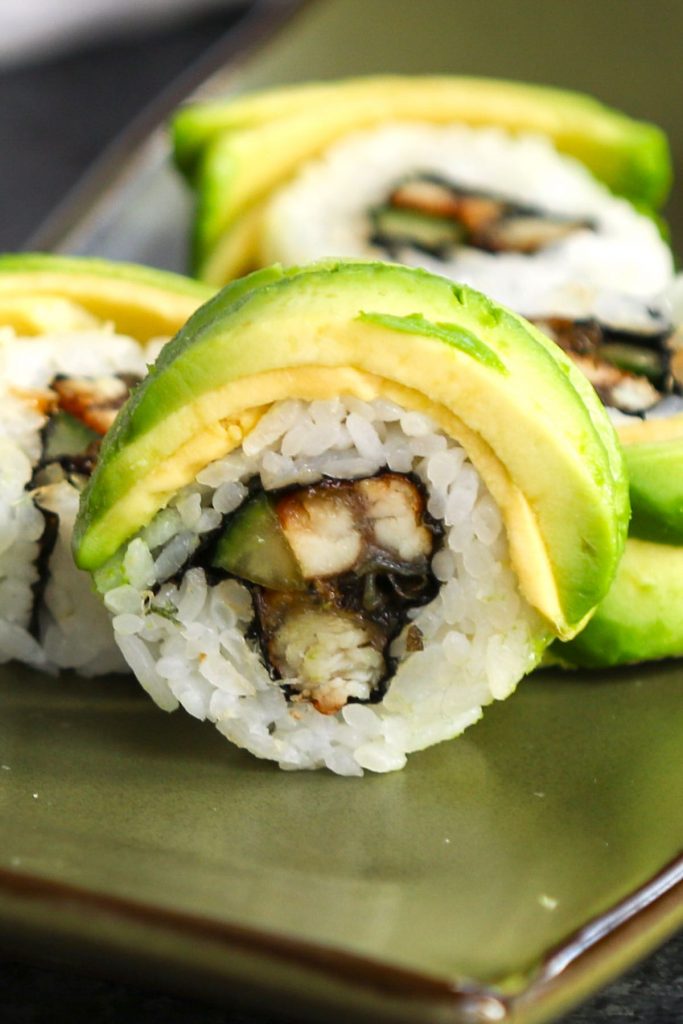 The caterpillar roll is just like the unagi roll, but with a tasty avocado topping. It looks like a caterpillar and is really fun to make with kids.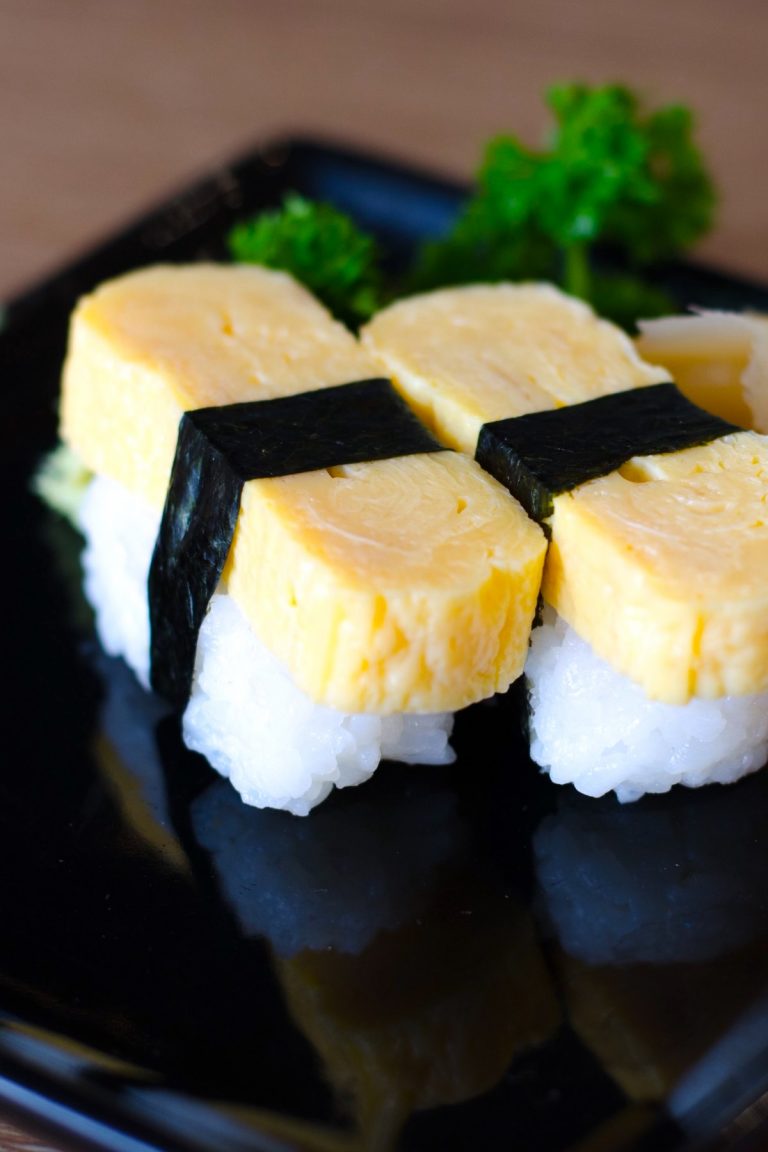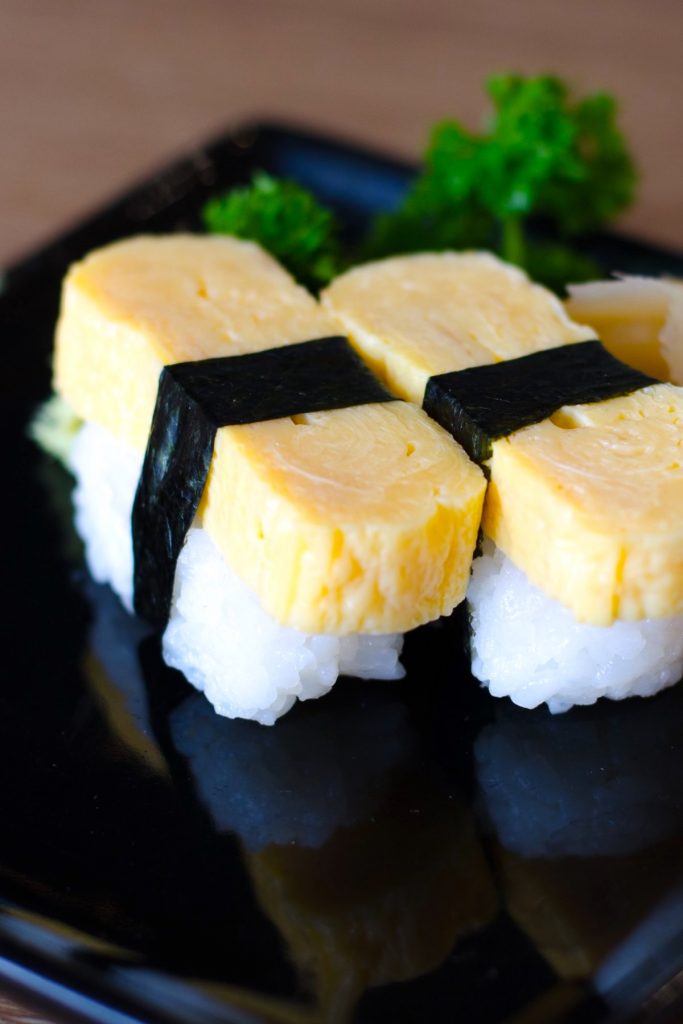 Tamago sushi is a sweet and savory fluffy Japanese omelet atop seasoned sushi rice. Enjoy this sushi at breakfast time.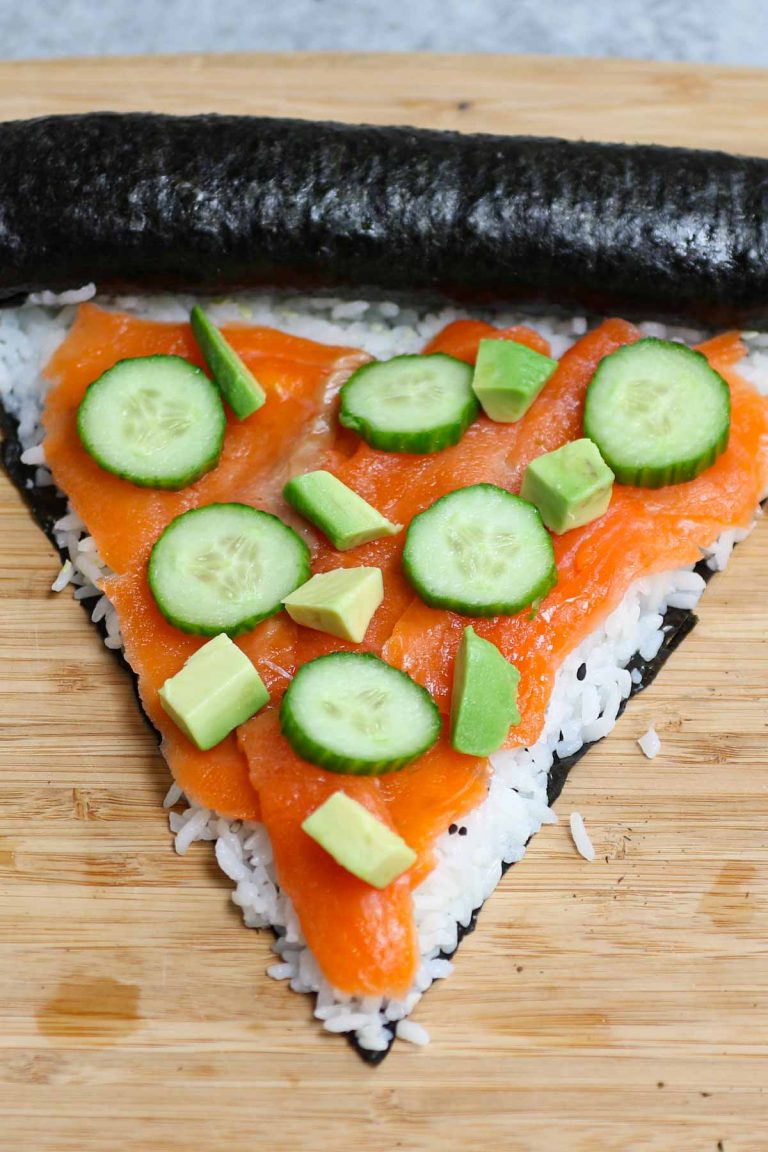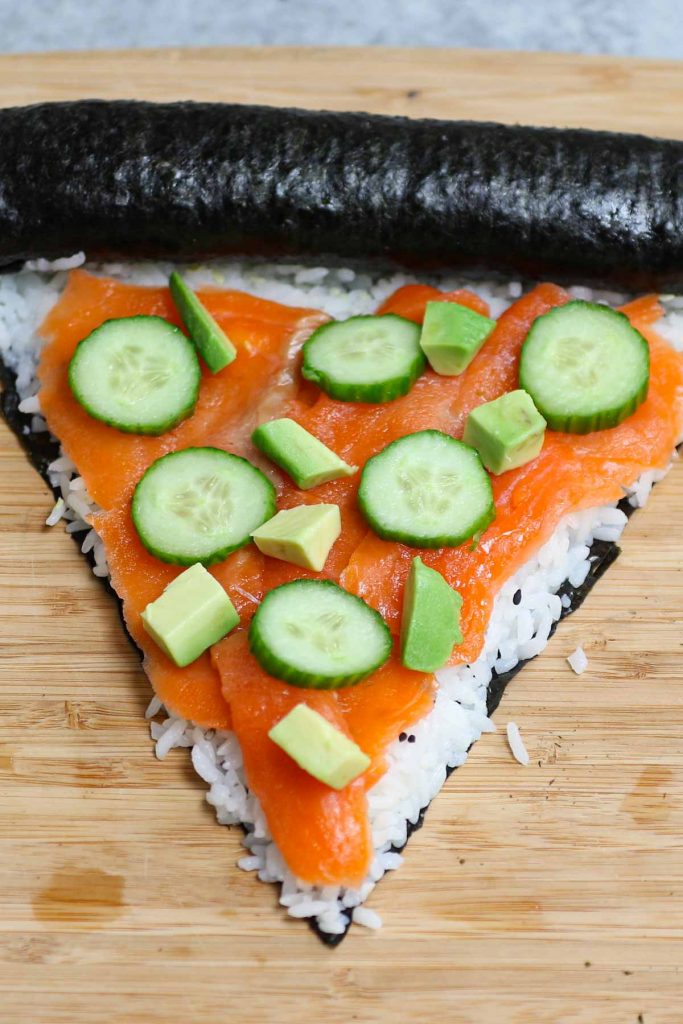 Sushi pizza is like an unrolled temaki. You'll need a triangle of nori topped with cooked sushi rice and all your favorite toppings such as avocado and smoked salmon.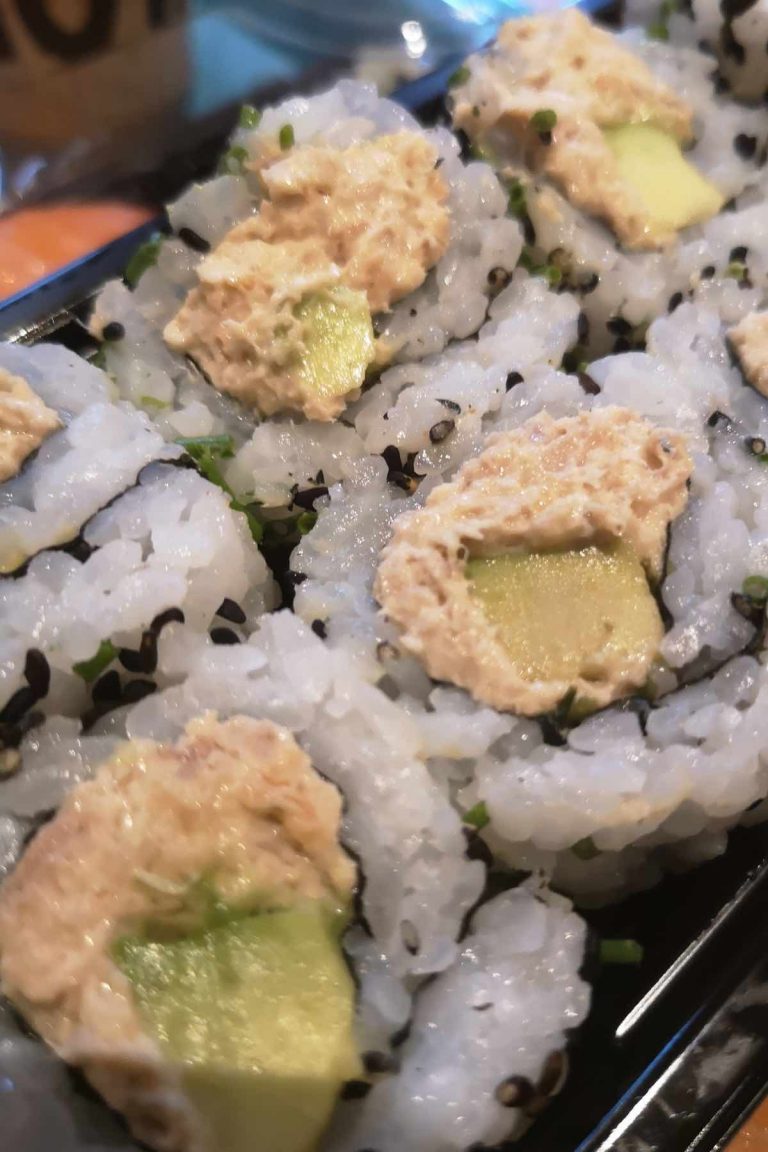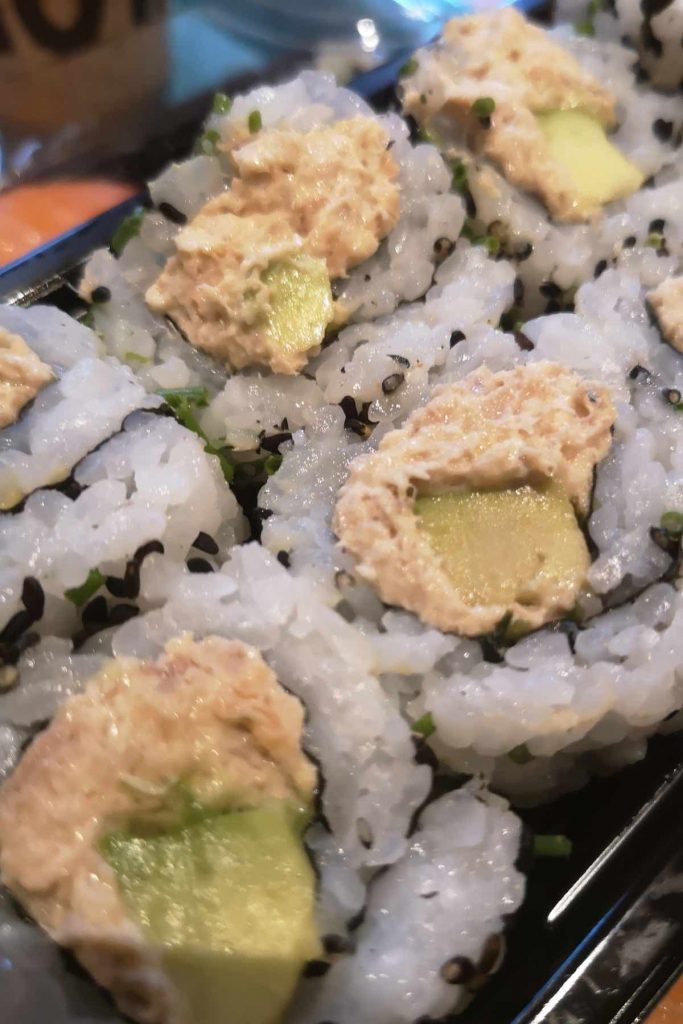 Did you know that you can use canned tuna in sushi?
This recipe is quick, easy, and healthy. It's a perfect option if you'd like to avoid raw tuna.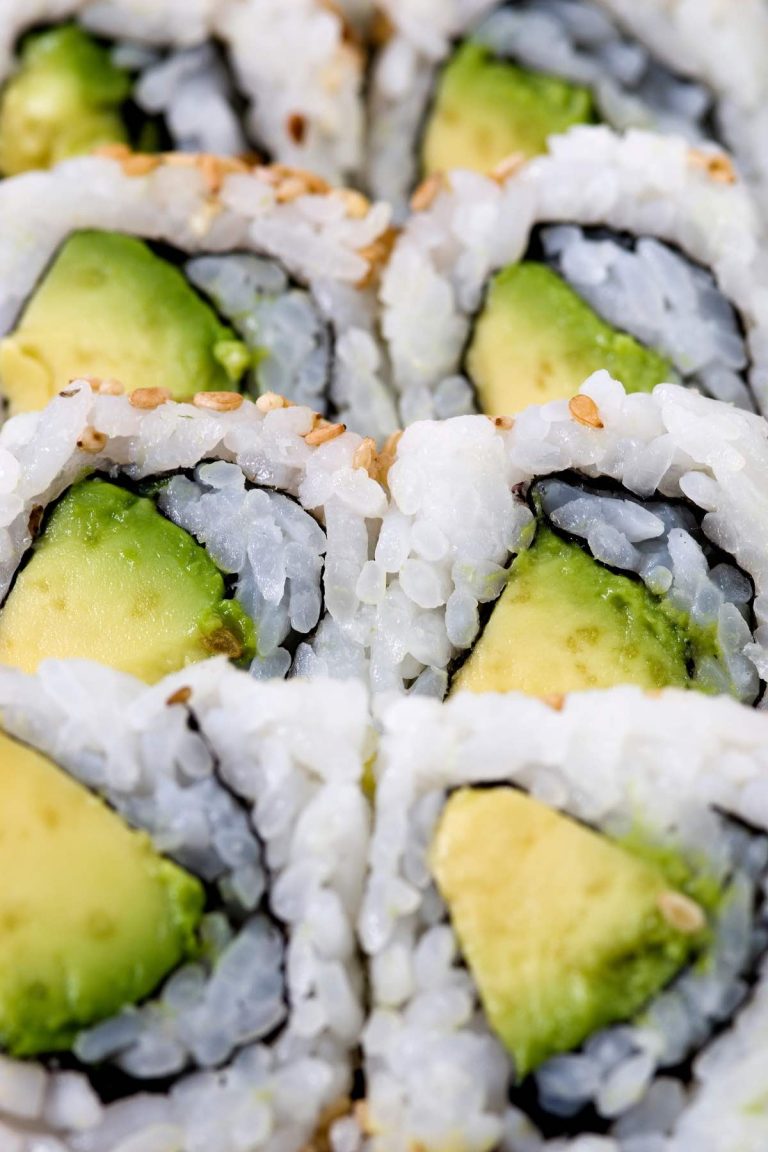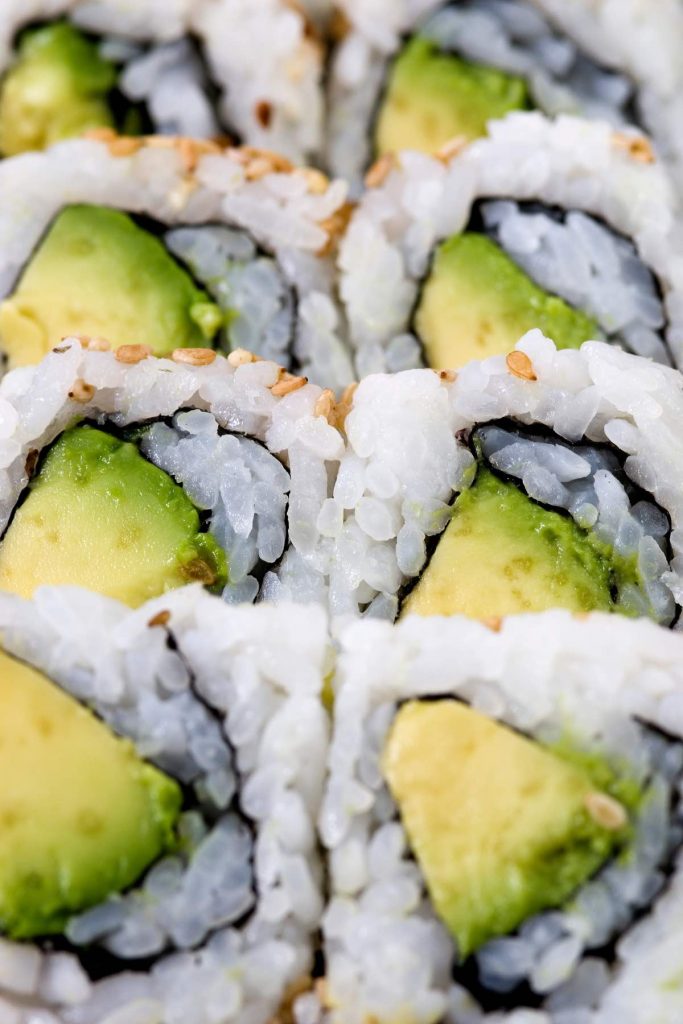 This simple sushi roll is made with seasoned sushi rice and bits of creamy avocado, rolled in nori.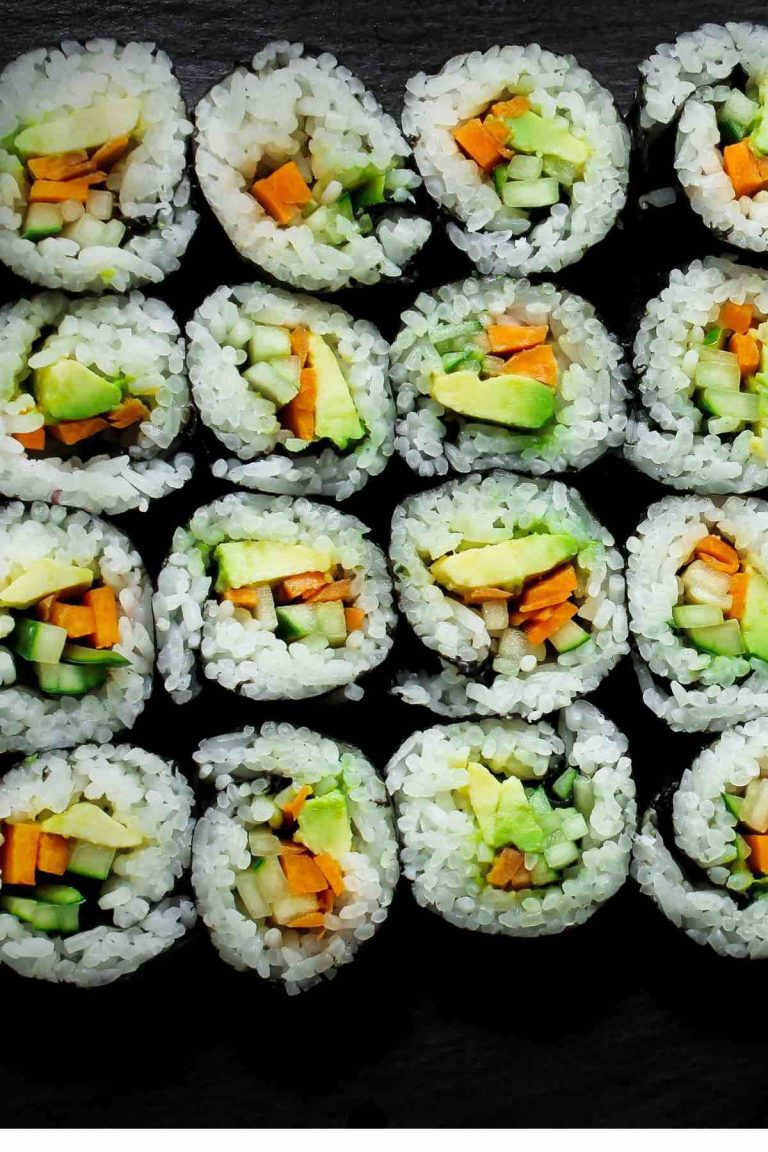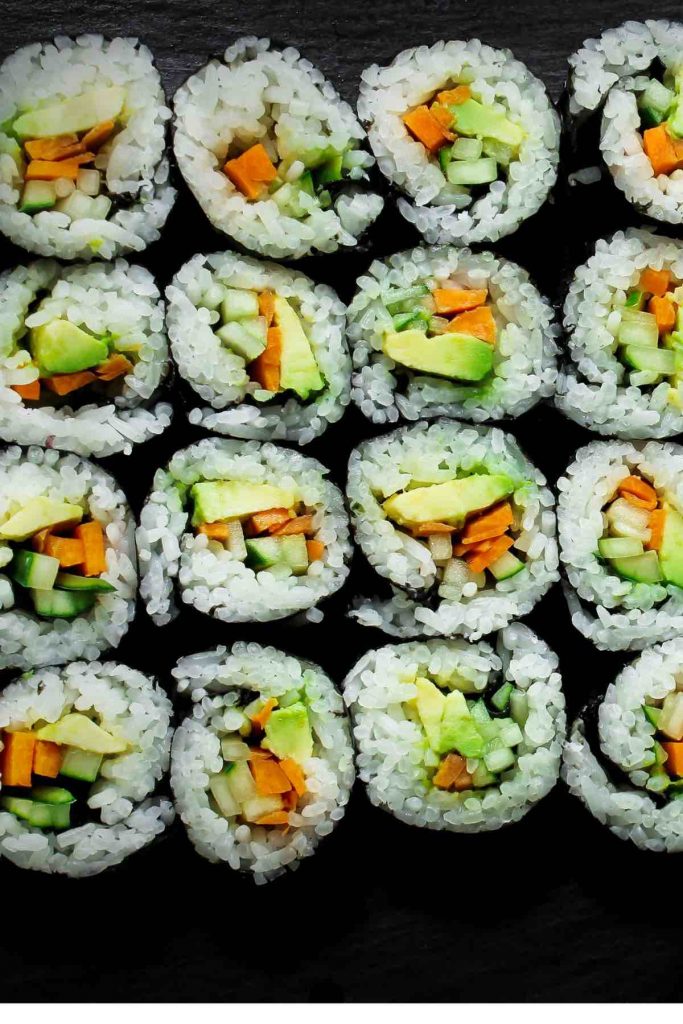 There's no raw seafood or meat in these rolls. Enjoy homemade veggie sushi filled with ingredients like carrots, bell peppers, and cucumbers.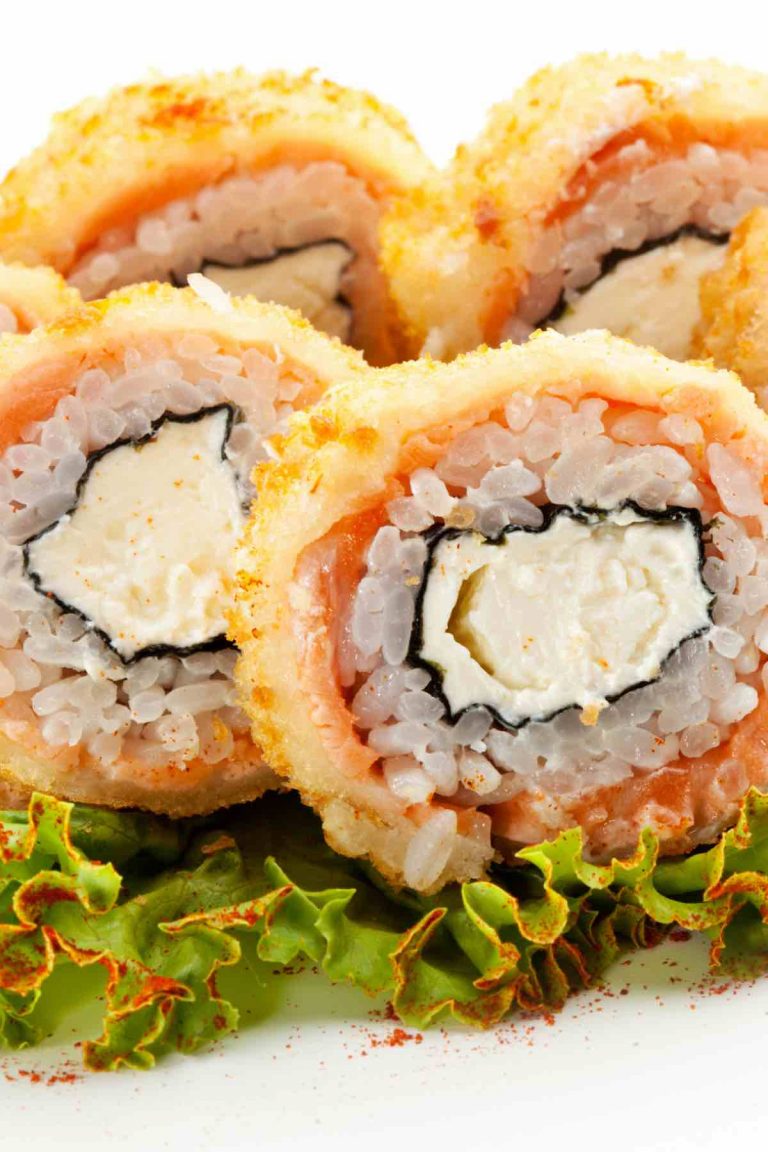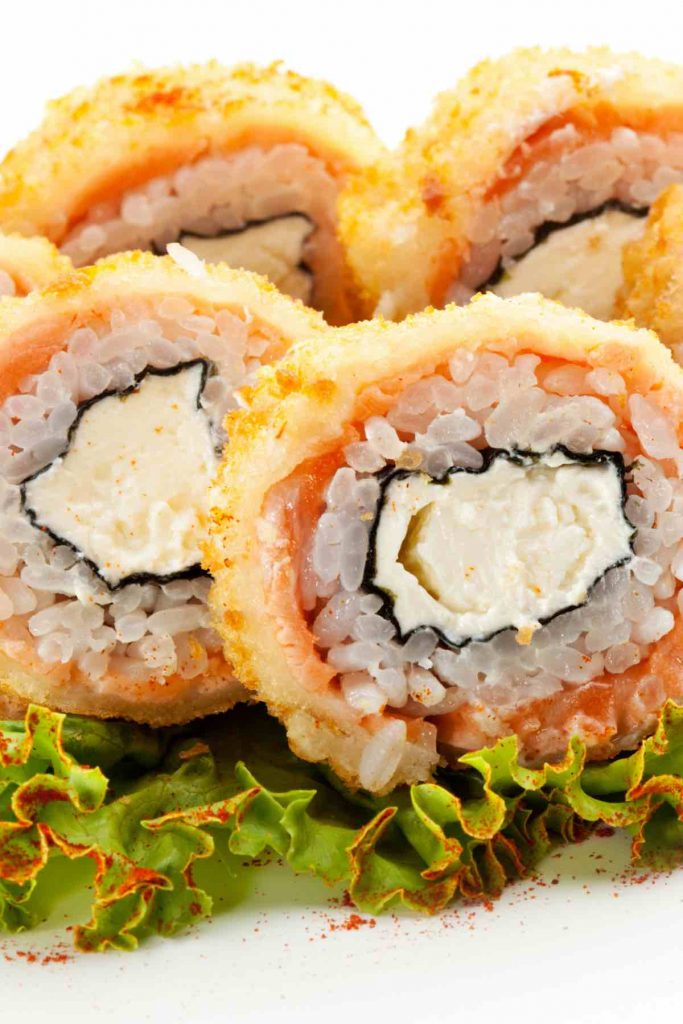 These sushi rolls take tempura to the next level. The entire roll is smothered in a homemade tempura batter before being deep-fried to crispy perfection.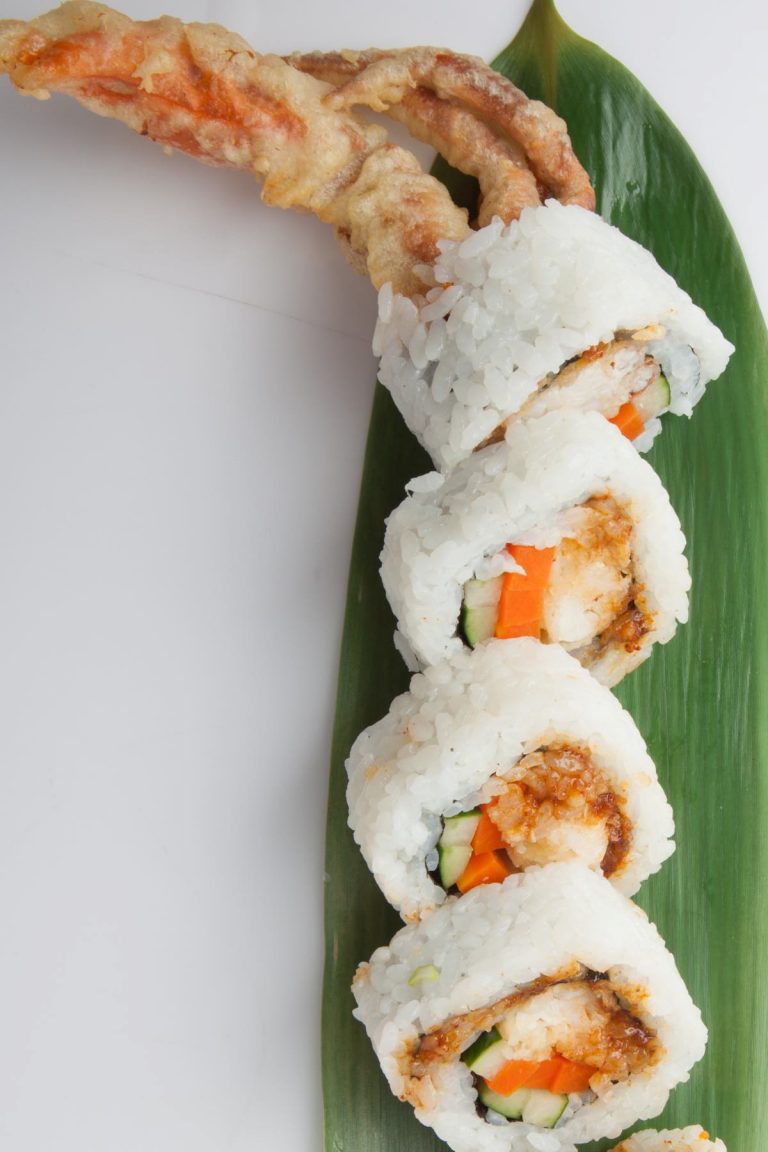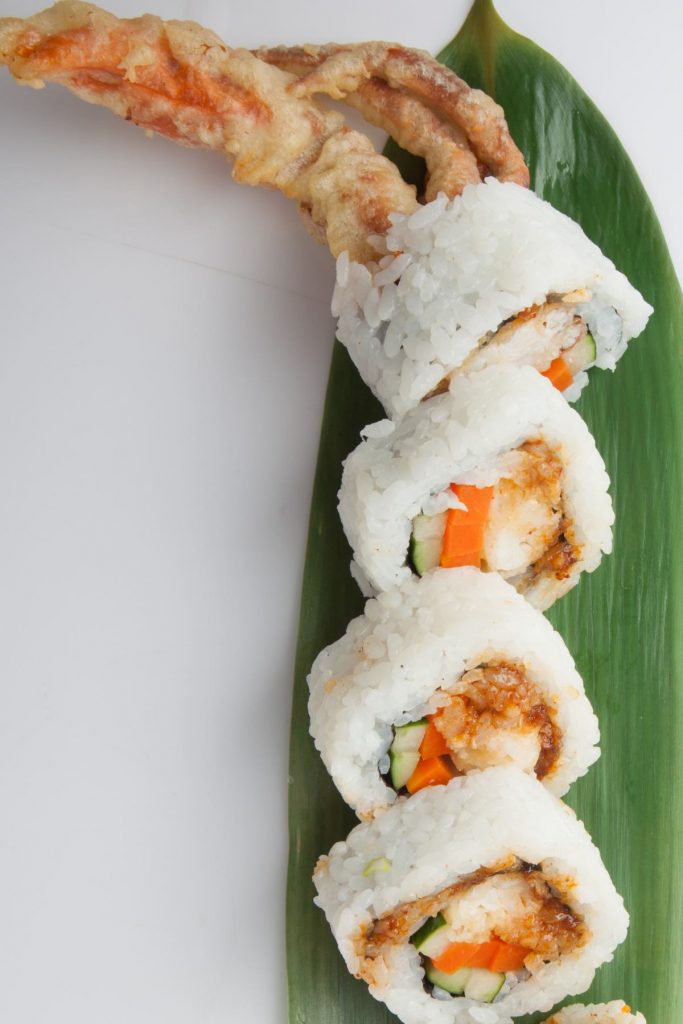 Soft-shell crab tempura, cucumber, and carrots make up this cooked sushi roll. Enjoy with soy sauce and wasabi.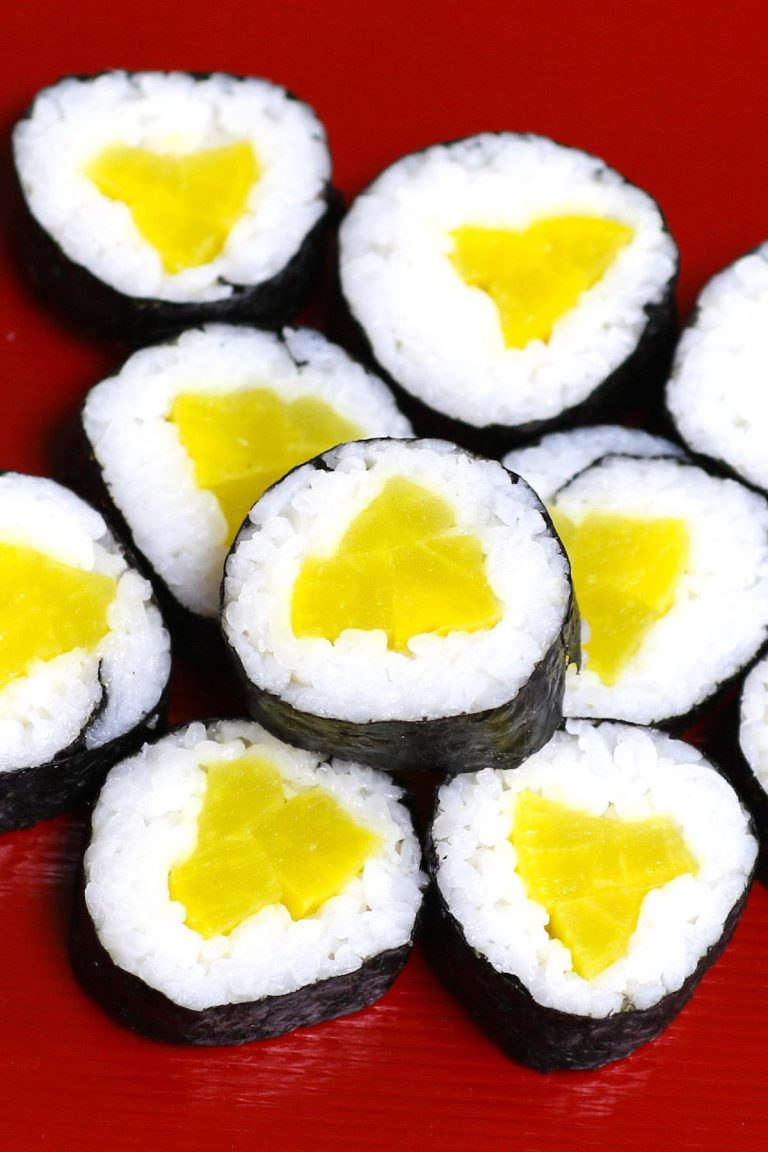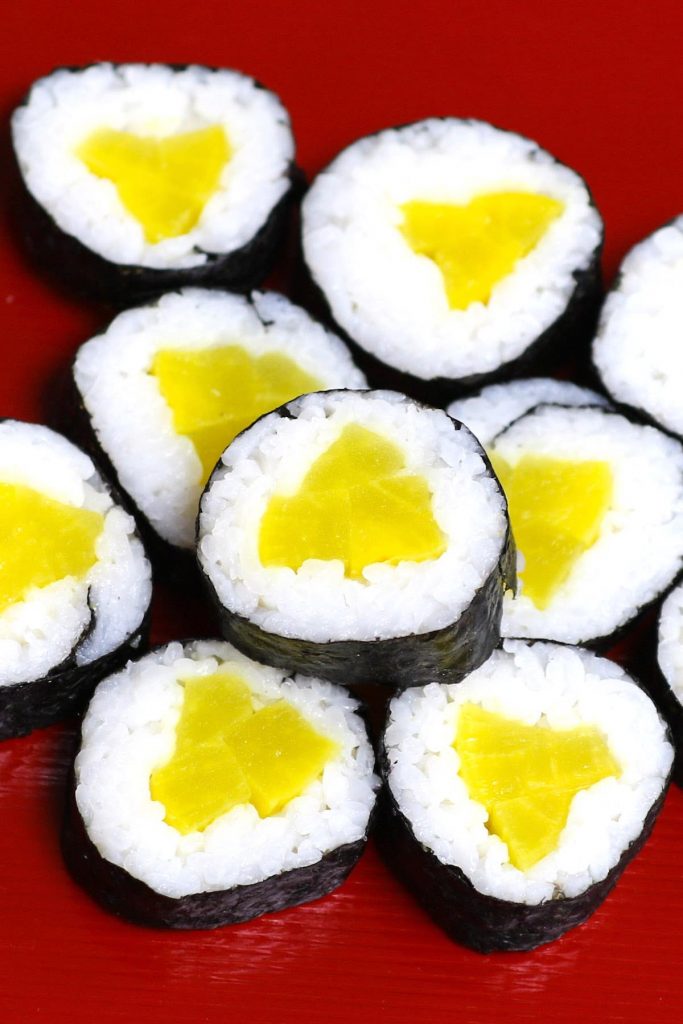 In Japan, Oshinko is crispy pickled vegetables such as radishes or cucumbers.
Wrap these veggies in rice and nori and you've got Oshinko sushi.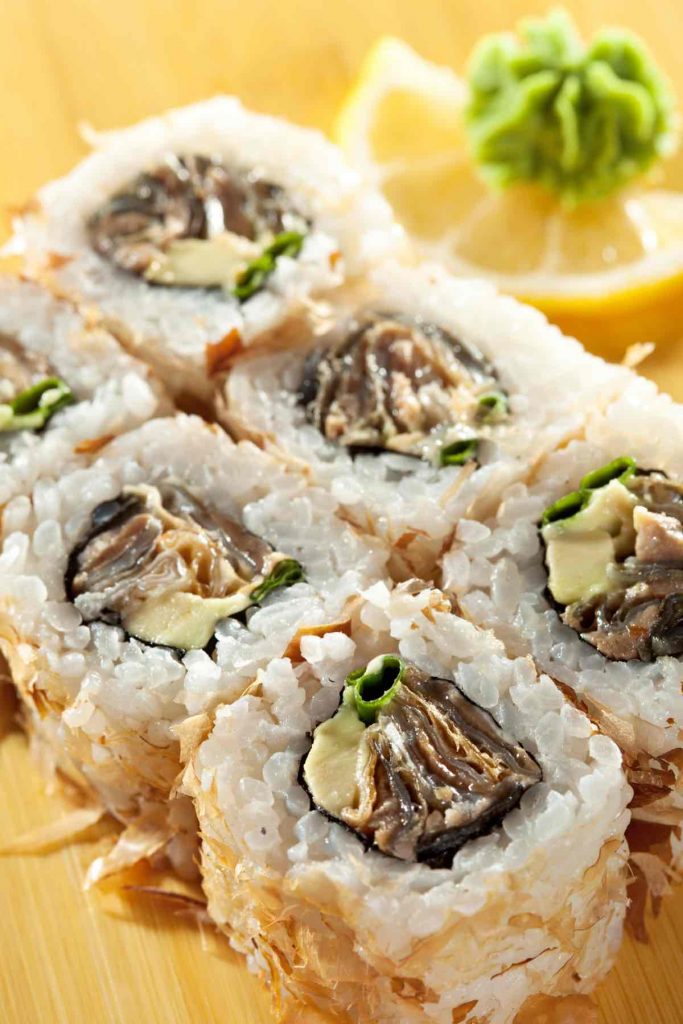 Seafood lovers will truly enjoy this epic sushi roll featuring crispy salmon skin.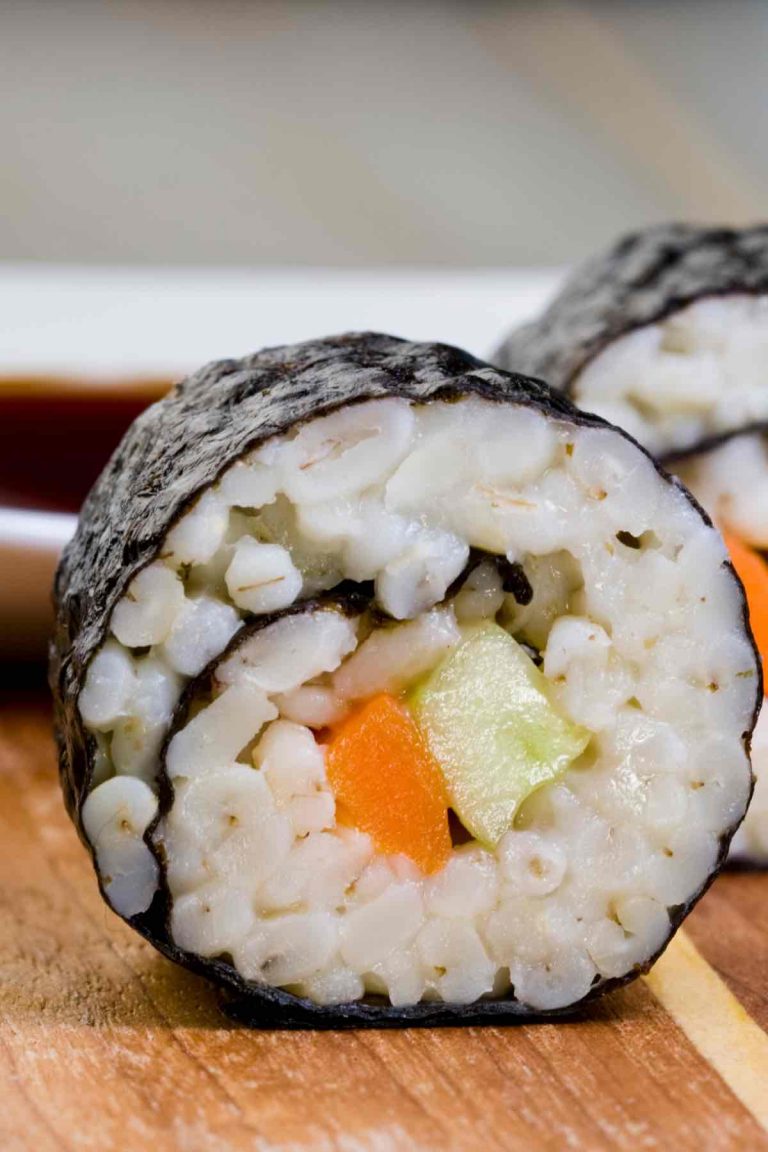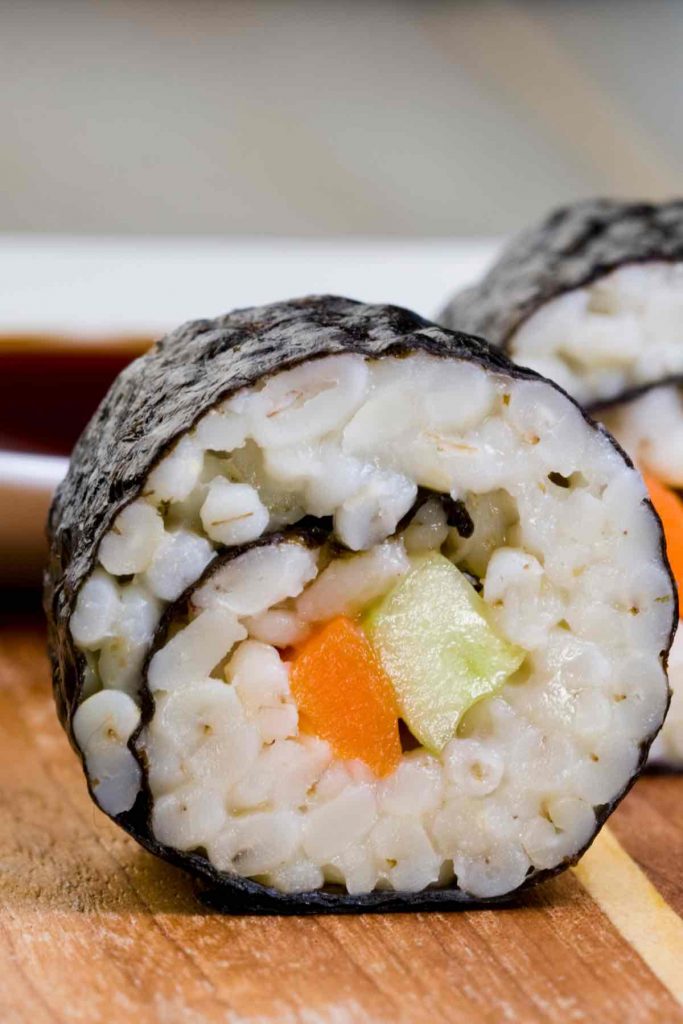 Here's a simple, low-calorie sushi roll featuring fresh, crunchy cucumber, pickled carrots, and creamy avocado. Perfect for vegetarians!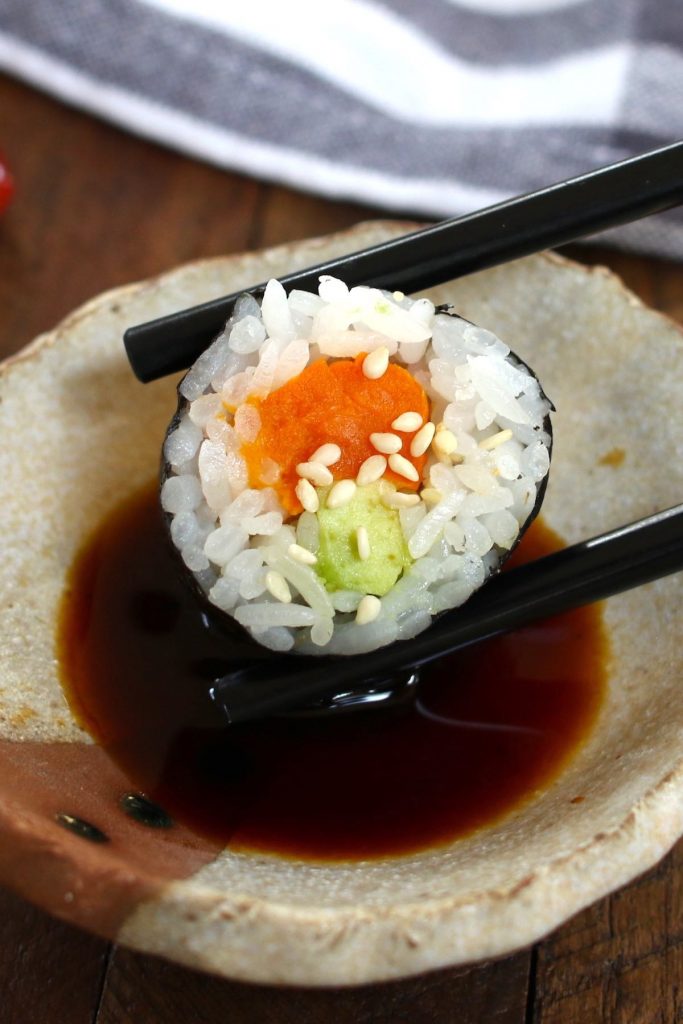 Roasted sweet potatoes are an unexpected, yet delicious ingredient in this vegan-friendly sushi roll.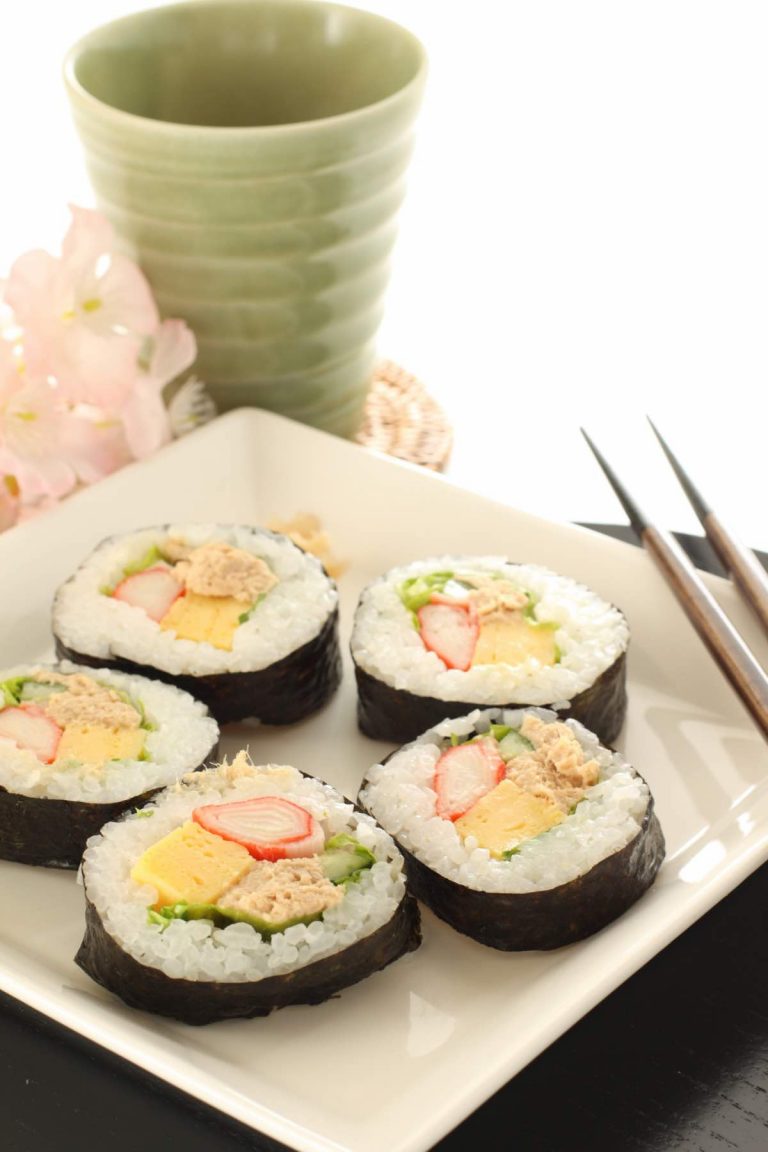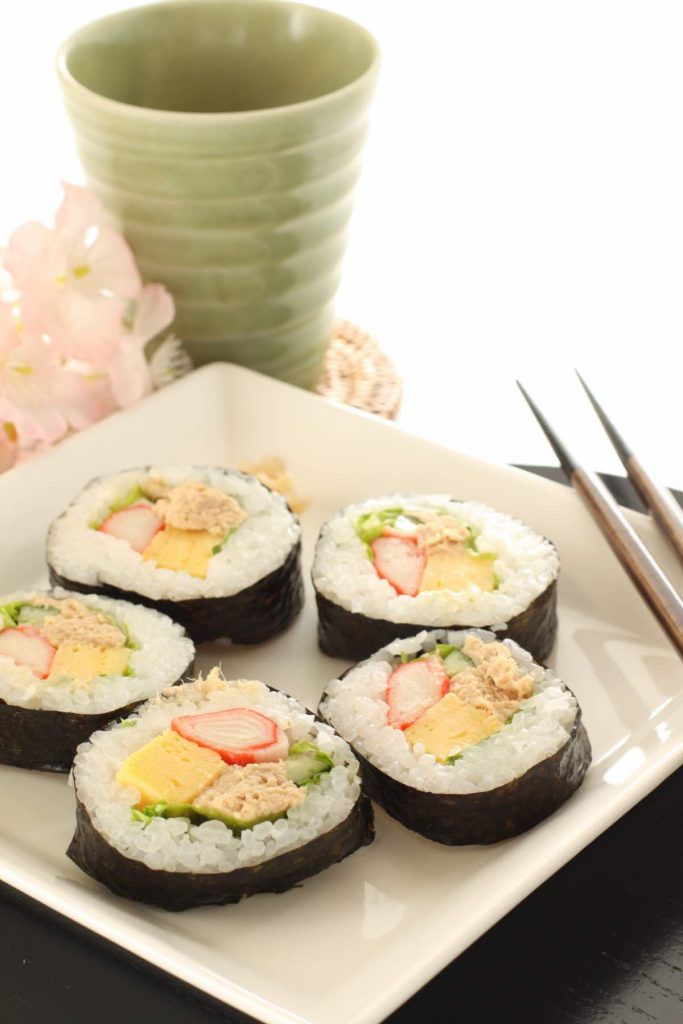 Futomaki rolls are jumbo-sized sushi rolls that are so satisfying to make and eat! These rolls feature a thicker layer of sushi rice for a more filling roll.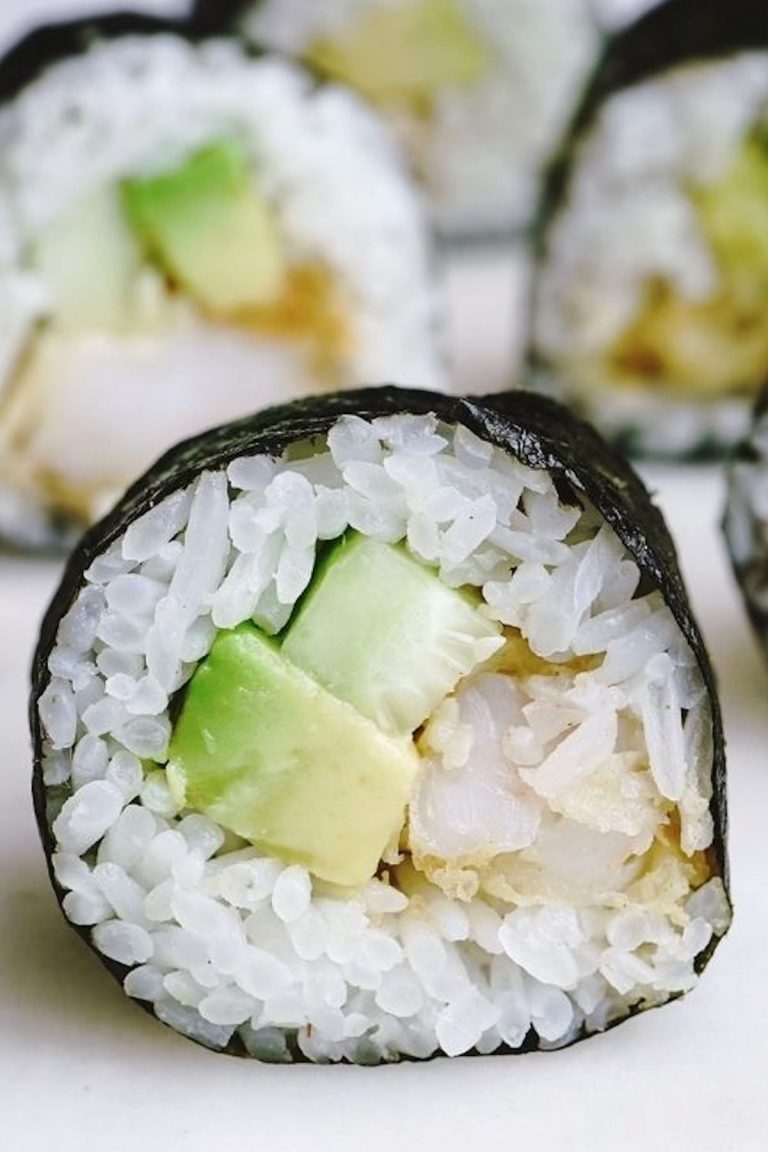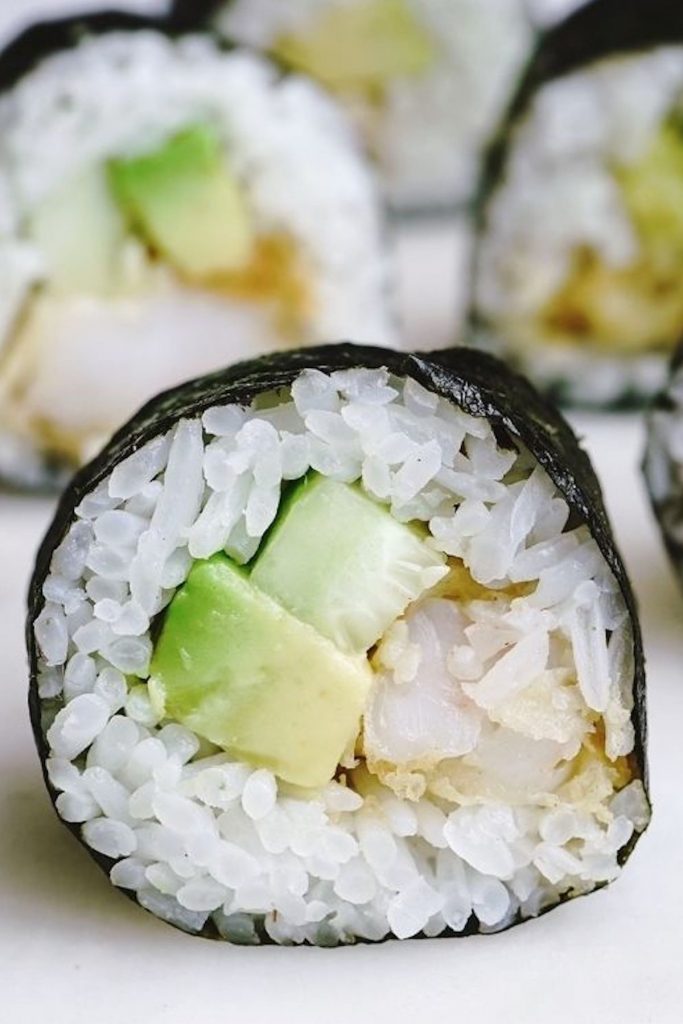 Godzilla Rolls are also called Japanese shrimp tempura sushi. They are filled with crispy shrimp tempura, avocado, and cucumber, all wrapped in seasoned rice and seaweed sheets. So delicious and easy to make at home!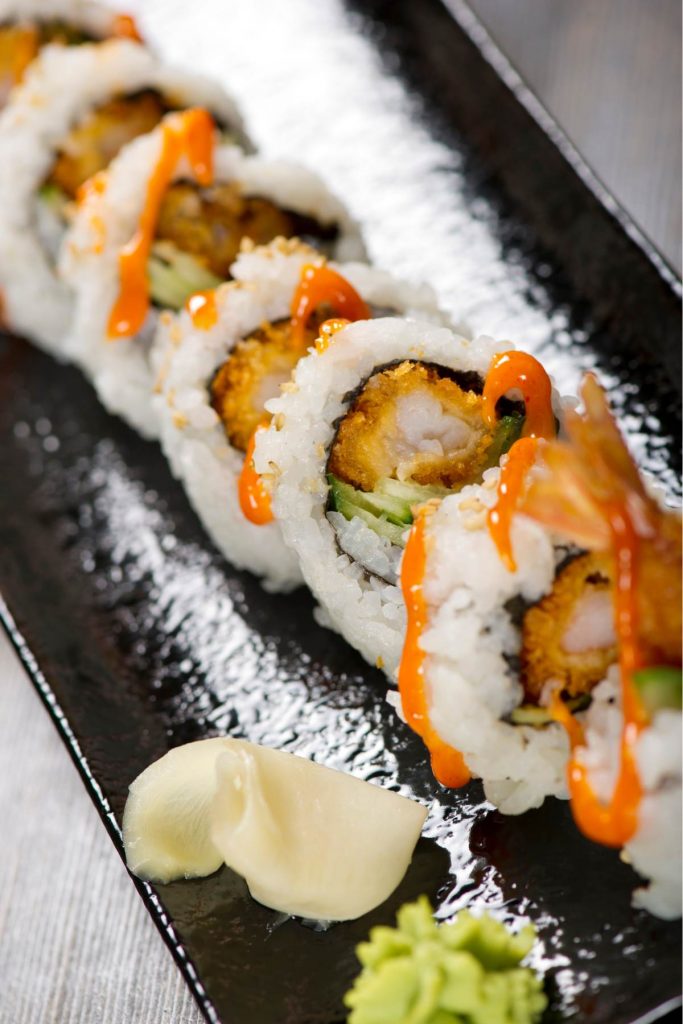 This sushi roll features crispy tempura shrimp, avocado, cucumber, mango and a delicious sauce that simply tantalizes your taste buds. A beautiful combination of sweet and savory flavors, Ihighly recommend serving this roll as a dinner party appetizer.
Sushi Roll FAQs
Is Sushi Raw Fish?
Sushi is not raw fish. Sushi is the name given to a Japanese dish that can be made in a variety of ways. Sushi can be made with ingredients that are not raw fish, such as vegetables or cooked proteins.
While many people enjoy raw fish in their sushi, there are just as many options for those who prefer cooked sushi rolls.
What are Some Sushi Dishes with Raw Fish / Seafood?
For those who enjoy raw sushi dishes, popular options include uni sushi, yellowtail Sashimi, spicy salmon roll, tuna roll. These sushi dishes contain raw fish and can be served with soy sauce and wasabi.
What is Cooked Sushi Made of?
Cooked sushi can be made with a variety of different ingredients. Seafood options include smoked salmon, BBQ eel, poached shrimp, or crab tempura. Fresh or cooked vegetables can be used in sushi and even non-seafood proteins such as teriyaki chicken or beef.
How to Cook Sushi Rice?
Be sure to use authentic, short-grain sushi rice. Rinse the rice and then cook in a saucepan until the rice is tender and fluffy. Let the rice cool, then stir in salt, rice vinegar, sugar, and oil. Keep stirring until the vinegar has dried out. You can enjoy sushi rice on its own or in your favorite rolls.
Easy Cooked Sushi Roll Recipe
Sweet Potato Sushi Rolls are one of my favorite cooked sushi recipes. They're sweet, savory, and creamy. So delicious!
Print
Pin
Rate
Ingredients
1

cup

sushi rice

1

cup

water

1 ½

tablespoons

sushi vinegar

1

large baked sweet potato

cut into strips

1

avocado

toasted white sesame seeds
Instructions
Wash the rice and add it to the rice maker together with water. Cook according to the instruction.

Once cooked, transfer the hot rice to a large bowl and let it cool down slightly. When it's still very warm, stir in the sushi vinegar.

Lay out the bamboo mat with an optional piece of plastic wrap on top sticking.

Cut off 1/3 of the nori seaweed sheet using kitchen scissors. Then place the remaining nori sheet towards the bottom of the mat, shinning side facing down.

Take 3/4 cup of cooked rice and evenly spread over nori while leaving 1/2 inch at the top of the sheet. Wet your fingers in the vinegar water to spread the rice in a thin layer.

Sprinkle sesame seeds on top of the rice, and then place sweet potato strips and avocado slices on top.

Place the thumbs underneath the bamboo mat and lift the edge up and over the filling.

Roll the bamboo mat away from you and press the rice and filling together. Use the bamboo mat to continue rolling until reaching the blank nori on the edge.

Peeling the mat back away as you continue to roll, so that the nori can be rolled into a cylinder. Press the mat gently so that the roll won't fall apart when you cut it.

Place the roll on a cutting board and use a long sharp knife to cut off the edges on each side. Then cut each roll into 8 pieces. Serve and enjoy!
Tried this recipe?
Follow or tag us on Pinterest @izzycooking