What is tobiko and how to use it in sushi? In this post, you'll learn everything about these delicious fish eggs. Tobiko is the Japanese word for flying fish roe, which is crunchy and salty with a hint of smoke. It's a popular ingredient in Japanese cuisine as a garnish to sushi rolls.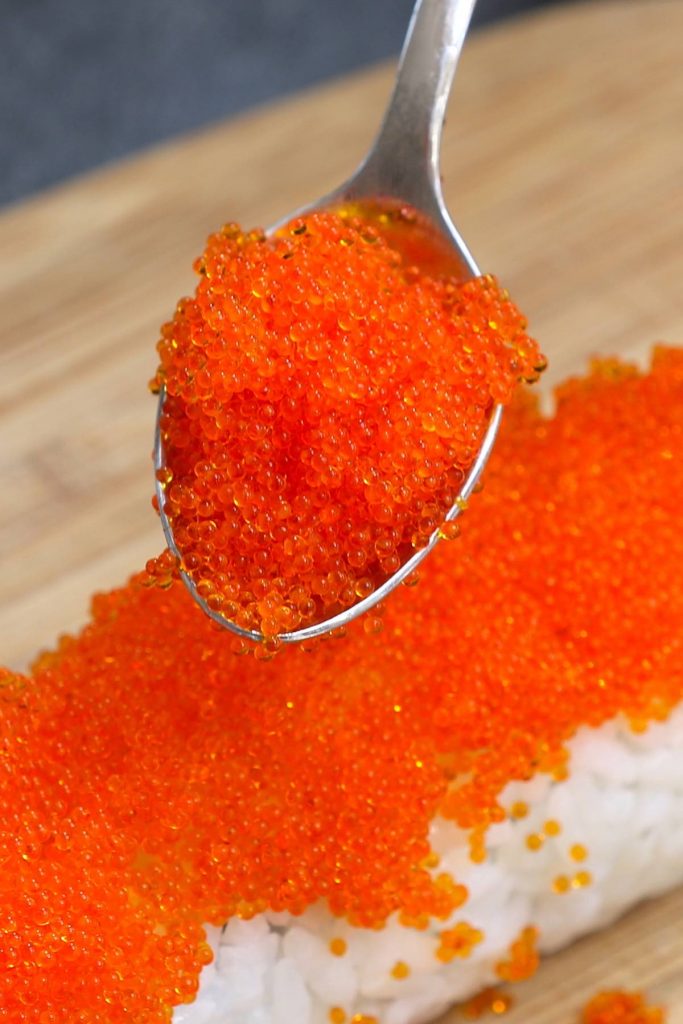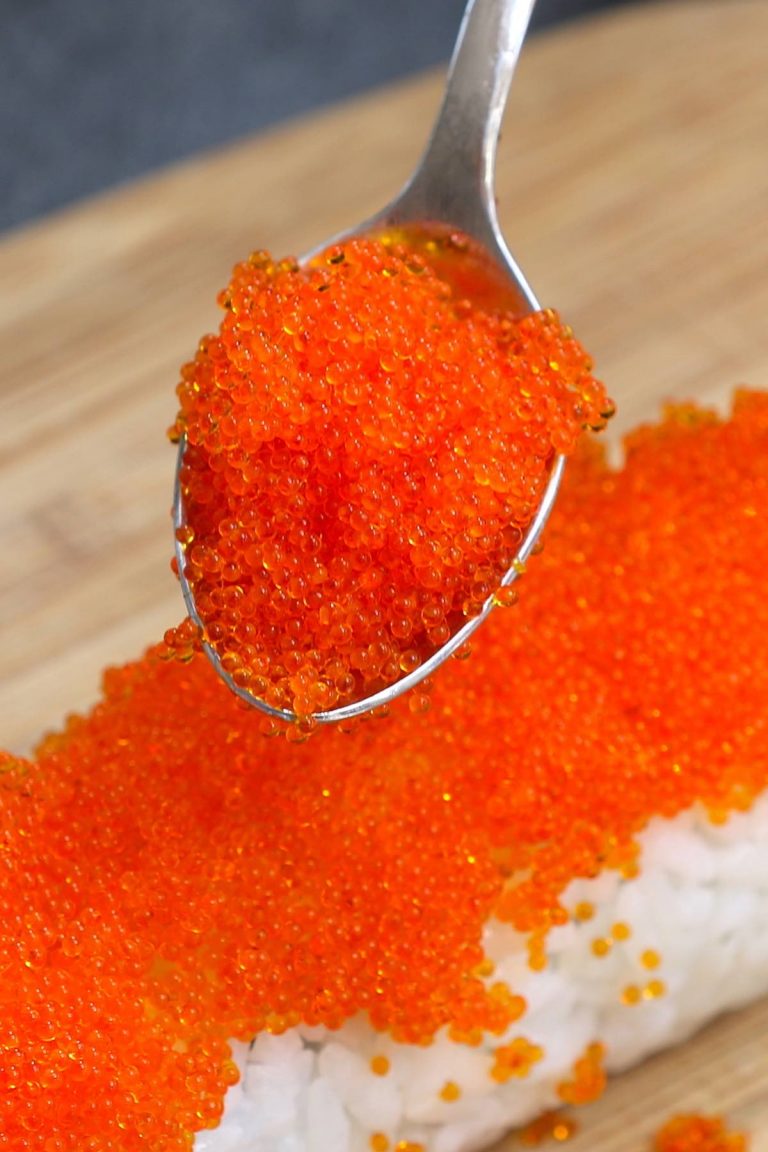 What Is Tobiko (Flying Fish Roe)?
You've probably noticed that there is some bright-colored stuff sitting on top of some Japanese sashimi or sushi rolls at restaurants or supermarkets. Most of the time, these are tobiko eggs or flying fish roe.
Tobiko eggs are small, pearl-like blobs that range from 0.5 to 0.8 mm in diameter. Natural tobiko has a red-orange color, but it can easily take on the color of another ingredient to become green, black or other colors.
Tobiko is larger than masago or capelin roe, and smaller than ikura, which is salmon roe. It's often used in sashimi, maki or other Japanese fish dishes.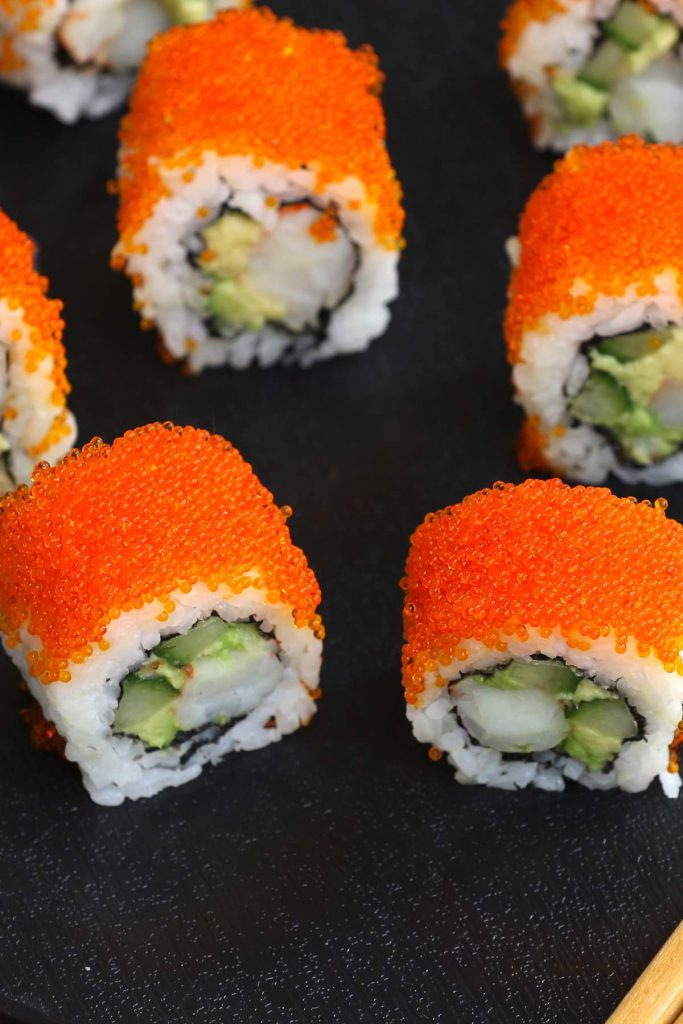 What Does Tobiko Taste Like?
It has a mild smoky and salty taste and slightly sweeter than other types of roe. With a crunchy but soft texture, it complements rice and fish very well. It's quite satisfying of biting into tobiko garnished sushi rolls. 
Tobiko Sushi
Tobiko sushi is a type of sushi that consists of a small ball of sushi rice topped with a piece of tobiko.
Tobiko sushi is often served as an appetizer or as part of a sushi platter, and it is sometimes garnished with a small amount of wasabi or other condiments. In addition to its unique taste and texture, tobiko sushi is also visually appealing due to its bright color and the way the tobiko eggs pop when you bite into them.
Differences Between Tobiko And Caviar
While tobiko and caviar may look similar, they are actually quite different. Tobiko is the roe of the flying fish, while caviar is the roe of the sturgeon. Caviar is a lot more expensive than tobiko and isn't usually served with sushi. In terms of taste and texture, tobiko is much firmer with a slightly sweeter taste. Additionally, tobiko has a red-orange color, while caviar is naturally black or gray.
Nutrition Value
Tobiko is a good source of proteins, omega-3 fatty acids, and selenium, a mineral responsible for the production of antioxidants. However, due to its high levels of cholesterol, it should be taken in moderation.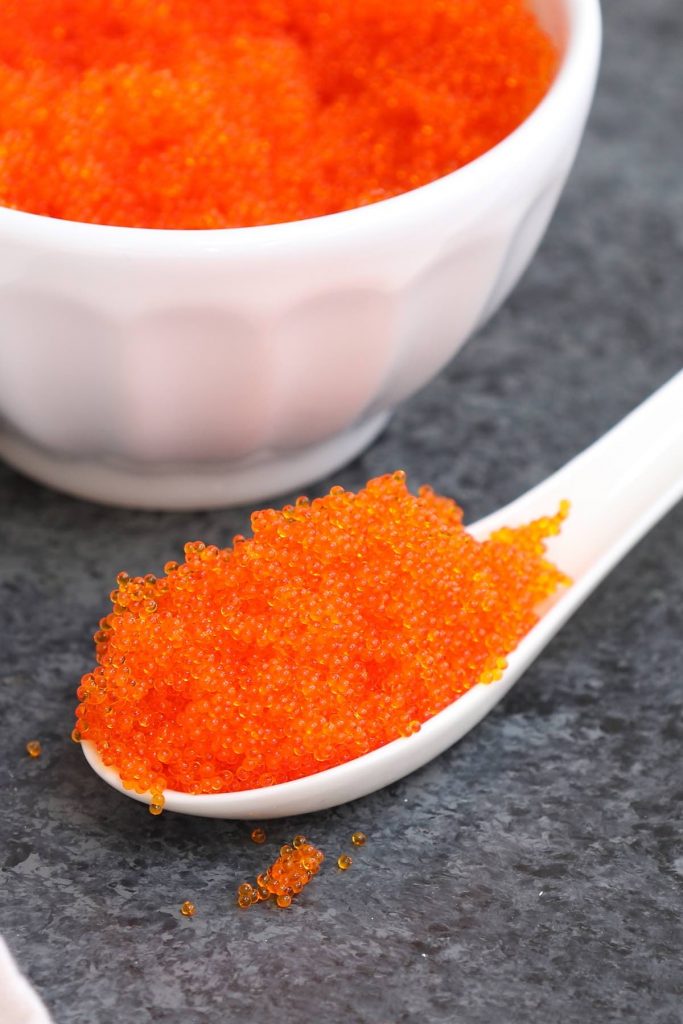 Types Of Tobiko And Different Colors
When infused with other ingredients, tobiko can take on its color and flavor:
Black tobiko: with squid ink
Red tobiko: with beet root
Green tobiko: with wasaki
Yellow tobiko: with yuzu, which is a Japanese citrus lemon.
Where To Buy Tobiko?
In the US, you can find tobiko at local Japanese or Asian grocery stores. Alternatively, you can order them online from amazon.
How To Store Tobiko?
Tobiko can be stored in the freezer for up to 3 months. When you need to use it, just use a spoon to take out the amount you need into a bowl, let it thaw and put the rest back into the freezer.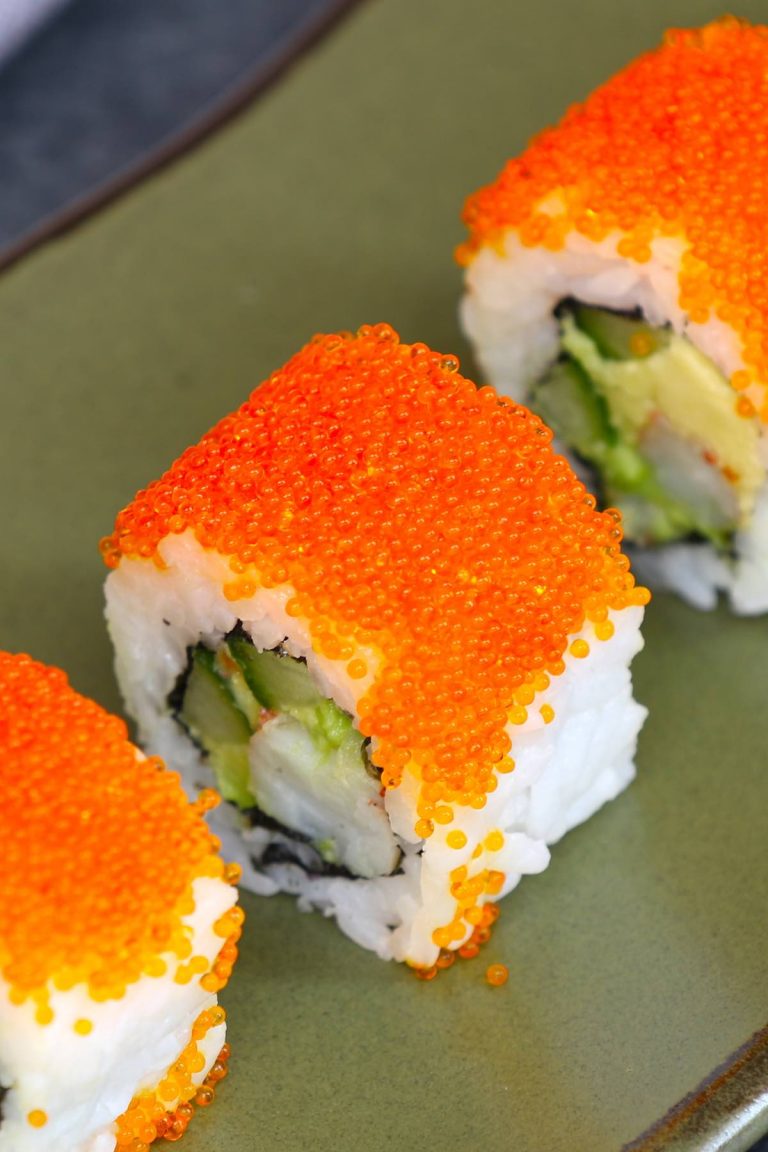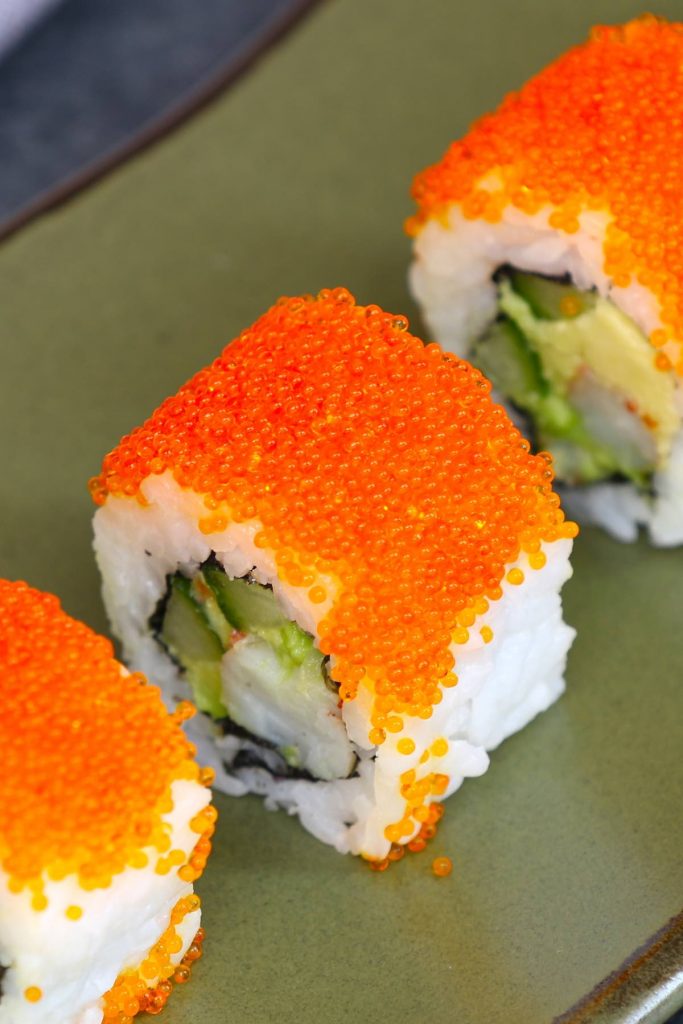 How To Make Tobiko Sushi
First fold the nori sheet in half to split it and place half of the nori on top of the bamboo mat.
Spread cooked sushi rice evenly over nori and sprinkle sesame seeds on top of rice.
Then flip everything so that rice is facing down. Place your favorite fillings on top of the nori.
Start rolling using your bamboo mat and firmly keep the roll in place. Apply some pressure to tighten it up.
Remove the bamboo mat, and add tobiko on top of your sushi roll. Place a piece of plastic wrap on top, and cover with the sushi mat. Squeeze gently to press the tobiko around the roll.
Then remove the mat and keep the plastic wrap, then slice the roll into bite-size pieces. Remove the plastic wrap and enjoy!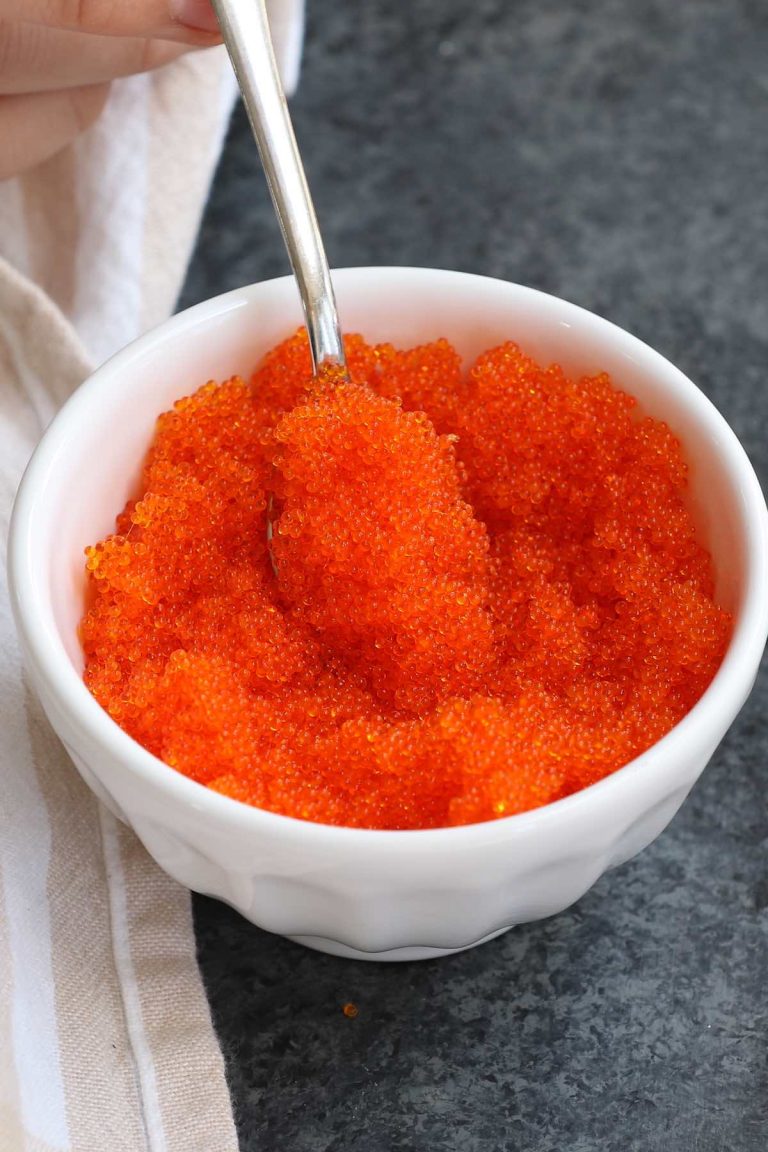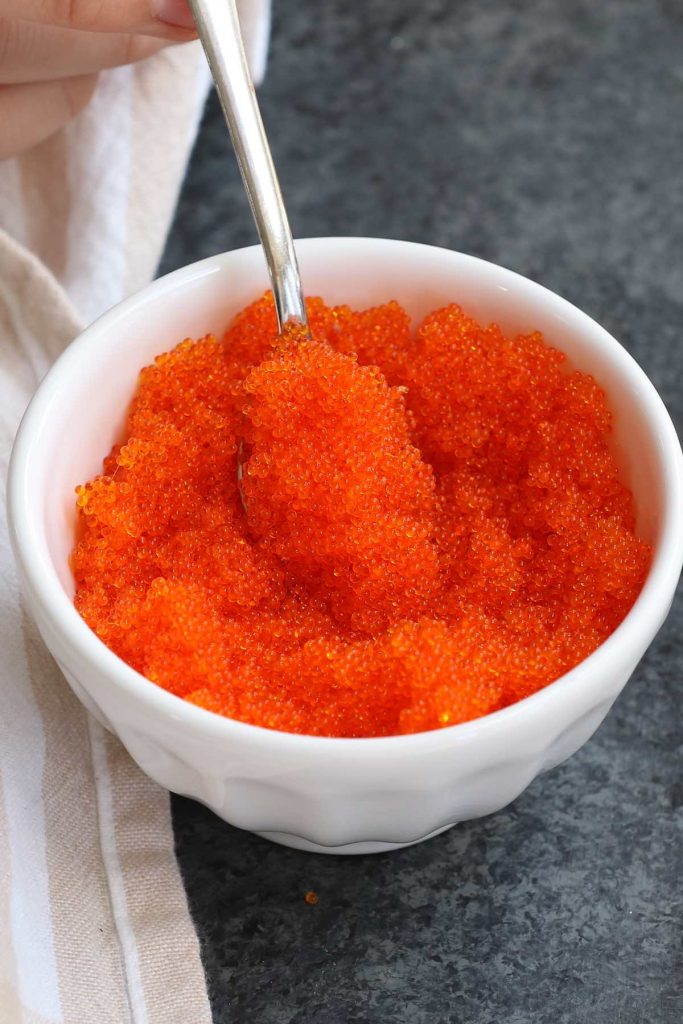 FAQs
Is Tobiko Raw?
Yes, tobiko is the flavored and colored raw eggs of the flying fish.
Is Tobiko Safe To Eat?
Yes, tobiko is thoroughly pasteurized and it's safe to eat. However, it should be eaten in moderation because of its high cholesterol content.
What's The Difference Between Tobiko And Masago?
Both tobiko and masago are fish roe that are common in sushi rolls. Tobiko is flying fish roe while masago is egg of Capelin. Tobiko is larger, brighter with more flavor, as a result, it's much more expensive than masago.
Is Tobiko Healthy?
Tobiko is a good source of protein, omega-3 fatty acids, and other nutrients. It's also low in calories and fat, making it a good option if you're trying to lose or maintain weight.
How is Tobiko Made?
Tobiko is made by gently massaging the eggs out of the female flying fish and then rinsing them in saltwater. The eggs are then flavored with soy sauce or other seasonings before being dyed and packaged.
What Dishes Can I Make with Tobiko?
In addition to sushi, tobiko can be used in salads, pasta dishes, and seafood soups. It can also be used as a garnish for deviled eggs or as a topping for crackers and cream cheese.
Is Tobiko Safe for Pregnant Women to Eat?
Tobiko and other types of roe are safe to consume during pregnancy. However, raw fish should be avoided due to the risk of foodborne illness.
How Many Calories are in Tobiko?
One tablespoon of tobiko contains approximately 20 calories.
Is Tobiko Actually Fish Eggs?
Yes, tobiko is the roe (eggs) of the flying fish.
Popular Recipes Using Tobiko
More Japanese Sushi Rolls You May Like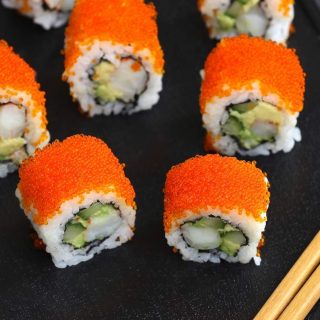 Tobiko Sushi Recipe
Tobiko Sushi Roll is made with your favorite fillings rolled in seaweed sheet and sushi rice, with a tobiko topping. It's so easy to make and I'll share with you how to make perfect tobiko sushi.
Print
Pin
Rate
Servings:
24
pieces (3 Rolls)
Ingredients
For Sushi Rice
1

cup

sushi rice

short grain sushi rice

1

cup

water

1 ½

tablespoons

sushi vinegar (optional)

or mixing 1 tablespoons rice vinegar, 1/2 tablespoon sugar, and 1/2 teaspoon salt
Instructions
Cook Sushi Rice: Wash the rice and add it to the rice cooker together with water. Once cooked, transfer to a large bowl and let it cool down slightly. When it's still very warm, stir in the optional sushi vinegar (or the mixture of rice vinegar and sugar).

Make Tobiko Sushi: Lay out the bamboo mat with a piece of plastic wrap on top (this will make clean up easier and prevent rice from sticking to the bamboo).

Fold the nori sheets in half and split them using a pair of scissors.

Place half of the nori sheet on top of the bamboo.

Take 3/4 cup of cooked rice and evenly spread over nori. (You can dip your hands in vinegar water to prevent sticking.)

Flip everything so that rice is facing down.

Place shrimp, avocado, and cucumber on top of the nori.

Place the thumbs underneath the bamboo mat and lift the edge up and over the filling.

Roll the bamboo mat away from you and apply some pressure to tighten it up. Keep rolling until the ends meet.

Add Tobiko Topping: Remove the bamboo mat, and spread tobiko on top of the roll.

Place plastic wrap on top, and cover with the sushi mat. Squeeze gently to press the tobiko around the roll.

Remove the mat while keeping the plastic wrap. Slice the roll into bite-size pieces. Remove the plastic wrap from each piece. Serve and enjoy!
Nutrition
Calories:
69
kcal
|
Carbohydrates:
8
g
|
Protein:
3
g
|
Fat:
3
g
|
Saturated Fat:
1
g
|
Cholesterol:
30
mg
|
Sodium:
88
mg
|
Potassium:
105
mg
|
Fiber:
1
g
|
Sugar:
1
g
|
Vitamin A:
58
IU
|
Vitamin C:
2
mg
|
Calcium:
20
mg
|
Iron:
1
mg
Tried this recipe?
Follow or tag us on Pinterest @izzycooking