Nori is the Japanese word for dried edible seaweed, which usually comes in thin, paper-like sheets. It's a popular ingredient in Japanese and Korean cuisine to wrap rolls of sushi or onigiri.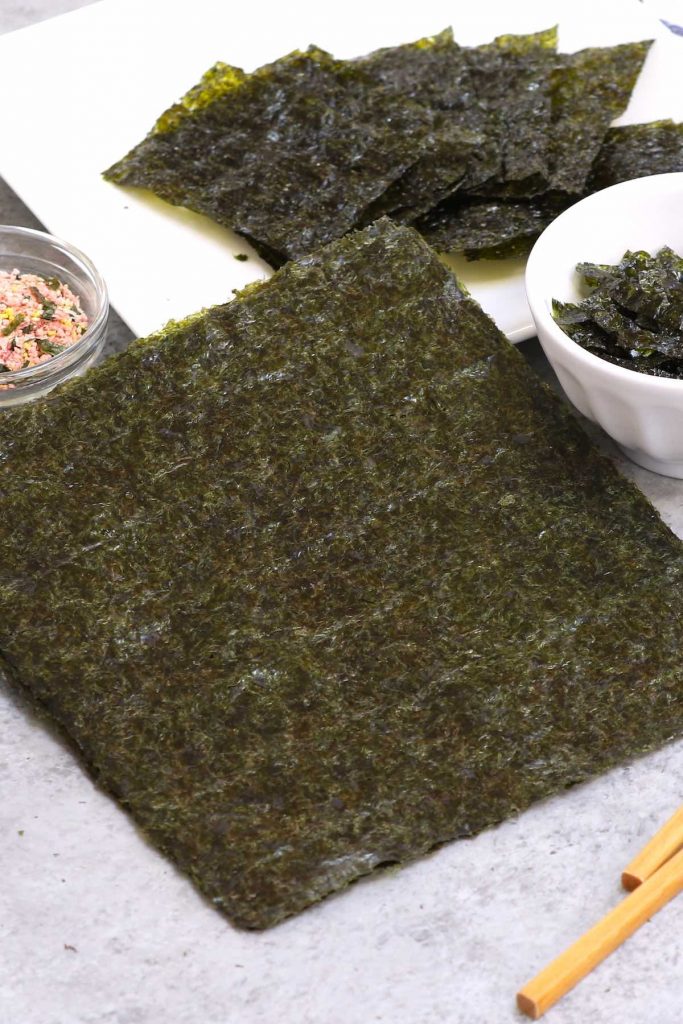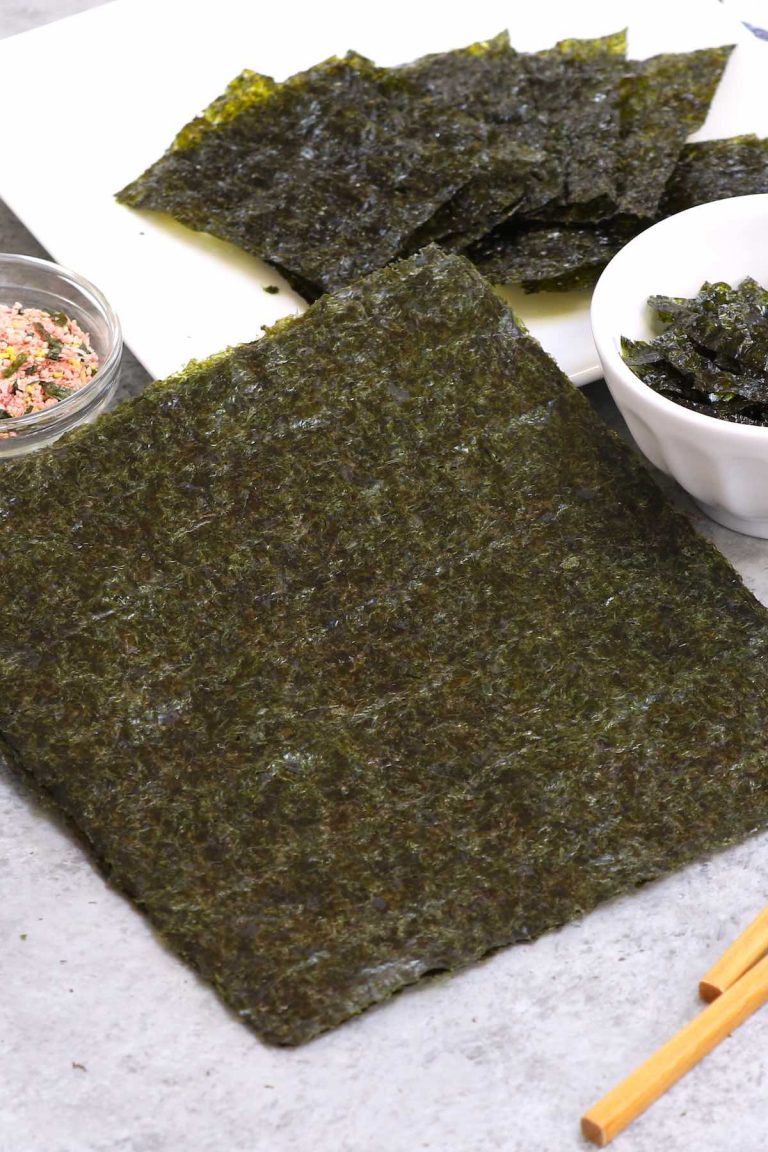 This post may contain affiliate links. Please read my disclosure policy.
What is Nori (sushi seaweed)?
Nori is dried seaweed sheets made from red algae, which turns dark green when dried. It's usually used as a wrapper for sushi, snacks, or seasoning. 
Originally from Japan, nori is commonly found in the form of 7″ x 8″ sheets and is often used in sushi rolls and onigiri rice balls. Other forms include strips, shredded, flakes, and powdered. They are sold in packs in grocery stores for culinary purposes.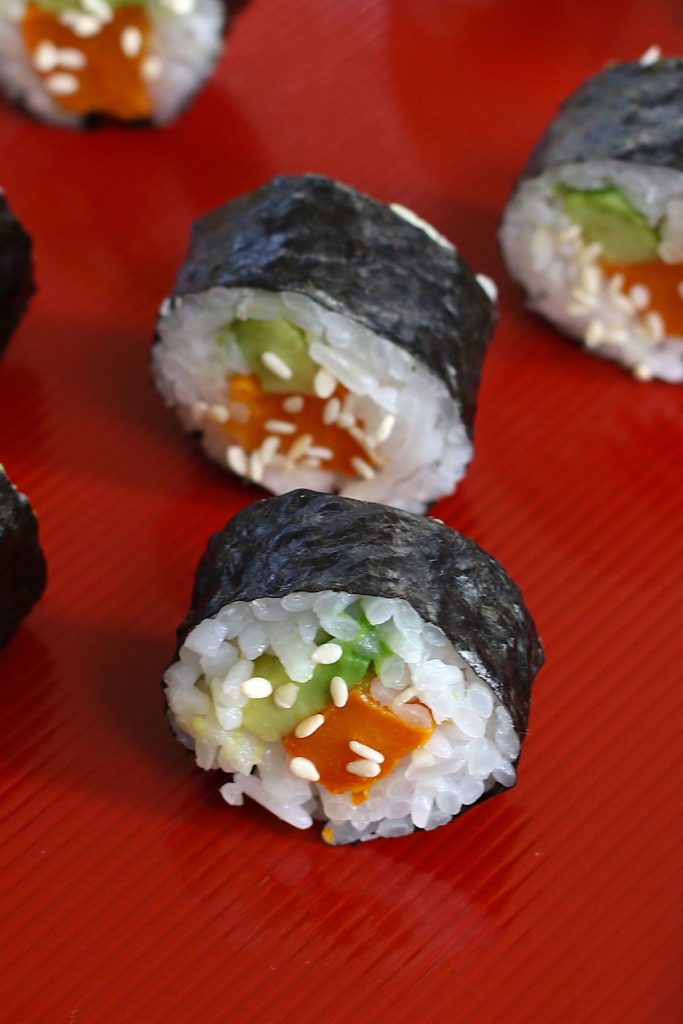 Nori calories
Nori seaweed is very low in calories. Ten sheets of nori are about 26 grams and contain only 9 calories. 
Nutrition value and health benefits
Nori is a good source of nutrients as it's a plant with animal nutrients. There are some nutrients in nori that are not commonly found in other fruits or vegetables.
It's known to be a good source of omega-3 fatty acids, which are good for the brain and immune system.
Nori is also a good source of iron, but unlike vegetables such as spinach, the iron from nori is much easier for the body to absorb. 
In addition, nori also contains some essential vitamins such as vitamin B12 and minerals, especially iodine.
Since nori is rich in nutrients that are often found in animal products, it's very helpful for people who have a vegan or vegetarian diet.
As a result, nori also has great health benefits:
Nori consumption can help remove toxins.
The healthy proteins from nori have anti-inflammatory effects and can improve the immune system.
It has positive effects on the cardiovascular system.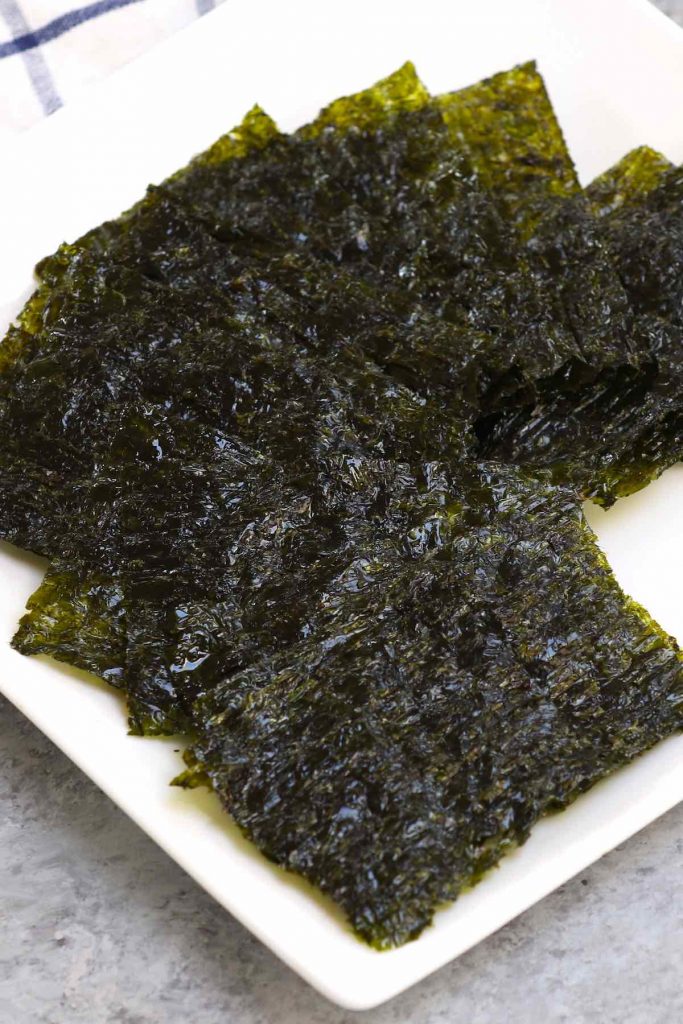 What is Nori seaweed made of?
Nori is made from a species of red algae called Porphyra, including Porphyra Yezoenis and Porphyra Tenera. It comes in different grades with a wide price range. Cheaper varieties usually have a lighter color and not woven tightly. 
What does sushi seaweed nori taste like?
Nori is crispy, salty, and slightly nutty with a unique umami flavor. Unlike other types of seaweed, nori is typically consumed dry. 
Ways to use nori
Nori sheets
Most nori sheets sold at grocery stores are pre-toasted. If yours is plain/raw, you can toast them at home over the flame on a gas stove (be careful as it can crinkle up fast and even catch fire if you are too close). They're often used to wrap sushi rolls or rice balls. You can also eat them on their own as a snack.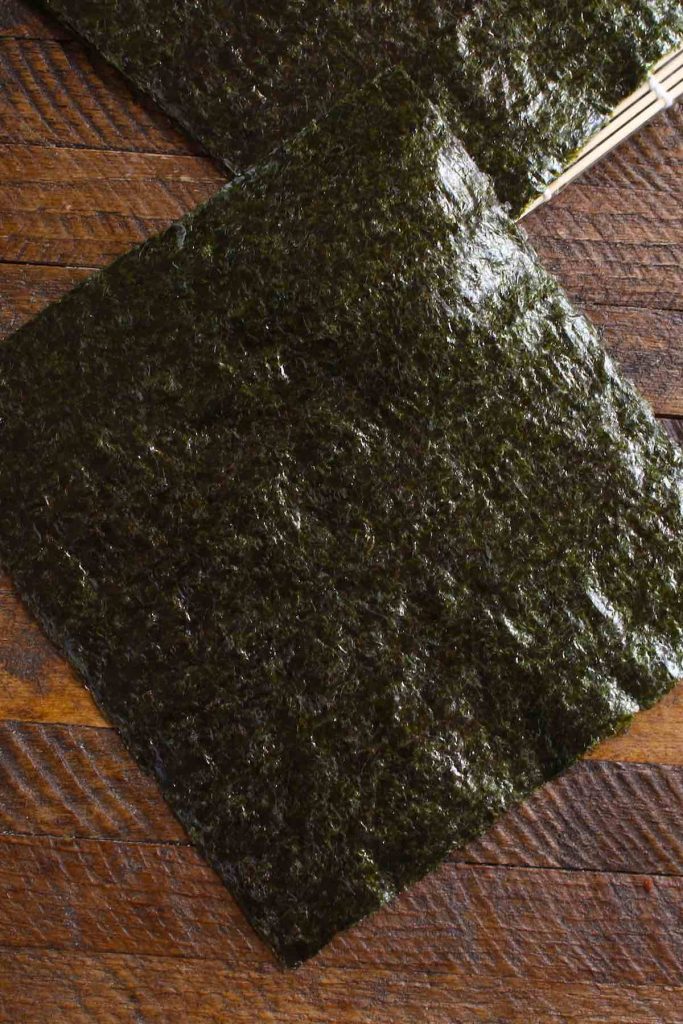 Shredded nori in furikake
Another popular use of nori is to ground it up and mix with sesame seeds and other seasonings to make furikake. It's usually sprinkled over a bowl of steamed rice to add flavours.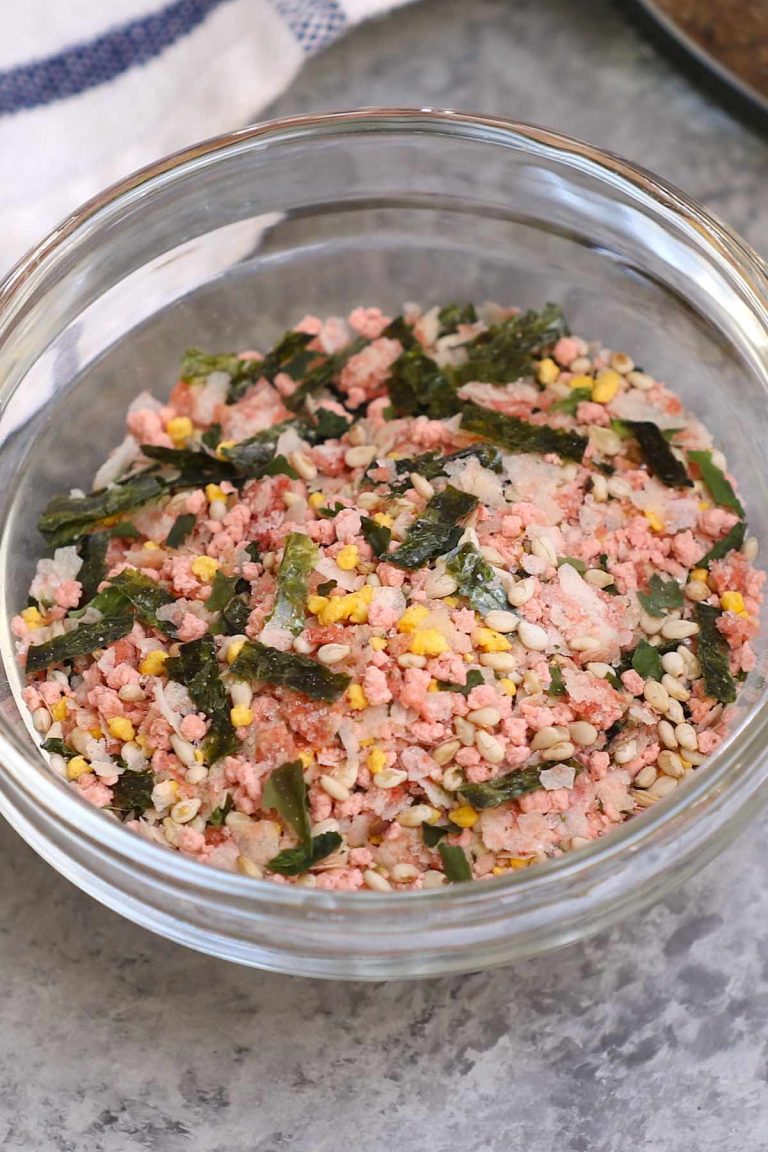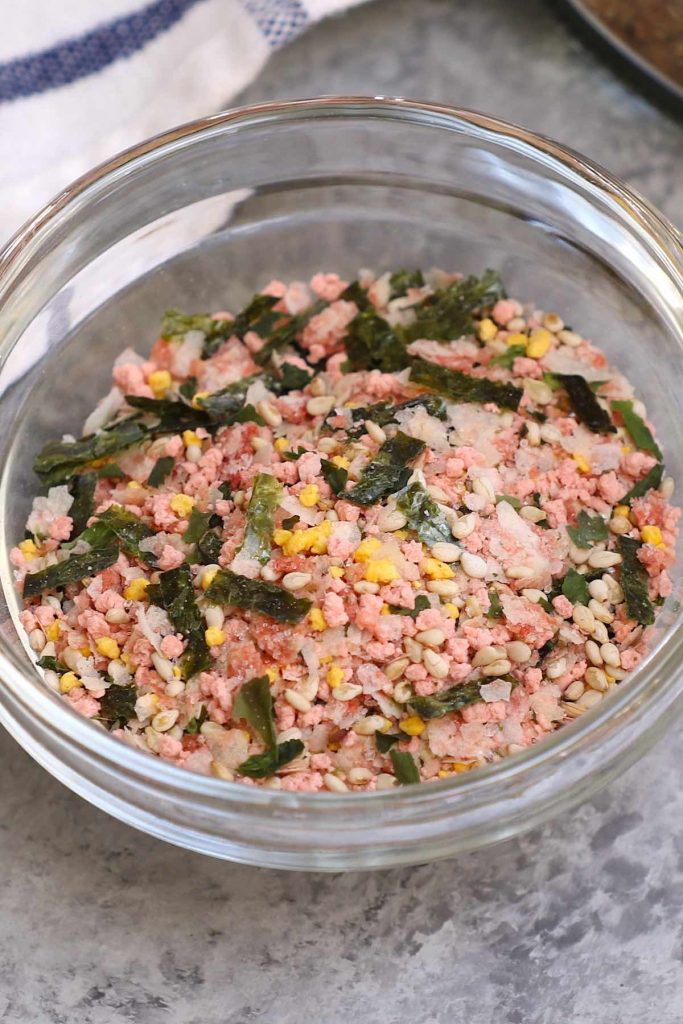 Nori strips
Nori strips are sometimes used to wrap around nigiri sushi. They're also often added to soup or ramen. I sometimes sprinkle them over omelets, salad, and steamed vegetables for some extra flavor.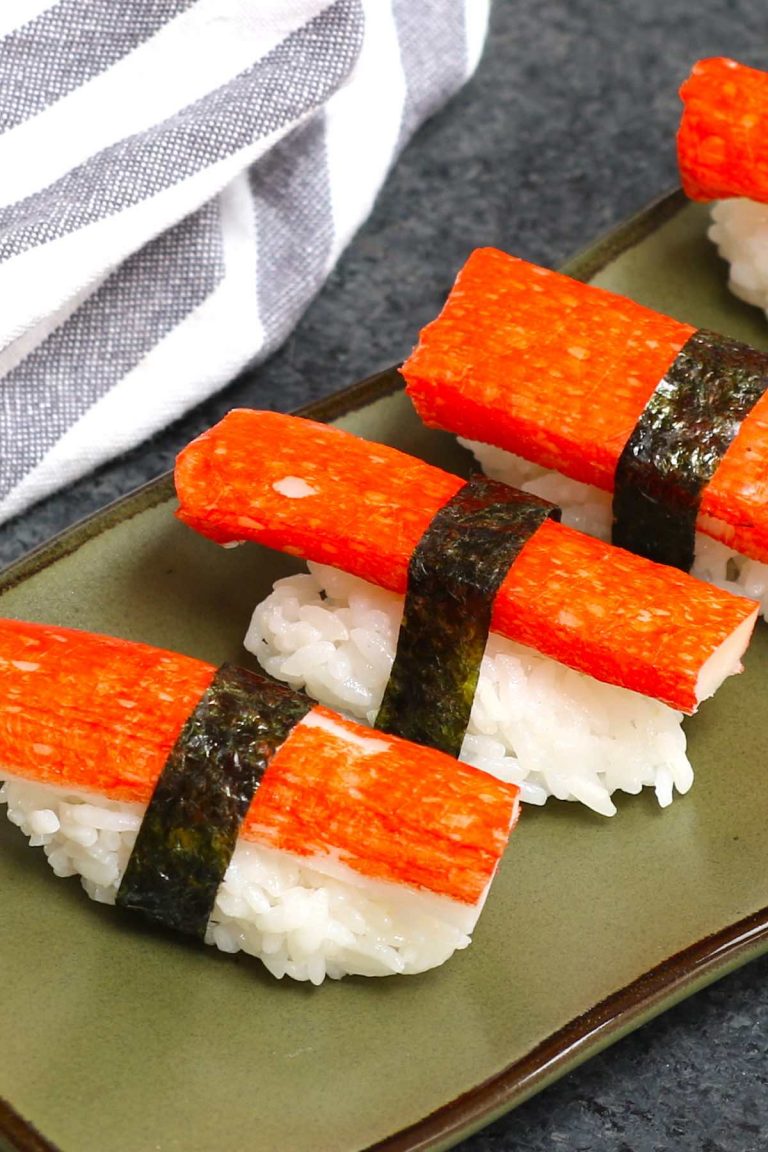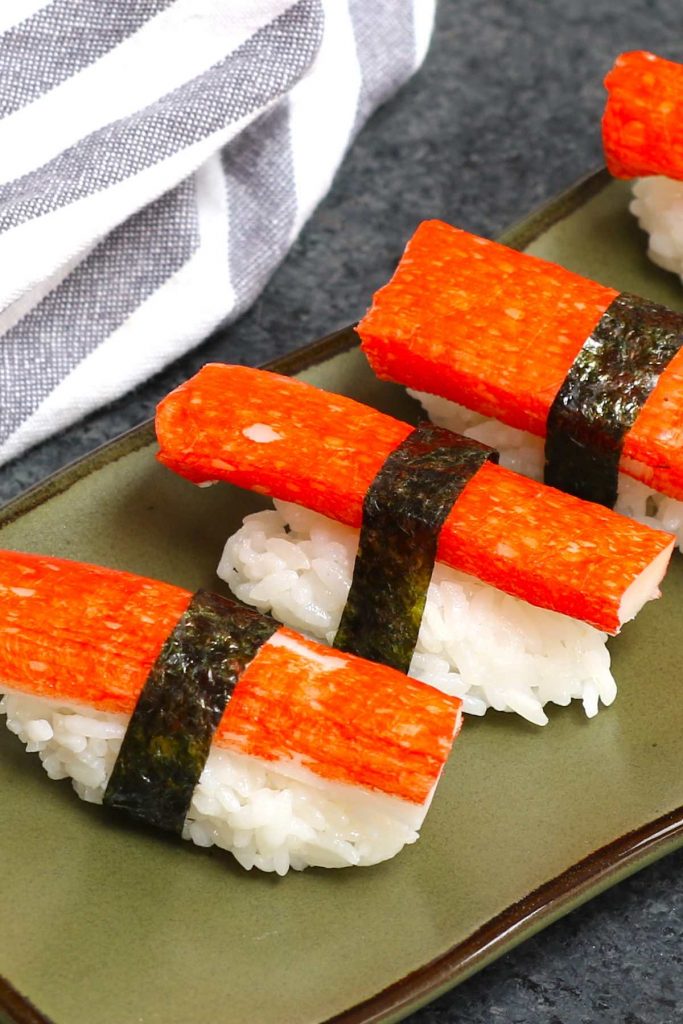 Best nori brands
Some reputable brands of nori include Choi Daechun Sushi Nori, One Organic Sushi Nori and Nagai Deluxe. Other decent options you may encounter include Takaokaya, Yamamotoyama and Hime Nori and Kimnori.
How to make nori sushi rolls?
When using nori to wrap sushi rolls, you can make regular rolls by wrapping the nori around rice. Alternatively, you can make an inside out roll by making the rice on the outside and the nori on the inside, wrapping the filling. Below is the instruction for a regular sushi roll:
First cut off 1/3 of the nori sheet using kitchen scissors. Then place the remaining nori on top of the bamboo mat, shining side facing down.
Spread cooked sushi rice evenly over nori.
Place your favorite fillings on top of the rice.
Start rolling using your bamboo mat and firmly keep the roll in place. Apply some pressure to tighten it up.
Squeeze gently to press the bamboo mat around the roll.
Remove the mat and slice the roll into bite-size pieces. Serve and enjoy!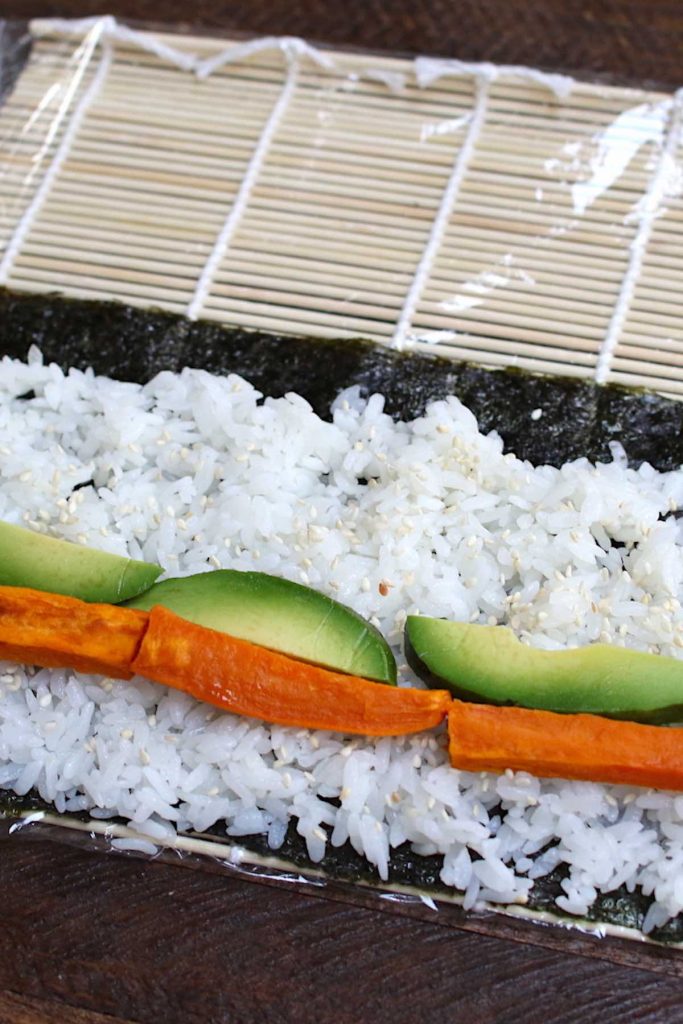 Frequently asked questions
How to store nori
Nori lasts a long time in the pantry in its original package. Once opened, it's best to store them in an air-tight container or zip-top bag to reduce air exposure and prevent it from absorbing moisture. If they become less crispy, you can re-toast them over the flame on a gas stove (be careful!)
Is sushi seaweed nori vegan?
Although growing nori involves some animal exploitation, it's generally viewed as vegan-friendly and many vegans consume nori and other types of seaweed.
Where to buy nori?
They are available at most Asian grocery stores, Whole Foods, and many regular grocery stores. You can also order them online at Amazon. 
What are other types of seaweed besides nori in Japan?
There are in fact many types of seaweed other than nori in Japanese cuisine. Examples include: Kombu (kelp), Umi budou (sea grapes), Wakame, Mozuku, Hijiki and Aonori.
Is nori the same as seaweed?
Nori is the most commonly found seaweed in supermarkets. However, there are other types such as the wakame typically used to make seaweed salad.
Can you eat nori raw?
Nori is almost always sold pre-toasted and this dried nori can be eaten directly without being used in recipes.
Recipes using nori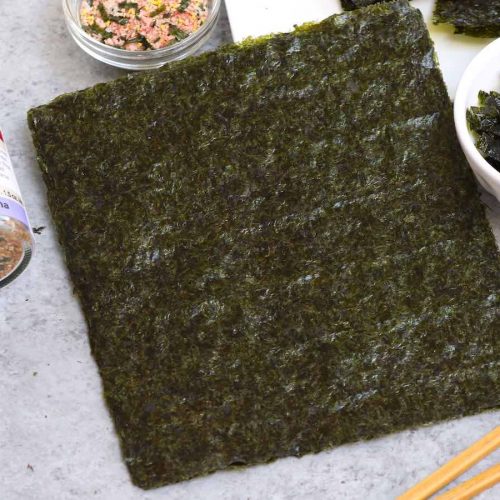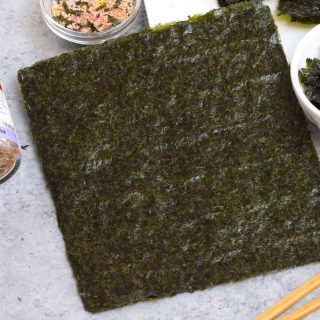 Nori Sushi Roll
Nori Sushi Roll is made with your favorite fillings rolled in seaweed sheet and sushi rice. It's so easy to make and I'll share with you how to make perfect nori sushi.
Print
Pin
Rate
Servings:
3
Rolls (24 pieces)
Ingredients
For sushi rice
1

cup

sushi rice

Japanese short grain rice

1

cup

water

1 ½

tablespoons

sushi vinegar

or mixing 2 tablespoons rice vinegar, 1 tablespoon sugar, and 1 teaspoon salt
Nori sushi rolls:
Fillings such as avocado, cucumber, or cooked sweet potatoes

(other fillings options include shrimp, salmon, pickled vegetables etc.)

3

sheets nori seaweed
Instructions
Make the sushi rice
Wash the rice with cold water until the water runs clear. Add it to the rice maker together with water. Cook according to the instruction.

Once cooked, transfer the hot rice to a large bowl and let it cool down slightly. When it's still very warm, stir in the sushi vinegar (the mixture of rice vinegar, sugar, and salt).
Make nori sushi rolls
Lay out the bamboo mat with an optional piece of plastic wrap on top (this will make clean up easier).

Cut off 1/3 of the seaweed. Then place the rest of the nori sheet on top of the bamboo, shinning side facing down.

Take about 3/4 cup of cooked rice and evenly spread over nori while leaving 1/2 inch at the top of the sheet. (You can dip your hand in Tezu vinegar water* to prevent sticking.)

Place the fillings on top of the rice.

Place the thumbs underneath the bamboo mat and lift the edge up and over the filling.

Roll the bamboo mat away from you and press the rice and filling together.
Notes
* Tezu water for dipping hands: Mix together 1/4 cup water and 2 teaspoon rice vinegar.
Tried this recipe?
Follow or tag us on Pinterest @izzycooking