This post may contain affiliate links.
Please read my disclosure policy.
Chicken is a healthy and budget-friendly option for dinner. We've rounded up 55 Best Chicken Dinner Ideas for you to easily incorporate chicken breasts, chicken thighs, or chicken wings into your supper recipes. From chicken noodle soup to chicken tacos, and teriyaki chicken, so many delicious meals are here for you!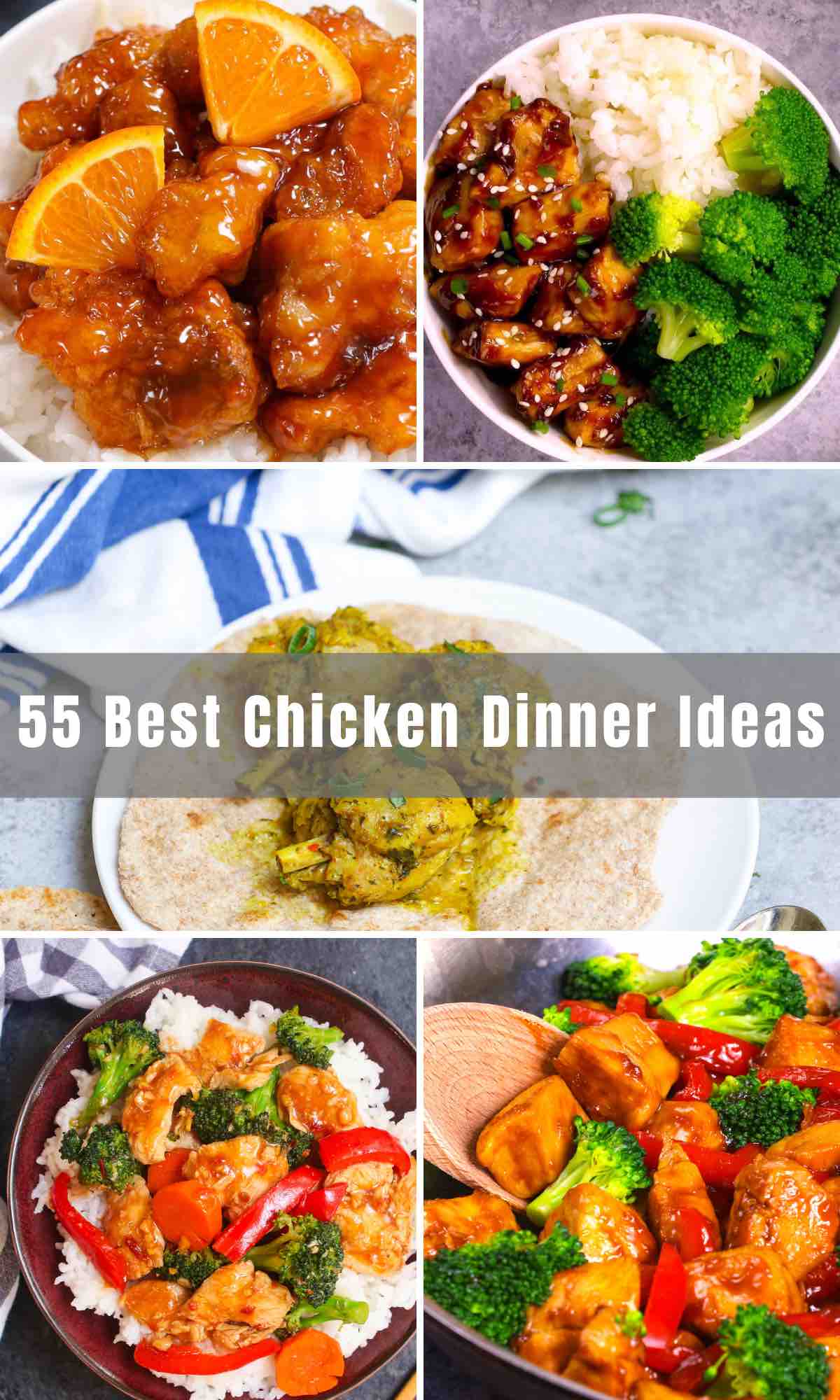 What Should I Make for Dinner That's Easy?
In a rush? Or maybe you don't even really feel like cooking? You will find some great options below to motivate you to make a fantastic and easy meal. From crockpot dishes to casseroles, they take minimal effort but have maximum results!
What Sides Are Good with Chicken Recipes?
Whether it's chicken breasts or chicken wings, the sides that go well with chicken are endless. If you prefer healthy sides, vegetables like broccoli or asparagus pair well with your chicken dinner. If you're going the chicken wing route, you can stick with the finger food options. This means that french fries or raw vegetables will top the list. For more ideas, check out our 18 Best Sides for Grilled Chicken.
Healthy Chicken Dinner Ideas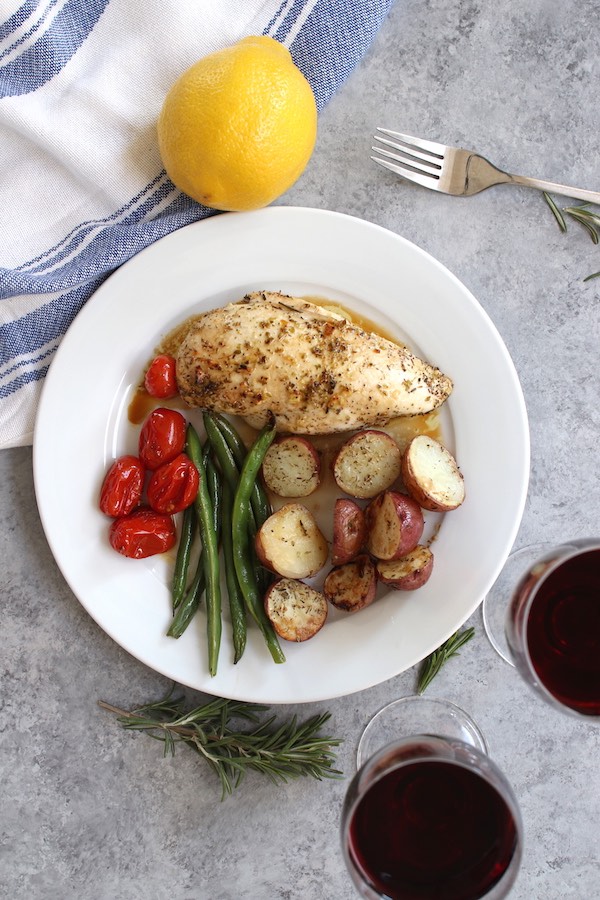 A flavorful dish that is low in fat, baked chicken breasts with vegetables is one of our favorite healthy chicken recipes! Plus, you'll get some tips and secrets to have your chicken breasts turn out tender, delicious and juicy everytime! 
A hearty and comforting dish, this chicken noodle soup recipe is the ultimate chicken dinner that you'll want to keep around! Loaded with chicken, noodles, and vegetables, this dish is nutritious, rich, and flavorful. This may just become your new favorite soup! 
Healthy tacos? Is there such a thing? You bet! Here you will learn how to make healthy chicken tacos for a quick and easy weeknight meal. Ready in under 25 minutes, your whole family will absolutely love these soft chicken tacos!
This recipe is the answer to your cravings for a warm, hearty and tender chicken dinner. Healthy baked lemon chicken is tangy and filled with savory flavors. All it takes is 30 minutes!! 
Easy Chicken Recipes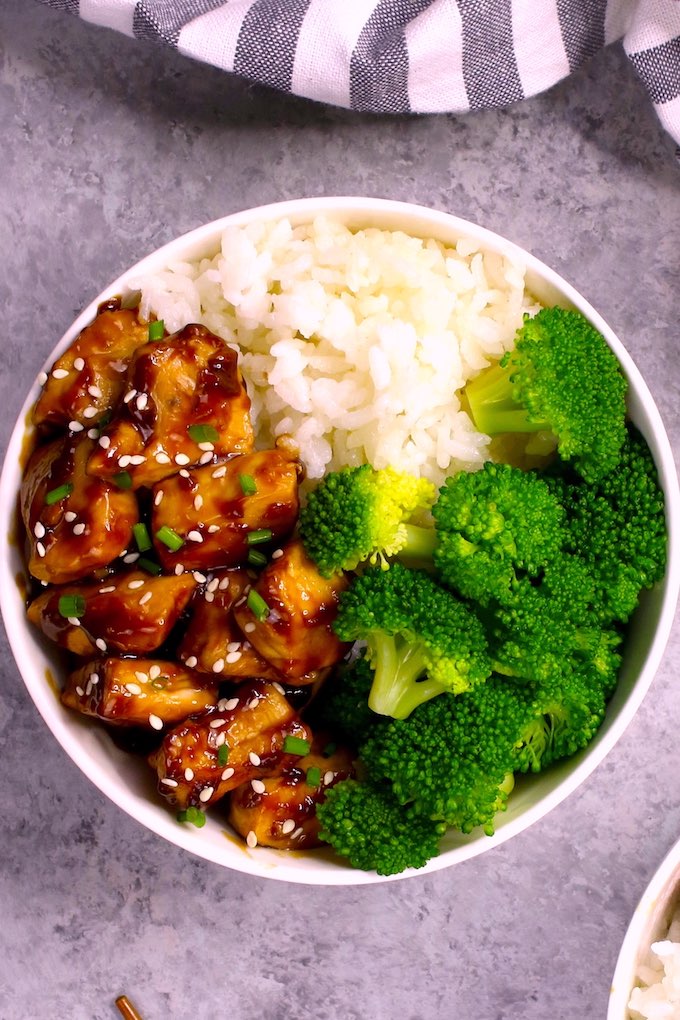 A quick and easy dinner ready in just 15 minutes, these teriyaki bowls are the perfect way to prepare an authentic Japenese dinner. It's tender chicken tossed with garlicky teriyaki sauce and served with rice and steamed broccoli. No marinating needed!
Is there anything more comforting than a warm bowl of chicken and dumplings? The short cut is to cook with the Original Bisquick mix. You can make it in a Dutch oven or slow cooker – whichever you prefer! 
A classic recipe that almost everyone has tried! All you have to do is to dice chicken, toss it with creamy sauce, and add in celery, green onion, and fresh grapes. You'll certainly love how healthy, flavorful and bright this dish is! 
Skip the store-bought version and opt for this homemade pot pie recipe. It's the ultimate comfort food! Plus, you'll have the chicken, veggies, and pie all in one dish!
A perfect easy weeknight dinner, chicken tortilla soup is also ideal for those cool nights. Filled with shredded chicken, corn, beans, and homemade tortilla strips, this soup doesn't need any pairing. Comforting, hearty, and flavorful, you can't ask for more! 
One pot means less dishes, and we all love that! Your family will love how comforting this meal is and will be asking for it again and again! Bonus, it's gluten-free!  
Loaded with tender pieces of chicken and crisp vegetables, this chicken stir fry is flavorful and so easy to make. It's the perfect healthy weeknight dinner and will be on your table in 20 minutes. 
Best Chicken Breast Recipes
Stop here and try this crispy baked parmesan chicken. It's a delicious dinner made in one pan and requires only 10 minutes of prep! The chicken breasts are breaded with a mouthwatering garlic parmesan crust! Yum!! 
Prepare yourself for this mouthwatering recipe! Ready in just 20 minutes, this dish is exploding with juicy chicken, bacon and pineapple flavors! 
A comfort food that's creamy and flavorful, this chicken alfredo is the ultimate comfort food. Easily comparable to Olive Garden's, this dish can be made in the comfort of your home in just 20 minutes. 
Skip the drive thru and make these chicken nuggets at home. They will become one of your kids favorite things to eat. Simply brine the chicken cubes and coat them with a special breadcrumb mixture, you'll get the perfect coating that is crunchy and not too thick! 
This chicken tikka masala is as close to authentic as it gets! It's loaded with spicy and tender chicken, it's one of our favorite Indian food. It will have you feeling like you're right in India with every bite.
Loaded with onions, bell peppers, cheese, and fajita seasonings, this chicken casserole is an incredibly delicious meal thats ready in just 30 minutes. 
With this copycat recipe, you won't have to wait in a drive thru line! This chicken sandwich is easy to make and tastes even better than the one from your favorite restaurant.
Boneless Chicken Breast Recipes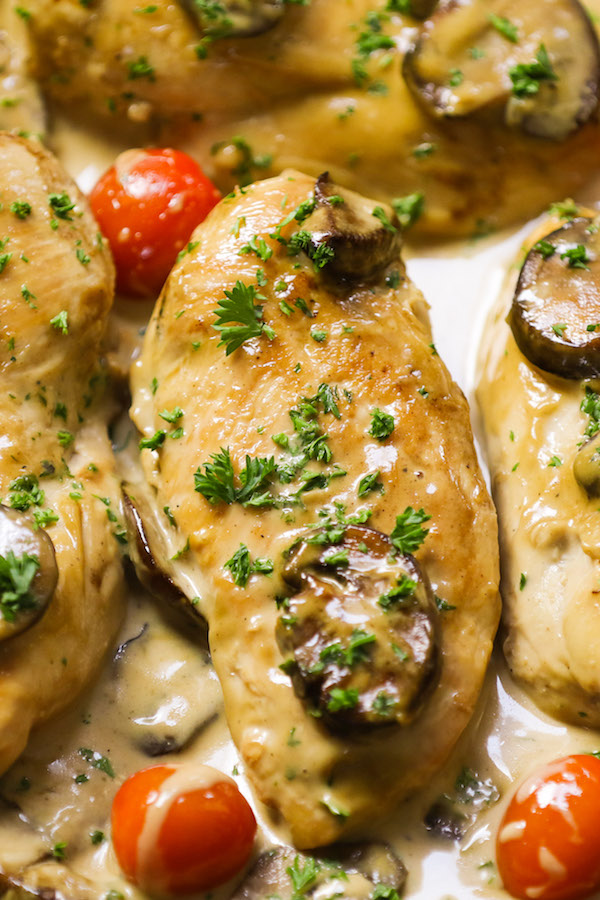 This chicken marsala is an easy weeknight dinner that will satisfy your taste buds! Juicy chicken breasts are smothered in a creamy mushroom sauce, and then flavored with marsala wine. It's a must try dinner that's ready in under 30 minutes. 
This popular Chinese dish is loaded with sliced chicken breast and mixed vegetables. The spicy chili bean paste provides a salty and spicy flavor that easily tops authentic Chinese takeout! 
All you need is 20 minutes, chicken breast cutlets, flour and some spices to make this dish! Serve it with a delicious sauce made of butter, lemon juice, capers and stock. 
This chicken recipe is definitely on the list of must-try meals! It's crunchy, creamy, and full of flavor!
Here's your secret weapon to make your chicken super tender and juicy! It's so easy to whip together and perfect for those summer months!
This simple recipe will easily rival your favorite chinese takeout restaurant! Create different variations with eggs, chicken, rice, peas and more. Ready in under 20 minutes, this dish is perfect on it's own or a side. 
Panko meets chicken – it's Chicken Katsu. The chicken breasts are seasoned, breaded then fried to perfection! This Japanese dish is easy to make and produces a golden brown crust.  
This recipe will kick up your traditional spaghetti a notch. Rotel chicken pasta is comforting, flavorful, with a bit of a spicy kick.
Easy Chicken Thighs Recipes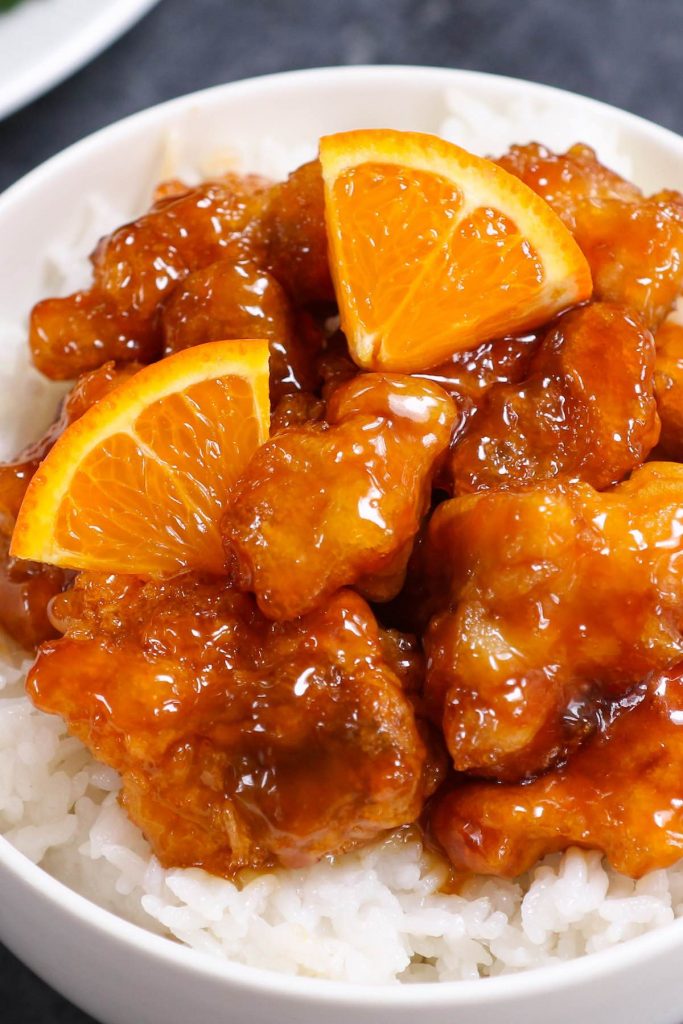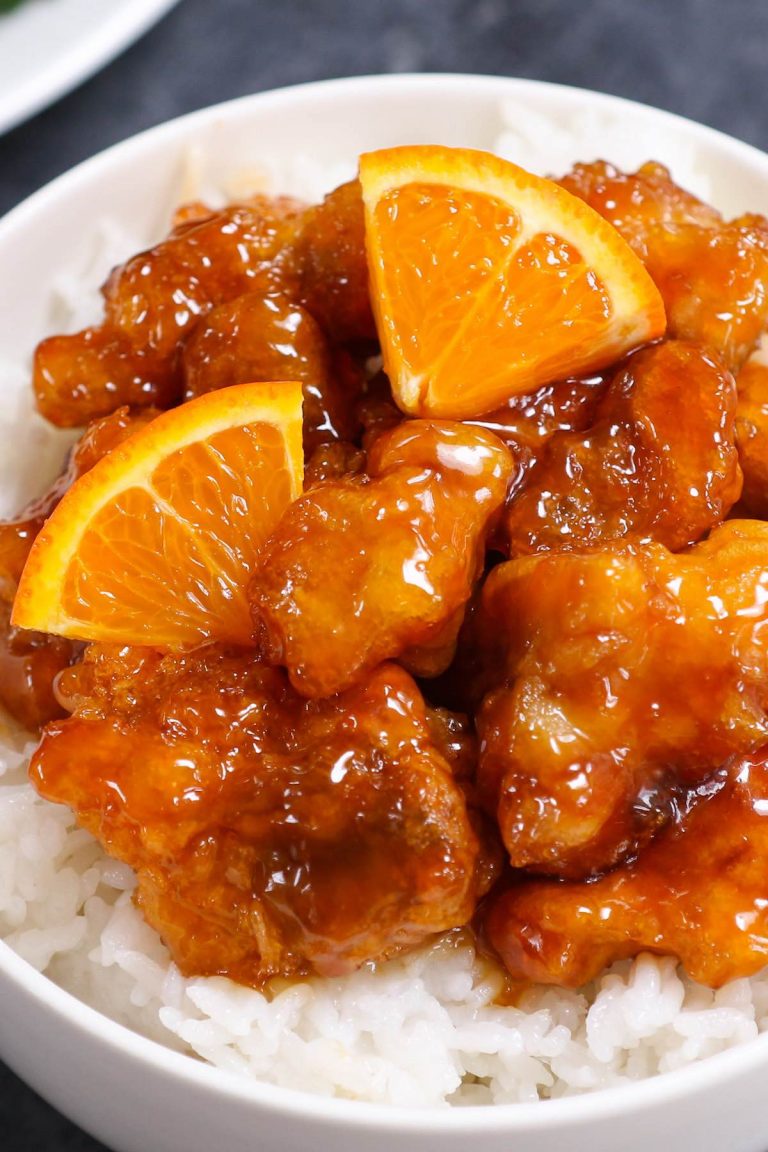 Made with crispy fried chicken and coated in a sticky orange chicken sauce, this copycat orange chicken is one of my favorite Chinese dishes! Just like Panda Express but even better! 
Baked chicken thighs turn out crispy on the outside and tender on the inside! If you're a fan of dark meat, this recipe is for you! Plus, you can make these delicious chicken thighs in one pan, making clean-up a breeze. 
Who doesn't like general tso's chicken? Now your can make it at home with this easy recipe! Ready in just 20 minutes, the chicken thighs turn out crispy and tender every time! 
This easy dish is ready in less than 30 minutes. You'll absolutely love the stickiness and a bit of tanginess found here! 
This homemade chicken recipe is soul food at its finest. This dish combines juicy Southern fried chicken and fluffy waffles into one meal. Top it with a sweet and spicy sauce for an unforgetable experience!  
Easy, healthy and homemade chicken shawarma will definitely be your new favorite! The secret here is the simple shawarma spice mixture. You'll get a step-by-step tutorial and video to learn exactly how to make this recipe.  
Loaded with crispy chicken, chunks of onion, bell pepper, andpineapple, this homemade sweet and sour chicken is so much better the one from your favorite restaurant. Serve it with rice or pasta for a quick weeknight dinner. 
This is a delicious dish that provides a perfect balance of spicy, salty and sweet flavors. Tastes just like your favorite Chinese takeout but ready in less time. 
Chicken Wings Dinner Ideas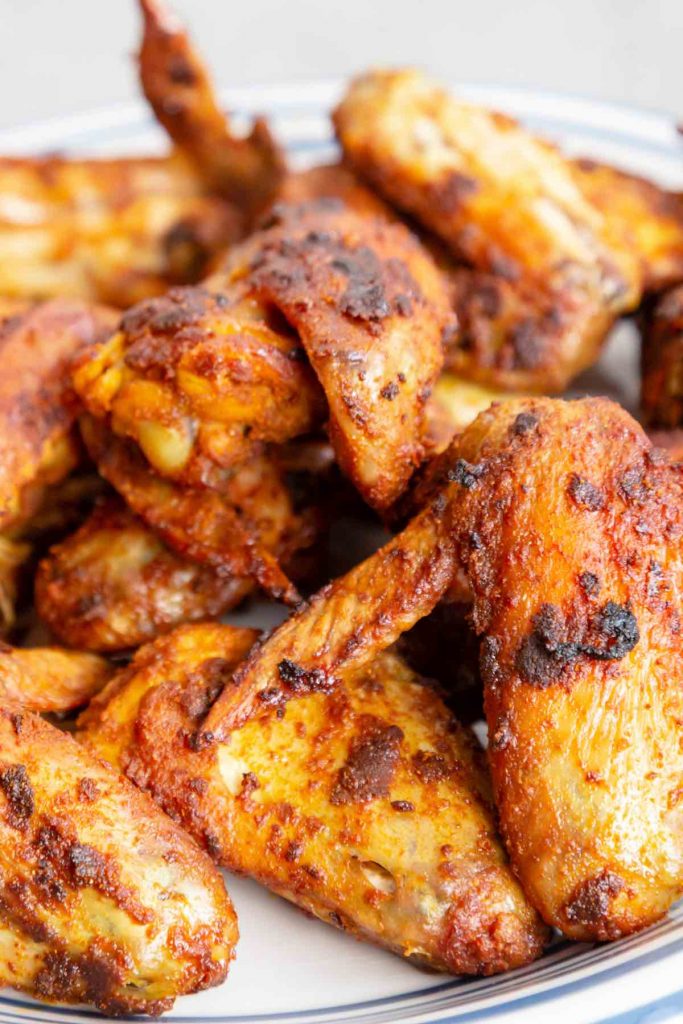 Wingstop calls the Louisiana Rub a "crispy dry rub with some Deep South Cajun love".  You may just use it as your go-to seasoning!
These sous vide chicken wings are perfectly cooked to your ideal doneness! This method guarantees your chicken to come out super tender and juicy every time. 
Probably the best chicken wings that you'll ever have! These air fryer chicken wings are perfectly crispy and juicy! They are ready in less than 20 minutes, making them an idea chicken recipe for those busy nights.
Three simple steps for this recipe: rub, smoke, and eat! Smoked chicken wings take about 10 minutes to prep and pair perfectly with a nice smokey bbq sauce. 
Crockpot Chicken Recipes
A crock pot dish that's easy and healthy?! Sign me up! It's crock pot chicken cacciatore, with all that tender and flavorful Italian chicken. What more could you ask for? The chicken thighs are simmered in a rich and mouth-watering cacciatore sauce for hours to produce a super flavorful chicken dinner! 
This dish is loaded with tender and juicy chicken breasts, bell peppers, onions, and flavorful fajita seasoning. Don't worry, you don't need a marinade here, it's an easy chicken fajitas recipe. Enjoy!
Looking for a meal that will please the whole family and guests? This slow cooker white chicken chili is incredibly comforting and perfect for those cool nights.
Succulent and juicy chicken thighs are cooked with mixed vegetables in the slow cooker. It's an easy crockpot chicken recipe that only requires 15 minutes of prep, then your slow cooker will do the rest of the work!
Other Popular Chicken Meals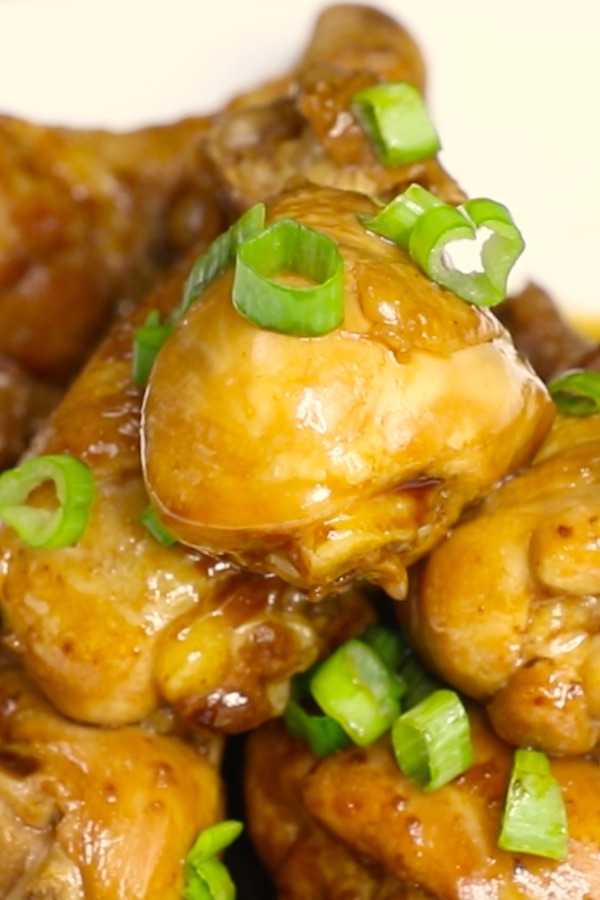 The chicken is nicely coated in a delicious cola sauce, making those picky eaters beg for more! Made in about 20 minutes, it's perfect for a game day or an easy night dinner. 
Fall-off-the-bone chicken that is simmered in a curry sauce with spicy West Indies flavors! It's easy to make in under an hour. 
This fried chicken recipe is tender, juicy, and so flavorful! You may easily fool your family and friends as it tastes just like the one from KFC!
The perfect easy dip that serves up well with crackers, chips or veggies! All you need is chicken, buffalo sauce, ranch, and cheese! 
This chicken dish is one of those classic meals that we order from our favorite Chinese takeout restaurant. Loaded with stir-fried chicken, peanuts, and vegetables, kung pao chicken is easier to make than you think! Plus you can customize the ingredients and adjust the spicy level when you make it at home!
Skip those crowds and lines and make this copycat recipe at home! It's spicy and crispy on the outside and juicy on the inside – you are going to fall in love with this recipe.
This recipe walks you through, step by step on how to make butter chicken that is tasty, creamy, rich, and packed full of flavor! 
If you're looking for the best Mexican dinner, you've found it! These chicken enchiladas are stuffed with shredded chicken and cheese, and then topped with an easy red enchilada sauce. Great for easy weeknight meals!
Learn how to make the best roast chicken with this easy-to-follow recipe! Who can resist the juicy and flavorful chicken with a perfectly crisp skin – great for holidays like Thanksgiving or Christmas.
Here is your chance to use that air fryer! You'll love how crispy the skin is and how moist and juicy the chicken is on the inside..
If you love a well-seasoned grilled chicken with a Jamaican jerk marinade, then this one is for you! It gives you a perfect balance of spicy, savory, and sweet flavors. 
This popular Filipino chicken stew is the national dish of the Philippines. It's tender, juicy, and so flavorful – soon will become your family's new favorite!
Time to get creative with canned chicken! Here you will find some easy canned chicken recipes to turn something simple into something amazing!
You May Also Like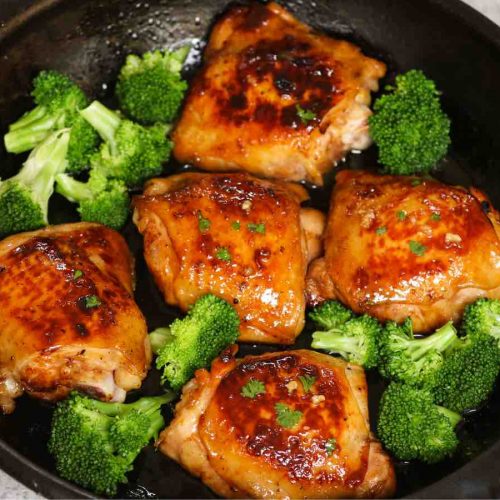 Chicken Dinner Ideas: Easy Baked Chicken Recipe
Juicy, tender and full of flavor, these baked chicken thighs are out-of-this-world delicious with the perfect balance between savory and sweet flavors.
Print
Pin
Rate
Ingredients
2

lbs

chicken thighs

2

tablespoons

soy sauce

1/3

cup

brown sugar

2

tablespoons

white vinegar

1

tablespoon

minced garlic

1/2

teaspoon

salt

1/2

teaspoon

black pepper

2

tablespoons

olive oil

chopped parsley for garnish
Instructions
Whisk together soy sauce, brown sugar, vinegar, garlic, olive oil, salt, and pepper in a large bowl.

Add the chicken thighs to the bowl and mix until evenly coated.

Cover the bowl with plastic wrap and marinate for 1 hour in the fridge.

Preheat the oven to 400°F. Line a rimmed baking sheet with foil. Then add a wire rack.

Remove chicken thighs from the marinade and place on the rack with the skin side up, shaking off excess marinade.

Bake for 35-40 minutes or until the chicken reaches an internal temperature of 165°F.

(Optional)Broil for 2 minutes to make the chicken extra crispy. Garnish with optional parsley. Serve and enjoy!
Tried this recipe?
Follow or tag us on Pinterest @izzycooking