Anchovies on pizza is an Italian classic! My search for the perfect homemade Anchovy Pizza with the best flavor combination is over! This recipe begins with a homemade pizza dough, spread with tomato sauce, and topped with cured anchovies, olives, capers, onions, and mozzarella cheese. With a few tips, you'll learn how to make this mouthwatering anchovy pizza at home.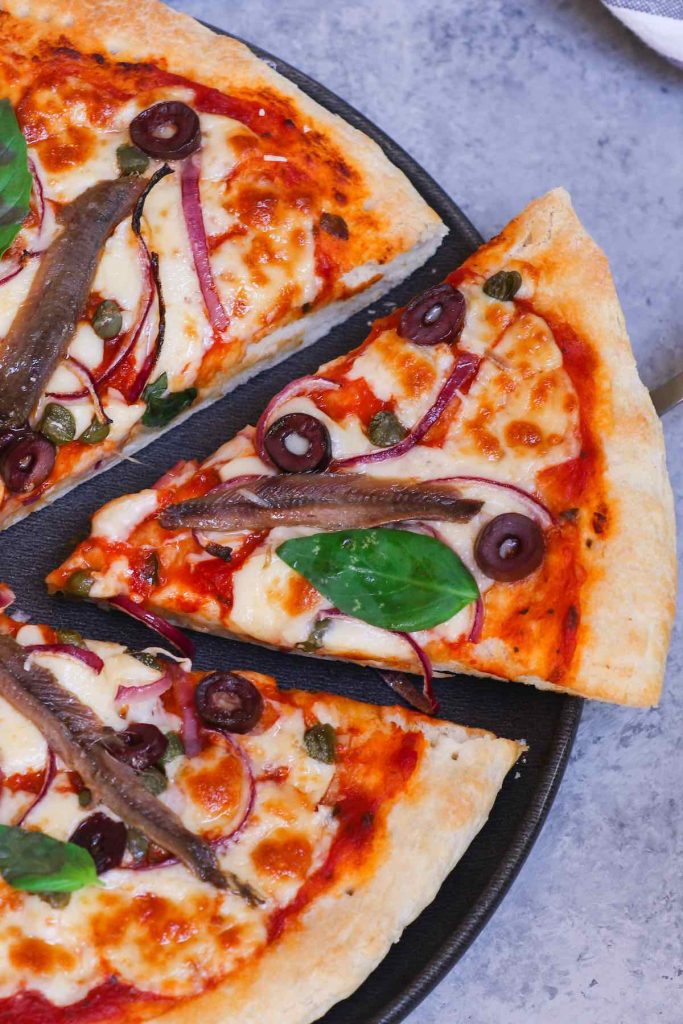 This best homemade anchovy pizza recipe is exactly what it claims to be. Anchovies on pizza? WHAT IS THIS MADNESS! It's all about the saltiness and pungent aroma, balanced out by the sweet and tangy flavors from red onions, olive, capers, and tomato sauce. Once done correctly, anchovies add fabulous flavor to your pizza, and I'm confident you'll love it!
Using good quality anchovies is rule No.1.
Knowing when to add them to your pizza is another essential part for a perfect anchovy pizza!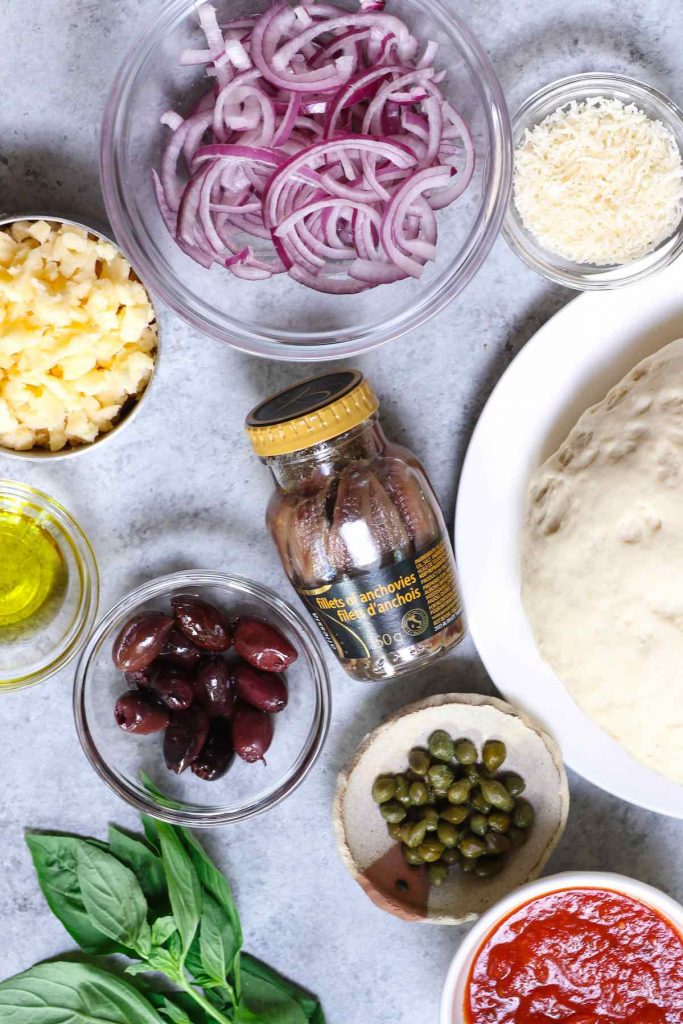 Anchovies on Pizza
What is an anchovy pizza? This classic creation came out of Naples, Italy, right at the time pizza was invented. It's basically a Napoletana style pizza where a few high quality local anchovies are added to Margherita pizza.
You may wonder: Do anchovies taste good on pizza?
The short answer is YES! The first time I fell in love with anchovy pizza was in Naples a few years ago. The delicious anchovies melt into a puddle of umami, creating an incredible flavor that's heavenly delicious! But if you use some poor-quality anchovies, it can ruin your anchovy pizza experience. Some Americans think they don't like pizza with anchovies because many anchovies available in the US have low quality and taste awful.
After many experiments, I find this recipe tastes very close to a true Italian anchovy pizza. Good anchovies can add delicious flavors to many dishes like salad, pasta, bread, vegetables, and sauce. Plus, anchovies are rich in omega-3 fatty acids and are also an excellent source of protein.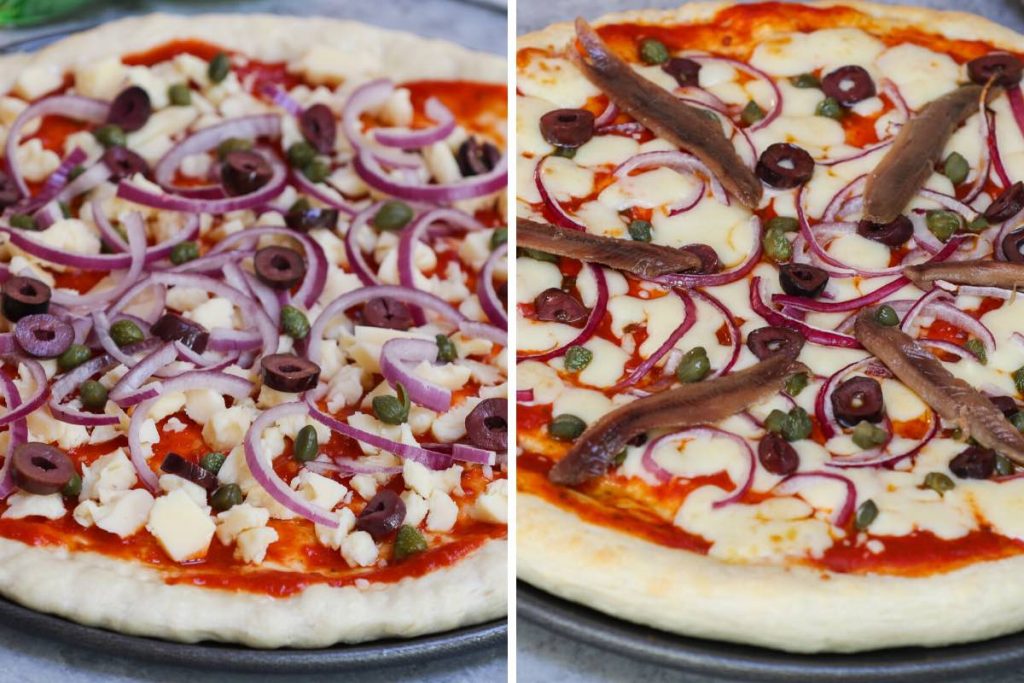 Today I'll share with you all the tips and tricks to make the best anchovy pizza in your own kitchen, with a standard oven and simple ingredients (no special flours required)!
Homemade pizza equipment recommendations:
First, let's talk equipment! For the pizza crust, you can make the homemade dough completely by hand. No need to use a stand mixer.
For baking the pizza, some pizza enthusiasts use a pizza stone and pizza steel. If you don't have them, a cast-iron skillet is a perfect tool to use. Alternatively, a regular pizza pan or baking sheet works well too.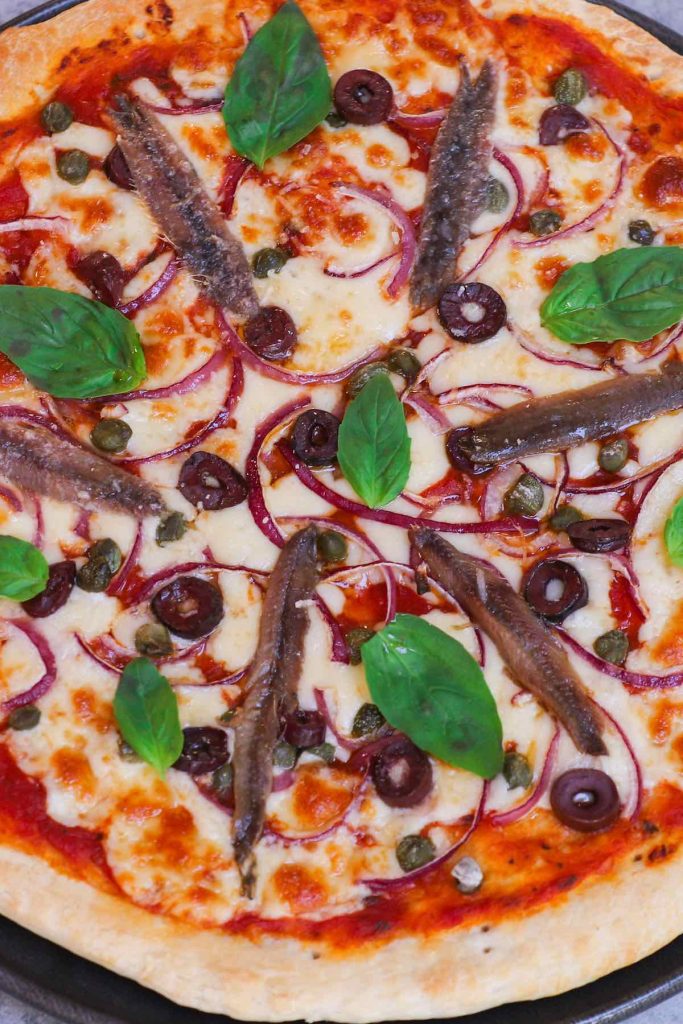 Tips for the best anchovy pizza
I recommend preheating your oven to a very high temperature. I like to set it to 450°F . If you use a baking stone or cast-iron skillet, allow it to preheat for about 30 minutes. Once you put the pizza in the oven, it should cook properly in 13-15 minutes.
It's important that your pizza dough is very thin when it goes into the oven if you want to achieve a thin and crisp pizza crust. The edges can be slightly thicker. If you'd like to have a thick and fluffy crust, you can adjust the thickness accordingly.
The secret to the best anchovy pizza is to use high-quality anchovies, and use them properly. We'll talk about them in details below.
When to put anchovies on pizza?
I recommend adding anchovies for the last 5 minutes in the oven. This will allow them to heat up and get integrated into the pizza.
If you add them with other toppings at the very beginning, the baking process can change the delicate texture and complex flavor of anchovies. Sometime they can be reduced to "little skidmarks of salt".
Anchovy pizza toppings:
Ok, let's move onto toppings! I've tried different combinations, and below are my favorites, but you can tailor it to your preference: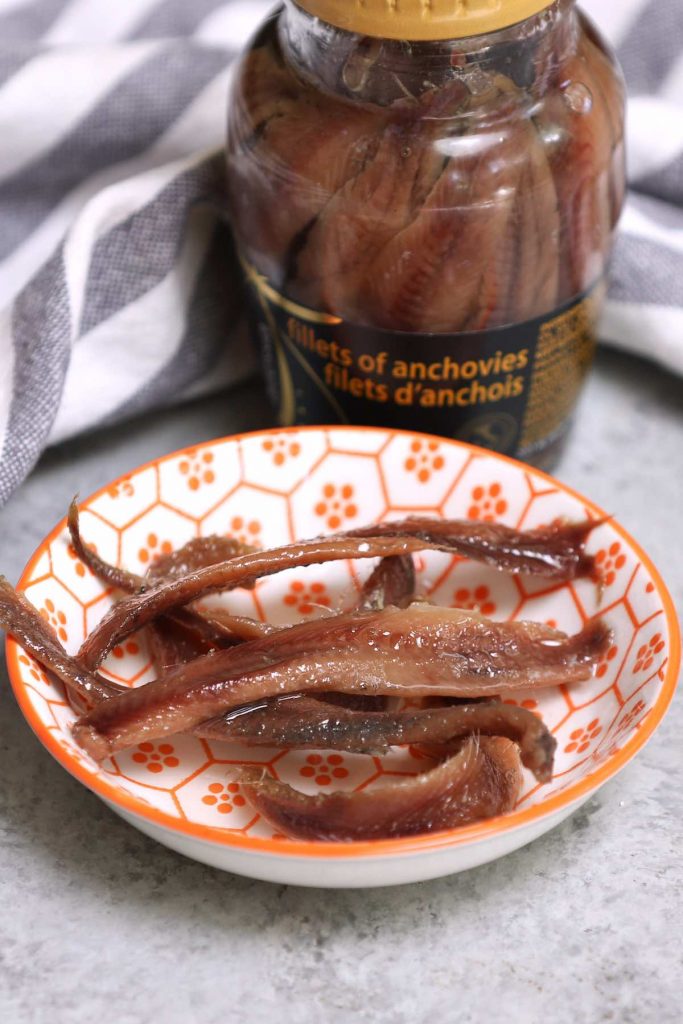 The best anchovies: they come in a jar, not a can
The most important thing for this recipe is to use good quality anchovies that don't smell weird or taste fishy. These Spanish fish are usually packed in olive oil with a tender and meaty texture.
They are often more expensive than canned anchovies, but taste so much better. You can find them in local supermarkets, or order them online from Amazon.
What sauce is best for pizza?
Homemade tomato sauce is the best for pizza. For a quick version, you can simply puree some canned tomatoes, and mix it with pressed garlic, olive oil, salt and pepper. That's it!
You can also use store-bought pizza sauce or marinara sauce. Whatever you do, make sure to evenly spread the sauce into a thin layer and AVOID putting a thick layer of sauce as it will result in a soggy dough!
What is the right Mozzarella to use?
Buy fresh high-quality mozzarella that's not packed in water. Also avoid pre-shredded which tends to brown too fast and form an unattractive crust. I like whole milk mozzarella with low moisture as it melts better and stays moist and stretchy.
I recommend cutting it into 1/2-inch cubes instead of slicing it into thin pieces. Small pieces help distribute the cheese and moisture evenly.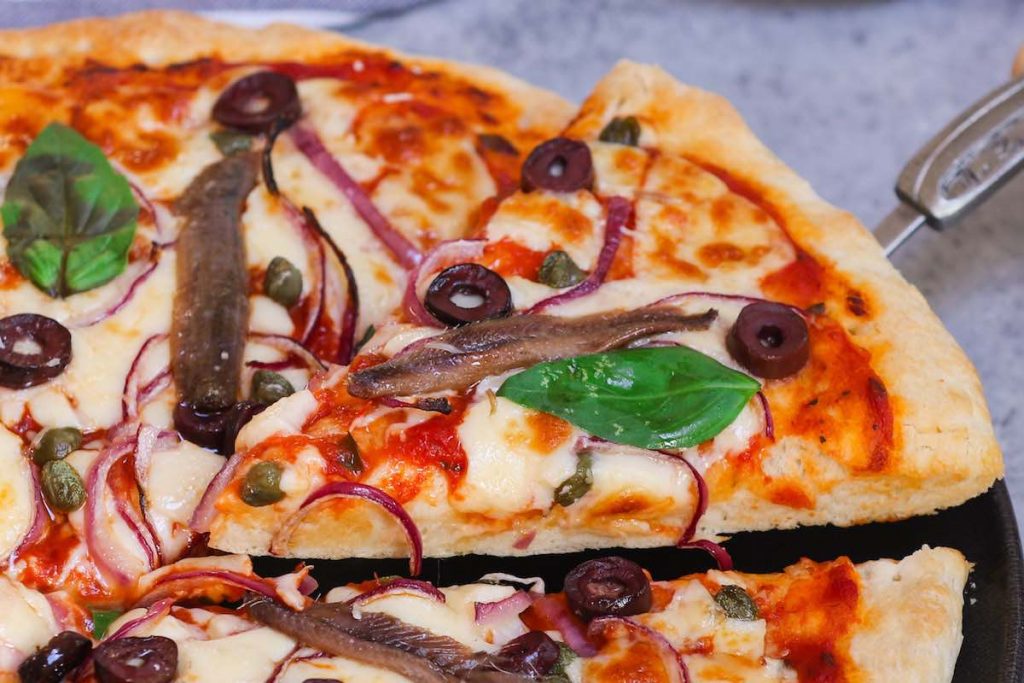 Other anchovy pizza toppings
Olives: I recommend the briny, natural kalamata olives. Cut them into thin slices.
Onions: I used red onions in this recipe, and it adds the nice sweet caramelized flavor to the pizza. You can substitute white or yellow onions. Remember to cut them into thin slices.
Capers: It lends a nice piquant sour flavor to the pizza.
For the finishing touch, you can add some fresh basil and a sprinkling of freshly grated parmesan cheese. Serve them with a simple salad and a glass of wine!
How about Anchovy and Pineapple Pizza?
For some people, anchovy and pineapple pizza is food made in the heaven. They claim there's nothing better than the sweetness from the pineapple to cut through a salty anchovy pizza. But for others, it's easy to hate with this flavor combination. So if you are a Hawaiian Pizza lover, go ahead and add some pineapple slices to your anchovy pizza!
If you want to make other variations, you'll love this Pull Apart Pizza Bread or this Pizza Cones.
Homemade Anchovy Pizza
This Anchovy Pizza begins with a homemade pizza dough, topped with cured anchovies, olives, capers, onions, and mozzarella cheese. With a few tips, you'll learn how to make a perfect anchovy pizza at home.
Ingredients
Homemade Pizza Dough:
1

packet

active dry yeast

(2 ¼ teaspoons)

1

cup

warm water

105-110°F (40-43°C)

1

teaspoon

sugar

2 ½

cups

all-purpose flour

1/2

teaspoon

salt

1

tablespoon

olive oil
Tomato Sauce:
1/2

cup

pureed canned tomatoes

2

fresh garlic cloves

minced with a garlic press

1/2

teaspoon

olive oil

(plus more for brushing the dough)

salt and pepper

to taste
Toppings
1

cup

mozzarella cheese

cubed

6

anchovy fillet

(It's best to use high-quality anchovies from a jar)

1/4

cup

kalamata olives

sliced

1/4

medium-sized red onion

thinly sliced

1

tablespoon

capers

optional parmesan cheese and basil for garnish
Instructions
Prepare Pizza Dough: In a small bowl, combine yeast, sugar, and warm water. Let it sit for about 5 minutes until bubbly. Mix together flour, salt, olive oil and yeast mixture with a wooden spoon until the dough just begins to come together. (It will look shaggy and dry, but don't worry).

Scrape the dough onto a cutting board and knead the dough by hand for about 5-8 minutes until it's soft and elastic. (You may need to dust the dough so that it's not sticking to the surface of your cutting board). Place the dough in a greased mixing bowl.

Cover with plastic wrap and let it rise in a warm and dry area for 30 minutes or until doubled in size. (If you are preparing in advance, see the recipe note for freezing instructions.)

Preheat Oven: Preheat the oven (and pizza stone if you use one) to 450°F for about 30 minutes.

While the oven is preheating, get other ingredients ready. In a small bowl, whisk together pureed tomatoes, garlic, oil, salt, and pepper. Cut mozzarella cheese into small cubes, and cut the red onion into thin slices. Set aside anchovies, caper, and olives (you can cut olives into slices).

Assemble the Pizza: Stretch the dough by gently flattening the dough ball into a 12-inch (30cm) circle. Transfer it to a non-stick pizza pan, cast-iron skillet, or pizza stone. Use a fork to poke holes across the surface of the dough.

Brush the dough lightly with olive oil (about 1 teaspoon). Using a large spoon, add the tomato sauce onto the pizza dough, leaving a 1/2-inch border on all sides. Spread the sauce evenly and thinly with the back of the spoon. Add cubed mozzarella, distributing it evenly over the entire surface.

Add sliced olives, red onions, and capers on top of the cheese. (Don't add anchovies at this step).

Bake for about 8 to 10 minutes (the pizza is par-baked now). Take the pizza out and add anchovies.

Bake for another 5 minutes until the cheese is melted, and the crust is golden brown. (You'll know it's ready when the cheese is bubbling and the crust is getting golden!)

Remove the pizza carefully from the oven, and transfer to a wooden cutting board. Drizzle the top with olive oil, and garnish with grated parmesan cheese and fresh basil. Slice and serve immediately.
Notes
If preparing the dough in advance, you'll let it rise first. Then wrap the dough in plastic wrap and place it in a freezer-safe bag. It can be stored in the refrigerator for up to 24 hours or frozen for 3 months. Thaw the dough in the refrigerator, and bring it to room temperature before using (let it sit in a greased bowl covered with plastic wrap for at least 30 minutes).
Nutrition
Calories:
296
kcal
|
Carbohydrates:
43
g
|
Protein:
11
g
|
Fat:
8
g
|
Saturated Fat:
3
g
|
Cholesterol:
17
mg
|
Sodium:
468
mg
|
Potassium:
151
mg
|
Fiber:
2
g
|
Sugar:
2
g
|
Vitamin A:
192
IU
|
Vitamin C:
3
mg
|
Calcium:
120
mg
|
Iron:
3
mg