This post may contain affiliate links.
Please read my disclosure policy.
We've collected 24 of the very Best Dutch Oven Recipes to make your life so much better! From whipping up everyday meals to conquering campfire feasts, Dutch ovens can truly do it all!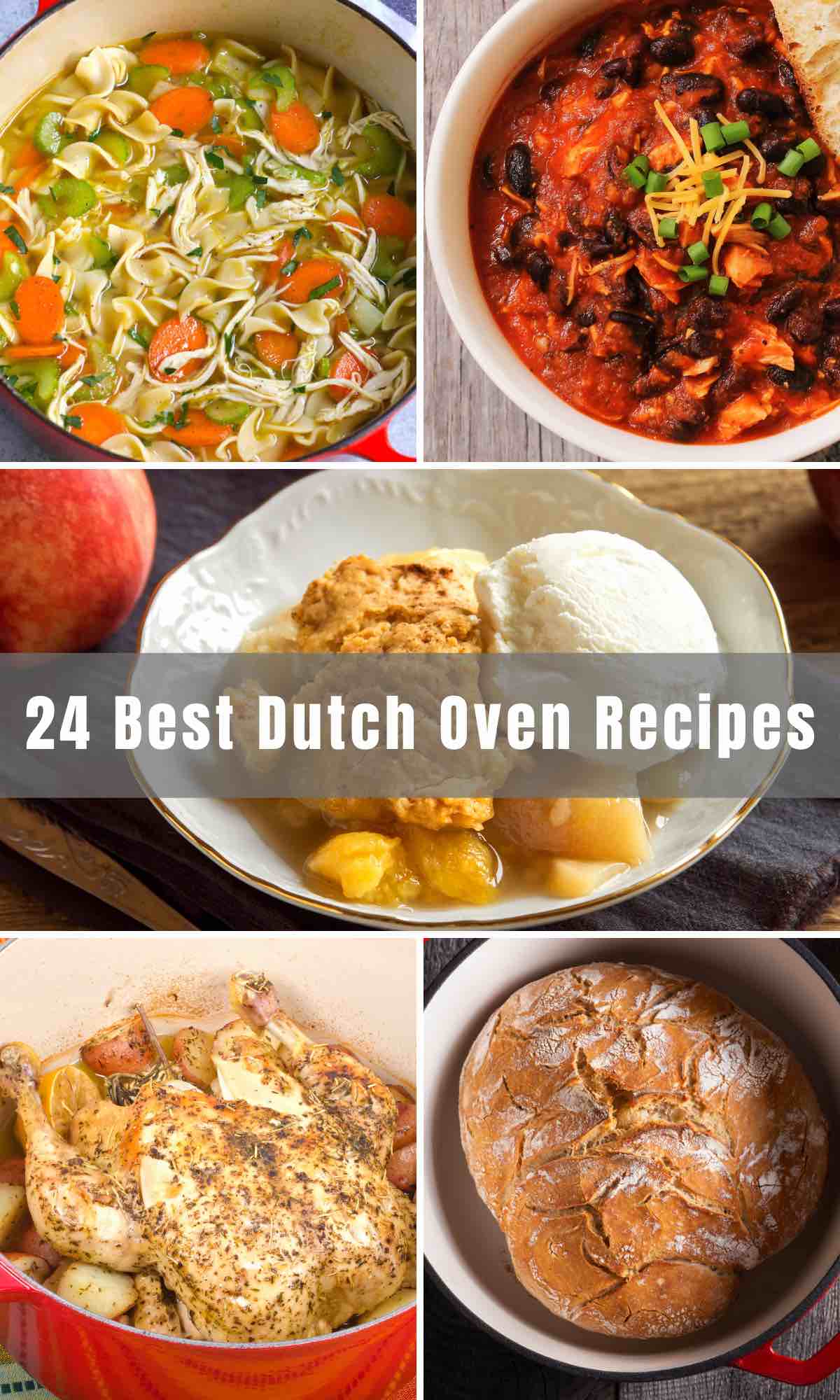 What is a Dutch Oven?
A Dutch oven is a heavy-duty pot with a lid, often used for browning and braising meat/veggies. However, it can also be used for soup and more simple dishes like pasta or even bread!
The Dutch oven looks like a short stockpot with thicker sides. With a cast iron construction, it retains heat well and keeps food warm at the table too.
What is the Best Thing to Cook in a Dutch Oven?
The best foods to make in a Dutch oven include soups, stews and braised dishes. In addition, you can use it to make bread, pasta, or even pizza!
Can You Make a Casserole in a Dutch Oven?
Yes. If your recipe calls for a casserole dish, you can easily make it with a Dutch oven without any problem.
Popular Dutch Oven Recipes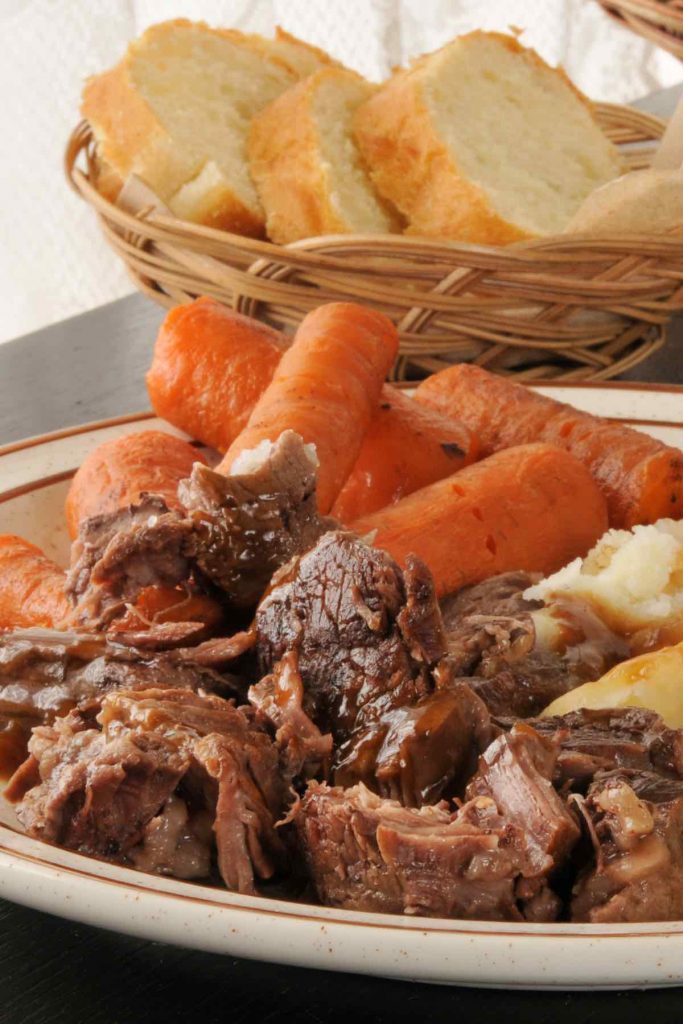 This dish produces juicy meat that is so tender that it falls off the fork. It's easy to make and melt-in-your-mouth delicious!
This comforting dish is simple to make in a Dutch oven. Beef cubes, carrots, onions and potatoes are all simmered in a nice rich sauce.
This is one of the ways to cook pulled pork. Brown and braise the pork shoulder in a Dutch oven, and then finish it in the oven. It only requires about 10 minutes of prep time.
With just 15 minutes of prep, this Dutch Oven Corned Beef and Cabbage will become your new favorite. This dish is loaded with flavorful corned beef and cabbage!
Dutch Oven Dessert & Bread Recipes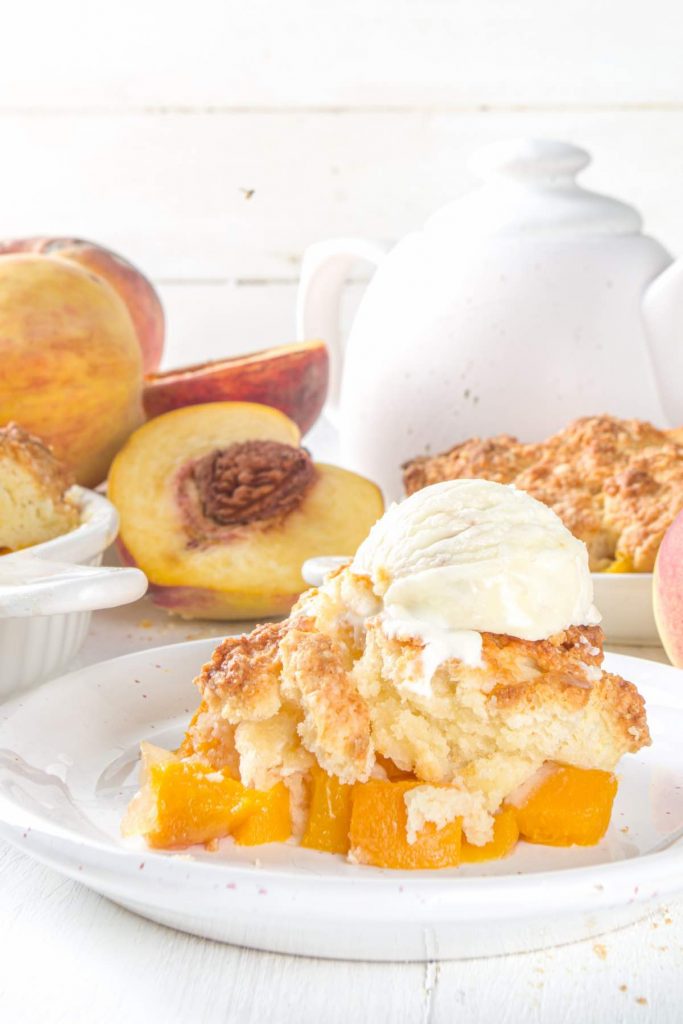 This easy peach cobbler has to be on your summe cooking list! It's so easy and takes less than 5 minutes to prepare. You will love the juicy and delicious peach filling!
With less than an hour of work, this dutch oven sourdough bread is the most gorgeous and incredibly delicious bread.
No need to knead the dough! This recipe only calls for 4 ingredients and takes 5 minutes of prep time! It's a fancy homemade bread that takes little effort!
Is there anything better than the aroma of fresh banana bread in your kitchen? This moist and delicious banana bread can be made right in a Dutch oven!
This is a dessert recipe that's great for camping. With a flaky butter crust and soft tender apple filling, you can enjoy the taste of homemade apple pie right at your campsite.
Dutch Oven Camping Recipes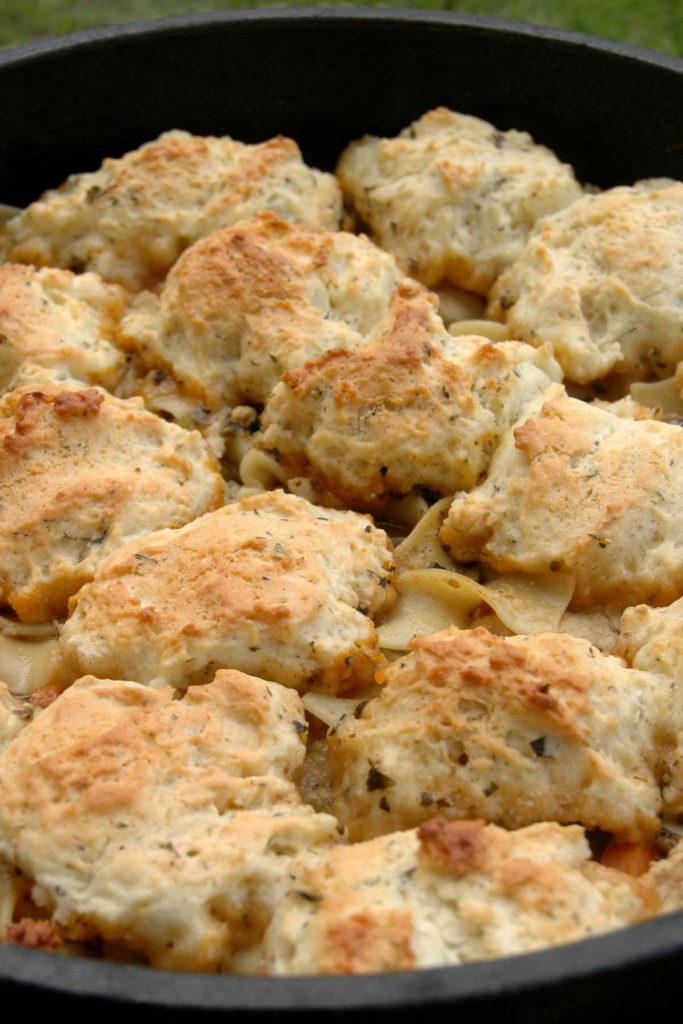 Who says you can't have delicious, warm, and fluffy biscuits at your campsite? With this recipe you can skip the store-bought version and have your own fresh biscuit!
Delicious and easy to make, this dutch oven chilli is more than enough to fill up you and your family. Plus, it freezes well for any leftovers!
Yes, you can make a pizza in a Dutch oven! In fact, you may just call it the perfect pizza! The thick cast iron from the dutch oven provides the perfect surface for the pizza to get a crispy crust and allows the cheese to melt nicely over the whole thing. It may become your new favorite way to cook pizza!
A simple appetizer, these campfire nachos are a must-try! The trick here is to line your dutch oven with some aluminum foil or parchment paper so the nachos don't stick. Top with your favorite toppings and enjoy!
It's a one-pot lasagna recipe that has all the classic lasagna flavors that you're familiar with: pasta, sausage, basil, tomato, and cheese! Don't be skimpy on the cheese here, it's what makes this lasagna so ooey-gooey! It comes together in under an hour and is easy to make!
An easy recipe that will give you super tender roast beef every time. Plus, this recipe has a nice twist on your regular roast beef with some delicious Mexican flavors.
Dutch Oven Chicken Recipes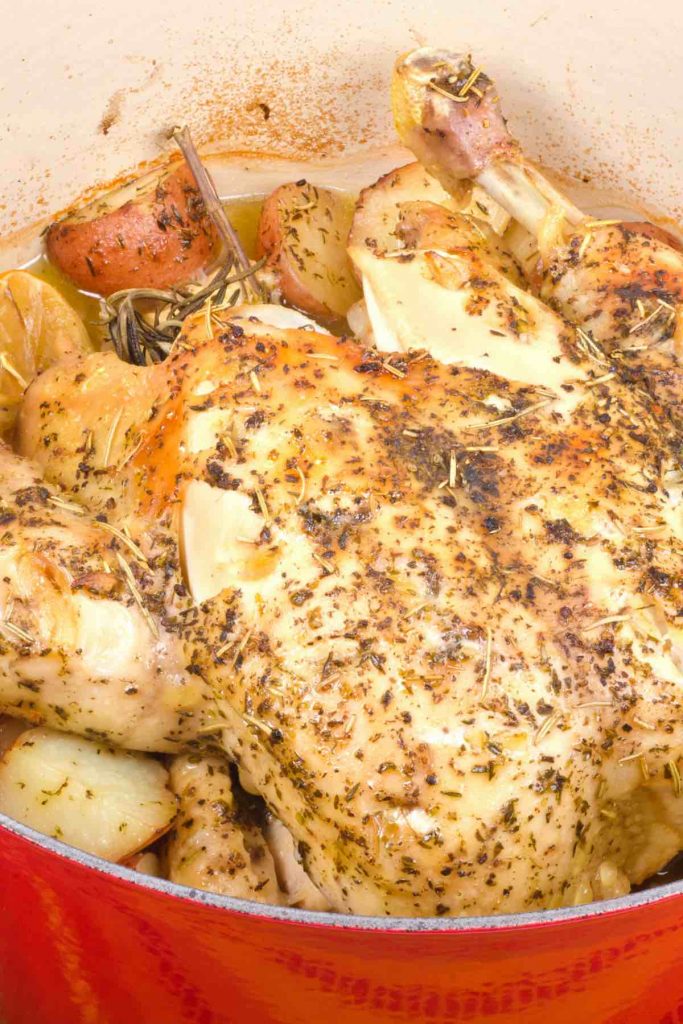 This roast chicken is moist and juciy with a crispy skin. You can cook the whole chicken in your dutch oven with some simple ingredients such as lemon, garlic, and rosemary butter.
This dish is loaded with tender chicken, soft noodles, and flavorful vegetables. They're simmered in a rich chicken broth in a Dutch oven. Perfect to make ahead of time for a busy week.
Hearty and comforting, this one pot chicken thighs recipe contains juicy chicken thighs and flavorful vegetables. It's one of our favorite Dutch oven recipes.
Stop here for a dish that produces tender chicken every time. This Dutch oven chicken recipe combines veggies, potatoes and chicken all in one dish! It's quick, cheap and completely comforting!
Other Cast Oven Dutch Oven Recipes
These pork chops are tender, juicy, and simmered in the Dutch oven together with vegetables and potatoes. You'll only need 10 minutes of prep for this satisfying meal.
This BBQ brisket is cooked low and slow until perfectly tender in a Dutch oven. It takes about 5 hours of cooking, but it's totally worth the effort. Just plan ahead!
This Mexican Pulled pork is braised in a Dutch oven for hours and then broiled to crispy perfection in the oven!
These Dutch oven potatoes are unbelievably delicious and easy to make. All you need is a few simple ingredients such as butter, cheese, bacon and potatoes!
Loaded with mushrooms, potatoes, carrots, and onions, this Dutch oven vegetable stew is so delicious and vegan-friendly! Not only is it a great one-pot camping meal, but it will keep you warm all night long.
Le Creuset Dutch Oven: The Best Dutch Oven to Buy
Our favorite Dutch oven is this Le Creuset Dutch Oven. It comes in different sizes and colors. It's a trusted brand and works really well.
You May Also Like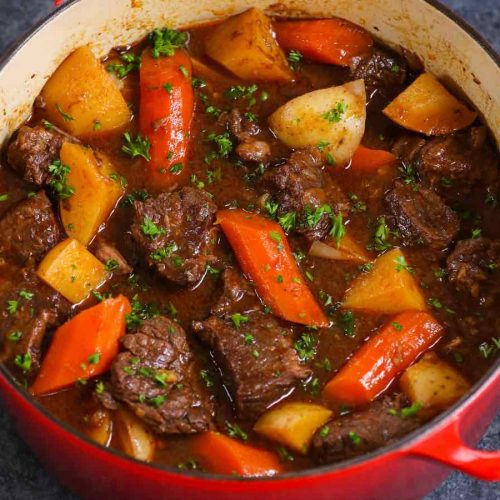 Best Dutch Oven Beef Stew Recipe
Hearty and satisfying, this Dutch oven beef stew is one of our favorite Dutch oven recipes. It's loaded with tender beef bites and flavorful vegetables.
Print
Pin
Rate
Ingredients
3

pounds

beef chuck roast

2

tablespoons

olive oil

2

minced garlic

2

medium onions

chopped

1

cup

red wine

4

cups

beef broth

2

tablespoons

tomato paste

2

tbsp

balsamic vinegar

1

bay leaf

1/4

cup

all-purpose flour

2

teaspoons

dried thyme

salt and pepper

to taste

3

carrots

sliced

1

pound

baby potatoes
Instructions
Preheat oven to 325°F. Pat dry the beef with paper towels, and cut into 2-inch cubes.

Add 1 tablespoon of oil to your Dutch oven over medium-high heat. Once hot, add a single layer of beef cubes with some space in between. (Cook in batches if necessary.)

Cook the beef for about 2 minutes when the bottom is nicely browned. Then flip and cook for another 2 minutes. Remove them to a plate, and repeat with the remaining oil and beef.

Add the onions and garlic to the Dutch oven and sauté for 3 minutes.

Add the browned beef, red wine, broth, tomato paste, balsamic vinegar, flour, thyme, bay leaf, salt and pepper. Stir to combine.

Cover and place the Dutch oven in the middle of the preheated oven and braise for 2 hours until the meat is tender and the sauce thickened.

Remove from the oven and add the potatoes and carrots. Return to the oven for 30 minutes more. Serve and enjoy!
Tried this recipe?
Follow or tag us on Pinterest @izzycooking