This post may contain affiliate links.
Please read my disclosure policy.
These Sous Vide Honey Glazed Carrots are tender and flavorful carrots perfectly cooked in a mixture of honey and butter. Guaranteed success every time! Sweet, savory and full of flavor, this recipe makes an amazing side dish for a holiday dinner or a weekday meal.
Sous vide method works extremely well with certain vegetables, as the seasonings are completely infused into the veggie. Sous Vide Potatoes, Sous Vide Brussels Sprouts, and these glazed carrots are my favorites.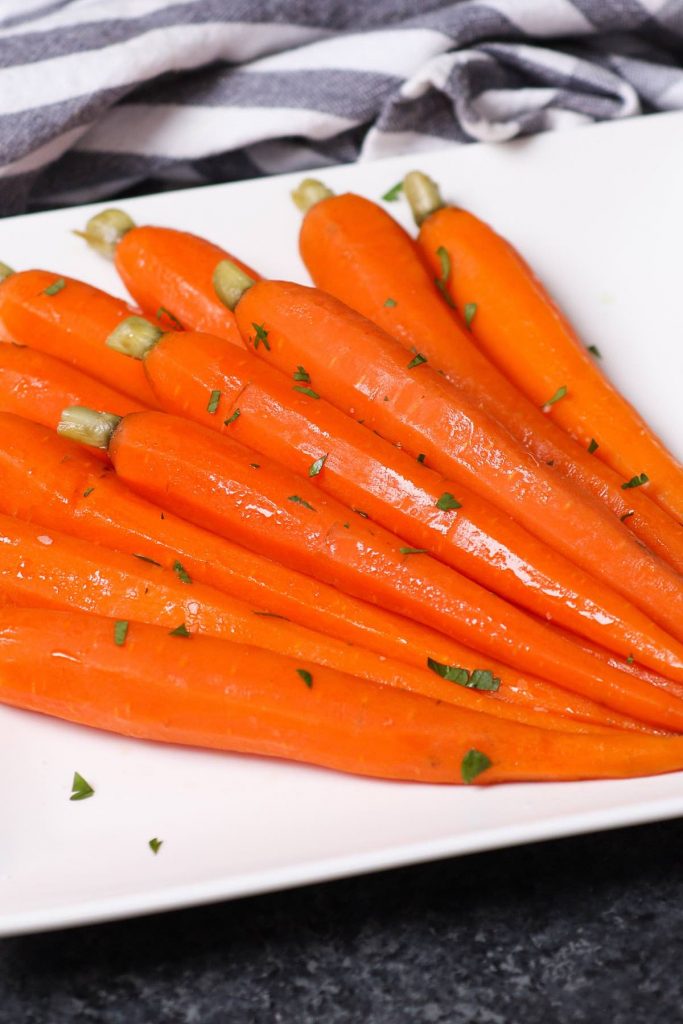 Featured on 36 Best Sous Vide Recipes
Perfect Sous Vide Carrots
Carrots are a super healthy and tasty vegetable, packed with flavor and goodness for your body. Sous vide honey glazed carrots keep the natural sweetness and color of the carrots and have become my favorite way to cook this vegetable. If you haven't tried sous vide carrots, you must!
As the seasoned carrots are cooked in the sous vide water bath, they soak up all the flavors! It takes a few minutes to prepare, and then the sous vide machine will cook the carrots to the perfect texture every time. At 183°F (84°C), the carrots taste just right: not too crunchy and not too mushy! It's absolutely foolproof!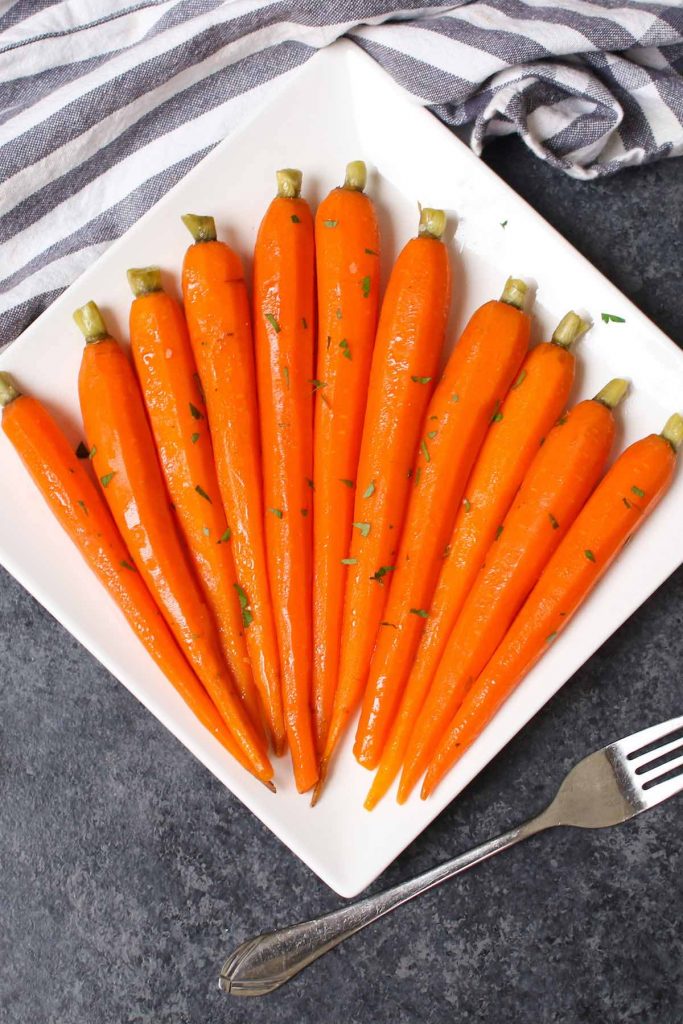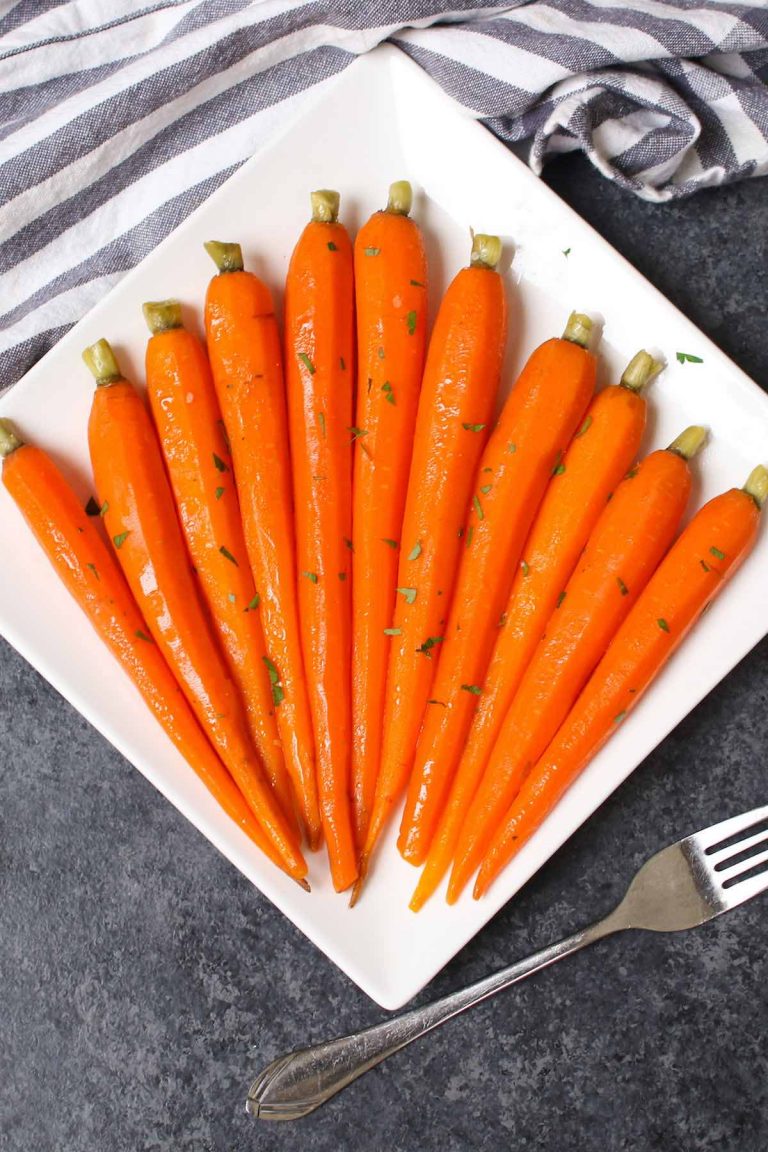 Sous vide is a cooking technique that means "under vacuum" in French. It's my favorite way to cook vegetables: the food is first vacuum-sealed in a bag, then cooked for a long time to a very precise temperature in a warm water bath. This technique is known for being a precise and consistent way to evenly cook food.
Ingredients You'll Need
Carrots
Butter
Honey
Salt
How Do You Make Sous Vide Carrots
You can use any type of carrot for this recipe. I use baby carrots and don't need to cut them. Just wash and peel. If you use large carrots, it's better to cut them into sticks or slices.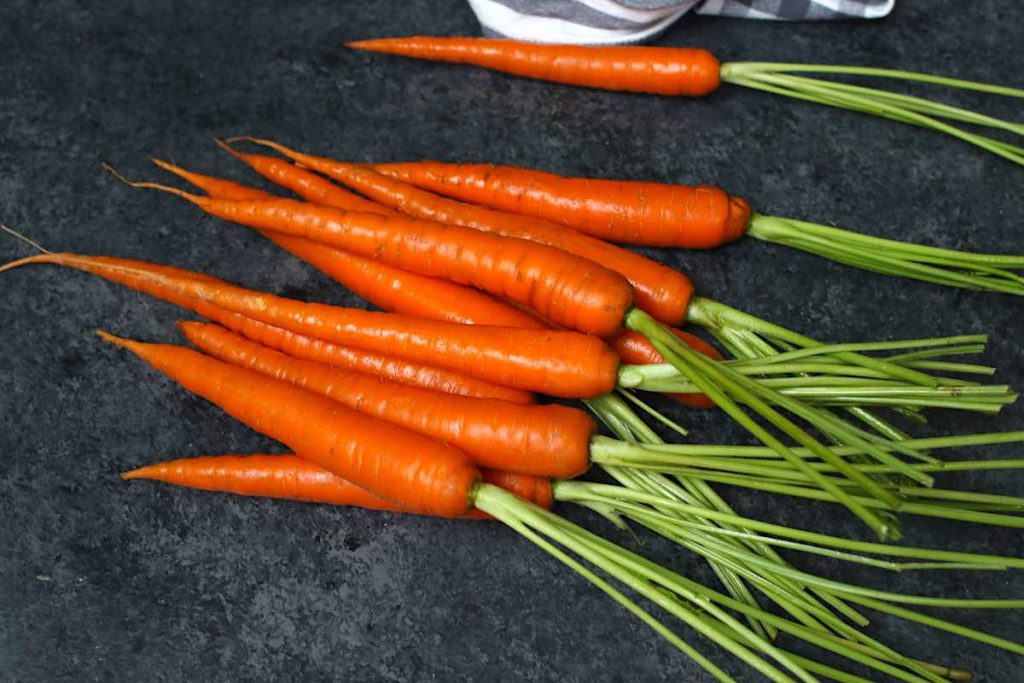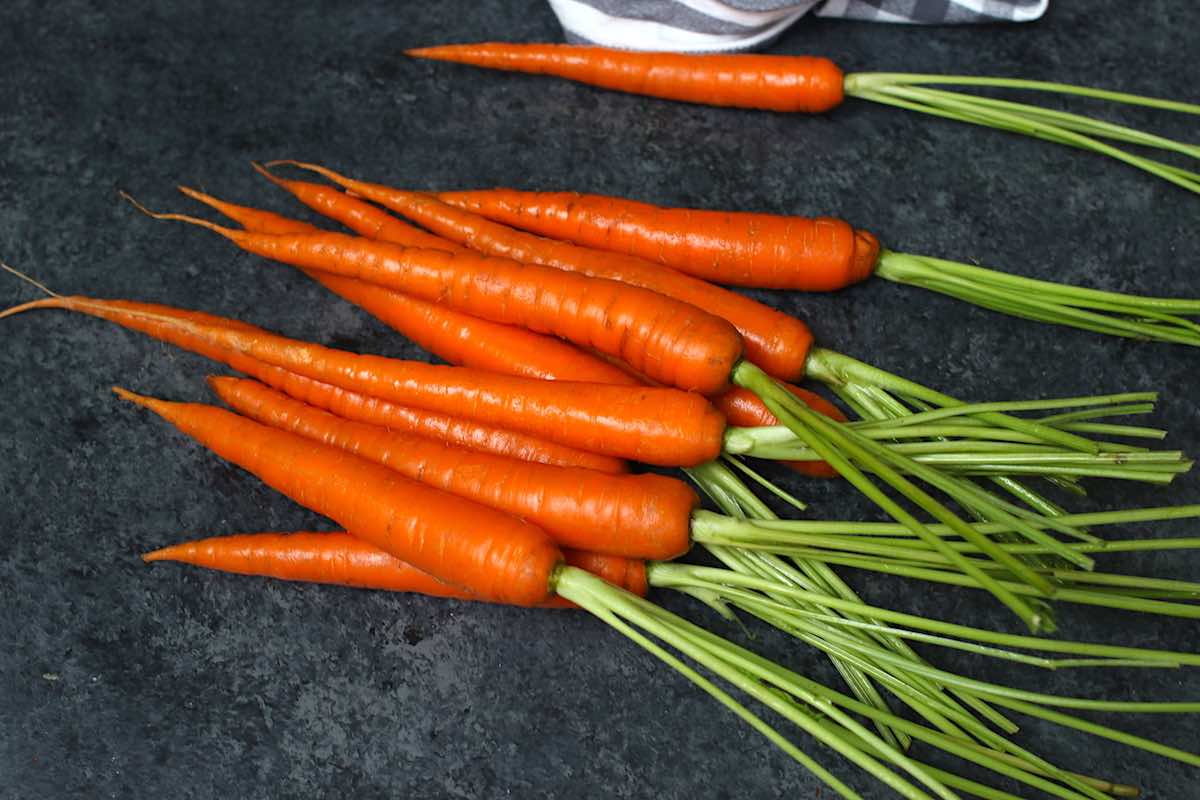 Season the carrots with honey and salt, and add them into a zip-lock bag together with the butter. Vacuum-seal it using the water displacement technique. Sous vide cook at 183°F for 1 hour until they're tender when pierced with a fork.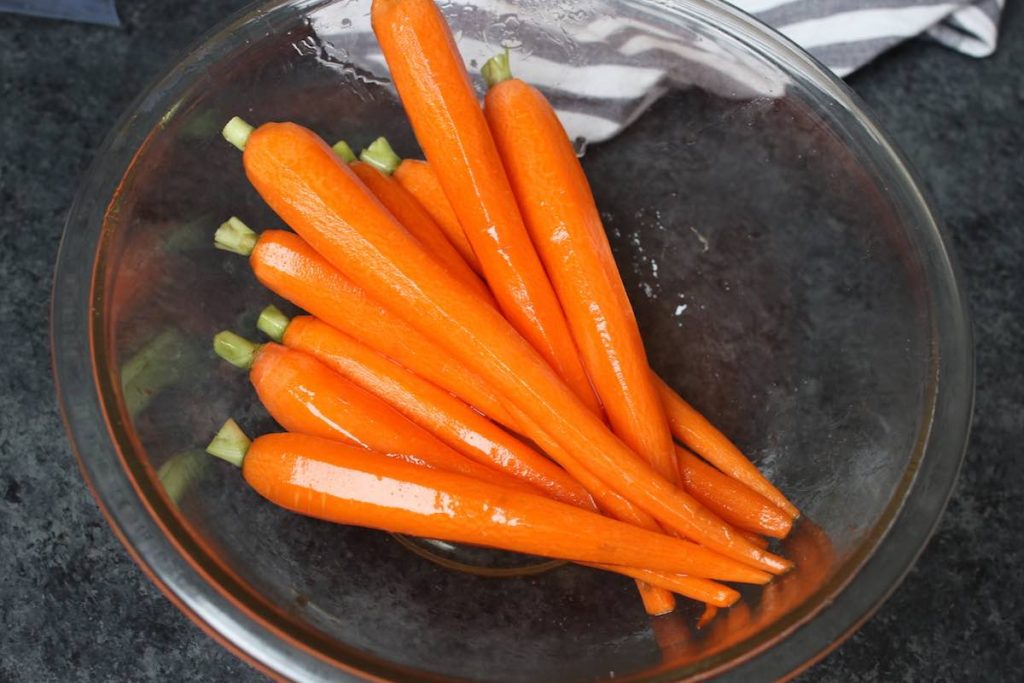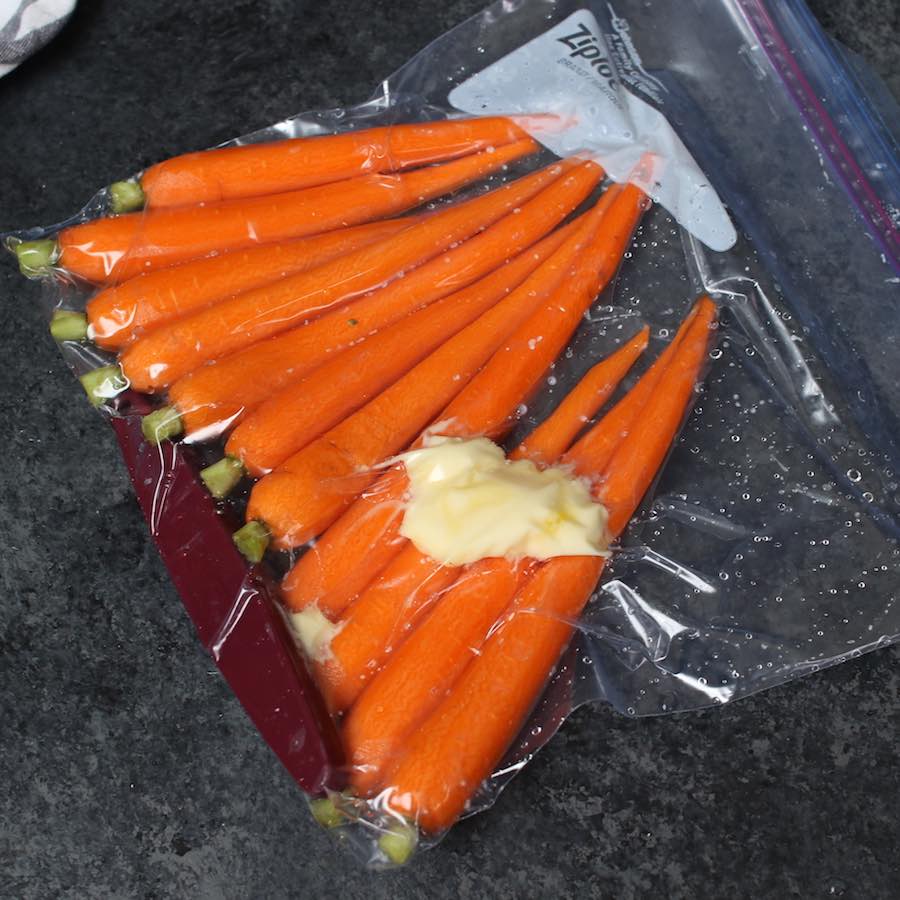 Remove the carrots from the bag, and pour the juices into a jar. Drizzle the juices over carrots and serve with chopped parsley. Heavenly delicious!
I use honey for this recipe, but you can substitute brown sugar or maple syrup.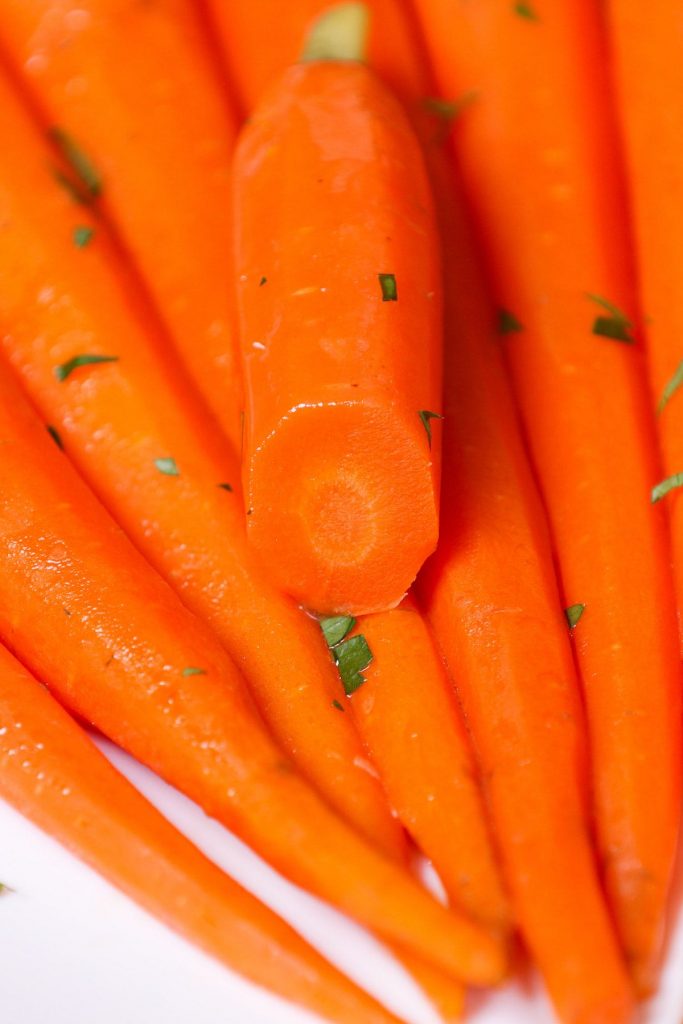 Tips for the Best Sous Vide Carrots
Use uniformly sized carrots or slices. Make sure to arrange the carrots in one single layer in the vacuum-sealed bag so that they can get cooked evenly.
As the carrots are light, the bags tend to float in the water. You can add sous vide weights or heavy spoons into the bag to prevent it from floating. Alternatively, use heavy kitchen items such as metal tongs to secure the bag in place and keep it fully submerged. Make sure the seams are still above the water so they won't pop open.
The best temperature to cook sous vide carrots is 183°F (84°C). It's super tender and not mushy.
I cook my carrots for 1 hour. Cook longer if yours are bigger. Check the doneness before taking them out. If they are not ready, just place them back to the bag, vacuum-seal the bag again and continue to cook until tender and soft.
If you like to have a thicker glaze, thicken the juices in a skillet.
What Temperature Do You Sous Vide Carrots?
Like most vegetables, carrots are usually sous vide cooked at 183°F (84°C).
How Long Does It Take To Sous Vide Carrots?
Root vegetables usually take longer to cook than green vegetables. It takes about 1 hour to cook medium-sized carrots in the sous vide water bath. If your carrots are much larger, consider increasing the time to 1.5 to 2 hours.
Can You Overcook Vegetables with Sous Vide Machine?
Although you cannot "overcook" carrots with the sous vide method (you can leave the meat in a warm bath for an extra hour or two), the texture can become mushy if the vegetables is left in the machine for too long.
Serve these sous vide carrots with:
If You Like This Recipe, Try Out These Sous Vide Vegetable Recipes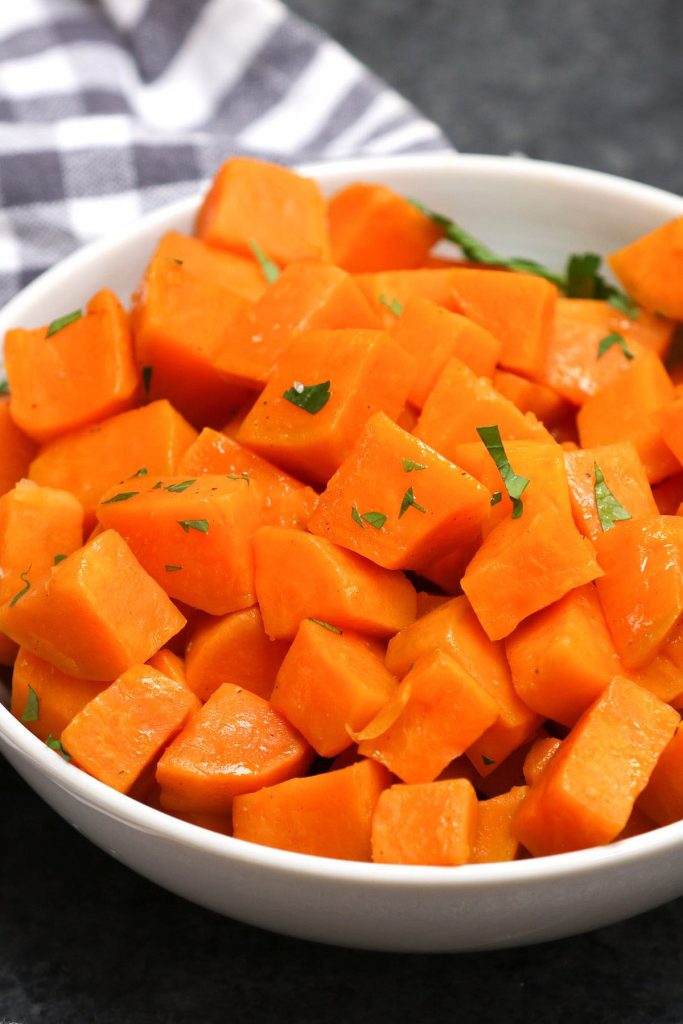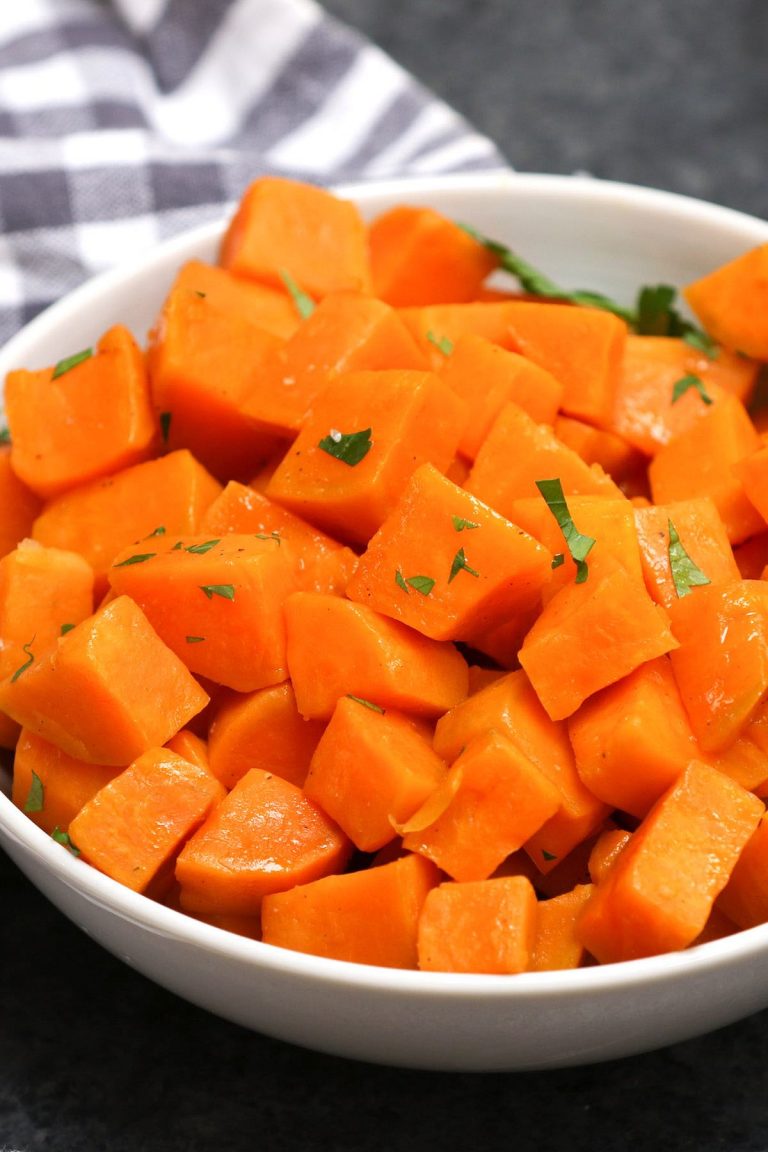 If you tried this recipe, let me know how your Sous Vide Honey Glazed Carrots turn out in the comments below!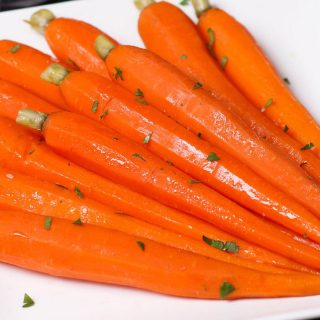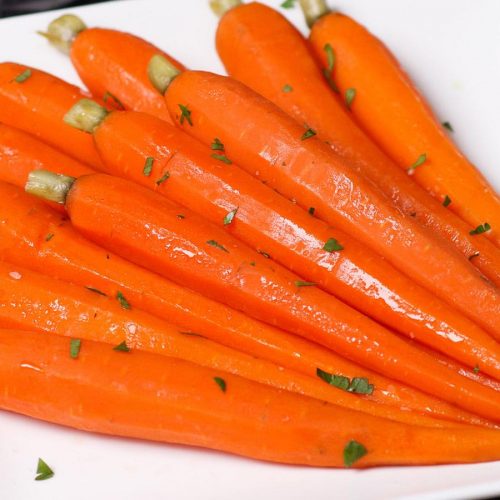 Sous Vide Honey Glazed Carrots Recipe
These Sous Vide Honey Glazed Carrots are tender and flavorful carrots simmered in a mixture of honey and butter, then topped with a sprinkling of parsley. The sous vide method transforms the carrots into the perfectly tender pieces. Sweet, savory and full of flavor, this recipe makes an amazing side dish for a holiday dinner or a week day meal.
Print
Pin
Rate
Ingredients
1

pound

baby carrots

or you can use large carrots and cut them into smaller chunks

1 ½

tablespoons

butter

1

tablespoon

honey

1/8

teaspoon

salt

plus additional for serving

chopped parsley

optional for serving
Instructions
Preheat the Sous Vide Water Bath: Fill a large container or pot with water. Attach the sous vide precision cooker and set the temperature to 183°F (84°C).

Prepare the Carrots: Wash and peel the carrots. (I used whole baby carrots, and if yours are too big, you can cut them into slices or sticks.)

In a large bowl, mix the carrots with honey and salt. Toss until they are evenly coated. (I use my hands to rub the seasonings all around the carrots).

Vacuum-seal the Bag: Add the seasoned carrots and butter into a zip-lock bag and arrange in a single layer. I also added the sous vide weight to help weigh down the bag so that it won't float in the water bath. (Make sure to arrange in one layer. If your bag is not large enough, use multiple bags).

Seal the bag using the "water displacement" technique or a vacuum sealer. (Just seal all but one corner of the bag. Slowly place it in the water bath, and make sure everything below the zip-line is covered by water. Then seal the rest of the bag.)

Sous Vide Cook the Carrots: Place the bag in the warm water bath and cook for 1 hour. Make sure the carrots are fully submerged while the seams of the bag are above water. (You can add heavy kitchen items to weigh down the bag if yours is still floating.)

Remove the carrots from the bag and pour the juices in a jar. The juices taste great as is, but if you'd like to thicken it, you can thicken them into a thicker glaze in a skillet over medium-high heat for 2-3 minutes.

Drizzle the carrots with the glaze, and sprinkle with chopped parsley and extra salt. Serve immediately!
Notes
When buying carrots, look for firm carrots with bright orange color and smooth skin.
Store leftover sous vide honey glazed carrots in an airtight container in the fridge. They will last for up to 5 days.
You can use this recipe to cook parsnips and turnips.
Nutrition
Calories:
93
kcal
|
Carbohydrates:
14
g
|
Protein:
1
g
|
Fat:
4
g
|
Saturated Fat:
3
g
|
Trans Fat:
1
g
|
Cholesterol:
11
mg
|
Sodium:
199
mg
|
Potassium:
273
mg
|
Fiber:
3
g
|
Sugar:
10
g
|
Vitamin A:
15769
IU
|
Vitamin C:
3
mg
|
Calcium:
38
mg
|
Iron:
1
mg
Tried this recipe?
Follow or tag us on Pinterest @izzycooking