Shrimp Internal Temperature is the best way to determine whether or not it's cooked. Learn how to measure shrimp internal temp as well as other tips to get the best results with shrimp.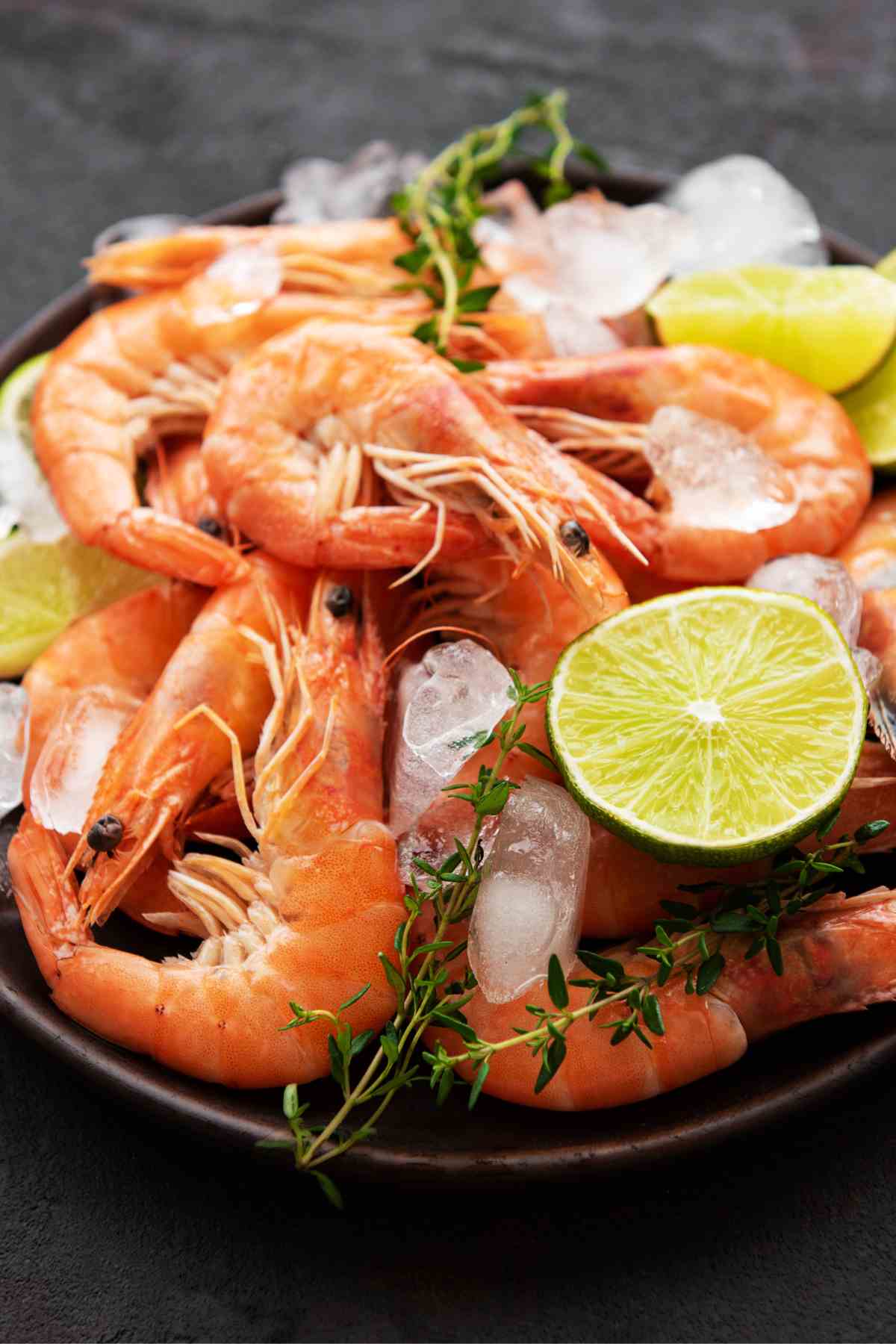 Shrimp is a favorite shellfish that's also a delicious and versatile seafood with many health benefits. At the same time, we all want to avoid rubbery, overcooked shrimp and that's where the shrimp internal temp comes in.
Read on to find out more!
Shrimp Internal Temperature
The FDA recommends a shrimp reach an internal temperature of 145°F (63°C) for food safety reasons. Did you know that over 90% of food poisoning cases are caused by Salmonella, E. coli, Vibrio, or Bacillus, all of which can be found in raw shrimp?
To measure the internal temp, insert the probe of an instant-read thermometer into the thickest section of the shrimp to measure the shrimp internal temp. As soon as it reaches the target temp, remove the shrimp from the heat source and serve.
Note that while 145°F is the internal temp for food safety, many people find the flesh too chewy at this level and prefer a doneness of 120°F (49°C) instead to keep the shrimp juicy. If you wish to cook shrimp to a temp below 145°F, it's important to get high-quality shrimp from a reputable vendor to reduce the risk of foodborne illness.
How to Tell if Shrimp Is Cooked
Because there are various methods for cooking shrimp, there are different ways to tell if a shrimp is cooked. Measuring the internal temp of shrimp using an instant meat thermometer is the most accurate way to gage doneness. Shrimp are tender at 120°F and fully cooked at 145°F.
Other less-accurate methods include the following:
Color: A properly cooked shrimp will be an opaque white color with a pinkish sheen. The color may vary slightly depending on the species and the natural color of the shrimp. Meanwhile, overcooked shrimp appear grayish or matte white.
Texture: The texture of a well-cooked shrimp should be firm but not chewy. An undercooked shrimp is too tough to eat, while overcooked shrimp can be dry and rubbery.
Appearance: As the shrimp loses moisture, it shrinks and develops a shaggy appearance along the edges. The shaggy appearance is evidence that the proteins are contracting and coagulating.
Shape: A well-cooked shrimp will be curled in a "C" shape. This "C" shape appears as the shrimp loses moisture and the protein strands tighten. Overcooking gives the shrimp an "O" shape as the muscles and connective tissue contract even more.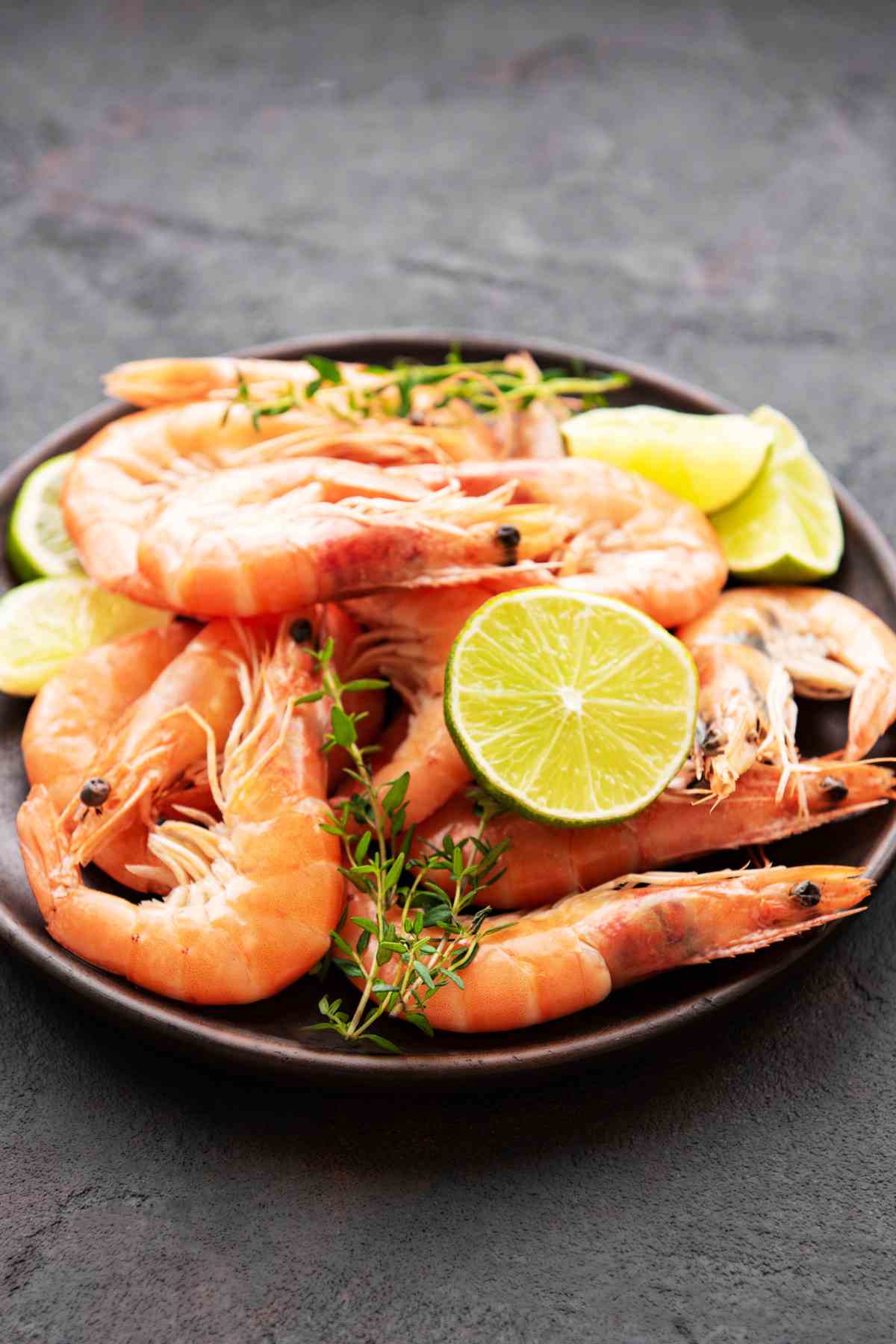 Tips for Avoiding Overcooked or Undercooked Shrimp
Eating undercooked shrimp can make you sick, while overcooked shrimp are rubbery and tasteless. To avoid undercooked or overcooked shrimp, follow these tips:
Use an Instant-read Thermometer: Keeping an instant-read thermometer handy during cooking will allow you to measure as needed to avoid overcooking.
Use Shrimp of the Same Size: Shrimp can shrink quickly, so cooking shrimp of the same size simultaneously prevents both overcooking and undercooking.
Remove Shrimp from Heat Once Cooked: Shrimp cooks very quickly, so make sure to remove it as soon as it appears cooked.
Cook Shrimp for the Right Amount of Time: Shrimp cooks in a matter of minutes, so even a small-time difference can produce undercooked or overcooked shrimp.
Different Ways of Cooking Shrimp
There are different ways of cooking shrimp, including boiling, sautéing, or grilling. Shrimp can also be deep-fried or roasted. 
Boiling: A simple way to cook shrimp involves boiling it. Bring a large pot of water to a boil. Add the cold shrimp to the water, then wait until the water boils again. Once the water is boiling, take out the shrimp and pour them into the icy water.
Roasting: Roast shrimp is nice and crispy! To roast, preheat oven to 400°F. In a single layer, line the pan with shrimp, alternating heads and tails. Sprinkle your favorite oil over the shrimp and season them. When they turn pink underneath, flip the shrimp over. Roast the shrimp for an additional three minutes then bake them until they are pink to slightly opaque.
Sautéing: Place a sauté pan with olive oil, garlic, or onions over medium heat and cook the ingredients until soft. Add shrimp to the pan and cook on each side for one to two minutes. Add additional ingredients such as sliced vegetables or salsa to the pan. Simmer all ingredients for about four minutes to finish the dish.
Grilling: Grilling shrimp brings out smokey, woody flavors. To grill your shrimp, use medium heat to preheat the grill. Place shrimp over the grill's direct heat for three minutes on each side, turning the shrimp when the underside turns pink.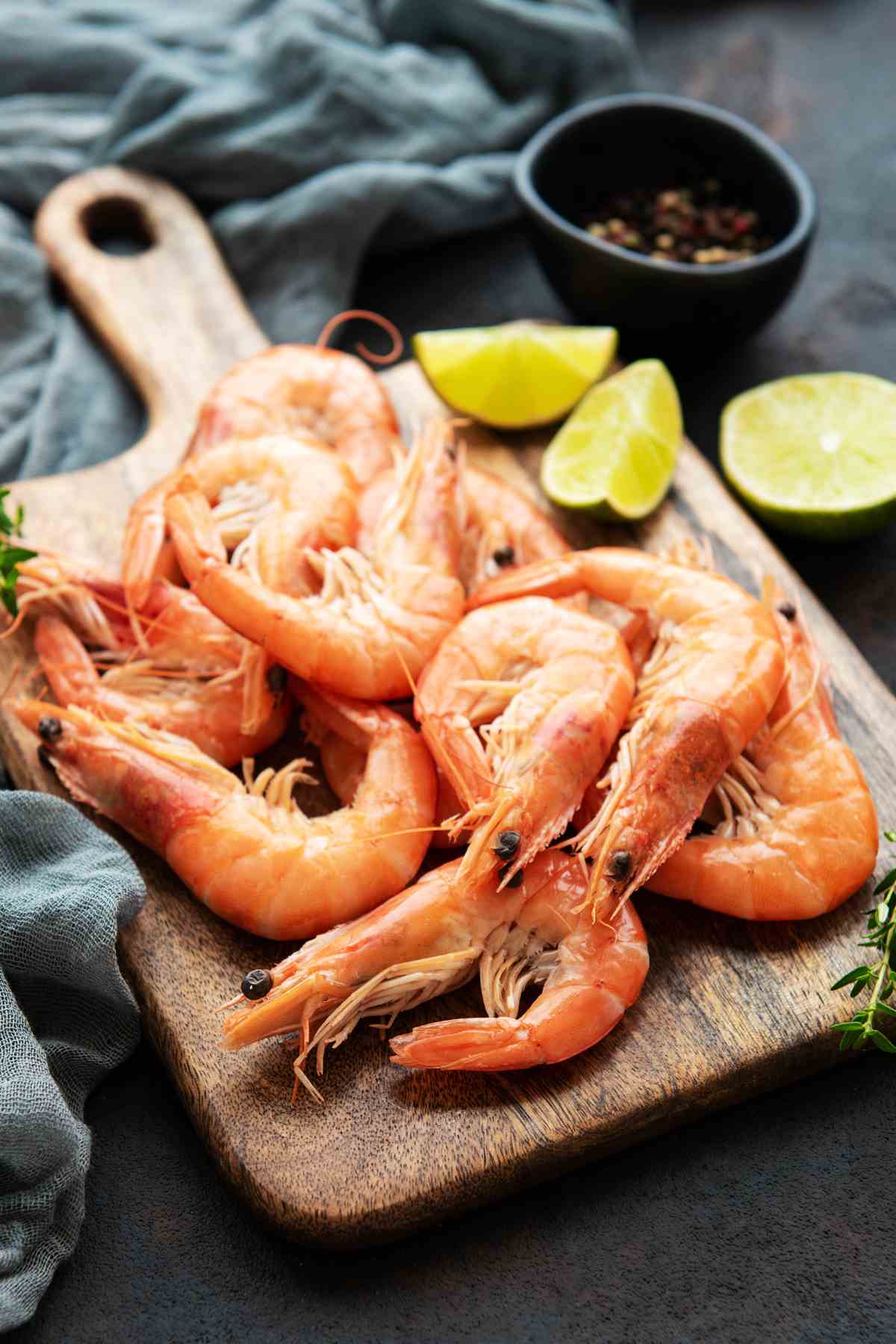 How to Buy Shrimp
When buying fresh shrimp, always give them a nose. Fresh shrimp should have a sweet, briny scent. Avoid shrimp that smells fishy, sour, or like ammonia.
Shrimp has gone bad if it's leaking fluid or has black spots. Check packaging dates and if the package is sealed to ensure the shrimp's freshness.
Fresh vs. Frozen Shrimp
Many grocery stores sell fresh and frozen shrimp. You can purchase fresh shrimp year-round. Frozen shrimp's less expensive and better to store. Buying frozen shrimp to defrost at home is better than purchasing shrimp considered "fresh" since it has been frozen and defrosted.
Raw vs. Pre-cooked Shrimp
It's better to buy frozen shrimp and defrost them at home than buying fresh shrimp that has gone off or is of inferior quality.
FAQ
Is It Safe to Eat Undercooked Shrimp?
No, eating undercooked shrimp can cause food-borne illnesses, such as Salmonella and Staphylococcus aureus infections. The only way to ensure bacteria have been eliminated is by cooking to an internal temp of 145°F.
What Temperature Kills Bacteria in Shrimp?
According to the FDA, 145°F or 63°C is the internal temp at which all bacteria in shrimp have been killed. In addition, some countries such as Canada have even more stringent guidance  of 165°F or 74°C.
You May Also Like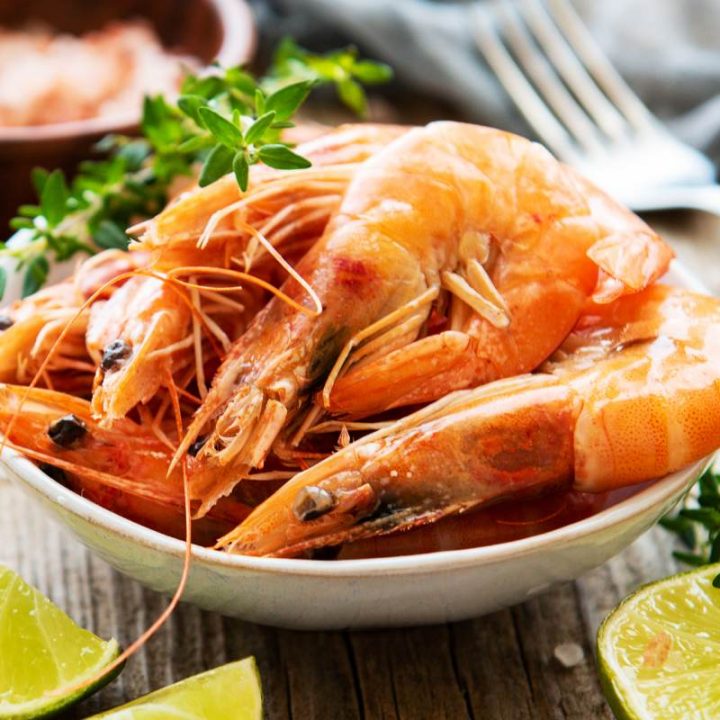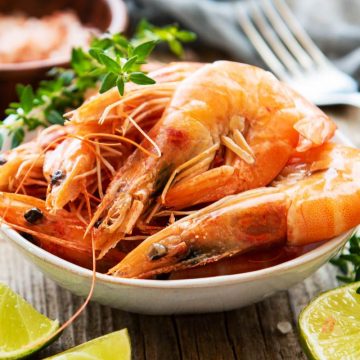 Shrimp Internal Temp (+How to Cook Shrimp)
Properly cooked shrimp is succulent, juicy, and tender. However, overcooked shrimp is rubbery and unappetizing. Measuring shrimp's internal temperature will help determine if it's cooked properly. In this post, you'll learn how to measure its internal temperature in addition to other tips.
Print
Pin
Rate
Ingredients
1

pound

shrimp

any size

1/2

teaspoon

salt

optional

cold water
Instructions
Fill a medium size pot half full with cold water. Add the shrimp and salt.

Place the pot over medium-high heat and bring to a boil.

As soon as the water boils, remove from the heat.

Using a slotted spoon, remove one shrimp from the pot. Insert an instant-read thermometer into the center of the thickest section.

If the reading is 145°F, the shrimp is safe to eat. (If you prefer it less done, you can remove below that level although there is some risk that not all bacteria will have been killed.) If the shrimp is below 145°F, let them sit in the pot to continue cooking for a few more minutes. Re-check the internal temperature every two minutes until done.

Serve the shrimp or use as directed in recipes.
Tried this recipe?
Follow or tag us on Pinterest @izzycooking