Similar to the famous Outback Steak's blooming onion, Chili's Awesome Blossom Petals is a delicious and crispy appetizer! Learn how to make Awesome Blossom easily at home with our step-by-step instructions.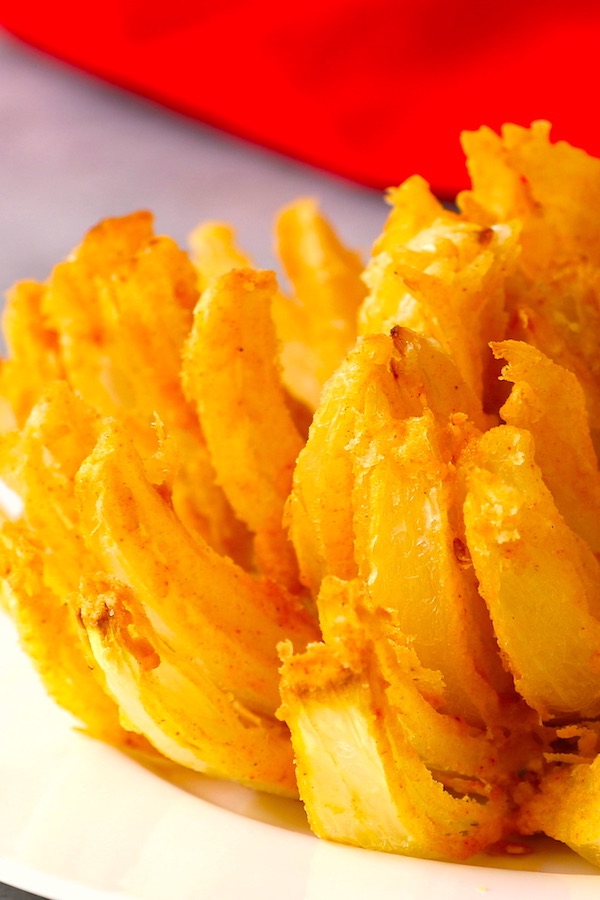 What Is Chili's Awesome Blossom?
This copycat recipe is an onion cut to an onion flower, seasoned, battered and deep-fried to perfect golden brown. It's also called bloomin' onion and tastes similar to onion rings.
Like Outback's bloomin' onion, you can serve this recipe as an appetizer. Just break off pieces using your fingers and dip into the bloomin' onion sauce.
Ingredients & Substitutes
Onion: You can use white or yellow, but try to find the largest onion for this recipe.
All-purpose Flour
Paprika
Cayenne Pepper
Garlic Powder
Oregano
Salt and Pepper
Eggs
Milk
Vegetable Oil
How To Make An Awesome Blossom (Blooming Onion)
Awesome Blossom is easy to make, but it can be hard to get the crispy texture when making them at home. This recipe ensures that your homemade blooming onion comes out perfectly crispy every time!
Pair it with Baked Chicken Breast, Chicken Fajitas or Beef Stir Fry for a great dinner!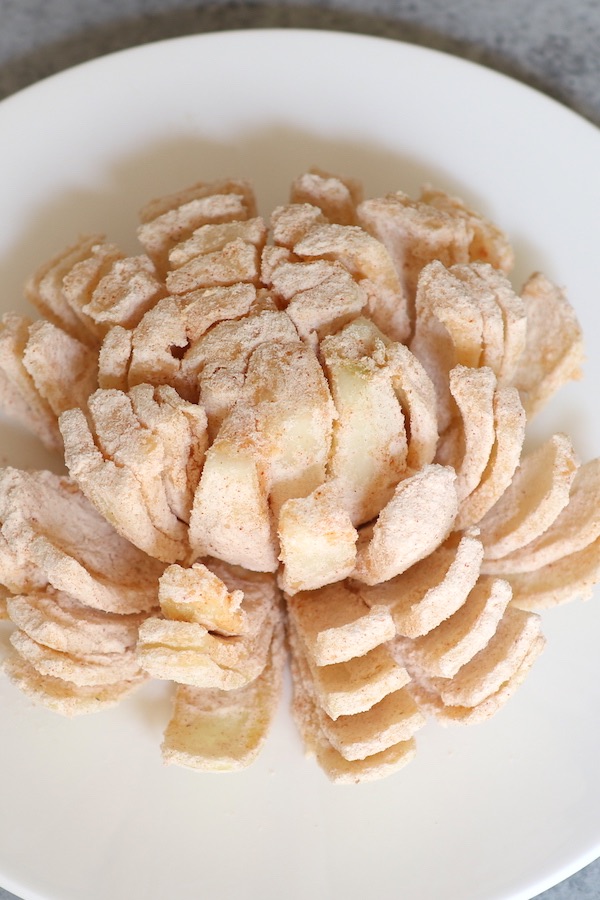 Awesome Blossom Petals – How To Cut A Blooming Onion
Start with cutting your onion into an onion flower. You can use a blooming onion cutter if you have one, but I find it fairly easy with a regular sharp knife.
Remove the old skin first, and then cut off ½ inch from the pointy stem. Then place the onion cut-side down on a cutting board, and starting about ½ inch from the root, make a downward cut.
Repeat the vertical cut and make cuts evenly distributed around the onion. I usually cut it into about 12-16 sections. When you turn the onion over, it will look like a flower with many onion petals. You can open it up more with your fingers.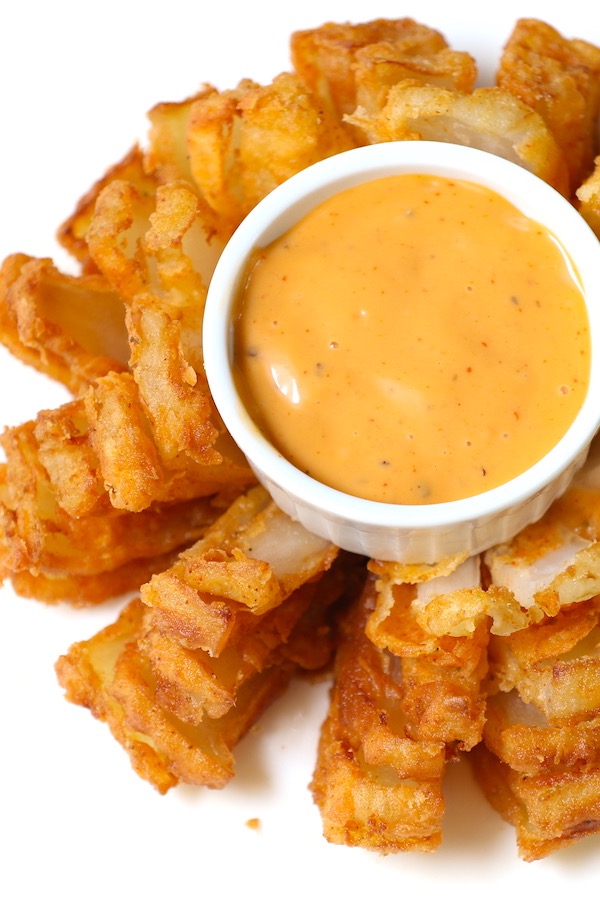 Awesome Blossom Batter
Prepare two large bowls for making bloomin' onion batter. In one bowl, mix together flour, garlic powder, oregano, paprika, cayenne pepper, salt and pepper. In the other bowl, mix together eggs and milk. 
First, place the onion flower into the flour mixture bowl. Lift the onion and shake off the excess, and dip the onion into the egg wash bowl. Make sure the onion is completely submerged in the batter.
Lift the onion and place it in the flour mixture again. This doubling dipping process ensures a crispy texture.
Before you fry your onion, it's best to freeze it for 30-60 minutes so that the seasoning and batter will stay on during the frying process.
Fry The Blooming Onion
If you don't have an air fryer, you can use a large deep pot that can cover the onion flower completely. Heat oil to 350°F, and place your onion into the oil cut-side down very carefully with tongs or a slotted spoon.
Fry for 3 to 4 minutes, and then turn the onion over and fry 3-4 more minutes until the onion flower is nice and golden brown.
Awesome Blossom Sauce
My favorite Awesome Blossom sauce is a very simple one: just mix Thousand Island dressing and creamy horseradish sauce. It tastes exactly like the blooming onion dip you find at outback!
How To Store Blooming Onions
A cooked blooming onion can be stored in the fridge for up to 3 days. Bring it to room temperature first and then wrap in parchment before placing in a sealed ziptop bag.
Baked Awesome Blossom
If you prefer a healthier blooming onion recipe, you can bake the battered onion flower in the oven at 400°F for about 16-20 minutes or until golden brown. Skip the freezing process.
FAQs
Can I Make This Ahead of Time?
While a blooming onion is best made fresh, you can make it ahead of time. Batter the onion and then freeze for up to one month. Then proceed to deep fry it according to the recipe. Alternatively, cook the blooming onion and store in the fridge for up to 3 days. Reheat in the oven at 425°F for 10 to 12 minutes or until crispy.
What Kind of Onion to Use for Awesome Blossom Recipe
Yellow onion or white onion works best for this recipe as they result in a crispier and tastier onion when deep-fried. I usually buy the largest one I can find at the local grocery store.
Do You Soak a Blooming Onion in Water?
Yes, it's a good idea to soak a blooming onion in water before preparation. Why? The soaking allows the petals of the onion to separate naturally to create the bloom, so you don't need to force them apart manually.
More Recipes To Try
I hope you like this recipe. If you try it, please comment below and let me know how your Awesome Blossom turns out!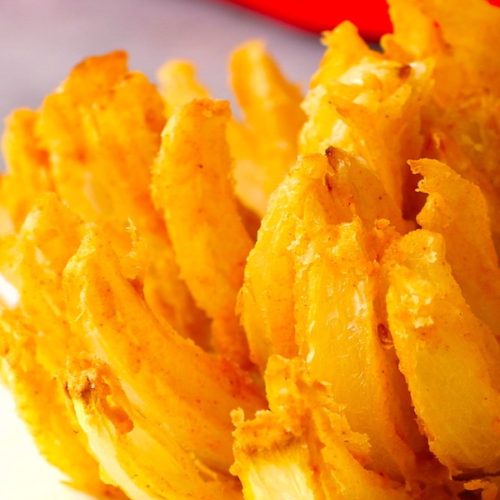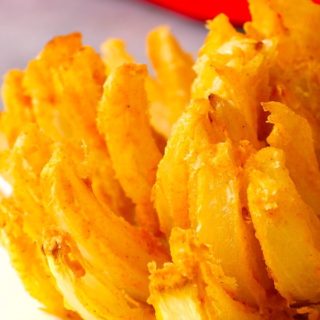 Awesome Blossom Recipe
Awesome Blossom– crispy and delicious fried onion flower served with the most delicious bloomin' onion sauce!
Print
Pin
Rate
Ingredients
Bloomin Onion
1

large onion

white or yellow

2

cups

all-purpose flour

1

tablespoon

paprika

1

teaspoon

cayenne pepper

1

teaspoon

garlic powder

1

teaspoon

oregano

salt and pepper to taste

2

large eggs

1 1/2

cups

milk

vegetable oil for frying
Bloomin Onion Sauce
Thousand Island dressing

creamy horseradish sauce
Instructions
Mix together all dried ingredients in a large bowl.

In a separate large bowl, mix together eggs and milk.

Remove the papery skin, and then cut off ½ inch from the pointy end of the onion.

Place the onion cut-side down on a cutting board and start ½ inch from the root, cut vertically downward.

Repeat and you will get about 12-16 sections.

Turn the onion over and it will look like an onion flower. Open the onion petals more with your fingers.

Place the onion flower in the flour mixture. Lift and shake off excess flour.

Place into the egg wash, and return to the flour mixture.

Lift the onion and place onto a plate. Freeze for 30-60 minutes.

In a deep fryer or pot, heat the oil to 350°F.

Place the onion flower into the pot, cut-side facing down. Fry for 3-4 minutes. Turn it over and fry for another 3-4 minutes until golden brown.

Transfer to a plate lined with paper towel.

Mix the thousand island and creamy horseradish sauce to make the blooming onion sauce.

Dip the bloomin onion petals into the dipping sauce and enjoy!
Equipment
Notes
Make sure the oil temperature stays close to 350°F during the deep-frying process.
Nutrition
Calories:
220
kcal
|
Carbohydrates:
36
g
|
Protein:
9
g
|
Fat:
4
g
|
Saturated Fat:
2
g
|
Trans Fat:
1
g
|
Cholesterol:
68
mg
|
Sodium:
78
mg
|
Potassium:
192
mg
|
Fiber:
2
g
|
Sugar:
3
g
|
Vitamin A:
907
IU
|
Vitamin C:
1
mg
|
Calcium:
93
mg
|
Iron:
3
mg
Tried this recipe?
Follow or tag us on Pinterest @izzycooking

View More Easy Appetizer Recipes
Editor note: Originally published April 13, 2019 and updated Feb 2, 2021.