Easy Chinese Beef Stir Fry is loaded with tender beef slices and the most delicious stir-fry sauce made with soy sauce, brown sugar, garlic, ginger and beef broth! A quick marinade tenderizes the meat and adds amazing flavor to the beef and veggies. Serve over noodles or rice for a perfect weeknight dinner!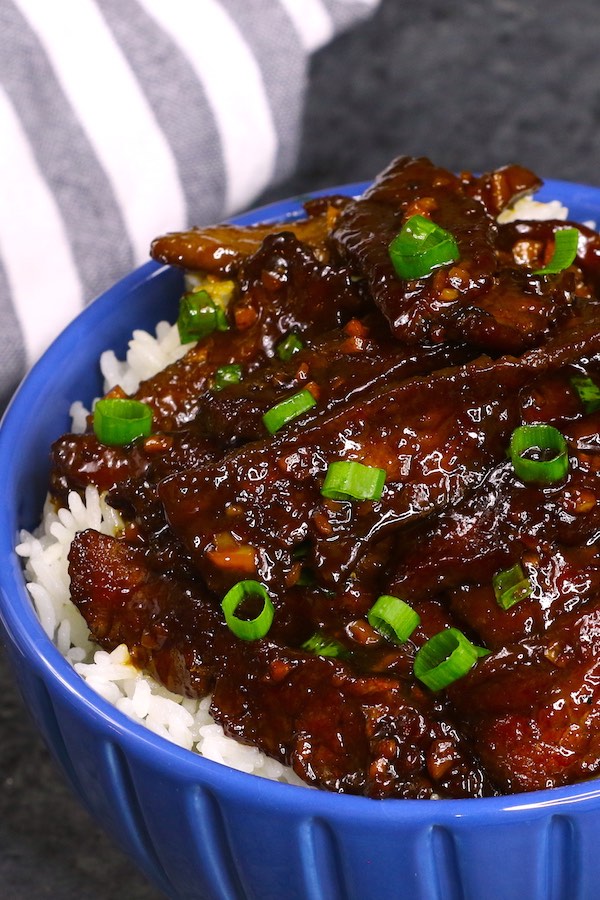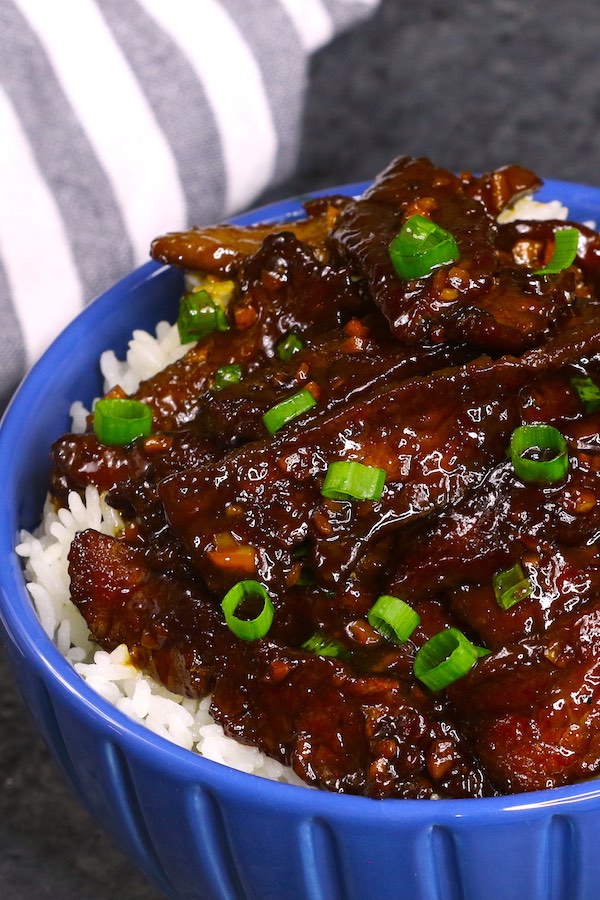 Beef Stir Fry Recipe
Beef stir fry is a popular Chinese restaurant dish that's always on the take-out menu. What makes the beef so tender is the stir-fry technique that I'm going to share with you in this post, and you can make this recipe within 20 minutes at home! With this steak stir fry, you'll get protein and veggies all in one skillet. This is the way to go!
What is stir fry? It's a Chinese cooking technique where meat or veggies are stirred constantly in a lightly oiled wok or frying pan over high heat. Growing up in a big Chinese family, I learned all the tips and tricks from my mom who cooks delicious stir-fry food every day!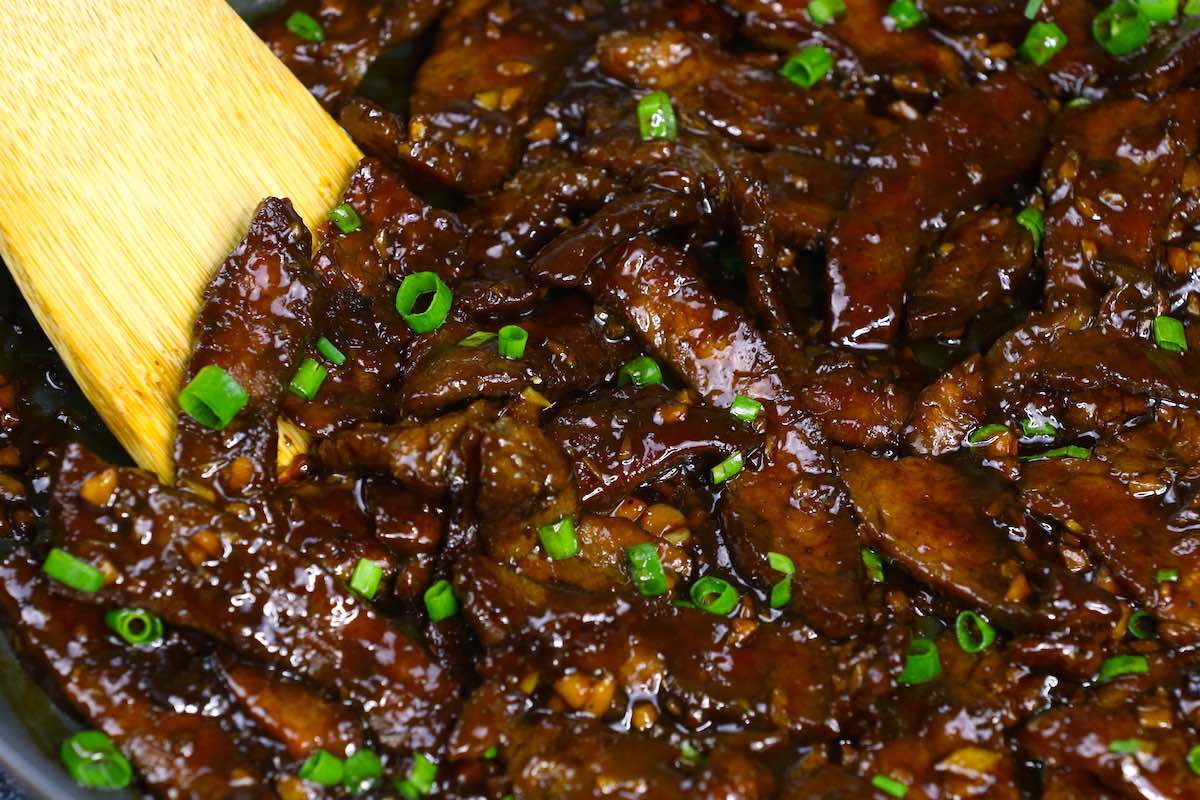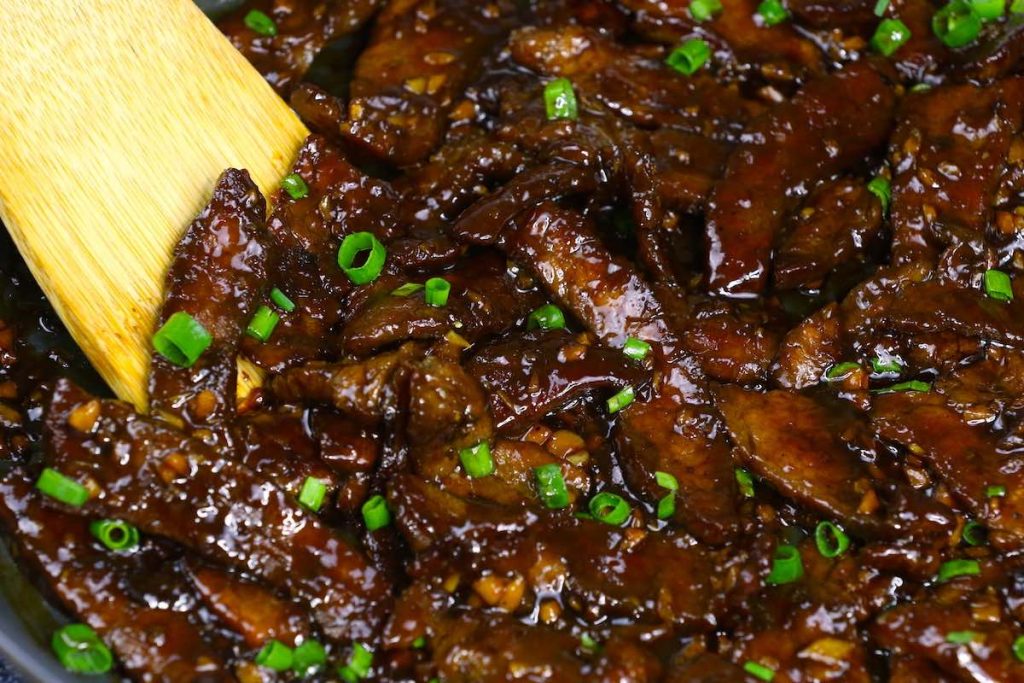 WHAT INGREDIENTS GO INTO CHINESE BEEF STIR FRY?
Beef slices
Soy sauce
Cornstarch
Brown sugar
Beef broth
Garlic
Ginger
Green onions
Vegetables such as broccoli, bell peppers, carrots, mushrooms and onions.
HOW TO MAKE BEEF STIR FRY
Slice the beef into thin and long strips.
Make marinade sauce by mixing together soy sauce and cornstarch.
Add beef to the sauce. Let marinate.
Stir fry minced garlic and ginger until fragrant.
Add marinated beef slices and stir fry.
Add brown sugar, beef broth and green onions.
Stir fry until beef is cooked through. Remove beef to a plate.
Stir fry vegetables of your choice.
Add back the cooked beef and mix.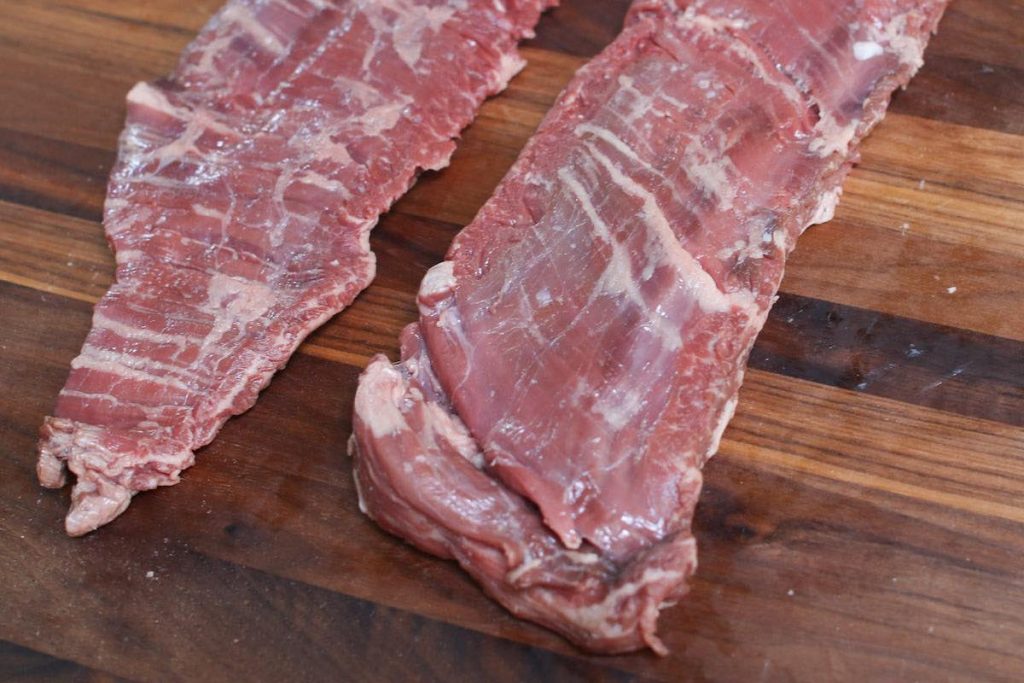 WHAT IS THE BEST BEEF FOR STIR FRY?
Skirt steak is the best beef cut for stir-frying, as it's budget-friendly and rich with loads of marbling. Skirt steak slices become tender and juicy after a quick marinade and high temperature stir-frying. Central cuts such as tenderloin and rib eye steak are great too, but they are much more expensive and best to save for steak dinners.
Other cheap cuts that you can use include flank or flap steak, but they need longer marinating time. You should definitely AVOID tough stewing meat such as chuck, rump, round or blade.
BEEF STIR FRY MARINADE
Marinating beef slices (also called velveting) before stir-frying is the secret to the perfect tender and juicy meat. A simple mixture of soy sauce and cornstarch tenderizes the beef as well as adding great depth of flavor. Cornstarch is KEY to get your marinade binding to the beef.
Over 30 minutes is ideal but if you are in a rush, even a 10-minute marinating makes a huge difference. Marinate your beef in the refrigerator if you are not cooking within an hour. No dried-out beef anymore!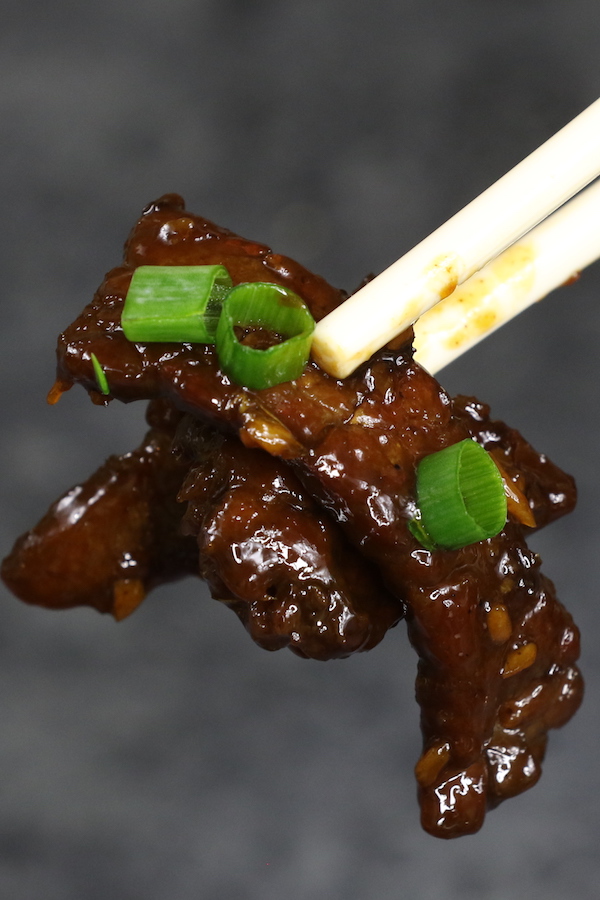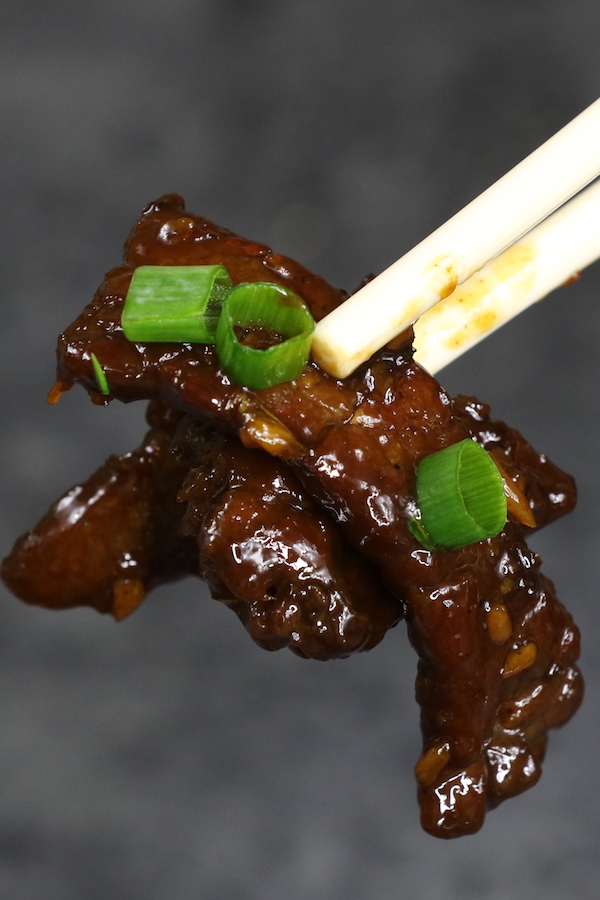 STIR FRY BEEF STRIPS AT HIGH TEMPERATURE
Proper stir-frying requires a very high temperature searing at around 400°F for a short time. This technique is called flash frying – another secret to tender and juicy beef!
If you'd like to add veggies to your beef stir fry, remove the cooked beef to a plate first. Then add a tablespoon oil, and cook your favorite veggies. Some great choices include broccoli, carrots, cabbage, mushroom and green onions. After the vegetables are cooked through, add back the cooked beef and mix well.
TIPS FOR MAKING STIR FRIED BEEF TENDER
It's best to cut your beef into thin slices (2-inch long and 1/4 inch thick) against the grain. A trick I learned from a friend who works at a Chinese restaurant is to freeze the steak for about 30-45 minutes, and then it's so easy to cut it into thin strips!
Marinating is key to avoid tough and chewy beef!
Stir-fry at high temperature.
Don't overcrowd the pan. Cook several batches if needed.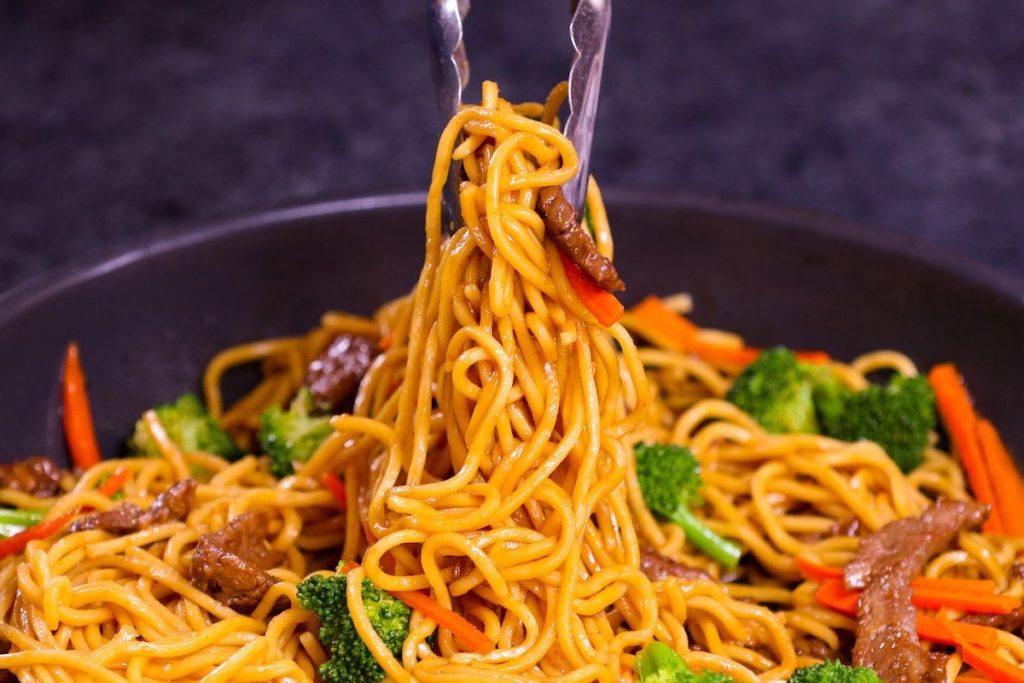 BEEF STIR FRY WITH NOODLES
You can serve beef stir fry with noodles or rice. Drizzle the extra stir fry sauce over everything for the ultimate flavor!
You can also make a Lo Mein style dish by mixing noodles with the beef and vegetables.
BEEF STIR FRY VARIATIONS:
This is a very versatile recipe. Add some chili flakes and make it into spicy beef stir fry, or swap the beef stir fry sauce for teriyaki sauce to make it into teriyaki beef stir fry! You can also use ground beef instead of beef strips.
IS CHINESE BEEF STIR FRY HEALTHY?
Chinese stir fry is a relatively healthy cooking method as it results in tender meat and veggies that retain more nutrients than boiling or deep-frying method. You can reduce the amount of oil and sugar for an even more healthy option.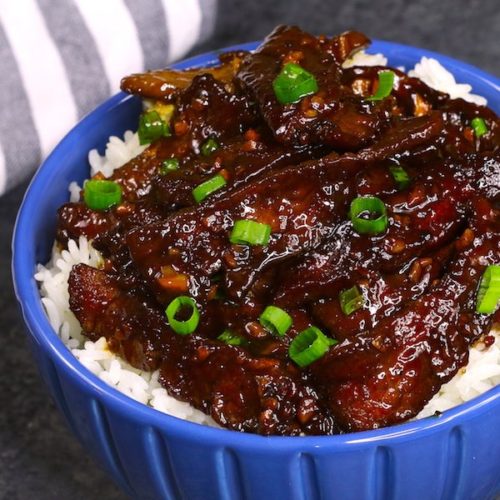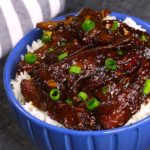 Beef Stir Fry
Beef Stir Fry that's full of flavor and loaded with tender and juicy beef with garlic and ginger. It's simple and easy to make and takes only 20 minutes.
Ingredients
1 1/2

lb

skirt steak

or flank steak

1/2

cup

soy sauce

1/4

cup

cornstarch

2

tablespoons

vegetable oil

(divided)

2

teaspoons

fresh ginger minced

3

teaspoons

fresh garlic minced

1/3

cup

beef broth

1/3

cup

brown sugar

4

green onions
Instructions
Slice the beef into thin strips that are 2-inch long and 1/4 inch thick (It's best to cut against the grain). You can freeze the steak for about 30-45 minutes so that it's much easier to cut into thin slices.

In a medium bowl, mix together soy sauce and cornstarch.

Add the beef and let marinate for 30 minutes or up to 4 hours. (If the marinating time is longer than 1 hour, cover with plastic wrap and store in the refrigerator.)

Place a wok or skillet on high heat, add 1 tablespoon oil. 

When the oil is hot, add minced ginger and garlic. 

Once fragrant, stir in marinated beef together with all the sauce. Don't overcrowd the pan, and cook in small batches if needed.

Cook for about 2-3 minutes. Then add brown sugar, beef broth (or water) and green onions and stir-fry for 1-2 minutes. Remove beef to a plate.

In the same wok, add another tablespoon oil, stir-fry the vegetables of your choice for 3-4 minutes or until cooked through.

Add back cooked beef and mix with the vegetables. (You can also add cooked noodles)

Remove from heat, sprinkle with green onions, serve and enjoy!
Recipe Notes
Skirt steak works the best for this recipe. You can also substitue flank or flap steak. 
If you are short of time, even a 10-minute marinating makes a big difference, so don't skip this step.
Wok is best for making Chinese food and works especially well when you need to flash fry the meat at high temperature. If you don't have a wok, a large skillet will work as well.
Make sure your wok or skillet is hot enough before adding the beef.
Nutrition Facts
Beef Stir Fry
Amount Per Serving
Calories 310
Calories from Fat 108
% Daily Value*
Fat 12g18%
Cholesterol 62mg21%
Sodium 760mg33%
Potassium 460mg13%
Carbohydrates 30g10%
Protein 26g52%
Vitamin A 120IU2%
Vitamin C 2.6mg3%
Calcium 54mg5%
Iron 2.6mg14%
* Percent Daily Values are based on a 2000 calorie diet.
MORE DINNER RECIPES: