This easy Chinese Beef Stir Fry is loaded with tender beef slices and the most delicious stir-fry marinade sauce made with soy sauce, brown sugar, garlic, ginger and beef broth! A quick marinade tenderizes the beef and you will wow your family with its amazing flavor! You can add favorite vegetables like broccoli for a quick restaurant-quality beef and broccoli stir fry.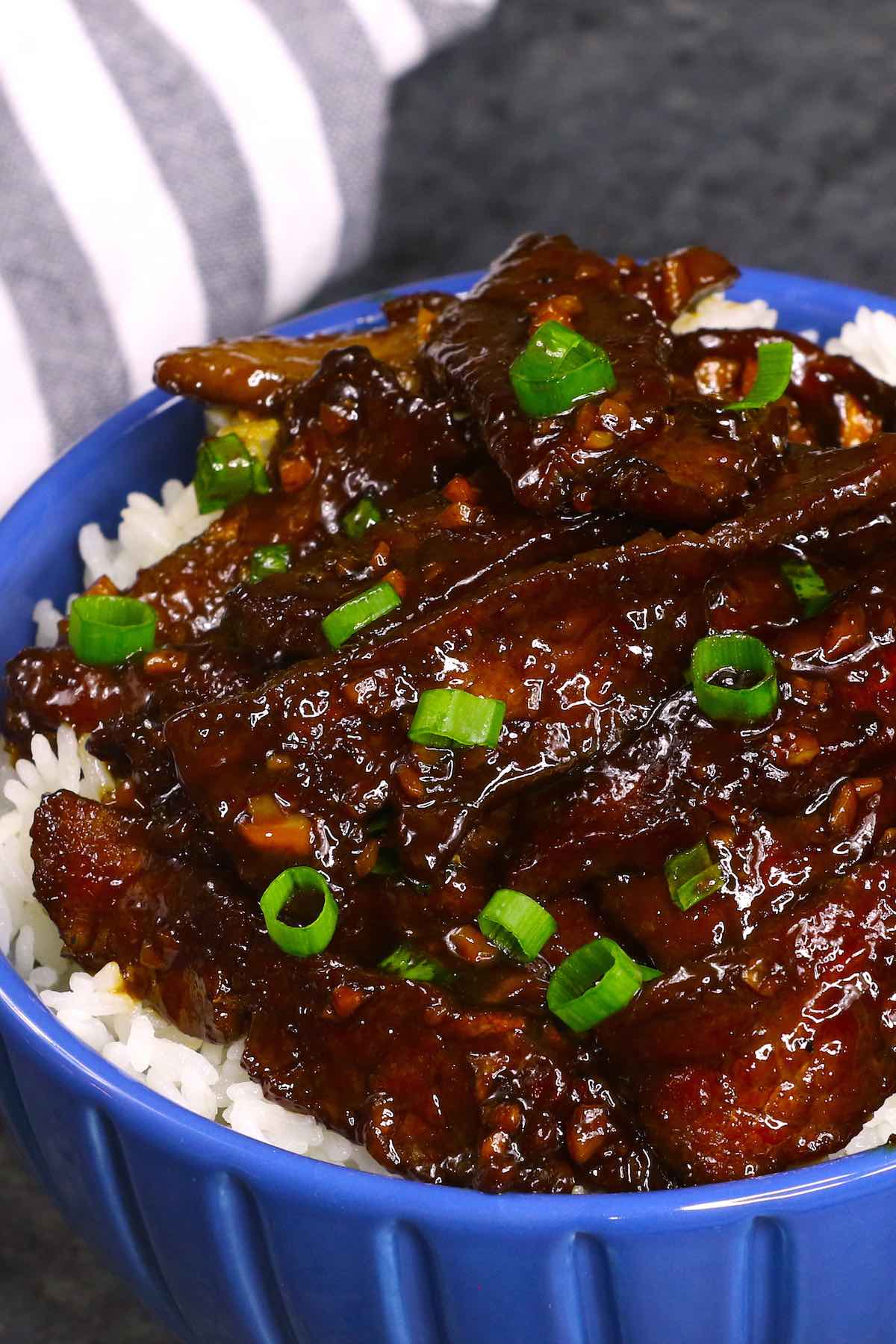 Best Beef Stir Fry Marinade
What makes the beef so tender is the marinade and stir-fry technique. So now you can make a healthy version at home within 20 minutes. Can you say winning?
If you are looking for a quick and easy weeknight meal, this beef stir fry is the way to go! You'll get protein, and veggies, all in one skillet. Beef stir fry is a popular Chinese restaurant dish that's always on the take-out menu.
I'm a huge fan of stir-fry dinners as they're so quick for busy weeknights. Meals like Teriyaki Chicken Bowls, Sriracha Shrimp, and this beef steak stir fry are what get me through the week!
This beef stir fry is about as easy as it gets. It starts with marinating the thinly sliced beef. Then you can quickly stir fry the meat with a delicious stir fry sauce. Serve with rice or noodles for a perfect dinner.
What is the Best Beef for Stir Fry?
Flank steak, skirt steak, and iron flat steak are some ideal cuts for stir-frying, as they're budget-friendly and rich with lots of marbling. These beef steak slices become tender and juicy after a quick marinade and high-temperature stir-frying.
Central cuts such as tenderloin and rib-eye steak are great too, but they are much more expensive and best to save for steak dinners. You should definitely AVOID tough stewing meat such as chuck, rump, round, or blade.
Prepare the beef by trimming silver skin or tough connective tissue.
Cut across the grain for the most tender meat into 1/4-inch thick slices.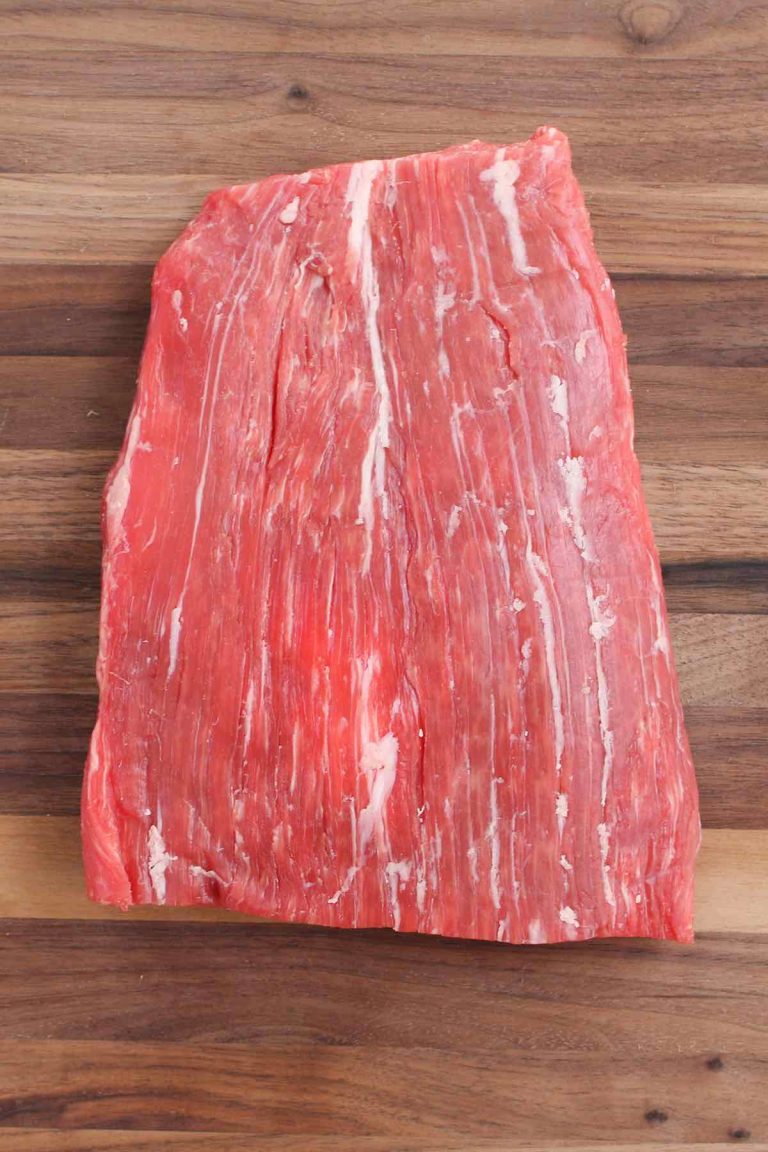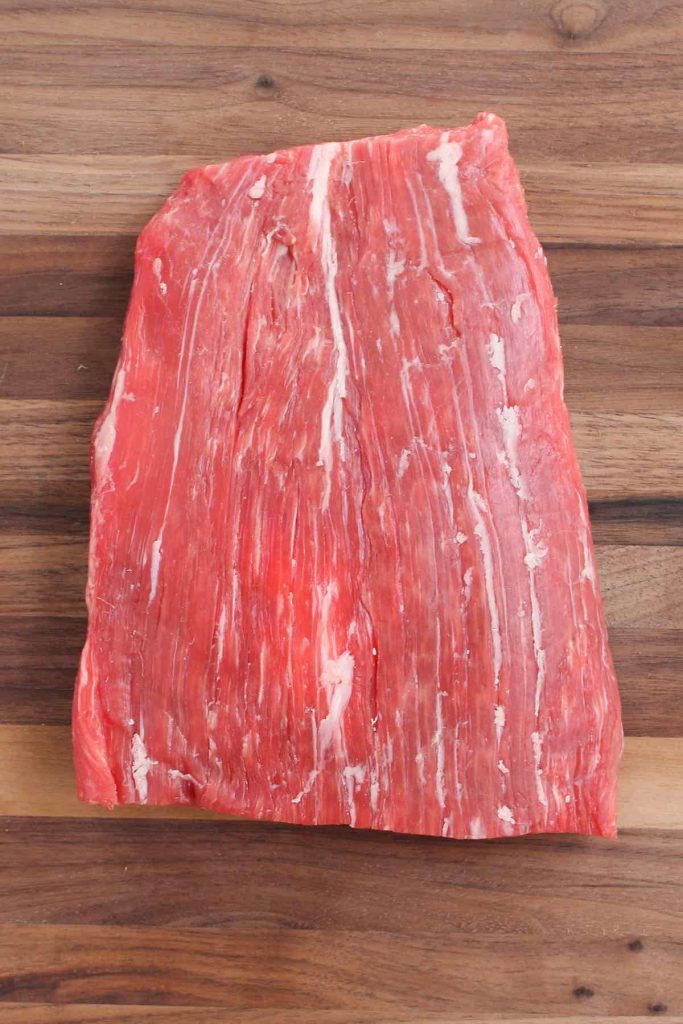 How to Make Beef Tender: the Best Beef Stir Fry Marinade
Marinating beef slices (also called velveting) before stir-frying is the secret to the perfect tender and juicy meat. A simple mixture of soy sauce and cornstarch tenderizes the beef as well as adding great depth of flavor. Cornstarch is KEY to get your marinade binding to the beef. This marinade is great for chicken stir fry too!
Over 30 minutes is ideal but if you are in a rush, even a 10-minute marinating makes a huge difference. Marinate your beef in the refrigerator if you are not cooking within an hour. No dried-out beef anymore!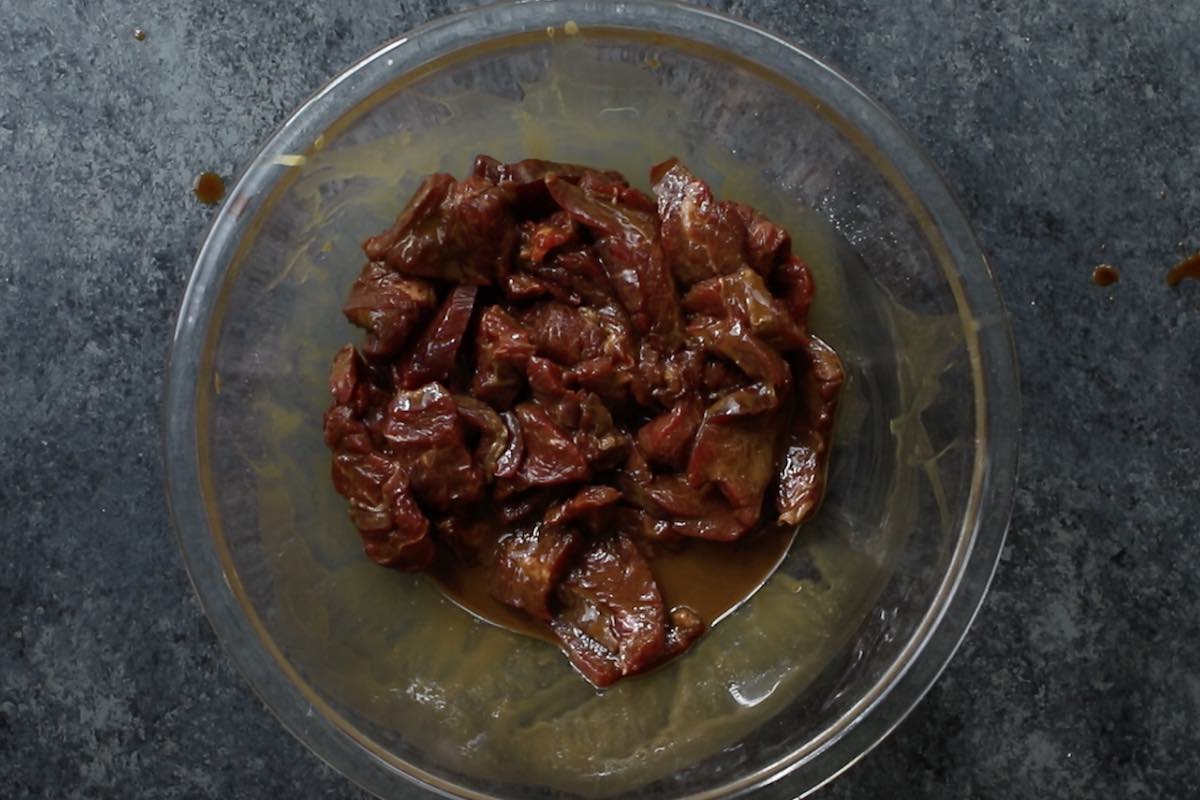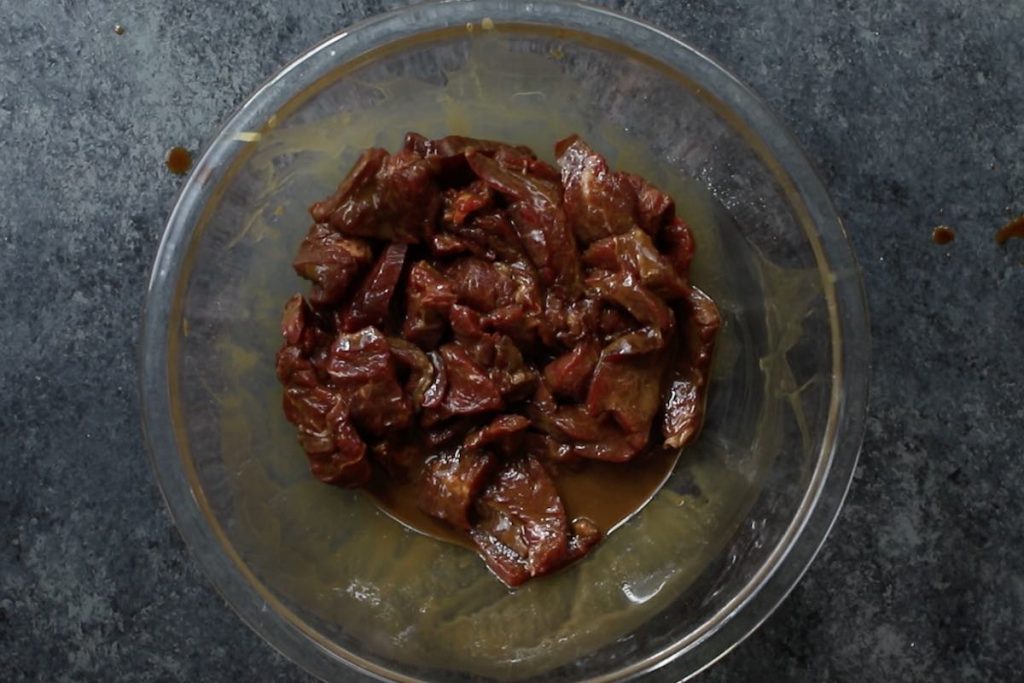 Why You'll Love this Beef Stir Fry Marinade Sauce
This stir-fry marinade is mouth-watering delicious, made with simple pantry ingredients. With the perfect balance between sweet, savory, and garlicky flavors, it's so addictive.
How to Make Beef Stir Fry
It's important to get all the ingredients ready before stir-frying. The cooking time is very short and you'll need to move quickly
Step 1: Slice the beef
Slice the beef into thin and long strips.
Step 2: Make beef stir fry marinade
Make marinade sauce by mixing together soy sauce and cornstarch.
Step 3: Marinate the beef
Add beef to the sauce. Let marinate.
Step 4: Cook the beef
Stir fry minced garlic and ginger until fragrant.
Add marinated beef slices and stir fry. (Make sure not to overcrowd the pan so that your beef can brown properly.)
Add brown sugar, beef broth, and green onions.
Stir fry until beef is cooked through. Remove beef to a plate.
Step 5: Cook the vegetables and mix them with the cooked beef
Stir fry vegetables of your choice, and add back the cooked beef and mix.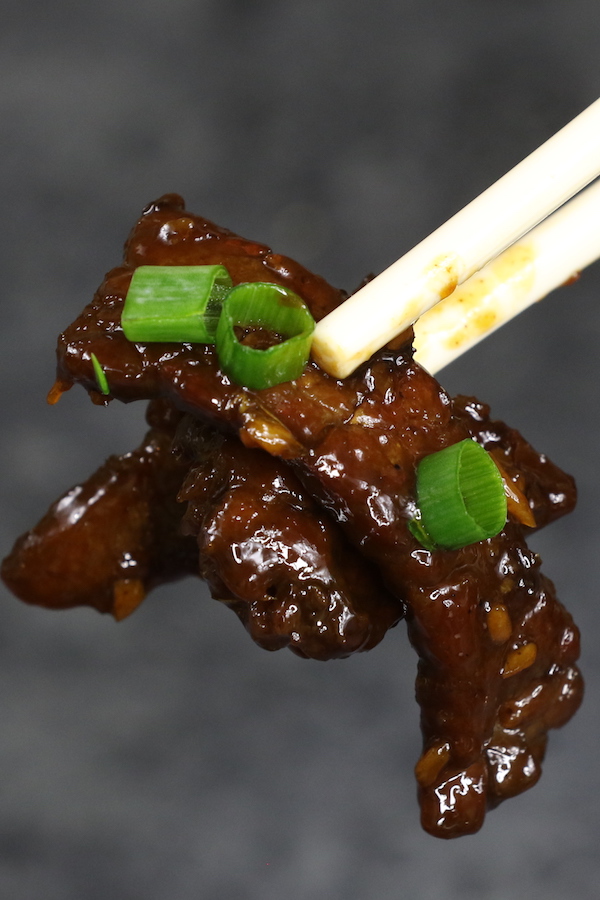 Tips for Making Stir-Fried Beef Tender
It's best to cut your beef into thin slices (2-inch long and 1/4- inch thick) against the grain. A trick I learned from a friend who works at a Chinese restaurant is to freeze the steak for about 30-45 minutes, and then it's so easy to cut it into thin strips!
Marinating is key to avoid tough and chewy beef!
Stir-fry at high temperatures.
Don't overcrowd the pan. Cook several batches if needed.
Beef Stir Fry with Broccoli and Noodles
You can serve beef stir fry with broccoli, noodles or rice. Drizzle the extra stir fry sauce over everything for the ultimate flavor!
You can also make a Lo Mein style dish by mixing noodles with the beef and vegetables.
Beef Stir Fry Marinade Variations
You can add some chili flakes to the marinade and make it into spicy beef stir fry
Or swap the beef stir fry marinade for teriyaki sauce to make it into teriyaki beef stir fry!
I sometimes use sesame sauce for a delicious sesame beef stir fry. You can also use ground beef instead of beef strips.
If you'd like to add veggies to your beef stir fry. Remove the cooked beef to a plate first. Then add a tablespoon oil, and cook your favorite veggies. Some great choices include broccoli, carrots, cabbage, mushroom and green onions. After the vegetables are cooked through, add back the cooked beef and mix well.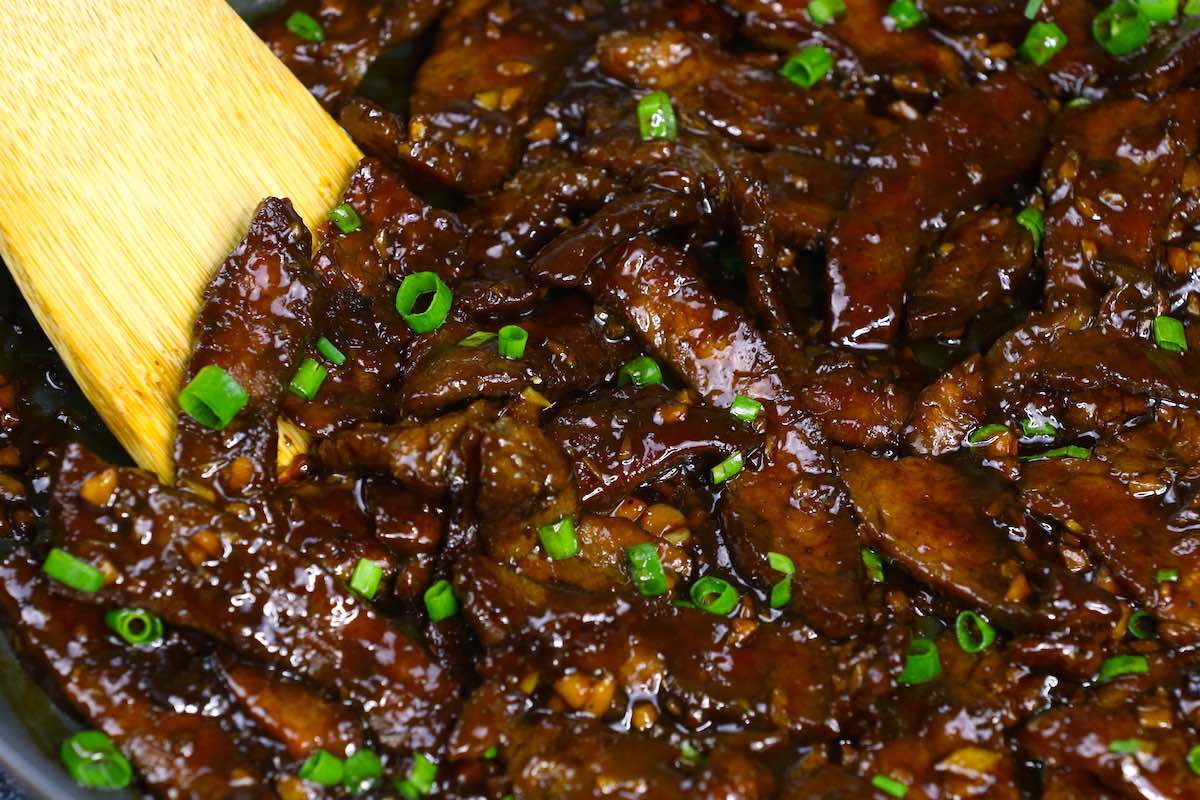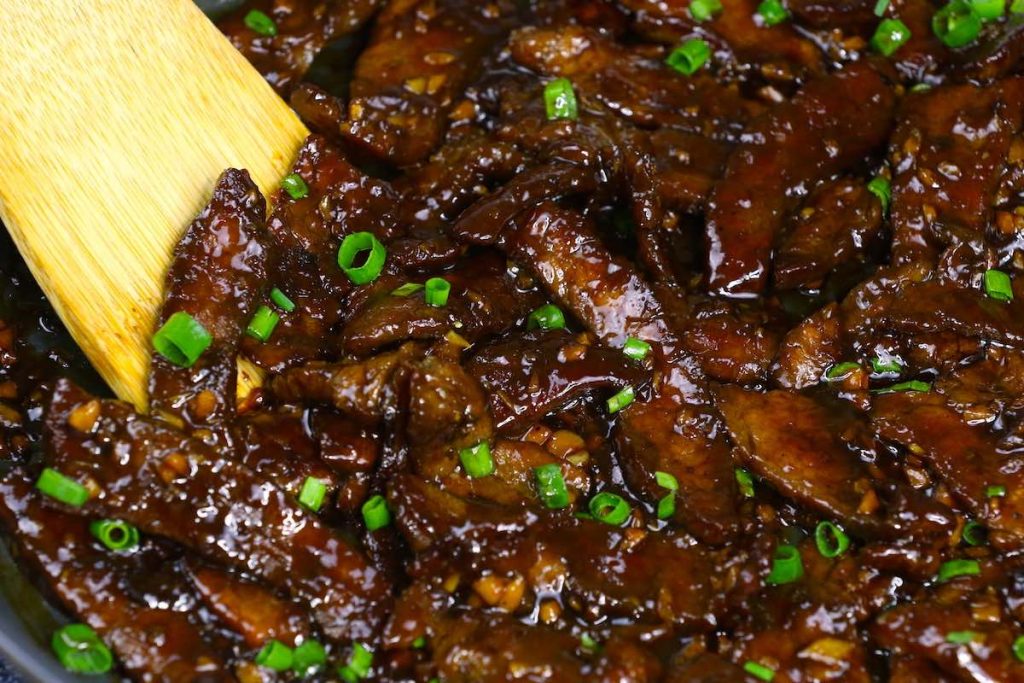 Is Chinese Beef Stir Fry Healthy?
Chinese stir fry is a relatively healthy cooking method as it results in tender meat and veggies that retain more nutrients than boiling or deep fried method. You can reduce the amount of oil and sugar for an even more healthy option.
More Beef Recipes You'll Love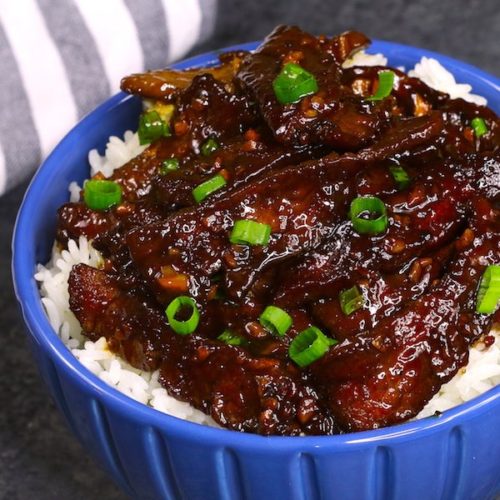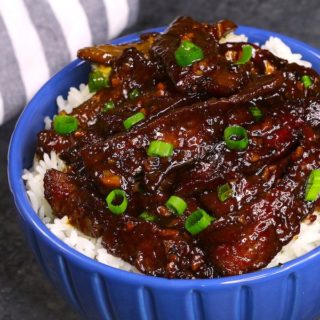 Quick Beef Stir Fry Recipe with The Best Marinade (+VIDEO)
Beef Stir Fry that's full of flavor and loaded with tender and juicy beef with garlic and ginger. It's simple and easy to make and takes only 20 minutes.
Print
Pin
Rate
Ingredients
1 1/2

lb

flank steak

(You can also use skirt steak or flat iron steak)

1/2

cup

soy sauce

1/4

cup

cornstarch

2

tablespoons

vegetable oil

(divided)

2

teaspoons

fresh ginger minced

3

teaspoons

fresh garlic minced

1/3

cup

beef broth

1/3

cup

brown sugar

4

green onions
Instructions
Slice the beef into thin strips that are 2-inch long and 1/4 inch thick (It's best to cut against the grain). You can freeze the steak for about 30-45 minutes so that it's much easier to cut into thin slices.

In a medium bowl, mix together soy sauce and cornstarch.

Add the beef and let marinate for 30 minutes or up to 4 hours. (If the marinating time is longer than 1 hour, cover with plastic wrap and store in the refrigerator.)

Place a wok or skillet on high heat, add 1 tablespoon oil. 

When the oil is hot, add minced ginger and garlic. 

Once fragrant, stir in marinated beef together with all the sauce. Don't overcrowd the pan, and cook in small batches if needed.

Cook for about 2-3 minutes. Then add brown sugar, beef broth (or water) and green onions and stir-fry for 1-2 minutes. Remove beef to a plate.

In the same wok, add another tablespoon oil, stir-fry the vegetables of your choice for 3-4 minutes or until cooked through.

Add back cooked beef and mix with the vegetables. (You can also add cooked noodles)

Remove from heat, sprinkle with green onions, serve and enjoy!
Notes
Flank, skirt, or flat iron steak works best for this recipe. 
If you are short of time, even a 10-minute marinating makes a big difference, so don't skip this step.
The wok is best for making Chinese food and works especially well when you need to flash fry the meat at high temperatures. If you don't have a wok, a large skillet will work as well.
Make sure your wok or skillet is hot enough before adding the beef.
Nutrition
Calories:
437
kcal
|
Carbohydrates:
28
g
|
Protein:
39
g
|
Fat:
20
g
|
Saturated Fat:
10
g
|
Cholesterol:
107
mg
|
Sodium:
843
mg
|
Potassium:
599
mg
|
Fiber:
1
g
|
Sugar:
18
g
|
Vitamin A:
133
IU
|
Vitamin C:
3
mg
|
Calcium:
38
mg
|
Iron:
4
mg
Tried this recipe?
Follow or tag us on Pinterest @izzycooking