Sardine Pizza is my go-to meal when I have canned sardines and onions on hand. This classic Italian recipe is really easy and delicious. You'll want to make this homemade pizza over and over again!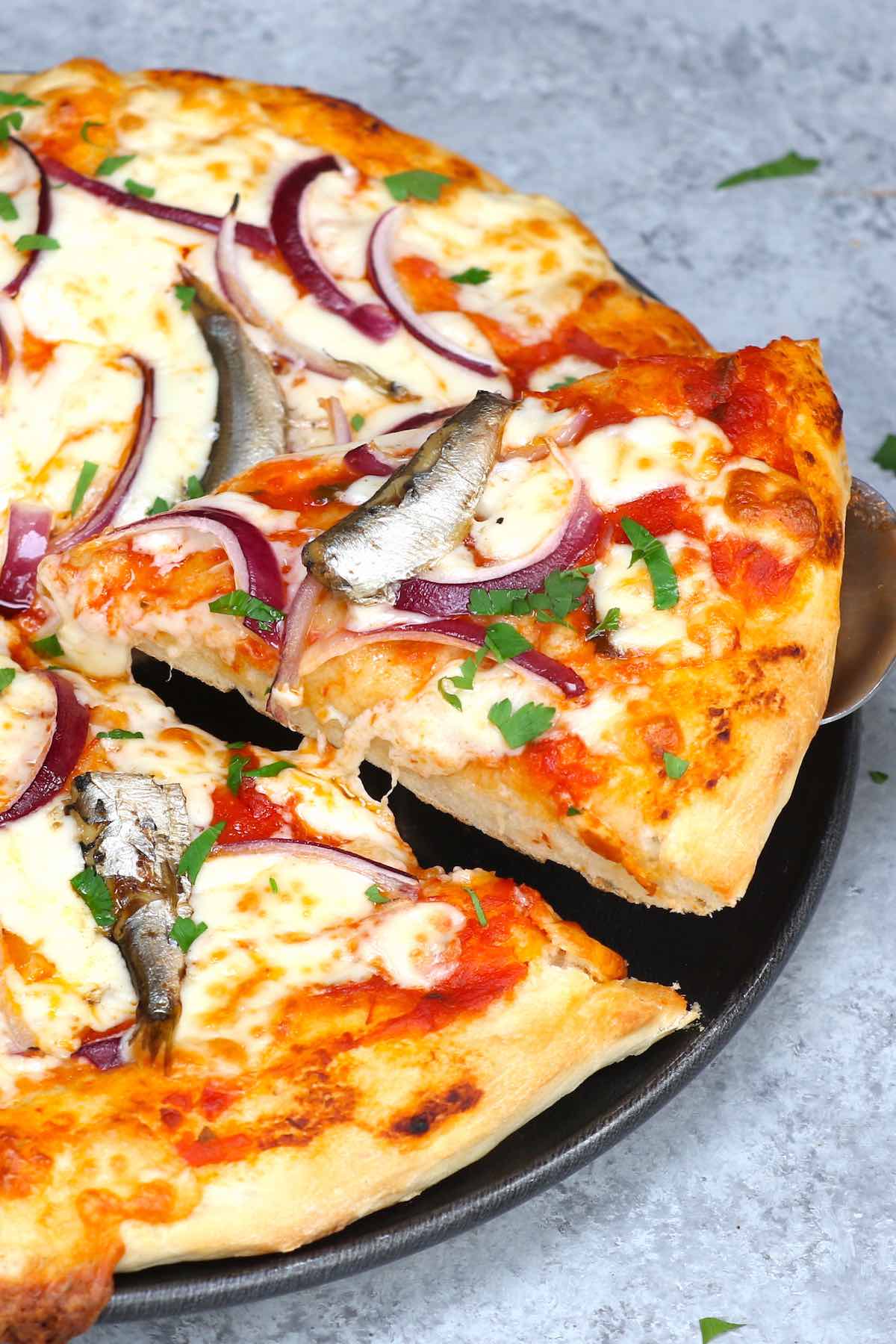 My family loves fun pizza ideas, from Anchovy Pizza, Dill Pickle Pizza, and of course, this simple and delicious pizza with sardines and caramelized onions.
When I feel like making an easy pizza without too many ingredients, this sardine pizza is my top choice – it's quick, easy, and tastes so much better than the store-bought pizza. It features a nice tomato sauce base with canned sardines, caramelized onions, fresh tomatoes, lots of cheese, and a sprinkling of parsley. Pizza night will never be boring again!
Ingredients & Substitutes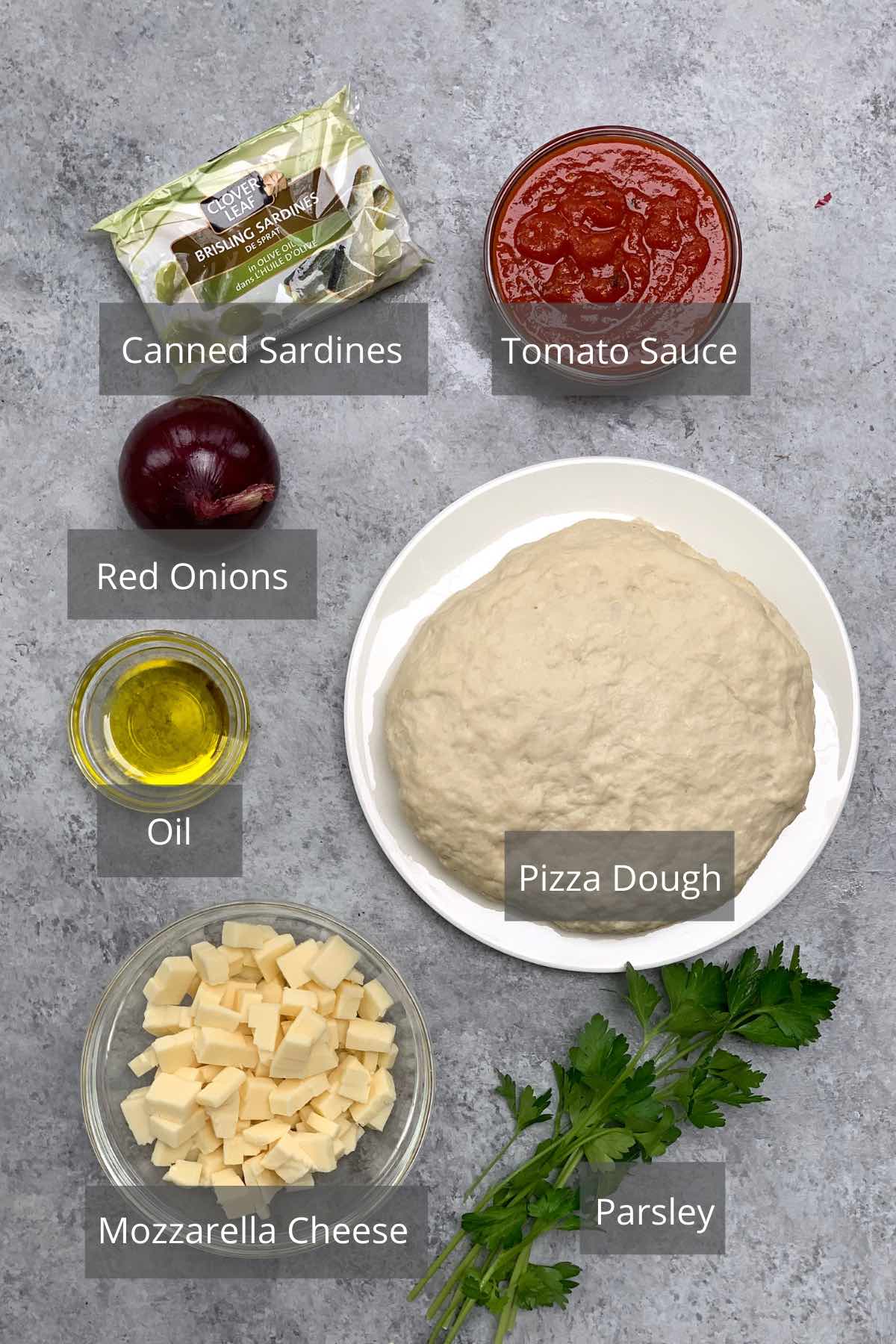 Pizza Dough – I like homemade pizza dough, which is very easy to make with a few simple ingredients. You can also use store dough.
Tomato Sauce – Homemade tomato sauce is the best. You can also use store-bought pizza sauce or marinara sauce.
Canned Sardines – I recommend using olive oil-packed sardines as it really complements the fish well. Water-packed sardines won't have the same rich flavor.
Mozzarella Cheese – Choose high-quality mozzarella that's not packed in water. Also avoid pre-shredded which sometimes browns too fast and forms an unattractive crust. Other options include cheddar, aged Havarti, or Provolone cheese.
Onion – I like red onions as it adds a beautiful color and the nice sweet caramelized flavor to the pizza. You can substitute white or yellow onions.
Equipment You'll Need
You can make the homemade dough completely by hand without any special equipment.
For the pizza, a regular pizza pan or baking sheet works well. If you'd like to make it more professional you can use a pizza stone and pizza steel.
How Do You Make Sardine Pizza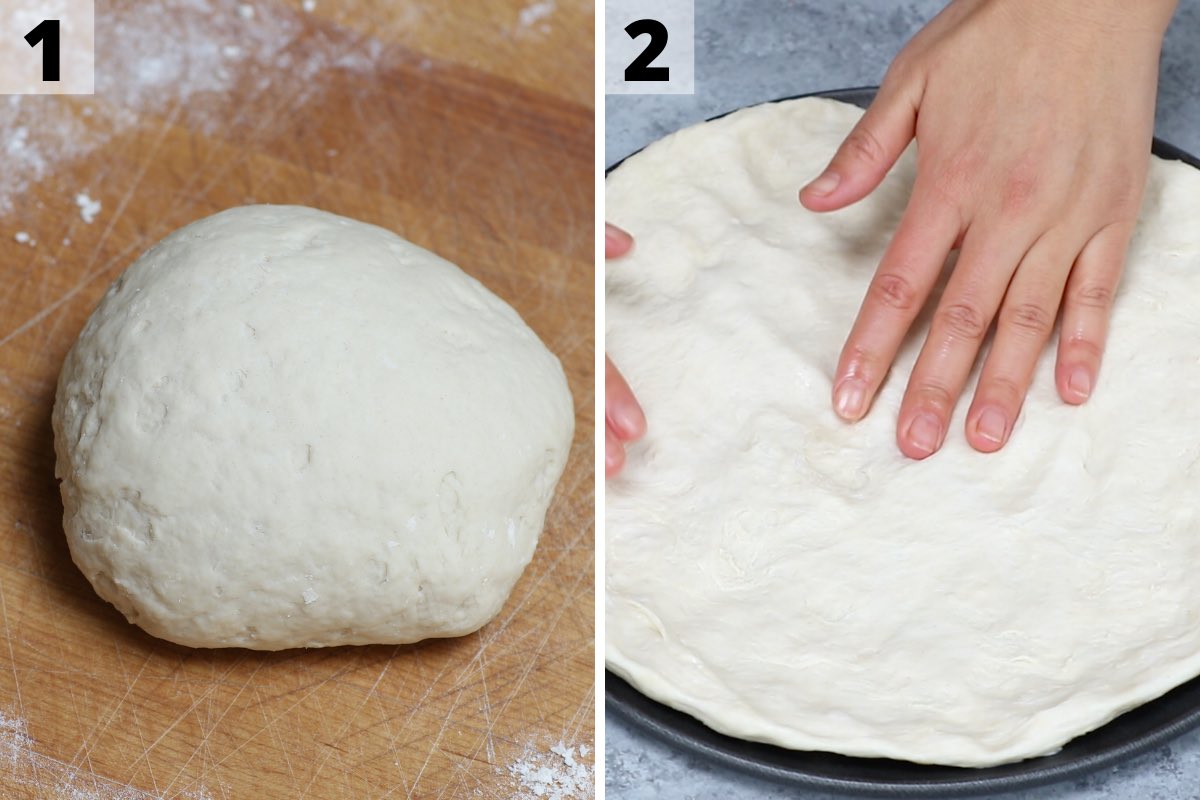 1. This recipe starts with pizza dough, which can be homemade or pre-made from the store.
2. Transfer the dough to a non-stick pizza pan, and stretch it by gently flattening the dough into a 12-inch circle.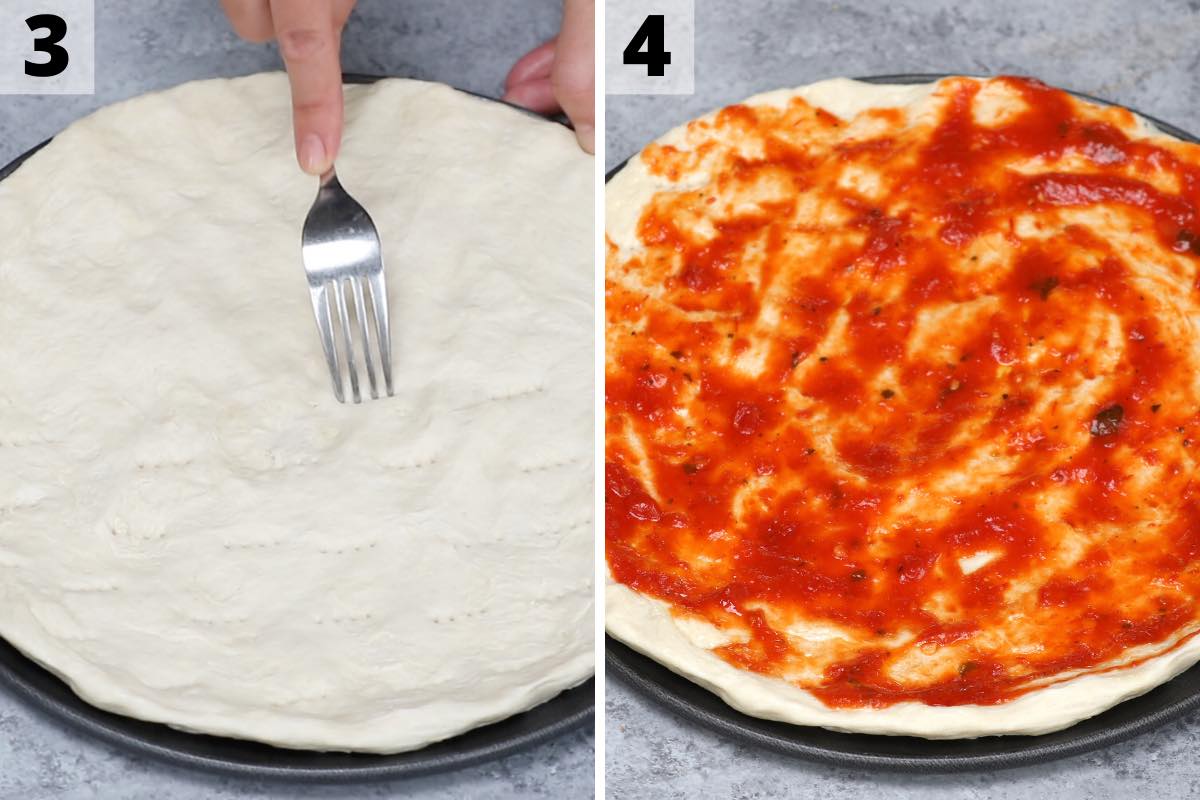 3. Use a fork to poke holes across the surface of the dough.
4. Brush with olive oil and top it with a layer of tomato sauce evenly.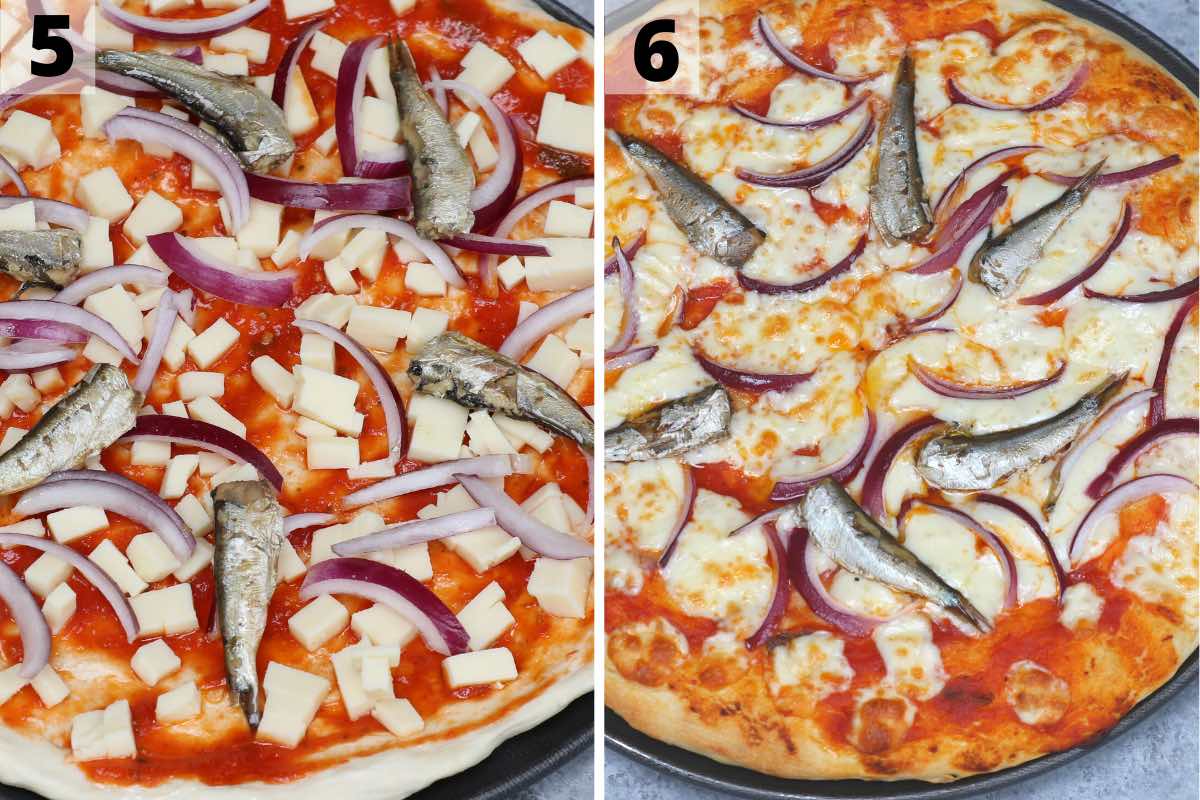 5. Add plenty of mozzarella cheese, sardines, and sliced onions.
6. Bake in the oven at 450 F degrees for 12 to 15 minutes until the cheese has melted. Serve and enjoy!
Tips For Sardine Pizza
I recommend baking your pizza at a high temperature. I like to set it to 450°F. If you use a baking stone or cast-iron skillet, let it preheat for about 15 minutes. Once you put the pizza in the oven, it'll take 12-15 minutes.
If you like a thin and crisp pizza crust, make sure your dough is thinly stretched out. If you like a fluffy pizza, make your crust thicker.
I prefer to use freshly shredded mozzarella cheese. The pre-shredded cheese often contains anti-caking agents and doesn't melt well.
Use olive oil-based canned sardines instead of water-packed ones.
How To Store Sardine Pizza
For the best results, sardine pizza should be wrapped tightly in two layers of plastic wrap before refrigerating or freezing.
Make Ahead Instructions
You can assemble the sardine pizza ahead of time and freeze for up to 2 months. Alternatively, you can par-bake the pizza and then store in the refrigerator for up to 3 days. When you're ready to eat, preheat the oven to 450°F and finish baking according to the recipe.
Sardines Vs Anchovies On Pizza
Both sardine and anchovy pizza come out of Italy. Anchovy pizza is basically a Napoletana style pizza where a few high-quality local anchovies are added to Margherita pizza. The toppings of anchovy pizza usually include olives, capers, and basil in addition to anchovy fillets. Sardine pizza is much simpler, and usually the fish and onions are added.
How To Make Pizza Dough
To make homemade pizza dough, all you need is some simple ingredients: all-purpose flour, yeast, water, sugar, salt, and olive oil. Follow the instructions to make the dough, and it's really easy.
Let it rise for about 30 minutes. Remember that you don't need to knead the dough after rising. Simply press it out gently with your fingers in order to preserve the air bubbles that make pizza fluffy. Use a fork to poke holes across the surface of the dough crust so it doesn't develop large bubbles while baking.
More Recipes You May Like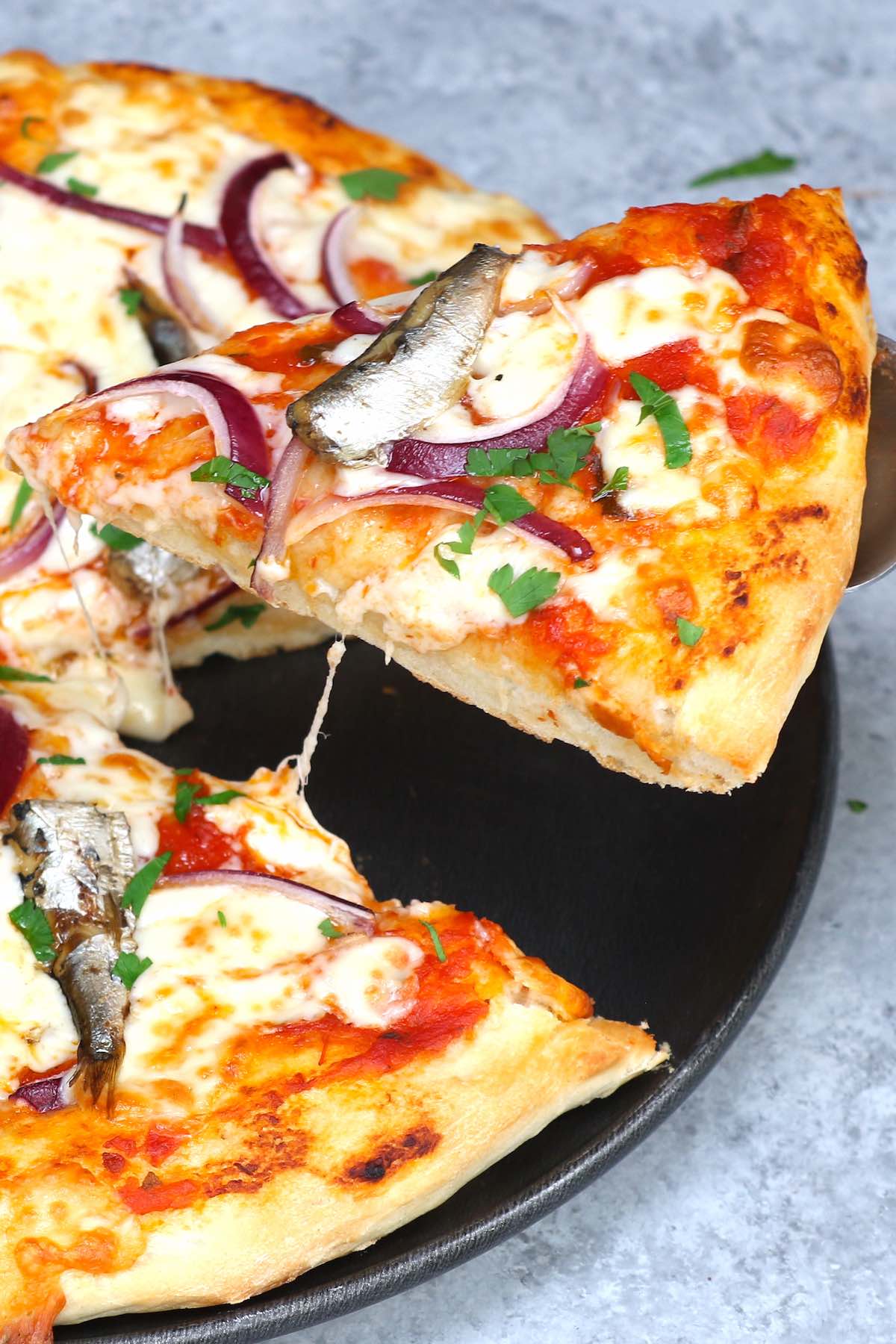 FAQs
What Are the Best Sardines to Use for Pizza?
The choice of sardines makes the pizza, but it's also a matter of personal preference. Some people prefer boneless, skinless sardines while others prefer whole sardines. Pick your favorite. For the best flavor, use high-quality sardines packed in oil instead of water. Nobody wants watery pizza after all.
What is the Best Canned Sardine Brand?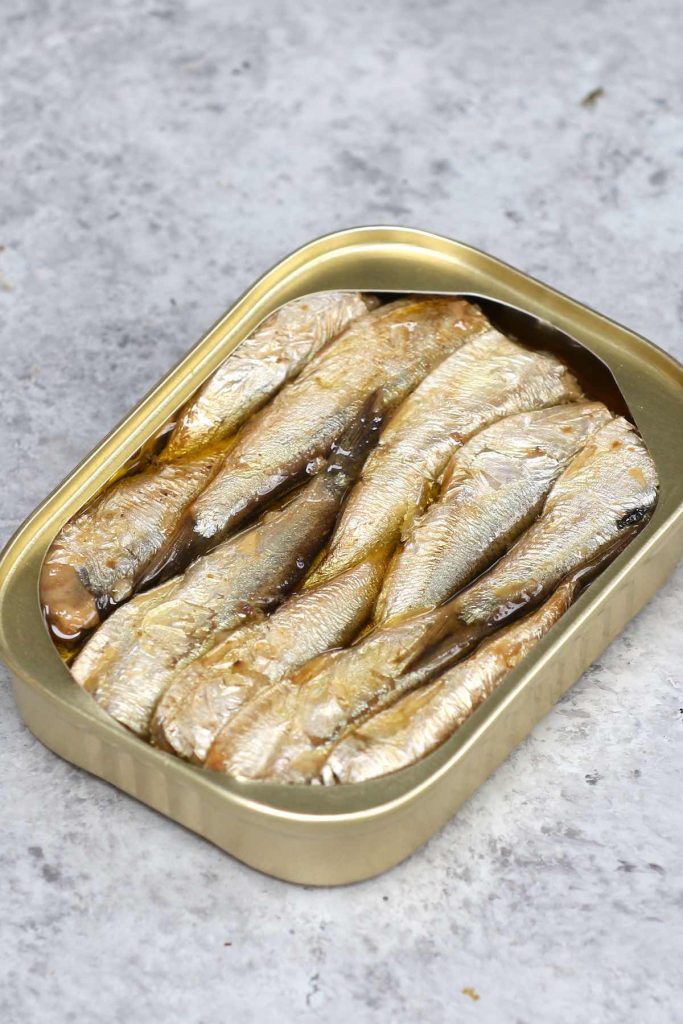 The best canned sardines are packed in oil, as water-packed sardines often taste a bit water-logged. Oil locks in the flavor and helps to keep sardines moist. Look for olive oil based sardines as it complements the fish well.
As for sardine brands, my favorite is Clover Leaf. Some other good options include Wild Planet Wild, King Oscar, and Matiz Sardines.
Is it Ok to Cook Canned Sardines?
Yes, absolutely. Canned sardines are already cooked so you'll just reheat them. Cooking sardines with pizza is a great way to bring them to life.
Can I Use Anchovies for This Recipe?
Yes, you can substitute anchovies instead of sardines. Just note that the flavor will be different and slightly saltier too.
Can I Freeze Sardine Pizza?
Yes, you can freeze sardine pizza before baking or even after. Let it reach room temperature and then wrap tightly in plastic wrap to freeze for up to 2 months. The texture of the sardines will deteriorate slightly, but the pizza will still be enjoyable.
I hope you like this recipe. If you tried it, please comment below and let me know how your Sardine Pizza turns out!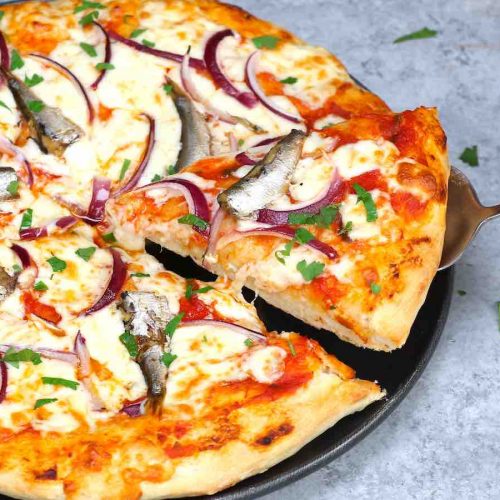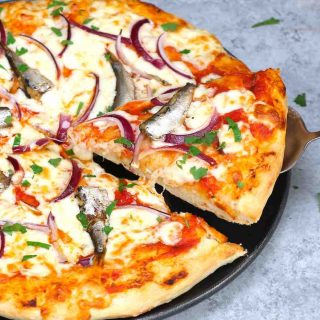 Easy Sardine Pizza Recipe
Sardine Pizza is my go-to meal when I have canned sardines and onions on hand. This classic Italian recipe is really easy and delicious. You'll want to make this homemade pizza over and over again!
Print
Pin
Rate
Ingredients
Homemade Pizza Dough
1

packet active dry yeast

(2 ¼ teaspoons)

1

cup

warm water

105-110°F

1

teaspoon

sugar

2 ½

cups

all-purpose flour

½

teaspoon

salt

1

tablespoon

olive oil
Toppings
2

teaspoons

olive oil

1/3

cup

tomato sauce

1

cup

mozzarella cheese

cubed or shredded

6-8

canned sardines

(It's best to use olive-oil packed sardines)

1/4

medium-sized red onion

thinly sliced

Optional chopped parsley for garnish.
Instructions
Make Pizza Dough (skip this step if you use store-bought dough)
In a small bowl, combine yeast, sugar, and warm water. Let it sit for 10 minutes, and you should see the yeast foaming up.

Mix together flour, salt, olive oil and yeast mixture with a wooden spoon until the dough just begins to come together.

Transfer the dough to a well-floured cutting board. Knead the dough by hand for about 5-8 minutes until it's soft and elastic.

Then place the dough in a greased mixing bowl. Cover with plastic wrap and let it rise in a warm and dry area for 30 minutes or until doubled in size.
Make Sardine Pizza
Preheat the oven to 450°F.

Stretch the dough by gently flattening the dough into a 12-inch circle. Transfer it to a non-stick pizza pan or pizza stone. Use a fork to poke holes across the surface of the dough.

Brush the dough lightly with olive oil. Add the tomato sauce and spread it evenly, leaving a 1/2-inch border on all sides. Add mozzarella, distributing it evenly over the surface.

Add sliced red onions, and sardines on top of the cheese.

Bake for about 12 to 15 minutes until the cheese is melted, and the crust is golden brown.

Remove the pizza from the oven, and transfer to a cutting board. Garnish with chopped parsley or basil. Slice and serve immediately.
Equipment
Notes
The homemade pizza dough can be stored in the refrigerator for up to 24 hours or frozen for 3 months.
As each oven works differently, I recommend checking the doneness after 10 to 12 minutes.
To reheat leftover pizza, bake it in the oven for about 5 minutes or until the crust is crispy.
Nutrition
Calories:
311
kcal
|
Carbohydrates:
42
g
|
Protein:
13
g
|
Fat:
10
g
|
Saturated Fat:
3
g
|
Cholesterol:
32
mg
|
Sodium:
444
mg
|
Potassium:
169
mg
|
Fiber:
2
g
|
Sugar:
2
g
|
Vitamin A:
198
IU
|
Vitamin C:
1
mg
|
Calcium:
150
mg
|
Iron:
3
mg
Tried this recipe?
Follow or tag us on Pinterest @izzycooking