Pickles on Pizza! I never thought I'd like the idea, then once upon a time I tried Dill Pickle Pizza with garlic sauce. It changed my entire outlook on pickle pizza. The combination of cheesy, garlicky, and tangy flavors is seriously good! And there's a ranch dressing on the side for dipping.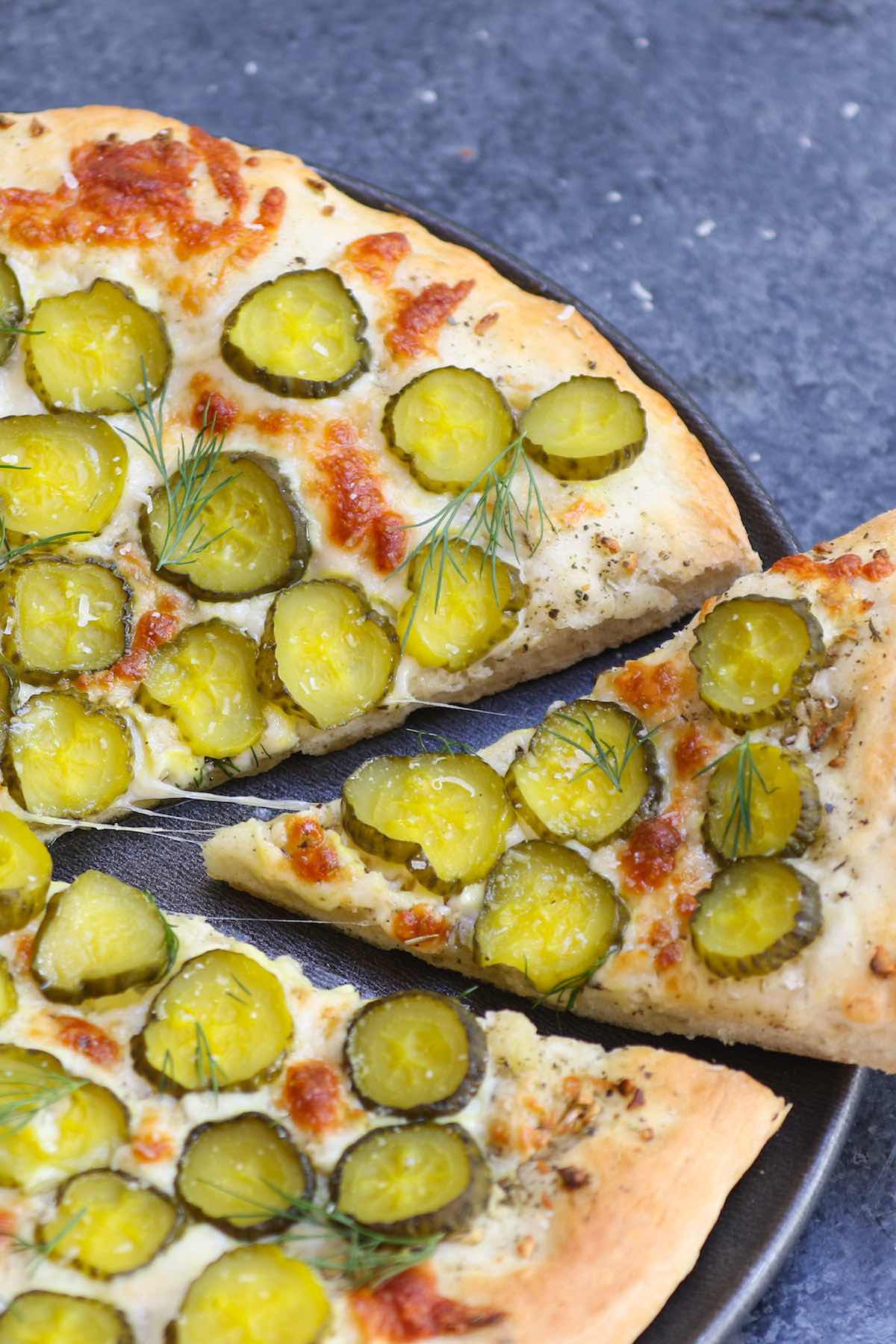 There's a reason that many people love pickle pizza: these pickle slices are adding amazing tangy and earthy flavors to the pizza. It's a pizza with no tomato sauce, but brushed with garlic-infused oil sauce, then topped with mozzarella and plenty of dill-seasoned pickle slices. Try this for your next pizza night and you'll never want to order delivery again!
The unusual pairing is an instant hit in our family. This dill pickle pizza is made with a homemade pizza dough and simple garlic sauce. Mouth-watering delicious! It's perfect with a salad side dish and a glass of beer. Keep reading for our best pickle pizza recipe.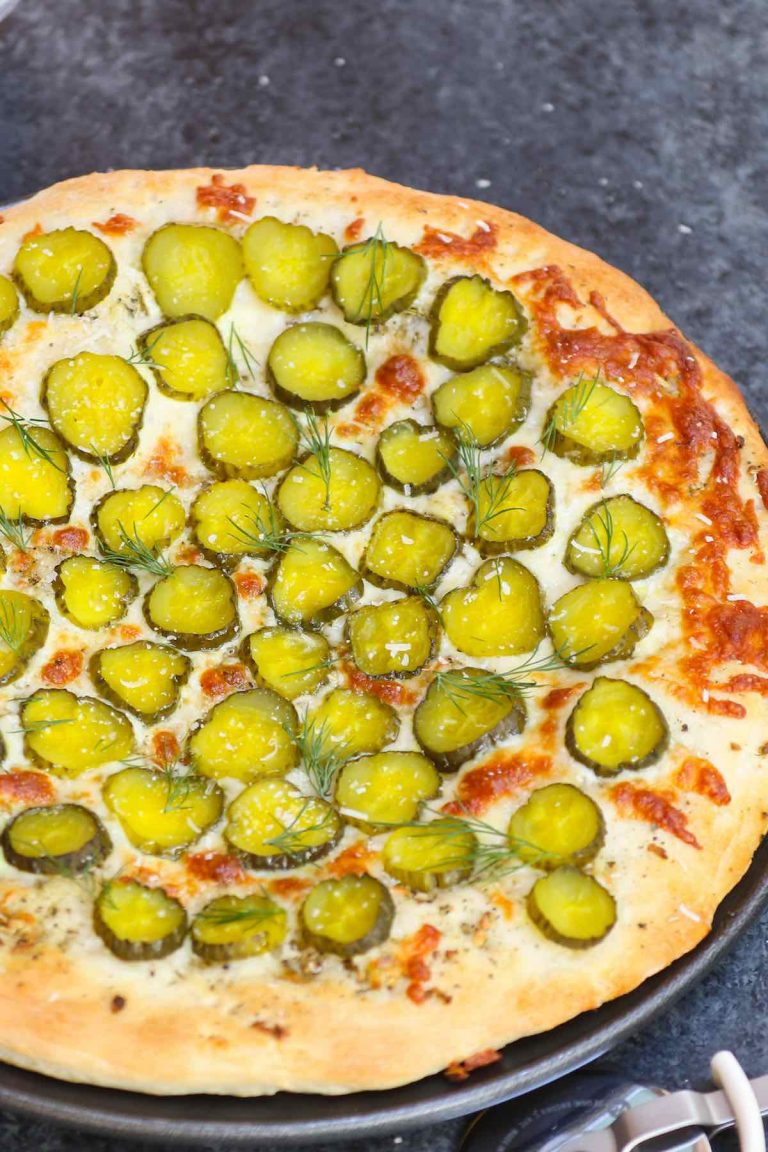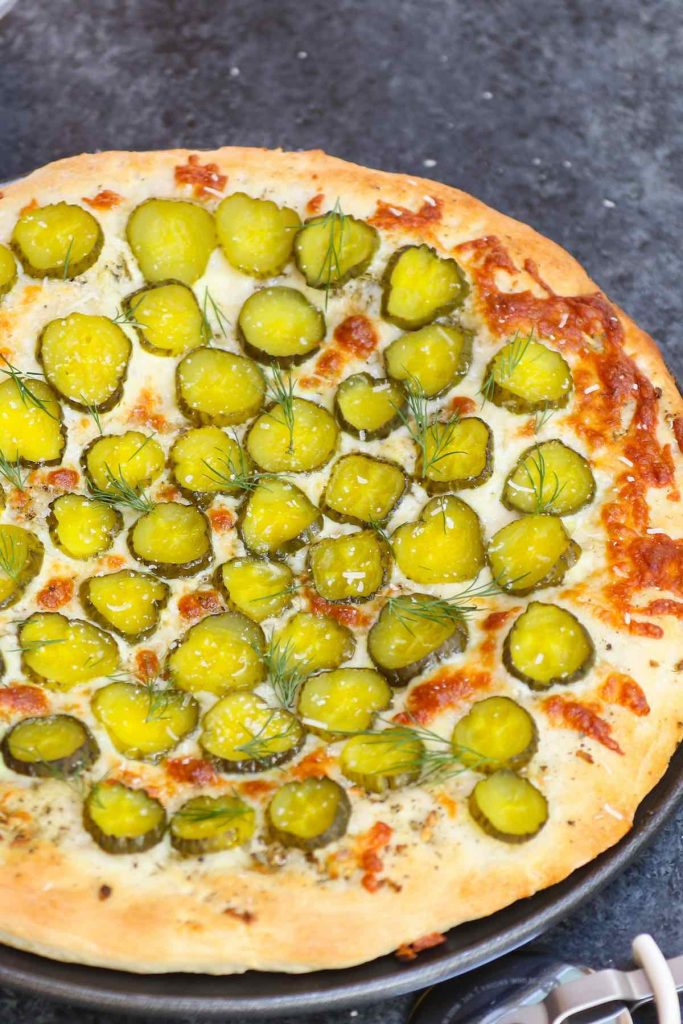 Who Invented Pickle pizza?
This special creation came out Rhino's Pizzeria in upstate New York in 2018. The crust is brushed with creamy garlic sauce with a layer of mozzarella cheese, and then topped off with dill pickle slices. The idea was inspired after a trip from a pickle festival, and the test pizza was met with more enthusiasm than they could have possibly anticipated!
I like authentic dill pickle pizza from Rhino's, but the creamy garlic sauce often leaves me feeling completely weighed down. So my version uses a simple combination of olive oil, freshly minced garlic and Italian seasoning.
Then the things I choose not to be skimpy on in this recipe is tons of mozzarella cheese, and plenty of pickles. I also like to use freshly minced garlic because who doesn't love fresh garlic?
Are pickles good on pizza?
If you like to add pickles on burgers or sandwiches, you'll definitely love pickles on pizza. The tangy flavors from pickles complement other toppings and sauce very well. It also adds the amazing crunchy texture to the pizza. Plus, pickles have many health benefits and are really good for you.
I'll share with you some simple tips to make the best pickle pizza in your own kitchen, with a standard oven and simple ingredients.
Homemade pizza equipment recommendations:
First things first, let's talk equipment! I recommend using a pizza stone and pizza steel, as the stone holds heat well and helps the pizza cook more evenly. In addition, it allows the bottom to get crisp.
If you don't have one, a cast-iron skillet is a perfect tool to use. Alternatively, a regular pizza pan or baking sheet works well too.
How to make homemade pizza dough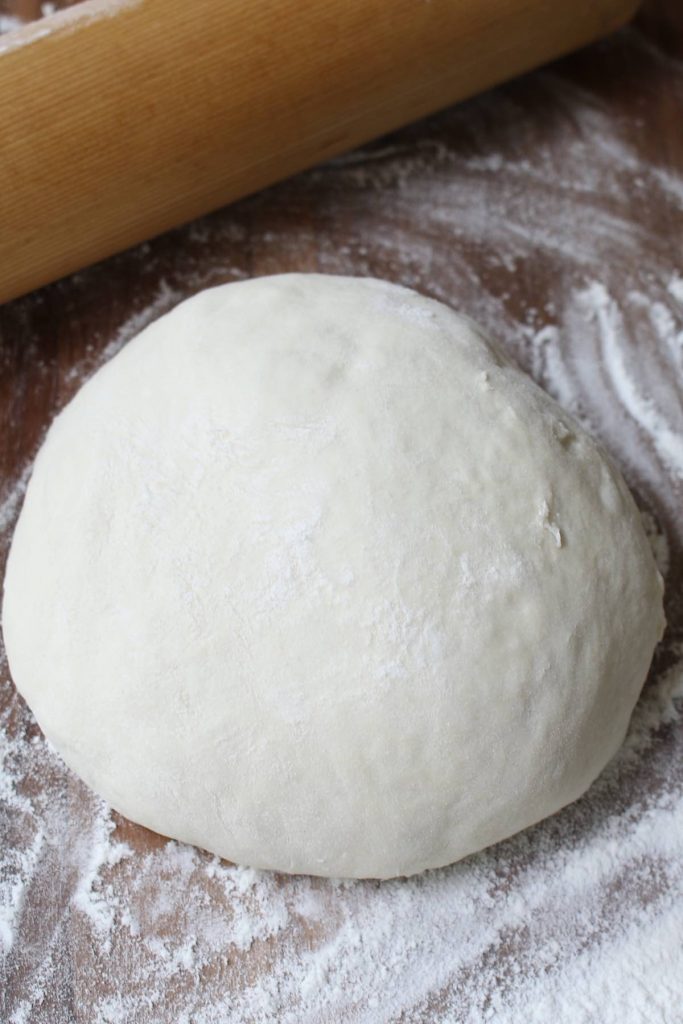 All you need is some simple ingredients: all-purpose flour (or bread flour), yeast, water, sugar, salt, and olive oil.
DO NOT knead the dough after rising, as it'll destroy the air bubbles and create a dense dough. To stretch, just press it out gently with your fingers in order to preserve the air bubbles that make pizza fluffy. Use a fork to poke holes across the surface of the dough crust so it doesn't develop large bubbles while baking.
Easy garlic sauce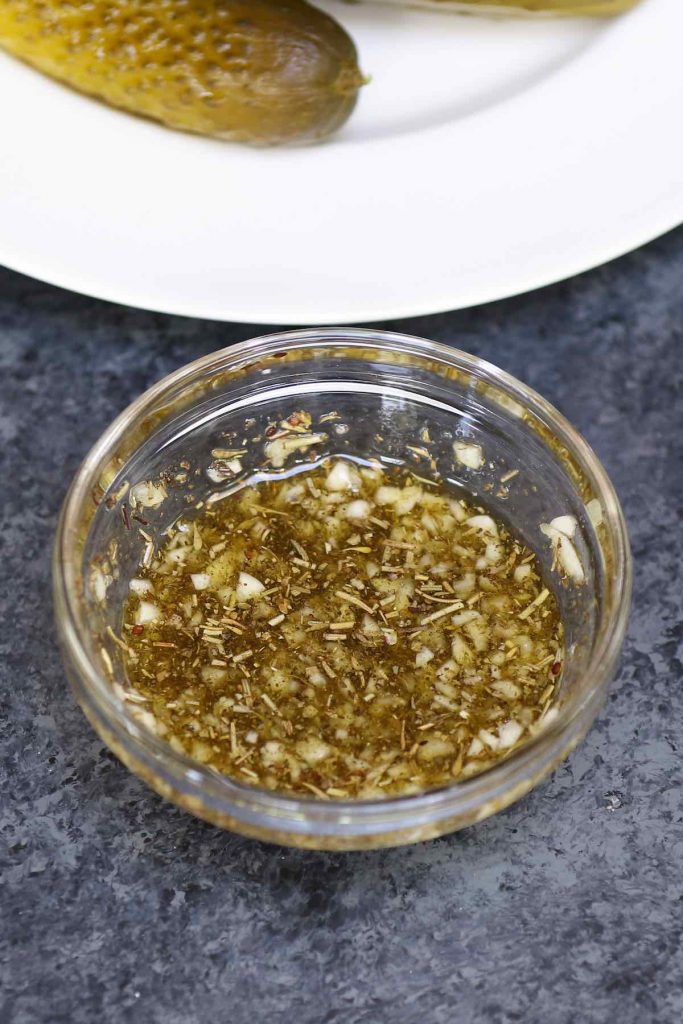 Homemade garlic sauce is delicious, garlicky, and ridiculously easy to make. It only takes a few minutes and 3 ingredients:
Garlic
Olive oil
Italian seasoning
If you like the original white creamy garlic sauce, you can use alfredo sauce or ranch dressing as a substitute.
The best pickles for pickle pizza
Dill pickles work best for this recipe, as the tangy and crunchy pickles taste so great once combined with garlic and melted cheese. When shopping for pickles, darker pickles usually have a more intense flavor, and they're called full sours. You can substitute sweet pickle slices if you prefer.
Pro tip: It's important to get the excess juices out of your pickles before adding them to the pizza, so that your pizza won't get soggy.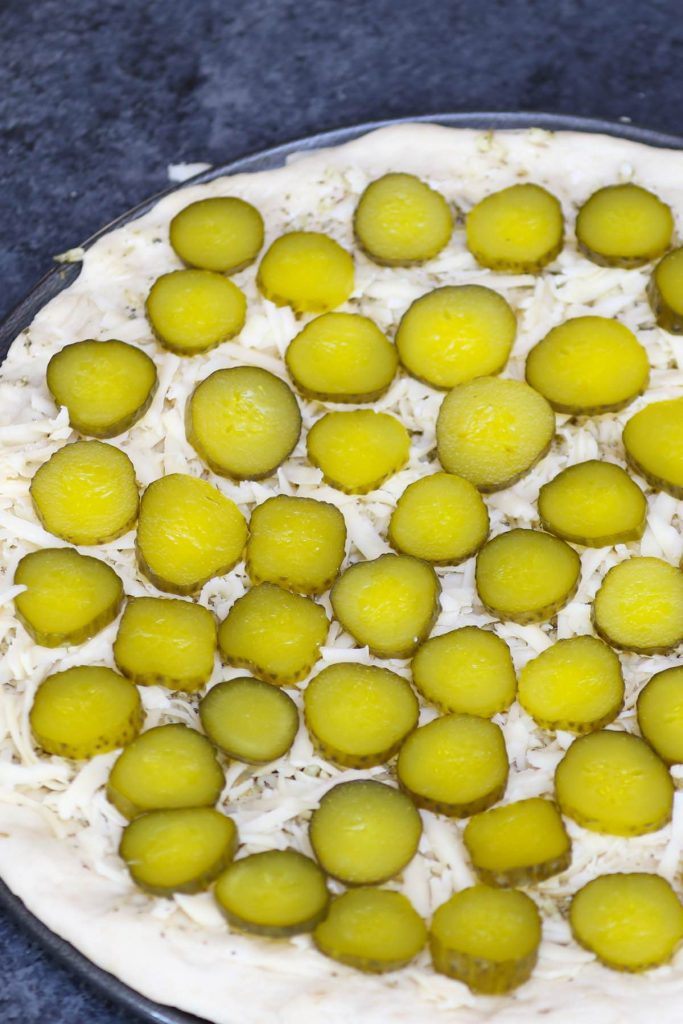 Mozzarella cheese
For the best result, buy fresh mozzarella that melts well:
Avoid the one that's packed in water.
Also avoid pre-shredded.
Whole milk mozzarella with low moisture is ideal.
I recommend cutting it into 1/2-inch cubes or shred it instead of slicing it into thin pieces. Small pieces help distribute the cheese and moisture evenly.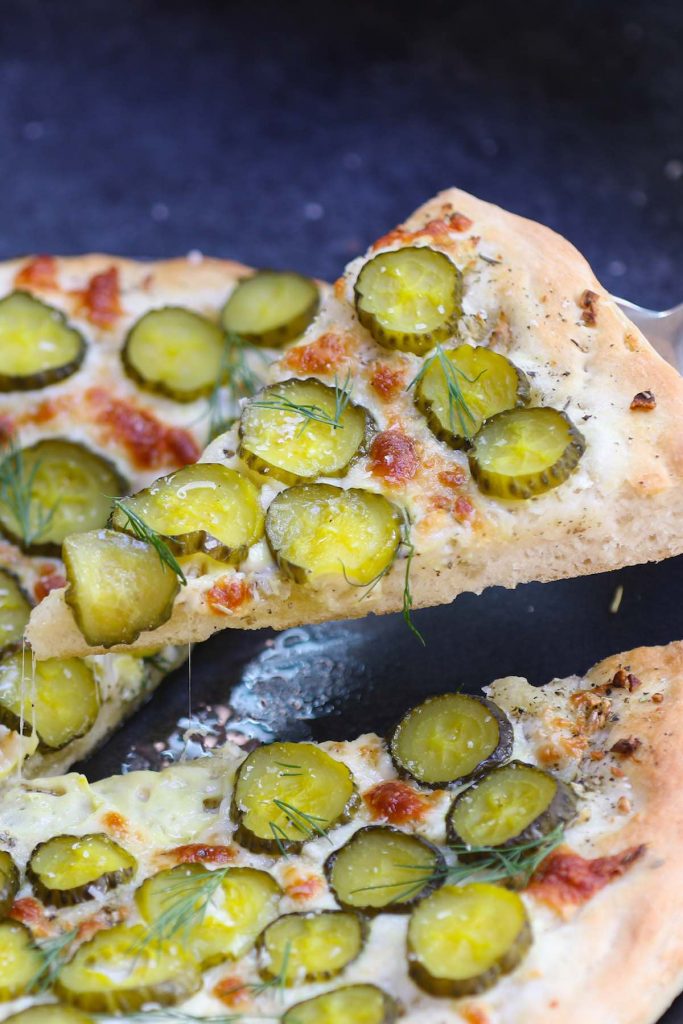 Other toppings you can add to pickle pizza
Pepperoni: It adds a dash of meaty flavor to your pizza.
Bacon: You can cook the bacon first and then chop them up to add to the pizza and bolster savory flavor.
Onions: The sweet caramelized flavor can balance out the sour flavor from the pickles.
For the finishing touch, you can add some fresh dill and a sprinkling of freshly grated parmesan cheese. 
FAQ
Who Has Dill Pickle Pizza?
If you're not up to making your own pickle pizza, you'll be happy to know that there are a few pizzerias that can make it for you! You can find it at Boston Pizza and QC pizza or you can even ask your local pizzeria for a custom-made pickle pizza.
What is on Boston Pickle Pizza?
At Boston Pizza, the pickle pizza is made with buttermilk ranch, Italian pizza spices, and mozzarella, and finished with loads of garlic dill pickles.
Other Pizza Recipes You'll Love: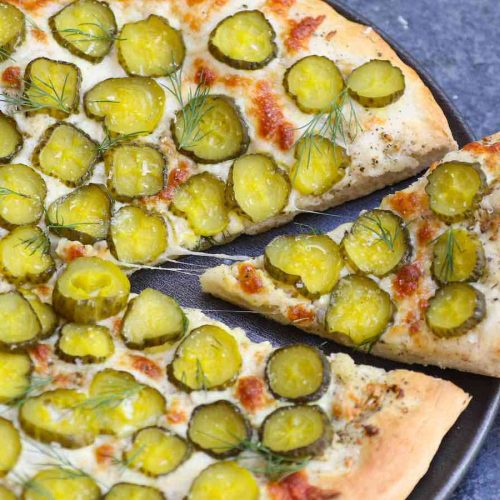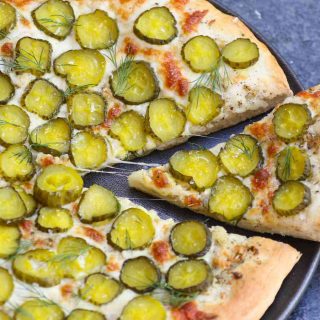 Dill Pickle Pizza (and Easy Homemade Dough)
Pickles on Pizza! I never thought I'd like the idea, then once upon a time I tried Dill Pickle Pizza with garlic sauce. It changed my entire outlook on pickle pizza. The combination of cheesy, garlicky, and tangy flavors is seriously good! And there's ranch on the side for dipping.
Print
Pin
Rate
Ingredients
Homemade Pizza Dough:
1

packet active dry yeast

(2 ¼ teaspoons)

1

cup

warm water

105-110°F (40-43°C)

1

teaspoon

sugar

2 ½

cups

all-purpose flour

½

teaspoon

salt

1

tablespoon

olive oil
Garlic Sauce:
2

tablespoons

olive oil

1 ½

tablespoons

minced garlic

(I used about 8 cloves)

1

teaspoon

Italian seasoning
Toppings:
1

cup

mozzarella cheese

shredded or cubed

5

whole chilled pickles

thinly sliced
Optional for serving:
parmesan cheese

fresh dill

ranch dressing
Instructions
Prepare Pizza Dough: In a small bowl, combine yeast, sugar, and warm water. Let it sit for 5-10 minutes until bubbly. Mix together flour, salt, olive oil and yeast mixture with a wooden spoon until the dough just begins to come together.

Scrape the dough onto a well-floured counter and knead the dough by hand for about 5 minutes until it's soft and elastic. Place the dough in a greased mixing bowl.

Cover with plastic wrap and let it rise in a warm and dry area for about 30 minutes or until doubled in size. (If you are preparing in advance, see the recipe note for freezing instructions.)

Preheat Oven: Preheat the oven and pizza stone to 450°F for about 30 minutes.

Get other ingredients ready while the oven is preheating. In a small bowl, whisk together olive oil, garlic and Italian seasoning. Shred mozzarella cheese, and cut the pickles into thin slices. Set aside fresh dill and grated parmesan cheese. (It's important to get the excess juices out of your pickles.)

Assemble the Pizza: Stretch the dough by gently flattening the dough ball into a 12-inch (30cm) circle. Transfer it to a pizza stone or non-stick pizza pan. Use a fork to poke holes across the surface of the dough.

Brush the dough with garlic sauce and spread it evenly. Add shredded mozzarella and distribute it evenly over the entire surface. Add sliced pickles on top of the cheese.

Bake the pizza: Bake for about 13 to 15 minutes until the cheese is melted, and the crust is golden brown.

Remove the pizza carefully from the oven, and transfer to a wooden cutting board. Garnish with grated parmesan cheese and fresh dill. Slice and serve immediately.
Notes
If preparing the dough in advance, let it rise first. Then wrap the dough in plastic wrap and place it in a freezer-safe bag. You can store the homemade dough in the refrigerator for up to 24 hours or frozen for 3 months.
Thaw the dough in the refrigerator, and bring it to room temperature before using (let is sit in a greased bowl covered with plastic wrap for at least 30 minutes).
As each oven works differently, I recommend checking doneness after 10 minutes. Less time will yield softer crust and longer time will give you crispy crust.
Nutrition
Calories:
321
kcal
|
Carbohydrates:
43
g
|
Protein:
10
g
|
Fat:
12
g
|
Saturated Fat:
4
g
|
Cholesterol:
15
mg
|
Sodium:
786
mg
|
Potassium:
128
mg
|
Fiber:
2
g
|
Sugar:
2
g
|
Vitamin A:
225
IU
|
Vitamin C:
1
mg
|
Calcium:
134
mg
|
Iron:
3
mg
Tried this recipe?
Follow or tag us on Pinterest @izzycooking