May I impress you with my perfectly tender Sous Vide Salmon? The salmon is cooked at the precise temperature you set, with a moist, buttery soft, and flaky texture. This sous vide salmon recipe is healthy, flavorful, and easy to customize with your favorite seasonings.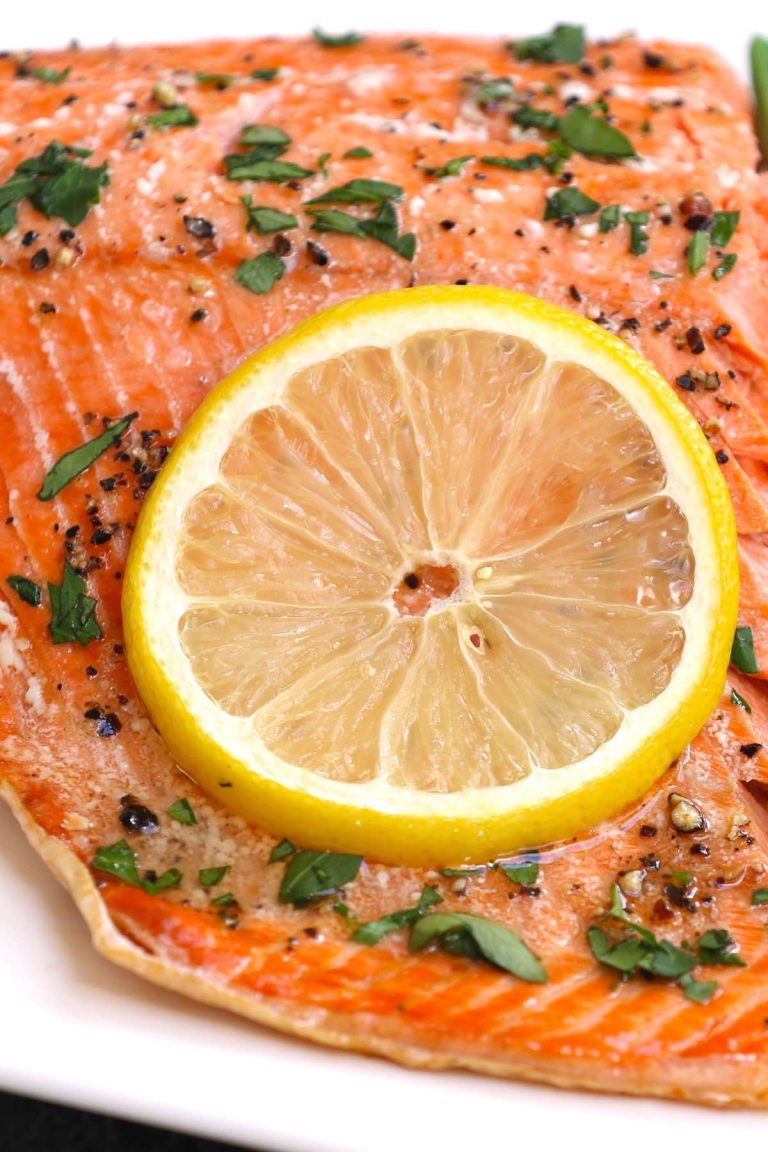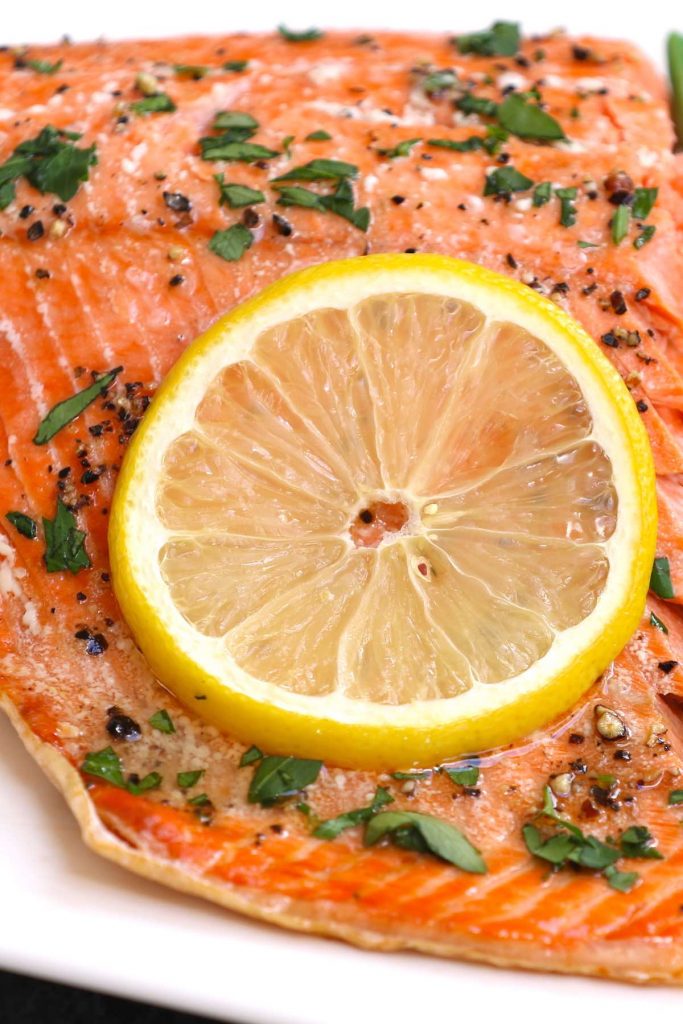 Today we're moving on in our series about sous vide proteins from meat (steak, pork, chicken) to fish!
Many people are intimidated by cooking salmon as it's even more delicate than chicken breasts. It dries out so easily with traditional methods like baking or grilling. 
Enter sous vide! It's completely a game changer!
Sous vide is a cooking technique which means "under vacuum" in French. The food is first vacuum-sealed in a bag, then cooked for a long time to a very precise temperature in a warm water bath. This technique is known for being a precise and consistent way to evenly cook the meat or fish.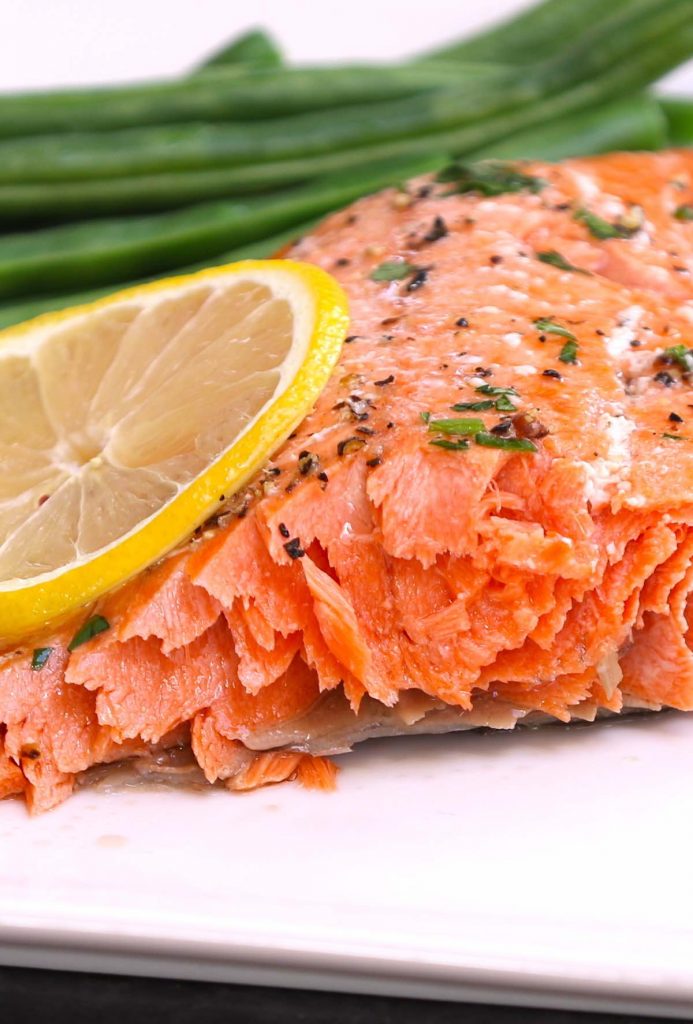 Why sous vide salmon?
It's highly rewarding with so little effort when cooking salmon in the sous vide machine. It's also really simple and healthy.
With sous vide method, you can cook the salmon to the exact temperature you set, minimizing the overcooking or undercooking risk. It guarantees the success.
The bag locks in moisture and ensures the perfect tender texture with even doneness every single time.
Salmon is cooked in a vacuum-sealed bag, which acts as a flavor incubator. The fish will soak up all the delicious flavor when cooking in the water bath.
Best of all: sous vide salmon tastes INCREDIBLE!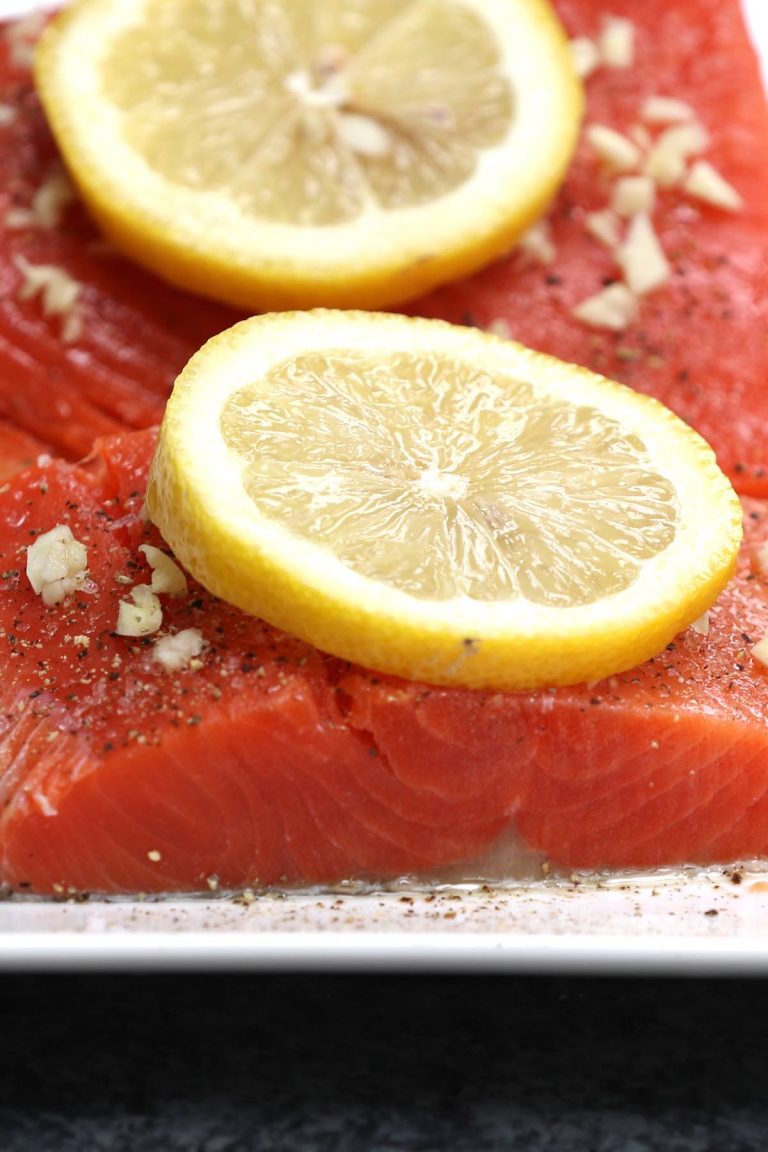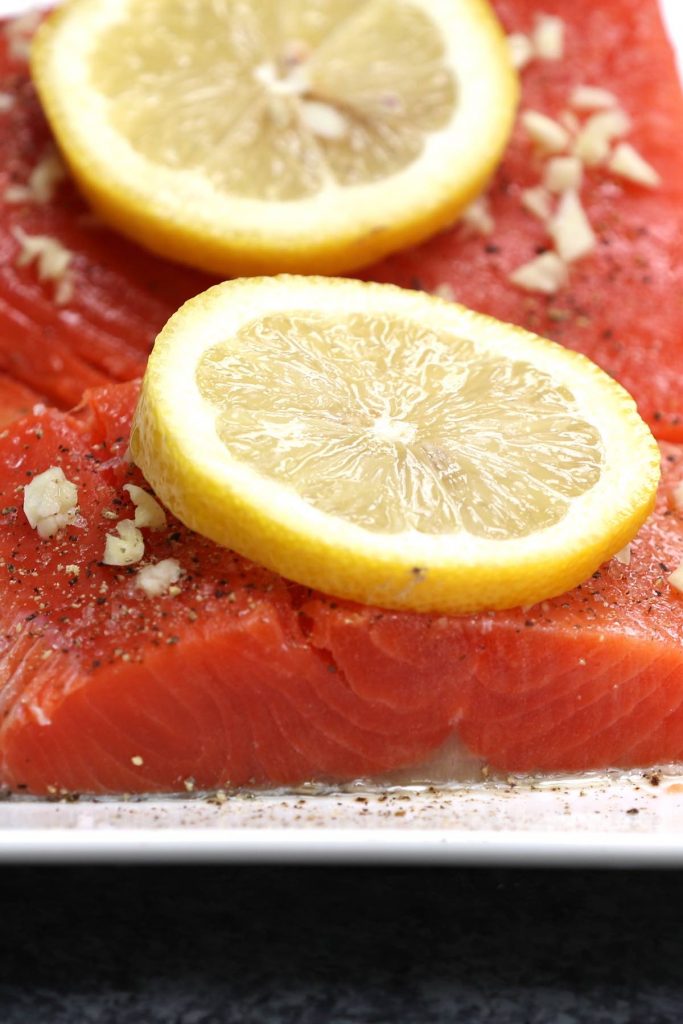 Health benefits of sous vide salmon
When cooked in a vacuum-sealed bag, the salmon can better retain nutrients, making this a healthier cooking option. Salmon is very good for you with many health benefits:
Due to the wealth of omega-3 fatty acids, salmon can help reduce inflammation, lower blood pressure, and decrease other risks for diseases such as cancer and heart disease.
Salmon is very low in saturated fat and a good source of protein.
It keeps blood and nerve cells humming and helps you make DNA as it's one of the best sources of vitamin B12, and is bursting in potassium and other nutrients like iron and vitamin D.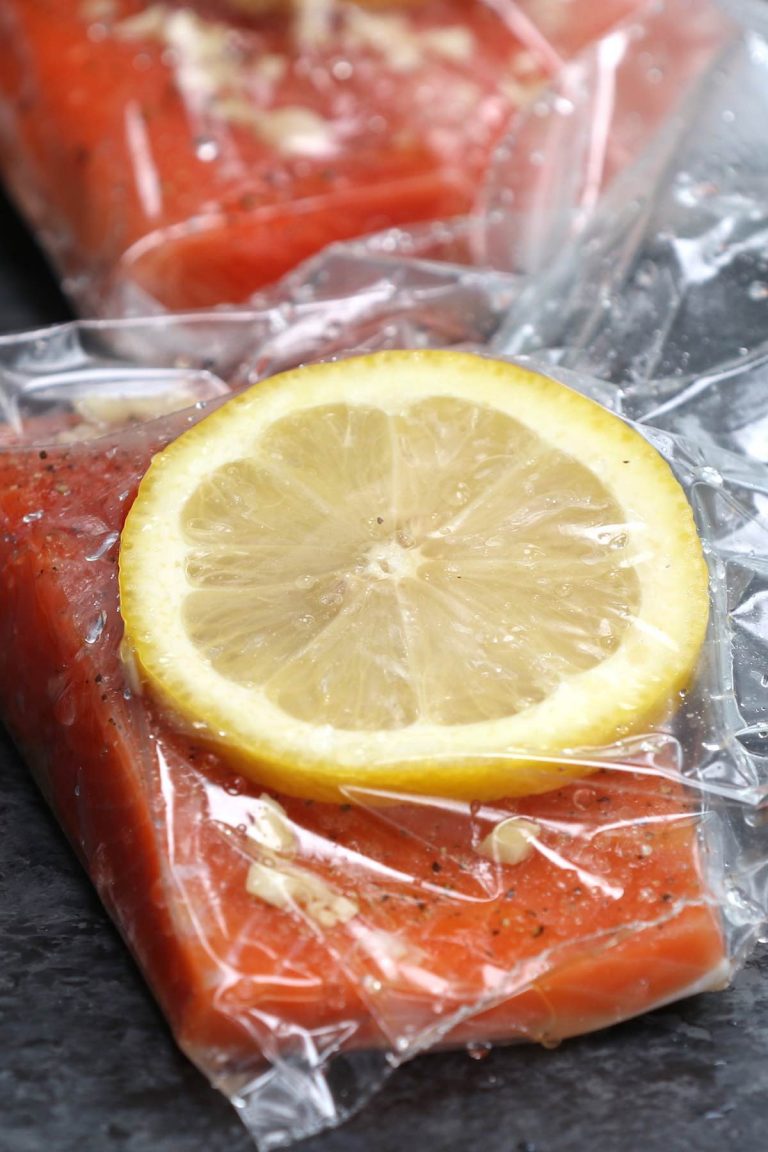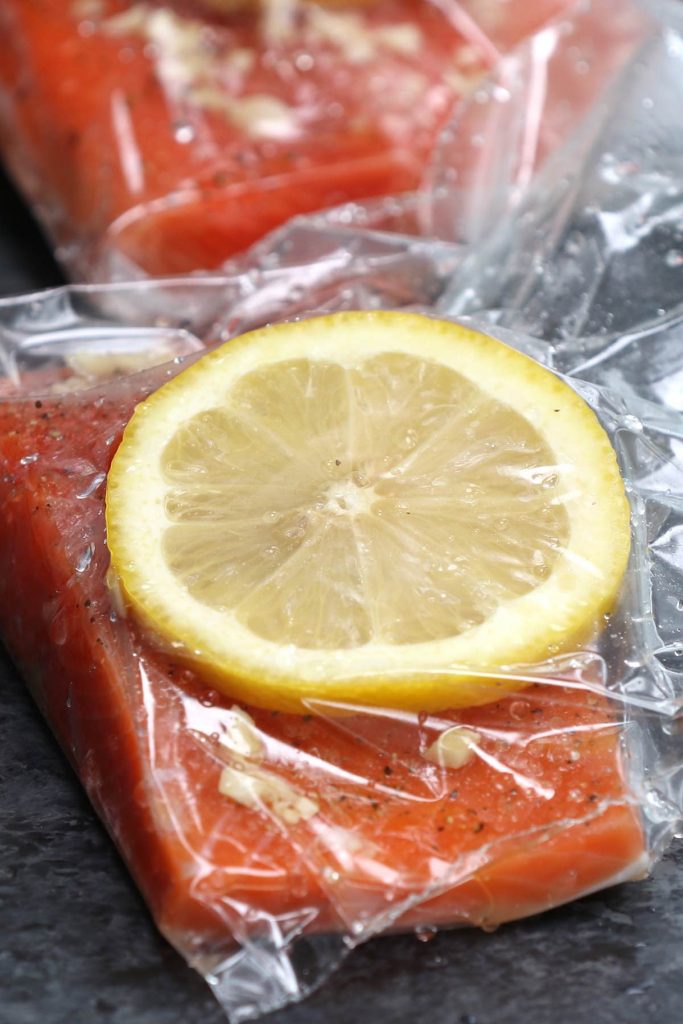 The best temperature for sous vide cooking salmon
I've tested cooking salmon at different temperatures, I usually cook mine at 130°F (54°C) as I like it to be firmer and close to the traditional texture . The salmon sous vide cooked at this temperature is tender, moist, and flaky without being too soft. Completely melt-in-your-mouth delicious! If you'd like to try other doneness, below is the guide:
| | |
| --- | --- |
| Sous Vide Salmon Temperature | Texture |
| 105°F (41°C) | Close to sashimi |
| 110°F (43°C) | Very soft, still tastes raw |
| 115°F (46°C) | Soft and starting to flake |
| 120°F (49°C) | Very tender, moist, and slightly flaky |
| 130°F (54°C) | Moist, tender, firm and flaky |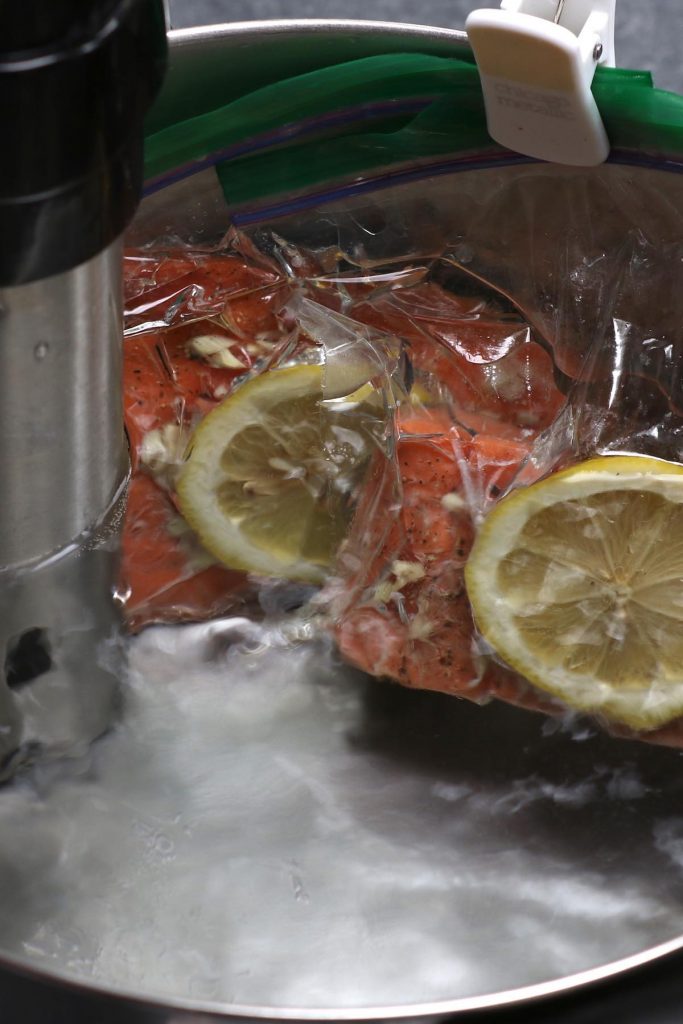 How long to sous vide salmon?
The cooking time can be slightly longer or shorter depending on the thickness of your salmon.
In general, it takes about 30 minutes to cook a 1-inch salmon fillet, about 45 minutes for 1.5-inch, and 1 hour for 2-inch thick salmon.
Pro tip: It's ok to leave your salmon in the water bath for an extra 20-30 minutes, but if you cook it for too long, it can get mushy.
Tips for making sous vide salmon
Lemon Garlic Sous Vide Salmon is easy to make using minimal ingredients you already have in your kitchen! Here are a few tips to guarantee the success each time:
Season the salmon generously before sous vide cooking. This will bring out the best natural flavor.
Make sure to arrange salmon in a single layer in the bag before vacuum seal.
If you don't have a vacuum-sealer, you can seal the bag with a zip-loc bag using the the water displacement technique: just seal all but one corner of the bag, and then slowly place it into a large pot of water. Make sure everything below the zip-line is covered by water, then seal the rest of the bag. 
Make sure to dry the surface of your salmon completely for a proper sear, which will make the skin crispy. 
There will be some white stuff being pushed out of salmon during sous vide cooking. It's completely normal. The white stuff is called albumin. If you'd like to avoid it, you can brine your salmon in salt water for 10 minutes before cooking (1 tablespoon of salt for 1 cup of water brine solution).
This recipe is great for a freezer meal. Season and vacuum-seal your salmon. Then store them in the freezer.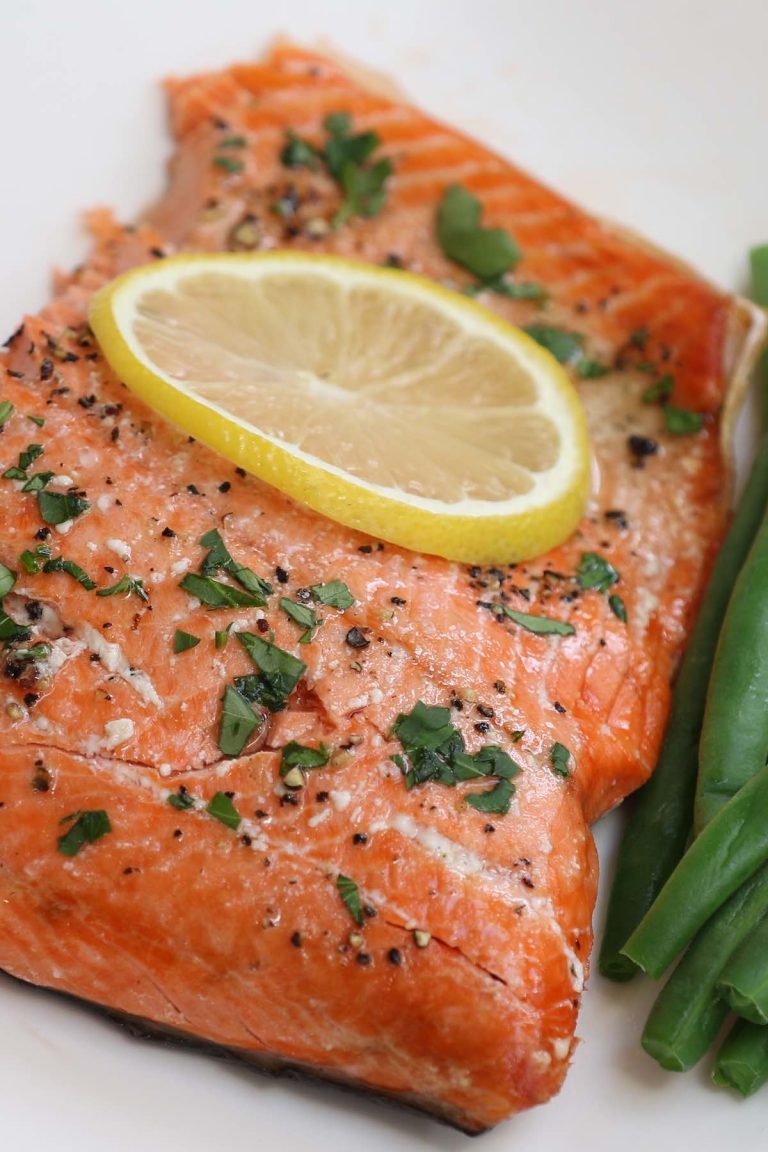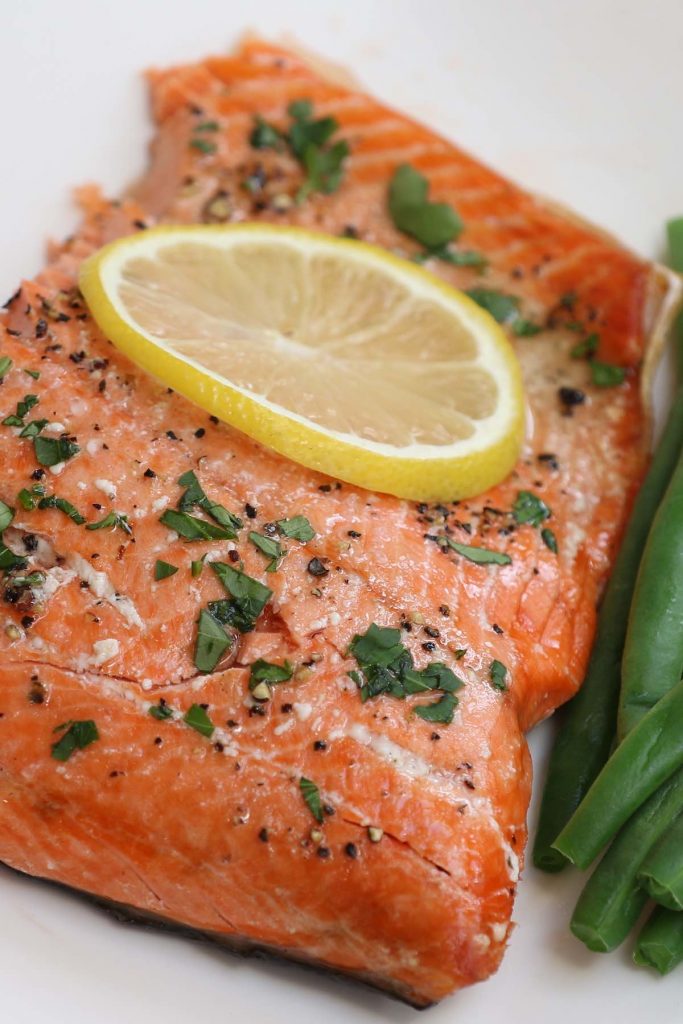 Can I sous vide frozen salmon?
Yes, you can sous vide cook frozen salmon directly. Simply add 30 more minutes of cooking time in the sous vide water bath.
Skin on or off?
Even if you're not a fan of salmon skin, I recommend purchasing your salmon filet with skin on, and you can always remove it afterwards. 
I like to cook the salmon with skin on as it helps to lock in extra moisture.
After you sous vide cook the salmon, the skin will come off easily. You can either remove it before serving or leave it on.
There are many nutritional benefits from the salmon skin, which is soft when first comes out of the sous vide water bath. But you can sear it to make it crispier.
Seasonings, marinades and sauces:
I've made sous vide salmon in many different ways. This recipe uses lemon, garlic, salt, and pepper.  It's a healthy and delicious seasoning option. The sous vide method is easy to adapt to different seasonings, and can also add herbs such as rosemary or thyme to the recipe. Here are some ideas:
Sous Vide Garlic and Butter Salmon: Just follow the recipe bellow, swapping butter for lemon.
Honey Garlic Sous Vide Salmon: You can marinate your salmon for 30 minutes before cooking and leave the marinade in the bag during sous vide. The sauce is so sweet and savory, completely addictive. 
Lemon and Dill Sous Vide Salmon: Substitute dill for garlic, or simply add dill to the recipe.
What to serve with sous vide salmon?
Once you have the perfect salmon ready, you can sprinkle chopped parsley and serve with it with your favorite side dishes. Here are some of my favorites:
More Sous Vide Seafood Recipes:
Enjoy, everyone!
Easy and Healthy Sous Vide Salmon
May I impress you with my perfectly tender Sous Vide Salmon? The salmon is cooked at the precise temperature you set, and it's so moist with a flaky texture. This sous vide salmon recipe is healthy, flavorful, and easy to customize with your favorite seasonings
Ingredients
3

salmon filets

(skin-on if possible)

1

tablespoon

olive oil

(divided)

1

lemon

(divide, plus extra for serving if desired)

1/2

teaspoon

kosher salt

(or to taste)

1/4

teaspoon

ground black pepper

(or to taste)

2

cloves

garlic

(minced)

Additional chopped fresh herbs for garnish
Instructions
Add water to the sous vide container or a large pot; set the Sous Vide Precision Cooker to 131°F (55°C).

Drizzle the salmon with 1/2 tablespoon olive oil and sprinkle with the salt and pepper. Rub to coat, and then spread the minced garlic over the top.

Cut the lemon into thin slices and lay them on top of the salmon.

Place the seasoned salmon filets in zip-lock bags. I use small bags but if you'd like to place all the salmon in one bag, make sure to arrange them so that they stay in one single layer.

Vacuum seal it using "water displacement" technique: seal all but one corner of the bag. Slowly place it in cold water, making sure everything below the zip-line is covered by water. Then seal the rest of the bag.

Place the vacuum-sealed salmon in sous vide water bath and cook for 45 minutes for 1.5-inch salmon filets. It takes about 30 minutes if yours is only 1-inch thick, and takes 1 hour for 2-inch thick salmon. (Make sure it's completely submerged in the water, if you find the salmon is not fully submerged, you can use sous vide weight magnets or kitchen metal tongs to weigh it down.)

When the timer goes off, take out the bag and carefully remove the salmon from the bag using a fish spatula. (Sous vide cooked salmon is fragile and easy to break.) If you see some white stuff on the surface, it's completely normal.

Place the salmon on a double layer of paper towels, and then pat dry with more paper towels. (Make sure to wipe off the moisture completely, otherwise it will interfere with the searing. You can also remove the white stuff on the surface if you prefer.)

Season with more salt and pepper.

Place the cast-iron skillet on medium-high heat. Add the remaining olive oil. Once hot, add the salmon skin-side facing down and sear about 1 minute. Flip the salmon and sear the other side for 15 seconds. Remove from the heat.

Squeeze some lemon on cooked salmon and sprinkle with optional chopped parsley. Serve immediately.
Notes
If you use frozen salmon, add 30 minutes of cooking time in the sous vide machine.
Nutrition
Calories:
296
kcal
|
Carbohydrates:
4
g
|
Protein:
34
g
|
Fat:
16
g
|
Saturated Fat:
2
g
|
Cholesterol:
94
mg
|
Sodium:
464
mg
|
Potassium:
883
mg
|
Fiber:
1
g
|
Sugar:
1
g
|
Vitamin A:
68
IU
|
Vitamin C:
20
mg
|
Calcium:
33
mg
|
Iron:
2
mg
Recipe Tools: