Gunkan Sushi is a ship-like sushi roll in the shape of an oval, consisting of a nori seaweed sheet wrapped around a ball of rice with dressing at the very top. Some common toppings include flying fish, salmon or sea urchin roe.
However, you might also find potato salad, a mixture of green onion and fatty tuna belly called negitoro, or various crab brain garnishes called kaminiso.
It has been more than seven decades since the invention of gunkan sushi but some people have still never heard of this delicious treat. This is especially true if you are not Japanese or do not regularly eat sushi.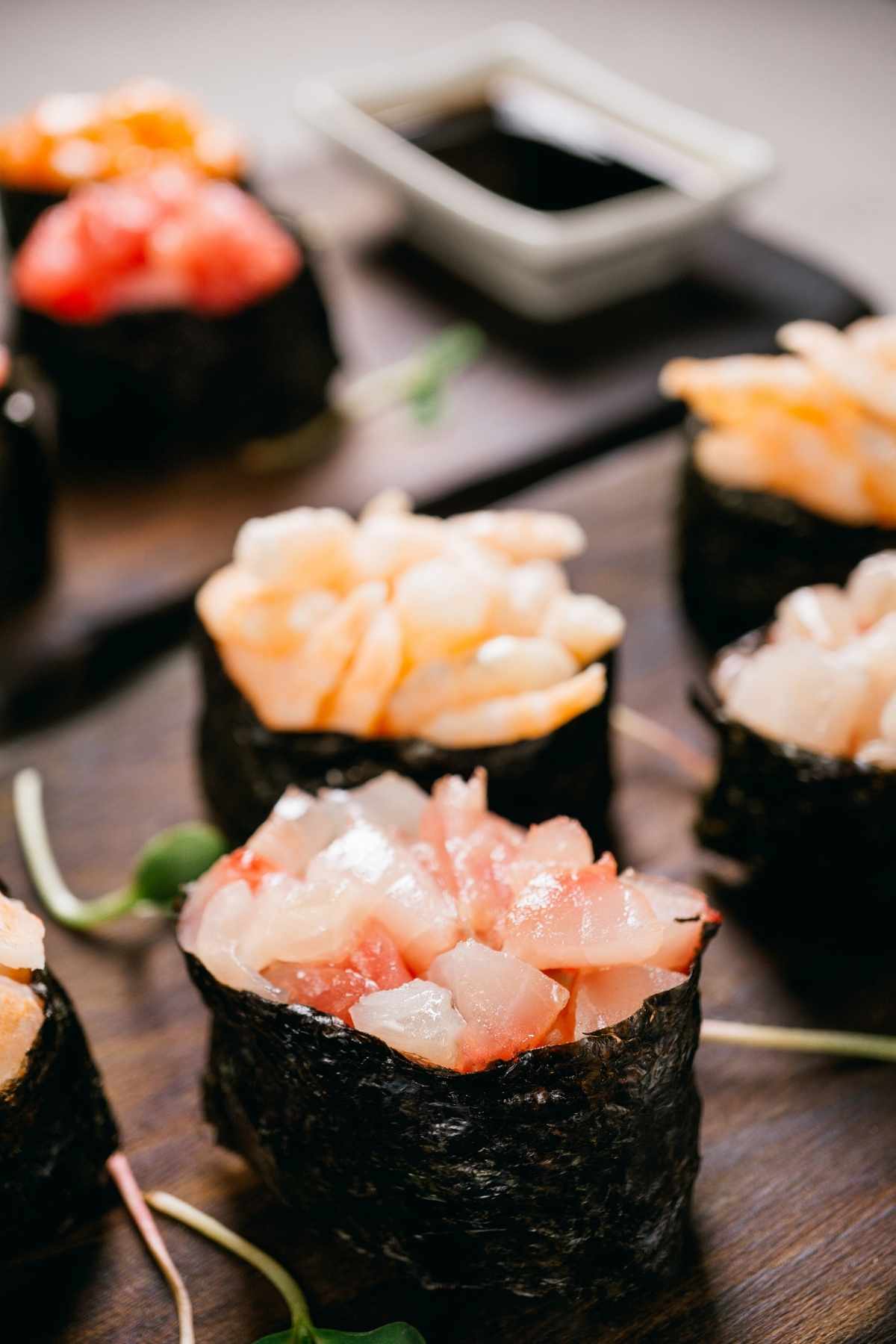 What is Gunkan Maki Sushi?
This is a variant of maki sushi dating back to 1941 at the Ginza Kuybey restaurant. As expected, a strip of nori seaweed is wrapped around a ball of rice in a specific way so that space is left at the top for the dressing consisting of various ingredients. The striking contrast in this variant of maki is the oval shape that makes it look like a tiny warship. Gunkan sushi can be found at sushi restaurants as well as takeout sushi bento boxes.
To appreciate the nature of gunkan sushi (often referred to as gunkan maki), it is useful to do some digging to understand exactly what maki is., There are several classifications but there are approximately 12 main types of sushi, including maki, and some with variations.
Gunkan works best with nigiri toppings that won't stick to the rice such as salmon eggs (ikura nigiri), crab (kani nigiri), sea urchin (uni nigri) or seaweed.
In Japanese, Maki is the word for wrapped or rolled, so the contents of maki sushi are wrapped in a sheet of nori seaweed and then sliced into small pieces. Many variations of maki exist including Hoso Maki (thin roll), Chu Maki (medium roll), Futo Maki (thick roll), Ura Maki (rice wrapping), Te Maki (hand-rolled) and Date Maki (thick rolled with egg wrapping).
Gunkan Sushi Ingredients
Before making a trip to your local sushi restaurant,  it is beneficial to have a wide knowledge of precisely what makes up this sushi roll and the value added by the various components.  By now, you have learned that Gunkan sushi has 4 main components:
The wrapper: Made of a Nori Seaweed sheet
Sweet Rice Vinegar
Toppings
Nori Seaweed Sheet
Nori in this context is an edible seaweed with a strong, distinctive flavor of the ocean. In Japanese cuisine, nori takes the form of dried sheets in order to wrap rolls of sushi. The seaweed itself is scientifically classified as a species of the red alga. It is harvested at sea, shredded, and rack-dried until it becomes paper-thin, black sheets with measurements of approximately 18 cm × 20 cm and weighing 3 grams each.
Some people who make gunkan sushi first roast the nori to achieve a strong, crispy texture before they use it to wrap the sushi rice ball. Most sheets come with indented lines which makes it much easier for cutting along the lines to give you identical strips about 4cm wide. The wrapping around the rice is done carefully yet tightly so that it can glue on the rice.
Sushi Rice
Although there is no specific brand of rice recommended for making gunkan sushi, you should probably choose short-grain. Short-grain rice is a bit longer than it is in width which is what gives the rice its plump shape.  Due to the high proportion of amylopectin (a sticky water-soluble polysaccharide), short-grain rice gives gunkan sushi its distinctive soft, tender and clumping characteristics.
Sweet Rice Vinegar
This is typically made from fermented rice and is mild but has a slightly sweet flavor. The complete seasoning consists of a combination of rice vinegar, sugar, and salt known as "Su". 
Toppings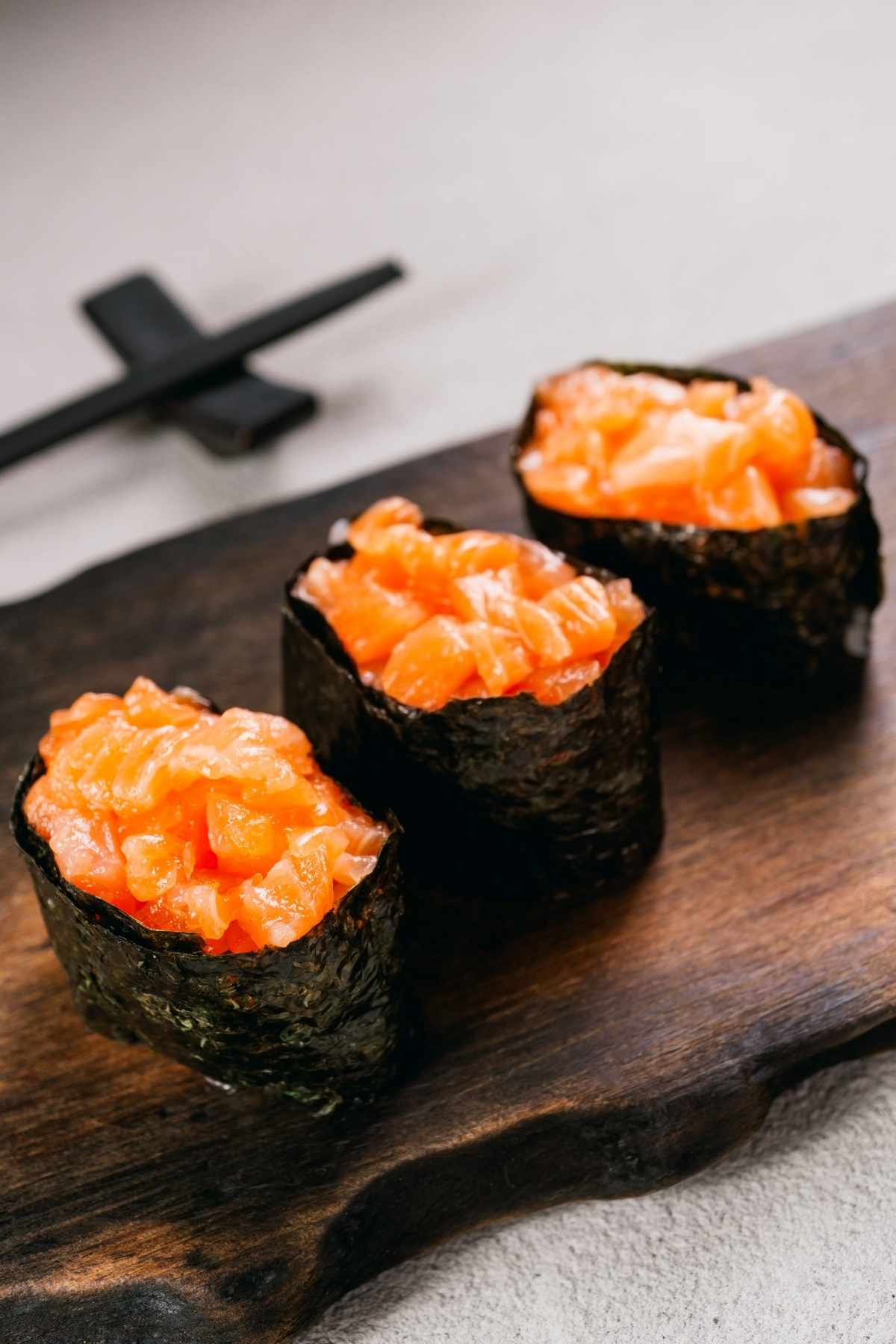 There is an endless amount of toppings available for gunkan sushi. It just depends on your personal preference and taste. Some of the most popular ones include:
Salmon Caviar Ikura – This refers to unfertilized salt-cured salmon eggs. They have high levels of protein, iron and sodium. Ikura (salmon roe)  has a  dark red  color and when eaten, the fresh eggs pop in your mouth. 
Capelin Roe Masago – this is harvested from capelin which is a small forage fish found in the Arctic Ocean, North Pacific and North Atlantic. The capelin roe, referred to  as masago, is salt cured with a sweet and crunchy flavor. It provides  texture and vibrancy to gunkan sushi.
Flying Fish Roe Tobiko– Other than masago and ikura, flying fish roe  referred to as tobiko can be used as a garnish on gunkan sushi. Tobiko is a rich provider of  vitamins, proteins, and omega-3 acids.
Goma Wakame Salad – This is seaweed salad with  sesame seeds. It is great for its  fiber, antioxidants and low calorie levels.  
Other possible toppings include corn, carrots, cucumber, quail eggs and Dungeness crab mixed with mayonnaise.
How to Eat Gunkan Sushi
Following Japanese eating etiquette, the food should be eaten using a pair of chopsticks. Gunkan sushi should also be eaten this way. However, if you are a beginner, it might be easier to hold the sushi with your hands.
It is not necessary to dip the gunkan sushi into the sauce as the toppings are adequately flavored.  However, if you still wish to dip it, you can dip it into the thin slices of pickled ginger known as 'gari' that are typically served alongside the sushi.  Be sure to use just a small amount on the gunkan sushi toppings so as not to ruin your battleship dressing.
Use the pair of chopsticks to grip the sushi and bring it to your mouth right away. Since gunkan sushi is prepared to be a one-mouth food, there's no need to take two bites, just one bite and it's done! Make sure you have a firm grip on your sushi so that the toppings do not fall out when eating.
Although gunkan sushi should not be eaten in a rush, it is also not good to leave it for long as it can get sticky and damp. So, don't let it sit.
Gunkan Sushi is an extremely nutritious and delicious variant of sushi with amazing ingredients that are very simple to assemble and prepare. You may choose to order yours from your local sushi restaurant or have fun trying a homemade gunkan!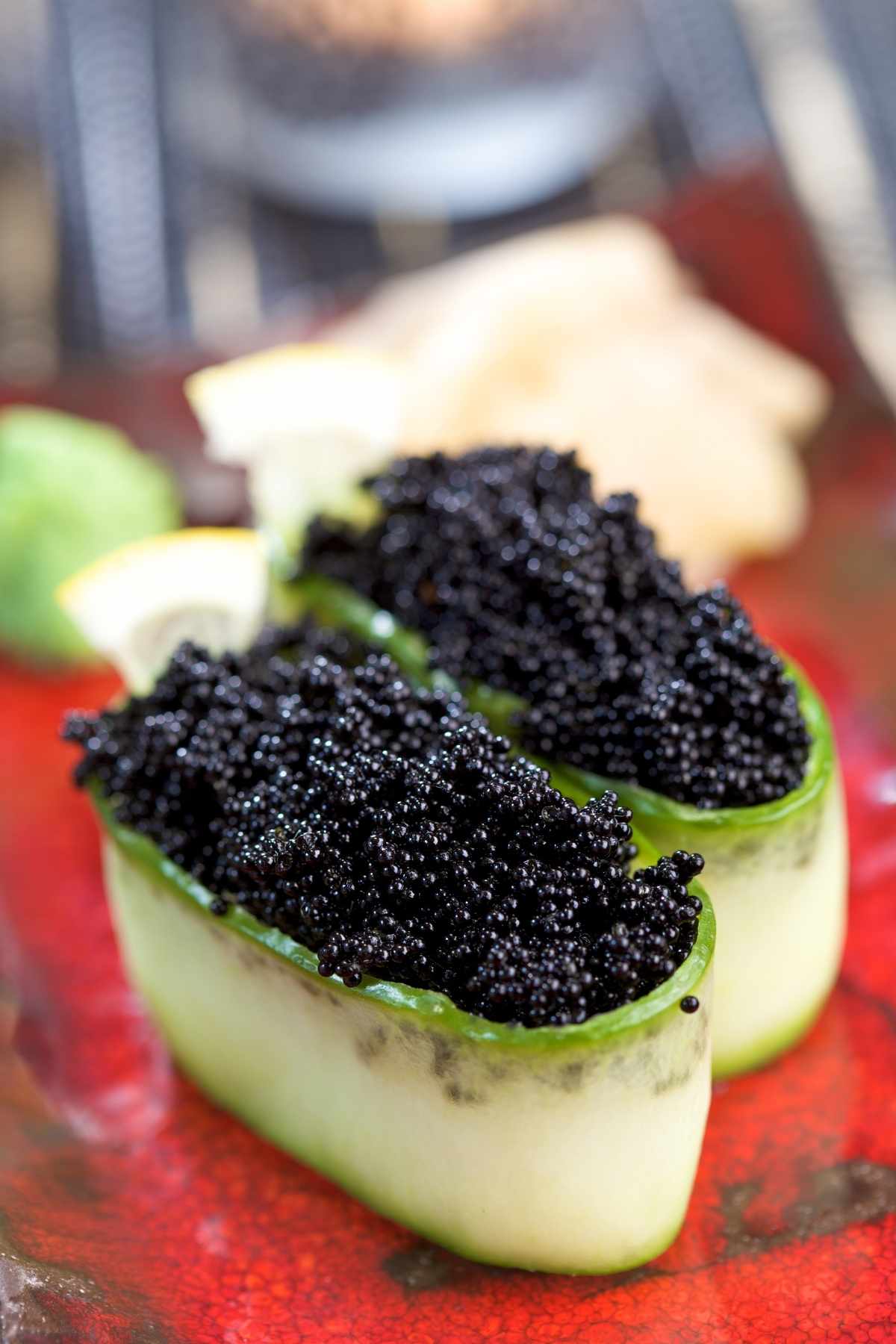 Gunkan Sushi Nutrition
Other than being used as a wrapper, the nori seaweed that is usually sold in packs is high in nutritional value. It contains the following:
Iodine and Tyrosine: One gram of nori seaweed contains 37 mcg of iodine which is approximately  25% of the recommended dietary intake (RDI). It also contains the amino acid Tyrosine that mixes  with iodine to assist  in the synthesis of triiodothyronine (T3) and thyroxine (T4), both of which are thyroid hormones.
Vitamins and Minerals: The vitamins in nori seaweed include A, B1, B12, C, and E while the minerals are magnesium, sodium, folate, calcium, iron, and omega-3 fats.
Protective Antioxidants: The flavonoids and carotenoids in nori seaweed are crucial in the process of neutralizing free radicals which lessens their likelihood of damaging your cells.
Fiber and Polysaccharides: These are great for the promotion of gut health.
You May Also Like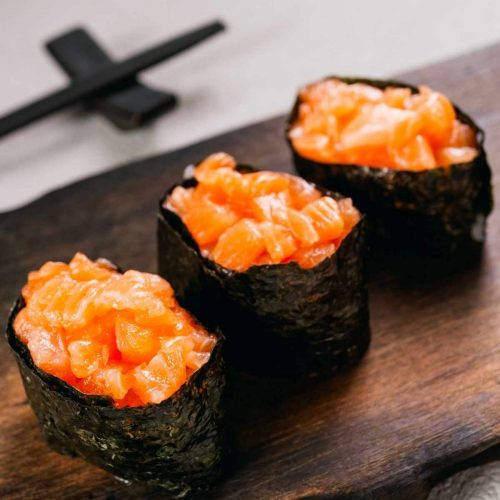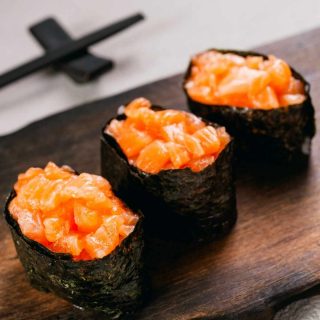 How to Make Gunkan Sushi
With the ingredients listed above set in place, the actual preparation process of gunkan sushi is rather simple. This variant of maki sushi is actually known as the simplest to make.
Print
Pin
Rate
Ingredients
1

cup

sushi rice

1

cup

water

1

tablespoon

vinegar

1

teaspoon

sugar

½

teaspoon

salt

3

sheets nori seaweed

1

cucumber

Wasabi

Your favorite toppings
Instructions
Cook the sushi rice to perfection and season it using vinegar, sugar, and salt.

Create rice ovals that are one inch wide and two inches long.

Cut nori sheet cut into even strips (slightly higher than rice).

Cut the cucumber into thin moon-shaped discs and place at the short end of the rice oval, wrap the rice and cucumber into a roll.

Seal the nori on one end and press the rice down in order to create space for garnishes at the top.

Add some wasabi over the rice oval.

Place the toppings at the very top of the oval battleship and serve immediately.
Tried this recipe?
Follow or tag us on Pinterest @izzycooking