The best Chicken Thigh Internal Temperature produces tender, juicy and flavorful meat! Learn all the tips you need to know including how to measure chicken thighs' internal temp.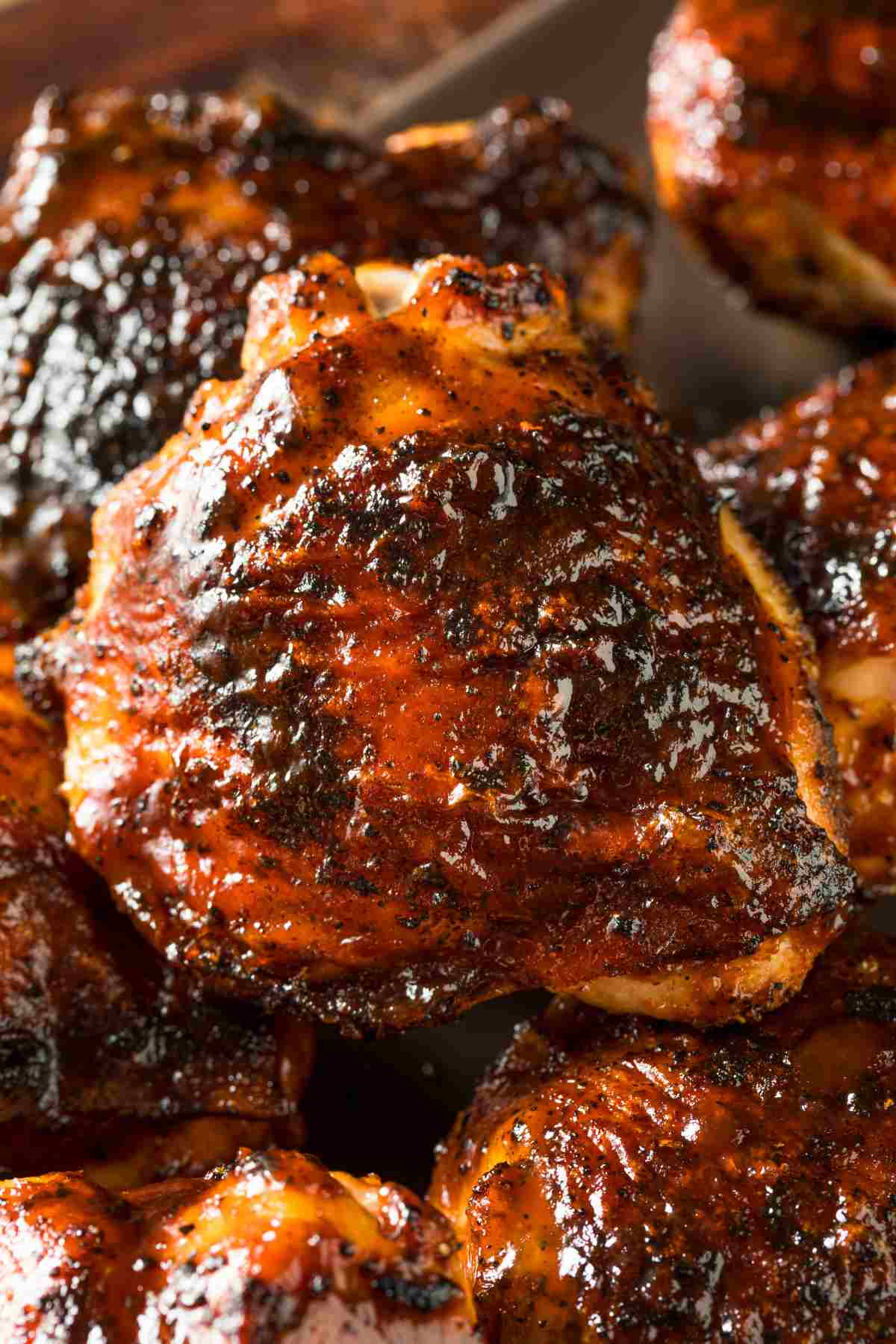 Chicken thighs are one of our favorite choices for a quick and delicious weeknight dinner. When properly cooked, they are crispy on the outside and moist and tender on the inside.
They are widely available and a delicious source of healthy protein. You can cook them in the oven, on a grill, or on the stovetop. However, even though they're more forgiving than chicken breasts, it's still quite easy to overcook.
We're covering everything you need to know about the best heat level to use, and the internal temperature chicken thighs need to reach when it's thoroughly cooked. With just a few easy tips, you'll be enjoying perfectly cooked chicken thighs every time!
Are Chicken Thighs Done at 165?
According to the USDA, chicken thighs can safely be consumed as long as they've reached a minimum internal temperature of 165°F. Still, many chefs and chicken thigh lovers will tell you that 185°F is the sweet spot. At this higher temperature, the meat is much more succulent and flavorful.
Chicken Thighs Internal Temp Chart
Unlike steak, chicken meat tastes so much better when it's cooked above the minimum internal temperature. When it comes to dark meat like chicken thighs, higher temperatures mean more flavor, better texture and a juicier piece of meat.
Although it's considered safe to eat chicken thighs at a lower temperature of 165°F, you'll definitely have a better experience by allowing the meat to cook for a bit longer. You can use the chart below as a helpful guide:
| | |
| --- | --- |
| Internal Temperature | Description |
| 165°F (74°C) | The USDA recommends cooking poultry to a safe minimum internal temperature as measured by an instant-read thermometer. |
| 175°F (79°C) | The meat is cooked through and tender but still clings to the bone. If you're roasting a whole bird or cooking the thighs along with other ingredients, this is a good temperature to cook the meat to. |
| 185°F (85°C) | The meat is meltingly tender and exceptionally succulent, with rich poultry flavor. |
| 200°F (93°C)+ | Chicken thighs start to become overcooked with a grainy, stringy texture |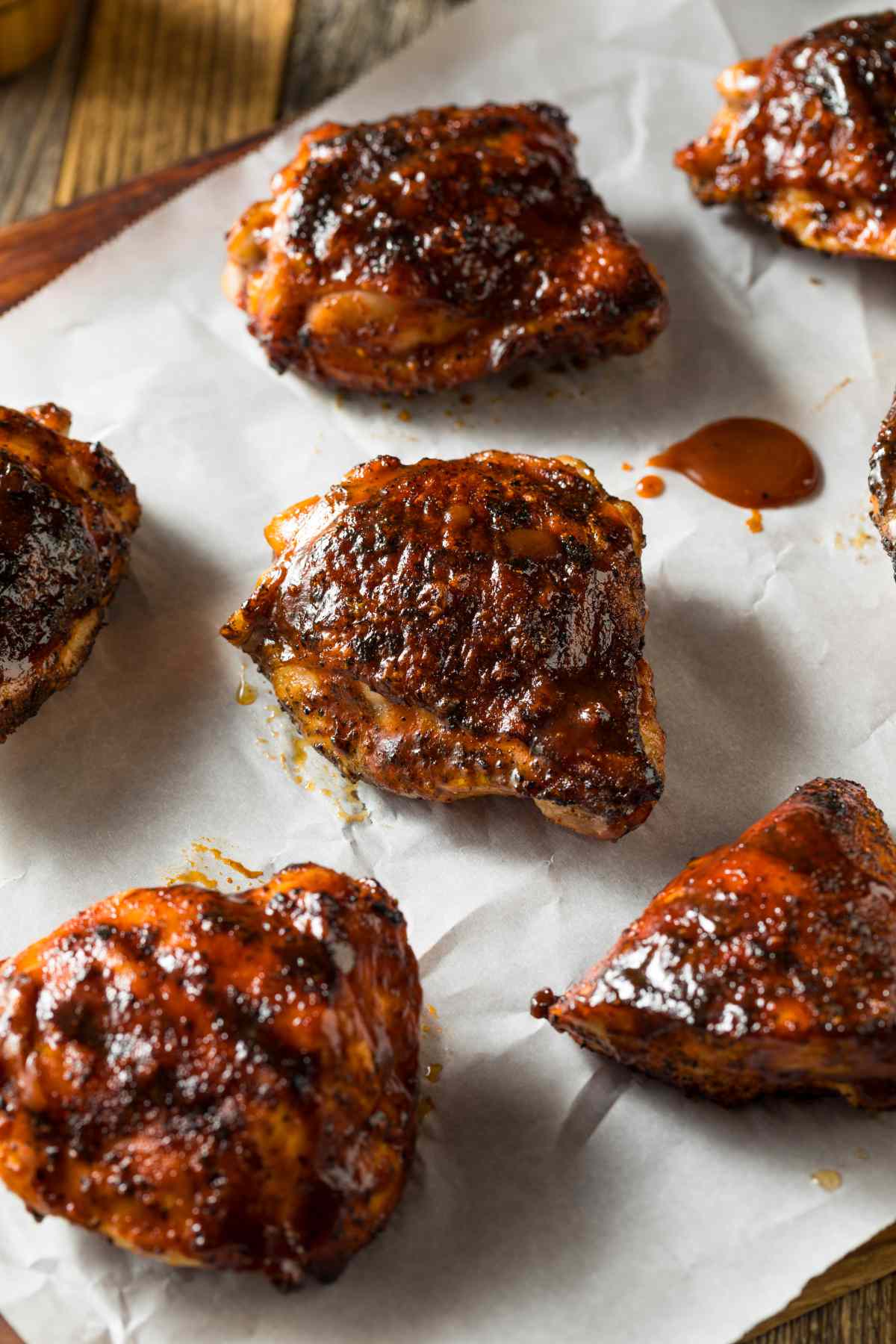 How To Measure Internal Chicken Thigh Temperature
An instant-read meat thermometer is the easiest way to check the temperature of chicken thighs. Here's how it's done:
Insert the probe of the thermometer into the thickest part of the largest thigh.
For an accurate reading, avoid touching the bone with the thermometer. Aim to be at least ¼ inch away from the bone.
Chicken thighs are safe to eat at 165°F, but will taste better somewhere between 175 and 185°F.
You can also use a wireless dual probe thermometer. This option is often used for grilling or smoking, since the probe can be left inside the meat as it cooks. This allows you to check on the temperature without having to raise the lid on your grill or smoker. 
Visual Checks
Even if you don't have a thermometer, there are some visual cues you can use to determine when your chicken wings are ready to eat. Test your largest thigh by inserting a toothpick or cake tester into the thickest part. If the juices run clear, this typically means the meat is cooked. If the juices run red, they're undercooked.
How Long Does it Take to Cook Chicken Thighs
The following cooking times apply to fresh (not frozen) chicken thighs:
If roasted in the oven at 350°F, cooking time is 40-50 minutes
If grilled at 350°F, cooking time is 10-15 minutes on each side
If you're pan frying, the cooking time will be 30-50 minutes
Using the slow cooker's low setting, cooking time is at least 4 hours
These times are approximate and your actual cooking time will depend on the size of the thighs and your cooking equipment. Your best bet is always to use a thermometer.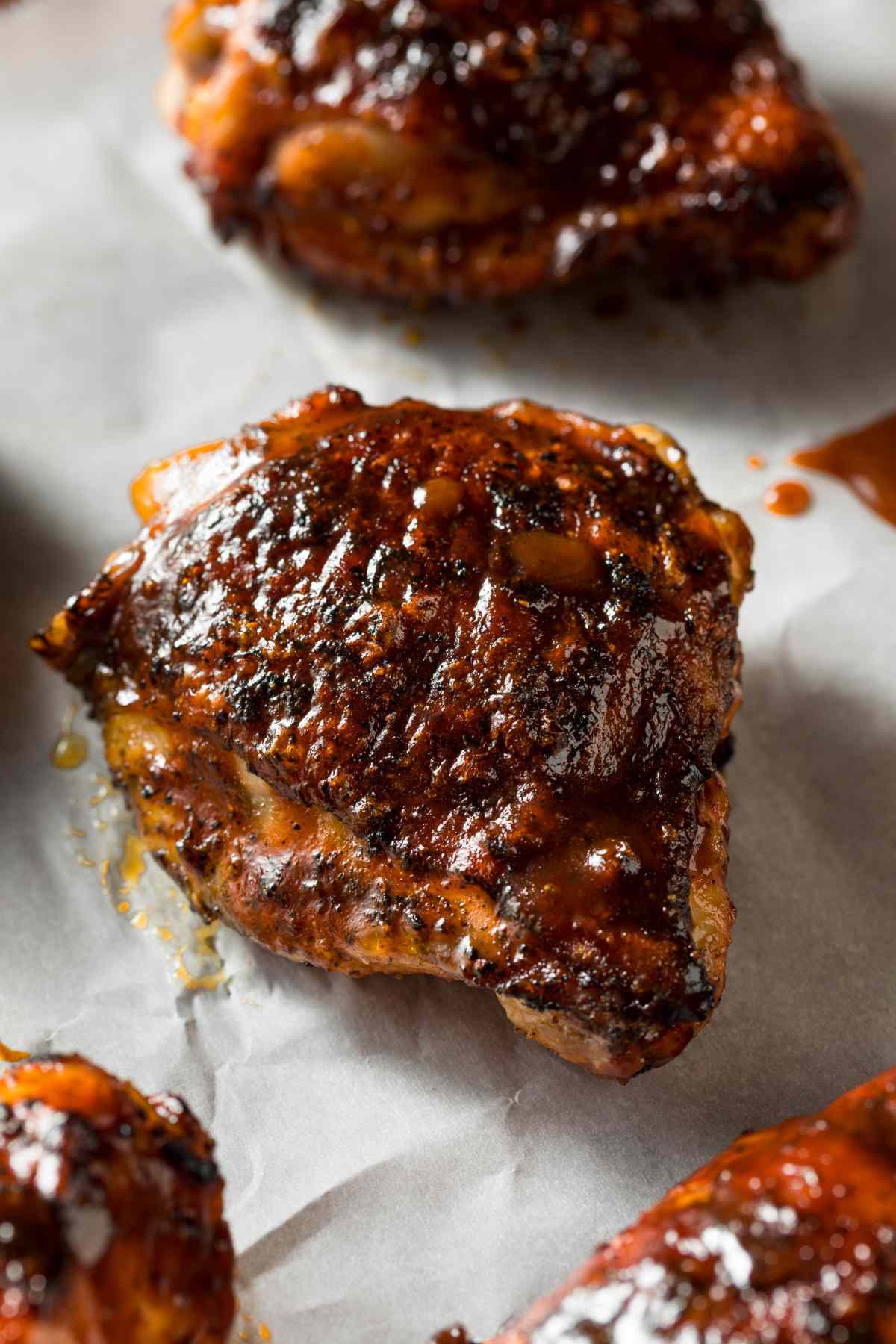 FAQ
What's the Safe Temperature To Cook Chicken Thighs?
When it comes to chicken, the USDA recommends a minimum cooking temperature of 165°F. At this temperature, the meat is considered safe to eat since all the harmful bacteria would have been killed. Below this temperature, the chicken is still too raw to eat and can make you sick.
What Internal Temperature Should You Cook Chicken Thighs To?
Regardless of if you're having bone-in or boneless chicken thighs, it's recommended that you cook them to an internal temperature of at least 175°F. If you increase the temperature to 185°F, you'll get the juiciest, most flavorful results. Just remember that too much heat can be a bad thing. If you go beyond 210°F, chicken is overcooked and has an unpleasant texture and flavor.
Can Chicken Thighs Still Be Pink?
As long as your chicken thighs have reached a minimum temperature of 165°F, they're safe to eat even if they appear a bit pink. It's not unusual for cooked chicken thighs to look slightly pink, particularly if you're nearing the bone. When you're cooking poultry, color isn't an accurate indication of doneness or safety.
Are Slightly Undercooked Chicken Thighs Ok?
Chicken thighs are unsafe for consumption if their internal temperature is below 165°F. Unlike steak, poultry should not be eaten below its recommended minimum temperature. Eating undercooked chicken can lead to serious illnesses, so it's better to be safe than sorry.
What Happens If You Eat Undercooked Chicken Thighs?
Undercooked chicken contains harmful bacteria that can make you sick. By consuming chicken that hasn't reached the minimum internal temperature, you'd be introducing bacteria like salmonella into your digestive system.
Once you've been infected with salmonella, you can expect food poisoning symptoms within 8 to 72 hours. You may experience painful stomach cramps, vomiting or diarrhea. Food poisoning symptoms typically go away on their own, but it's always best to reach out to your doctor to be sure everything's alright.
You May Also Like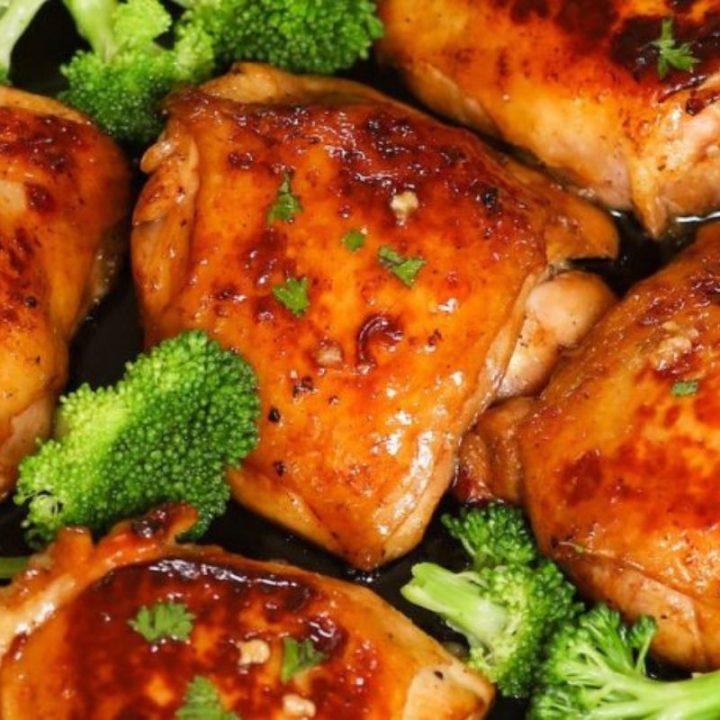 Chicken Thigh Internal Temp + How to Bake Chicken Thigh
The best Chicken Thigh Internal Temperature produces tender, juicy and flavorful meat! Learn all the tips you need to know including how to measure a chicken thigh internal temp.
Print
Pin
Rate
Ingredients
2

pounds

chicken thighs

bone-in, skin-on (6-8 pieces)

2

tablespoons

soy sauce

low-sodium recommended

1/3

cup

brown sugar

2

tablespoons

vinegar

white vinegar or apple cider vinegar

4

cloves

garlic

minced (about 1 tablespoon)

1/2

teaspoon

salt

1/2

teaspoon

black pepper

2

tablespoons

olive oil

fresh parsley

minced – optional
Instructions
In a large bowl, whisk soy sauce, brown sugar, vinegar, garlic, olive oil, salt, and pepper until combined.

Add the chicken thighs to the bowl and toss to coat thoroughly with the marinade.

Cover the bowl with plastic wrap and place in the fridge to marinate for 30 minutes up to 8 hours.

Place the oven rack in the upper-middle position. Preheat the oven to 400°F (204°C).

Line a rimmed baking sheet with foil. Then add a wire rack.

Remove chicken thighs from the marinade and place on the rack with the skin side up, shaking off excess marinade. (Discard leftover marinade.)

Bake for 35-40 minutes or until the chicken reaches an internal temperature of 165°F.

Broil for 2-3 minutes to make the chicken extra crispy and add a nice caramelized brown color.

Garnish with optional parsley and serve.
Notes
Recipe yield: 2 pounds or 6 bone-in chicken thighs are enough to serve 4 people.
If you'd like vegetables with your meal, you can add broccoli, potatoes, carrots etc. to the pan for the final 20 minutes.
You can double the marinade and reserve half for serving. Boil it in a saucepan and drizzle on the chicken when serving.
Make-Ahead: you can leave the seasoned or marinated chicken thighs for as long as 12 hours or overnight before cooking.
Storage: You can store cooked chicken thighs in the fridge for 3-4 days in an airtight container. Otherwise, you can freeze them for up to 3 months. Reheat thawed chicken thighs for several minutes in a skillet or microwave.
Leftovers can be used for chicken sandwiches and other lunch ideas.
Tried this recipe?
Follow or tag us on Pinterest @izzycooking