Learn everything about Yuzu including yuzu fruits, health benefits, ways to use it like yuzu kosho, sauce, dressing, juice, and more. This citrus fruit is tart with an amazing aroma, and is widely used in Japanese and other Asian cuisines.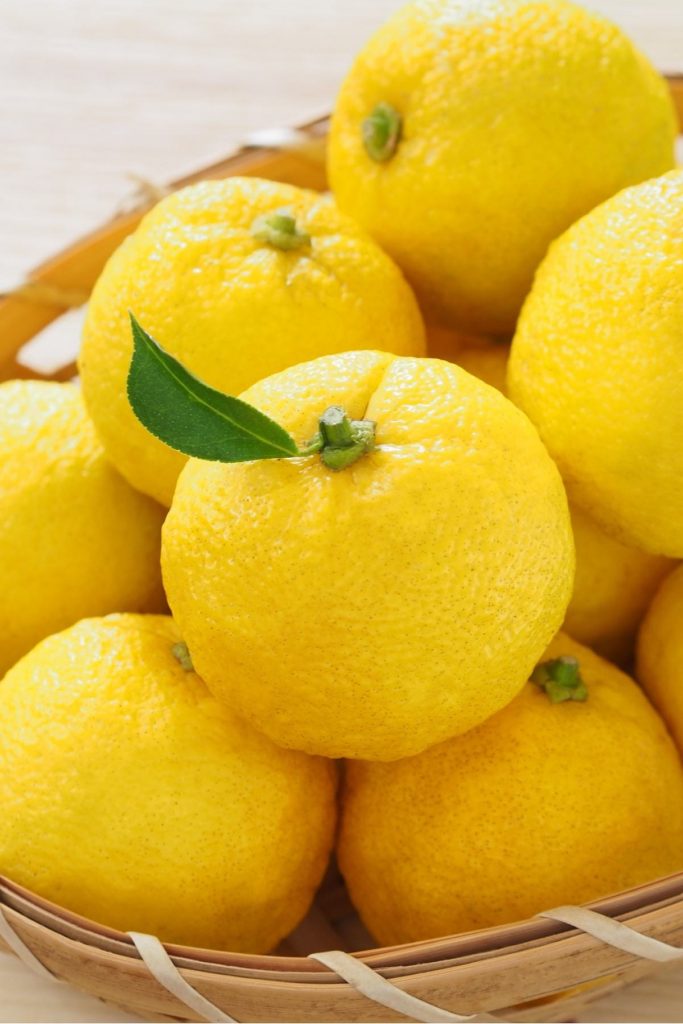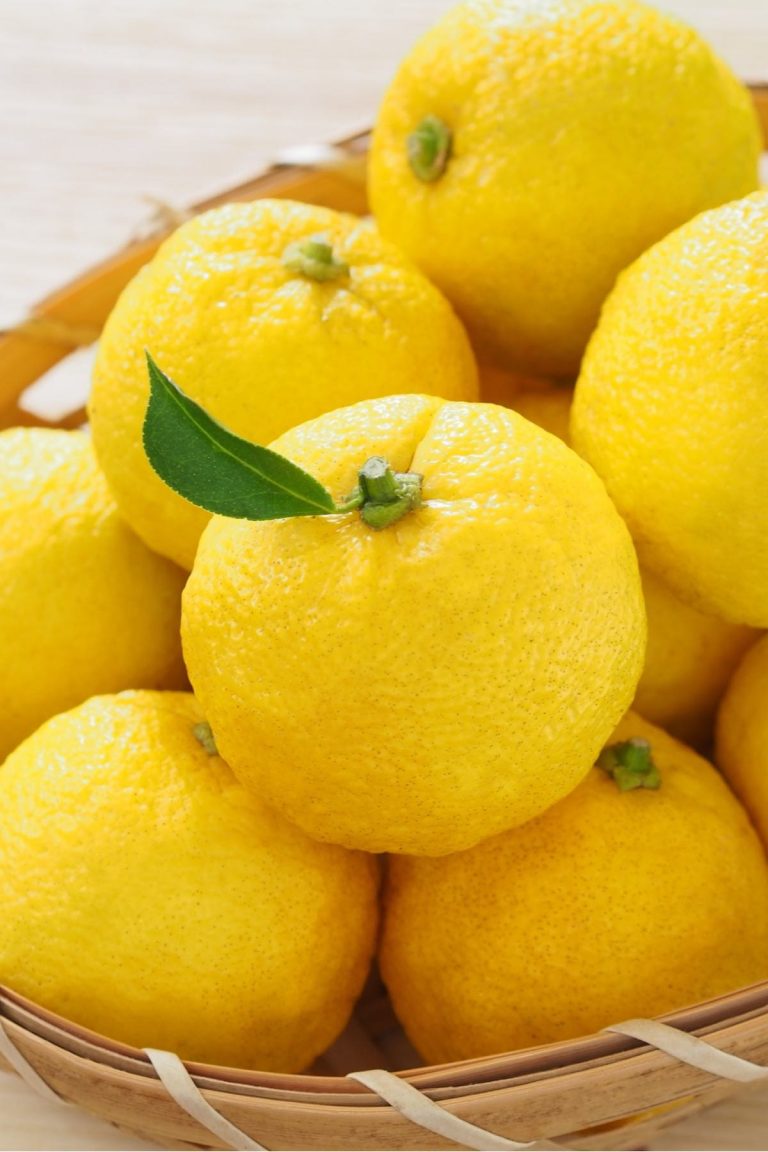 What is Yuzu (Japanese 柚子 or ユズ)?
Yuzu is a Japanese citrus fruit that's about the size of a tangerine with a bright yellow skin like lemon when it's ripe. It's mainly cultivated in Japan, China, and Korea.
The zest and juice of yuzu are widely sought after for cooking due to its special scent that's comparable to a combination of lime, lemon, and grapefruit. They're served as flavorings in many dishes. Yuzu oil is often used in perfume and cosmetics.
Yuzu Tree
Also known as Japanese Citron, yuzu trees are upright shrub with many large thorns and large, leaf-like petiole. Yuzu trees are usually harvested in the fall when the fruit is ripe (from October until the start of winter).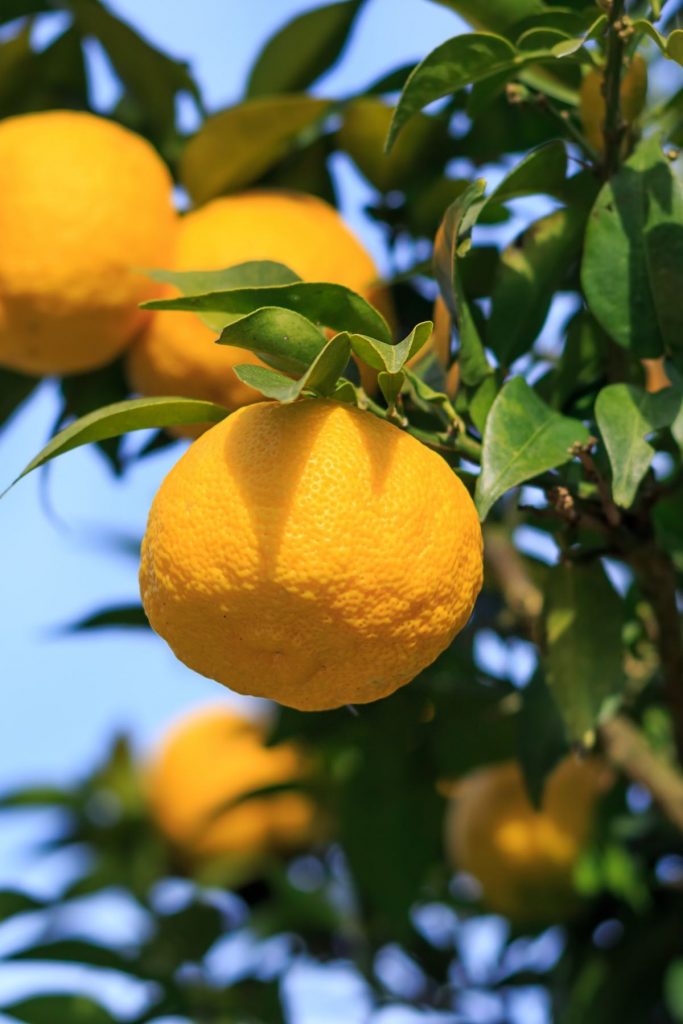 Yuzu Fruits
This citrus fruit is small, about 2-3 inches in diameter. Yuzu fruits have a green color like lime when it's unripe (called ao-yuzu), and turns to bright yellow color in autumn when the fruit is ripe. They have a lumpy and knobbly skin which is much thicker than other citrus fruits.
Yuzu fruits are known for their citric sharpness and floral fragrance. The juicy flesh usually contains a few inedible seeds, just like other citrus fruit.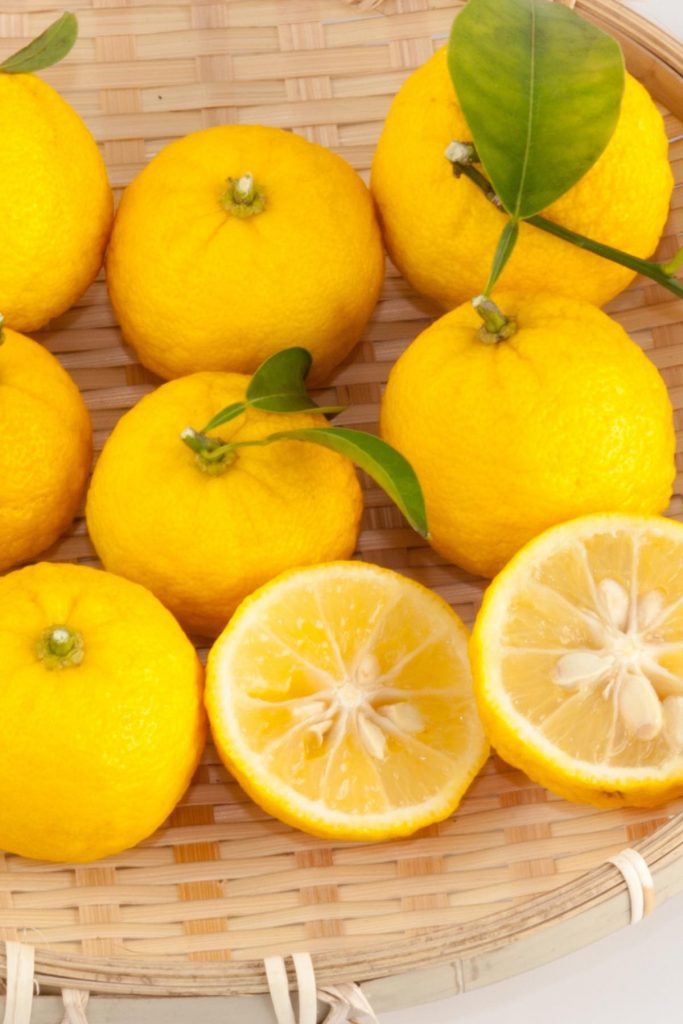 Health Benefits of Yuzu
Yuzu fruit is loaded with nutrients and has many impressive health benefits including:
Beneficial antioxidants like vitamin C that helps reduce inflammation, and promote heart health.
Beneficial minerals like magnesium and iron.
May helps improve blood flow, and therefore reduce the risk of heart disease.
Other benefits include reducing cholesterol, improving bone health, and protecting against infections, etc.
Ways to Use Yuzu in Cooking
Due to its super sour and tart flavor, with incredible fragrance, yuzu fruit is not meant to be eaten as is. The zest and juice are usually used for flavoring in cooking. It adds an amazing flavor to your dishes. Just a few drops can turn an ordinary dish into something of citrus wonder. Below are a few most common ways to use yuzu.
For Seasoning: Yuzu Kosho
Yuzu kosho (柚子胡椒) is a pasty Japanese condiment that's made with fresh yuzu zest, green Thai chili peppers, and salt. It's often served with Japanese skewers, sushi, or sashimi. It adds a very nice kick to your dish.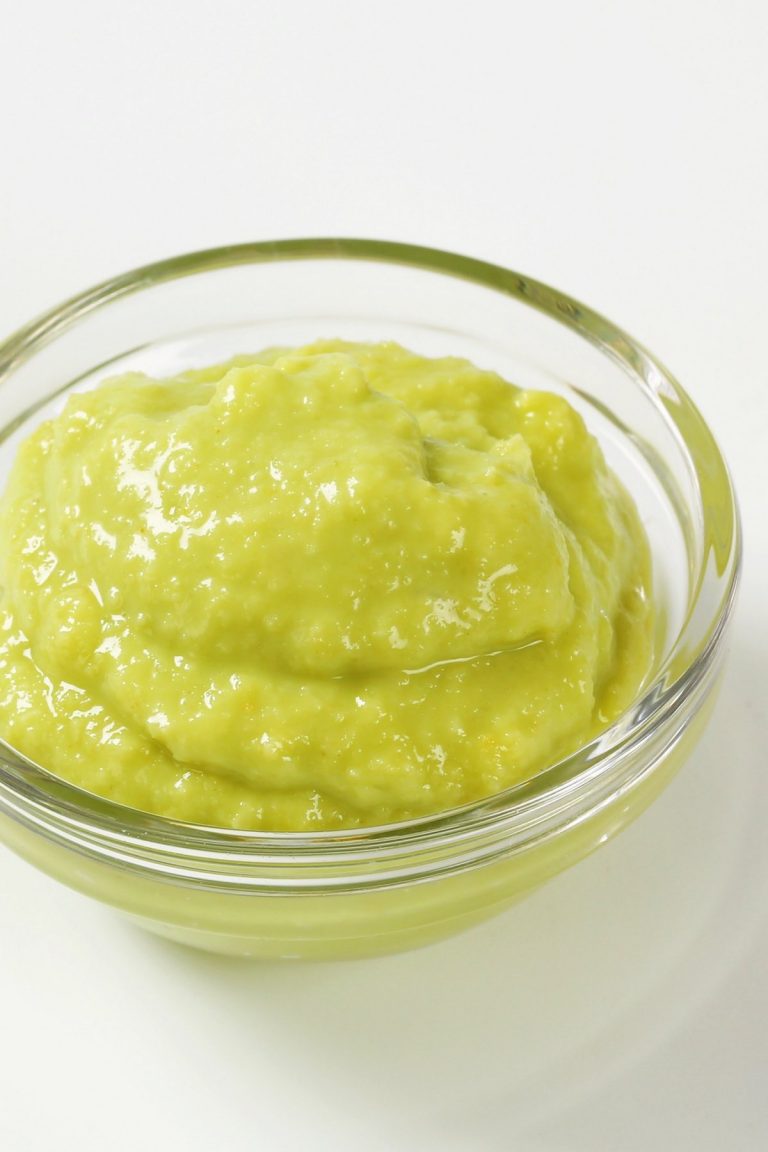 For Salad Dressing or Dipping Sauce: Yuzu Ponzu Sauce
Yuzu sauce is a classic Japanese citrus dipping sauce, a blend of yuzu and kosho. It's a great dipping sauce for ramen, salad, dumplings, meat, or fish.
For Drinking: Yuzu Juice
Yuzu juice comes from the yuzu fruit. The juice is usually very concentrated and tart, similar to lemon and lime juice. The flavor and aroma are like the combination of lime and grapefruit.
For Sake: Citrus Yuzu Sake
Yuzu sake has a perfect balance between sake and yuzu flavor. It's made by a small Japanese brewery called Umenoyado.
How to Store Yuzu
Like other citrus fruits, yuzu can be stored at room temperature on the counter. If you won't be having them within the next seven days, go ahead and store them in the fridge. Yuzu fruits can last for up to two weeks in the fridge, but may become less fragrant over time.
Frequently Asked Questions
What's the Difference Between Yuzu and Lemon?
Yuzu fruits look like distorted lemons. The colors are almost identical, but yuzu has a shape of mandarin/tangerine. Yuzu is also more tangy and sour than lemons, with a thicker skin.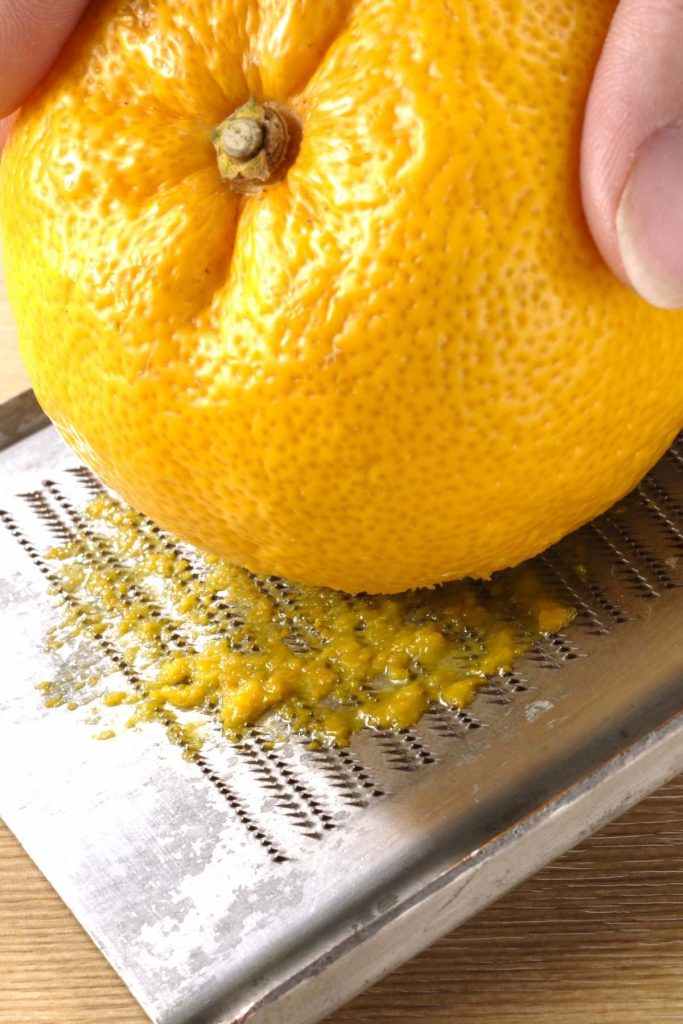 What Does Yuzu Taste Like?
Yuzu tastes like a cross between a lemon, lime, mandarin, and grapefruit.
Why is Yuzu So Expensive?
Yuzu is quite expensive as it's not widely available, especially in North America. It's about $15-$20 per pound.
Where to Buy Yuzu?
You can find yuzu at most local Japanese and Korean grocery stores. You can also find yuzu kosho, yuzu sauce, and yuzu juice online from Amazon.
You May Also Like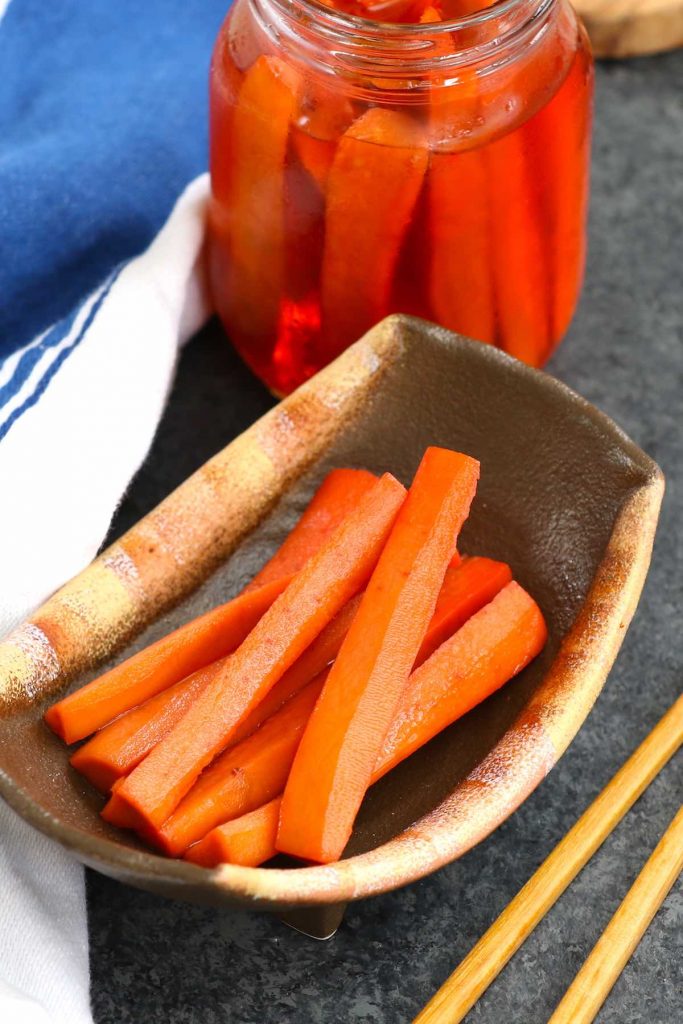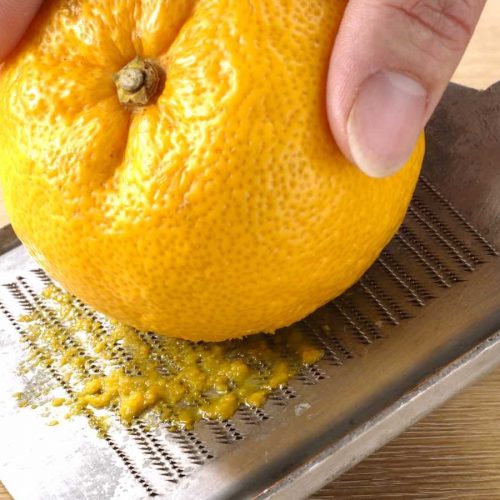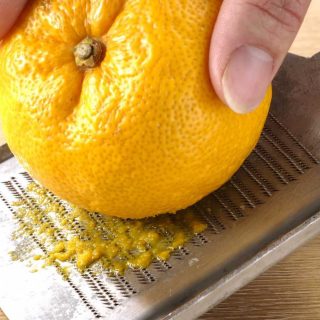 Yuzu Kosho Recipe
Easy homemade Yuzu Kosho will add so much flavor to your dishes like Ramen, salad, fish, and meat.
Print
Pin
Rate
Ingredients
6

yuzu

(You can use lemon as a sub if you cannot find yuzu)

3

green Thai chili peppers

Thai bird's eye chilis

1

teaspoon

salt
Instructions
Wash the chili peppers. Cut in half and remove the seeds and white membrane.

Mince the chili peppers as fine as you can.

Zest the yuzu.

Add yuzu zest and minced chili to a mortar. Pound until it turns into a smooth paste.

Juice the yuzu, and add 3-4 teaspoons of the yuzu juice to the chili pepper and zest mixture. Mix until combined.

Add salt and mix well. Taste and add more if necessary.
Notes
You can keep the seeds of the chili if you'd like to add more heat to your paste.
Store the paste in an airtight container in the refrigerator. It can last up to a month.
Nutrition
Calories:
62
kcal
|
Carbohydrates:
21
g
|
Protein:
3
g
|
Fat:
1
g
|
Sodium:
1166
mg
|
Fiber:
6
g
|
Sugar:
3
g
|
Vitamin A:
204
IU
|
Vitamin C:
69
mg
|
Calcium:
60
mg
|
Iron:
1
mg
Tried this recipe?
Follow or tag us on Pinterest @izzycooking