This post may contain affiliate links.
Please read my disclosure policy.
Thai peppers are spicy chili peppers that are used in many cuisines as a way to add heat to dishes. There are many types of Thai chili peppers: some are mild; others are extremely hot. Learn how to use them, different types, heat levels, substitute, and more!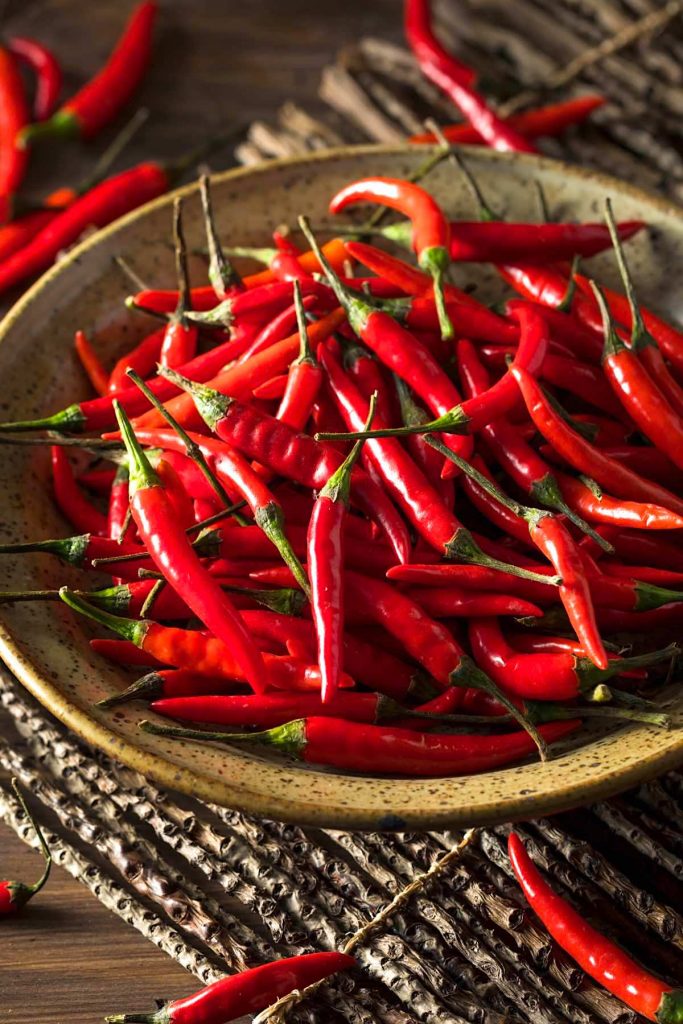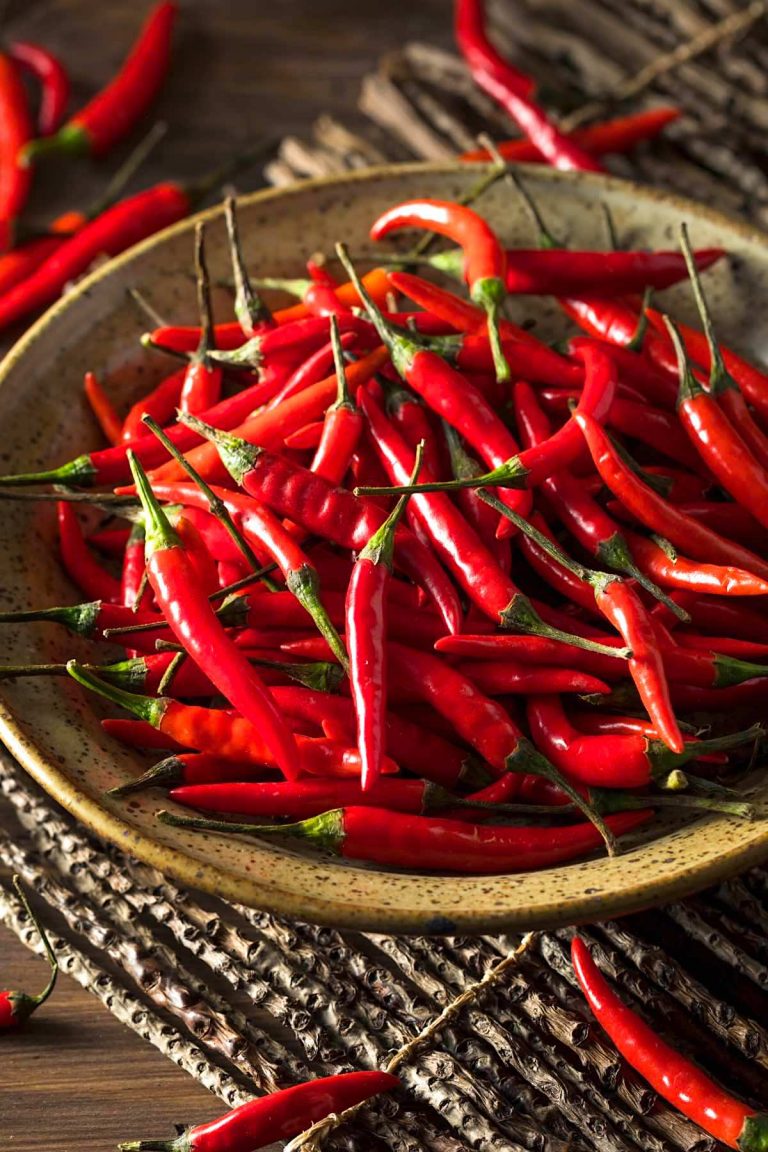 Thai chili peppers
What is it? The term "Thai pepper" is a bit misleading as it evokes the image of one type of pepper. Thai chili peppers actually have at least 79 varieties, with different heat scales. They are a group of chili pepper from plant Capsicum annuum, commonly found across Southeast Asia, and are a popular ingredient in many Asian cuisines, especially Thai dishes.
Why people love it? Thai peppers not only make your food spicy, but also add some very nice zest and sweetness to dishes.
Other names: There are different types of Thai peppers, and many are used under different names (See details below). Among all, the most well-known one is bird's eye chili or bird's chile.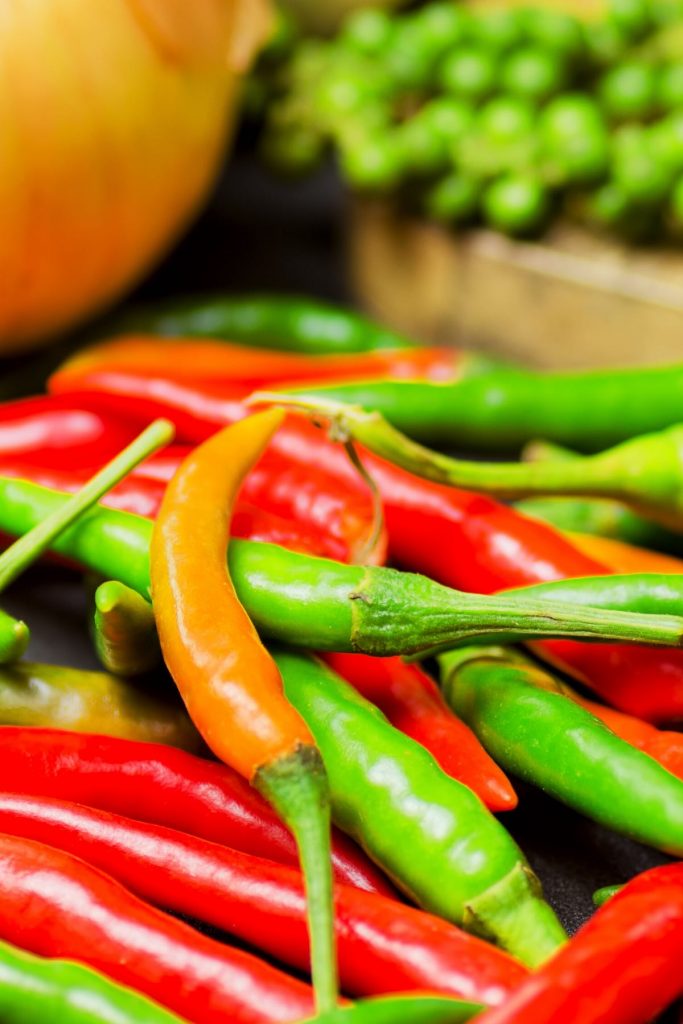 Types of Thai peppers
There are at least 79 varieties, and most are about 1-2 inches long and very hot. Some popular types include:
Prik kee noo: It's the most well-known type and is also called bird's eye chili or Thai dragon peppers. It's extremely hot.
Prik leuang: yellow-green and red-orange in color. They are spicy and are often pickled and added to Thai salads to give a pop of color to a dish.
Prik chee fah: green and red, mild.
Prik yuak: green color. It's sweet and less spicy.
Prik jinda: red and green, very hot.
How hot are Thai peppers and what is Scoville?
To get a sense of how hot Thai peppers are, let's take a look at the Scoville Heat Units, which is a measurement of the pungency of chili peppers. On this scale the sweet bell pepper has a score of zero, and the hottest peppers rank more than 1,500,000 Scoville heat units (SHU):
0 to 4,000 is considered mild.
4,000 to 15,000 is medium.
15,000 to 50,000 is hot.
Greater than 50,000 is considered extremely hot.
Even you may consider the jalapeño as a very spicy hot pepper, but on the Scoville scale, it's only mild to moderate, with a Scoville heat unit ranging between 2,500 to 8,000 Scoville heat units. Thai dragon peppers are around 80,000 to 100,000, which is more than 20 times the average heat of the jalapeño. These Thai chili peppers fall in the "pretty darn hot" category.
Note: Thai peppers are not the hottest variety. For example, habanero is even hotter and is rated 100,000 to 350,000 on the Scoville scale.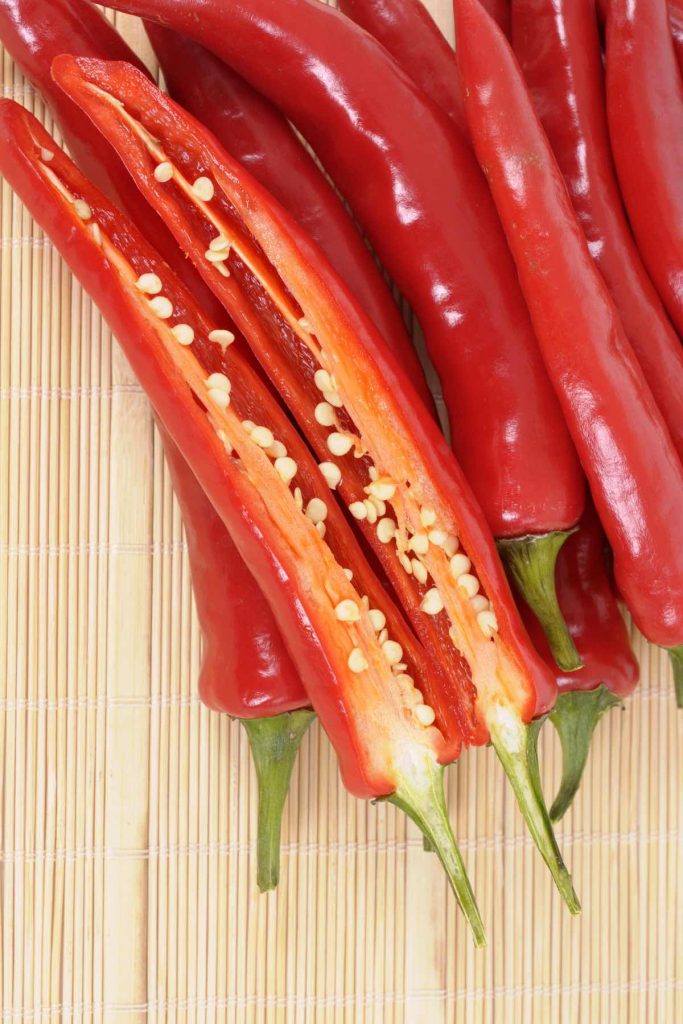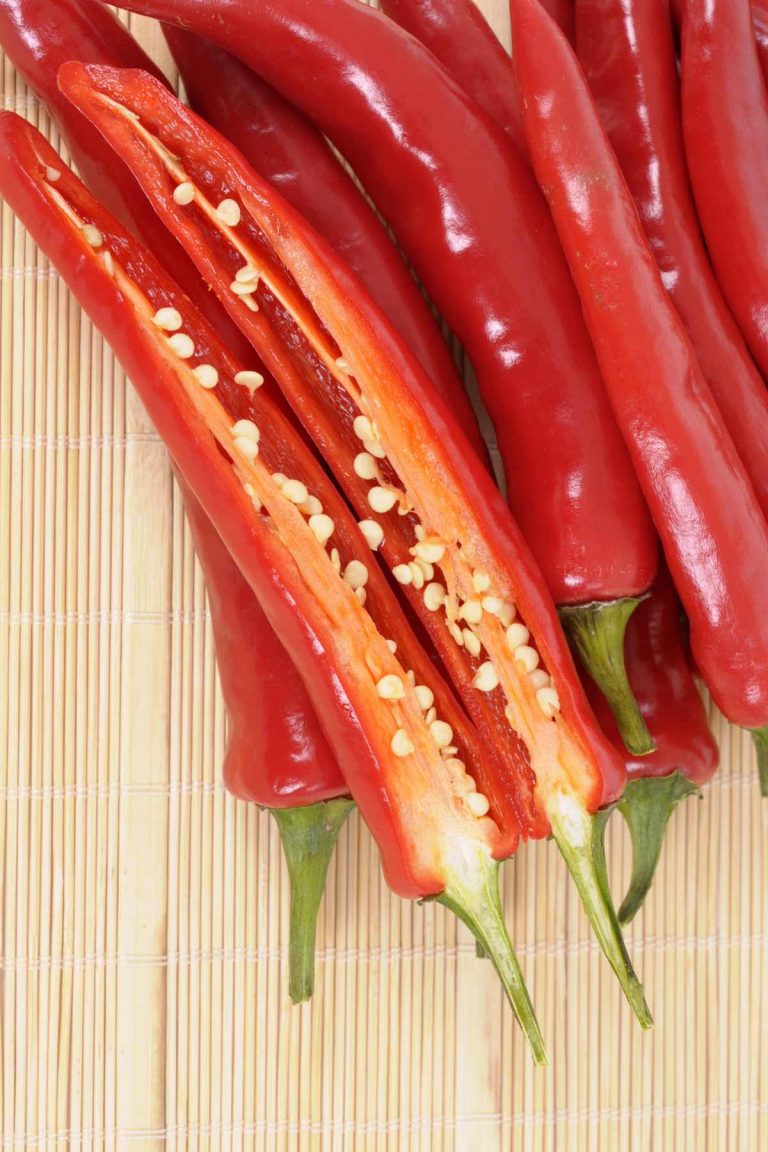 Are Thai peppers good for you?
Thai peppers are rich in various vitamins and minerals, and are also very high in antioxidant carotenoids. They are associated with several health benefits such as pain relief and promoting weight loss.
However, they're not good for every one, as they trigger a burning sensation and may cause stomach pain and diarrhea. It's better to eat in small amounts even if you love the flavor.
Ways to use Thai peppers
In Thai cuisine, Thai chili peppers are in different dishes such as curries, noodles, pastas, salads and soups. You can find them in different forms:
Fresh: You can slice them into pieces and add to noodles, stir fries or soups. Homemade hot Thai pepper sauce is another great way to use fresh Thai chili.
Dried: Simply string the peppers up on thread and hang to dry. They will be ready within several weeks. You can also dry them in the oven. They're full of flavor and can last much longer. I like to use them in a sun dried tomato dish, but you can add them to other dishes for some extra heat. Or you can grind them up to make your own chili powder.
Powder: You can buy Thai chili powder for easier cooking. Simply add them to any dishes and it serves the same purpose as dried chili.
Chili paste: You can add it to soups or ground meat for a spicy flavor. If you like spicy food, you can also spread it directly onto sandwiches, or mix with mayo for a quick dip.
Curry paste: It's mostly used in Thai curries and stews. Cook the paste with oil first to bring out the flavor, then coat proteins with the paste before slowing cooking until everything is tender and flavorful.
Picked: Simply slice a bunch of fresh Thai peppers into 1/2-inch thick pieces and soak them in salt and vinegar water. They'll last much longer than fresh ones. They're usually enjoyed as a condiment for noodles, salads, or rice.
Thai peppers sometimes can be used as ornaments for decorations with their gorgeous colors and beautiful shape.
Pro tips: When handling hot Thai peppers, don't touch your eyes or other sensitive parts of your body with you hands. I recommend wearing rubber gloves when chopping and cutting the peppers. If you don't have gloves, make sure to wash your hands thoroughly afterwards.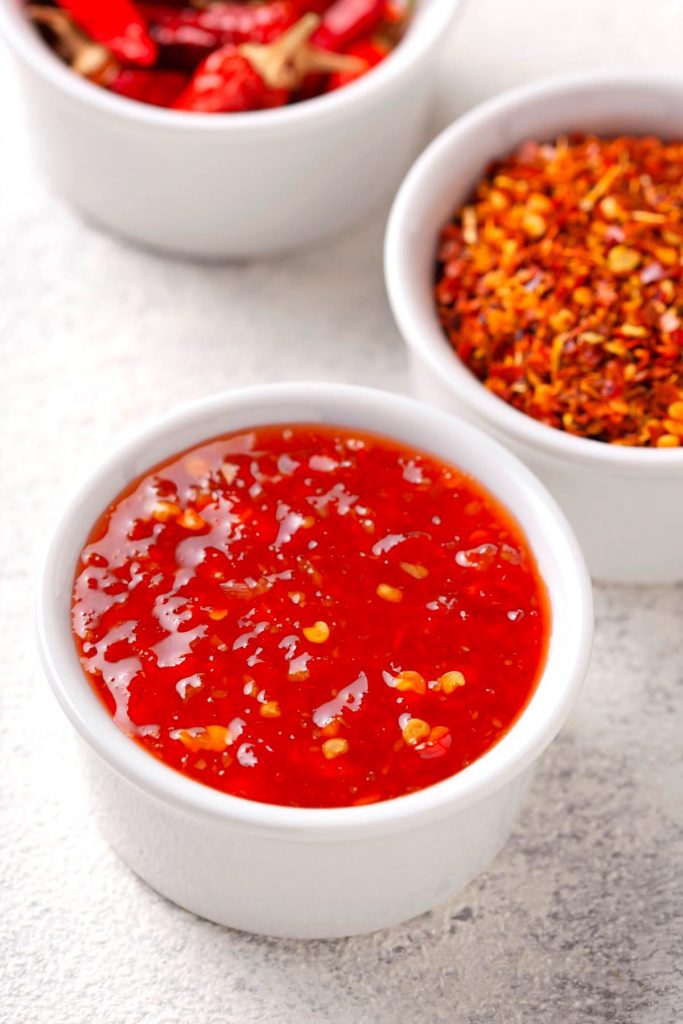 Where to buy them?
Different forms of Thai peppers are available at your local Asian grocery stores. Alternatively, you can easily order dried thai peppers, Thai chili powder, Chili Paste, Curry Paste online from Amazon.
How long do Thai peppers last?
Fresh Thai peppers can last for about 1 week in the fridge. Dried Thai peppers can last for a few months. Chili powder and unopened chili paste can last for 2-3 years.
Pro tips: You can freeze fresh Thai peppers in the freezer friendly bags. They can last up to a year in the freezer.
How to substitute Thai peppers?
Serrano peppers are often used as a substitute for Thai peppers. As Serrano peppers are not as hot, you'll need to use more to reach the same level of heat.
Popular recipes using Thai peppers:
Spicy Chicken Pad Thai
Sriracha Sauce
Sweet Thai Chili Sauce (see recipe below)
Spicy Thai Chicken Curry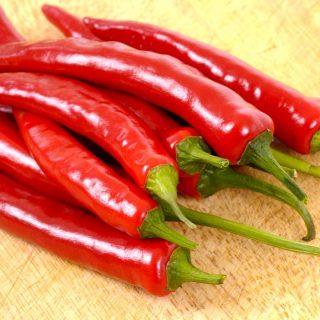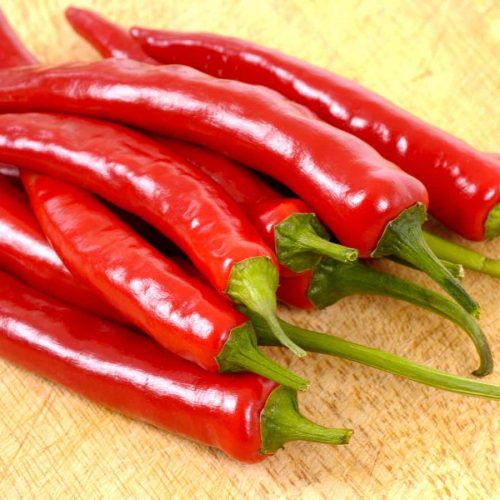 Thai Pepper Recipe: Sweet Thai Chili Sauce
Sweet Thai Chili Sauce is one of the most popular ways to use Thai peppers. It's incredibly easy to make and is so flavorful. You can use it as a dip or add to your stir fries, soups, noodles, and salads.
Print
Pin
Rate
Ingredients
1

tablespoons

sambal oelek

(You can also use minced fresh Thai peppers)

1/4

cup

rice vinegar

1/4

cup + 2 tablespoons

sugar

1/4

cup

water

1/2

tablespoon

cornstarch
Instructions
In a small saucepan over medium heat, add sambal oelek, rice vinegar, sugar, and water. Stir constantly until the sugar dissolves completely.

In a small bowl, whisk together cornstarch and 1 tablespoon water.

Pour the cornstarch mixture into the saucepan and continue to stir.

Cook for a few minutes until the sauce has thickened.

You can use the sauce immediately, or store in a air-tight contain in the refrigerate for up to 1 week.
Nutrition
Calories:
30
kcal
|
Carbohydrates:
7
g
|
Protein:
1
g
|
Fat:
1
g
|
Saturated Fat:
1
g
|
Sodium:
1
mg
|
Potassium:
7
mg
|
Sugar:
6
g
|
Vitamin C:
1
mg
Tried this recipe?
Follow or tag us on Pinterest @izzycooking