Wondering what to serve with tuna steak? From potatoes to healthy vegetables, we've rounded up 18 of the best side dishes for tuna steak.
If you've decided on having a tuna steak for lunch or dinner and are trying to find the best side dishes, you've come to the right place! The list below will give you some inspiration.
What Vegetables Go Well with Tuna Steak?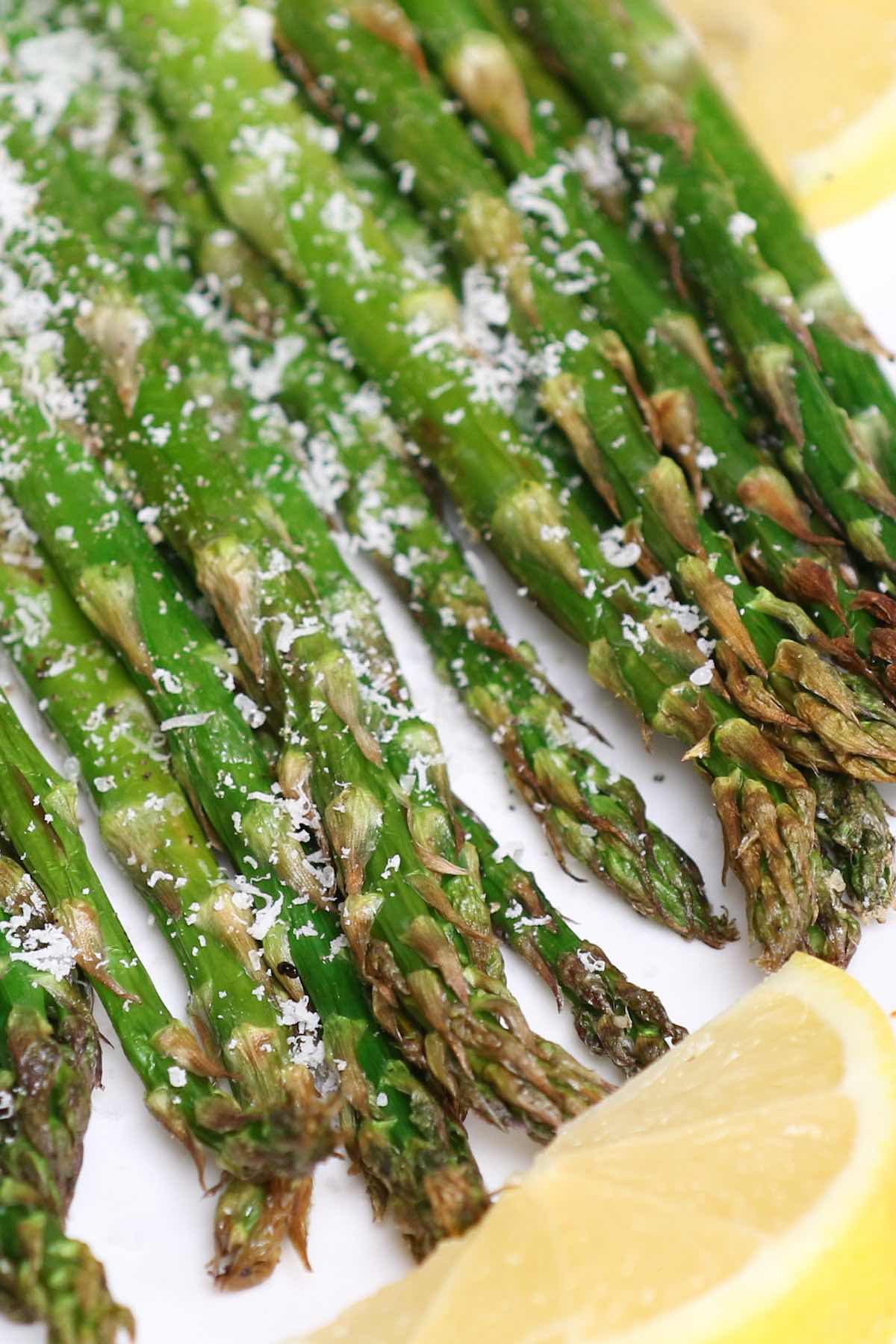 Vegan, low-carb and keto?! What more could you ask for? Air Fryer asparagus is a delectable side dish for tuna steak and provides a crisp bite. To top that all off, the recipe is quite simple-all you need is some salt and pepper to season, and parmesan to garnish! Like they say, once you try it, you'll never go back!
Staying on the healthy side of things, roasted balsamic Brussels sprouts are the perfect option. Using fresh Brussels sprouts for this recipe provides a great texture and has more nutrition compared to frozen ones. Keep in mind that you will want to cook these at a higher temperature in order to bring out that sweetness and crisp taste.
This is a delicious and simple side dish that, once prepared, will provide a sweet and tender taste. Said to be a close cross of a potato and a carrot, parsnips are a good source of vitamin C and fiber. However, if it is the taste that you're focusing on, remember to choose the smaller parsnips as they are sweeter, tender and less woody.
Another side dish that is chock full of vitamin C but also low-carb and keto-friendly, steamed broccoli is the ideal side dish for grilled tuna. When you steam broccoli, it removes the acidic taste and brings out that natural sweetness that you crave for your dinner. The best part is that it only takes 10 minutes to steam!
Pasta and Noodle Side Dishes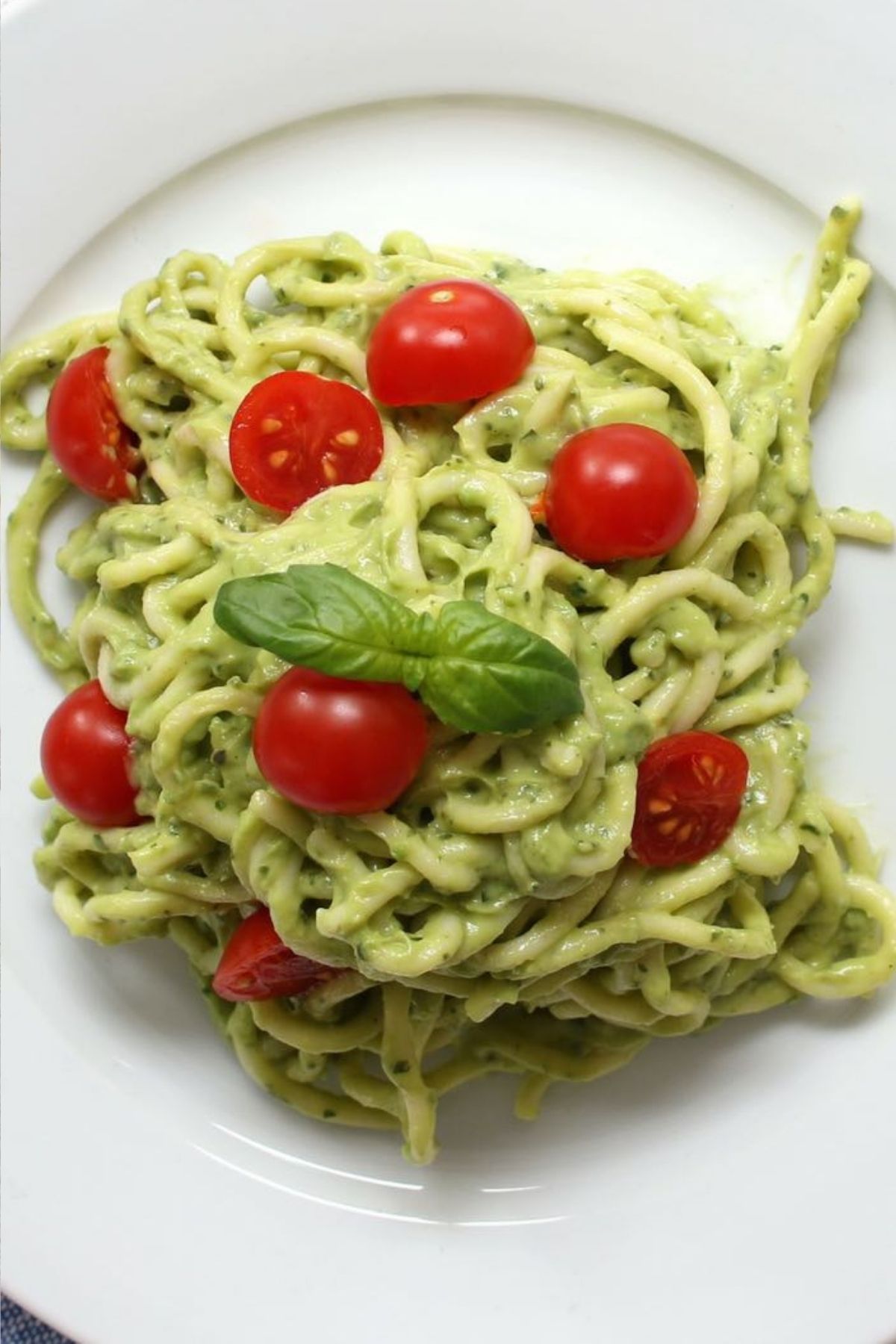 Avocados, basil, garlic, lemon and olive oil are all you need for this dish. The creamy taste and texture may make you think there is butter or cream in this dish, but don't be fooled – the avocados provide a creamy texture that is packed full of antioxidants. The best thing is, this dish is completely vegetarian.
Said to be the grown-up version of mac and cheese, this dish has kids and adults alike coming back for more. Here are some tips to make this dish the highlight of your dinner: buy block cheese and shred it yourself, cook your cavatappi just a bit less than al dente, and make sure your butter is cold for the perfect roux!
Looking to incorporate more protein into your diet? Even if you're not, pesto pasta is a must-try! It is gluten-free pasta, tossed in a creamy, vegan pea pesto sauce that is topped with sun-dried tomatoes – delicious and nutritious in 30 minutes flat!
Potato Sides to Serve with Tuna Steak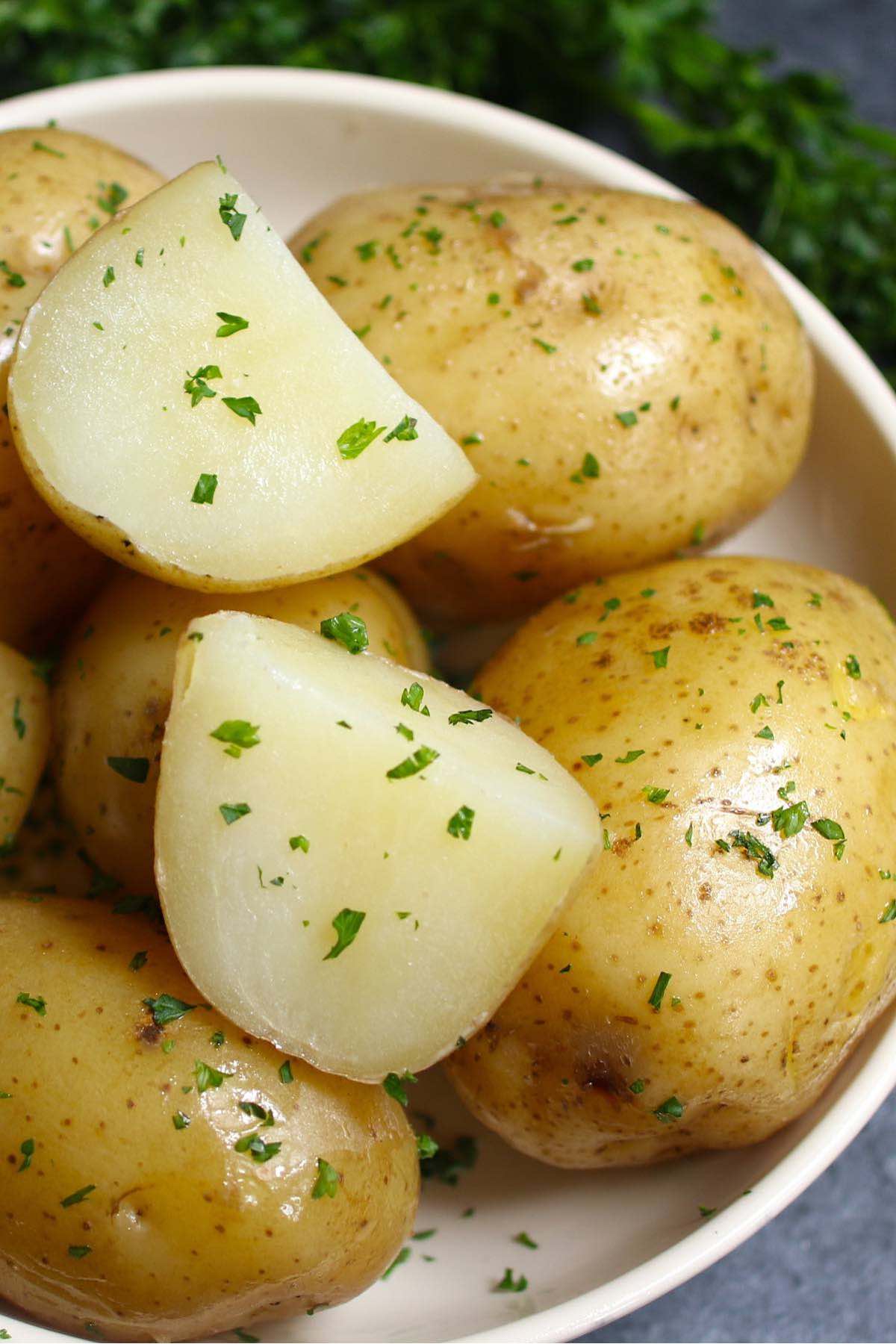 Time on your hands or strapped for time, either way there are options to make boiled potatoes to add to your grilled tuna dish. Boil them in the microwave for 6-8 minutes or on the stove for just about double that time. After boiling, just add some butter and fresh herbs and you have a simple side dish that will have people thinking that you slaved over the stove all day.
Microwaved mashed potatoes? Is this true? You bet!! In just 15 minutes, you can have smooth, creamy mashed potatoes. All you have to do is choose starchy potatoes, cut into cubes and microwave on high for 10 minutes. Add in milk and butter and you'll never want to mash potatoes the hard way again.
You may be used to making your mom's or your grandma's potato salad recipe, but after trying this one, it may just become the new family favorite. For the best flavor, make your salad a day ahead of time.
These homemade copycat Popeyes' Cajun Fries are crispy on the outside, and fluffy on the inside, with the perfect kick. They taste the same if not better than the fast-food version. What distinguishes these Popeyes Fries is an irresistible mix of seasonings for an authentic Cajun treat.
Salads that Pair Well with Tuna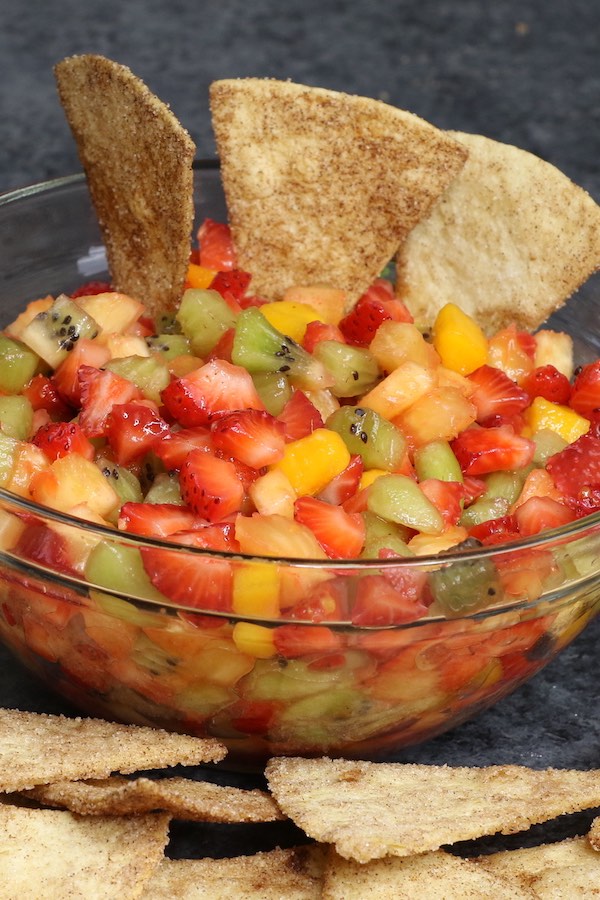 Is there anything better than a bright and colorful side dish to complement your tuna? Fruit salsa not only provides a fresh taste but sweet and tart as well. Simply dice up your favorite fruits, add some sugar and lemon juice, and you are on your way to a juicy treat. If you want to step it up a notch, add in some cinnamon-covered tortilla chips.
If you're a pro at making a yogurt or mayonnaise dressing then you will want to include this side dish with your meal. Chop up some apples and celery, add in some walnuts and raisins with that yogurt dressing, and you will have a salad that is both healthy and heavenly.
Easy and delicious! Two of the best words used together! This broccoli salad recipe is loaded with flavor and calls for broccoli, bacon, red onion, cranberries, sunflower seeds and goat cheese. All that deliciousness is topped with a creamy mayonnaise yogurt dressing. Be sure to save room for this dish!
Other Good Side Dishes for Tuna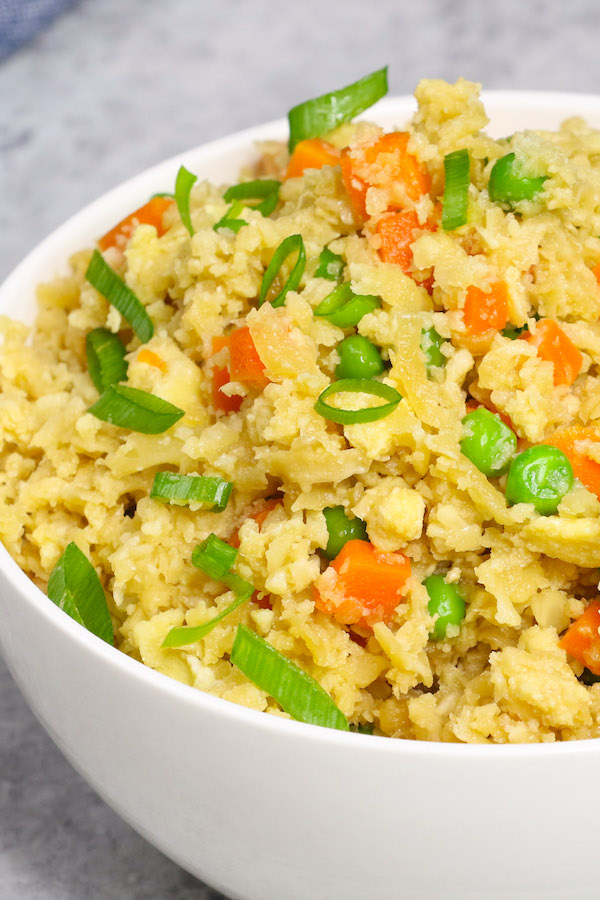 Managing your carb intake? Try your hand at making cauliflower fried rice and your mouth won't be disappointed. Shred the cauliflower with a grater or a food processor and cook it with salt, pepper, and oil on the stove. You'll have yourself a scrumptious side dish that you won't feel guilty about!
Rich, creamy and easy to make! Nothing beats a classic like creamy mac and cheese! It's the perfect pairing for grilled tuna because you can dip, scoop or wipe up any of the leftover creamy cheese with your tuna. Piece of advice, in order to get that strong robust flavor, choose a sharp cheddar!
Zucchini noodles are vegetables with a twist, or a spiral in this case. Grab your spiralizer, and your zucchini and you will be on pace for creating your own noodles. The fun spirals will have you forgetting that you're eating a vegetable! To turn those noodles into a dish, simply heat olive oil in a skillet and toss the zucchini noodles for 2-3minutes.
An easy, flavorful and vegan dish, Moroccan couscous is a no-brainer to pair with your grilled tuna. Be sure not to overpower the taste and overdo it with seasonings, keep it simple with a little bit of cumin and cinnamon.
You May Also Like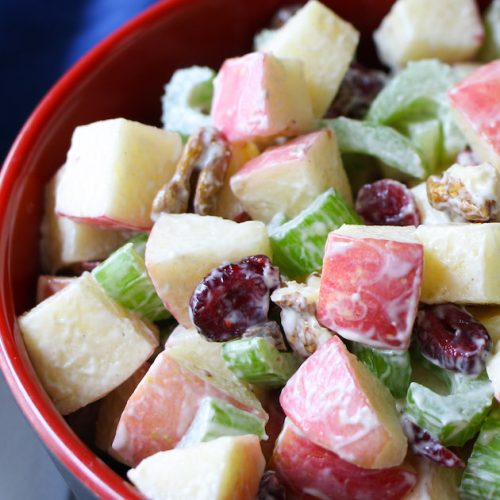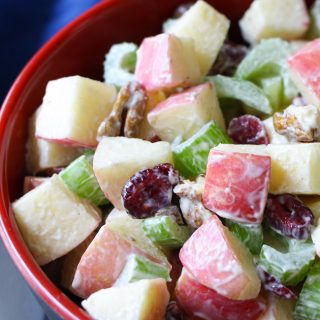 Easy Apple Salad to Serve with Tuna Steak
If you're a pro at making a yogurt or mayonnaise dressing then you will want to include this side dish with your meal. Chop up some apples and celery, add in some walnuts and raisins with that yogurt dressing, and you will have a salad that is both healthy and heavenly.
Print
Pin
Rate
Ingredients
3

large apples

cored and chopped*

3/4

cup

walnut pieces

or pecans

¾

cup

raisins

or dried cranberries

1

cup

celery

chopped

1/2

cup

mayonnaise

regular or low-fat, or Greek yogurt**

1

teaspoon

freshly squeezed lemon juice

or cider vinegar
Instructions
Core and chop the apples into 1/2-inch chunks. Sprinkle fresh lemon juice and toss to prevent discoloration.

In a medium bowl, combine the chopped apples with the celery, raisins and walnuts.

Add the mayonnaise or yogurt to the bowl. Then toss all the ingredients together until thoroughly coated.

Spoon onto serving plates, or onto lettuce leaves for an attractive presentation.
Tried this recipe?
Follow or tag us on Pinterest @izzycooking