Thai dishes have become so popular, and you'll soon find out why. The delicious and fresh flavors of Thai food are a guaranteed winner every time. We've rounded up 23 Best Thai Recipes that you can easily make at home. Pad Thai, Curry, Satay, and so much more. From the most authentic, to the spiciest, vegetarian options too, plus we'll take you through a few drink and dessert options as well.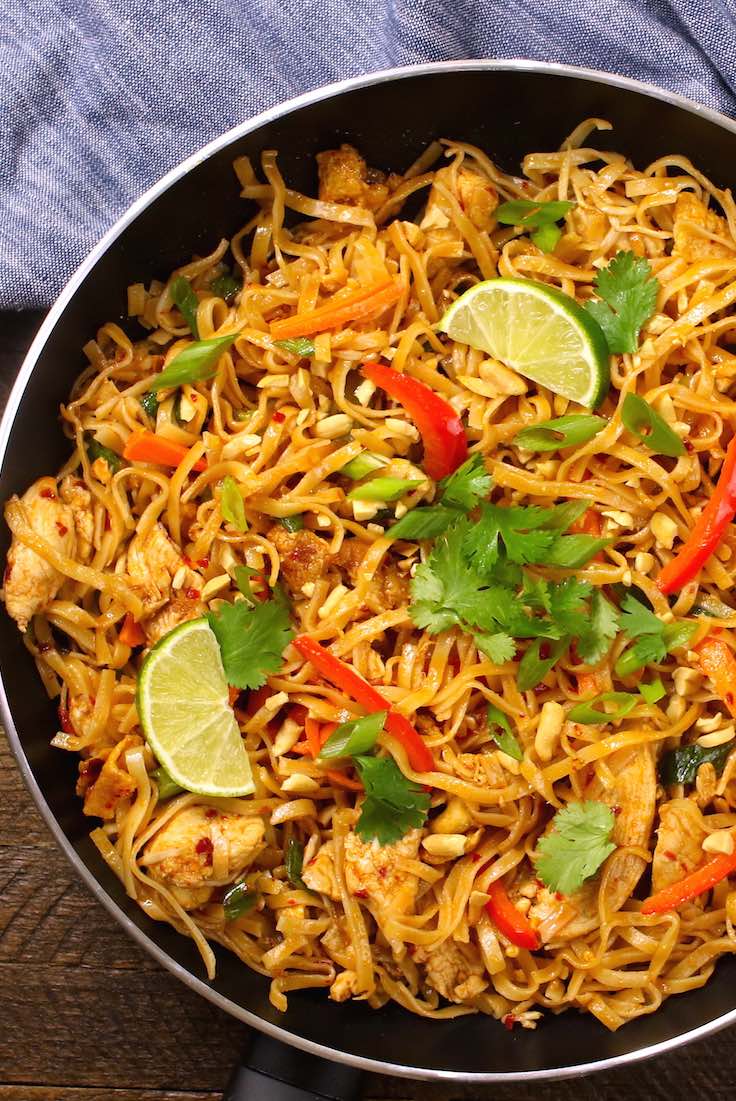 What is the Most Popular Thai Food?
If you think that Pad Thai is the most popular Thai Food, you'd be sadly mistaken! It is Tom Yum Goong (Spicy Shrimp Soup) that tops the list! It's a great combination of lemongrass, kaffir lime leaves, shallots, lime juice, fish sauce, fresh chilie and juicy, fat prawns! It's a dish that is fresh with an exotic flavor that may just define the flavor for Thailand for you!
Popular Authentic Thai Recipes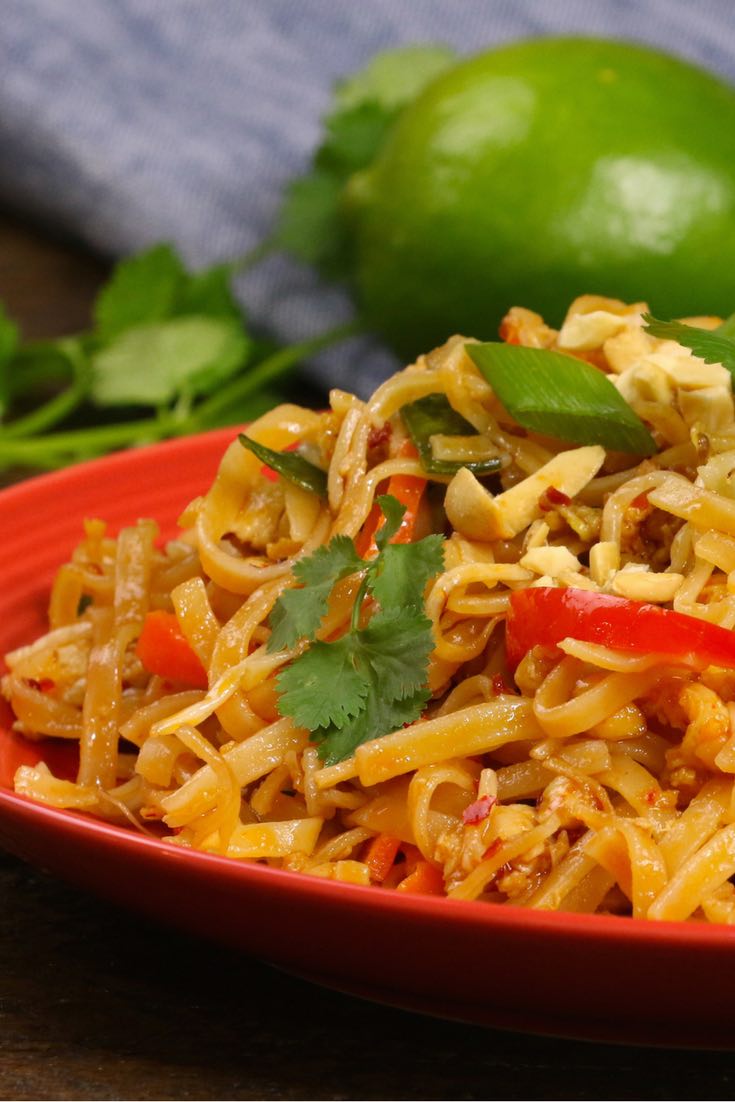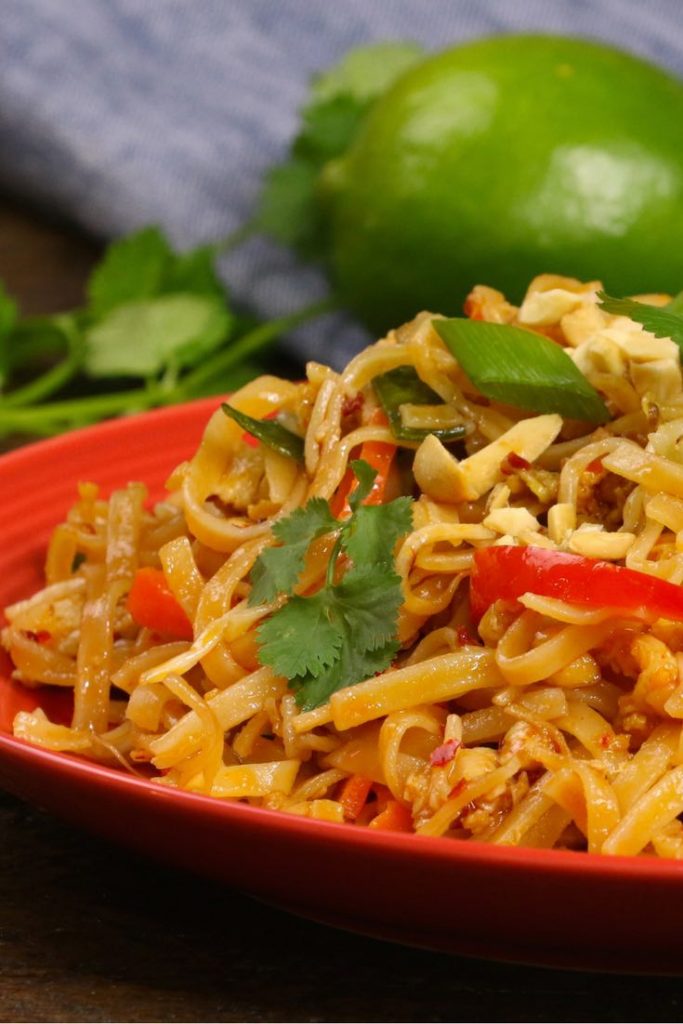 Sweet and nutty, this Chicken Pad Thai has the perfect balanced salty and spicy flavors. It's an easy meal for any day of the week and the best part is that it comes together in less than 20 minutes. 
This Thai rice noodle dish is surprisingly easy to make at home in just under 30 minutes. It's made with glass noodles, proteins, veggies all tossed in a savory and sweet pad woon sen sauce. It'll make you feel like you're eating right from a Thai restaurant.
Did you know that Pad See Ew means "soy sauce stir-fried noodles"? It is one of the most popular Thai stir-fried noodle dishes and certainly a great beginner dish for those new to Thai Cuisine. With salty and sweet flavors, you'll easily fall in love with this pad see ew dish.
A versatile dish that can be made for dinner or even breakfast, Thai Red Curry is warm, comforting, and perfect for cool days. It's hearty, rich, and full of vegetables that everyone likes.
One of the best-known dishes of Thai cuisine, Thai Green Curry is full of complex flavors,  but actually quite easy to make at home! One tip to keep in mind here is to marinate the chicken in the fish sauce while preparing the other ingredients.
Everything you love about Pad Thai but in a fried rice recipe! It's easy to make, completely delicious, and burst with colors. It's definitely one of those dishes that is so good you will need to stop yourself from shoveling it in!
It's a popular Thai dish made with minced chicken, fish sauce, lime juice, chilies, and fresh herbs. Easy to prepare and you can have it on the table in 30 minutes, and it can be served in lettuce cups or over rice! 
Bold, fragrant, and easy to make! This Coconut Curry Soup is loaded with protein, fried crunchy noodles, and fresh herbs.
Flavorful and tender, this may just be the easiest Thai Chicken you've ever made. This recipe calls for boneless skinless chicken marinated in coconut milk. The chicken is then seasoned with fish sauce, curry paste, and then grilled to perfection! The peanut sauce used for dipping gives this dish a hint of sweetness and spice.
Spicy Thai Recipes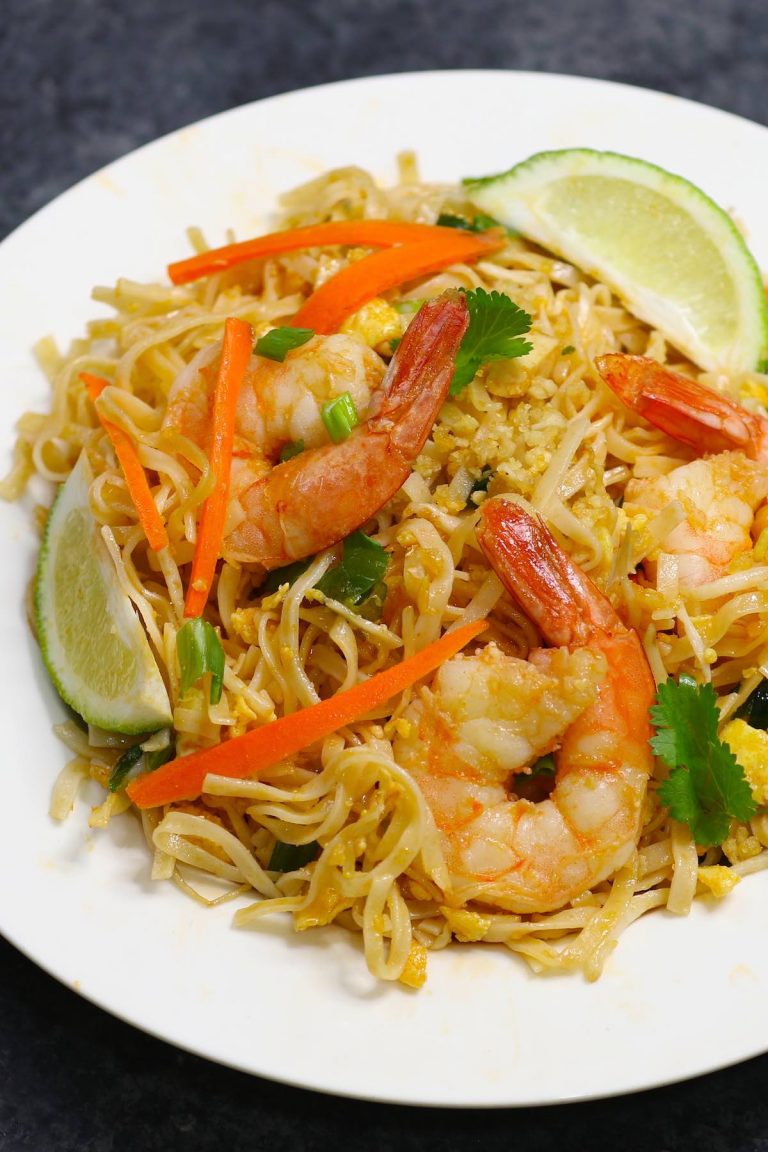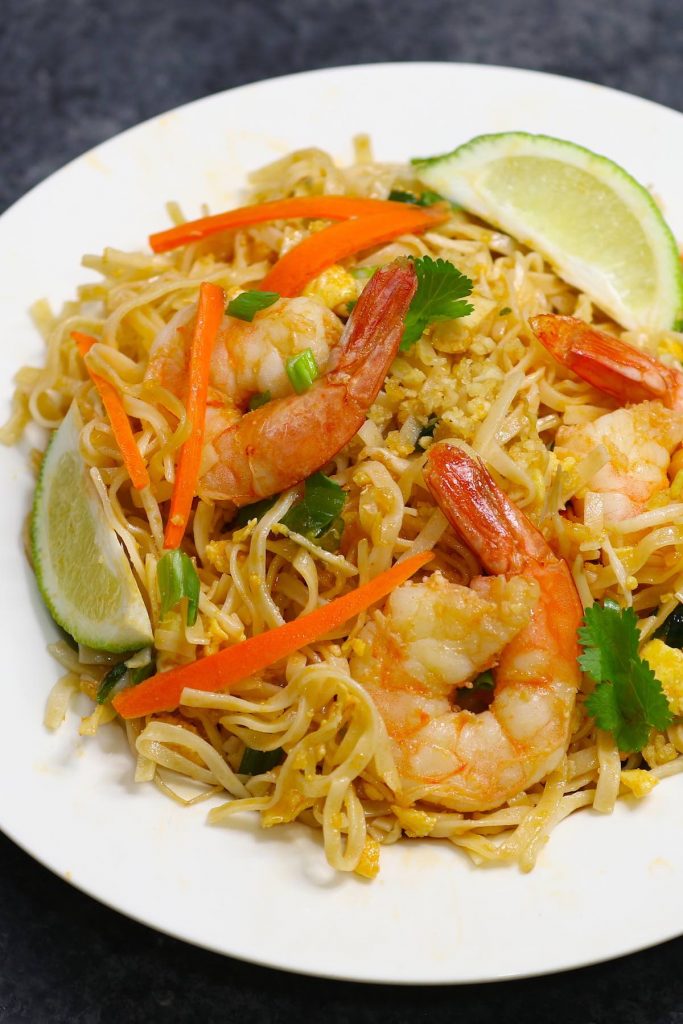 This easy recipe takes only 20 minutes to put together, and we guarantee you won't need Thai takeout again. Our version is much healthier than what you would find at a restaurant, and don't forget Thai rice noodles don't need to be boiled – just soak them in hot water.
Ready in just 15 minutes, Thai Basil Chicken is one of the easiest Thai recipes to make! It may just become one of your new favorite dishes from all of its flavors!
Often called Thai Hot and Sour Soup, Tom Yum provides you with a true sense of traveling to Southeast Asia. Made with fresh lemongrass, kaffir lime leaves, fish sauce, chiles, and protein, this soup is flavorful with a pop of spicy heat. 
Easy, low-carb, and prepped in just 10 minutes? Yep! Sign me up!! The salad dressing in this recipe is also the marinade! The key – don't marinate for too long. 
This Thai Chili sauce is for anybody who loves a fiery and flavorful condiment. Containing fresh chilies, garlic, rice vinegar and sugar, it's delicious with meat, seafood and vegetables alike.
Combining Asian noodles, chicken, vegetables, and a spicy peanut sauce, spicy peanut chicken with noodles is the perfect meal for any day of the week. Plus, it's a great way to use up any of those odds and ends you have sitting around!
Kha means "galangal" which is a type of aromatic root vegetable, while Gai means chicken. But in this recipe, you can use chicken, shrimp, beef, pork, tofu, or extra vegetables. Prep time is 10 minutes, and cooking time is 10 minutes. So here we go!
Easy Vegetarian Thai Recipes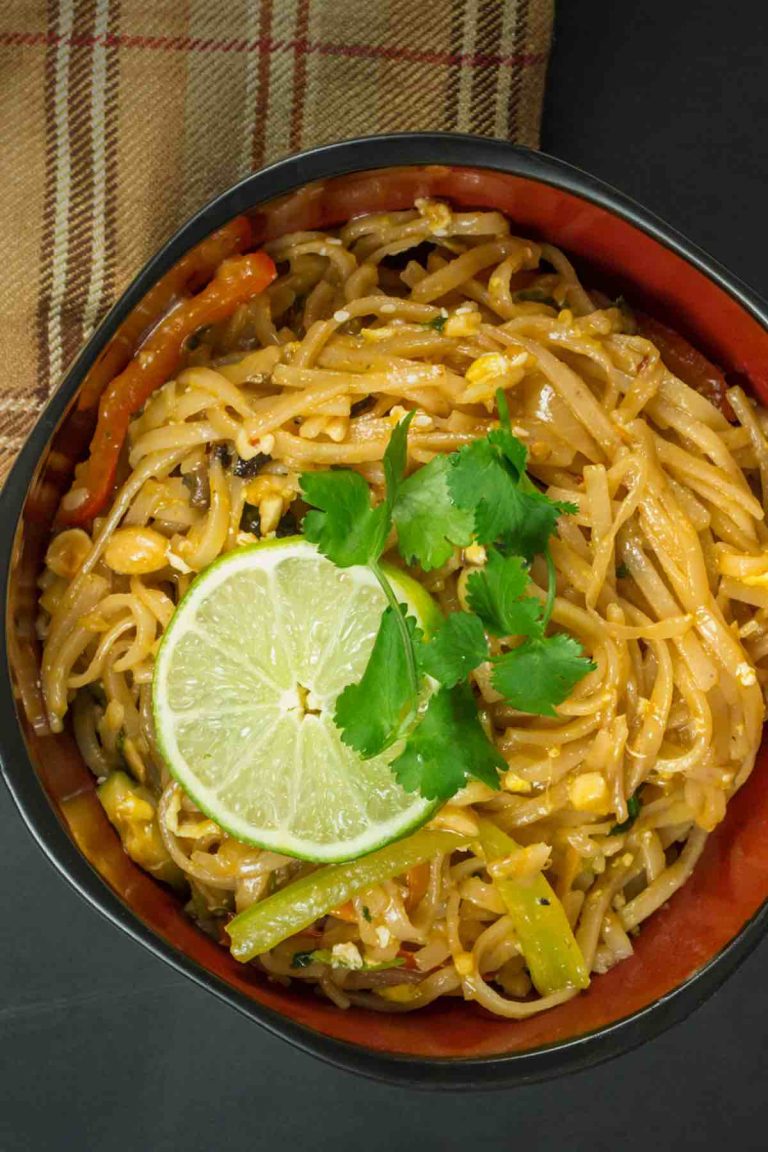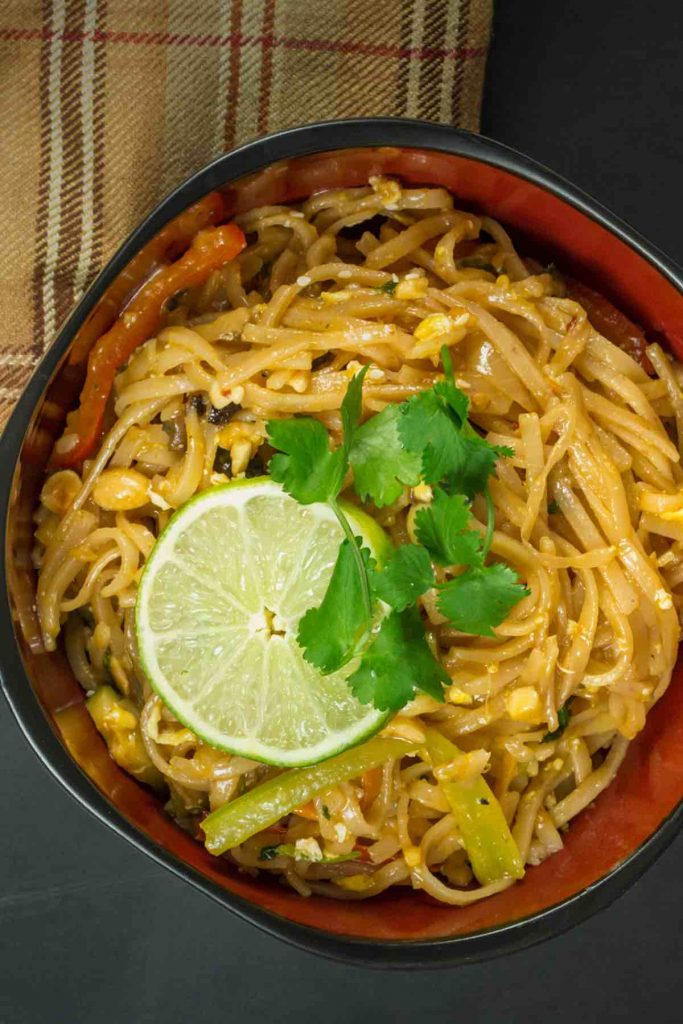 An extraordinary recipe that is flavorful and incredibly filling! Vegetarian Pad Thai dish is fast, simple, adaptable, and delicious!
With just five ingredients, this Thai peanut sauce is made with just a few simple ingredients. Perfect for dipping, on top of salads, spring rolls, noodles and so much more! It's creamy, it's zesty and it provides you with a hint of heat! 
Light and fresh. Tangy, salty, and sweet. Sold yet? Simple satisfaction. Add the meat or fish of your choice and you've got a healthy dinner choice just waiting to be gobbled up!
Green papaya salad is perfect to serve with sticky rice or vegetables. This recipe will provide you with some tips and tricks on how to prepare the salad, how to cut peanuts, and even how to professionally prepare the garlic! You may just end up feeling like a professional Thai chef.
Thai Dessert & Drink Recipes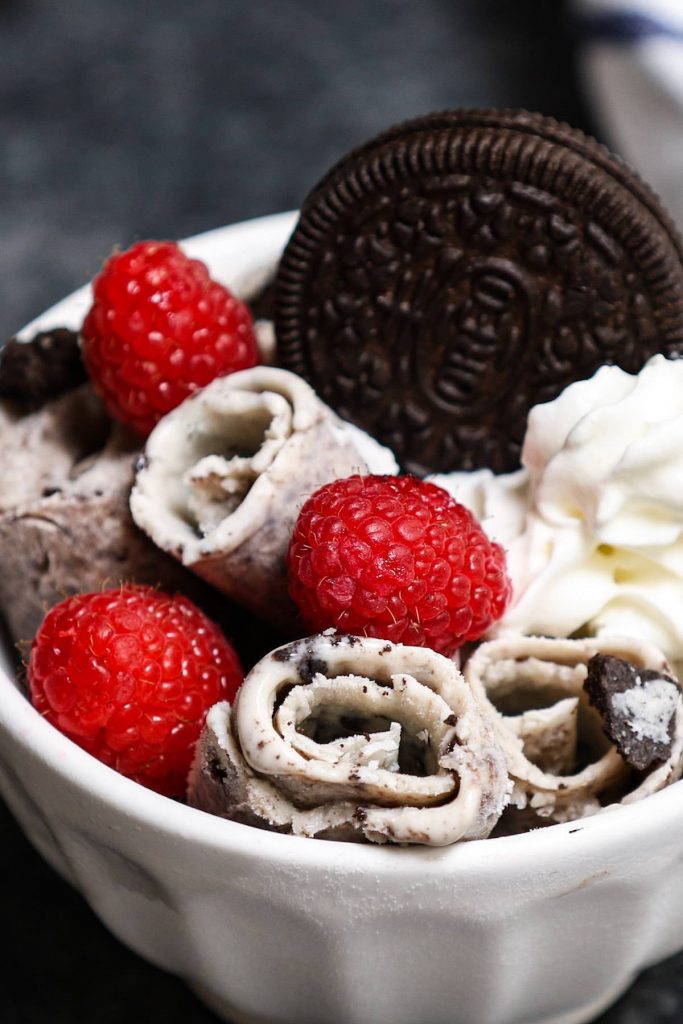 Thai rolled ice cream is made to order by hand! Then it's stir-fried! What? Mind blow! Say it with me…OH MY! This started in Southeast Asia and has now made its way to the United States. Two ingredients and your favorite topping are all you'll need!
Whether you're using Thai tea mix or black tea, you'll love how this Thai iced tea recipe closely resembles the real thing!  You can reduce the amount of sugar in the recipe depending on taste, and switch up half and a half for coconut milk. The best part here is that you're given a few prep options depending on your preference.
Flavorful and refreshing, and you can make it with and without alcohol. Creamy and dreamy best describes this liquid magic. Enjoy! 
You May Also Like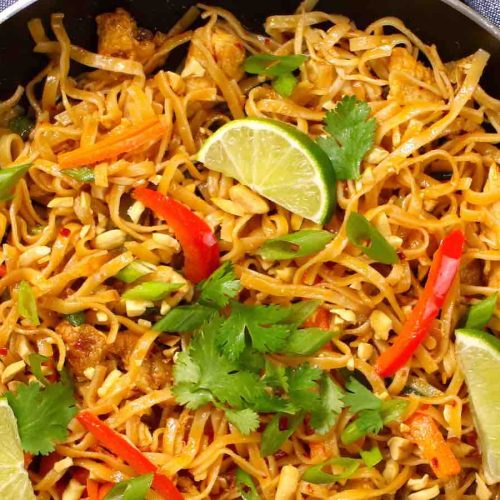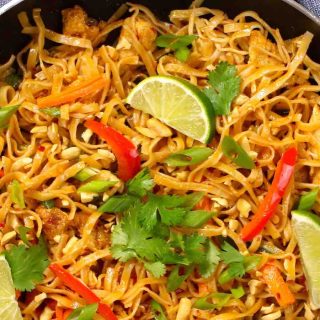 Easy Pad Thai Recipe with Chicken
Pad Thai is one of the most authentic Thai dishes. It's full of flavor and very easy to make.
Print
Pin
Rate
Ingredients
8

oz

Thai rice noodles

1

lb

chicken breasts

cut into thin strips

2

tablespoons

vegetable oil

2

teaspoons

minced garlic

1/4

cup

brown sugar

3

large eggs

2

tablespoons

rice vinegar

1

tablespoons

fish sauce

2

green onions

chopped

2

carrots

sliced into thin strips

1

red bell pepper

sliced into thin strips

1

cups

bean sprouts

optional toppings such as crushed peanuts

cilantro, red pepper flakes
Instructions
Cook the noodles according to the package instructions.

Add oil to a large non-stick skillet over medium heat.

Once hot, add chicken. Stir fry for a few minutes or until slightly brown.

Add bell pepper and carrots and stir fry for about 2 more minutes.

Add cooked noodles, brown sugar, rice vinegar and fish sauce.

Add garlic and green onions. Stir fry for about 1 more minute.

Push the mixture to the edge of the skillet.

Add beaten eggs. Cook and scramble until eggs have cooked through.

Add in bean sprouts, and stir fry for for 2-3 minutes. Mix everything thoroughly.

Remove from heat. Top with optional peanuts, cilantro, or green onions. Serve and enjoy!
Equipment
Tried this recipe?
Follow or tag us on Pinterest @izzycooking