Crab cakes are loaded with juicy crab chunks and fresh flavors. Whether you're baking, grilling, deep-frying or sautéing this Maryland staple food, you can't forget about the sides. Luckily, crab cakes are very versatile, and you can easily pair them with pasta, veggies, salad and more. These are some of our go-to crab cake sides – great for breakfast, brunch, and snacks!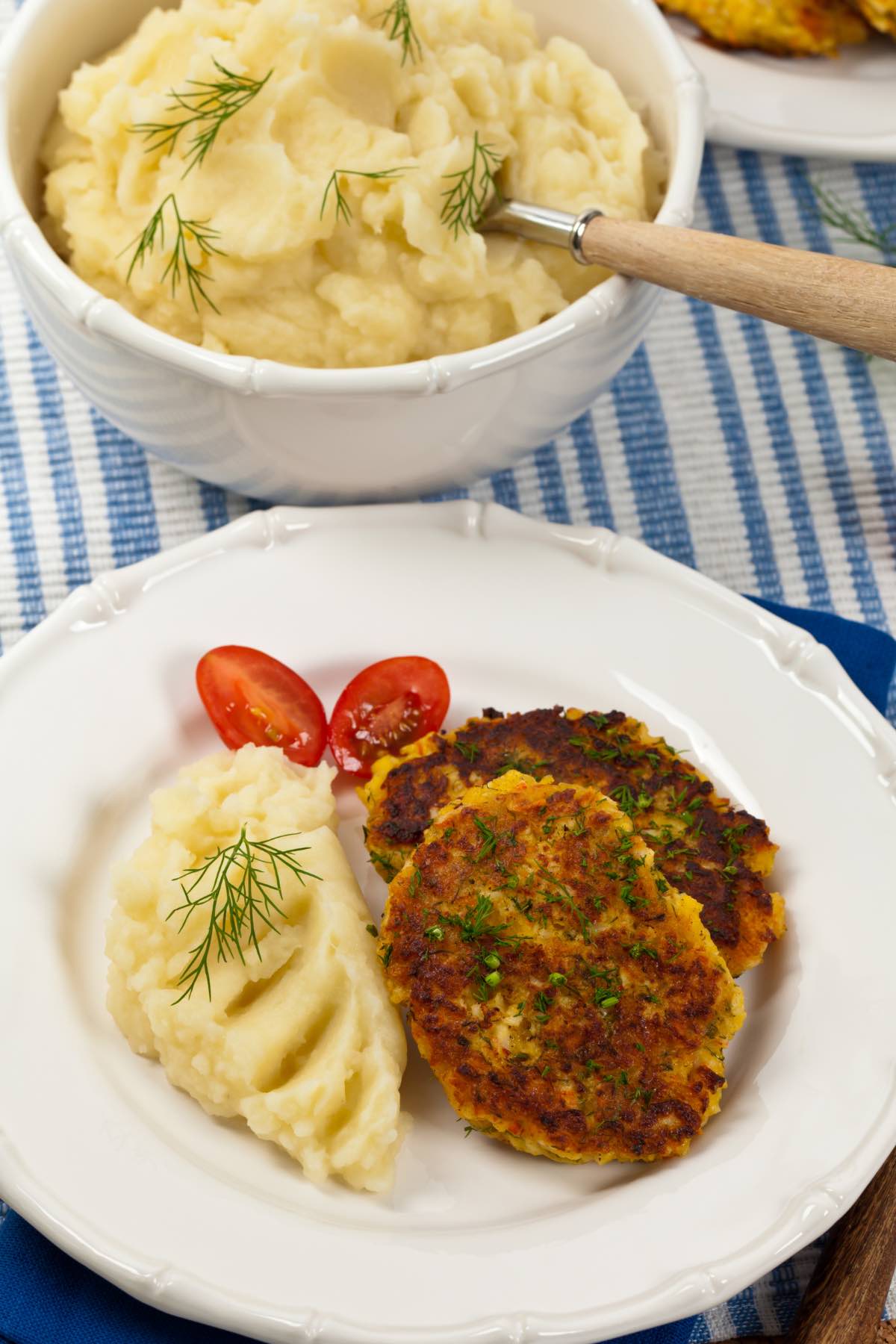 Choosing a side for crab cakes can be dependent on a couple of things. Who you're feeding? How many people are you feeding? Spice or no spice, and what time of the year it is?
Be sure to read on to find some great sides and sauces that will not only compliment your crab cakes but will also complete your dish!
What Is A Good Side Dish That Goes with Crab Cakes?
The top side dish that goes with crab cakes is a grilled or baked potato. Yes, you may be questioning the pairing of a starchy dish with crab cakes, but it's one of the best comfort food that pairs perfectly with the saltiness of the crab cakes.
Gazpacho or remoulade sauce is another perfect side dish that you will want to serve with crab cakes. That extra bit of spice compliments the crab while the sauce soaks into the cake to provide a moist flavor.
What Goes with Maryland Crab Cakes?
Much like regular crab cakes, you will want to first pair them with a delicious remoulade sauce. The Louisiana spice really goes a long way in giving those crab cakes that extra oomph!
However, the best side dish for Maryland crab cakes is a nice coleslaw. You can opt to make a grilled one or keep it fresh with freshly cut ingredients. The mild taste of the coleslaw helps to balance out the spiciness of the crab cakes and is refreshing at the same time.
Pasta and Other Starch to Serve with Crab Cakes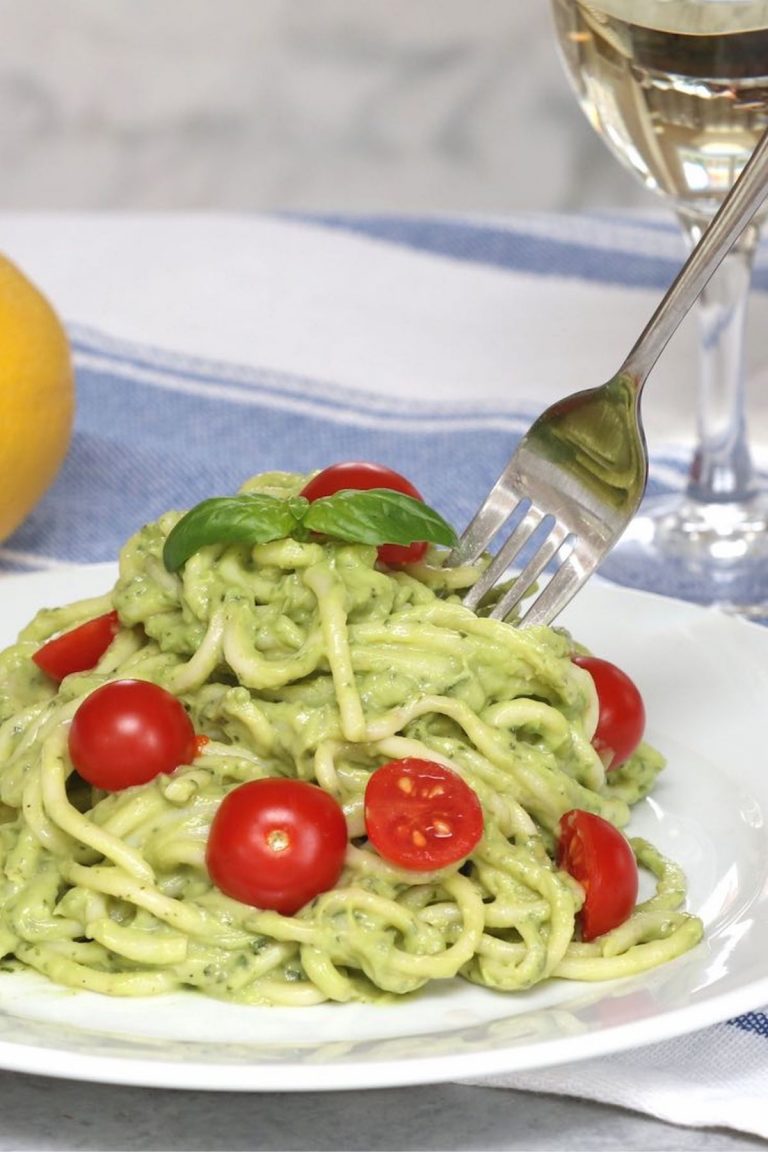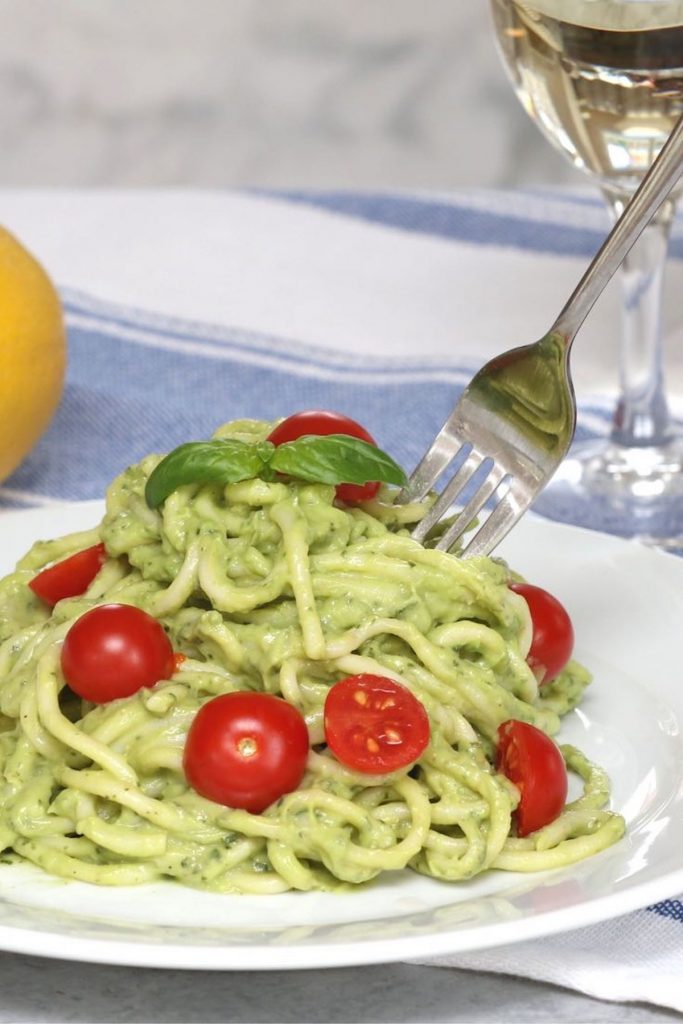 What can better complement crab cakes than a creamy dish that's made in just 15 minutes?!
Avocado pasta combines avocado, basil, garlic, lemon, and olive oil to make a flavorful meal. The best part is that this dish is completely vegetarian!
Another dish that is packed full of flavor is this creamy lemon pasta, and the best part is that it's made all in one pot.
Be sure to use the zest of a lemon for a better flavor and always use fresh parmesan to melt the pasta correctly.
It doesn't matter where you grew up, potato salad is or has definitely become a staple in every household.
The secret to this dish is the creamy sauce, which consists of mayonnaise, buttermilk and just a splash of pickle juice.
Biting into those warm, crisp, potatoes with a soft inside is completely satisfying and tasty!
The trick to getting these potatoes to stay crispy and not overdone is simply cutting them all around the same size, don't overcrowd the pan and be sure to add some of your favorite spices.
These potato fries are perfectly golden and crisp on the outside and fluffy and tender inside. Pair them with crab cakes and the result is always amazing!
Add salt or paprika to your fries and it brings out the taste of the Crab Cakes to a whole new level!
Sides to Serve with Crab Cakes for Breakfast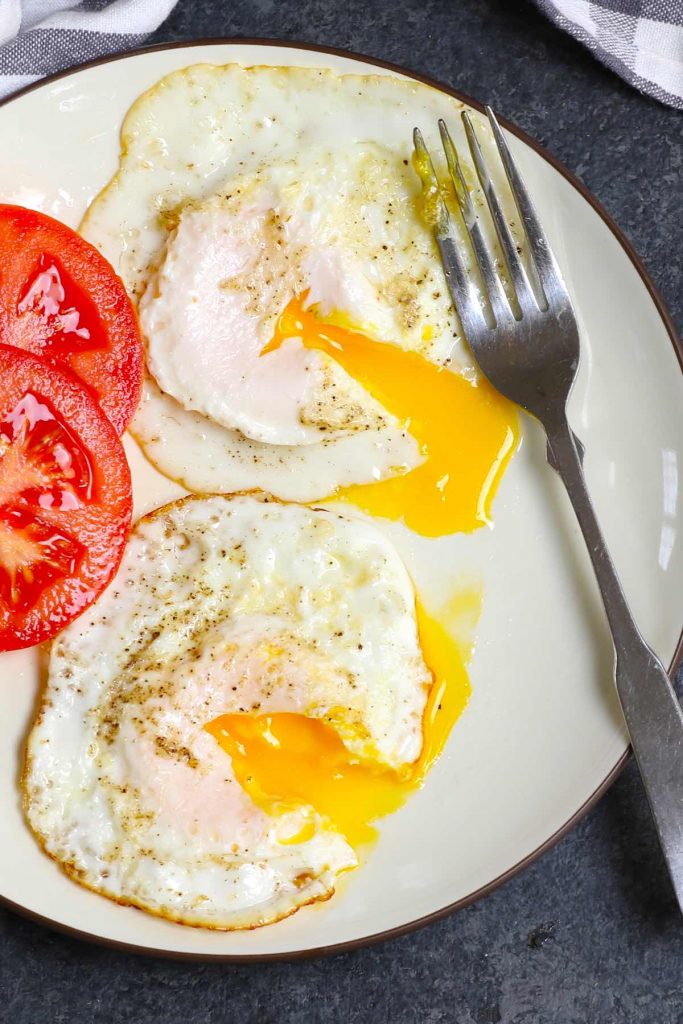 Over medium eggs can be a tricky dish that may take some practice, but don't fret, just follow these steps and you will be on your way to the perfect egg that you can dip your crab cake into!
Make sure you have the perfect pan, a thin spatula and lots of butter or oil in the bottom of the pan!
You can never go wrong with a healthy side such as grilled avocados. They are nice and smokey on the outside and creamy on the inside!
This simple recipe will have you wanting to grill up avocados for each weeknight dinner! All you have to do is to slice the avocados in half, take the pit out, rub with olive oil and place on the grill (flesh side down), for about 4-5 minutes!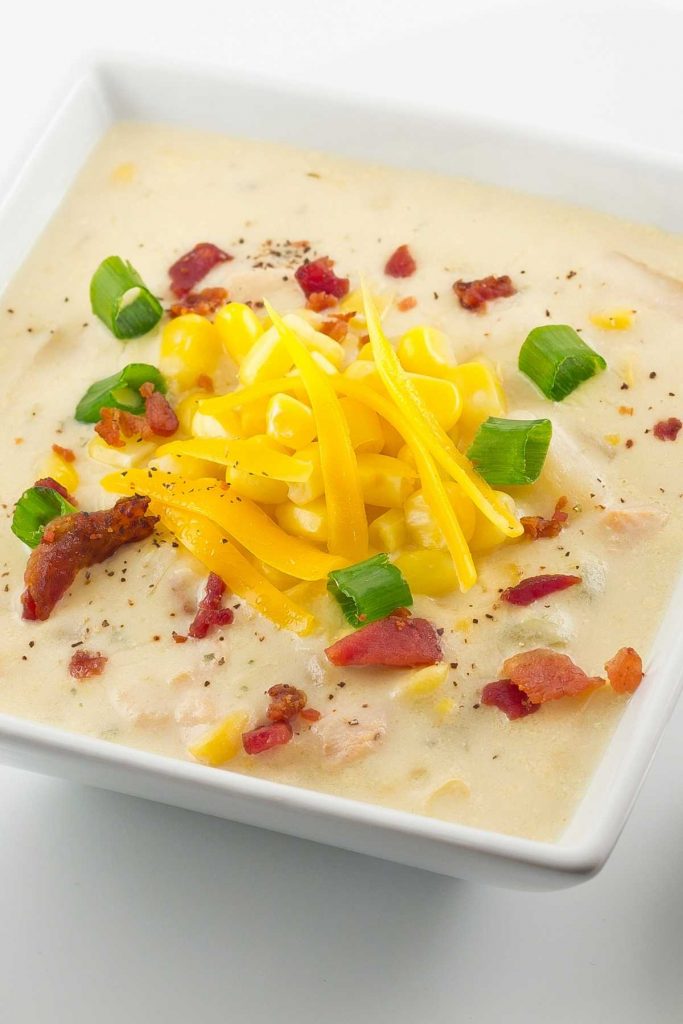 Do you have 15 minutes to spare and look for the ultimate side to serve with your crab cakes? Then look no further than corn chowder.
This dish provides a creamy texture that not only complements the crab cakes but makes the meal extra hearty!
Salad to Serve with Crab Cakes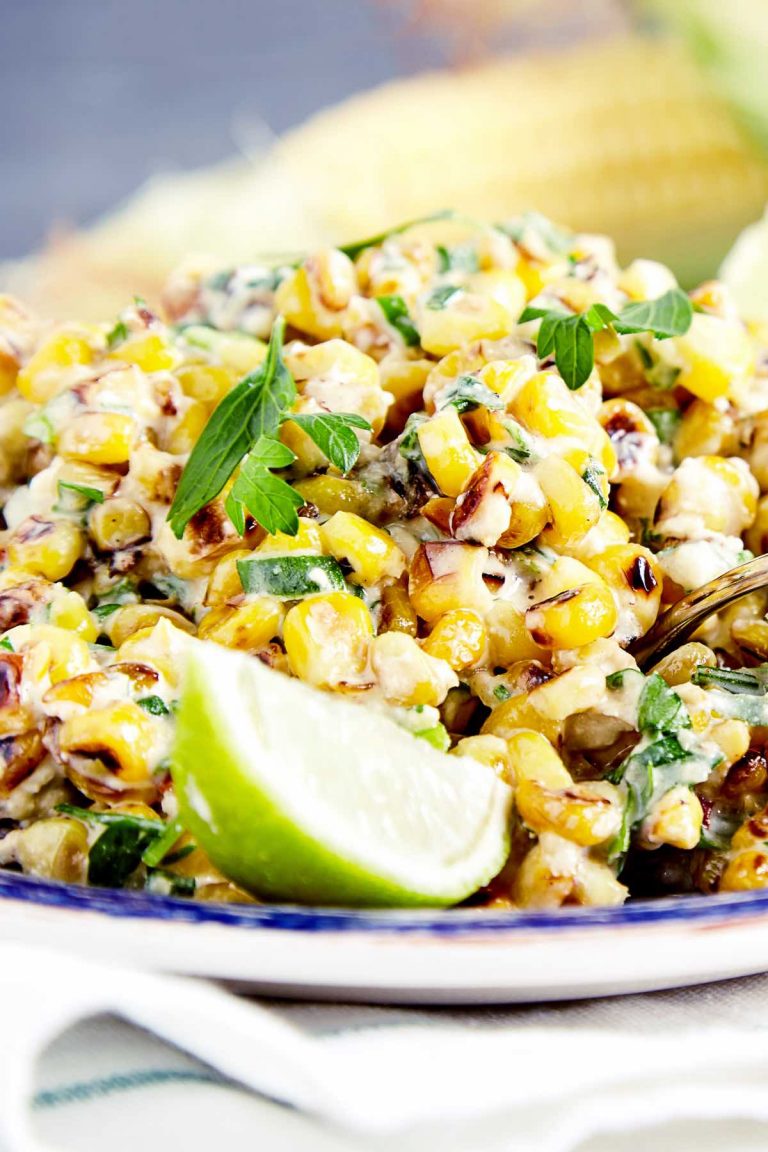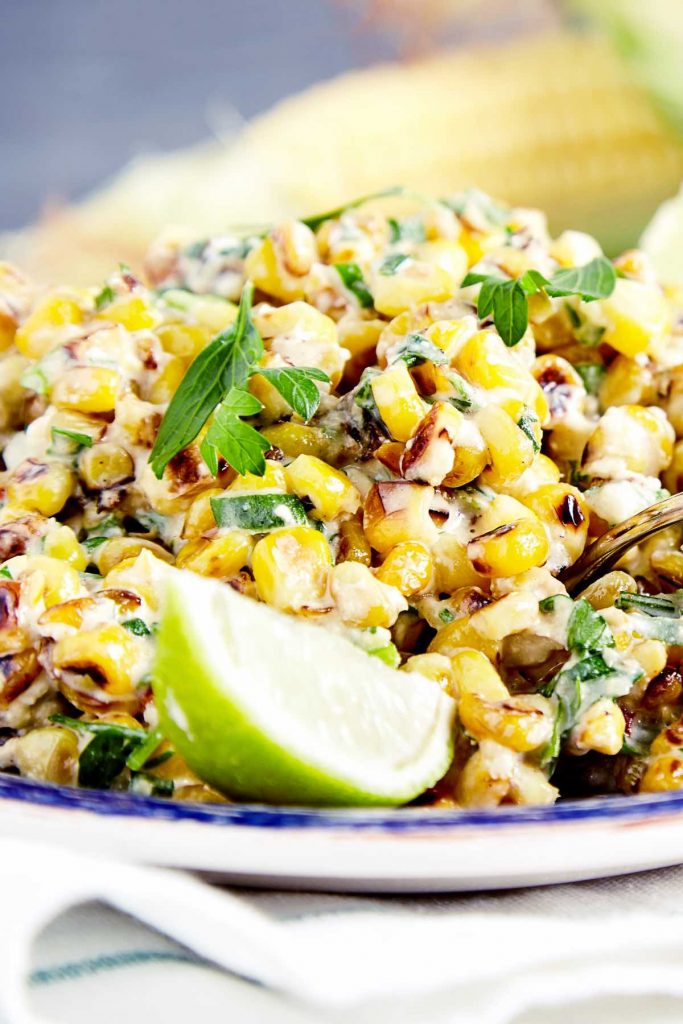 This simple recipe will not have you slaving over the stove or even take up much of your time, in fact you'll probably make this your go-to dish to bring to family gatherings.
Grab the corn, tomatoes, bell peppers, cucumbers and radishes and grill them over the stove for about 15 minutes with some olive oil and you will be on your way to a salad with a twist. The secret to this salad is to add a bit of feta cheese.
Vegetable Side Dishes for Crab Cakes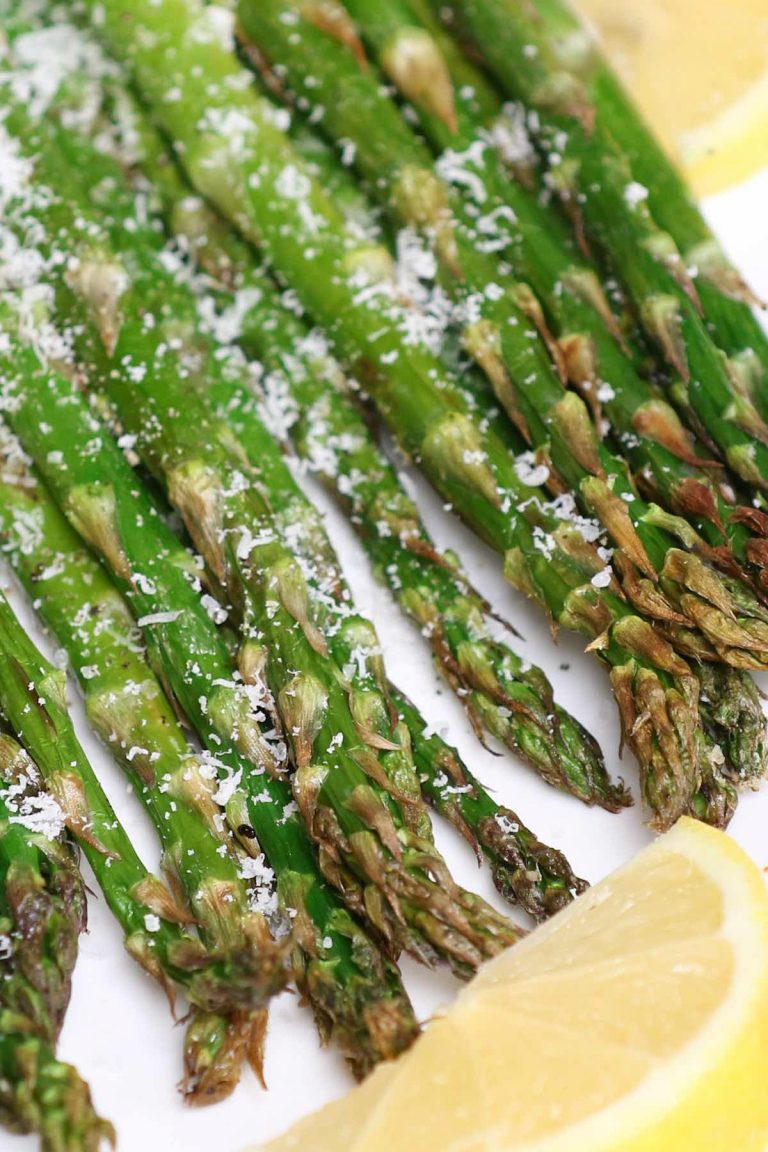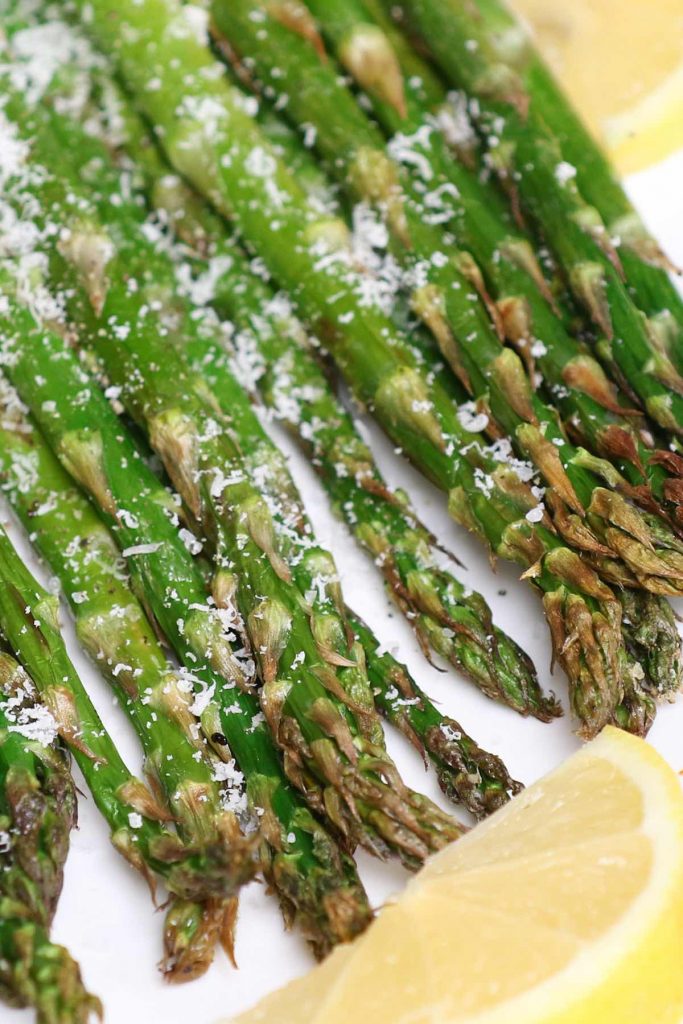 There are so many talks about how an air fryer changes lives, and saves time on cooking! Sticking with the trend, air fryer asparagus is a recipe you won't want to skip on.
It is vegan, low carb and keto wrapped up in one-well four ingredients! All you need is salt, pepper, olive oil and be sure not to skimp on the vegan parmesan cheese!
Stop right here! Get those vegetables into your diet! Grilled vegetables are the perfect option to have something healthy and a complimentary flavor.
Even those who are opposed to eating vegetables (those picky eaters in our families) will be coming back for more once you present them with this colorful dish!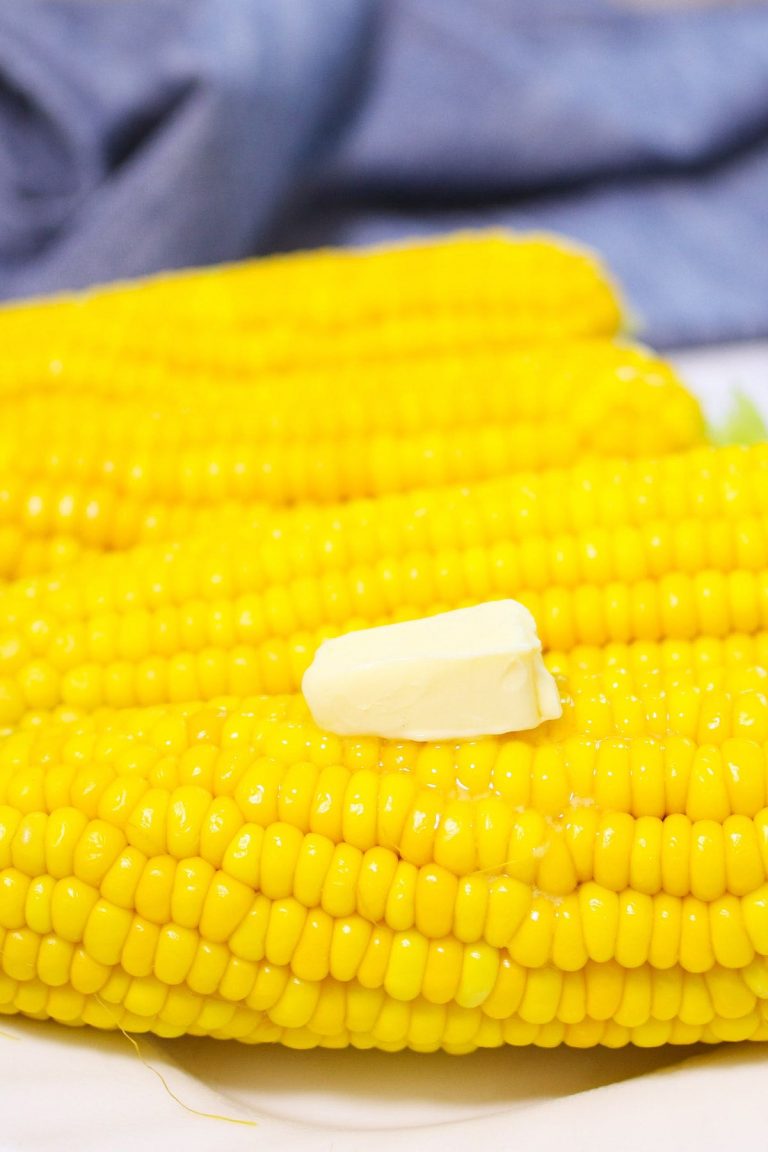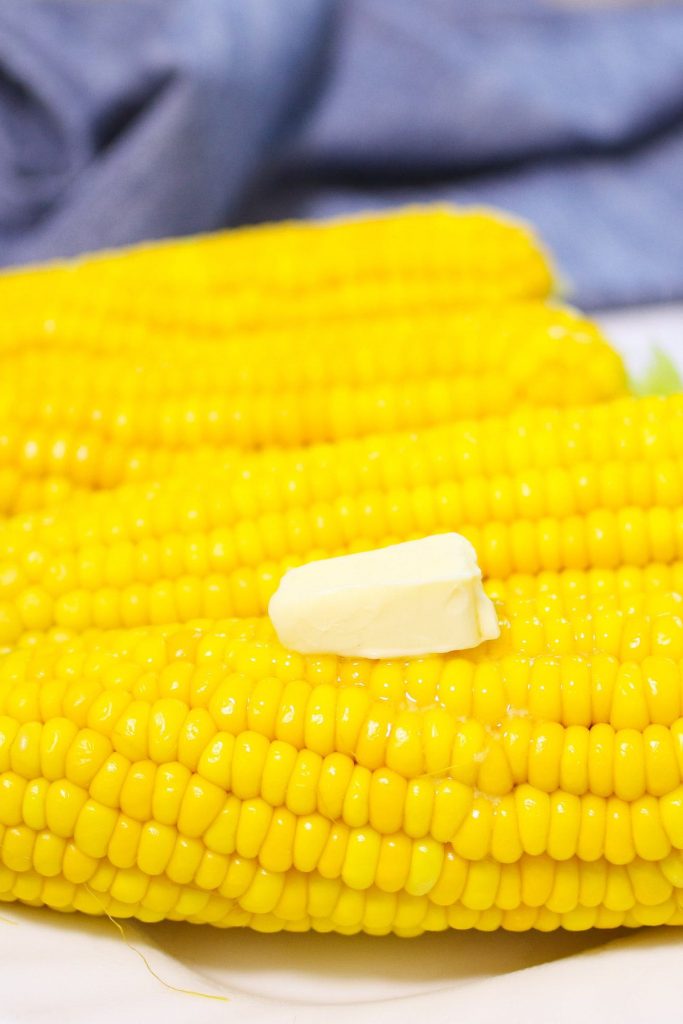 Corn on the cob is certainly a must-have at any outdoor gathering, bbq or summer plate.
The simplest way to cook that corn on the cob to perfection is to skip on the salt in the water and opt for sugar instead!
Sauces to Serve with Crab Cakes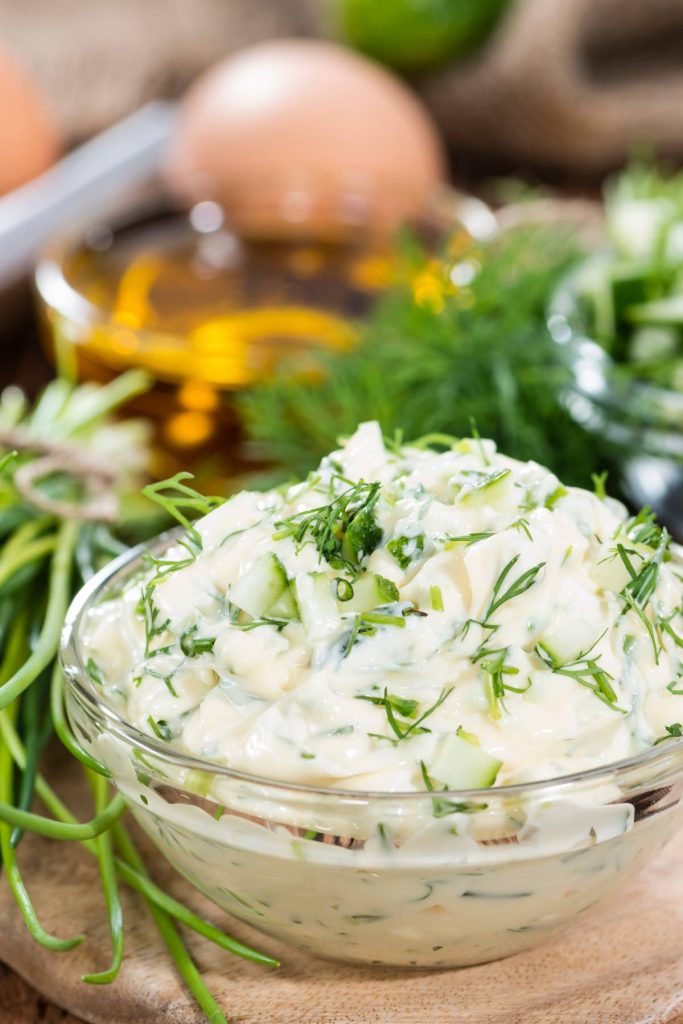 You have not had a seafood dish completely until you have had it with remoulade sauce!
It is the perfect mix of mustard, mayo, hot sauce and other spices that give this sauce that finger lickin' good taste!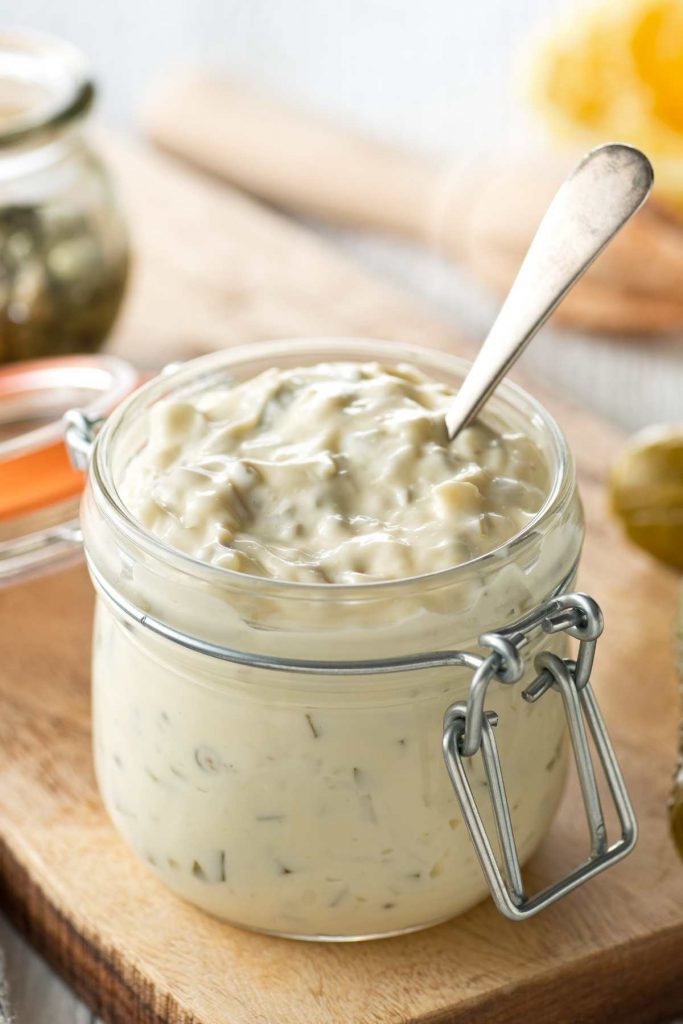 A must-have for fish is tartar sauce! You easily can dip your crab cakes into it too or even spread a small layer over top!
Don't worry if you're not a pickle or a relish fan, because the mixture of mayonnaise, dijon mustard and sugar will overpower the pickles in a way that the dill is merely a complementing taste rather than the focal point.
Other Good Side Dishes that Go with Crab Cakes
There is nothing more vibrant to the eyes and satisfying to the palate than confetti slaw.
Go ahead and grab the orange, red and green peppers, cabbage, onions and carrots and slice them up as thin as you possibly can. Add in some olive oil, sugar, salt and pepper to taste and you have a light slaw that will complement your crab cakes not only in color but in taste.
Another dish that tempts those picky eaters to break down their walls and eat as much as they can without any complaints.
Mad hatter salad does contain cabbage, but it's the crunchy top mixture of ramen noodles, sunflower seeds and almonds that have you forgetting that the mixture underneath is good for you!
What do you do when you have bread and soup? You dip of course! Not a dipper? No problem! Then scoop up all those leftover veggies and drops of soup up onto your crab cake at the end.
This is the perfect option for that hot summer day when you're starving, craving soup but need something to cool down. Just chop up those tomatoes, cucumbers, onions, zucchini and tomato juice and you will be well on your way to the perfect summer soup!
So whether it's creamy or crispy – Crab Cakes are a must-have for you and your family…enjoy!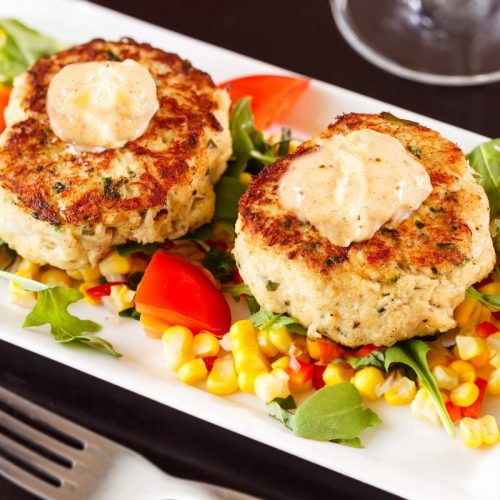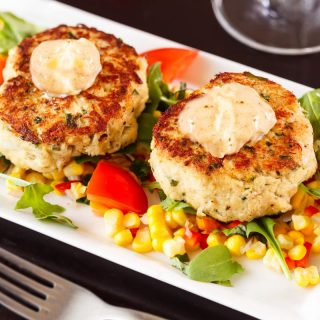 Easy Remoulade Sauce to Serve with Crab Cakes
Easy remoulade sauce is creamy and delicious, one of the best sides to serve with crab cakes!
Print
Pin
Rate
Ingredients
1

cup

mayonnaise

3

tablespoons

mustard

2

tablespoons

pickle relish dill

1

tablespoon

lemon juice

1

teaspoon

Cajun seasoning

2

tablespoons

horseradish

grated

1

clove

garlic

crushed

1

teaspoon

Worcestershire sauce

1

teaspoon

Tabasco
Instructions
In a mixing bowl, combine all ingredients. Mix well.

Place the remoulade sauce in an air-tight container for 1-2 hours or overnight in the refrigerator to let the flavors develop.

Serve with crab cakes and enjoy!
Nutrition
Calories:
26
kcal
|
Carbohydrates:
2
g
|
Protein:
1
g
|
Fat:
2
g
|
Saturated Fat:
1
g
|
Cholesterol:
1
mg
|
Sodium:
117
mg
|
Potassium:
12
mg
|
Fiber:
1
g
|
Sugar:
1
g
|
Vitamin A:
48
IU
|
Vitamin C:
1
mg
|
Calcium:
2
mg
|
Iron:
1
mg
Tried this recipe?
Follow or tag us on Pinterest @izzycooking