Hummus is a delicious Middle Eastern chickpea spread. Things immediately coming to mind are crackers and pita bread to eat with hummus. In fact, there are so many foods that you can dip in hummus as well as other ways to use hummus!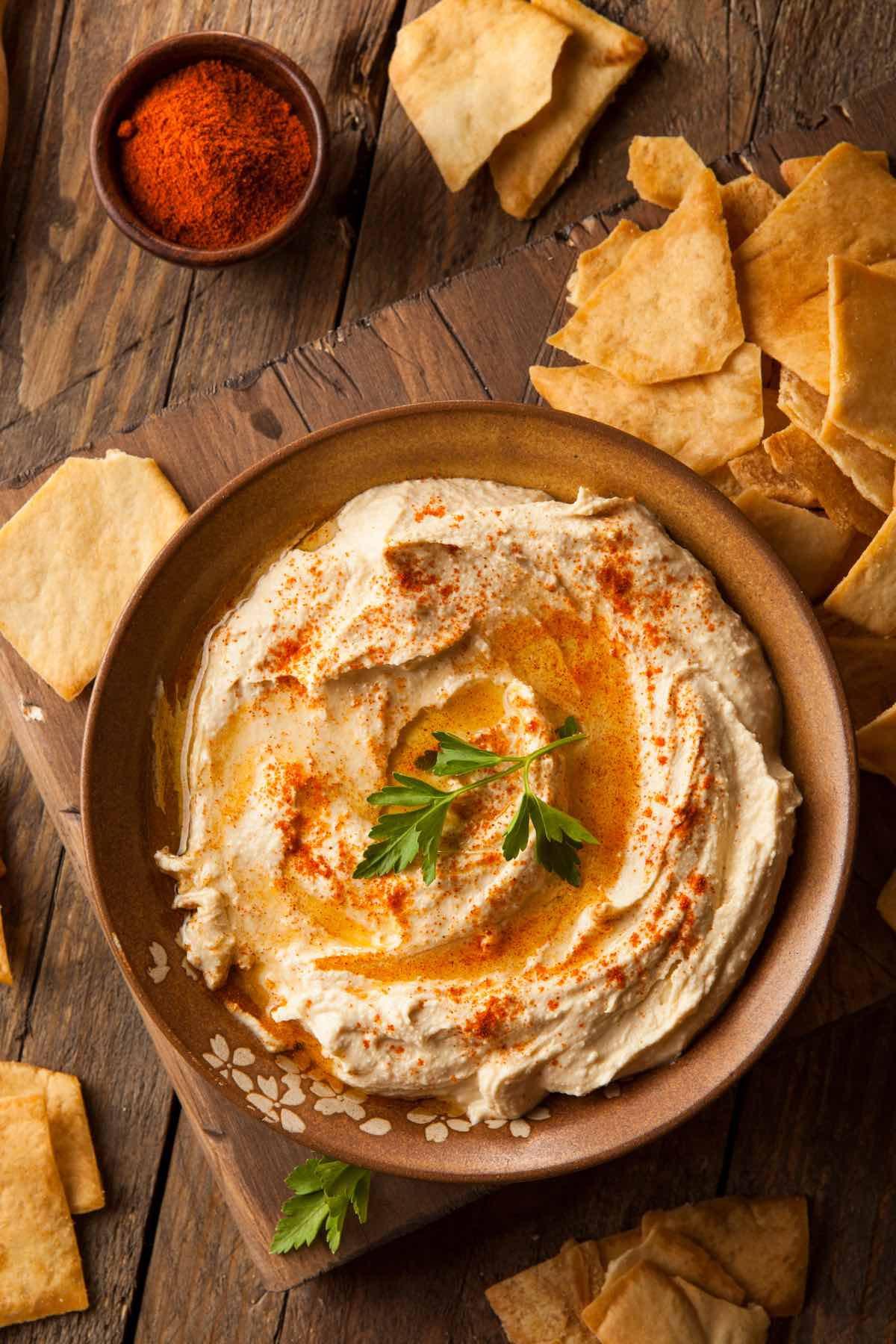 Hummus is enjoyed globally as a healthy plant-based dish that can be used in snacks and meals alike. Consisting of chickpeas, tahini, garlic, olive oil and lemon, hummus is loaded with protein and fiber. It can be found at nearly every grocery store or easily made at home!
If your grocery store is anything like mine, there are at least ten different flavors of hummus available. It's a quick and easy snack on the go, but if you have the time, you can make a delicious, fresh spread at home. There are so many recipes, like this one, which shows just how easy it is to make the perfect hummus yourself.
The best part of hummus is just how versatile it is. It can be used as a dip or a spread. It can be enjoyed as a snack or featured in a meal. It is truly a multipurpose food. This list will show you 16 delicious ways you can eat with hummus. Give them a try or use them as inspiration to explore even more ways to enjoy this incredible food.
What to Dip in Hummus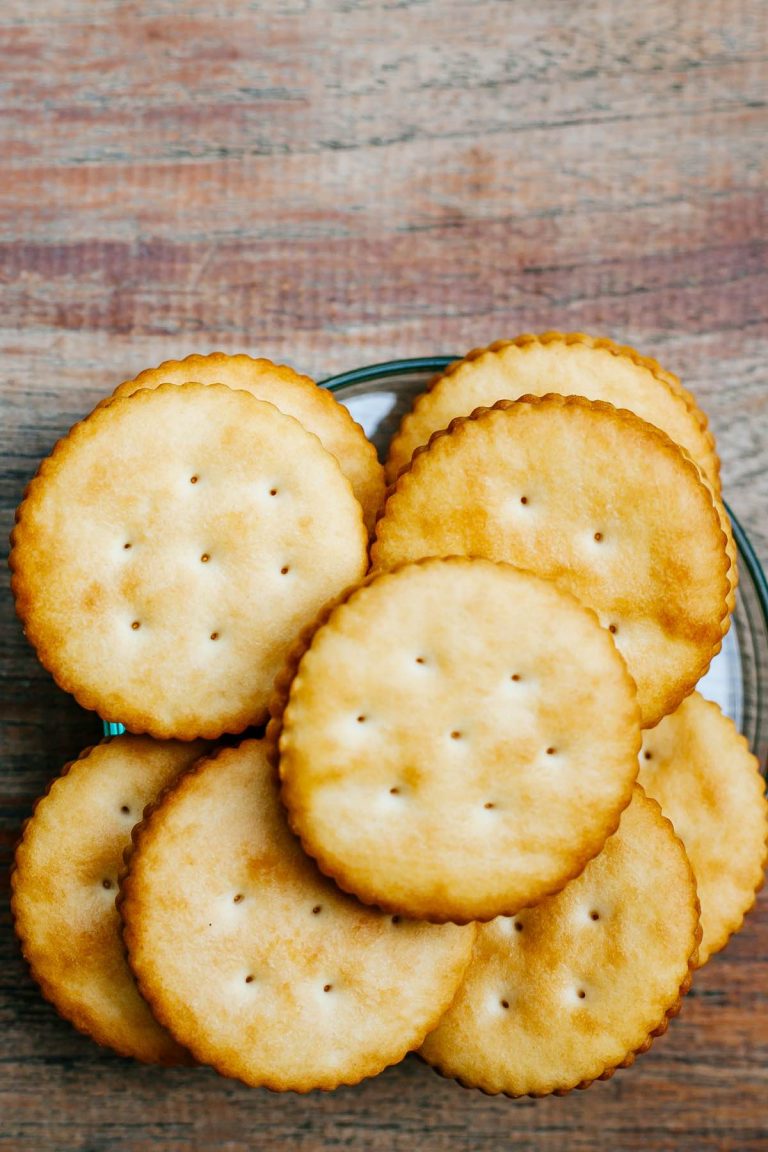 Crackers and pretzels are a great option with hummus because you'll curb junk food cravings with a protein powered alternative.
And for your leftover crackers (that is, if you don't lose track and eat the whole box), check out these four different appetizers made from RITZ crackers.
Toasted Pita Chips are another snack that you can easily lose track of, repeatedly reaching into the box for more. But did you know they're so simple to make at home?
It's as easy as cutting up pita into triangles and throwing them on a baking sheet then into the oven. This recipe gives you great ways to season your chips along with tips to get that perfect crunch we all crave.
3. Sliced Apples
This may not seem like the most conventional partner for hummus, but apples and hummus make a great power snack!
Dip sliced apples into hummus for an option with minimal prep. Or, if you find you love the combo, try cutting your apple into thin round slices and using it as a cracker. Top with a dollop of hummus and a slice of cheddar cheese. Delicious!
4. Toast Sticks
Toast sticks are so simple and yet often overlooked. Most of us have probably eaten toast at some point in our lives, if not regularly, but how many think to slice it into sticks?
Simply slice toast (we'll leave bread options and degree of toastiness up to you) into strips and you're ready to dip. Since the toast itself has so little flavor, this is a great base to use if you want to sprinkle any extra seasoning on top of the hummus. Some fun options to try are Everything Bagel Seasoning or Cumin.
5. Veggie Sticks
It's the perfect nutritious snack combination. Dip the raw veggies into a nice, garlicky hummus for a guilt-free snack that will fill you up and leave you energized. SO GOOD!
Grab a bag of carrots and a bowl of hummus and snack casually, or set out an assortment of veggies on a platter for friends. You can even elevate your crudités by filling individual glasses with hummus at the bottom and placing a few veggie sticks in each for individual servings.
Vegetables to Eat with Hummus (Keto & Low Carb)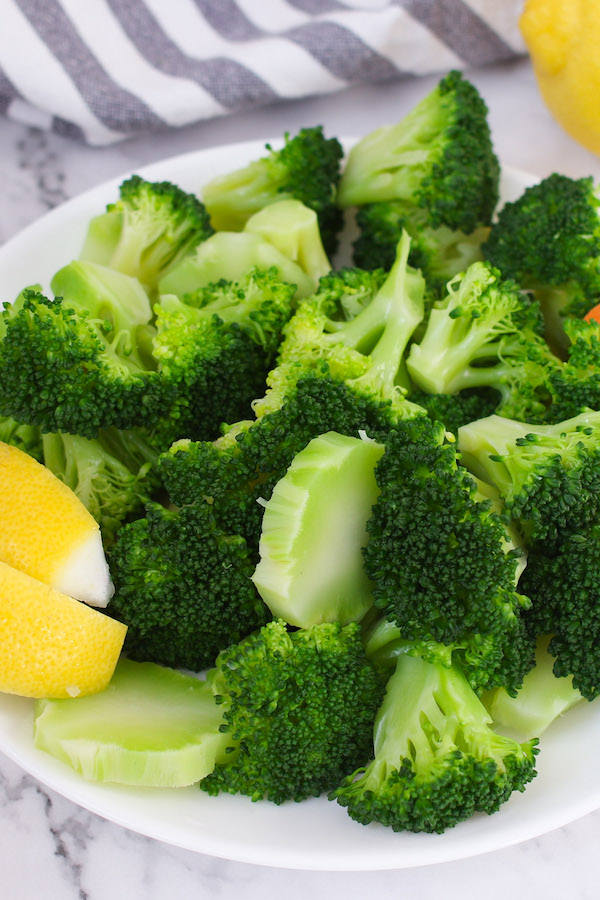 Broccoli is a great option to enjoy with dips, but it might not always be the first raw veggie you reach for on a platter. Steaming broccoli takes away some of the bitterness, leaving you with a less acidic, sweeter vegetable.
It's a great low carb option, with only 4 grams of carbohydrates in a whole cup of broccoli. It's an easy way to add a little more green into your diet.
7. Celery Sticks
Once proclaimed as having negative calories, celery has always been seen as great diet food. While it's not actually true that the food comes without calories, there are plenty of reasons to add it to your regular rotation.
Celery is loaded with antioxidants – food scientists have found at least a dozen in a single stalk. It's packed with fiber and at 95% water, it's a great way to up your daily intake. At times, it can be a little bland on its own, which makes hummus the ideal topping to add some excitement to the vegetable.
8. Cherry Tomatoes
Cherry tomatoes are a beloved addition to any vegetable platter and such a fun food to eat. These tiny little tomatoes burst in your mouth, making them a great juicy pairing for hummus.
Unlike their larger counterpart, cherry tomatoes are delicious year-round. They're loaded with Vitamin C and a great low carb option, with only 2g of net carbs per half-cup.
9. Cucumbers
Like celery, cucumbers are around 95% water, which makes them a great way to hydrate your body. They're also a good source of Vitamin K, which supports bone and blood health.
Part of the fun with slicing cucumbers is that unlike most raw vegetables, you have a few options. Cut in coins or stalks, leave the peel on or off, or use mini cucumbers and do nothing to them at all.
10. Cauliflower
Cauliflower is a real Keto hero. These days, you'll find it as a substitute for rice or steak or pizza, but this cruciferous vegetable stands great on its own.
It's low in calories, but high in fiber and vitamins. You can just dip it in your hummus raw, or try steaming it like your broccoli.
11. Sliced Peppers
Peppers go so well with hummus that you'll often find Red Pepper Hummus already made at the grocery store.
They're an excellent source of Vitamin C and a great way to add color to any snack or meal. If you want to get technical, red peppers are actually the most nutritious because they take the longest to ripen and therefore spend the most time on the vine. But all bell peppers are a great Keto & Low carb option.
Other Ways to Use hummus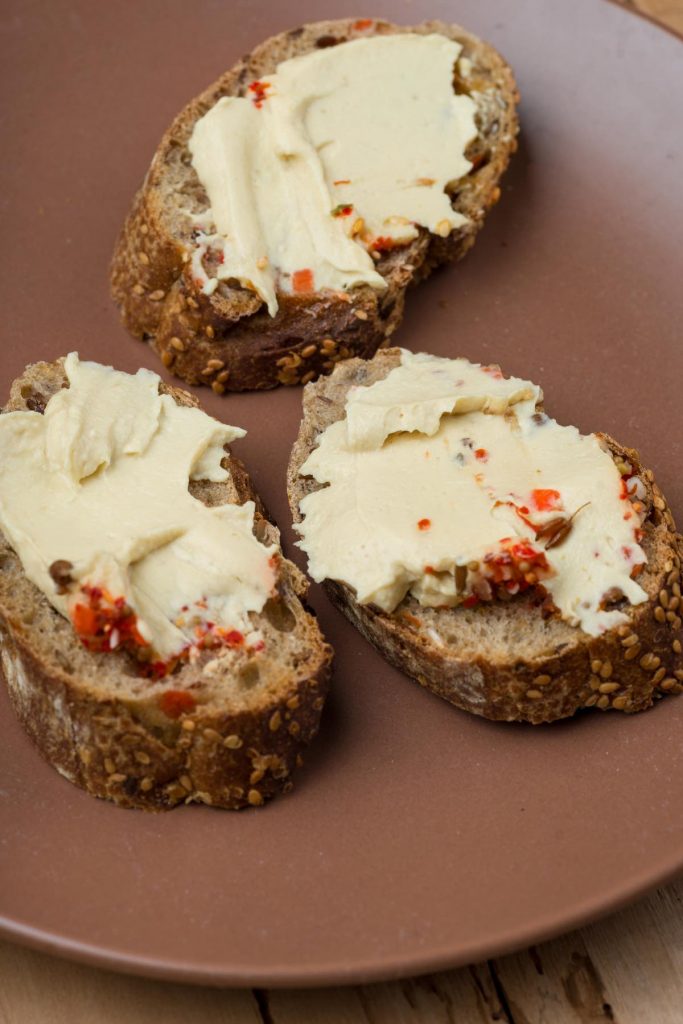 Looking to add an extra layer to your sandwiches? Hummus is a great way to keep your sandwich from feeling dry, that's a little healthier than your typical condiments.
There are so many ways you can introduce it to your favorite bready meal. Spread it on toast and top with the seasoning of your choice. Add it into your favourite sandwich to try. Or experiment with a whole new recipe, like this easy veggie wrap.
We've already covered how hummus goes great with basically every vegetable…so why not add it to a salad? It's a perfect option for a dressing that's loading in flavor and creamy in texture, but still made with good-for-you ingredients.
You can just use it on your salads, or check out this recipe which gives it a more traditional dressing consistency by adding just three ingredients. Using either store-bought or homemade hummus, toss in some lemon, water, and dijon mustard for a quick dressing in under 5 minutes. It also makes a great base to add in any spices you would like.
There's nothing like a scoop of creamy, mashed potatoes. Have you ever thought to use hummus as a substitute for all that butter needed to make them so smooth?
Hummus Mashed Potatoes are such a clever way to turn the beloved dish into something a little more protein-packed without sacrificing their fluffy texture. This recipe can easily be made vegan for a dish that can be enjoyed by everyone at the table.
Hummus quesadillas are a great, quick snack option that plays off the traditional quesadilla. They're perfect if you're craving the crunchy, creamy combo of a typical cheese quesadilla, but want to monitor your dairy intake.
This recipe adds in avocado for adorable mini quesadillas, a plant-based snack high in healthy fats and protein.
It may sound crazy, but you'll need to trust me a little with this one. This chocolate hummus is the perfect dip for fruit or a sweeter option for salty crackers. The chickpeas easily take on the chocolate flavor for a sweet treat that isn't overpowering or loaded with sugar.
It's such a fun, guilt-free snack that surely won't last very long wherever it's served. You can also try Hummus Brownies which is a healthier alternative to the traditional brownies.
Summary
Hummus is such a versatile, plant-based, protein-packed food. It makes an amazing dip as a snack, a great spread for your sandwiches, or an easy way to elevate your staple meals. Try any of these creative ways to incorporate it more into your diet, or let us know your favorite way to enjoy it.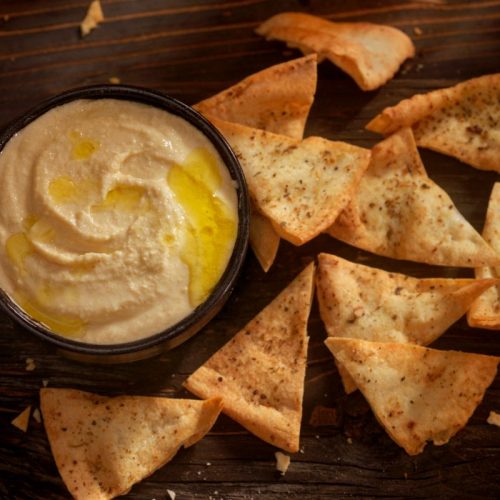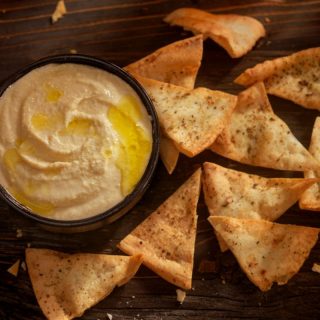 What to Eat With Hummus: Toasted Pita Chips Recipe
Easy toasted pita chips that you can eat with hummus.
Print
Pin
Rate
Ingredients
3

pita bread

(with pockets)

olive oil

salt

to taste
Instructions
Pre-heat the oven to 425 degrees F. Set aside a large sheet pan.

Split the pita pockets into halves to make single rounds of pita.

Place each piece on the cutting board and cut them into small triangles using a sharp knife.

Brush with olive oil.

Season with salt. Arrange them in the baking sheet with a single layer.

Bake for 5-8 minutes until they become crispy and golden brown.
Nutrition
Calories:
24
kcal
|
Carbohydrates:
4
g
|
Protein:
1
g
|
Fat:
1
g
|
Saturated Fat:
1
g
|
Sodium:
86
mg
|
Potassium:
8
mg
|
Fiber:
1
g
|
Calcium:
6
mg
|
Iron:
1
mg
Tried this recipe?
Follow or tag us on Pinterest @izzycooking