Chicken Cordon Bleu is a gourmet dish that is actually quite easy to make. Tender chicken is stuffed with cheese and ham, then coated in breadcrumbs for the perfect crispy outside and gooey, creamy inside. But you can't forget about the Chicken Cordon Bleu Side Dishes to serve with this delicious meal! Our favorite sides include pasta, veggies, salad, and more.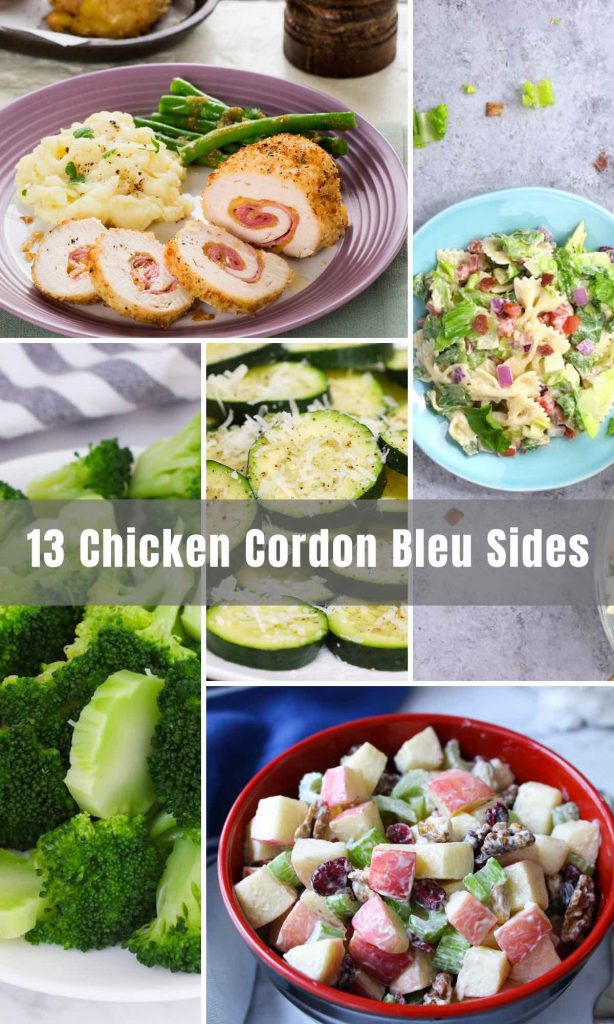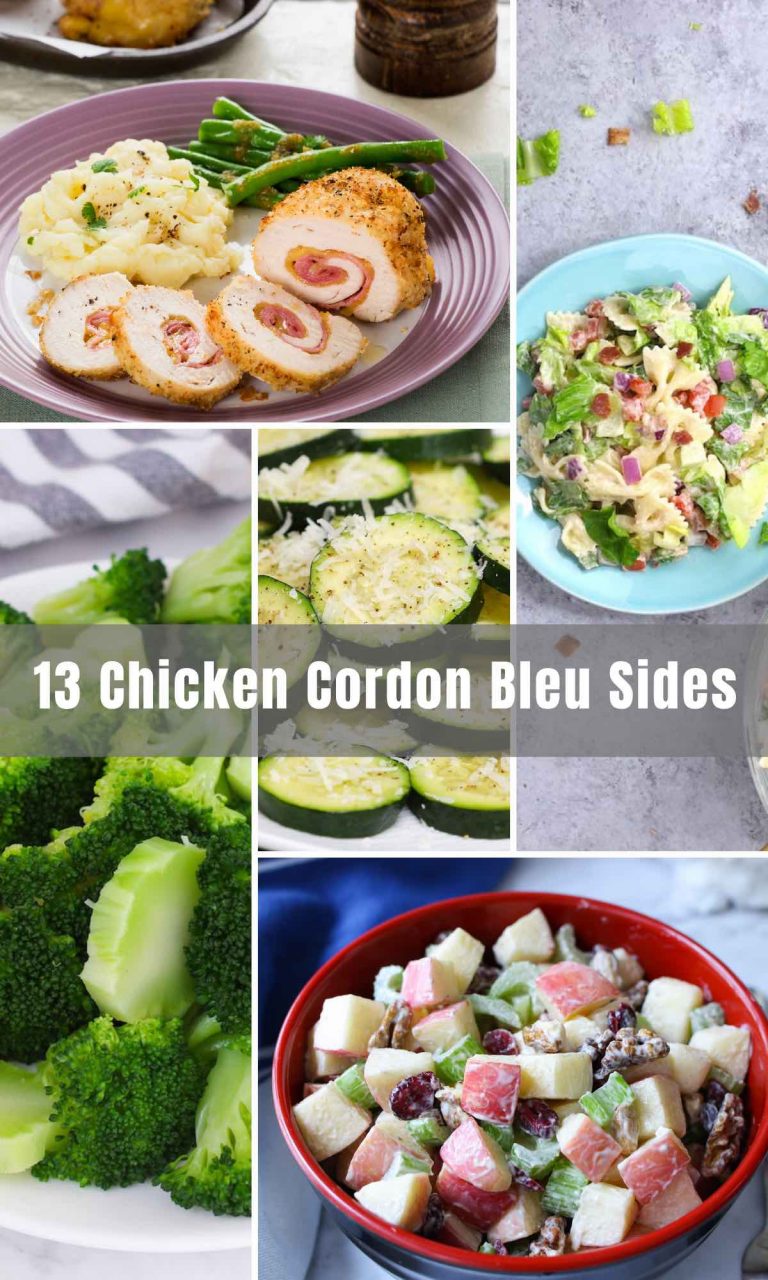 Chicken Cordon Bleue dish actually comes from Switzerland and originated as a stuffed version of schnitzel, which is why it's often made using Swiss cheese.
Traditionally, the chicken is pounded to be quite thin, then ham and cheese are layered on top before it is rolled, breaded and fried for the perfect crispy crust. Today, many recipes suggest baking as a healthy alternative. You'll often see recipes suggesting simply stuffing a sliced chicken breast, and then holding it closed with a toothpick to make preparation a little easier as well.
Whatever your cooking methods are, this dish, once given the true Blue Ribbon of excellence, can easily become a staple meal in your home. This list will give you some most popular side dish ideas to impress.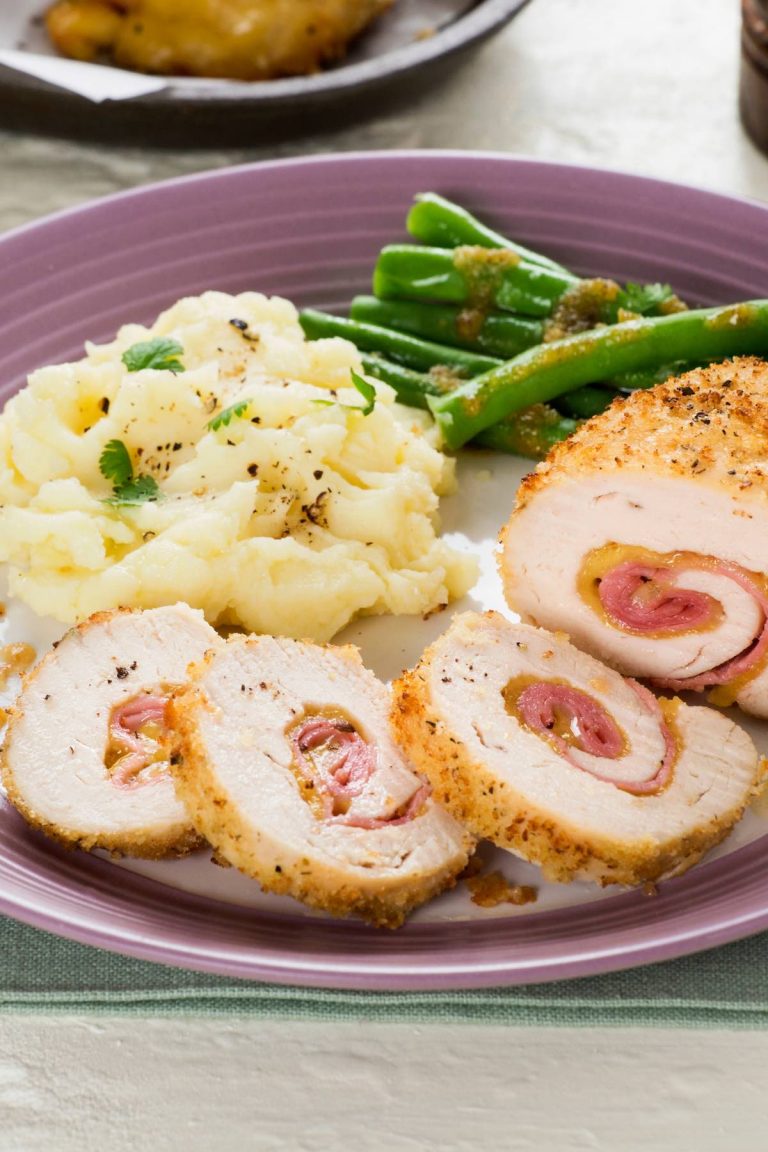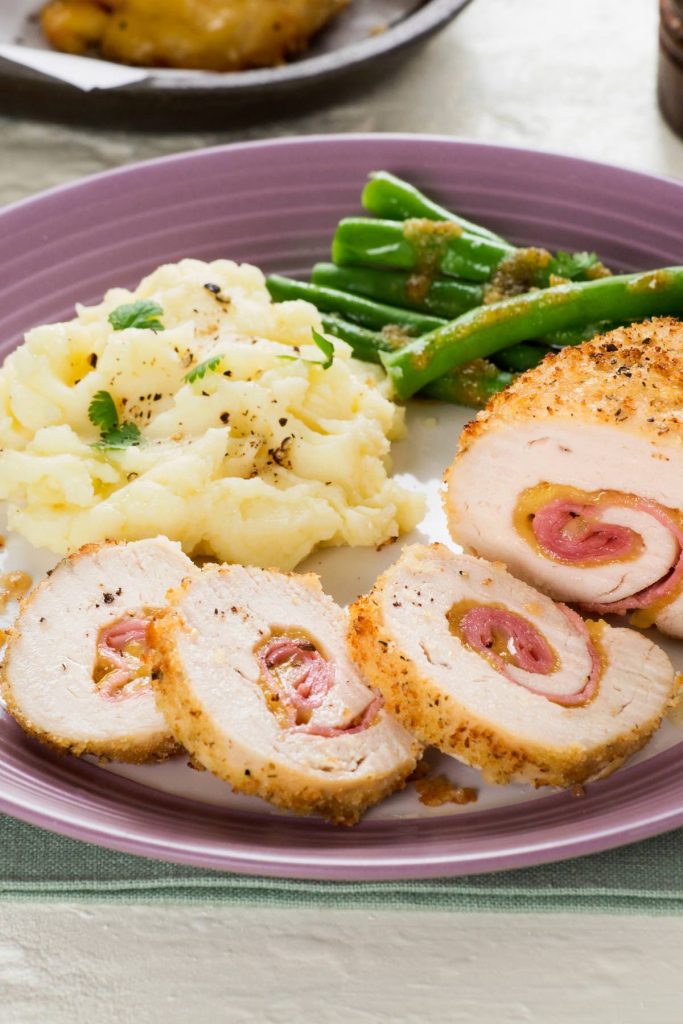 What is Chicken Cordon Bleu?
You may be inclined to believe that this dish is somehow related to the famous cooking school, Le Cordon Bleu. Or perhaps, you assumed it must relate back to blue cheese. But neither is true. "Le Cordon Bleu" was originally a blue ribbon given to knights of the highest order by Henri III in France. The term was then adopted in the culinary world to foods prepared at a very high standard.
What Is Traditionally Served with Chicken Cordon Bleu?
You'll usually find Chicken Cordon Bleu served in fairly rich and hearty meals. Creamy mashed potatoes were meant for this crispy main and a warmed vegetable usually joins them.
In this list, you'll find some traditional sides, as well as some more creative options. Turn your special occasion Chicken Cordon Bleu into an everyday main with any of these varied dishes.
Pasta & Starchy Side Dishes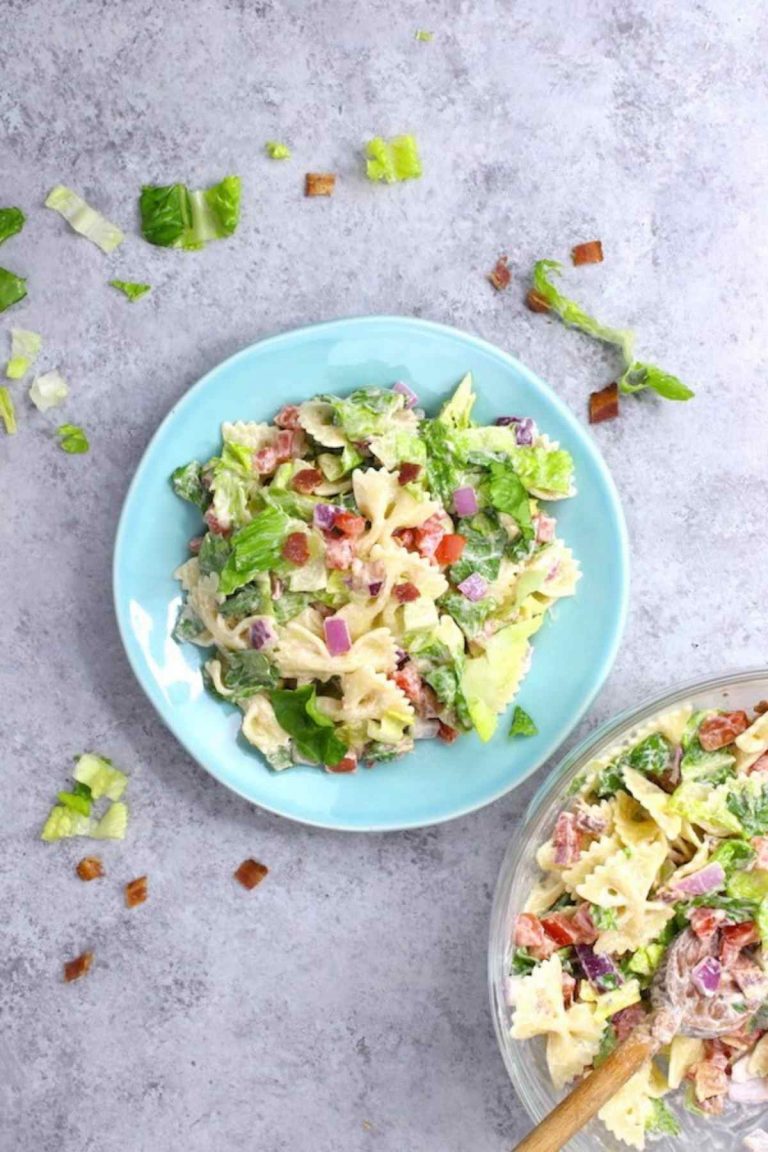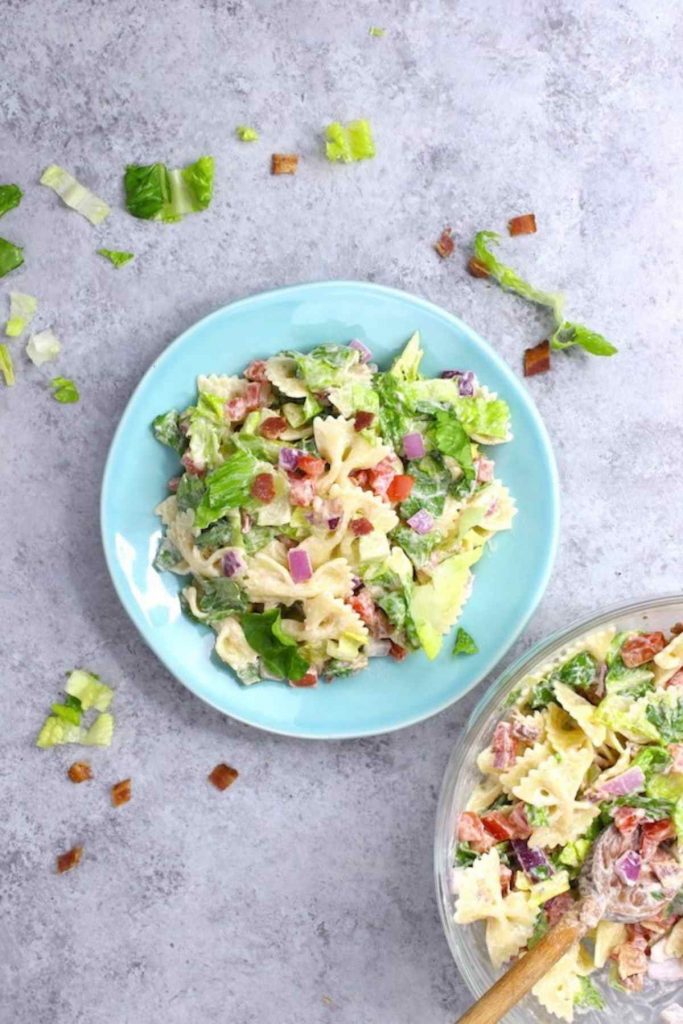 Pasta salad is a great side dish to any meal because it covers your bases for both your veggies and your carbs. It adds a refreshing and summery twist to any meal.
This recipe is a take on the classic BLT sandwich, adding bacon into the mix, which really pairs well with the chicken in your main. Lettuce and tomato are nice light veggie options to cut down the heartiness of the rest of the meal.
Everybody loves to eat pasta and you'll love to make this one-pot side dish. The creaminess of the pasta plays off the cheese in the Chicken Cordon Bleu creating a wonderfully matched meal.
You can make it on the stovetop while your chicken is cooking for an uncomplicated meal with minimal cleanup.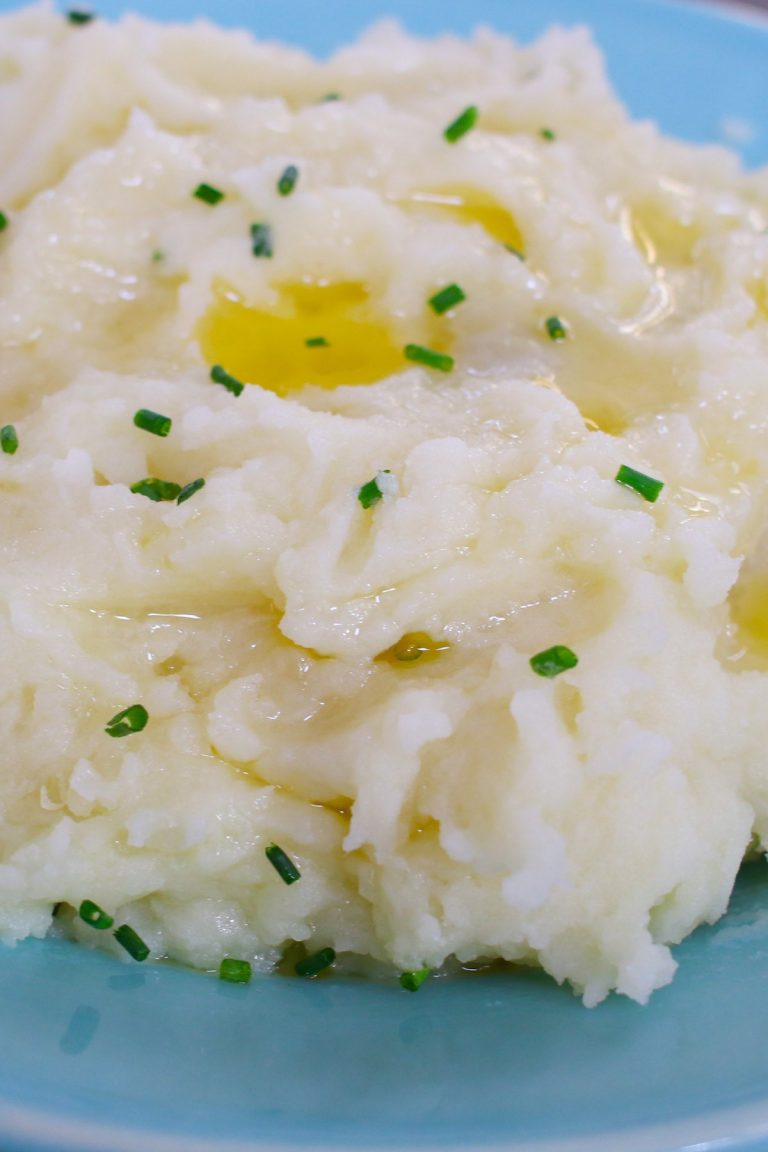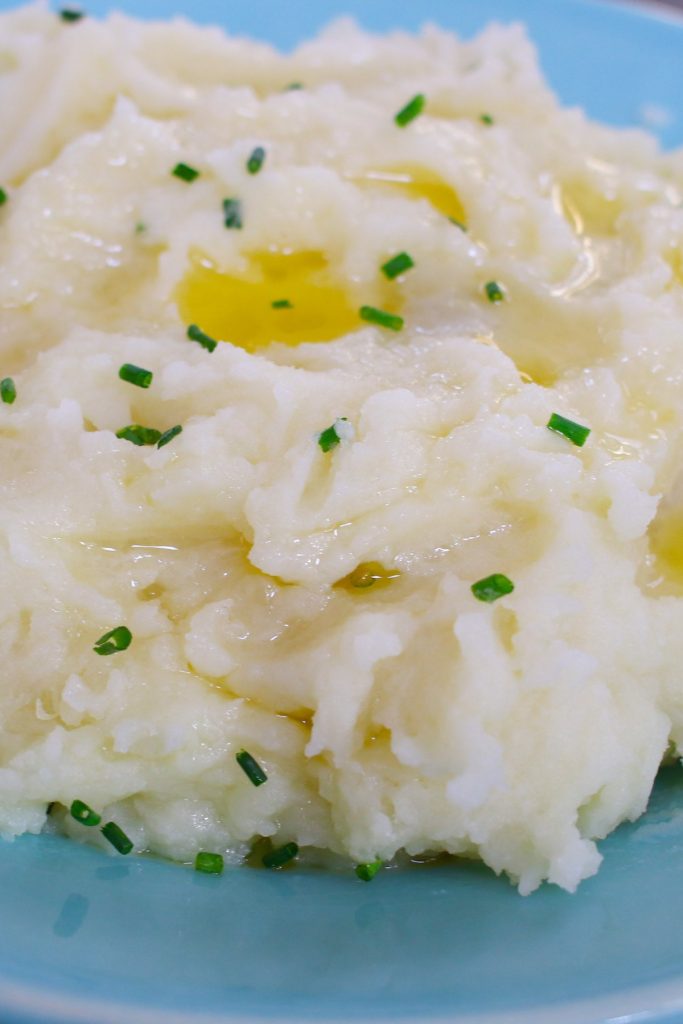 Mashed potatoes are probably the most classic side for Chicken Cordon Bleu and this recipe can be ready in just 15 minutes! The creaminess of the potatoes goes so nicely with the crispy crust of the chicken.
The easiest part of this recipe is that it is made in the microwave. Free up your oven and stove space for your chicken and veggies while letting your microwave help with taking care of the potatoes.
Much like Chicken Cordon Bleu, Risotto is one of those dishes that always seems so fancy. Really impress your friends and family by adding this side to your meal to have them convinced you've secretly been taking cooking classes.
This recipe will require that you monitor the pot while cooking, but it only takes 25 minutes.
Best Vegetable Side Dishes for Chicken Cordon Bleu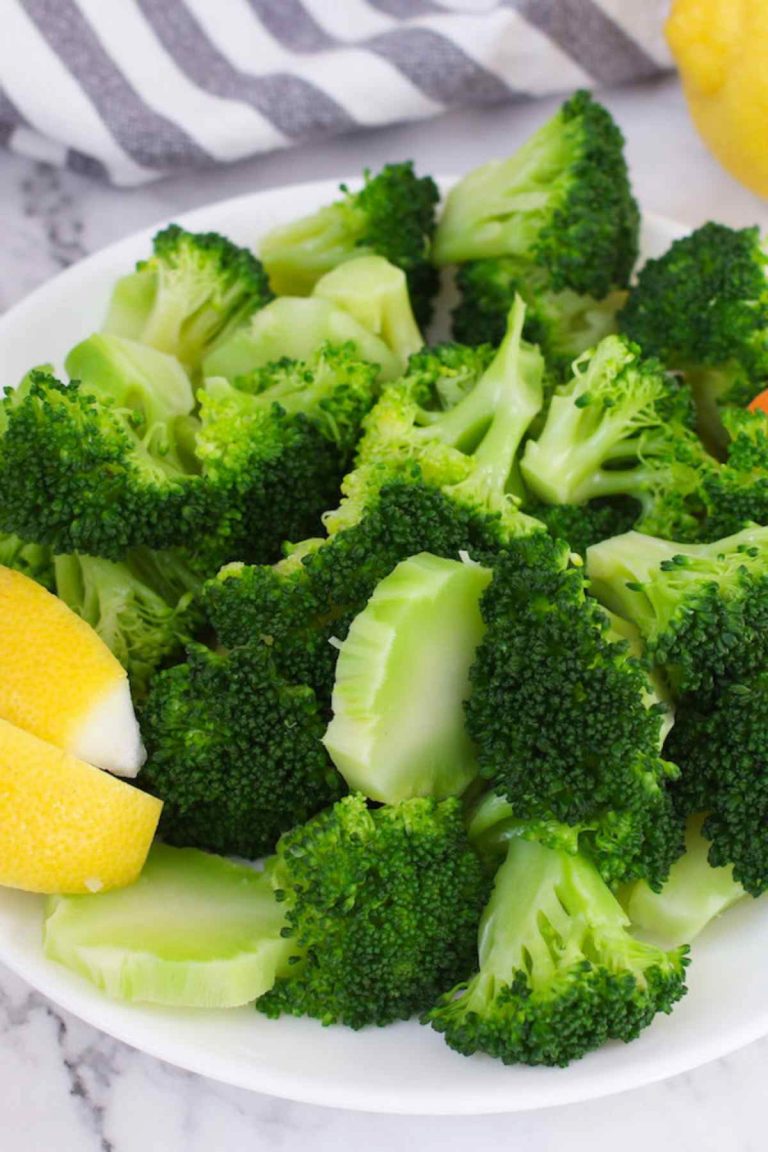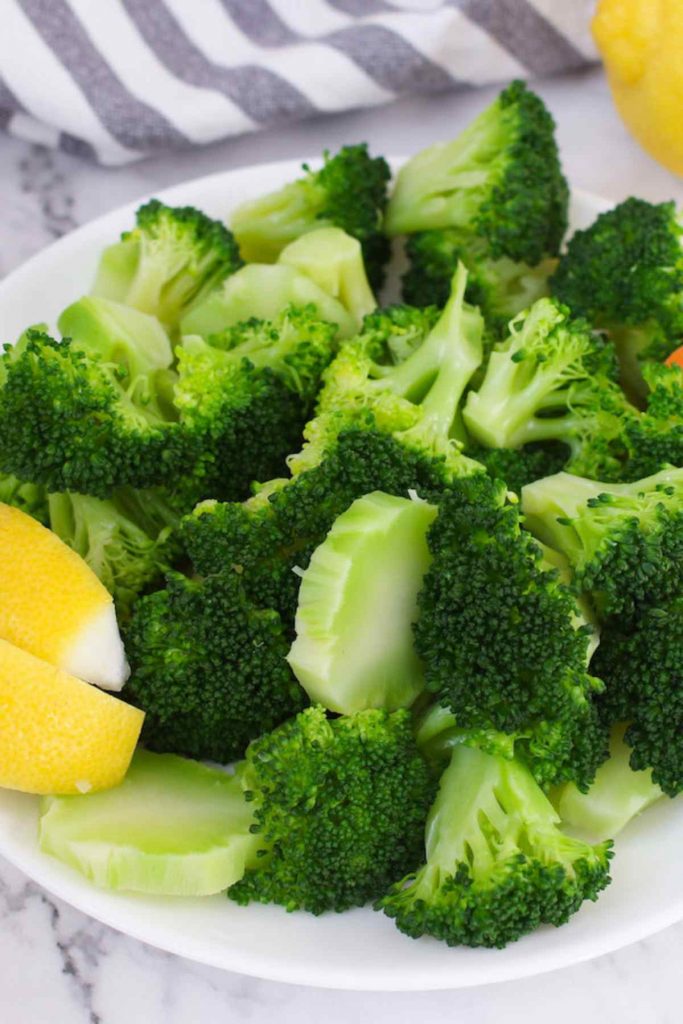 Broccoli is probably one of the most classic vegetable sides, so naturally it goes well with Chicken Cordon Bleu, especially if you've opted for a carby side as well.
This recipe will show you how to steam your broccoli – even if you don't have a steamer! This cuts down some of the acidity, resulting in much sweeter broccoli than you would get from boiling.
Roasted vegetables are always a pretty carefree side that's sure to be both delicious and nutritious. Green beans are no exception to this rule and they're a great option for even the most restrictive diets as they're loaded with nutrients and low FODMAP as well.
This recipe combines both butter and oil that addictive buttery taste while still being perfectly tender and browned.
Zucchini fans and foes alike will surely be interested in this delicious parmesan zucchini recipe. It's crispy and healthy. A quick and simple recipe that's full of flavor.
Simply be pop the zucchini slices into the oven for an easy and delicious veggie side.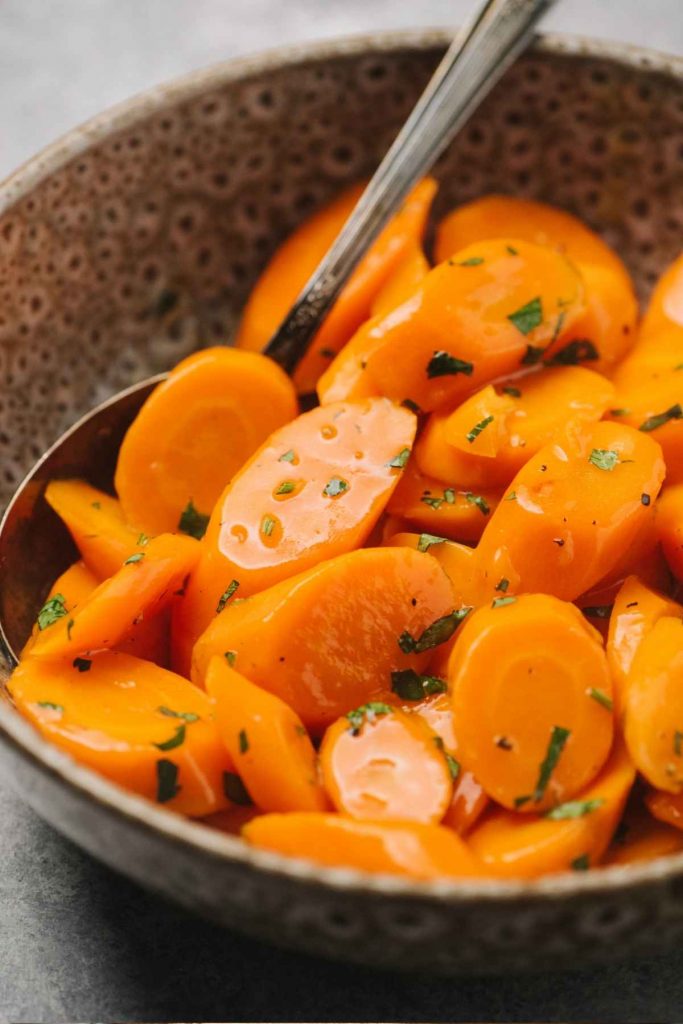 Glazed carrots are a classic way to serve the popular vegetable. Sugar and butter are melted to coat the cooked carrots for a dish that is softer and sweeter than a simple raw carrot. This side is a great way to give your meal the warmth of a festive dinner, or just a fun way to spruce up a regular weekday meal.
This recipe adds stock to the mix as well for an extra tasty, hot side.
Salad Side Dishes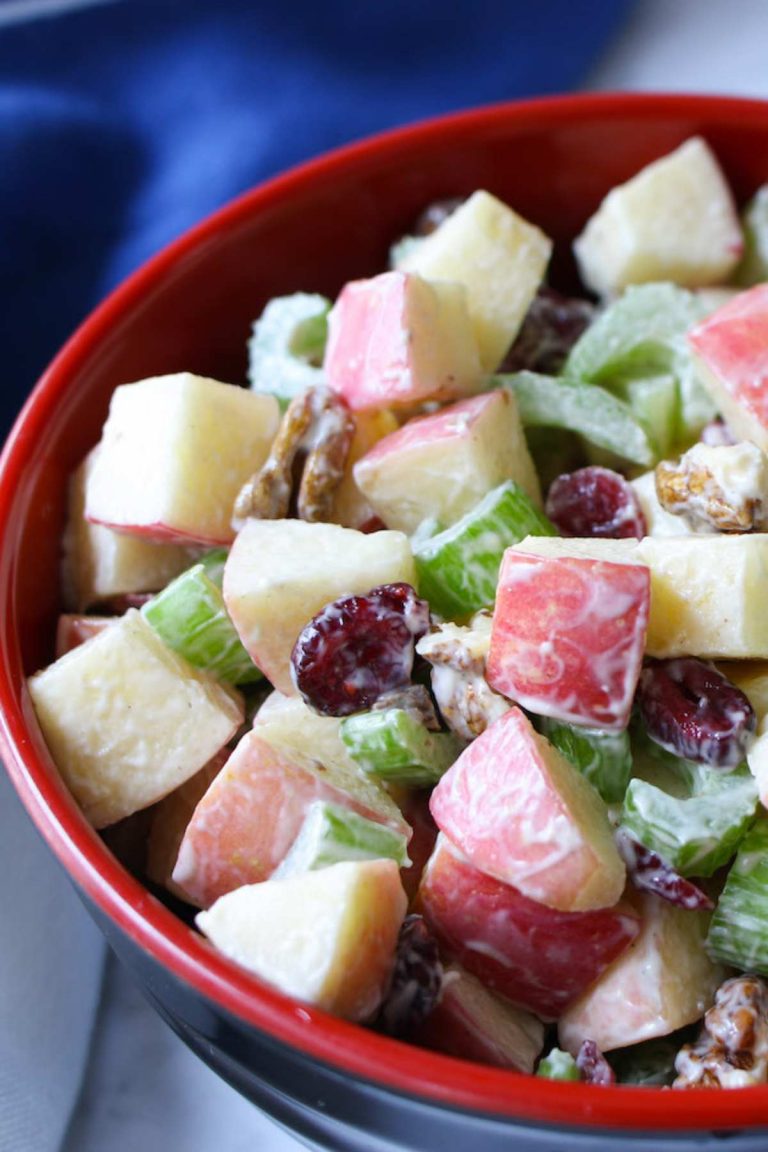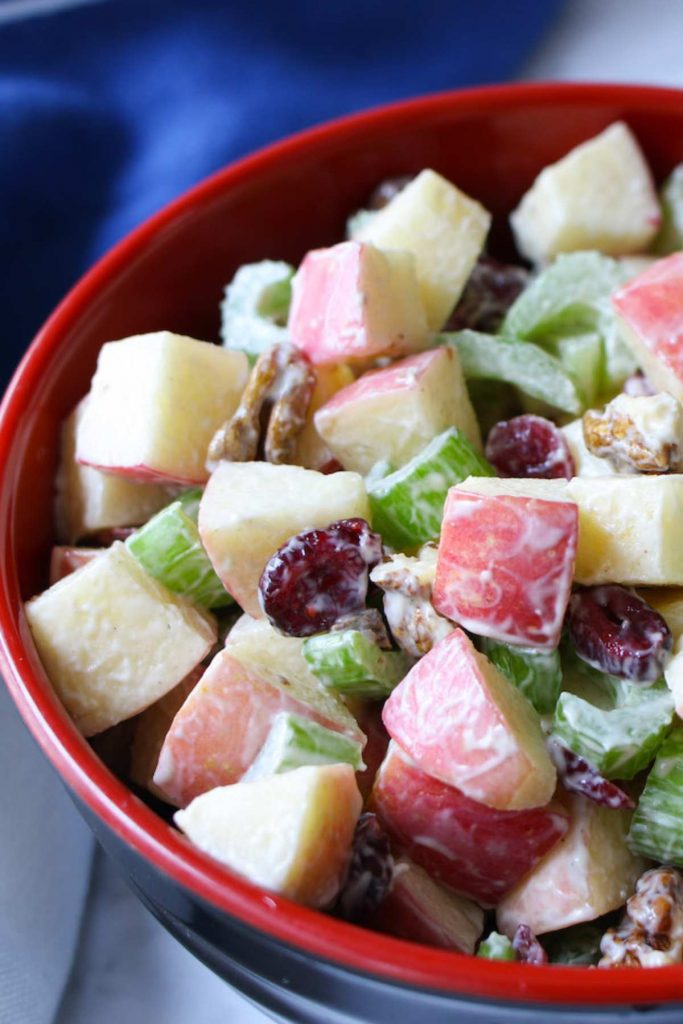 There's something about eating fruit as part of a meal that just feels exciting. This apple salad is a twist on the classic Waldorf salad, which like Chicken Cordon Bleu, was discovered in the 1800s.
Add a crunchy side to go with your tender Chicken Cordon Bleu to create a meal full of texture and in the case of this Apple Salad, color as well.
This Tomato Salad is so quick to prepare and is a great fresh and juicy side to your meal. Fresh tomatoes are sliced and marinated in an Italian dressing for a delicious summery side.
While the preparation for this dish is under 10 minutes, it does need about an hour to marinate. Make it ahead of time and pull it out at dinner time for a side you won't have to worry about while your chicken is cooking.
Caesar salad is always a safe option because it's generally loved by everyone and brings a freshness to any meal that is still loaded with flavor.
A homemade dressing may have some less favorable ingredients, but they combine so perfectly into a tangy yet creamy dressing. This one is ready in twenty minutes to top crunchy romaine lettuce for the perfect side salad.
What Desserts Go with Chicken Cordon Bleu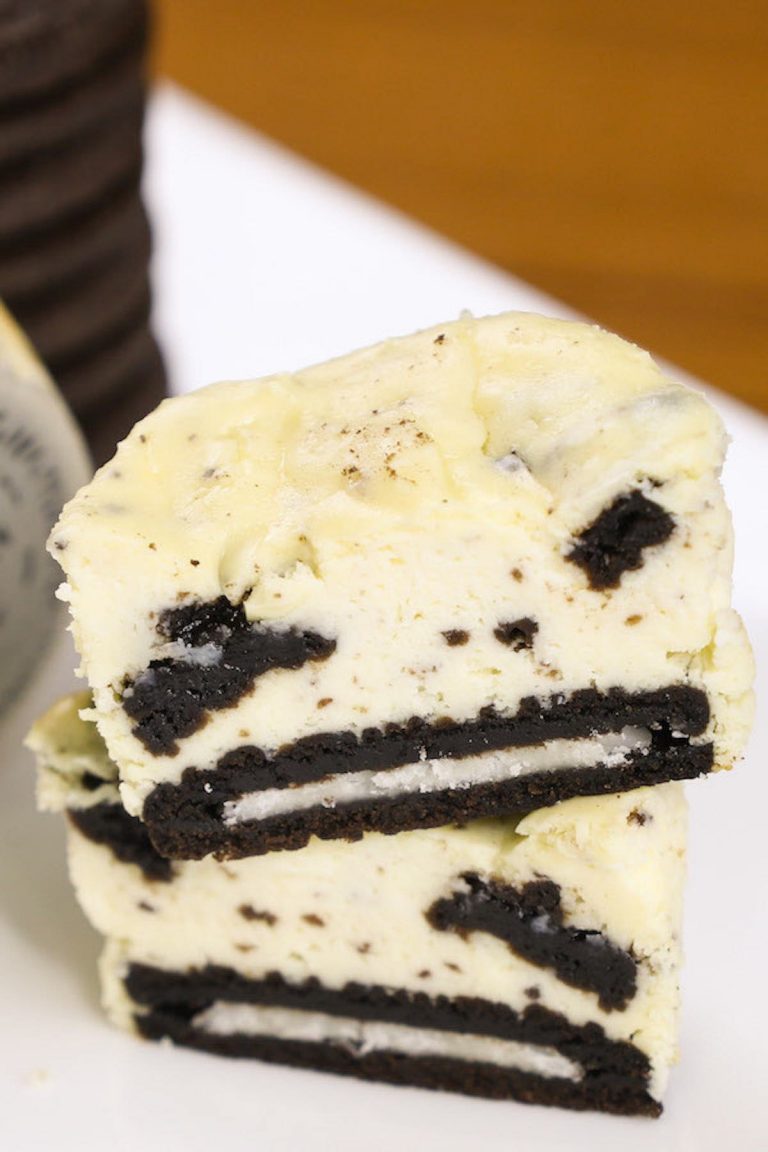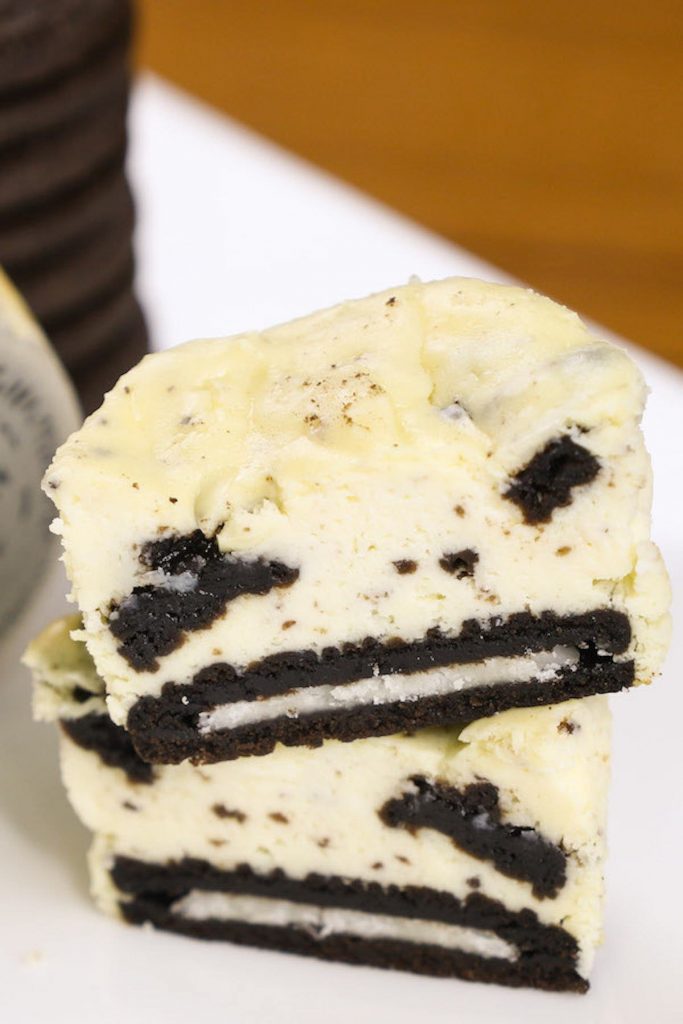 Cheesecake can be such a rich and filling dessert, which is why it's so great when it comes bite-sized…though we can't guarantee you'll only want one. These adorable mini cheesecakes have an oreo cookie at the base instead of a crust.
Just 6 ingredients are needed in this recipe to create a delicious dessert that embraces the beloved flavor combo of cookies n' cream.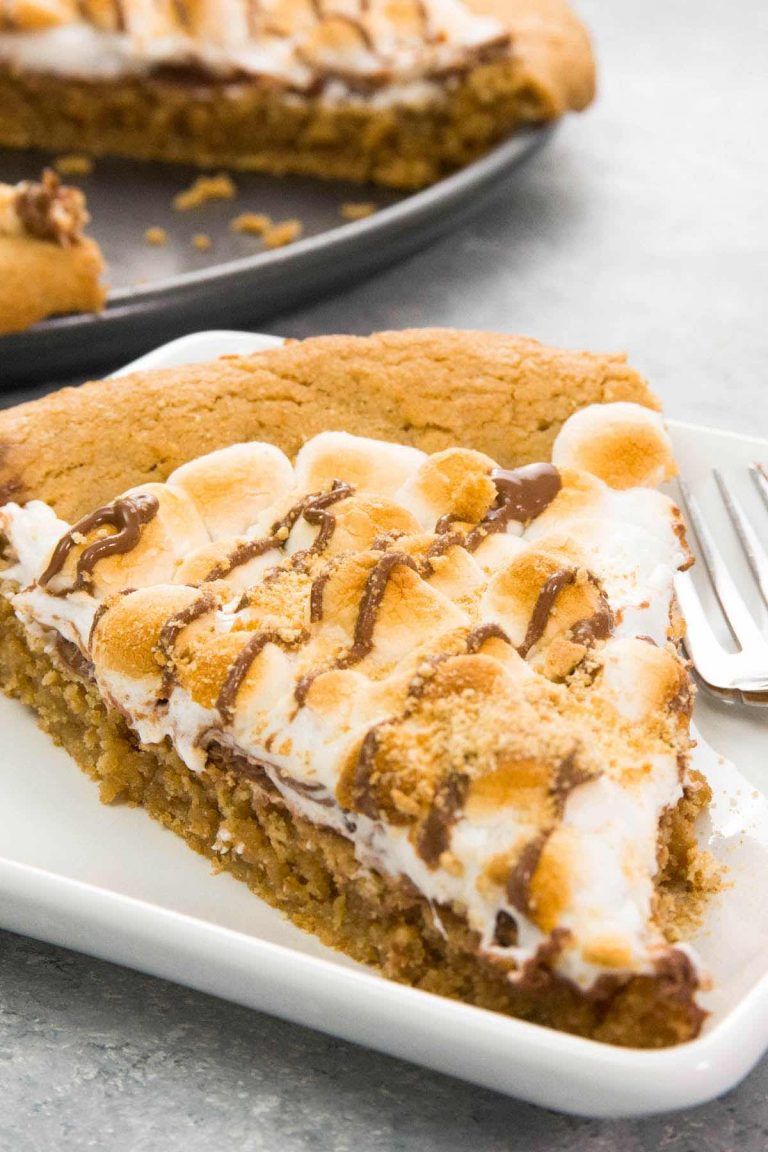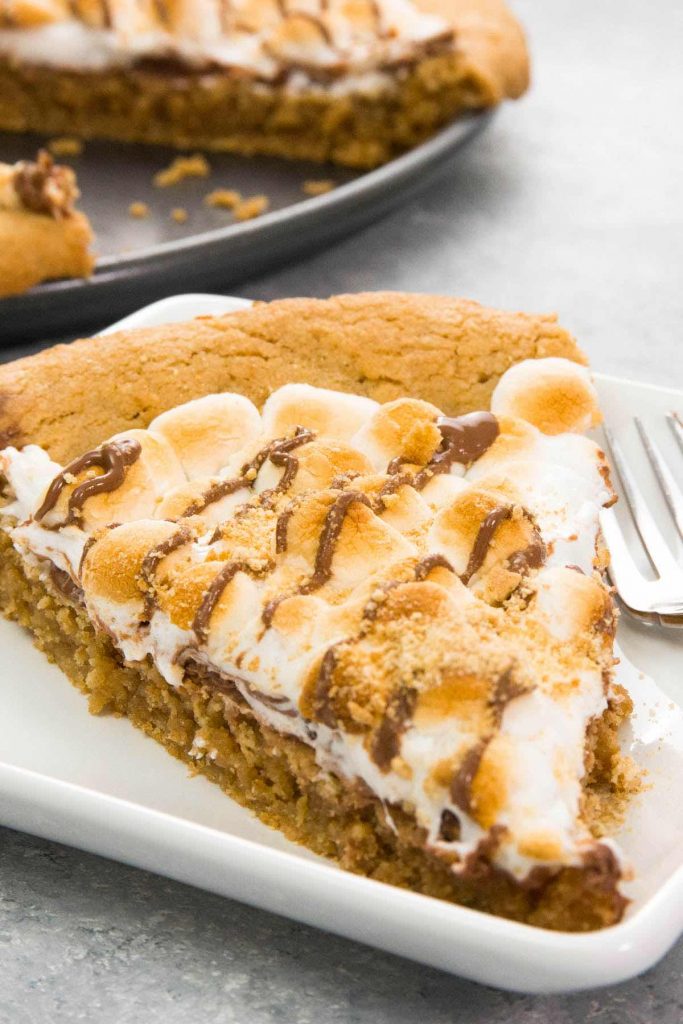 Need a quick dessert? Look no further than this S'mores Pie which can be ready in less than 30 minutes and is sure to be a hit amongst the kids and the kids-at-heart.
This pie has everything you want in a great dessert. It's chocolatey with a gooey toasted marshmallow topping and that incomparable crispy graham cracker crust. Even better, you probably have most of the ingredients in your pantry already.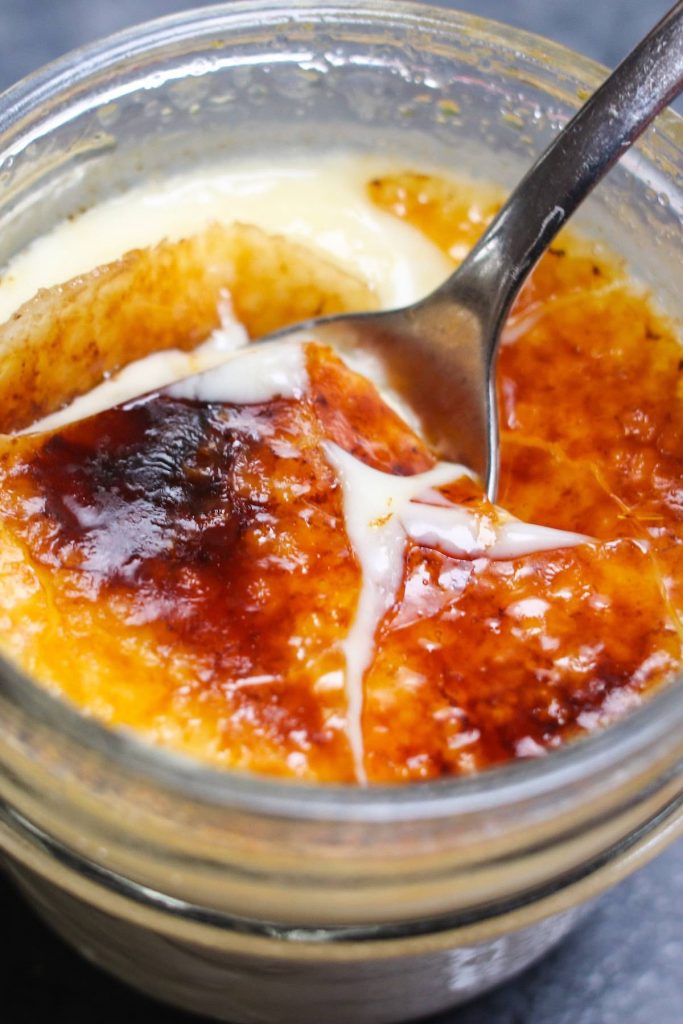 Crème Brûlée is creamy and silky-smooth custard with a crispy layer of caramel topping! No tempering of eggs, and no risk of a curdled texture! Too good to be true?
Sous vide technique guarantees the perfect results EVERY TIME by cooking this dessert to the precise temperature you set.
Sweet apple fritters are a treat that everyone loves. They're crisp on the outside and fluffy on the inside. 
These homemade apple fritters feature chunks of fresh apples sweetened with cinnamon sugar. They're perfect for a weekend brunch and take just 20 minutes to make! 
Summary
Whichever sides you choose to accompany your Chicken Cordon Bleu, the meal is sure to be an impressive one. Leave us a note about which sides worked best for you or if you have another favorite you pair with your Chicken Cordon Bleu.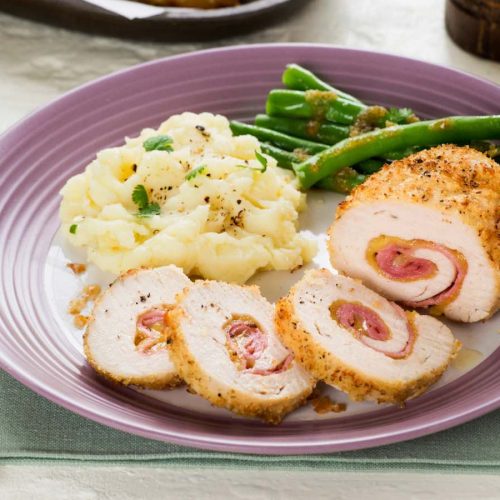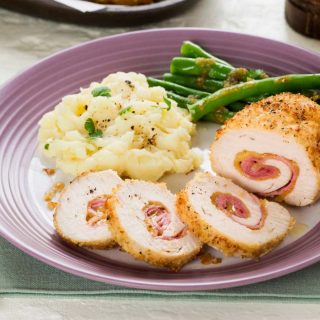 What to Serve with Chicken Cordon Bleu
Microwave mashed potatoes are a quick and easy side dish to serve with chicken cordon bleu!
Print
Pin
Rate
Ingredients
2

pounds

potatoes

3/4

cup

milk

4

tablespoons

butter

salt and pepper

to taste
Instructions
Peel the potatoes. Then cut them into 1-inch chunks.

Rinse the potato chunks in cold water, and place in a large microwave-safe bowl.

Cover with plastic wrap and poke a hole to allow steam to escape.

Microwave on HIGHT for 10-12 minutes or until the potatoes are fork-tender.

Remove the bowl from the microwave.

Add butter and milk into a small bowl and microwave on HIGH for 1 minute.

Then add the butter mixture to the potatoes. Season with salt and pepper.

Mash using a masher or hand mixer until smooth and creamy.
Nutrition
Calories:
202
kcal
|
Carbohydrates:
28
g
|
Protein:
4
g
|
Fat:
9
g
|
Saturated Fat:
5
g
|
Cholesterol:
23
mg
|
Sodium:
89
mg
|
Potassium:
677
mg
|
Fiber:
3
g
|
Sugar:
3
g
|
Vitamin A:
283
IU
|
Vitamin C:
30
mg
|
Calcium:
55
mg
|
Iron:
1
mg
Tried this recipe?
Follow or tag us on Pinterest @izzycooking