This post may contain affiliate links.
Please read my disclosure policy.
Wondering what sides to serve with scallops for dinner tonight? We've rounded up 18 Best Side Dishes for Scallops, from pasta to healthy sides to rice dishes that pair perfectly with this delicious seafood dish!
What is a Good Side Dish for Scallops?
Scallops are considered an exquisite delicacy, and if you're a fan of seafood, you will certainly love them. They have a combination of sweet, buttery, and nutty flavors. With their subtle flavors, scallops go well with just about anything you can imagine! Salads, veggies, mashed potatoes, pasta — you name it!
What Meat Goes with Scallops?
If scallops aren't enough to satisfy your palette, then you may be looking for a bit more taste. In this case, you can add steak to make a surf and turf type dish.
Pasta Side Dishes with Scallops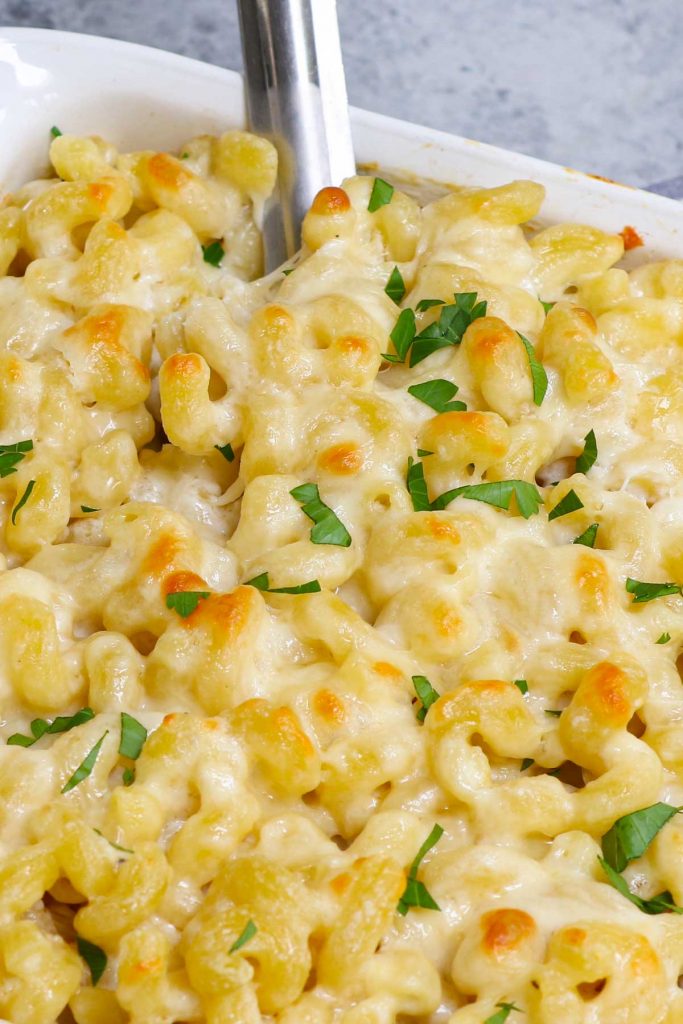 Both creamy and cheesy, this bake Cavatappi Pasta is mac and cheese for adults. Using corkscrew pasta, these noodles are completely appetizing on their own or served as a side along with a cheesy topping.
A mac and cheese dish made from scratch, this Southern baked mac and cheese is incredibly creamy, cheesy, and perfectly seasoned! Using three types of cheese, this dish can easily be labeled as the perfect soul food.
If you're looking for a dish that is quick and easy, this one's for you! It's a dish that's perfect for those busy weeknights. Simply simmer the pasta sauce and boil the noodles – all should be done in just about 15 minutes.
Another dish for those busy nights, this Creamy Garlic Orzo pasta can be on your table in 15 minutes. It's a perfect side dish for your tender and juicy scallops.
This may just become your new favorite dish – it's so easy to make and tastes like you just ordered it from a fancy Italian restaurant. So skip the line and fill your home with the incredible aroma from this dish.
Healthy Side Dishes for Scallops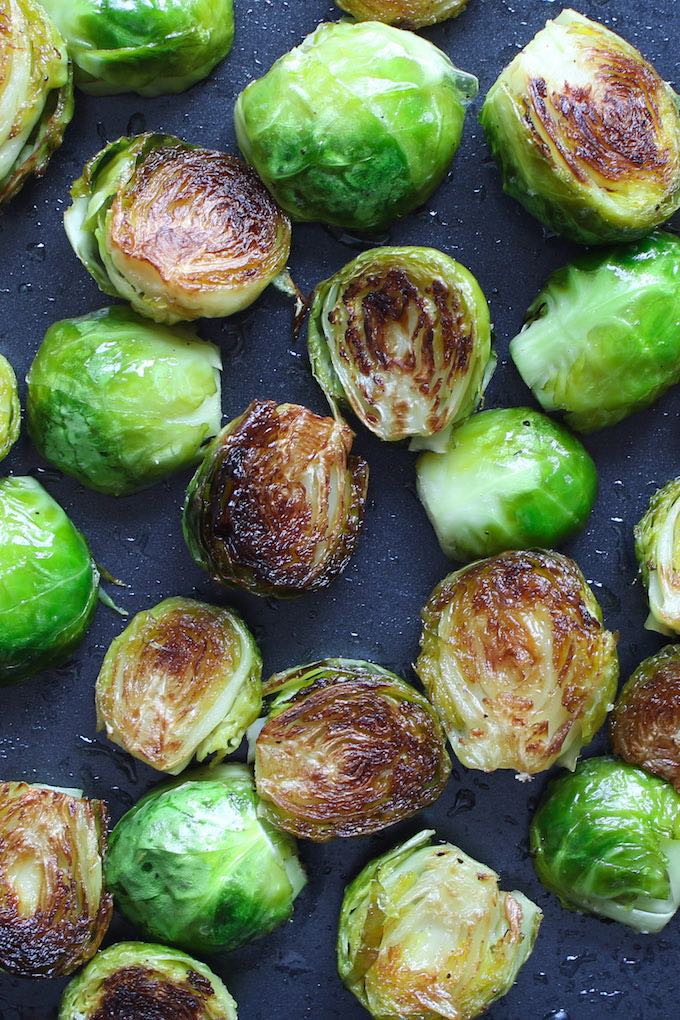 This is a sweet and spicy side dish that's super easy to make and full of flavor. Roasting brussels sprouts in the oven at a high temperature and then drizzled with honey sriracha sauce ensures the vegetable stay tender and crispy.
These asparagus have crispy tips and tender stalks. With half the time to cook and only 4 simple ingredients, its a great side dish option that is also keto-friendly!
If you don't know how to make zucchini noodles, don't worry, this one is for you! You'll find step-by-step instructions on how to cook them and how to store them for meal prep. A great way to get vegetable textures in your mouth and into your meals.
A healthy, quick and easy side dish that is also completely delicious. Bursting with both color and flavor, this Steamed Broccoli is healthy and low-carb! You'll get some great tips here for perfect broccoli every time.
If you are looking for a no-cook meal that is light and healthy, stop here! Plus, you even get an easy-to-make Greek salad dressing too!
This is greek salad that stepped up a notch. With homemade dressing, this is a salad that will certainly have you coming back for more. Simply top with tomato, cucumber, and Feta.
Potato & Rice Sides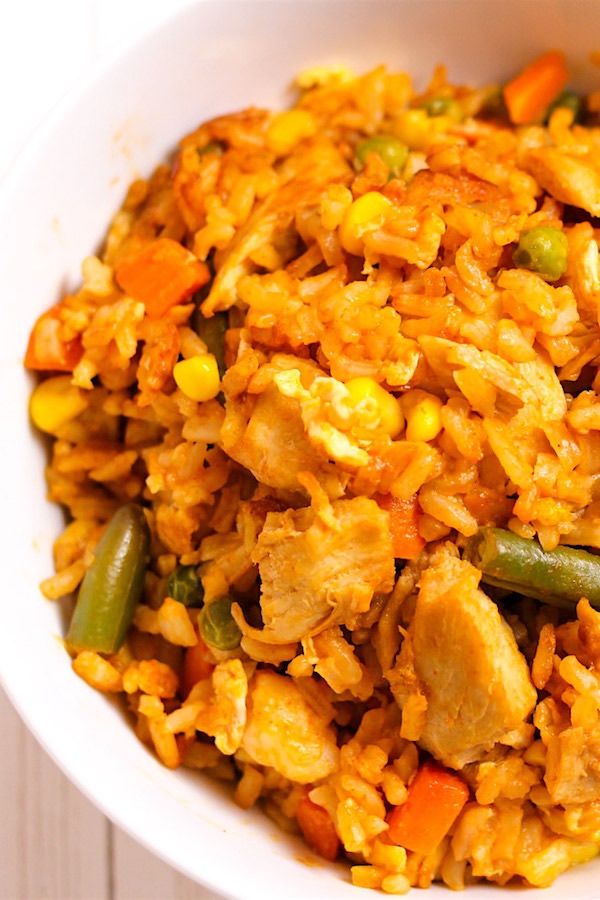 This Chicken Fried Rice is loaded with flavorful chicken, eggs, rice, and different types of delicious vegetables. Ready in under 20 minutes but better than the one from your favorite restaurants.
Think you've been boiling potatoes the right way? Test your skills here! You'll get a guide on how to boil potatoes properly along with some tips to make perfect boiled potatoes faster.
If you are looking for a quick risotto recipe, check out this one and you certainly won't be disappointed. It's an easy side, full of flavor and ready in about 20 minutes!
Who knew you could make mashed potatoes in the microwave? Well, you can! In just 15 minutes you can have the perfect mashed potatoes that are fluffy, creamy and smooth!
What to Serve with Scallops As a Starter?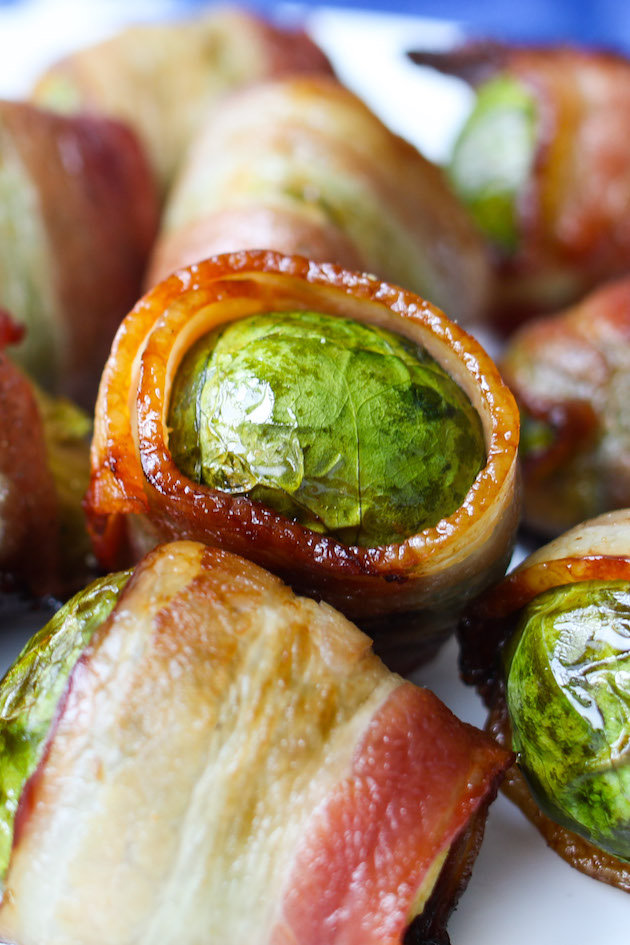 Crispy on the outside and tender on the inside, these bacon-wrapped Brussel sprouts are a must-try! Easy to make with just 3 ingredients, you can serve this as an appetizer with maple syrup or balsamic reduction.
Probably the absolute best way to cook frozen French fries, these air fryer french fries turn out perfectly golden and crisp on the outside and fluffy and tender inside. It's so much better than the deep-fried version.
Vegetable kabobs are not only flavorful but also a summer classic. Ready in just 30 minutes, the hard work is in prepping the vegetables. Use any veggies you like, but be sure to follow the recipe one step by step for the best results.
What is the Best Way to Eat Scallops?
The best way to eat scallops is simply by choosing a recipe that appeals to your eyes, your tastebuds, and your budget. If it's your first go at preparing and eating scallops, then all you'll want to do is prepare them in a pan sauce for 15 minutes, serve with some bread, salad, and wine for a restaurant-worthy meal.
You May Also Like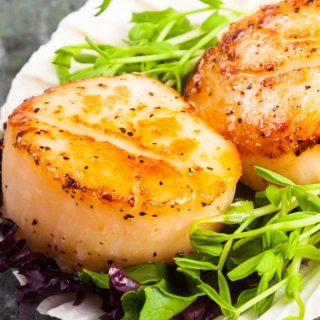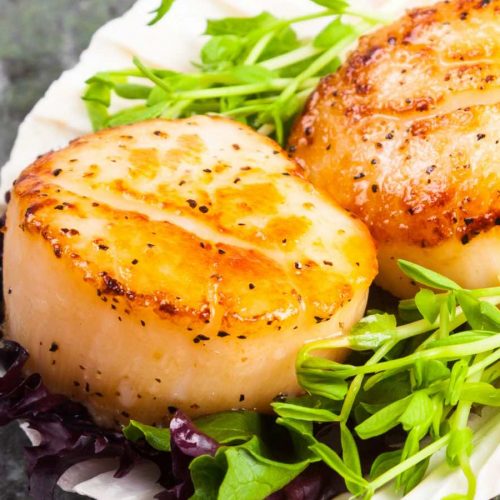 What to Serve with Scallops: Easy Steamed Broccoli Recipe & More
Steamed Broccoli is a healthy side dish that pairs perfectly with scallops. Plus it's healthy, low carb, and Keto-friendly.
Print
Pin
Rate
Ingredients
1

head broccoli

salt

to taste

freshly ground black pepper

to taste
Instructions
Clean the broccoli head thoroughly, then slice the florets into small pieces.

Place the broccoli in a steamer basket.

Add one inch of water to a saucepan. Bring it to a boil over medium-high heat.

Place the basket inside the saucepan.

Cover the pan, and reduce heat to medium.

Steam for 5-7 minutes or until you can pierce the broccoli stalk with a fork easily.
Tried this recipe?
Follow or tag us on Pinterest @izzycooking