If you're struggling with what to serve with pizza, you've come to the right place. From healthy vegetables to delicious chicken wings, below you will find 21 of the Best Pizza Sides that will complement a pizza and satisfy your guests!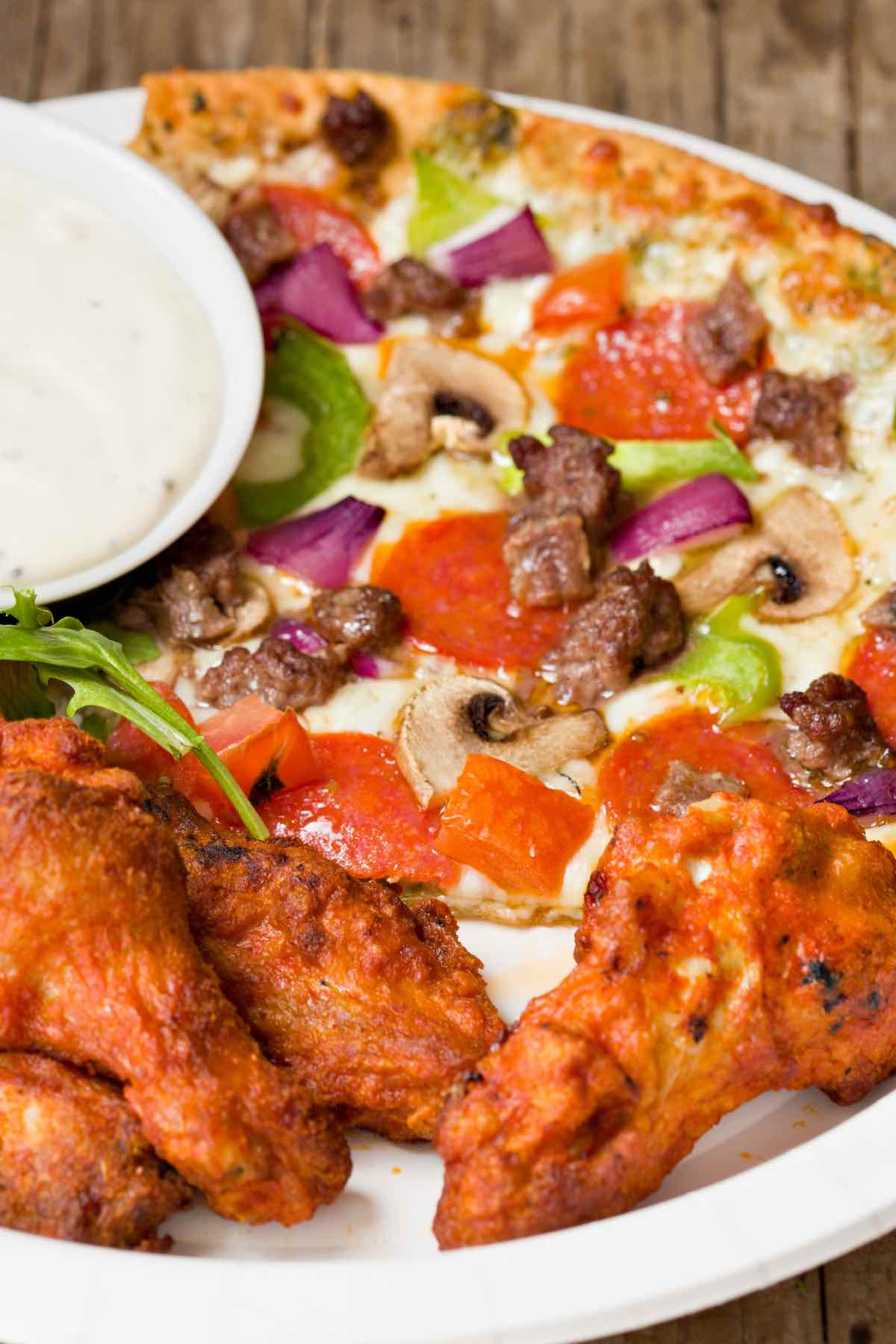 What are Good Appetizers to Serve with Pizza?
If you're afraid you don't have enough pizza, then add an appetizer or two to round out the meal. Popular choices include coleslaw, steamed broccoli, buffalo fries, or a healthy spinach dip. Appetizers are easy to make and always appreciated!
What Should I Bring to a Kids' Pizza Party?
Most kids love finger foods like pizza, but what do you pair with it? Look to french fries, onion rings, chicken wings and garlic bread for classic crowdpleasers. Veggie lovers will enjoy buffalo cauliflower bites and air fryer asparagus, whether they're kids … or adults!
Healthy Side Dishes for Pizza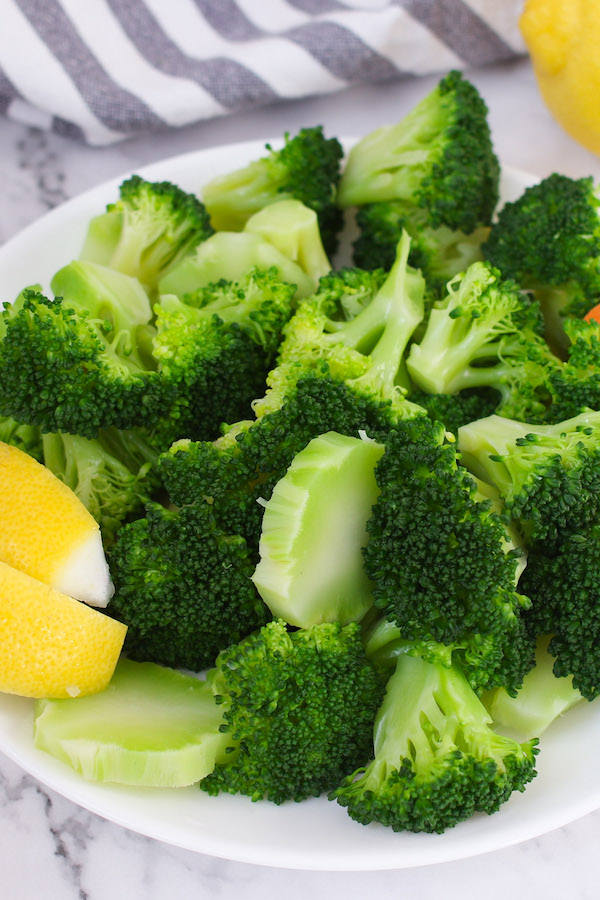 Look no further than steamed broccoli for a healthy and colorful side dish for pizza. You can dress it up with sesame seeds or a cheese sauce for extra appeal.
This tasty side is a vegetarian play on buffalo wings. Healthy, low-carb and easy to make in just 20 minutes? Yes, please!
This asparagus is a great way to get more vegetables into the meal without sacrificing flavor. It's crispy on the outside and tender inside. Add a sprinkle of parmesan cheese for extra flavor!
Perfect for summer, this corn and tomato salad is fresh and flavorful. This colorful side will be on your table in just 10 minutes!
If you want to serve crudités or crackers with the meal, then put out this healthy spinach dip. It's super-easy to make and everyone loves dipping at a party!
Caesar salad is a classic pairing for pizza and this recipe uses all of the traditional ingredients including homemade croutons. There's no need to compromise, as it's easier than you think!
Best Sides to Serve at a Pizza Party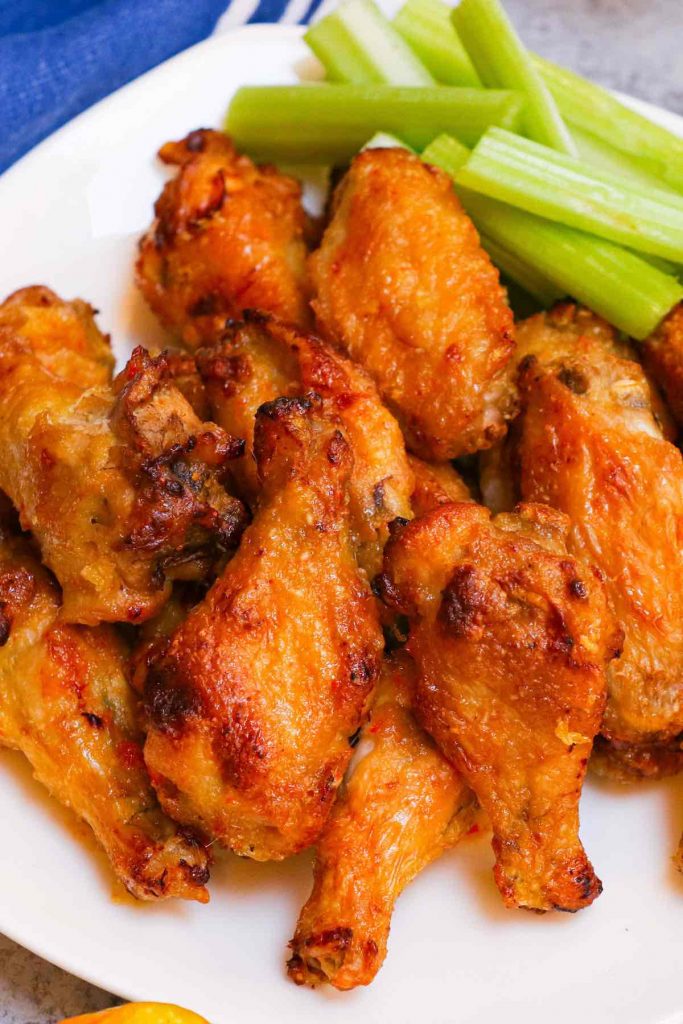 What's a pizza party without chicken wings?! These crispy baked mango habanero wings are an all-time favorite with an extra kick! Perfect for parties, game day or anytime you crave something spicy.
Ever miss the carnival and the food that comes with it? This homemade recipe tastes just like Outback Steakhouse. Be sure to prepare your favorite sauce too for dipping!
These Buffalo fries are a better-than-Wingstop copycat recipe. They're loaded with cheddar cheese, gorgonzola blue cheese, ranch, and buffalo wing sauce. So good!
Who doesn't love garlic bread with pizza? Skip the store-bought and go with homemade for your pizza party! Put out some marinara dipping sauce to take it over the top!
You may be thinking that green peas and mint are an odd combination. However, you'll be pleasantly surprised by this vibrant and healthy dish!
Cole slaw is a guaranteed crowdpleaser combining crisp cabbage and fresh carrots tossed in a creamy mayo dressing. It's a simple dish that goes a long way at a pizza party.
Easy Appetizers for a Pizza Party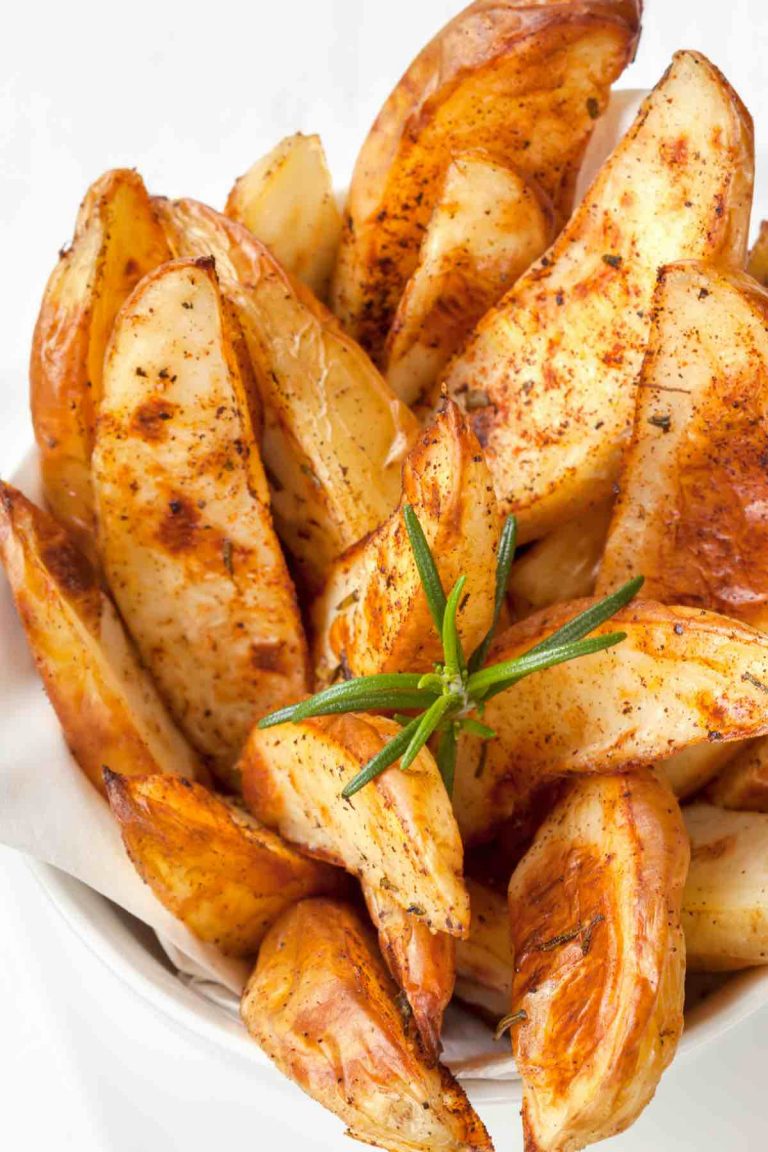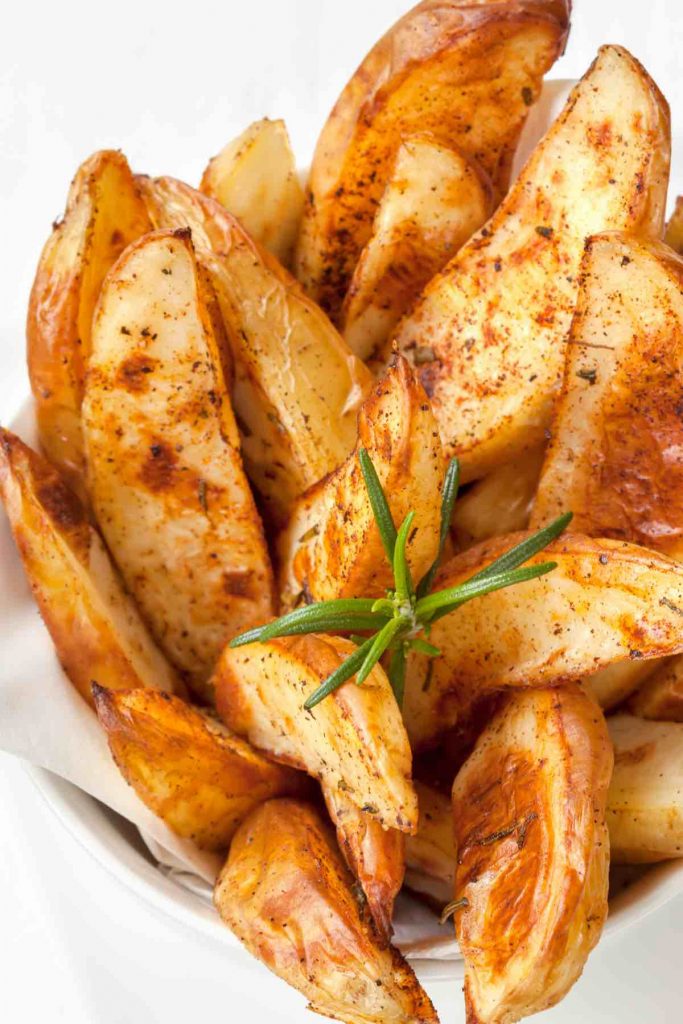 What goes well with finger food? Another finger food! These crispy potato wedges are a great addition to your pizza party. Delicious on their own or served with dipping sauces.
Skip the deep frying and go a healthier route using the air fryer. These french fries are crispy on the outside and fluffy inside. Perfect for sharing and dipping at a party.
Forget store-bought chips and make your own instead. These salt and vinegar potato chips are tasty and crispy. The extra vinegar flavoring will have you smacking your lips!
These onion rings are a Burger King copycat and crispy with lots of onion flavor! You only need a few simple ingredients and 15 minutes of prep to enjoy this mouthwatering appetizer.
Other Great Pizza Sides Recipes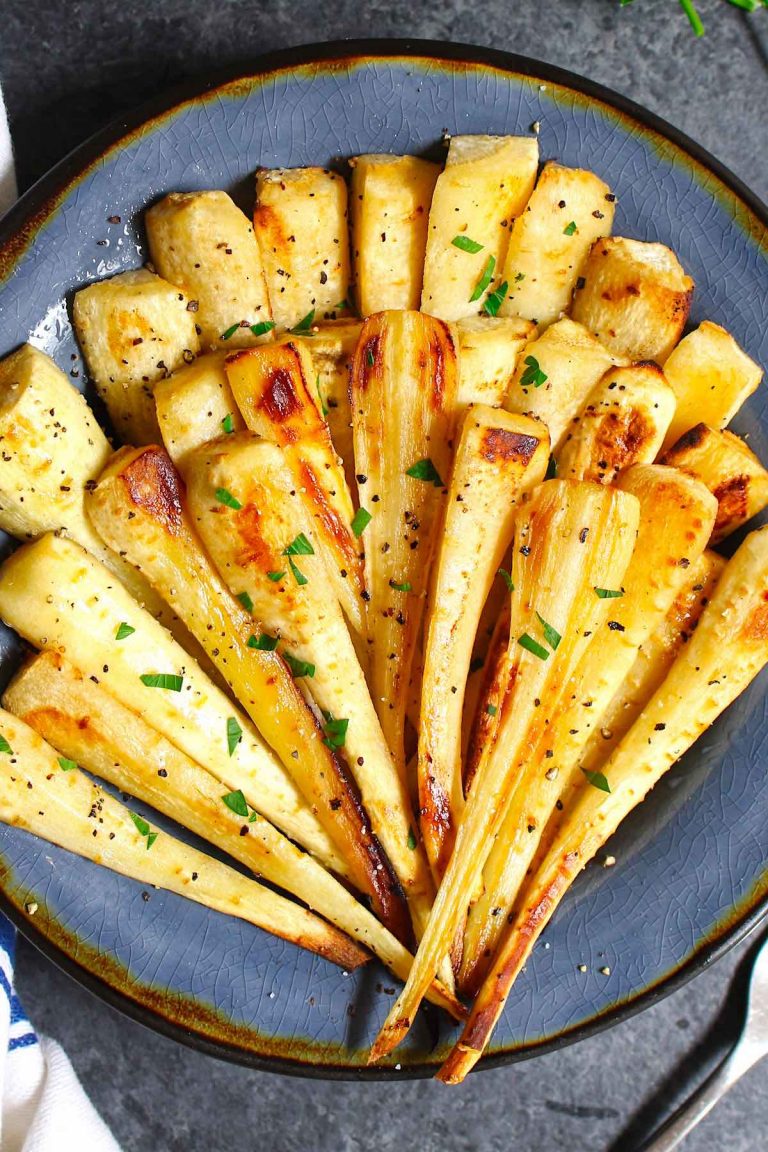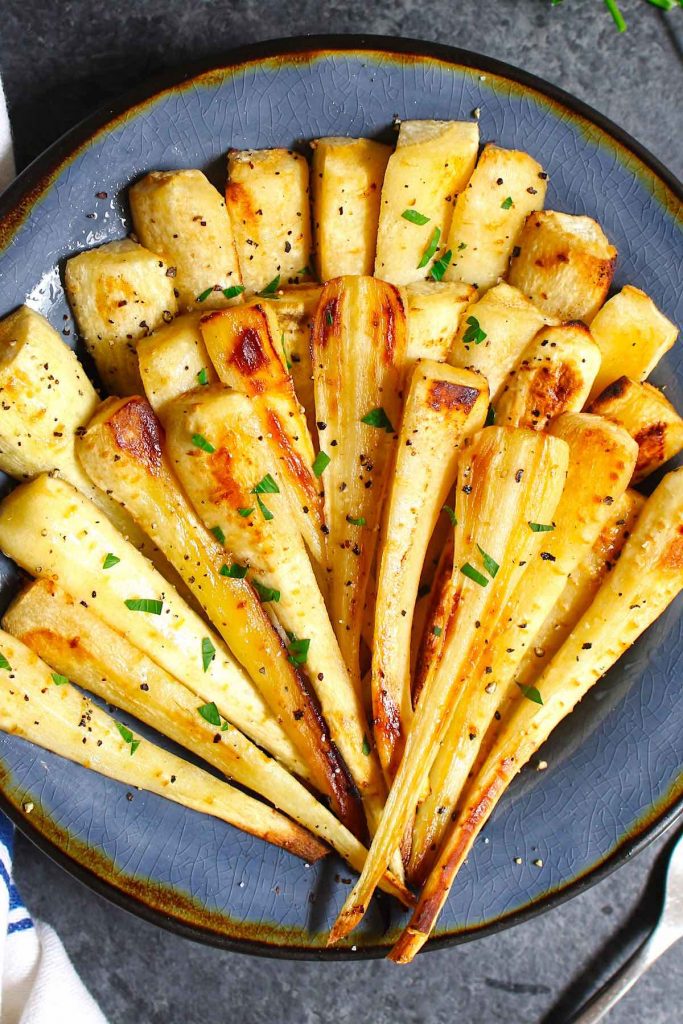 Veggie lovers will rejoice at these incredible roasted parsnips. They're tender and sweet with a nutty flavor and beautifully caramelized exterior.
If you haven't tried sous vide cooking, this is your chance! This low carb, keto-friendly recipe produces tender chunks of zucchini every time. Seasoning is simple with salt, pepper and some parmesan.
A healthy side dish that quickly uses up your fresh garden produce. All you need is a handful of green beans, fresh garlic, and some spice. Easy and delicious!
A popular Southern side dish, hush puppies are crispy on the outside, tender on the inside, and the perfect finger food! The best part? They only take 20 minutes to cook!
When you're looking for a filling side, baked beans are the way to go! They're packed full of protein, filled with tomato sauce, honey, and a blend of spices.
What Goes with Frozen Pizza?
When you're looking to pair with frozen pizza, you'll want dishes you can have ready in 20 minutes or so. Choose a side like garlic bread, salads and even french fries. Alternatively, you can choose a make-ahead side dish like potato wedges and habanero chicken wings.
More Food Pairing Ideas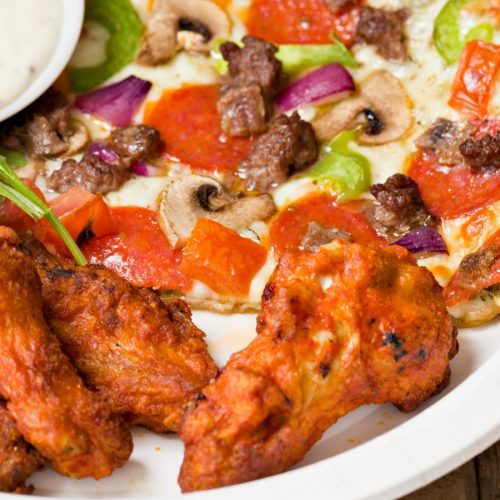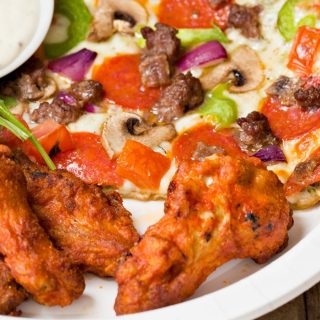 Habanero Chicken Wings Recipe
Habanero Wings are sweet and spicy with crispy skins. It's one of my favorite side dishes to serve with pizza and great for Game Day and other parties.
Print
Pin
Rate
Ingredients
2

lbs

chicken wings

1 ½

tablespoons

baking powder

1

teaspoon

garlic powder

salt & pepper

to taste

1 ½

cups

mango chunks

3

habanero peppers

stems removed and seeded

3

cloves

garlic

3

tablespoons

apple cider vinegar

1

lime

juiced

1/4

cup

honey
Instructions
Preheat oven to 425ºF. Line a large baking sheet with parchment and set aside.

Mix together the baking powder, garlic powder, salt and pepper in a large bowl.

Add chicken wings to the bowl and toss to coat evenly with the mixture. Then place on the prepared baking sheet rack.

Bake for about 30 minutes until slightly crispy, flipping the wings halfway through using kitchen tongs.

While the wings are baking, make the mango habanero sauce. Add the mango chunks, habaneros, garlic, vinegar and lime juice to a blender. Blend until smooth.

Add the mango habanero sauce and honey to a small saucepan. Place onto medium heat and bring to a simmer, stirring to help the honey dissolve. Let it bubble for 3-4 minutes and then remove from the heat.

Remove the wings from the oven. Brush each wing with the mango habanero sauce to coat completely.

Return to the oven to bake for 10 more minutes more or slightly caramelized. Remove from the oven and serve with pizza.
Tried this recipe?
Follow or tag us on Pinterest @izzycooking