Homemade Vegan Flour Tortillas are so soft and fluffy – a delicious and healthy alternative to traditional Mexican tortillas. This easy recipe is made with only 5 simple ingredients, and can be done completely by hand. They're healthier and taste so much better than the packaged stuff.
Summer is around the corner, and I'm making lots of meals using wraps and tortillas. They are a great base to many Mexican dishes including tacos, burritos, nachos, enchiladas and tostadas.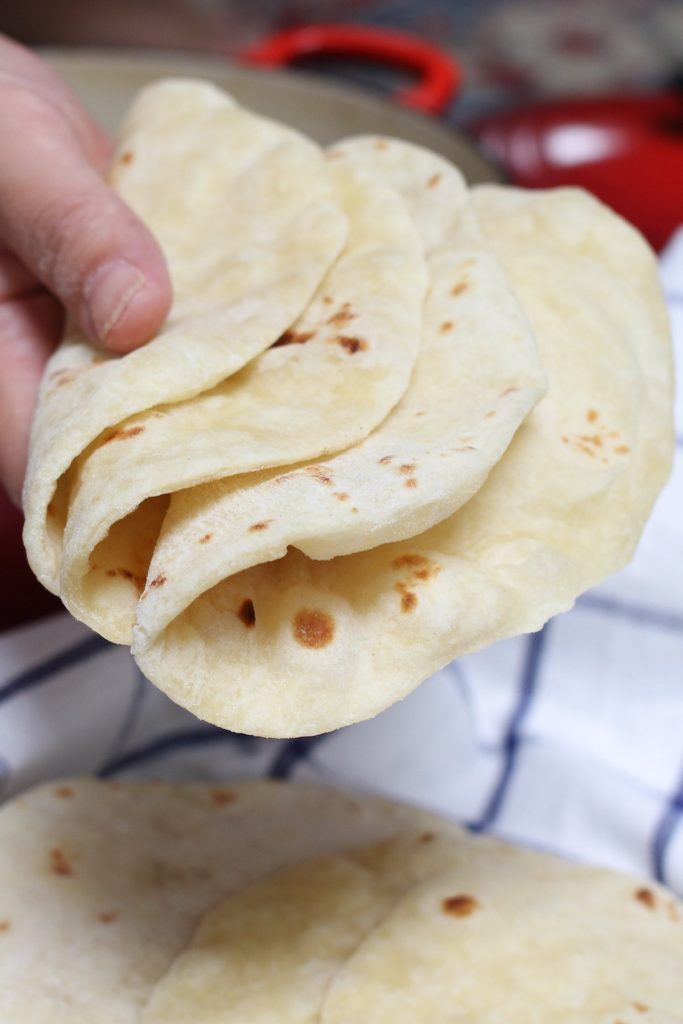 I've tried many flour tortilla recipes, and this is the easiest one with the best result!
The secret to the super soft texture is to use hot water (not boiling). The first time I made them I couldn't believe how soft and tasty these vegan tortillas are, and it's made without lard or butter!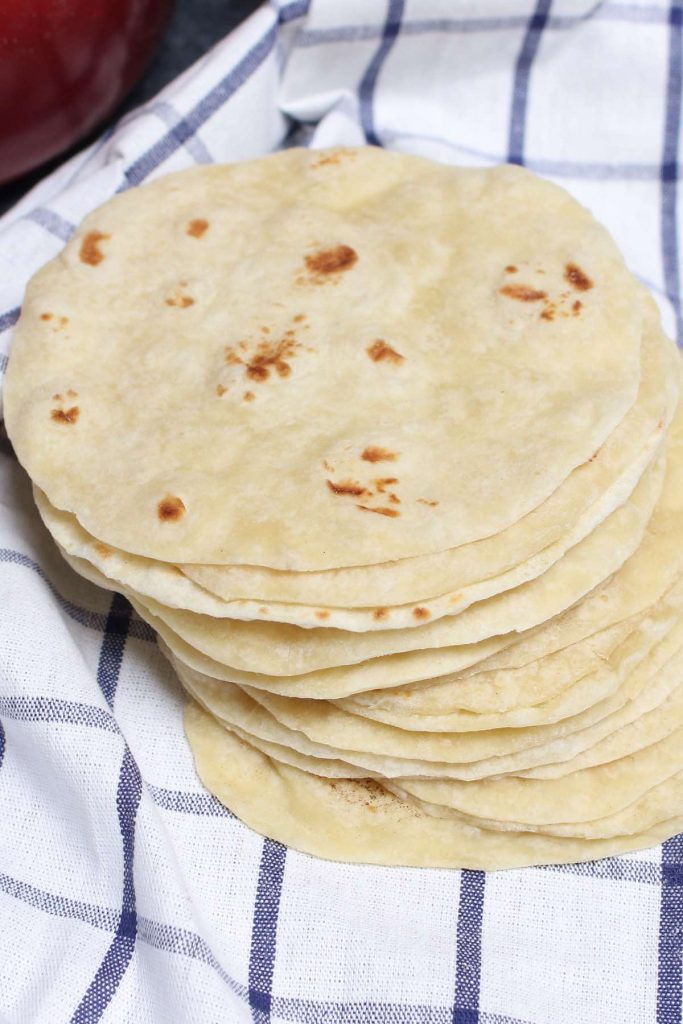 Are All Tortillas Vegan?
Many tortillas sold today are now vegan. However, some may contain lard or tallow. Always check the label when you're unsure.
Ingredients You'll Need
All-purpose flour: Any all-purpose flour will work, and you can use whole wheat flour if you prefer, adjusting the amount of water if needed.
Baking powder: This is your standard baking powder
Salt: Any fine salt will work here.
Vegetable oil: Pick your favorite vegetable oil or use canola, sunflower oil
How to Make Vegan Tortillas from Scratch
This recipe calls for 5 simple ingredients: all-purpose flour, salt, baking powder, vegetable oil, and hot water. You can whisk everything in a bowl by hand if you don't have a mixer.
Step 1: Make the dough
Start by combining flour, salt, baking powder, and oil and mix well. Then pour in hot water and knead it into a soft dough.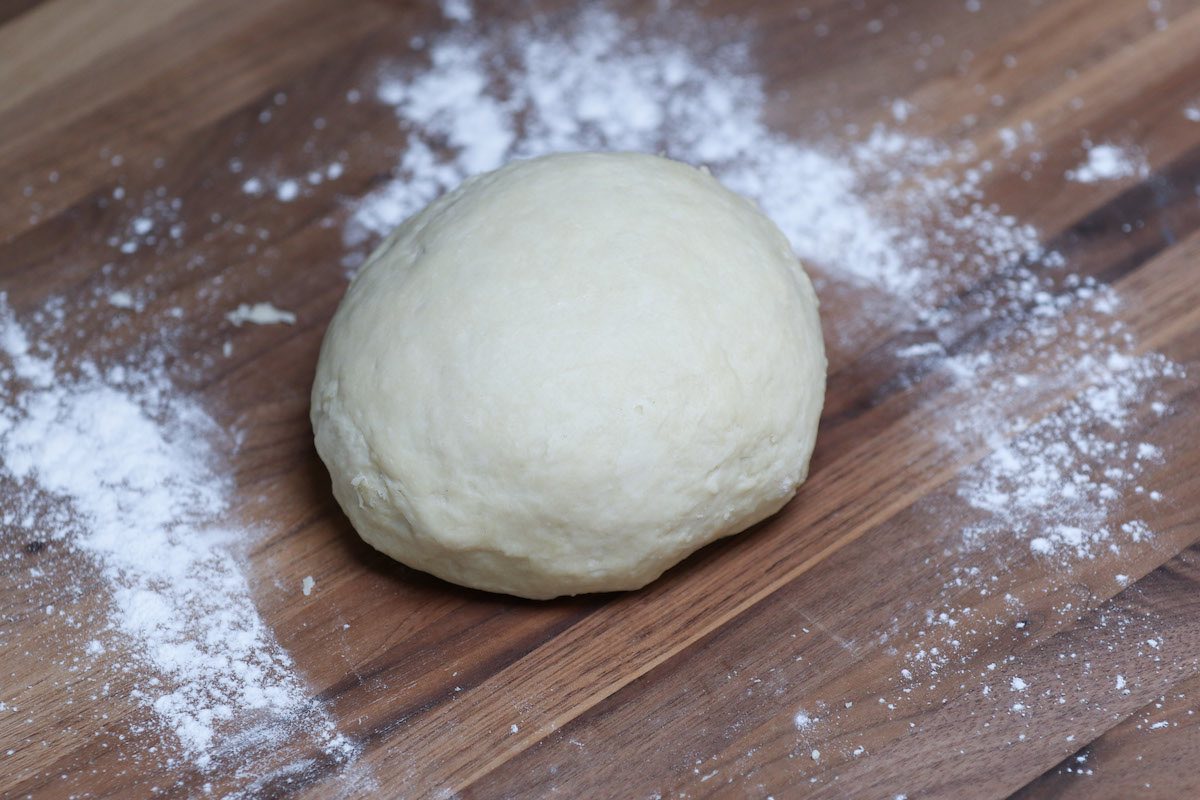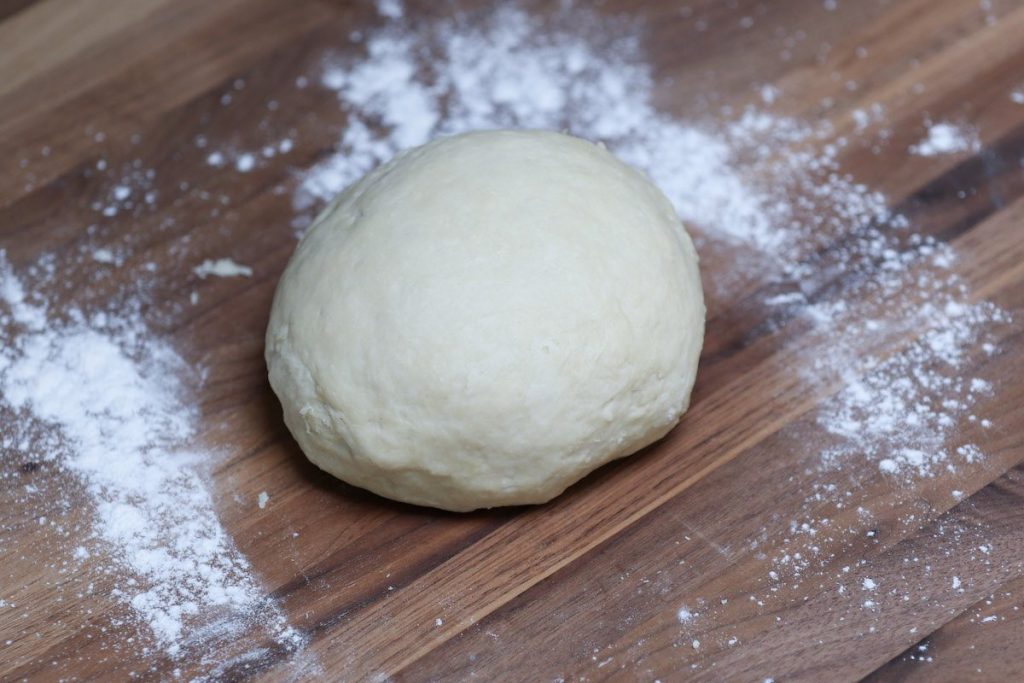 Step 2: Divide the dough
Cut the dough into 16 equal portions and roll each into a small ball. Let them rest for 15 minutes, and roll each one out into thin disks.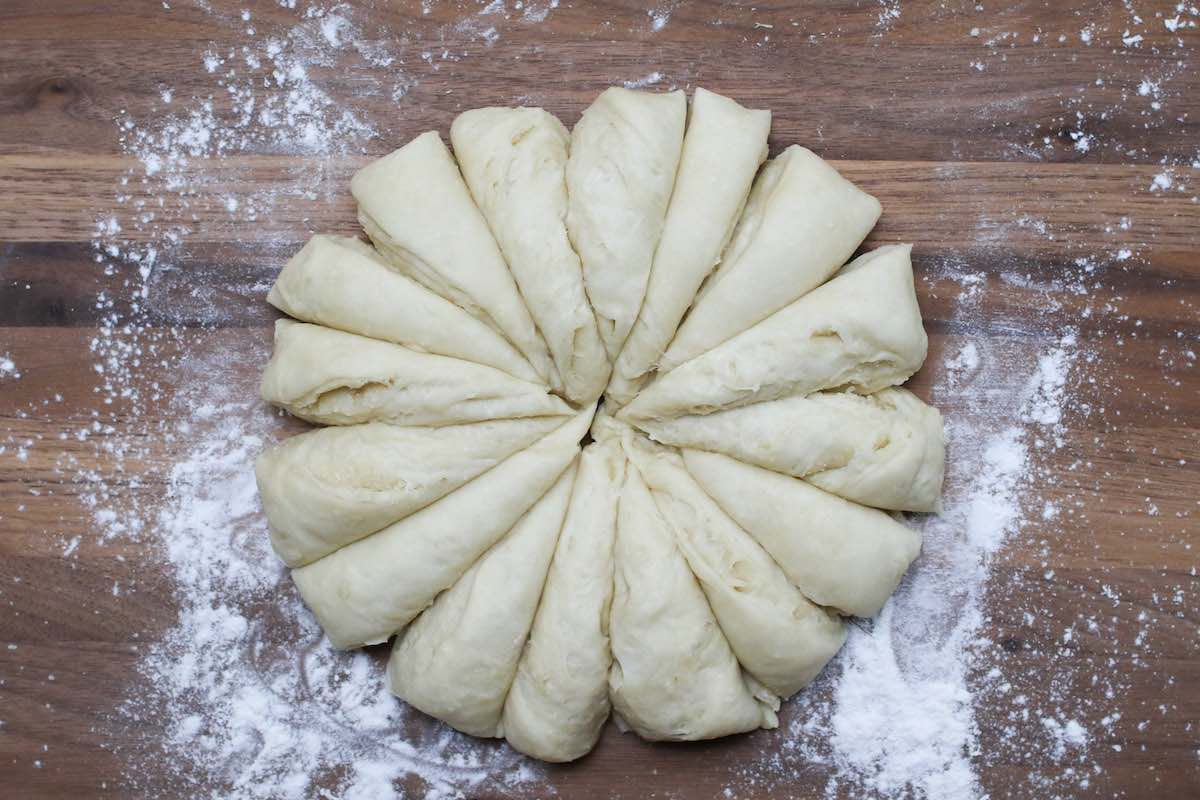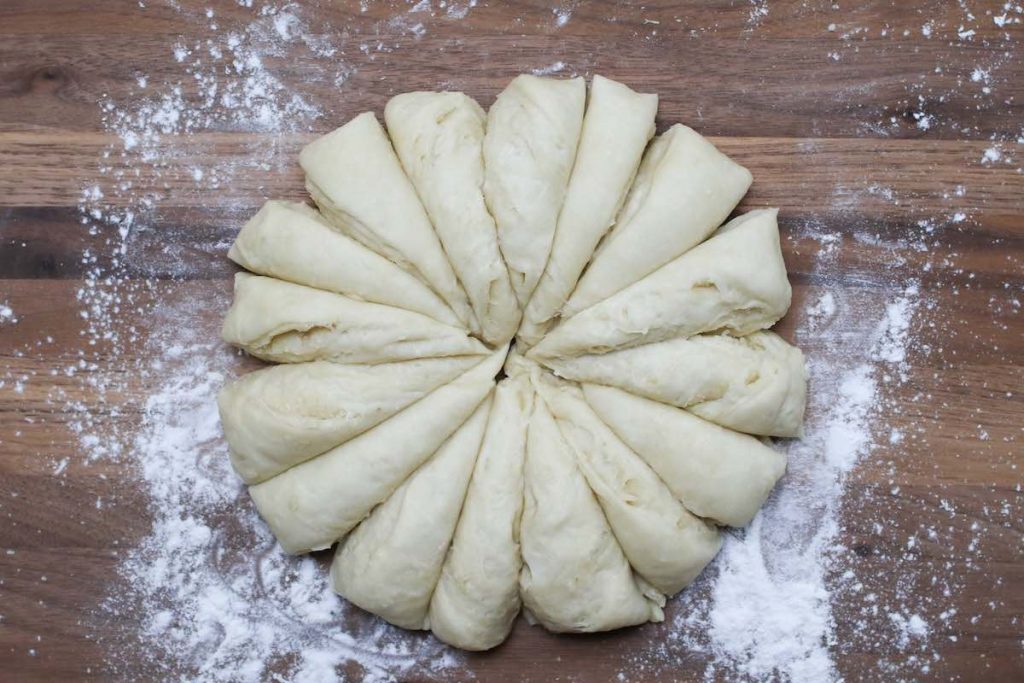 Step 3: Cook the tortillas
Cook the thin disks in a hot iron skillet one by one. Cook for about 30-60 seconds and you'll see bubbles forming on the surface, flip it and cook the other side. It takes about 1-2 minutes to cook each tortilla.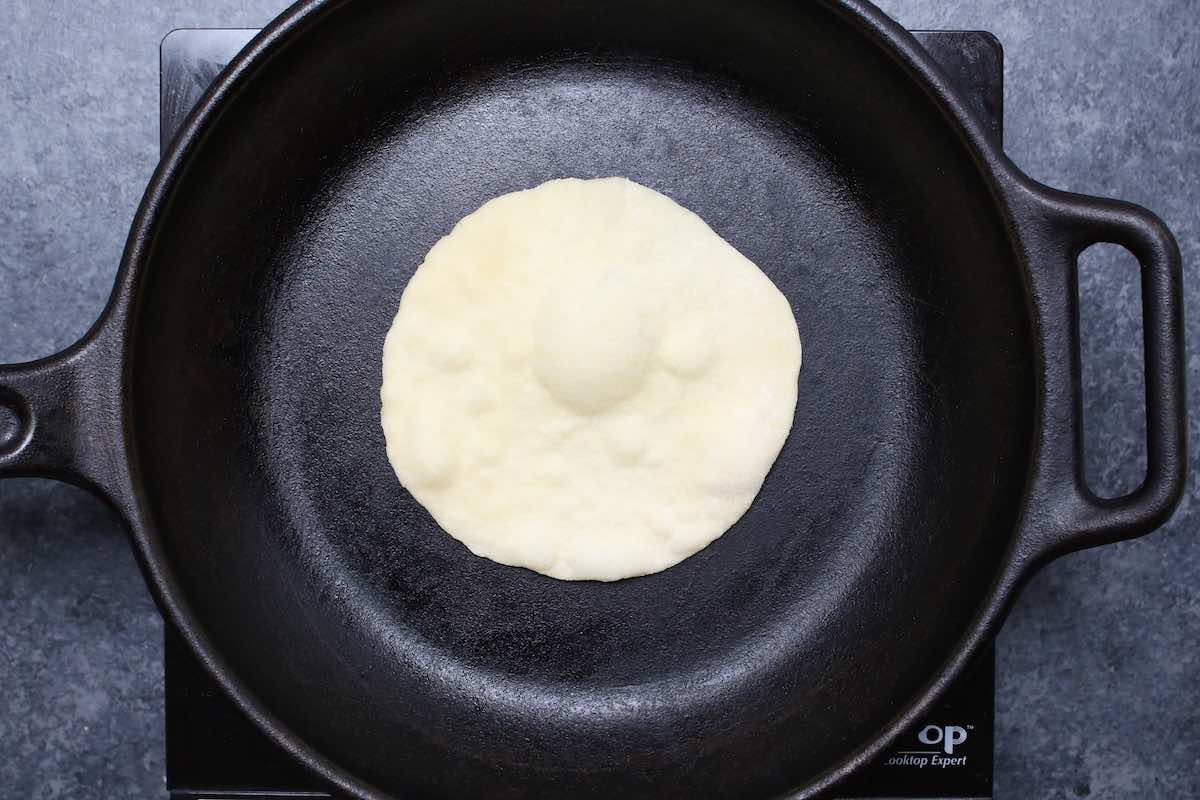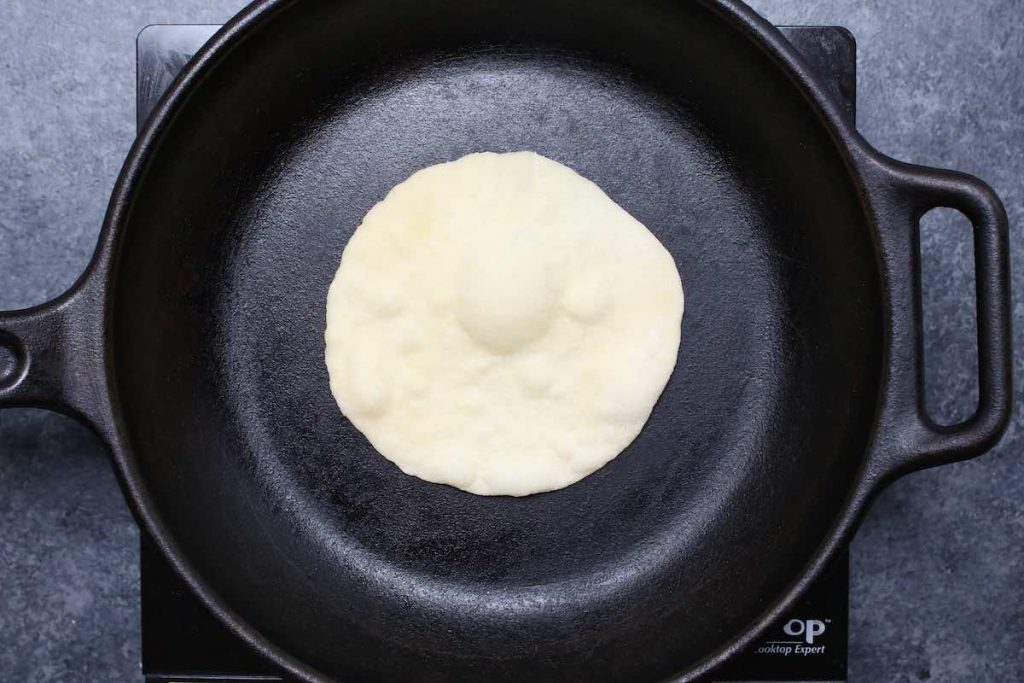 Tips for Making airy and Fluffy Tortillas
Using hot water is key. Hot water is the secret for the super soft texture, as it allows for a higher ratio of liquid to be used, resulting a very tender dough. The water needs to be hot, but not boiling for the best results.
Mix the ingredients well and knead the dough properly. Then take enough time to let the dough rest. This is important for making your tortillas light and fluffy.
Adjust the heat while cooking tortillas. Heat up the skillet before adding the raw tortilla, otherwise, it could stick to the pan. Depending on the thickness of your tortilla, it can take 30-60 seconds to cook each side. Slightly increase the heat if your tortilla doesn't form bubbles on the surface after 1 minute. Turn the heat down slightly if black spots form in less than 20 seconds or they become too crisp.
Ways to Use Flour Tortillas
You can use them to accompany many Mexican dishes such as burritos and tacos. Add some vegan fillings such as spinach for a completely vegetarian or vegan meal. You can also make them into Tortilla Chips, or use them as wraps or in tortilla soup.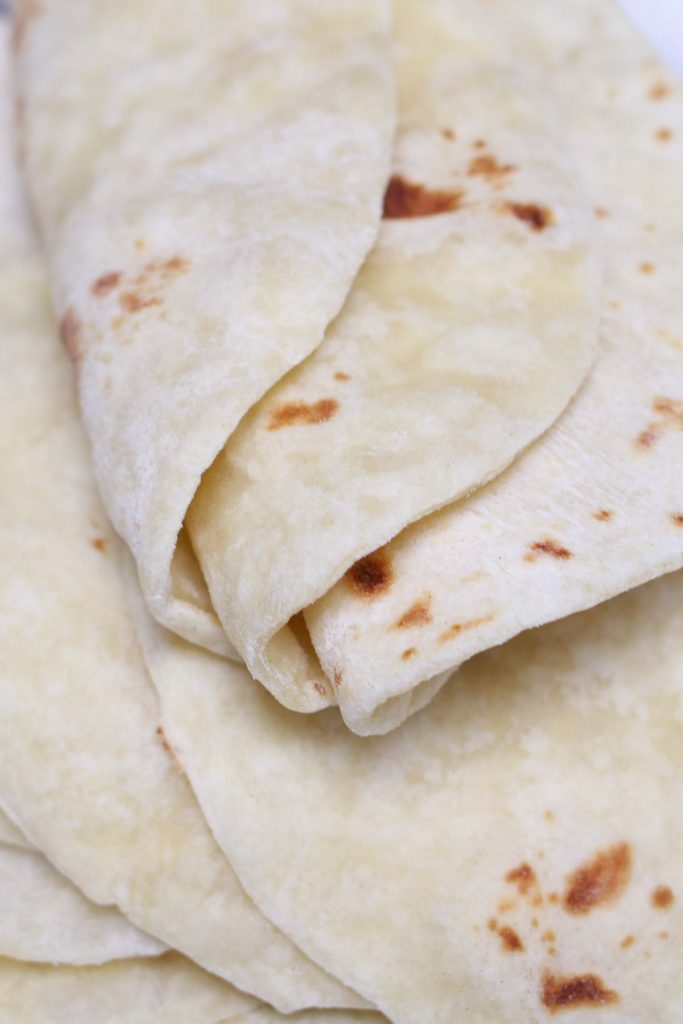 Do I Have to Use Baking Powder to Make Flour Tortillas?
No, you don't have to. Some flour tortilla recipes call for baking powder, and some don't. It's a leavening agent that makes your tortillas puffy with air bubbles.
I usually use it as it produces tortillas with a better texture, but if you don't have any on hand, you can still make flour tortillas without baking powder.
How to Store Tortillas
To store tortillas, stack them with sheets of parchment in between to prevent sticking. Then place in a resealable plastic bag to stay fresh. If you want to store for just a day or so, keep them at room temperature. Any longer and they should be refrigerated.
How Long Do Homemade Tortillas Last?
It's best to eat these vegan tortillas the same day. They can be left at room temperature for about 12 hours, and you'll need to store them in an airtight container or ziptop bag in the refrigerator and they can last for 4-5 days.
Alternatively, wrap them in foil, place in a ziptop bag, and they can last up to 6 months in the freezer.
How to Reheat Flour Tortillas
If you have the time, warm your tortillas in a 300°F oven. Place them in stacks of 6 to 7 and wrap each stack in foil. Then heat for 10 to 15 minutes.
If you're in a hurry, place a stack of up to 5 on a microwaveable plate and cover with a moistened tea towel. Microwave in 30-second intervals on full power until hot.
Difference Between Vegan Tortillas and Regular Flour Tortillas
Traditional flour tortilla recipe uses lard, and vegan tortillas use vegetable oil. I have tested different types of fat, and found no significant difference in terms of texture or taste. So I highly recommend making this vegan version as it's so much healthier.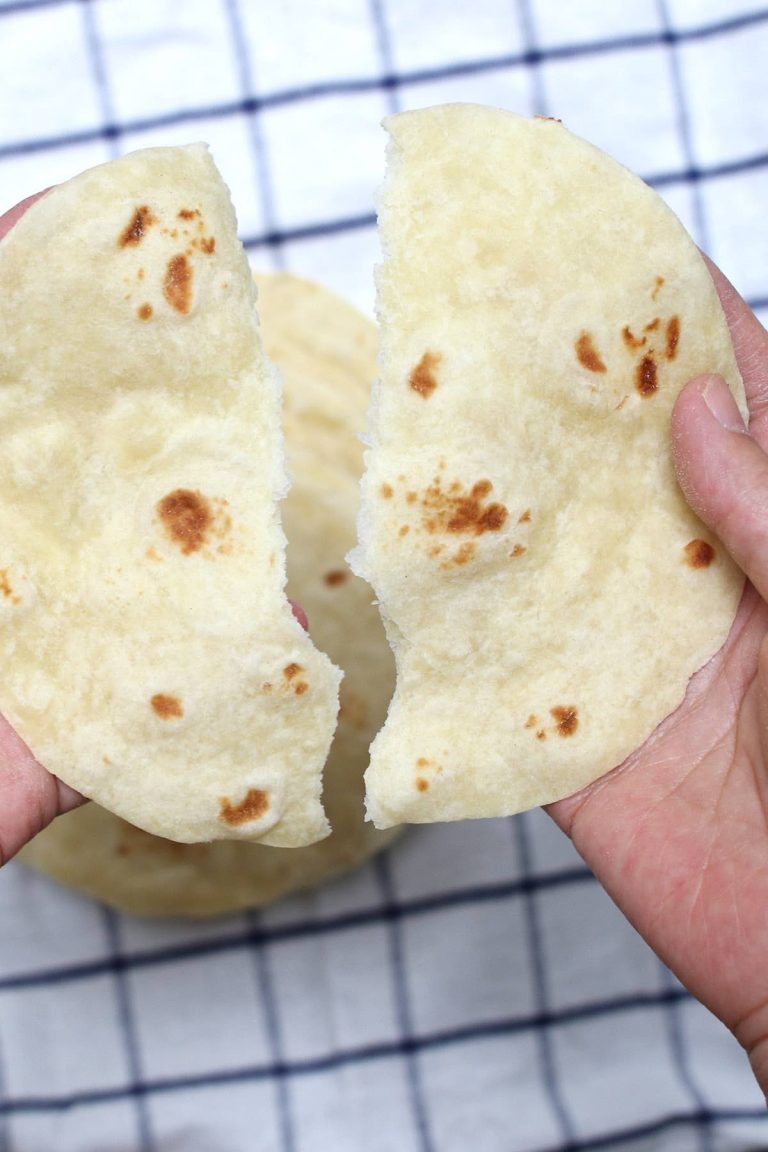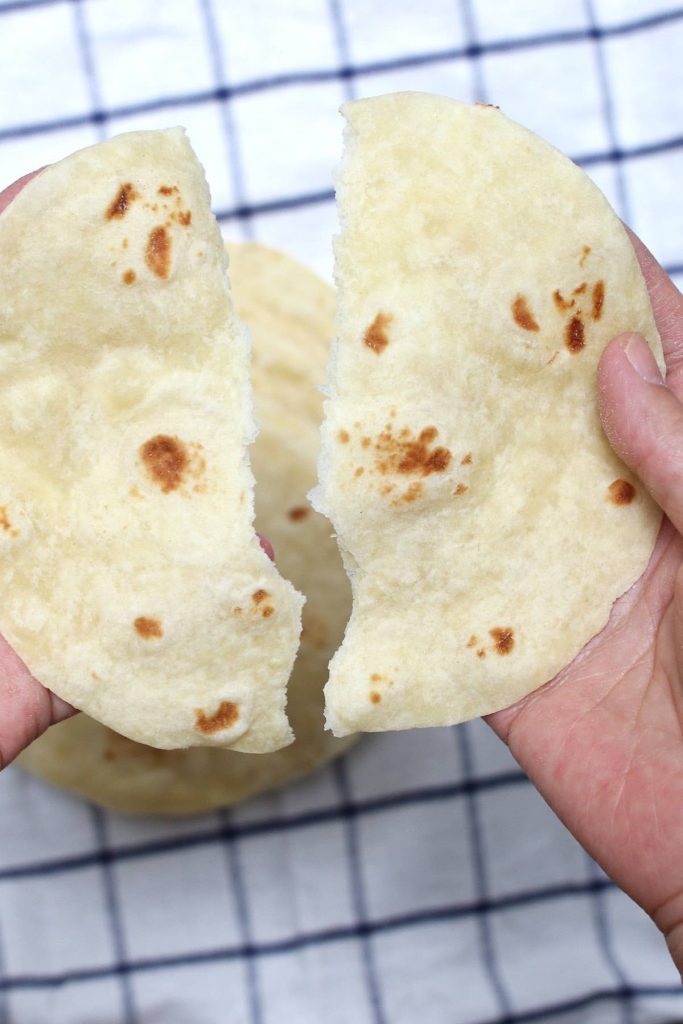 FAQ
How to Keep Vegan Tortillas Soft
After you've made tortillas, the best way to keep them soft is to wrap in a moist tea towel. If you want to store them for more than an hour or two, stack them with sheets of parchment or wax paper in between to prevent sticking. Then place in a sealed plastic bag for up to a week.
Can I Freeze Tortillas?
Yes, you can freeze tortillas for 2 months or even longer with sacrificing quality. The key is to make the package as airtight as possible, so as to remove excess air. A vacuum sealer is helping for this purpose.
How to Make Vegan Tortillas Gluten-Free or Keto?
There are several ways to make vegan, gluten-free tortillas. You can use gluten-free all-purpose flour or alternatives such as cornmeal, chickpea flour or tapioca starch. For keto tortillas, you can use coconut flour or almond flour.
More Vegan Recipes You'll Love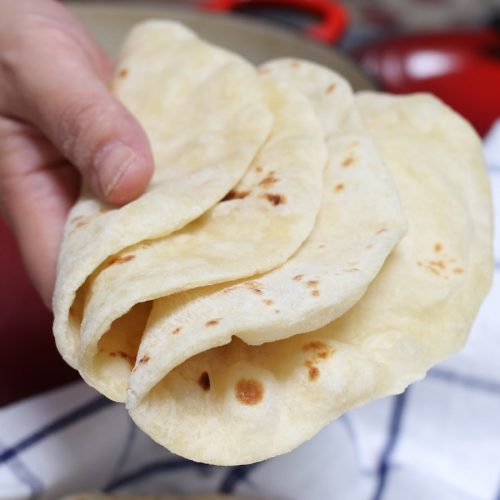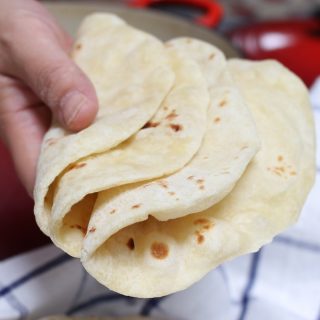 Homemade Soft Vegan Flour Tortillas Recipe (+Video)
These Homemade Vegan Flour Tortillas are so soft and fluffy – a delicious and healthy alternative to traditional Mexican tortillas. This recipe is easy to make with only 5 inexpensive, easy-to-get ingredients, and can be done completely by hand!
Print
Pin
Rate
Ingredients
3

cups

all-purpose flour

plus a little extra for sprinkling

1

teaspoon

baking powder

1

teaspoon

salt

1/3

cup

vegetable oil

1

cup

hot water

not boiling water
Instructions
Make the dough: In a large mixing bowl add all-purpose flour, salt, and baking powder. Mix well.

Make a well in the center, and add oil, and stir until it resembles coarse crumbs. 

Pour in hot water and stir to combine. Knead it for about 2 minutes until the dough is smooth and elastic. (If you press your finger on the dough and it springs back and is no longer sticky, your dough is ready.

Divide and flatten the dough: Transfer the dough to a well-flour surface, and divide it into 16 equal portions.

Roll each piece into a small ball, and let them rest for about 15 minutes (and up to one hour).

After resting, press down the ball with your palm. Using a lightly floured rolling pin, roll each piece into a circle about 6 inches in diameter or until it is very thin.

Cook the tortillas: Place a cast iron skillet on medium-high heat. When it's very hot, place one piece of uncooked tortillas into the skillet. Cook for 30-60 seconds or until bubbles start to form on the surface. (Before placing the tortilla in the skillet, shake off any excess flour. If there is any flour left in your skillet, wipe it out between cooking tortillas.)

Flip it and you should see golden brown spots on the surface. Cook the other side for about 30-60 seconds. (If it takes longer for you to see bubbles or brown spots, increase the heat accordingly)

Serve warm and enjoy!
Equipment
Notes
Don't stack uncooked tortillas or they may stick to each other and become soggy.
Wrap cooked tortillas in damp paper towels so they won't dry out.
To Reheat Tortillas: You can easily microwave them in 30-second intervals until they are warmed through. Alternatively, you can heat it up in a skillet for a few minutes.
Nutrition
Calories:
125
kcal
|
Carbohydrates:
18
g
|
Protein:
2
g
|
Fat:
5
g
|
Saturated Fat:
4
g
|
Sodium:
172
mg
|
Potassium:
25
mg
|
Fiber:
1
g
|
Sugar:
1
g
|
Calcium:
18
mg
|
Iron:
1
mg
Tried this recipe?
Follow or tag us on Pinterest @izzycooking


Editor note: Originally published Jan 9, 2020 and updated June 11, 2020.