If you're aiming to lose weight or simply maintain your overall health, these 25 satisfying High Protein Lunch Ideas will help you to achieve your goals.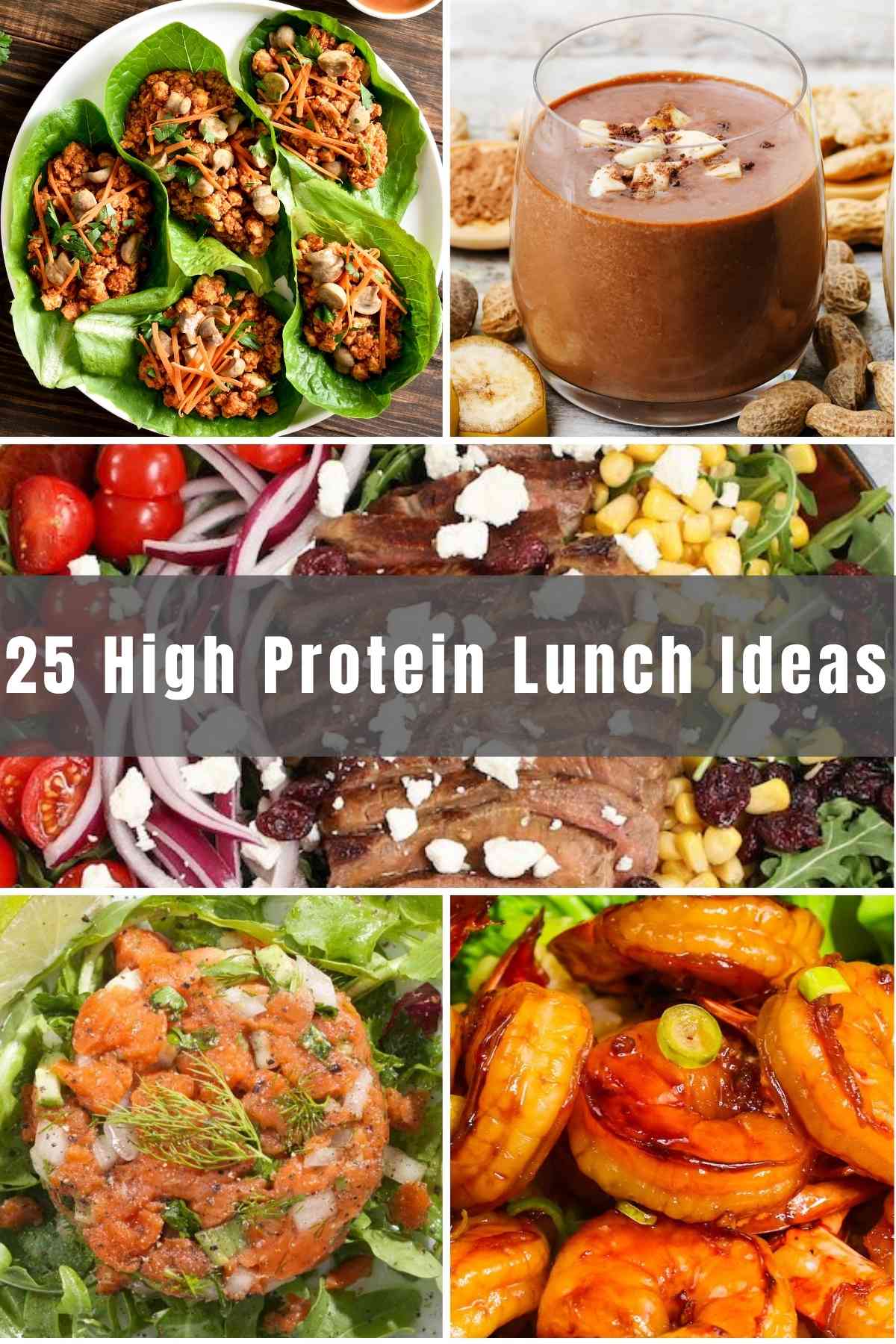 Using the right ingredients, you'd learn to make a few salads as well as other meals that are healthy, enjoyable and filling meals. These are great at keeping you full while giving you energy throughout the day.
Oftentimes when we think of high protein we think high meat, but that isn't always the case! There are lots of meat-free, animal product-free and plant-based recipes to accommodate any diet.
This healthy salad replaces the usual mayonnaise with Greek yogurt cutting your tuna salad's calories in half. This high protein, high fibre salad comes together in just 10 minutes for an easy lunch. Store leftovers in an airtight container in the fridge and enjoy for up to 2 days.
There's nothing like hot soup on a perfect fall or winter day. This hearty chickpea soup is loaded with chickpeas, potato, tomatoes and spices. It has a creamy texture along with the added bite of a little pasta which makes it perfect. Enjoy as a meal all in itself or with your favorite side salad!
Dig into this satisfying and flavorful vegan salad! With crispy tofu and three different kinds of beans, this salad provides over 20 grams of protein per serving.
This light and refreshing fruit salad gives you all the energy you need to tackle your day. Thanks to superfood quinoa, it's surprisingly high in protein, making it an awesome pre-workout meal.
These chicken fajita bowls are a healthy all-in-one meal that comes together in no time. This high-protein dish is filled with chicken, veggies, and rice that's top quality and full of the bold flavors of various spices!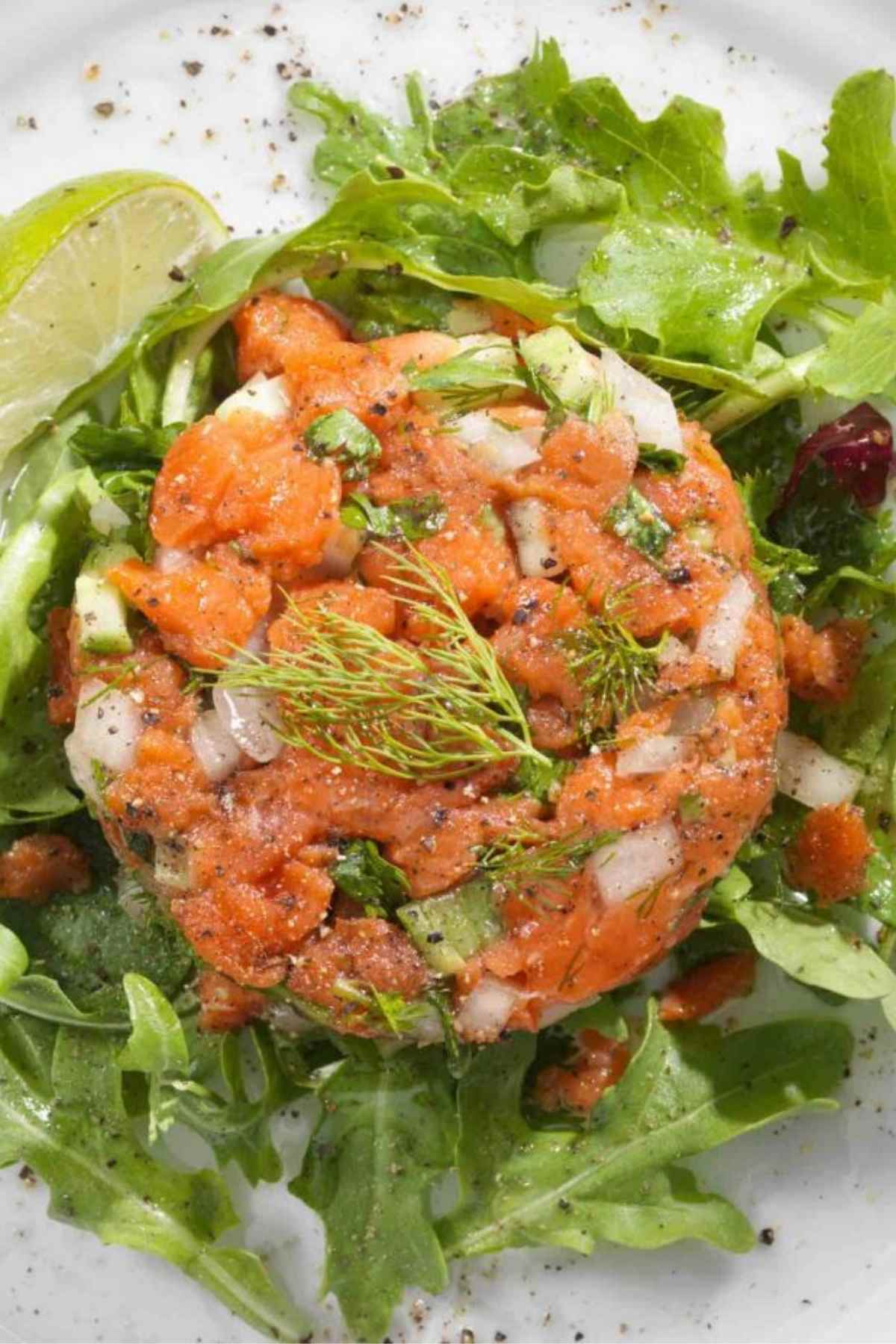 Bring the elegance of a restaurant appetizer to the comfort of your home with this salmon tartare. Despite its fancy name, this dish is definitely easy to prepare with just a few simple ingredients. Use sashimi-grade salmon for a lovely platter that's sure to impress.
Sriracha Shrimp has both sweet and spicy flavors to delight your tastebuds. The sauce is excellent while doubling as a marinade and dipping sauce for the shrimp. This recipe is packed with flavors and ready in 20 minutes. What's not to love?
As it turns out, vegans can consume more protein sources than you realize. For one, this hearty vegan-friendly salad gets its protein serving from ingredients such as sautéed tofu, quinoa, sweet potato, peanut butter and leafy greens. Top with homemade peanut sauce inspired by Thai cuisine and enjoy.
This salad is high-protein and quite nutritious as chickpeas are also rich in fibre, potassium and vitamin B6. Though there are only 165 calories per serving, this tasty salad is sure to fill you up.
Shredded turkey meat and crunchy veggies are tossed in a creamy Tahini dressing in this 5-minute recipe. This salad is super adaptable so go ahead and add in all your favorite veggies, or whatever you happen to have on hand.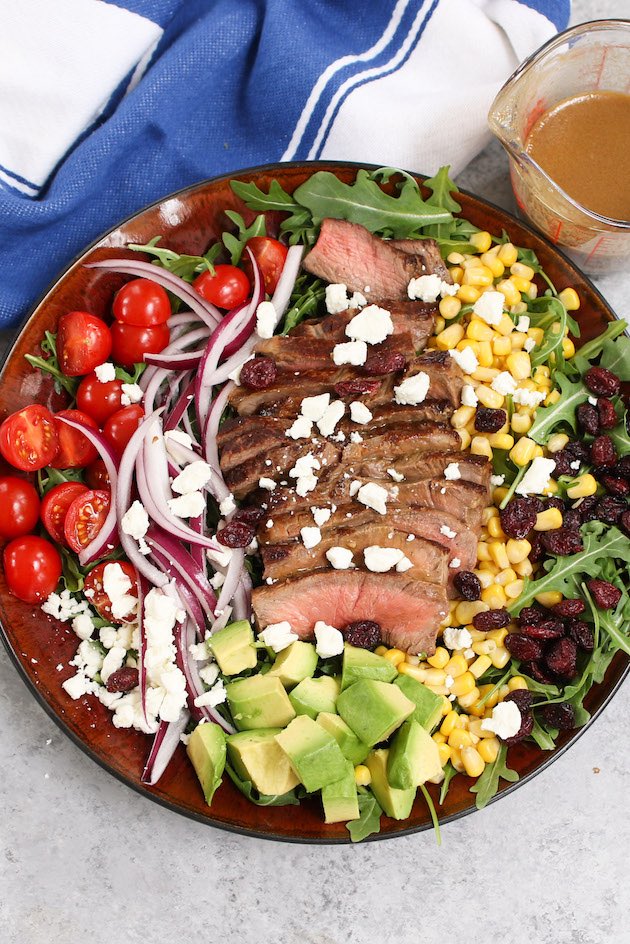 When you're tired of chicken, give this mouthwatering steak salad a try. It's high in protein, low in carbs and totally delicious.
Juicy jumbo shrimp are pan-seared, then tossed in a tangy citrus sauce. Combine with slices of avocado and your favorite greens for a simple, yet flavorful salad.
This quick, simple salmon salad is light, yet satisfying. Enjoy it in a sandwich for a protein-rich lunch, or with crackers for your mid-afternoon snack.
Have fun making this colorful and flavorful salad. The tangy cumin-lime dressing gives this protein-packed salad a nice boost of flavor. You can make it 2 days ahead and it'll last for a few days in the fridge, making it perfect for meal prep.
Grab a can of black beans and other everyday ingredients to get started on this simple and healthy black bean soup. This flavorful soup can be made in one pot and it's vegan, gluten-free, and vegetarian.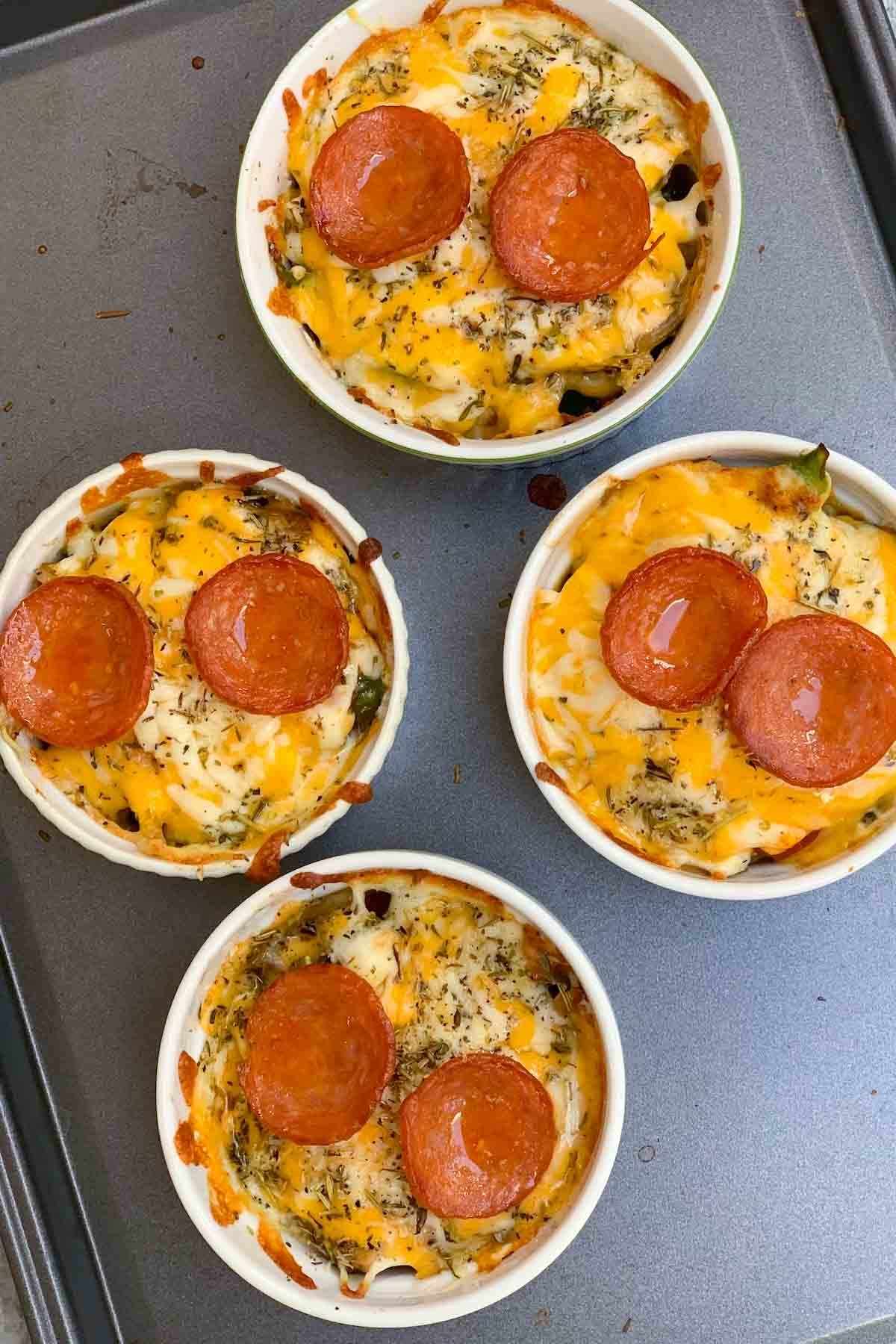 These easy pizza bowls are freshly baked, crustless and keto-friendly. Enjoy your favorite toppings like pepperoni, bell peppers, mushrooms and cheese. This flavorful recipe is low-carb, high-protein and ready in just 15 minutes. It's a crowd-pleaser for both kids and adults.
These chicken lettuce wraps feature Asian flavors and are made with ground chicken and vegetables cooked in a savory sauce and served on a bed of lettuce leaves. You won't believe how easy this recipe is and it tastes amazing!
Flavorful grilled chicken breast, hardboiled eggs and creamy avocado make this classic salad so satisfying. This recipe omits the bacon for a lower-calorie version of the Cobb salad.
This hearty salad is super satisfying and gives you an extra serving of greens. Cottage cheese and lentils add a healthy dose of protein to this low-calorie vegetarian salad.
This creamy egg salad is made with cottage cheese for double the protein. This recipe takes a traditional egg salad and reduces the fat and calories.
This zesty Mexican-inspired ceviche features tender chunks of crab meat and fresh lemon juice. Enjoy as a side dish or atop toasted bread.
Here's a smoothie that's full of protein and doesn't compromise on taste. If you love peanut butter, you'll love this one! It's keto-friendly, delicious and the peanut butter flavor is light yet refreshing. With just 4.7 grams of net carbs per serving, enjoy it as a snack, for breakfast or as a post-workout drink.
Five minutes is all you need to make a protein-rich egg salad for sandwiches or wraps. For a more keto-friendly lunch, try making lettuce wraps instead of sandwiches.
This complex salad combines broccoli with edamame, black beans and dried cranberries. If you're vegetarian or vegan, give this protein-packed power salad a try.
These make-ahead taco bowls make weekday lunches a breeze. Enjoy as a protein-packed salad or assemble the ingredients with tortillas for quick and easy tacos.

You May Also Like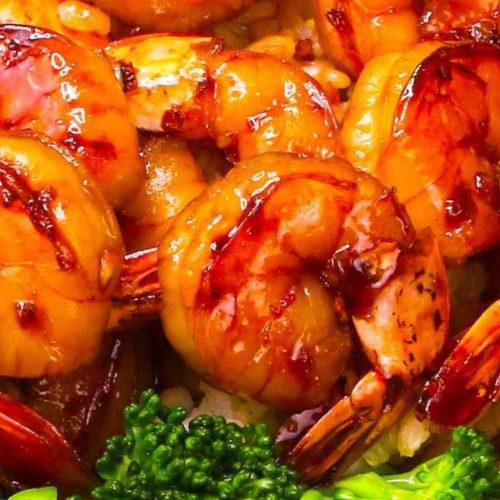 High Protein Sriracha Shrimp Recipe
Sriracha Shrimp has both sweet and spicy flavors to delight your tastebuds. The sauce is excellent while doubling as a marinade and dipping sauce for the shrimp. This recipe is packed with flavors and ready in 20 minutes. What's not to love?
Print
Pin
Rate
Ingredients
1

lb

raw shrimp peeled and deveined

thawed

2

tablespoons

sriracha add more if desired

¼

cup

honey

4

cloves

garlic minced

2

tablespoons

soy sauce

1 ½

tablespoons

rice vinegar

1

tablespoon

vegetable oil
Instructions
Thaw shrimp under running water if necessary.

In a medium bowl, mix together srirach sauce, honey, garlic, soy sauce and vinegar.

Add shrimp and half of the marinade into a zip-lock bag or container to marinate.

In a large skillet over medium-high heat, add oil. Once hot add shrimp (discard the marinade) in a single layer and add the rest of the sauce.

Stir fry 3-4 minutes until pink and opaque (flip half way, about 2 minutes each side).

Transfer shrimp to a serving plate.

Thicken the sauce and remove from heat. Add the shrimp back and coat thoroughly.

Garnish with green onion. Enjoy!
Notes
You can replace vegetable oil with butter if you prefer buttered shrimp.
Marinating your shrimp for 30-60 minutes is ideal, but if you are in a rush, a 10-minute marinating will be a big difference.
Tried this recipe?
Follow or tag us on Pinterest @izzycooking