Whether you're on a weight loss journey or just maintaining overall health, these satisfying High Protein Salads will help you to achieve your goals. With the right ingredients, salads are healthy, enjoyable and filling meals. A protein salad is great at keeping you full while fueling your energy throughout the day.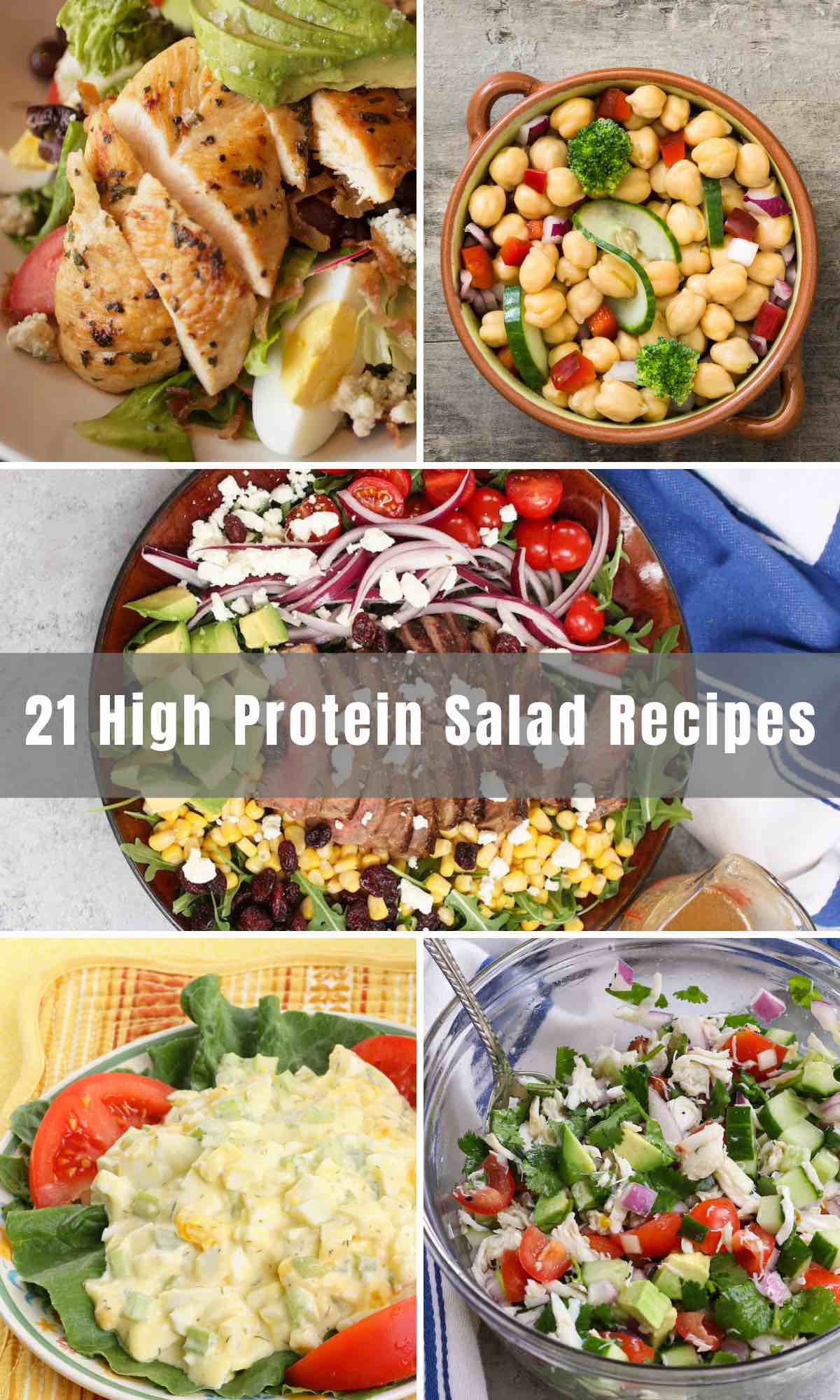 What Can I Add in My Salad for Protein?
Meat and seafood are great additions to salads that add lots of protein. Chicken, salmon or shrimp can be incorporated into most salads to make them more satisfying and wholesome. Vegan-friendly proteins such as beans, grains or tofu are delicious, meatless sources of protein.
Is Protein Salad Good for Weight Loss?
If weight loss is your goal, protein salads will soon become your best friend! Salads are lower in calories and carbs than other entrees, so they're always a popular choice for those on a diet. Protein aids weight loss by boosting your metabolism, keeping you full, and helping with muscle development.
Protein Powder Salad Dressing
A good dressing can take your salad to the next level. Adding protein powder to your dressing is also a great way to pack your salad with healthy proteins.
Vegetarian Protein Salad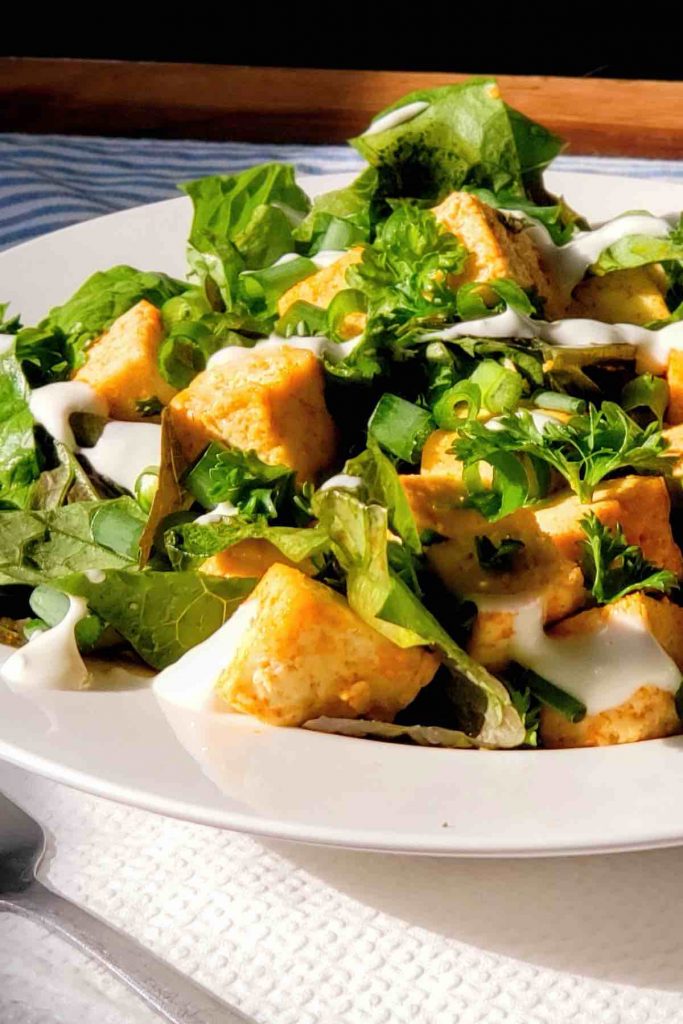 This hearty vegan-friendly salad gets its protein from sautéed tofu. Drizzle with a homemade peanut sauce inspired by Thai cuisine.
Besides their high protein content, chickpeas are also rich in potassium and vitamin B6. Though it's only 165 calories per serving, this salad is sure to fill you up.
A tangy cumin-lime dressing adds a burst of flavor to this healthy salad. It is easy to make and lasts a few days in the fridge, making it perfect for meal prep.
Satisfy your sweet tooth and get your protein fix with this tasty fruit salad. With protein-rich quinoa as a main ingredient and fresh berries mixed in, this is a salad you can have for breakfast.
This light and refreshing fruit salad gives you all the energy you need to tackle your day. Thanks to superfood quinoa, it's surprisingly high in protein, making it an awesome pre-workout meal.
Here's a keto-friendly salad that's super low in carbs but high in protein. Maintain your macros with this crunchy and flavorful Thai peanut salad.
Dig into this satisfying and flavorful vegan salad! With crispy tofu and three different kinds of beans, this salad provides over 20 grams of protein per serving.
Protein Salads for Weight Loss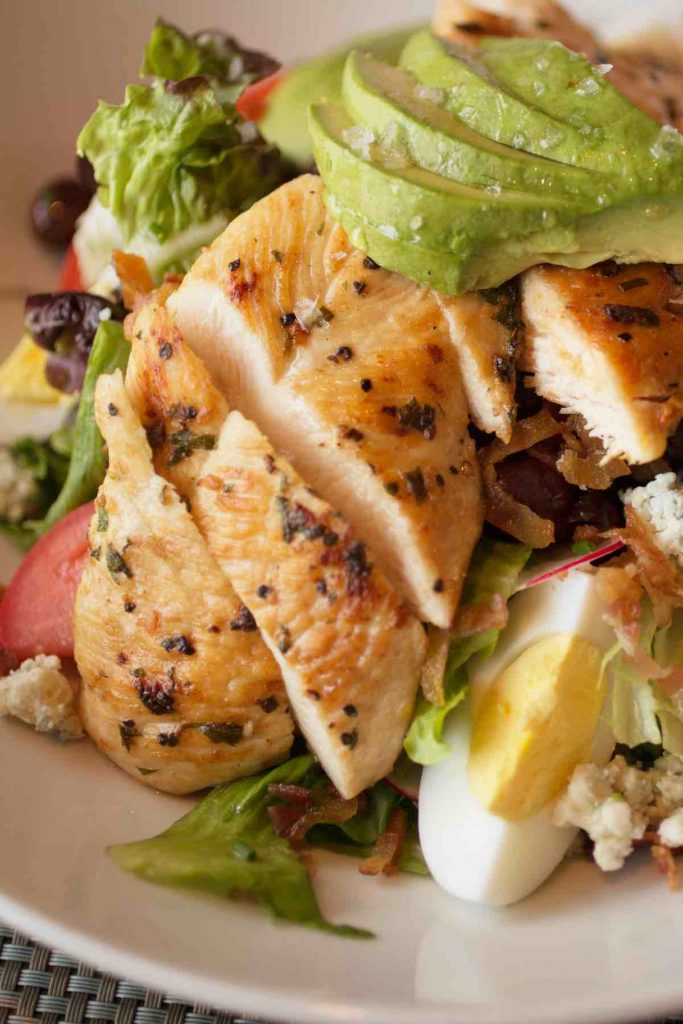 Flavorful grilled chicken breast, hardboiled eggs and creamy avocado make this classic salad so satisfying. This recipe omits the bacon for a lower-calorie version of the Cobb salad.
This creamy egg salad is made with cottage cheese for double the protein. This recipe takes a traditional egg salad and reduces the fat and calories.
By replacing mayonnaise with Greek yogurt, you'll cut your tuna salad's calories in half. This high protein salad comes together in minutes for an easy WFH lunch.
This hearty salad is super satisfying and gives you an extra serving of greens. Cottage cheese and lentils add a healthy dose of protein to this low-calorie vegetarian salad.
A colorful grain salad that can be put in a jar for ultimate portability. Make this wholesome salad your own by adding your favorite proteins.
This elegant salad is delicious on its own, but makes a tasty side dish for salmon or grilled chicken. Add a handful of pumpkin seeds for a sneaky serving of protein.
Other Easy Protein Packed Recipes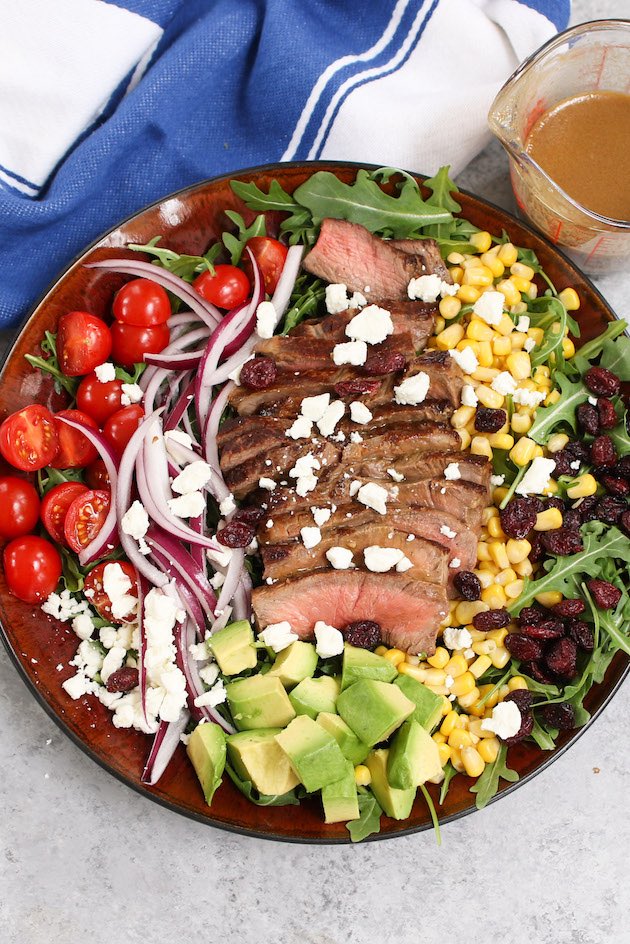 When you're tired of chicken, give this mouthwatering steak salad a try. It's high in protein, low in carbs and totally delicious.
This zesty Mexican-inspired ceviche features tender chunks of crab meat and fresh lemon juice. Enjoy as a side dish or atop toasted bread.
Five minutes is all you need to make a protein-rich egg salad for sandwiches or wraps. For a more keto-friendly lunch, try making lettuce wraps instead of sandwiches.
This complex salad combines broccoli with edamame, black beans and dried cranberries. If you're vegetarian or vegan, give this protein-packed power salad a try.
Shredded turkey meat and crunchy veggies are tossed in a creamy Tahini dressing in this 5-minute recipe. This salad is super adaptable so go ahead and add in all your favorite veggies, or whatever you happen to have on hand.
This quick, simple salmon salad is light, yet satisfying. Enjoy it in a sandwich for a protein-rich lunch, or with crackers for your mid-afternoon snack.
Juicy jumbo shrimp are pan-seared, then tossed in a tangy citrus sauce. Combine with slices of avocado and your favorite greens for a simple, yet flavorful salad.
These make-ahead taco bowls make weekday lunches a breeze. Enjoy as a protein-packed salad or assemble the ingredients with tortillas for quick and easy tacos.
You May Also Like
High Protein Steak Salad
Steak Salad is a healthy meal packed with proteins. It's loaded with flavorful steak and nutritious vegetables. It's one of our favorite high protein salad and perfect for Keto diet.
Print
Pin
Rate
Ingredients
1 ½

pound

sirloin steak

salt and pepper

to taste

1

tablespoon

olive oil

8

ounces

arugula

1/2

large onions

sliced

1 ½

cups

cherry tomatoes

1

cup

corn

½

cup

dried cranberries

1

avocado

cut into chunks

3/4

cup

goat cheese

crumbled

½

cup

balsamic vinaigrette dressing
Instructions
Season the steak generously with salt and pepper.

Place a large cast iron skillet over high heat for 1 minute.

Add oil. Once hot, add the steak.

Fry for 2-3 minutes and then flip. Fry on the other side for 3 more minutes until nicely browned with an internal temperature of 130°F.

Remove steak to a cooling rack and let rest for 5 minutes. Then slice into thin strips.

To a large plate, add other ingredients and then arrange the steak slices atop the salad.

Drizzle balsamic vinaigrette over the salad and toss to combine all ingredients. Serve and enjoy!
Tried this recipe?
Follow or tag us on Pinterest @izzycooking