This post may contain affiliate links.
Please read my disclosure policy.
The easiest and foolproof way to make restaurant-quality Coconut Rice is to cook it in a rice cooker. It comes out perfectly FLUFFY with tropical flavors of coconut every time! It takes less than 2 minutes to put everything into the rice cooker. Jasmine rice and coconut milk cook together in the rice cooker for a super delicious side dish!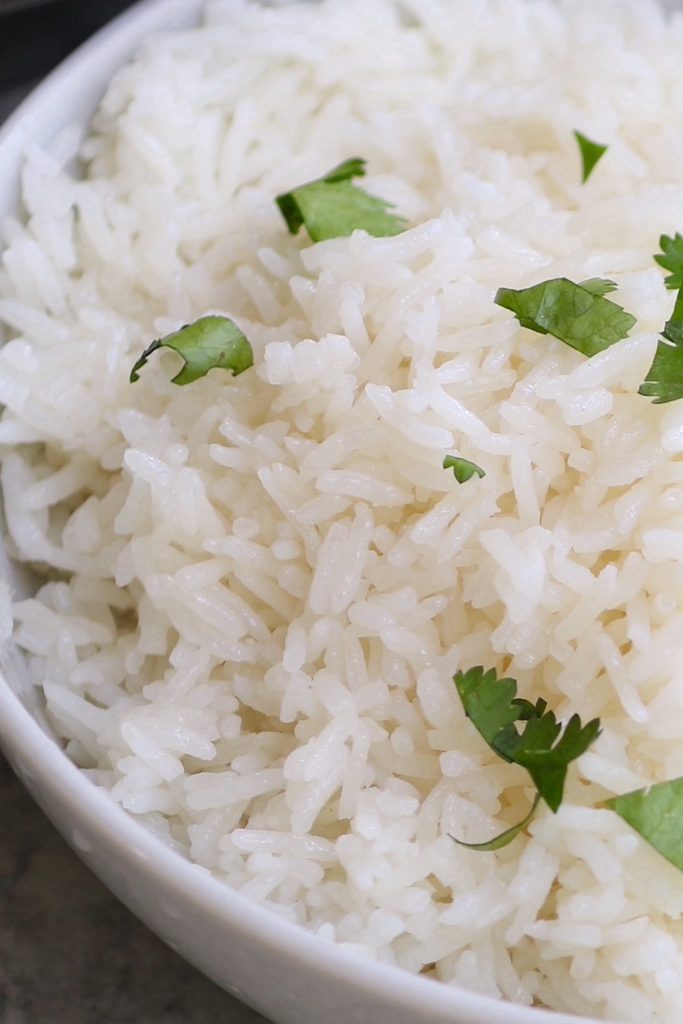 We eat this at least 3 times a week, and it's the go-to side dish in my family. Simply set it and forget it. Plus it smells so good!
I've served it with Thai curries, Indian chicken, Indonesian food, and so many more Asian dishes. Traditional coconut rice is made on the stovetop, and there are also many other ways to make it, but I find it so much easier and more convenient to make it in my Zojirushi rice cooker, with guaranteed success EVERY TIME!
The Secret for Fluffy Rice – Right Ratio
The right ratio of rice to liquid is key to any rice cooker recipe. After years of practice, I've nailed this coconut rice dish 😋
The best ratio = 2 cups of jasmine rice + 1 can of coconut milk + 1 and 3/4 cups of water
This ratio produces the perfect texture and flavor balance: Fluffy, creamy, and slightly sweet! Make sure to drain your rice THOROUGLY, so that you won't add extra liquid without knowing it!
Coconut Milk
Get coconut milk, NOT coconut cream for this recipe! I once bought a can of coconut milk from wholefoods which is labeled "Coconut Milk", though ironically, it's so thick that it resembles the texture of coconut cream. I used it anyways, and my rice came out too dry! Below are the photos to show you the right one to buy and the wrong one to avoid:
So don't be fooled by the labels. I have a HANDY TIP for you to tell whether it is the RIGHT coconut milk or not without opening the can. Shake the can, and if you can feel the liquid moving, that's the right stuff to buy.
Coconut milk adds a rich and creamy texture with a subtle sweetness. I prefer to use the full-fat version which produces richer and stronger coconut flavors.
Jasmine Rice: To Rinse or Not Rinse
Whether you should rinse your rice for coconut rice is an ongoing debate. I've tried both ways, and find the no-rinse version gives me a slightly more creamy and sticky texture while the rinsed version produces a more fluffy texture. But the difference is not significant.
To me, I prefer to rinse my rice before cooking. Texture aside, I feel better knowing my rice is free of debris from the package.
How to Cook Coconut Rice in a Rice Cooker
Once you get the right ingredients and measure them properly, making the recipe is easy!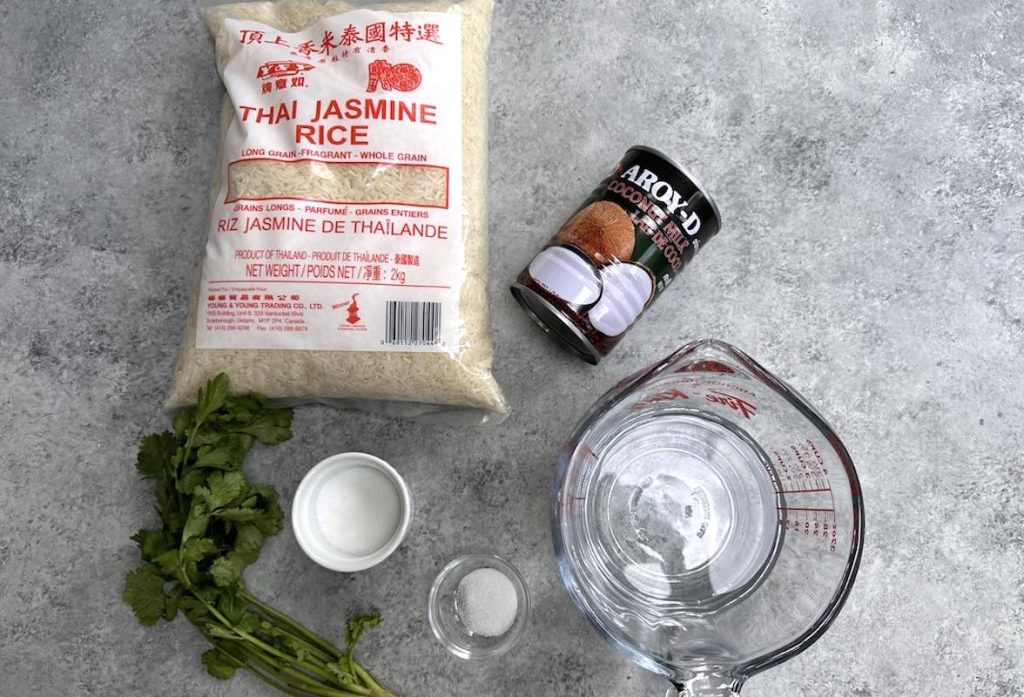 First, rinse the rice. Rinse your jasmine rice under cold running water until the water runs clear. It usually takes me 2-3 times. Drain it through a fine sieve to remove water thoroughly.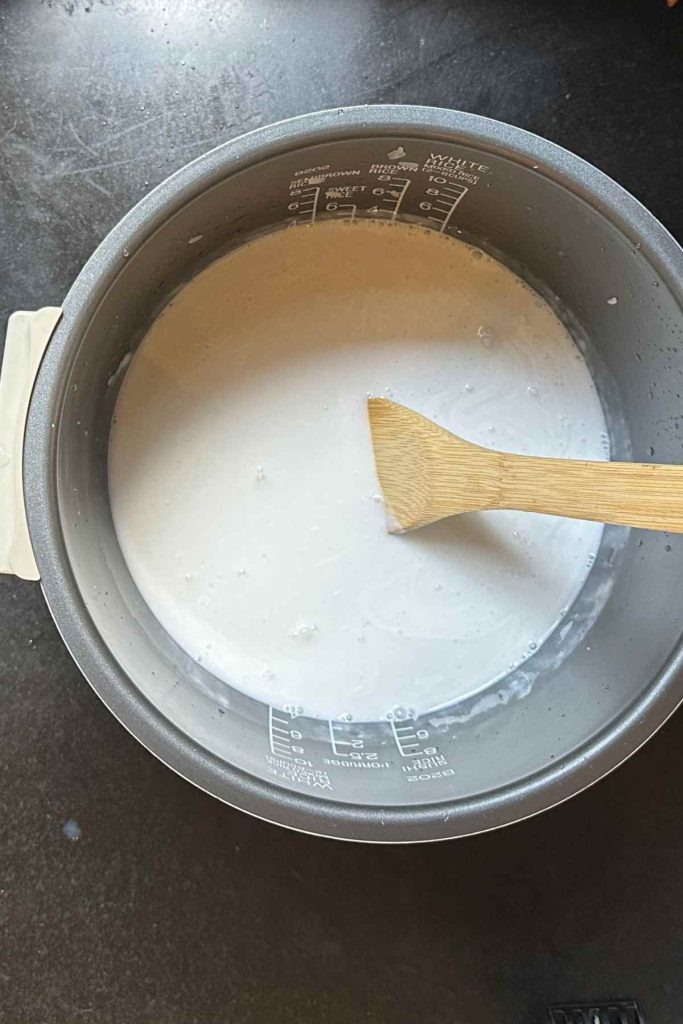 Then, add liquid and cook. Combine rinsed rice with water, coconut milk, sugar, and a pinch of salt. Stir gently to mix and press the "Cook" button.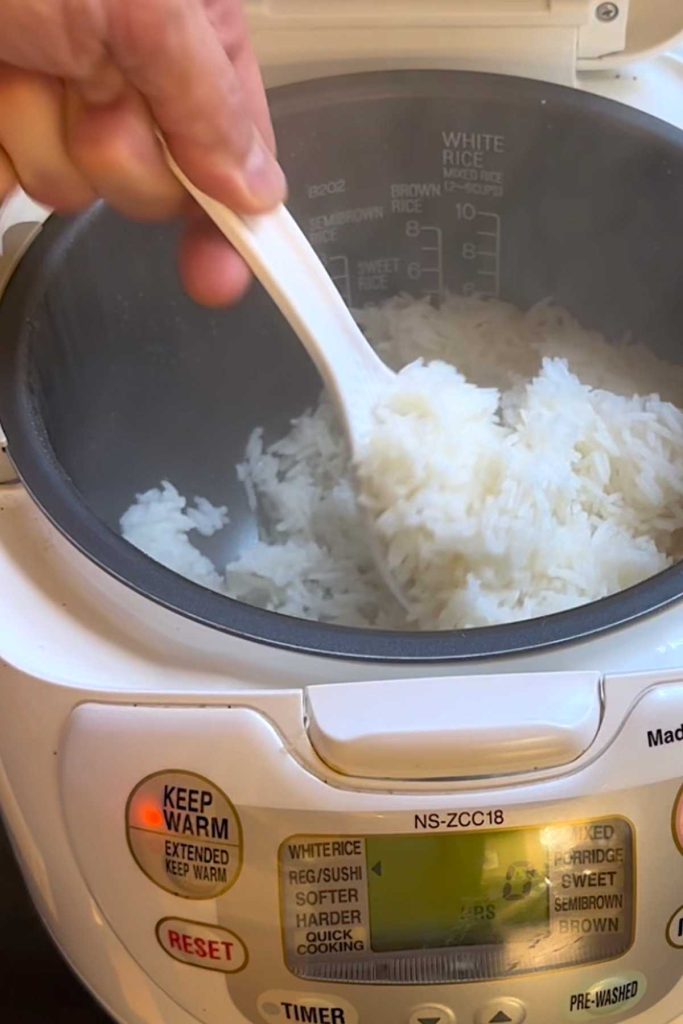 Finally, rest and fluff. After the rice is done cooking, let it sit for 5-10 minutes in the rice cooker. Then open the lid and fluff it with a rice paddle.
How to Serve Coconut Rice
Coconut rice is a versatile side dish that pairs well with almost EVERYTHING! It's particularly popular in Asian countries such as Indonesia, Thailand, India, and Malaysia. It's often used in Caribbean and African meals too.
It goes well with:
You can also customize it easily by adding toppings such as shredded coconut, and chopped nuts. If you have pandan leaves at home, you can make a more authentic coconut rice, by cooking your ice with pandan leaves.
Coconut Jasmine Rice in Rice Cooker
Making coconut rice in a rice cooker is a convenient and easy way to prepare this side dish. Simply add all ingredients to the rice cooker and press the cook button. That's it! The rice comes out perfectly fluffy, creamy, and flavorful every time! So much easier than using the stove.
Serve it with curries, stir-fries, stewed meats, and veggies.
Print
Pin
Rate
Ingredients
2

cups

jasmine rice*

1

can

coconut milk**

13.5 oz, I recommend using full-fat version for the best result

1 ¾

cups

water

1

teaspoon

salt

1

tablespoon

sugar***

adjust to your taste

chopped fresh cilantro

optional for garnish
Instructions
Add rice to the rice cooker and rinse it in water until the water runs clear. Drain well. This process helps remove excess starch and prevents the rice from getting too sticky. You can skip this process if you prefer a sticky texture.

Add the coconut milk, water, salt, and sugar.

Mix the ingredients by stirring gently with a spoon so that they are evenly distributed.

Place the pot into the rice cooker and close the lid. Set it to cook on white rice setting. (For most models, it's the "Regular" or "Start" setting.) Let the rice cooker complete the cooking cycle, which can take 40 minutes to 1 hour. The exact cooking time varies depending on your rice cooker model.

Once finished, the rice cooker will switch to "Warm". Keep the lid on and let the rice steam for 5-10 minutes.

Open the lid, fluff with the rice cooker paddle and garnish with chopped cilantro.
Notes
* You can also use basmati rice for this recipe. The ratio is the same.
** Make sure your coconut milk is in liquid form. Some brands have very thick coconut milk, which resembles coconut cream. It won't work for this recipe.
*** You can skip sugar if you prefer. I like my rice slightly sweet and usually use 1 to 3 tablespoons of sugar. The higher-sugar version is very popular among kids.
How to make coconut rice in an instant pot? Following the same ratio of rice to liquid. Use the "Rice" setting of the instant pot.
How to store leftovers? Let leftovers cool to room temperature and then store them in an airtight container in the fridge for up to 4 days. To freeze, place it in a freezer-safe container in the freezer for up to 3 months. Thaw in the fridge before reheating.
To reheat: Place the rice in a saucepan over medium heat and stir until warm throughout. You can also reheat it in the microwave for 2-3 minutes. Stir well before serving.
Nutrition
Calories:
233
kcal
|
Carbohydrates:
51
g
|
Net Carbohydrates:
50
g
|
Protein:
4
g
|
Fat:
0.4
g
|
Saturated Fat:
0.1
g
|
Polyunsaturated Fat:
0.1
g
|
Monounsaturated Fat:
0.1
g
|
Sodium:
394
mg
|
Potassium:
71
mg
|
Fiber:
1
g
|
Sugar:
2
g
|
Calcium:
20
mg
|
Iron:
0.5
mg
Tried this recipe?
Follow or tag us on Pinterest @izzycooking