Whether you're looking to make your busy weeknights easier or serve a large crowd, we've got you covered with 35 of the Best Casserole Recipes below. Find top-rated comforting casseroles for breakfast and dinner with chicken, vegetables, and more.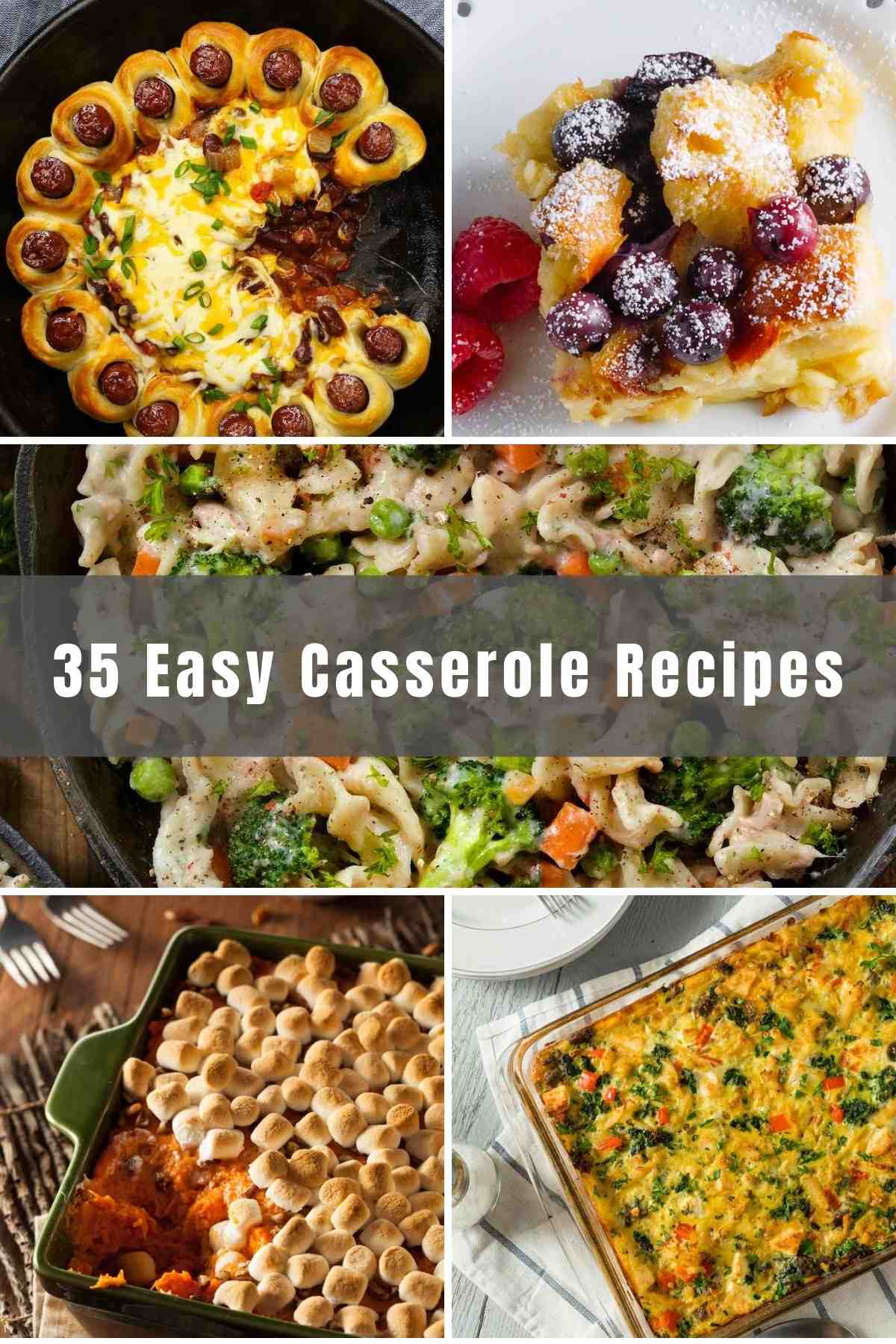 What's the Difference Between a Casserole and a Stew?
One of the biggest differences you'll note is that stews usually have broth while casseroles are typically bound together and have a crunchy topping. Another difference is that a casserole usually goes in the oven while the stew is often made on the stovetop. In addition, the casserole is the actual name of the dish used for cooking it.
What are Some Common Components of a Casserole?
In a classic American casserole, you'll typically find a few main components. Usually it contains meat such as chicken, beef, or other proteins like fish, beans or tofu. You can often find vegetables such as green beans or peas. Of course, there's usually a binder such as flour or cheese with crunchy breadcrumbs topping.
Breakfast Casserole Recipes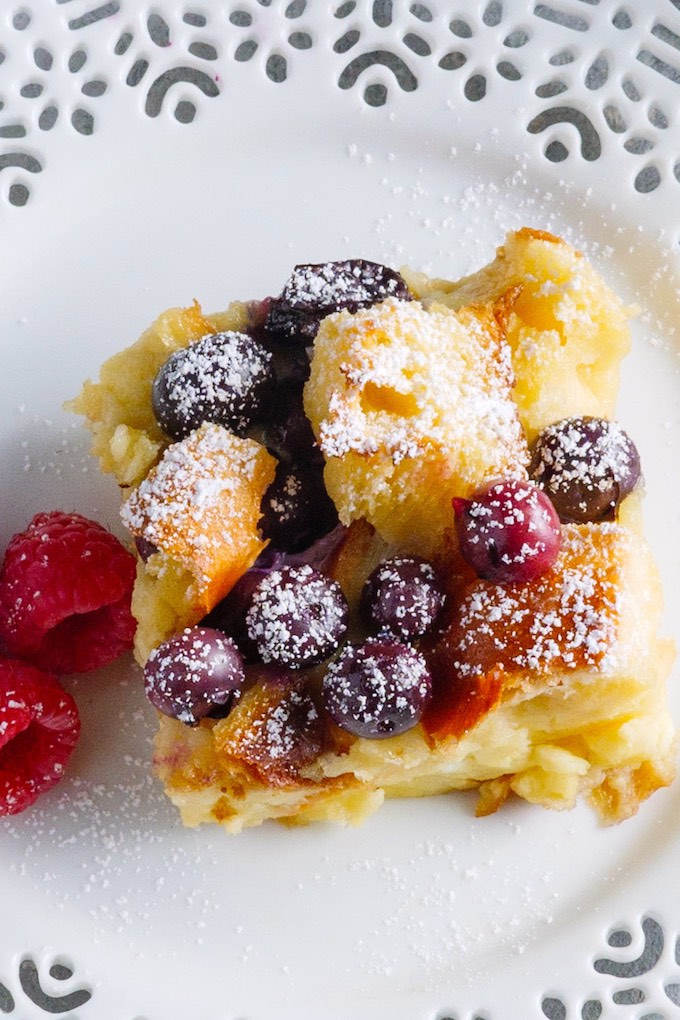 This is a new way to enjoy your favorite breakfast dish. Plus, with a sweet custard topping, this recipe gives you a morning experience like no other! Bake it and serve warm right away or turn it into an overnight French toast dish.
Healthy, easy, low-carb, and oh so delicious. You cannot go wrong with this egg casserole. It's loaded with flavorful vegetables, bacon, cheese and eggs.
Bored of your regular tater tot recipes? Then get ready to be excited again! This is hands down the best casserole recipe around! Made with incredible flavors, this dish is easy, delicious, and great for any night of the week! 
This breakfast casserole dish requires a few simple ingredients and only takes 10 minutes to prepare before baking. Great for serving up a crowd!  
It's all your favorite breakfast choices wrapped up in one! From sausage to hash browns, eggs and cheese too – this casserole has it all!  
Chicken Casserole Recipes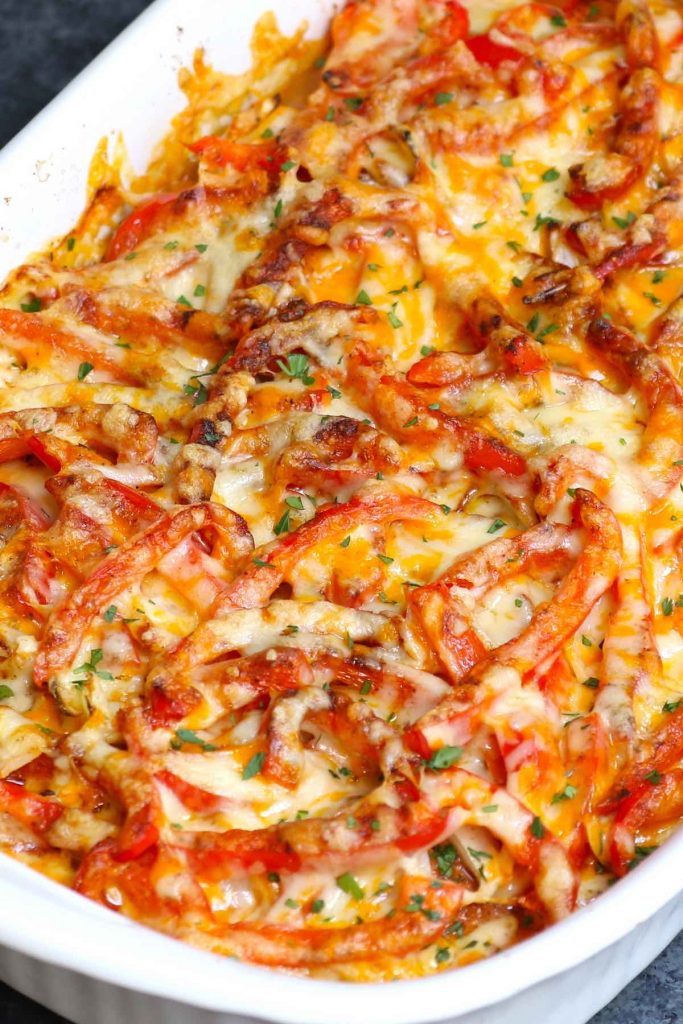 Looking for something a bit more ethnic for dinner? Then try this chicken fajita casserole! Filled with onions, bell peppers, cheese, and fajita seasonings. It's the perfect option when you're looking for something low carb too!!
Perfectly combining both chicken and rice, this casserole dish is nothing short of hearty! It's cheesy, comforting, and only takes 20 minutes to prepare. 
A classic soup made into a casserole! This may just become your new favorite way to eat chicken noodle soup! All you need is a few simple ingredients like egg noodles, vegetables, and chicken! Combine them with a creamy sauce and add a Ritz cracker topping and you'll be in Heaven.
Mexican chicken casserole has a star ingredient – the sauce! It's made with sour cream, green chili, and cheese. Be sure not to skimp on the cheese – that's exactly what will make the dish extra flavorful here. 
This creamy chicken casserole has loads of bacon, mushrooms, and cheese in every bite! The chicken is cooked in cream of chicken soup sauce, making it so creamy and flavorful.
A quick pasta dish? Yes, please! This chicken pasta casserole is made with just 4 ingredients and ready in under 30 minutes. It's flavorful, comforting, and so easy to make.
Vegetable Casseroles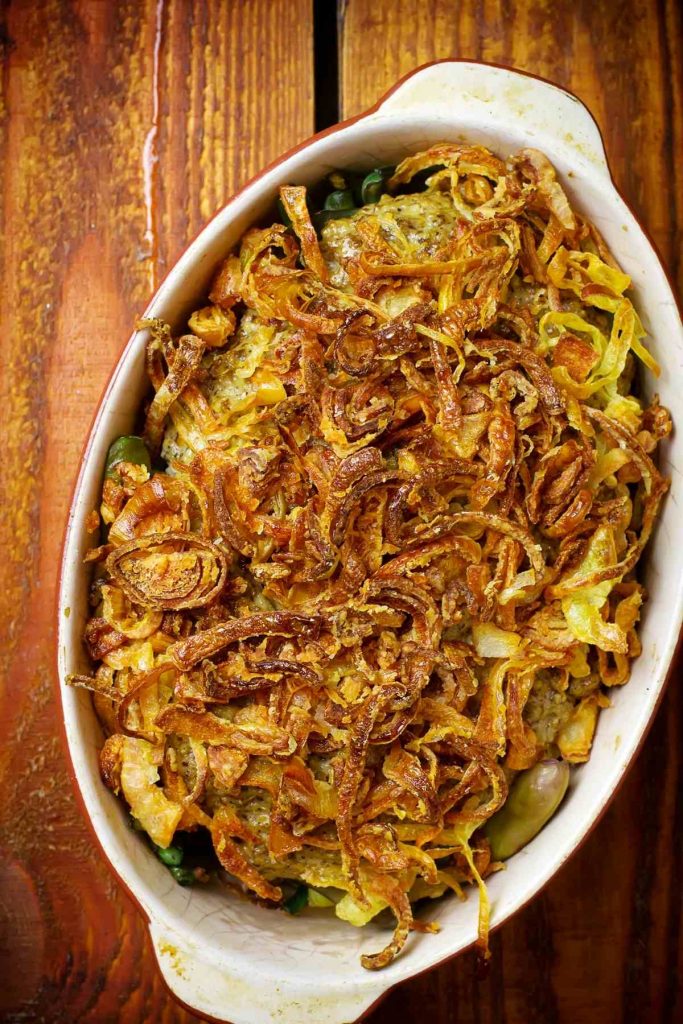 Using fresh or frozen green beans, this casserole is a perfect dish for Thanksgiving or Christmas! The fried onions and delicious mushroom sauce add extra flavors to the dish, making it so irresistible! 
This sweet potato casserole is perfect for the holidays! With a combination of sweet potatoes, toasted marshmallows and brown sugar, this dish will have your guests begging for more! 
Do you love the smell of baked squash during the colder months? Now you'll be able to bake this casserole dish and fill up your whole house with that wonderful aroma. 
It's warm, cheesy and a great way to get your greens into your meal! This broccoli cheese casserole is so easy to make and will please any crowd. 
If you love garlic, you'll love this recipe! Garlic parmesan zucchini casserole is an easy side dish that goes well with just about any main course! The highlight of this dish? It uses three types of cheese and a parmesan breadcrumb topping. Yum!
Ready to use that fresh summer produce? In this eggplant casserole recipe, you'll experience the fresh tastes of mushrooms, herbs, tomatoes, and peppers. Plus, the cheese topping really makes this dish extra tasty! 
Healthy Casserole Ideas
Loaded with everything you would find in a taco! This tortilla casserole has ground beef, corn, salsa, and tons of shredded cheese! Bake until bubbling, then cool down and dive in. 
Before you turn away at the thought of tuna, you must give this dish a chance! It's a homemade casserole that only takes about $10 to make. 
It's a low-carb casserole dish – which means it's perfect for those keto dieters out there! Full of vegetables, protein, and delicious flavors! Made in one pot too! 
Here's another Keto-friendly dish! The best part? You wouldn't even guess it was low carb! This casserole is loaded with bacon cheese and sour cream! 
Other Cozy and Comforting Casserole Recipes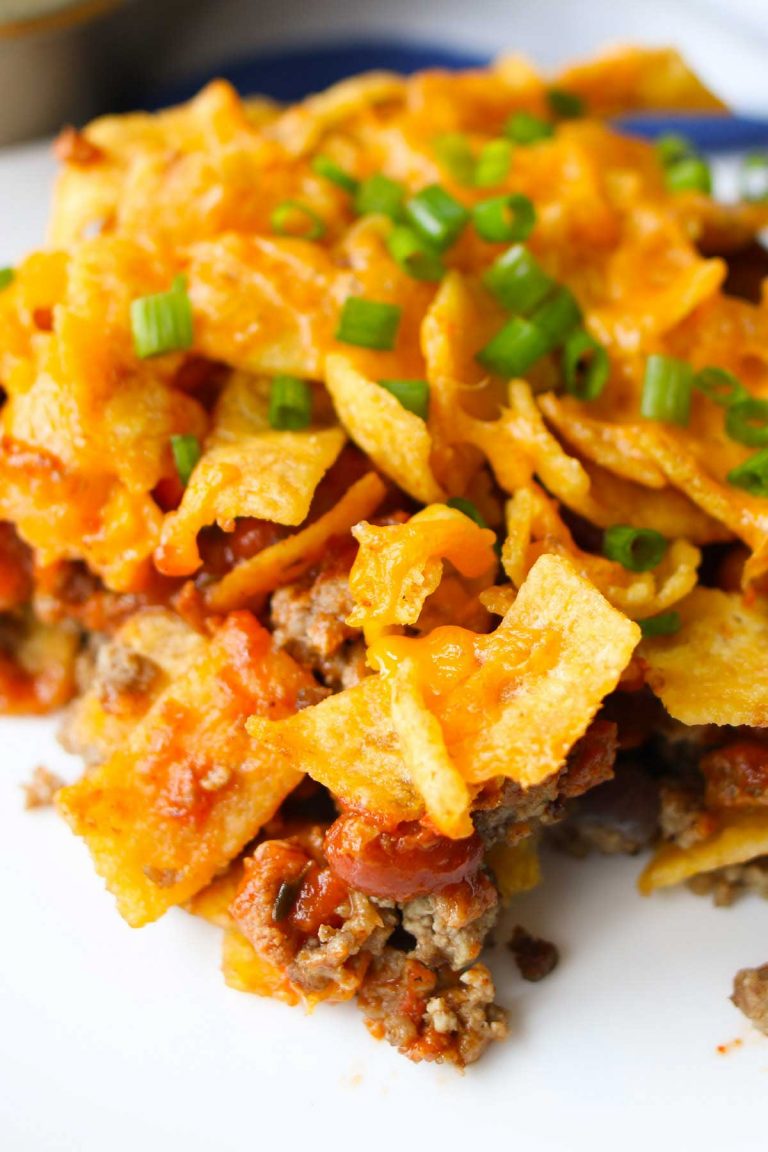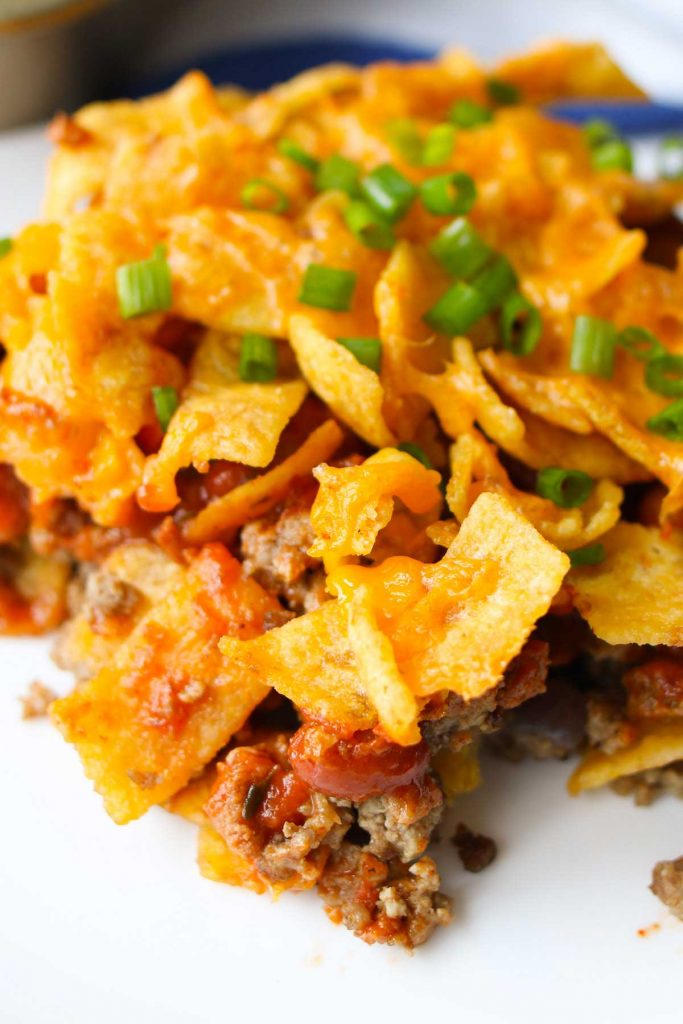 Your love for taco salad is about to be stepped up a notch! This easy walking taco casserole dish is warm, cheesy, and loaded with ground beef! The fun doesn't stop there – you can use Fritos, Doritos, or other tortilla chips here! 
It's a chili dog in casserole-style! Take your hot dog, wrap it in biscuit dough and then bake in a homemade chili sauce! Don't forget the shredded cheese! 
Made with ground beef, beans, onions, corn, and a blend of seasonings, burrito casserole is easy, comforting, and delicious. Wrap it up in a warm tortilla and bake! It looks almost too good to eat!
Made with layers of ham, potatoes and creamy cheese, this casserole is the ultimate comfort food! You'll especially love the au gratin crust! The dish is the perfect cross between a lasagna dish and scalloped potatoes! Yum!
Jiffy corn casserole is a dish you must try! It's sweet, savory and complements just about any side dish. Perfect for the holidays or just about any time you're having a larger gathering.  
One of the quickest and simplest casserole dishes, this recipe uses ingredients you already have in your pantry! Much like hamburger helper, it is hearty and delicious, and soon will become your new favorite!
Cornbread has been around for years and a staple in many homes! Now's your chance to experience just how amazing it is! Made from scratch with bacon, cheddar, and jalapeños – this casserole is filling, tasty and comforting on its own!
It features potato slices, ham and cheese in a creamy sauce with a golden au gratin crust. Perfect as a main course by itself or as a side dish for a feast!
Are you ready to take pizza night to a whole new level? With loads of cheese and marinara, this dish is one that both kids and adults will love!
When combined with pasta and cream of mushroom soup, your turkey casserole makes a complete meal on its own. All that's missing is some cranberries, salad and warm biscuits.
Are you ready to eat chips for dinner? With this recipe, you can enjoy a cheesy casserole made with ground beef, tomatoes, sour cream and more!
This cornbread stuffing casserole is the perfect holiday side dish for your Thanksgiving or Christmas dinner. Enjoy it with your favorite proteins and a smothering of cranberry sauce for a supremely festive dish.
This Southern casserole is a sweet dish on its own or as a side! With the combination of pineapple, cheddar cheese and butter crackers – you'll be pleasantly surprised just how good it tastes!
A recipe that pleases just about anybody – pork chop casserole is a must-try! Cooked pork chops are mixed with cheese and hash browns – making the perfect dinner! You'll love this one!
Best Casserole Recipes: Chicken Fajita Casserole
Loaded with onions, bell peppers, cheese, and fajita seasonings, Chicken Fajita Casserole is one of our favorite casserole recipes and ready in just 30 minutes with easy prep.
Print
Pin
Rate
Ingredients
1 ½

pounds

boneless skinless chicken breasts

split lengthwise

3

bell peppers

sliced

1

large yellow onion

1

tablespoon

olive oil

8

oz

Jack cheese

shredded

fresh cilantro

optional
Instructions
Preheat the oven to 400°F. Grease a 9×13" baking dish with oil and set aside. Arrange the split chicken breasts in a single layer in the prepared baking dish.

In a small bowl, combine the cumin, chili powder, garlic powder, paprika, salt and pepper. Drizzle oil on top and sprinkle on half the fajita seasoning.

Add the sliced onions and bell peppers on top of the chicken. Sprinkle the remaining seasoning on top.

Top with the shredded cheese and then place the casserole in the oven.

Bake for 20-25 minutes or until the chicken reaches an internal temperature of 160°F.

Garnish with optional cilantro and serve warm.
Tried this recipe?
Follow or tag us on Pinterest @izzycooking