On busy mornings, an air fryer is your best friend for a healthier and faster meal. We've rounded up 20 of the Best Air Fryer Breakfast Recipes from hard-boiled eggs to burritos and donuts! With this handy device, you can make a filling and satisfying breakfast in minutes.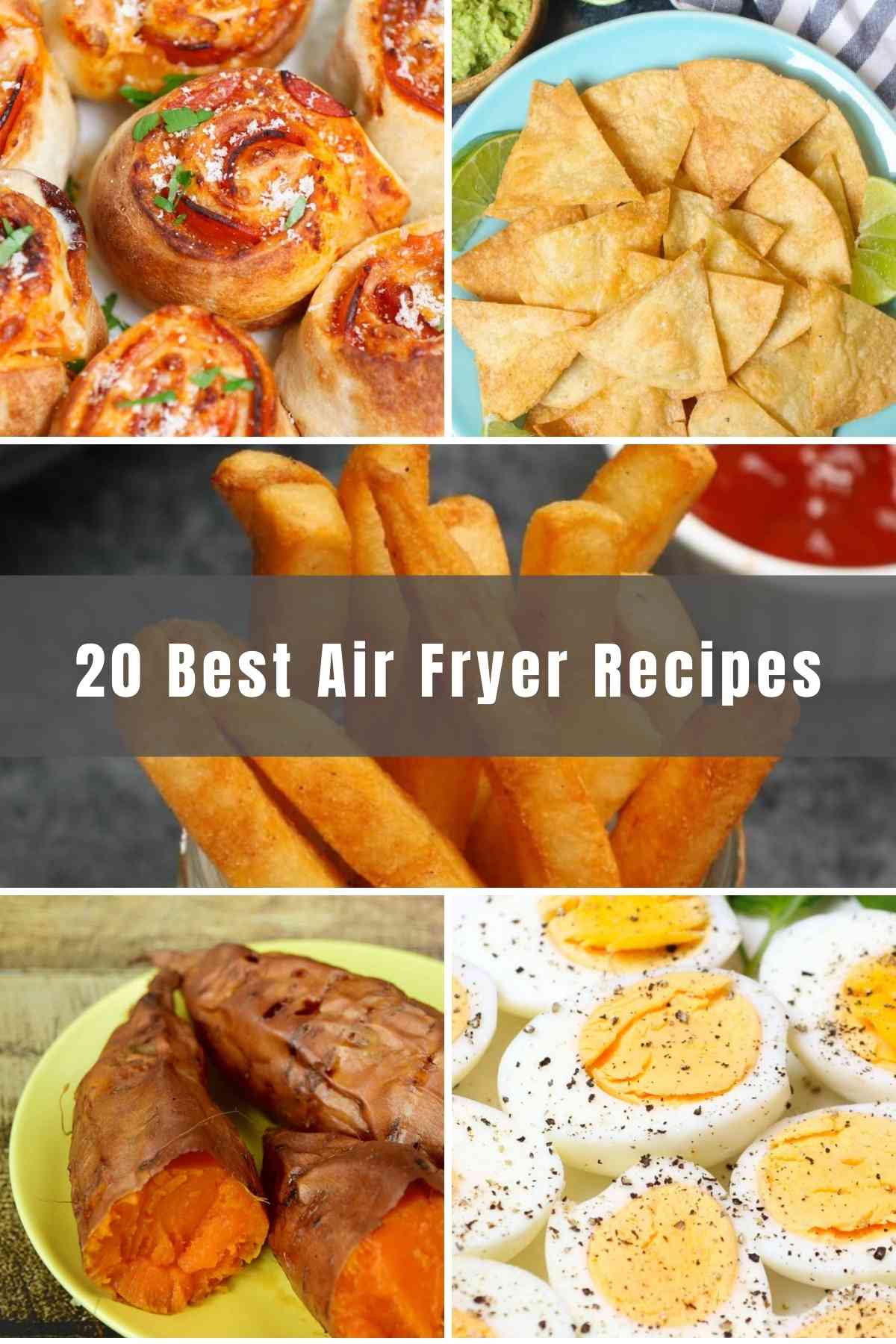 The air fryer is the hottest kitchen appliance on the market right now. This countertop convection oven is known for its versatility, ease of use and convenience. Best of all, it allows you to "fry" your favorite foods using little or no oil, making it a healthy alternative to pan frying. From potato chips to cookies to chicken tenders, it seems there's nothing this gadget can't do.
When it comes to breakfast, the air fryer has got you covered. Whether you're in the mood for something sweet or savory, there's an endless array of tasty options that can be quickly prepared with minimal effort. These air fryer recipes are a godsend on hectic weekday mornings.
Can I Cook Eggs in An Air Fryer?
The air fryer provides an easy, foolproof method of boiling eggs. You can boil them in bulk, making it a convenient option for meal prep or feeding a family. Eggs can also be fried and scrambled using the air fryer.
Can I Put Bacon in An Air Fryer?
The air fryer may actually be the BEST way to cook bacon. Air fryer bacon comes out super crispy, without getting burnt. Your bacon will be ready in about ten minutes and cleanup is a breeze.
Can I Toast Bread in An Air Fryer?
Absolutely! Along with a host of other amazing features, your air fryer also doubles as a toaster. Simply add your slices of bread to the basket and set the temperature to 400°F. In four minutes, it'll be perfectly toasted.
Tired of overcooking your eggs or having to deal with cracked shells in the pot? Try this air fryer hack! This foolproof method doesn't require any water and your eggs will turn out perfectly every single time.
These breakfast potatoes are unbelievably crispy on the outside with a creamy texture in the middle. Served with fried eggs and bacon, it's a meal fit for a king!
Once you've cooked tater tots in the air fryer, you'll never go back to pan-frying. These addictively crispy potato bits are delicious at breakfast time or whenever you need a quick snack. 
Want to know the secret to a perfectly juicy, evenly cooked breakfast sausage? It's the air fryer! Best of all, there's no need to stand over a hot skillet and zero risk of burning your sausage.
This protein-packed frittata is great for meal prep or Sunday brunch. With ingredients like fresh herbs, chopped spinach and mushrooms, you'll hardly find a healthier way to start the day.
These addictive pizza rolls are filled with mozzarella and pepperoni for the ultimate appetizer or snack. Make these bite-size rolls from scratch in just ten minutes using your air fryer.
Roll up all your favorite breakfast items in a tortilla, then pop it into the air fryer. The result is a crispy, golden brown breakfast burrito that'll leave you full and satisfied.
Burnt French toast is a thing of the past, thanks to this easy air fryer recipe. In just ten minutes, you'll have perfectly fluffy, cinnamon vanilla French toast, ready for all your favorite toppings.
Homemade granola has less sugar and additives than store-bought options. Make this wholesome breakfast cereal in your air fryer using plant-based ingredients like oats, almonds and honey.
These gluten-free cheddar biscuits are satisfyingly crispy and topped with a flavorful garlic butter sauce. It only takes ten minutes in the air fryer to make these biscuits from scratch.
Serve these golden French fries with burgers and chicken, or on their own for a quick snack. We guarantee this is the best method of cooking frozen French fries in the air fryer.
Enjoy delicious, bakery-worthy donuts with a fraction of the calories and fat. These homemade treats are baked to perfection in the air fryer, and can be filled with jam or melted chocolate.
Looking for tasty new ways to use up that bag of apples? Air fryer apple wedges are sweet and tender, with a crispy cinnamon coating. This addictive snack is vegan-friendly and gluten-free.
With this easy air fryer recipe, you can replicate the famous Egg McMuffin at home. Baked eggs, bacon and melted cheese are sandwiched between a toasted English muffin for a deliciously portable breakfast.
Who says you can't have tacos first thing in the morning? These cheesy, flavorful breakfast tacos are filled with scrambled eggs, then topped with veggies like diced tomatoes and bell peppers.
Say goodbye to underwhelming, soggy tortilla chips. With this simple air fryer recipe, you can make irresistibly crispy chips with only three ingredients.
With this foolproof method, your sweet potato comes out crispy on the outside, with a warm and fluffy centre. Top with butter, spices, sour cream or bacon. Craving a healthy sweet treat? Sprinkle with brown sugar and a bit of coconut oil.
Is there anything the air fryer can't do? Make a deliciously filling breakfast casserole from scratch in just thirty minutes! This recipe is perfect for your weekly breakfast meal prep.
You won't believe how quick and easy it is to make pancakes in the air fryer! With this recipe, you can make regular flat pancakes or pancake muffins. Serve with all your favorite toppings.
These homemade rolls are light, fluffy and topped with a decadent layer of icing. There's never been an easier way to make delicious cinnamon rolls. All it takes is 8 minutes in the air fryer.
Air Fryer Recommendations: Ninja Air Fryer
If you're in the market for an air fryer, look no further than the Ninja! This top-rated appliance features a removable tray and a ceramic interior for non-stick cooking. With dishwasher-safe accessories, cleanup is just as easy as the cooking process. From baked potatoes to chicken wings to pastries, there's almost nothing the Ninja can't do.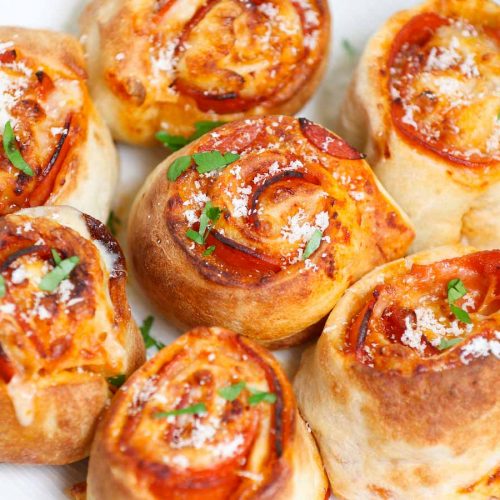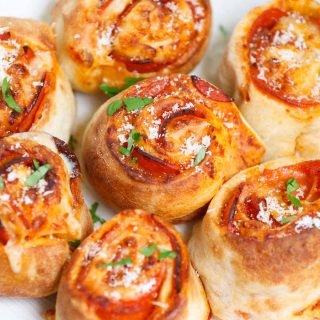 20 Best Air Fryer Breakfast Recipes (Air Fryer Breakfast Pizza Rolls Recipe and More)
Air Fryer Pizza Rolls have delicious pepperoni and mozzarella cheese packed in pizza pockets – great for appetizer, snack, or breakfast. This is one of our favorite air fryer breakfast recipes and so easy to make.
Print
Pin
Rate
Ingredients
1

pound

pizza dough

2

teaspoons

olive oil

1/2

cup

pizza sauce

plus more for dipping

1

cup

mozzarella cheese

2/3

cup

pepperoni
Optional Toppings
parmesan cheese

chopped parsley for garnish
Instructions
Roll the pizza dough out into a 10×14 inch rectangle.

Brush the surface with olive oil.

Spread pizza sauce evenly over the dough, leaving about a 1-inch gap around the edges.

Top with pepperoni and mozzarella.

Roll the dough into a tight log starting with the long end.

Place the log seam-side facing down and cut it into 1-inch slices. (You can place the log onto a baking sheet in the refrigerator to chill for about 20 minutes. This will make slicing much easier, and it's an optioanl step.)

Place the pizza rolls into the basket and arrange them about 1/2 inch apart. (you'll need to cook in batches if necessary.)

Set the temperature to 375ºF and set the time to 8 minutes.

After 8 minutes, check every 1 minute until the cheesy has melted and the dough is cooked through.
Equipment
Tried this recipe?
Follow or tag us on Pinterest @izzycooking