This post may contain affiliate links.
Please read my disclosure policy.
Sous Vide short ribs are fall-off-the-bone tender and unbelievably easy to make. The sous vide method is a perfect way to cook this tough cut as you can control the temperature precisely, making the meat super tender.
You can make these hearty and comforting sous vide beef ribs ahead of time. Serve them with mashed potatoes or rice, and drizzle with rich red wine sauce for the most delectable dinner!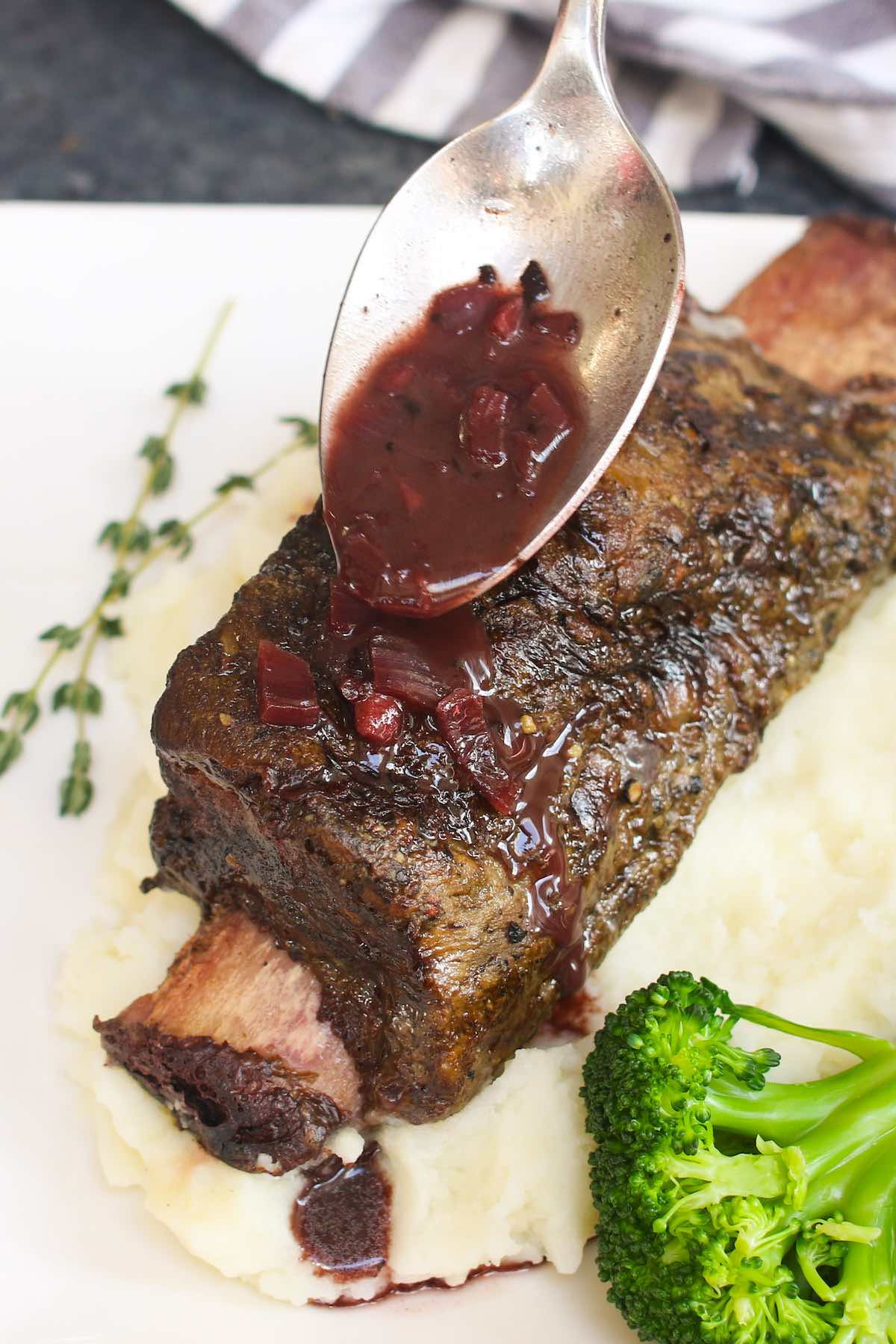 What Cuts Are Beef Short Ribs?
Beef short ribs are cut from the rib, brisket, chuck or plate section of the steer. There are several types of short ribs:
English Cut: These are long beef ribs (about 2-4 inches) with a significant portion of the meat on top. I used English cut in this recipe, therefore all photos you see here are English-cut short ribs.
Flanken Cut: Also known as Korean-style short ribs, the ribs are usually thinly sliced across the bone. Most Korean BBQ ribs use flanken cut.
Boneless Short Ribs: This cut is from the chuck or plate, and is a convenient option as there is no bones.
What Is Sous Vide?
Also known as low-temperature-long-time (LTLT) cooking, Sous vide is a French cooking technique where the food is vacuum-sealed in a bag, and then cooked for a long time to a precise temperature in a warm water bath.
Why Sous Vide Short Ribs?
Beef short ribs are tough cuts that need to be braised for hours to tenderize the meat. Unlike traditional methods, this sous vide short rib recipe allows you to cook the meat the way you like. You can tailor the texture to your liking by setting them at different temperatures.
What's more, sous vide is a no-fuss, no-fail way to cook your beef ribs with guaranteed success! You'll never overcook or undercook your short ribs!
Equipment You'll Need
Ingredients You'll Need
beef short ribs: You can use either bone-in or boneless short ribs.
vegetable oil: For searing
salt
ground black pepper
garlic powder
onion powder
If you'd like to make a homemade red wine sauce, you'll also need garlic, shallots, red wine, balsamic vinegar, beef stock, and honey.
Sous Vide Short Ribs with Step-by-step Photos
Step 1: Preheat the sous vide machine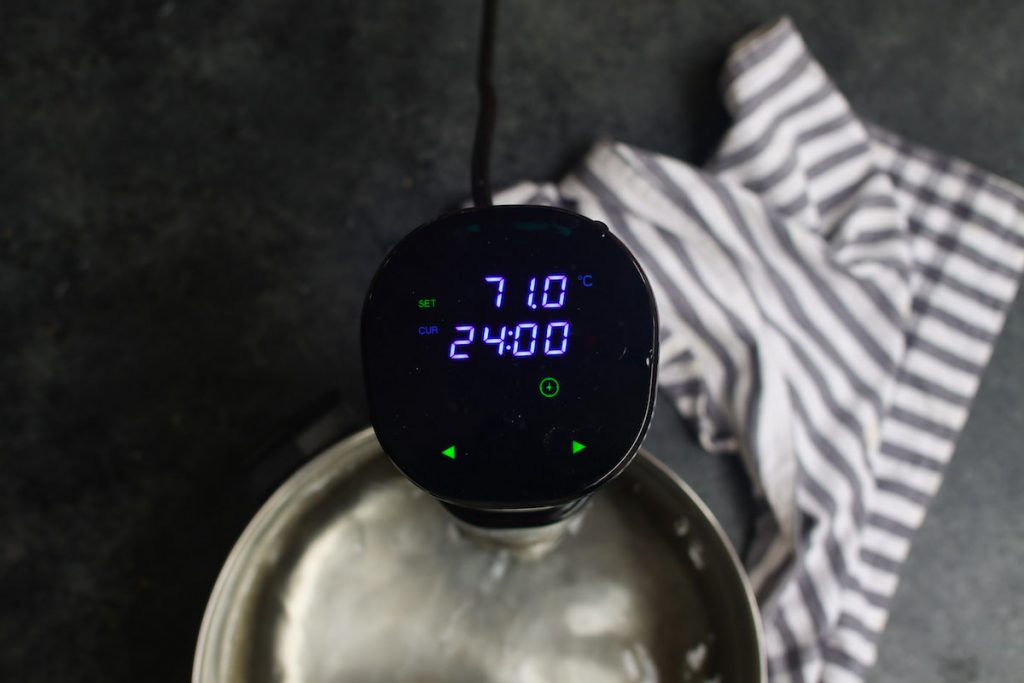 Set the sous vide precision cooker to 160°F (71°C).
Step 2: Sear the short ribs
Sear the short ribs in a skillet over high heat until they are nice and brown on all sides (about 5 minutes total). I highly recommend not skipping this step as searing helps to caramelize the surface of the meat and greatly enhance the flavor of the dish.
Step 3: Vaccum seal the bag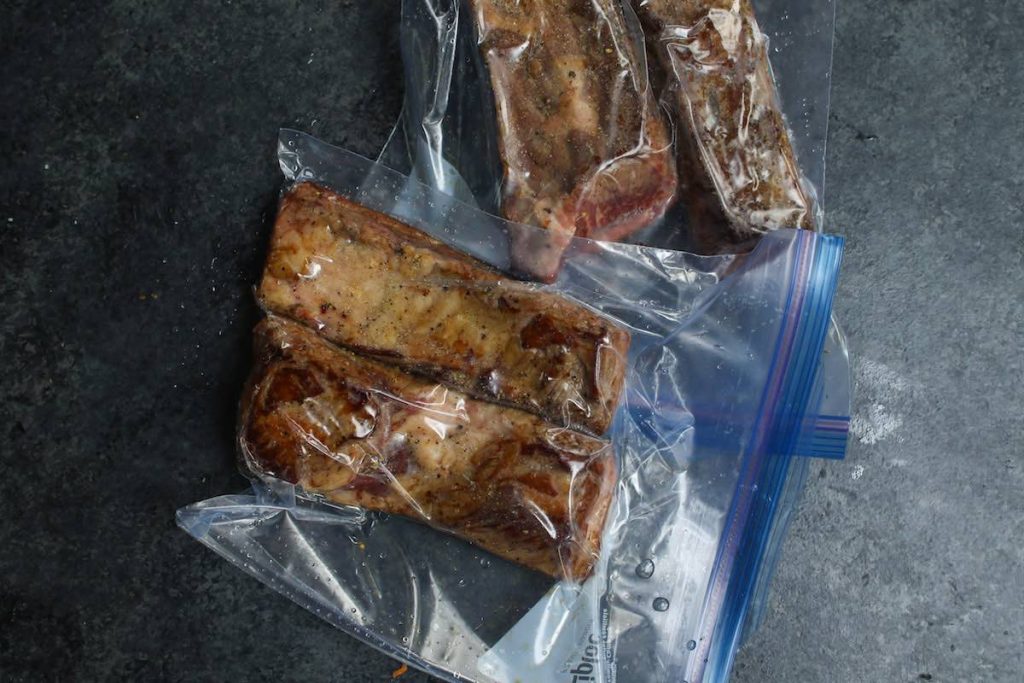 Let them cool slightly for a few minutes and then season generously with salt, pepper, garlic powder and onion powder. Place them in a vacuum bag or zip-lock bag (Use two bags if your bag is not large enough for all ribs), and vacuum-seal the bag. This technique is called the water displacement method.
Step 4: Sous vide
Place the bag in the warm water bath to cook. I love how the sous vide machine does all the work (Anova is my favorite brand). The end result is super flavorful and fall-off-the-bone beef short ribs! It's a perfect dinner that you will "wow" your guests!
Tips And Tricks
You'll need to cover the container or pot to minimize water evaporation. Use the lid that comes with the sous vide container. If you don't have one, you can use a few pieces of aluminum foil to cover it up (see the photo below).
Either bone-in or boneless short ribs work well for this recipe, and they taste quite similar. Short ribs usually have a lot of marbling, and you can trim the extra fat before cooking.
Can I seal the bag without a vacuum-sealer? It's best to use a vacuum sealer for this recipe, but if you don't have one, you can use zip-lock bags. The trick to vacuum-seal the bag is called the "water displacement method" by using the pressure from the water to force all the air out of the bag: place food in the bag, and seal all but one corner of the bag. Slowly place it in the water bath, and make sure everything below the zip-line is covered by water. Then seal the rest of the bag. 
If using zip-top bags, note that the seams of zip-lock bags can pop open when they are submerged in the water at high temperatures for a long time. I recommend keeping the seams above water during cooking while making sure the ribs are completely submerged in the water.
Temperature and Time Chart
A really special thing about this recipe is that sous vide allows you to cook your beef ribs at a wide range of time and temperature combinations. The textures will also be different as a result. You can follow the chart below:
| | | |
| --- | --- | --- |
| Temperature | Cooking Time | Texture |
| 185 °F / 85 °C | 12 hours | Tender and flaky |
| 160 °F / 71 °C | 24 hours | Tender but much juicier than conventional braised short ribs. |
| 145 °F / 63 °C | 48 hours | More steak-like texture |
| 130 °F / 60 °C | 72 hours | Easier to slice with a texture like medium-rare steak |
Use the table above as general guidance and it's ok to add a few more hours of cooking time for your convenience.
Red Wine Sauce
Don't throw out the delicious juices after the sous vide cooking, as you can easily turn them into the most delicious red wine sauce! Just remove the meat from the bag and pour the juices into a glass. Let it sit for a few minutes so that the fat can float to the top. Tilt the glass slightly, and skim off the fat that has risen to the top using a spoon.
Pour 2 tablespoons of the drippings into a small saucepan, and then add minced garlic and shallots, sautéing for a minute. Add wine and balsamic vinegar, simmer for a few minutes, and then add beef stock and honey, simmer until sauce reduces, about 10-15 minutes. Finish by whisking it with butter.
This red wine sauce is deeply flavored and richly colored. It completely takes the taste of your short ribs to the next level!
How To Serve Sous Vide Short Ribs?
Short ribs are often served with mashed potatoes and vegetables such as steamed broccoli, then you can drizzle the sauce all over everything! You can also serve it with rice or pasta if desired.
Sous Vide Bone-In Short Ribs Vs. Boneless Short Ribs
The sous vide method works for both bone-in and boneless beef short ribs. The cook time will be slightly different and the flavor and texture are also slightly different.
Bone-in short ribs take a longer time to cook, but they offer richer flavor with a better visual appeal. Boneless short ribs are more convenient and cook faster in the sous vide bath.
Sous Vide Short Ribs For 12 Hours vs 24 Hours vs 48 Hours
You can sous vide short ribs for 24 or 48 hours with similar results. The meat will fall off the bone just like with braised short ribs. While 12 hours will usually also work, it should be considered the minimum amount of time for sous vide short ribs.
How To Reheat Sous Vide Leftover Short Ribs
The best way to reheat leftover sous vide short ribs without drying them out is by using the sous vide machine once again. At a temperature of 160°F, they will take 45 to 60 minutes to heat through, although very large bones may take longer.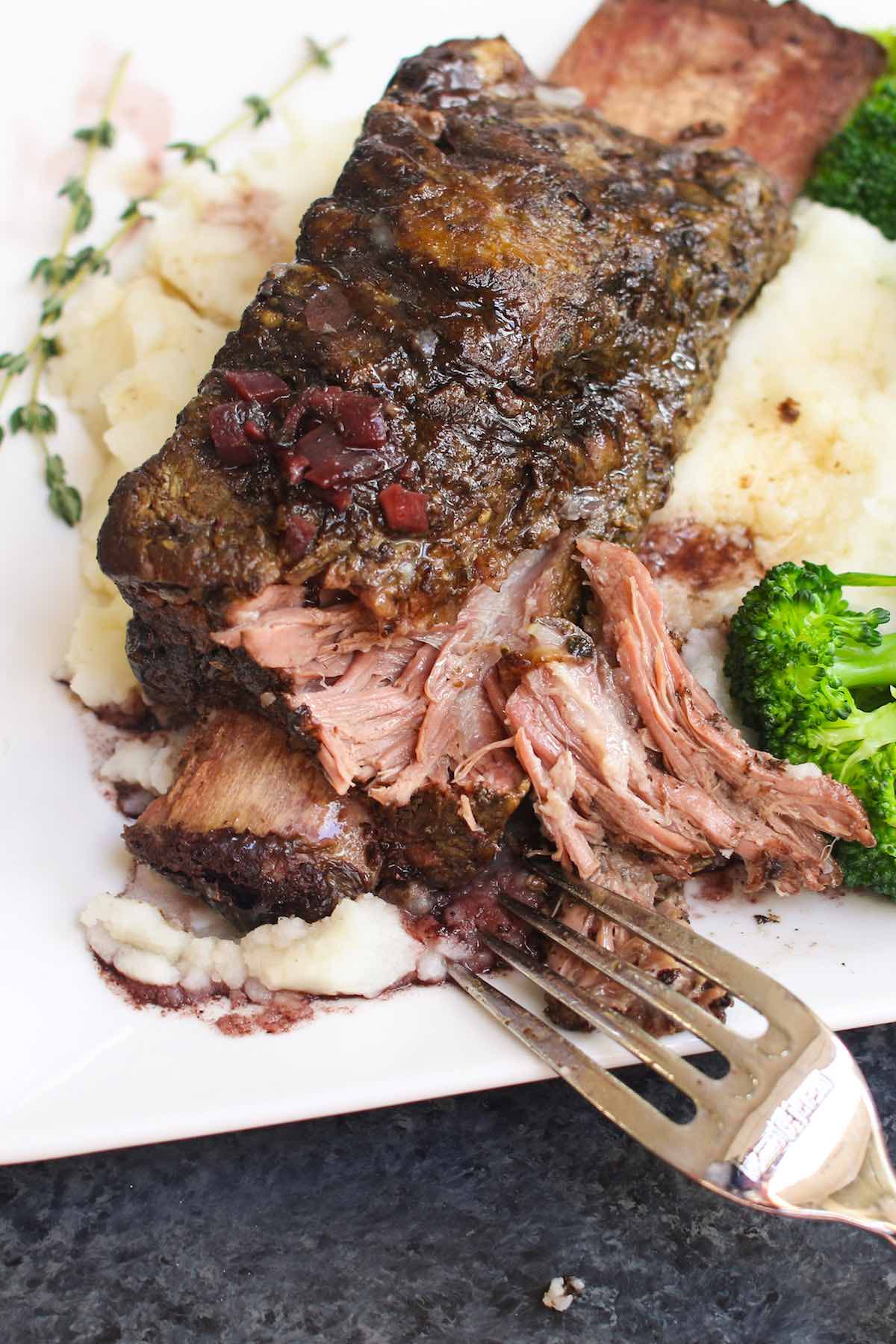 FAQs
Can I make sous vide short ribs from frozen?
Yes, the sous vide method is great for cooking frozen beef short ribs. The good news is that the cooking time is the same for this recipe.
Should I sear short ribs before sous vide?
Ideally, yes. Pre-searing produces a caramelized crust with extra flavor. In this recipe, we won't sear after sous vide, so don't skip this step.
More Sous Vide Recipes
If you tried this recipe, let me know how your Sous Vide Short Ribs turn out in the comments below!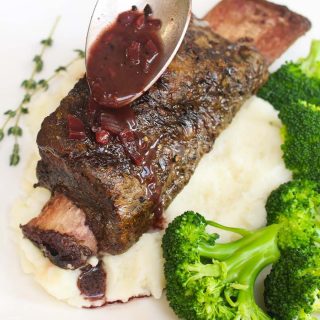 Sous Vide Beef Short Ribs with Red Wine Sauce
Sous Vide short ribs are fall-off-the-bone tender and unbelievably easy to make. Sous vide method is a perfect way to cook tough cuts such as beef ribs to the precise temperature you set, making the meat super tender.
Print
Pin
Rate
Ingredients
Sous Vide Short Ribs
4

pounds

beef short ribs

(I used bone-in short ribs, and you can also use boneless)

1

tablespoon

vegetable oil

3/4

teaspoon

salt

1/2

teaspoon

black pepper

1

teaspoon

garlic powder

1

teaspoon

onion powder
Red Wine Sauce:
1

clove

garlic

minced

1/4

cup

minced shallots

1

cup

red wine

1

tablespoon

balsamic vinegar

1

cup

beef stock

1

teaspoon

honey
Optional:
thyme or rosemary for garnishing
Instructions
Sear Short Ribs:
Trim the excess fat from the short ribs.

Heat a cast iron pan or skillet on medium heat until hot. Add oil to the pan.

Once hot, add ribs and sear on all sides until golden brown.

In a small bowl whisk together salt, pepper, garlic powder, and onion powder.

Let the ribs cool for a few minutes and rub them on all side with the seasoning.
Sous Vide Short Ribs:
Place the seasoned ribs into a large vacuum bag or zip-lock bag. If you use zip-lock bags, you will need to use two, and seal them using the "water displacement" technique. (Seal all but one corner of the bag, and slowly place it in the water bath. Make sure everything below the zip-line is covered by water. Then seal the rest of the bag.)

When the water has reached the set temperature, lower the bags into the water bath. Make sure the ribs are fully submerged in the water with the bag seams above the water.

Cover with several pieces of aluminum foil and sous vide cook for 24 hours.

When they are done, remove the bag from the water bath (don't throw away the juices in the bag). At this point, you can store the ribs in the fridge for up to 4 days or serve it immediately.
Make Red Wine Sauce:
Reserve 2 tablespoons of the short rib drippings in the small sauce pan and heat over medium.

Add minced garlic and shallot, sauté and stir until tender, about 1 minute.

Add red wine and balsamic. Bring the mixture to simmer over high heat for 3 minutes.

Add in beef stock and honey, simmer over medium-high heat until the sauce is reduced and thickened to about 3/4 cup, about 8-10 minutes.

Turn off the heat and whisk in the butter.

Taste the sauce and season with salt, pepper or more honey as desired.

Serve sous vide short ribs on mashed potatoes or ice, drizzle with red wine sauce and garnish with optional herbs.
Notes
Check from time to time to make sure the water level is not too low.
These short ribs are even better when they're allowed to sit overnight.
Nutrition
Calories:
677
kcal
|
Carbohydrates:
6
g
|
Protein:
65
g
|
Fat:
37
g
|
Saturated Fat:
17
g
|
Cholesterol:
195
mg
|
Sodium:
774
mg
|
Potassium:
1378
mg
|
Fiber:
1
g
|
Sugar:
3
g
|
Vitamin C:
1
mg
|
Calcium:
36
mg
|
Iron:
8
mg
Tried this recipe?
Follow or tag us on Pinterest @izzycooking