Inspired by Japanese ramen, these 15 Ramen Noodle Recipes are easy to make at home and loaded with flavors. Ramen noodles are quick-cooking and so versatile, and we'll cover the best ramen recipes made with fresh ramen and instant ramen noodles. From spicy to gluten-free, beef, chicken, and shrimp ramen options too.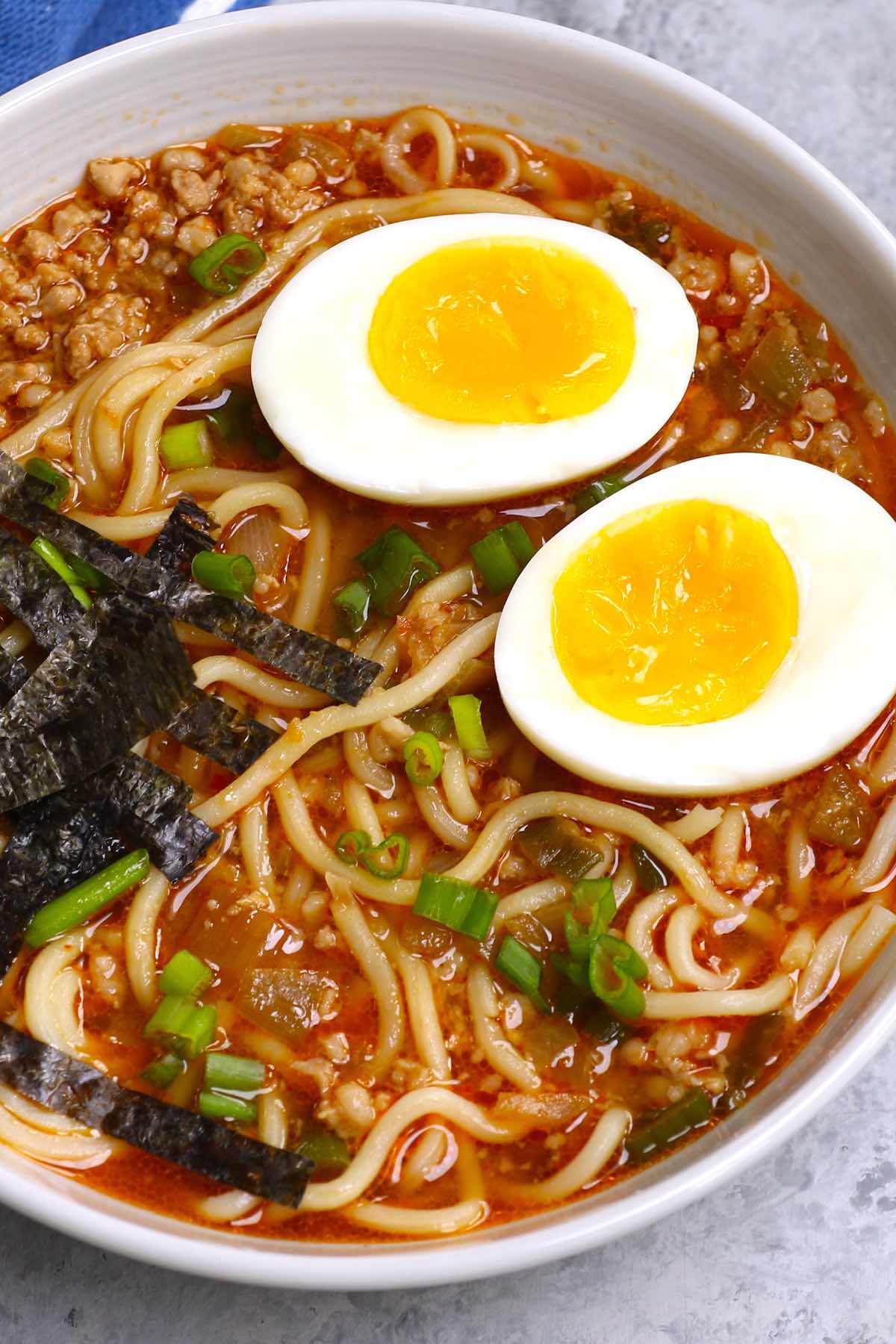 The best part of all these recipes – they're all ready in less than 30 minutes!
We'll even tell you the best brands of ramen to use, and the flavors and spices you can add to the noodles.
What Can I Mix with Instant Ramen Noodles?
There are some incredibly easy ways to make your instant ramen noodles more hearty and tastier! Simply crack an egg in it, add roasted chicken or sauteed mushrooms, load it up with some cheese, drizzle in some soy sauce, add in some veggies, or just sprinkle it with some lime juice! Go with what you're craving!
Key Ingredients in Japanese Ramen Noodles
Traditional Japanese Ramen dish has 3 major elements: the broth, ramen noodles, and the topping.
Noodles: You can use fresh noodles or instant ramen noodles.
Broth: Ramen broth or soup is very delicious and flavorful. The most popular broth is chicken broth. Sometimes dashi stock is added to the broth. Another popular broth is called Tonkotsu which is made from pork bones.
Toppings: Some popular topping ideas include eggs, seaweed nori, Masago, menma, and Chashu.
Japanese Fresh Ramen Noodles
Instant Ramen Noodle Recipes
Ramen Noodle Recipes with Egg
Healthy Chicken Ramen Bowl: with only one pot, and about 20 minutes of your time healthy chicken ramen noodles is a flavorful soup with a ton of noodles, healthy veggies, a dash of chili oil, and soft set eggs. You may just be surprised that this soup is 'clean-eating.
Easy Spicy Shrimp Ramen: There's something about spicy shrimp that hits your palate differently than any other form of protein. And, if for some reason you don't like shrimp, you can change up those aforementioned proteins at any time. And for the vegetarians out there – try tofu.
Veggie Ramen Noodles with Eggs: Versatile, flavorful, comfort food. From the scrumptious noodles to the exciting eggs…did we mention shiitake mushrooms as well? Prepped and ready on your table in just 20 minutes!
Chicken Ramen Noodle Recipes
20 Minute Chicken Ramen Noodle Stir Fry: This Chicken Ramen stir fry is loaded with springy ramen noodles, tender chicken, broccoli, and a sweet and savory sauce. You'll love just how easy this 20-minute chicken ramen noodle stir fry is!
Easy Chicken Ramen: A quick soup with flavorful broth, and served with a soft-boiled egg. Get this – the longest aspect of this 20-minute ready-to-serve recipe is cutting the carrots and onions and boiling the egg. Yep, that's it!
Chicken Ramen Noodles: with a flavorful broth, roasted chicken, fresh vegetables, lots of noodles, and a soft-cooked egg, this chicken ramen noodle recipe is a must-try! Inspired by Japanese cuisine, it will be ready and on your table in under an hour.
What Are the Major Brands for Instant Ramen Noodles?
If you're looking for an instant ramen noodle brand to try out, there are a few major brands you should consider. Mama, Nongshim, Indomie, and Nissin are some of the top ones, and you can easily order any of these online from Amazon!
Instant Ramen Noodle Flavors
If you're familiar with Instant Ramen noodles, then you know you can easily indulge in some incredible flavors! Some of the top flavors are chicken, beef, shrimp, chili vegetarian, soy sauce vegetarian, and hot and spicy beef!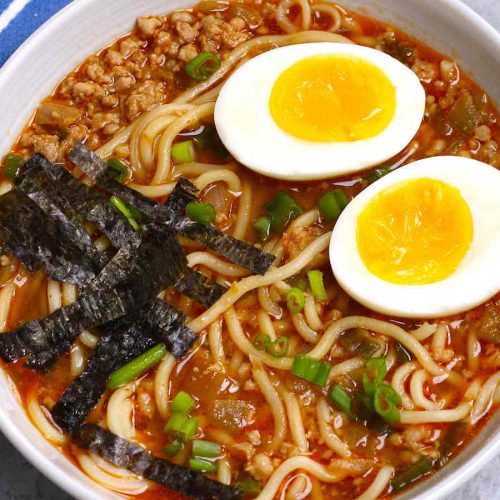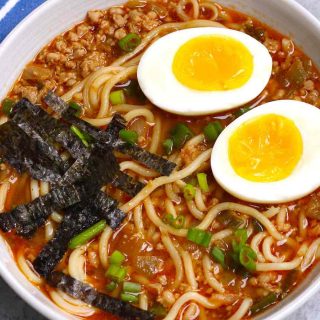 15 Easy Ramen Noodles (Spicy Miso Ramen Recipe & More)
Spicy Miso Ramen is one of my favorite Ramen Noodles. It'll be ready in less than 30 minutes – better than the one from the restaurant.
Print
Pin
Rate
Ingredients
2

packages ramen noodles

3

tablespoons

miso paste

2

teaspoons

chili bean paste

1

teaspoon

vegetable oil

2

teaspoons

minced garlic

2

teaspoons

grated ginger

1

shallot minced

1/4

lb

ground pork

2

cups

chicken stock

3

tablespoons

soy sauce

2

green onions

salt and pepper to taste

2

soft-boiled eggs
Instructions
Heat vegetable oil in a large pot over medium heat.

Add minced garlic, ginger, and shallot, and cook until fragrant, about 1 minute, stirring frequently.

Add ground pork, and stir-fry until no longer pink.

Add chili bean paste and miso paste.

Add chicken stock, soy sauce, and green onions.

Cover and bring to a boil. Remove the lid, lower the heat and simmer for 10 minutes.

Taste and season with salt and pepper to taste. Remove from heat and set aside.

Cook ramen noodles al dente according to the instructions on the package.

Drain completely and divide the noodles into 2 bowls.

Pour the ramen soup on top of the noodles, and add toppings such as soft-boiled eggs. Serve and enjoy!
Nutrition
Calories:
645
kcal
|
Carbohydrates:
57
g
|
Protein:
33
g
|
Fat:
32
g
|
Saturated Fat:
13
g
|
Trans Fat:
1
g
|
Cholesterol:
212
mg
|
Sodium:
4054
mg
|
Potassium:
760
mg
|
Fiber:
3
g
|
Sugar:
8
g
|
Vitamin A:
408
IU
|
Vitamin C:
5
mg
|
Calcium:
92
mg
|
Iron:
6
mg
Tried this recipe?
Follow or tag us on Pinterest @izzycooking