Mango is not only delicious but also incredibly nutritious and healthy. These 21 best Mango Dessert Recipes will bring all that mango magnificence to your kitchen table!! We'll give you the traditional mango goodness through pudding and pie, but we'll also take you on a cultural trip around the world with Mango Panna Cotta, Mango Mochi, Mango Lassi, and Mango Phirini.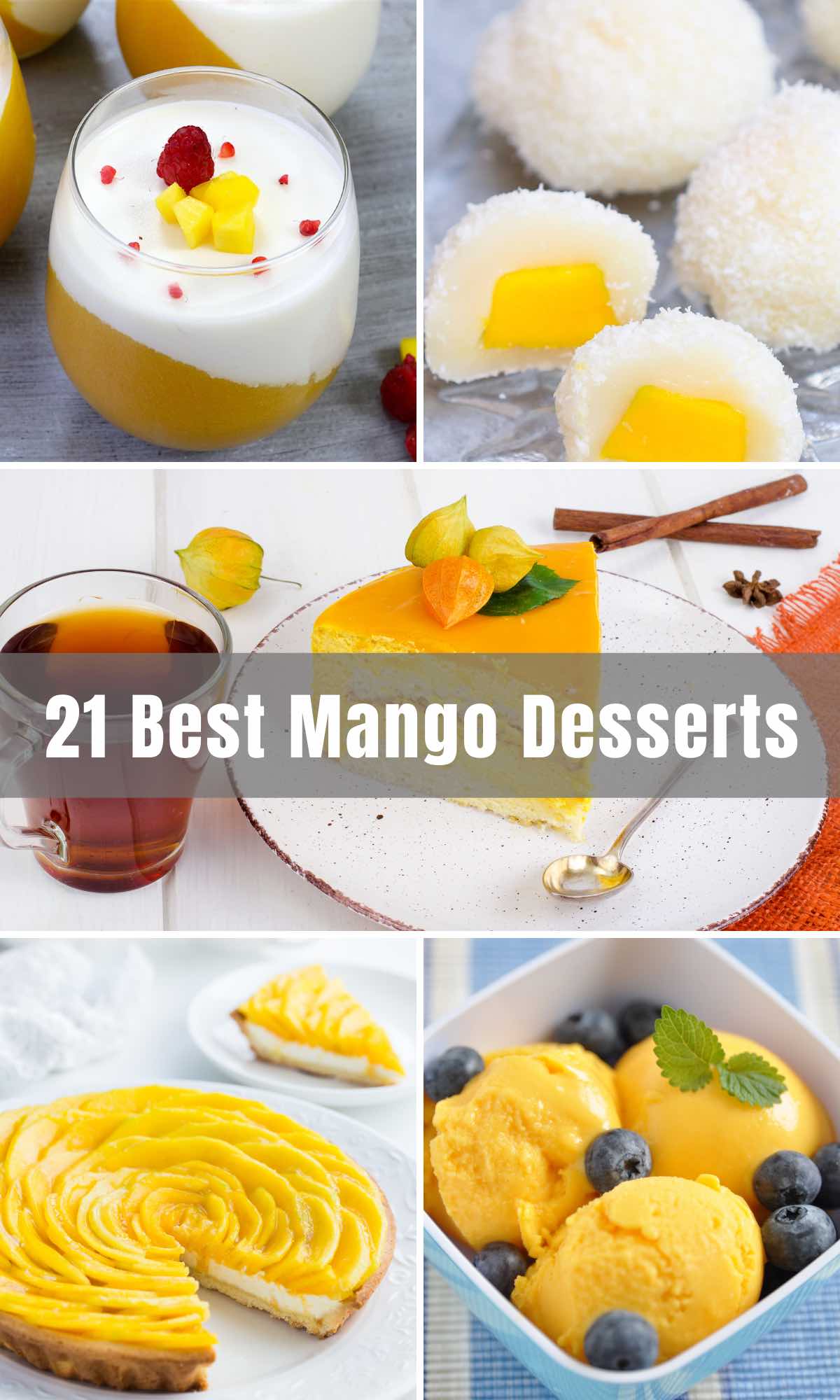 What Dessert Can I Make with Mango?
All it takes is one or two mangoes to make endless dishes that will have your taste buds tingling! You can make simple mango ice cream, sorbet, smoothies, or step it up a notch and make some mango cheesecake, mango lemon bars, or even some mango tarts! 
Some of the more popular dishes to try are mango lassi and Filipino mango floats, and as you bake, cut some up to enjoy while you wait!
Cold Mango Dessert Recipes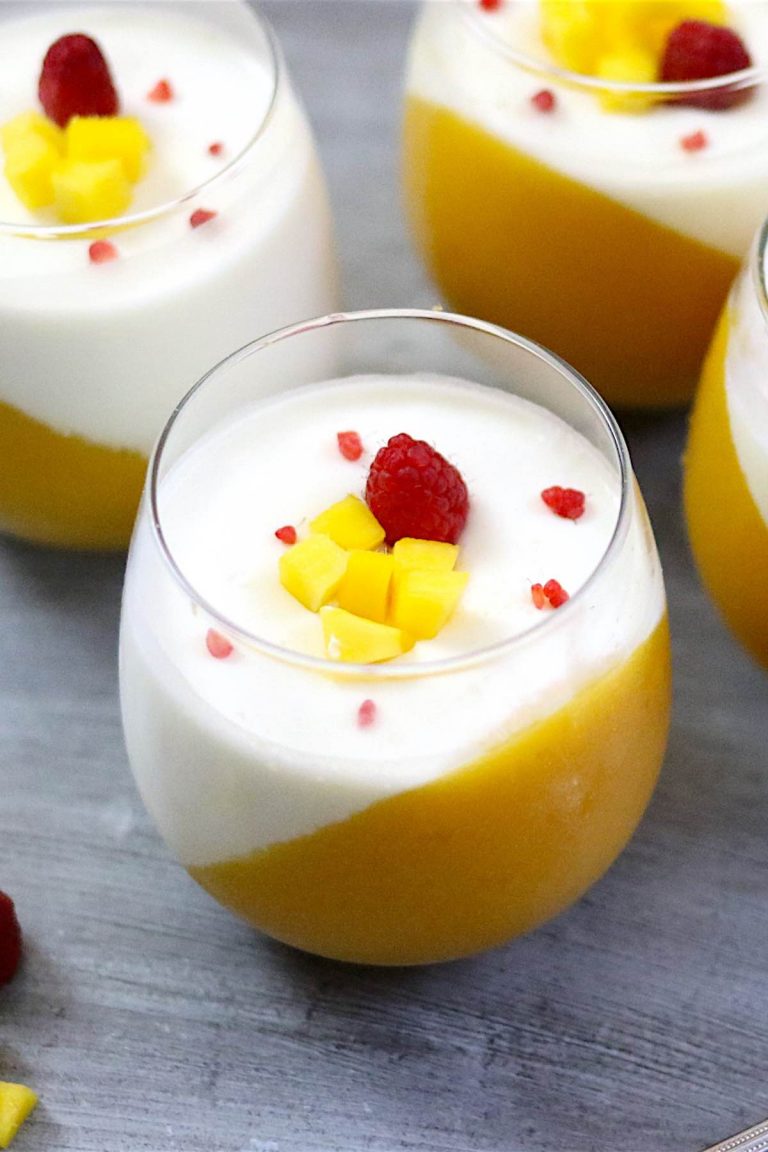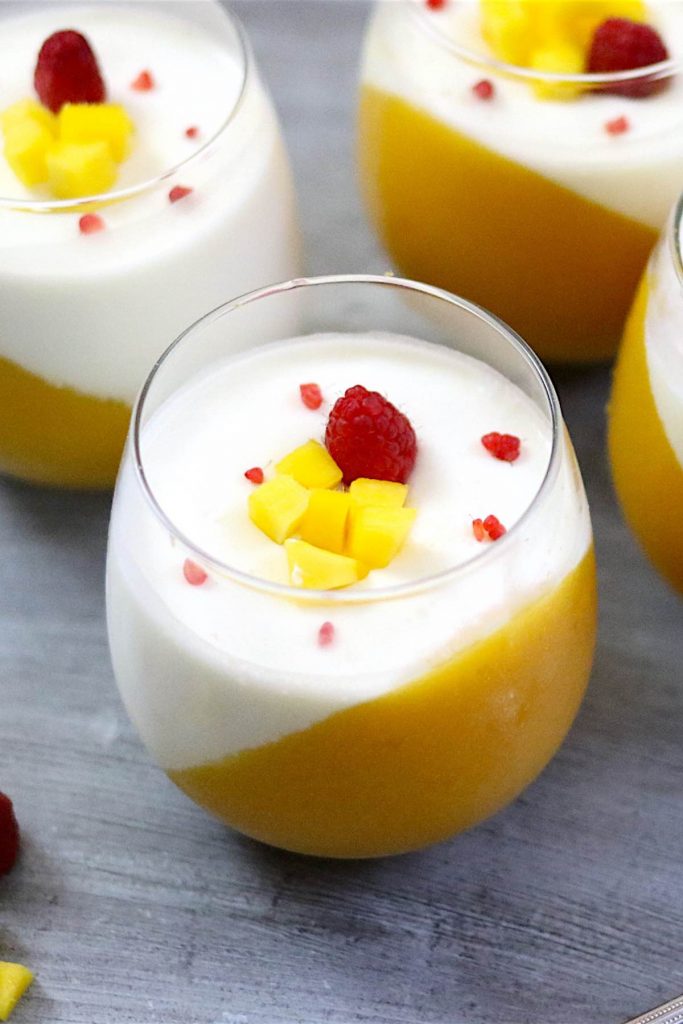 Creamy, rich, and smooth, this dessert recipe is quick and easy. Panna Cotta means "cooked cream" in Italian. It's sweetened cream thickened with gelatin and a molded chilled dessert. For best results, use ripe mangoes here!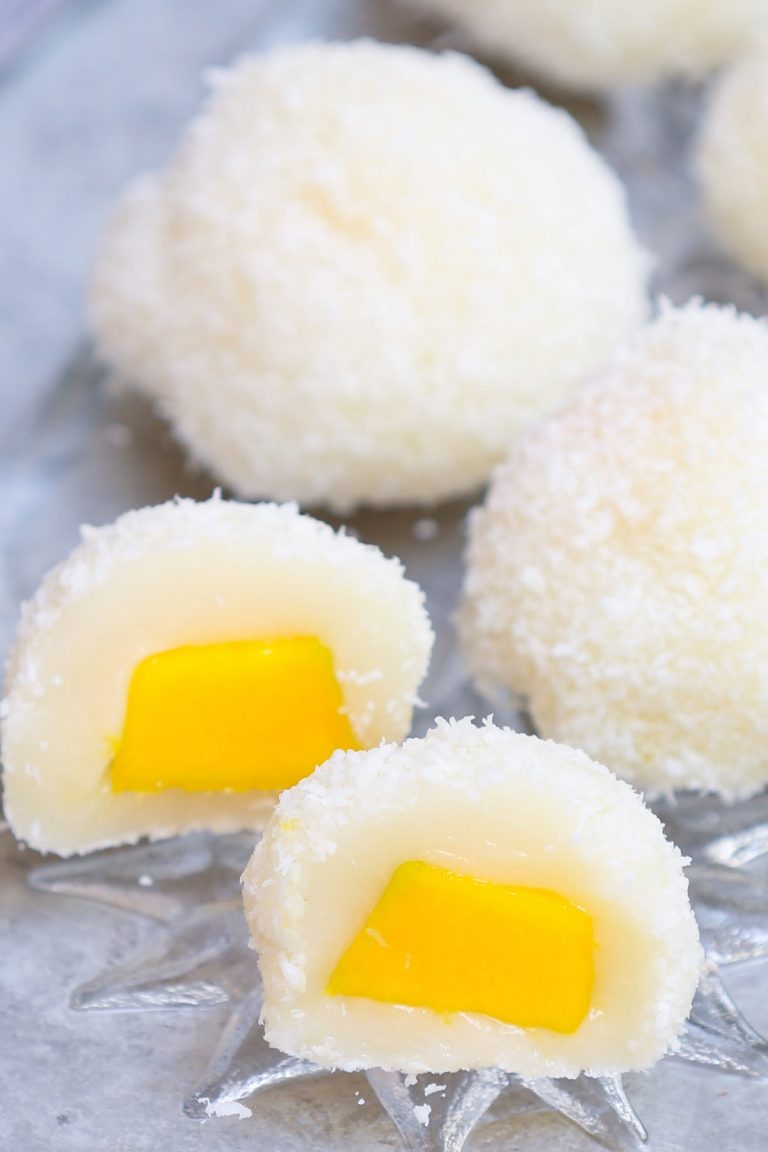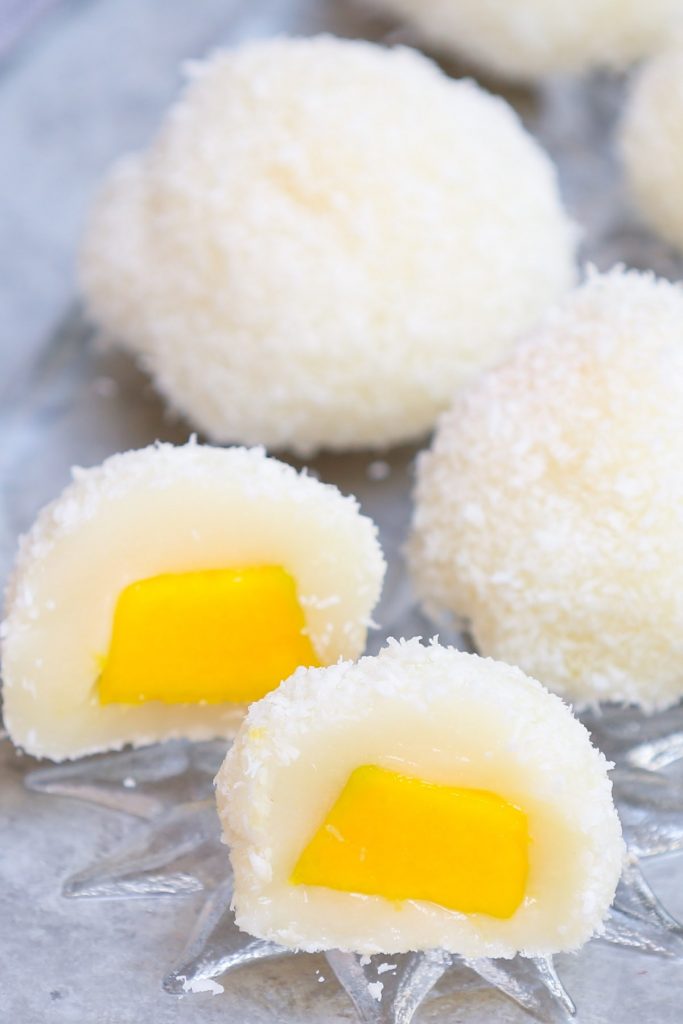 We'll start this recipe with 3 adjectives: Refreshing, tangy, and sweet. Your taste buds will be bursting from the mango filling covered with soft and chewy mochi cake. Rolled into mango mochi balls with a delicious shredded coconut coating -this classic mango dessert recipe will soon be a staple in your house!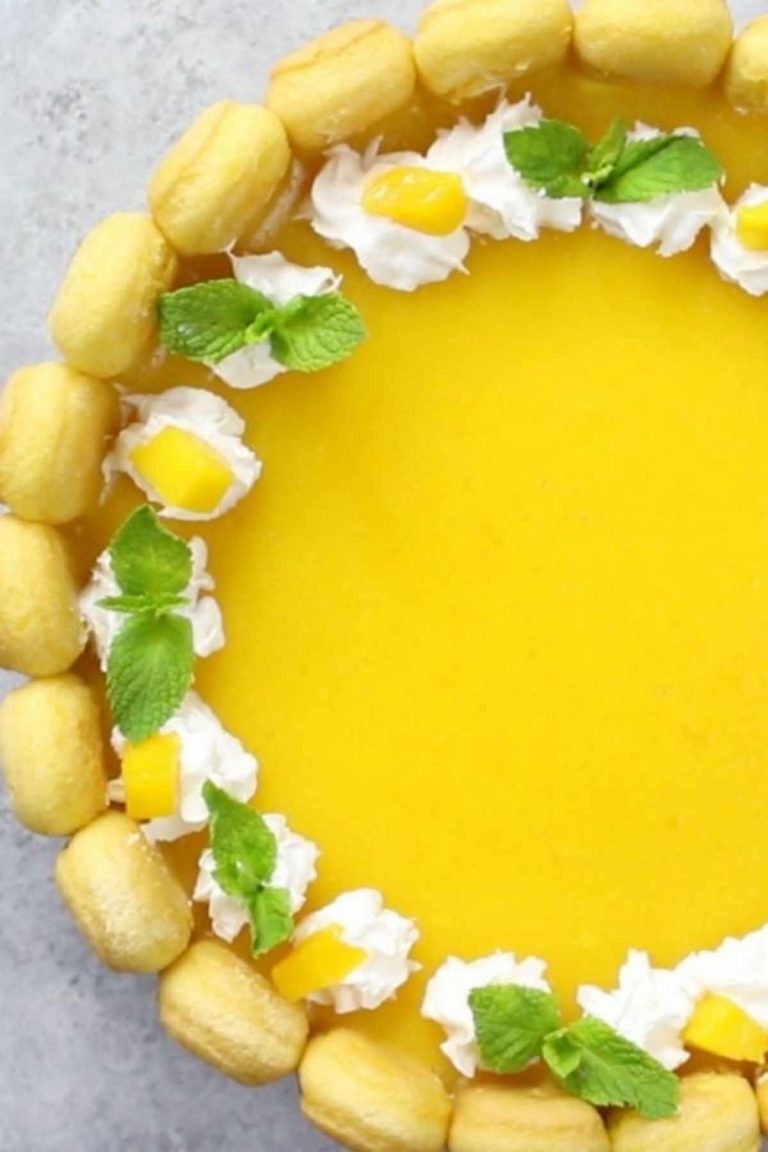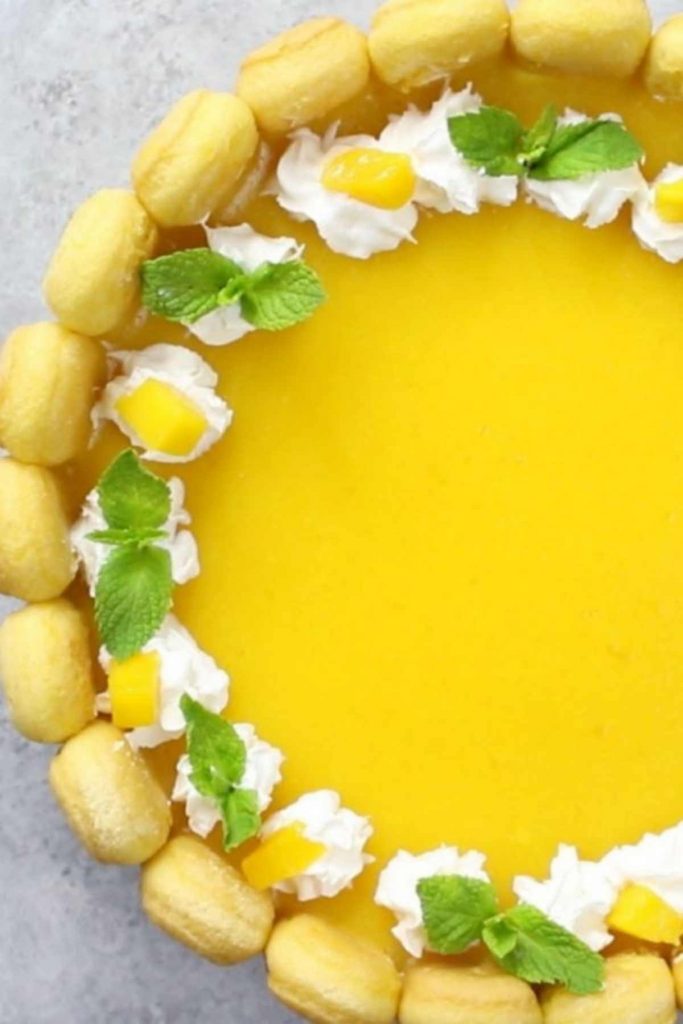 A no-bake irresistible dessert with a ladyfinger crust, creamy cheesecake filling with a mango glaze on top! Are you hungry yet? Maybe this will seal the deal. Refreshing, and bursting with flavor.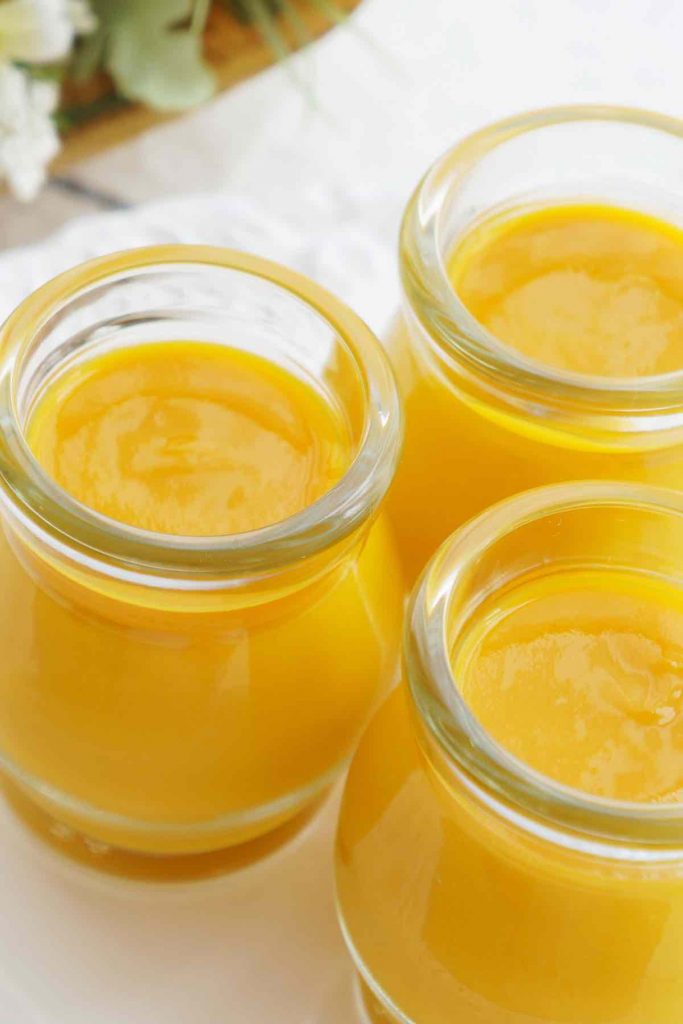 Grab those fresh mangoes for this recipe if you love the texture! However, if you're looking for a smoother texture then opt for the canned mango pulp from your local grocery store. Don't get scared off here with the prep time, because in the end you and your family will absolutely fall in love with this perfect dessert!
We'll take you to the tropics with this recipe! Creamy coconut mousse with sweet mango infusion, no-bake, and easy to prep. Try adding cream cheese to make the mousse creamier that will also add a tangy flavor.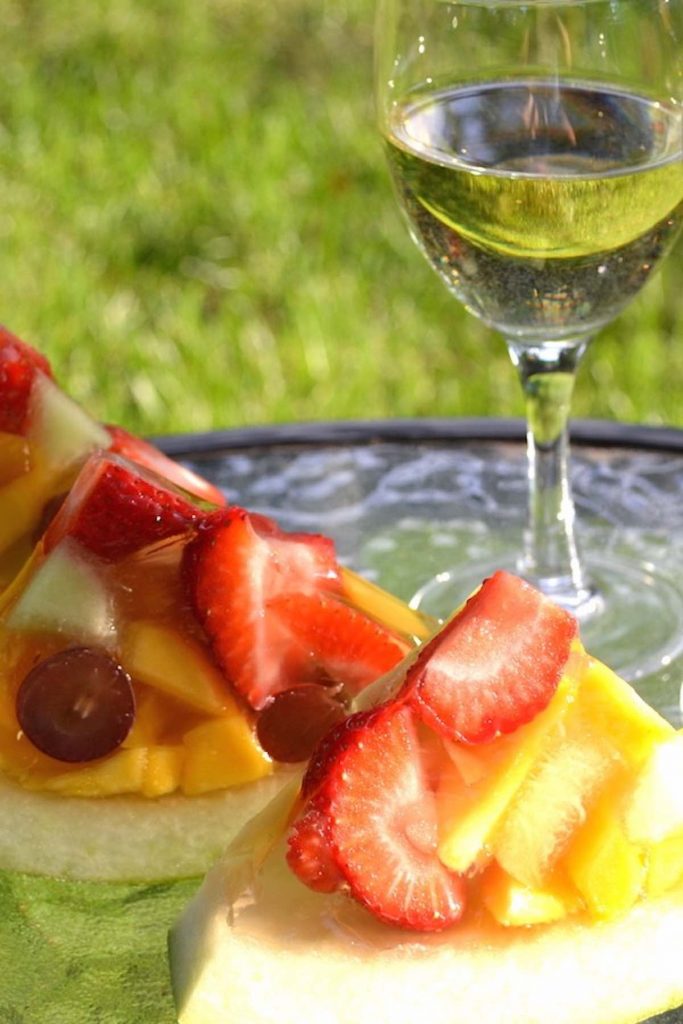 These party drinks combine fresh fruits and jello inside a half watermelon – and infused with vodka! And for a family-friendly version, just skip the vodka! This unique drink has a stunning presentation!
Refreshing, light, and bursting with flavor! Angel food cake layered with sweetened mango, white chocolate whipped cream, and macadamia nuts. The lime juice gives this a little extra zing!!
Frozen Mango Desserts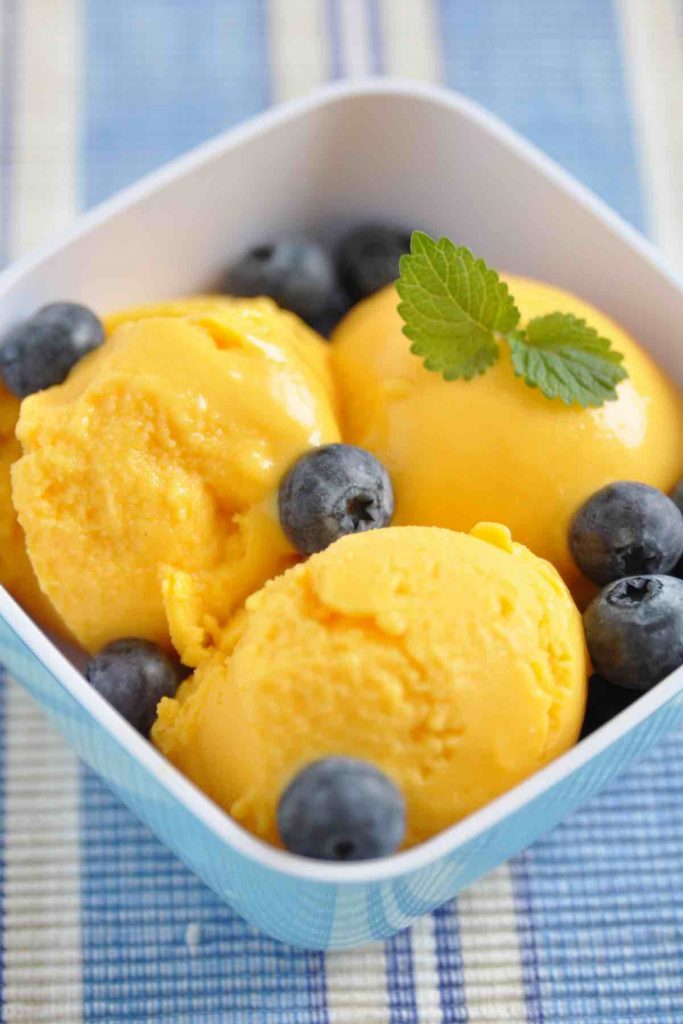 It's delicious, it's creamy, it's mango ice cream! This frozen dessert can be made with or without an ice cream maker, and it perfectly combines fresh mango and coconut cream.  It's healthier than any store-bought ice cream benign paleo, vegan and dairy-free – plus it's the perfect summer treat!
Made with berries, mangoes, kiwi, and coconut water, fruit ice pops are healthy, vegan, and refreshing! It's the perfect summer treat for your kids, especially because it's sugar-free and they'll love how colorful they are!
The perfect way to cool off during those hot summer days or even after an intense workout, this mango sorbet uses just two ingredients. Made with frozen mangoes and coconut milk, it is sugar-free, vegan, and dairy-free! Plus, that makes it guilt-free!
Easily described as tangy, creamy, and luscious this mango frozen yogurt may just be your new summer go-to treat! If you want to sweeten it up a bit add in some honey or agave nectar, or keep it as is with some frozen mango and Greek yogurt! Plus it only takes 5 minutes!
It's cold, it's sweet, it's easy to make! Filipino mango float is a popular dish in the Philippines, and will now be a popular dessert in your home. Just layer graham crackers, sweetened cream, mangoes, and enjoy! 
Indian Mango Desserts
A common drink found in Indian restaurants, mango lassi will likely become one of your favorites. Like many Indian dishes, Mango Lassi contains yogurt along with water, spices, and sometimes fruit – or in this case will contain mango! Pair it perfectly with a chicken curry dish or even an Indian Chicken Korma.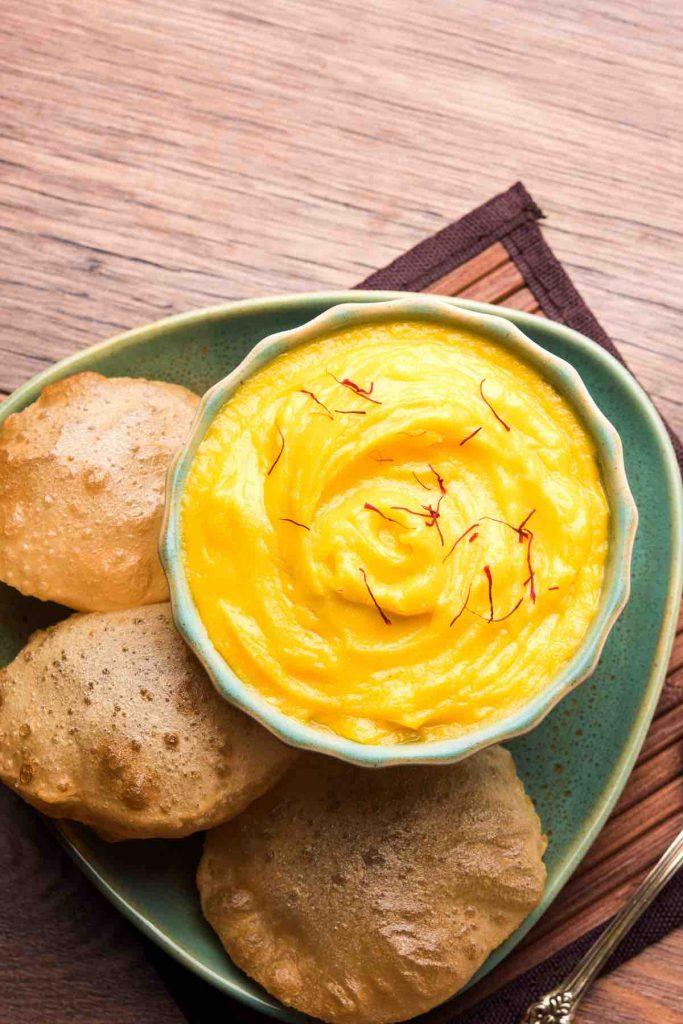 A creamy and luxurious Indian sweet dish made with yogurt, mango pulp, and sugar. You can easily garnish it with some saffron for a pop of color and flavor! This may just be your go-to dessert for special occasions and gatherings.
A version of the traditional phirni recipe and fresh mango puree, mango phirni is perfect for Indian summer or especially during mango season! It only takes about 15 minutes of prep and key ingredients such as basmati rice, pistachios, almonds, and cardamom –  tastes best when served chilled!
Baked Mango Dessert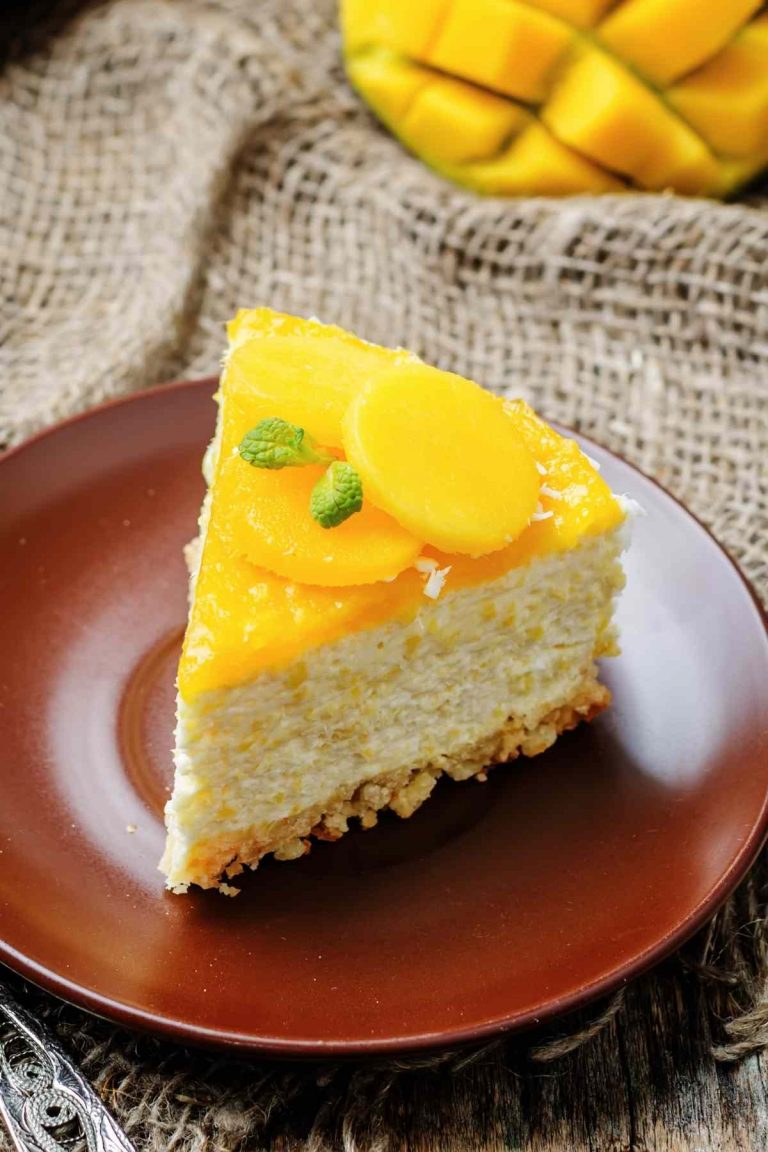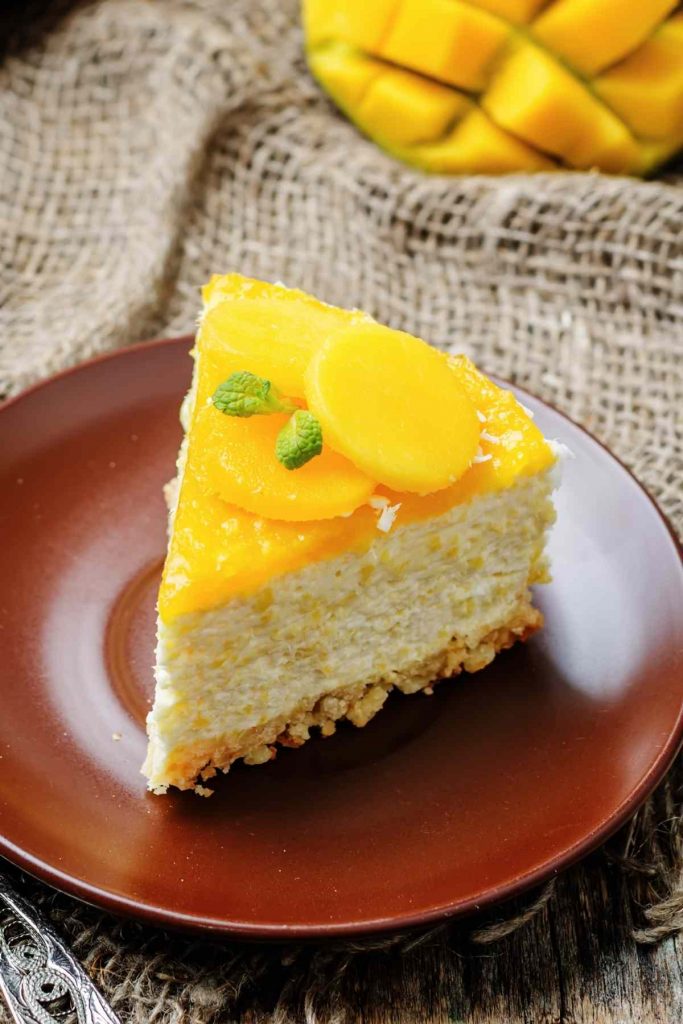 A decadent dessert made with a moist sponge cake, topped with a deliciously creamy mango mousse, this mango mousse cake will certainly satisfy your mango cravings! It'll be tough to wait for the mousse to set without wanting to dive right in.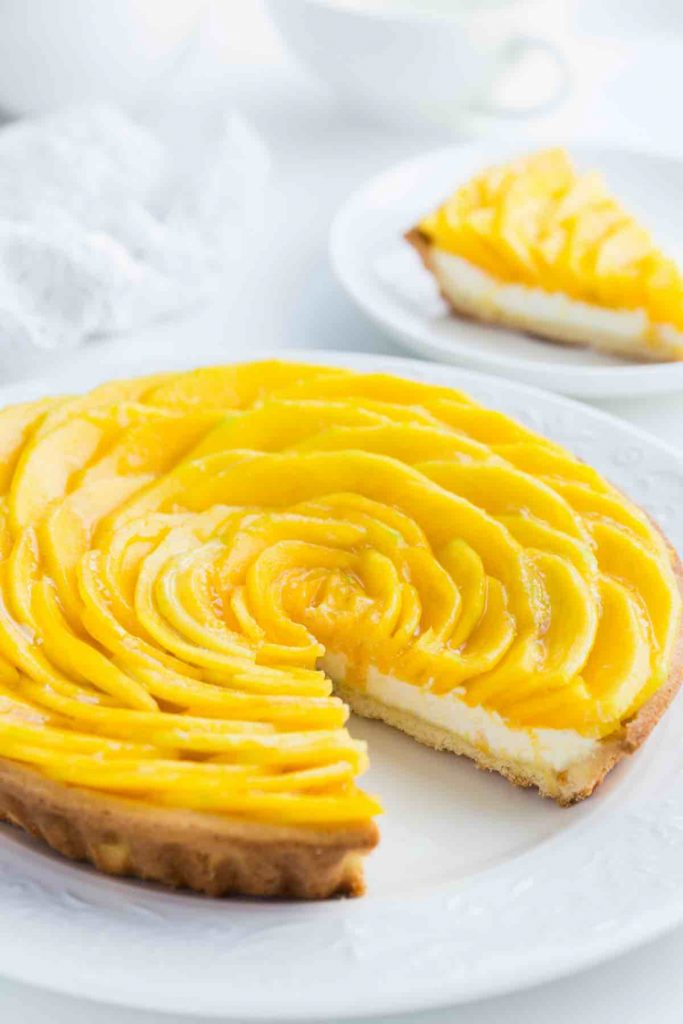 It's the ultimate recipe for a mouthwatering mango tart! Go grab your food processor, some ripe mango, vanilla beans, flour, sugar, eggs, and blend! A note here, you can make both the crust and the filling a day ahead of time and assemble just before baking. 
The classic lemon bars recipe kicked up a notch – mango lemon dessert bars are a must-try! The addition of fresh mango adds some sweetness to these bars and results in a creamy filling topped on a buttery shortbread. It's an unbelievable combo with an even more unbelievable taste!
Crumbly bars filled with mangoes and baked to perfection – you'll feel like you're on vacation with this tropical taste! Using only 2 mangoes, and some prep, you'll want to try this recipe the next time you crave a sweet instead of reaching for or baking a cookie.
This recipe calls for Arumanis mangoes, but you can use any mangoes you can get your hands on just make sure they aren't fibrous. Mango pie is the perfect combination of tangy and sweet all wrapped up into a nice warm pie crust! It takes just 15 minutes of prep and about 5 minutes to eat! 
Mango cake is made with fluffy whipped cream, mangoes, soft sponge cake, all soaked up in juices and aromas to produce an intensely flavored dessert! Along with mangoes being in the filling, you can use them as a decoration on top. This is what sweet summer dreams are made of!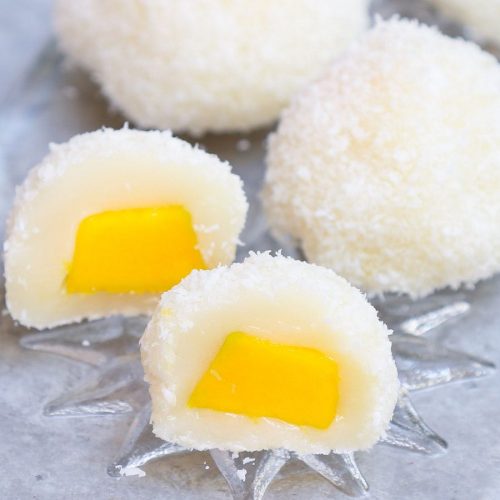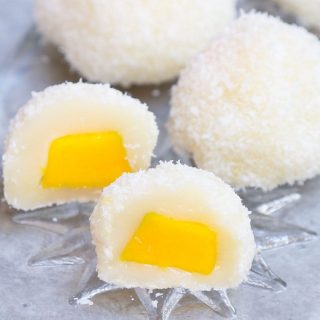 Easy Mango Mochi Dessert
Mango Mochi is one of my favorite mango dessert recipes. It has tangy and sweet mango filling on the inside, soft and chewy mochi cake on the outside.
Print
Pin
Rate
Ingredients
3/4

cup

glutinous rice flour

1/2

cup

powdered sugar

1/4

cup

cornstarch

1/2

cup

milk

1/3

cup

coconut milk

1

ripe mango

1

tablespoon

unsalted butter

melted

shredded coconut

for coating
Instructions
Mix together glutinous rice flour, cornstarch, sugar, milk, and coconut milk in a large bowl.

Add melted butter and mix until everything is dissolved.

Transfer the mixture to a smaller bowl that can fit into your steamer.

Add a steaming rack to a large pot over medium heat and add 2 inches of water.

Once boiling, place the bowl with the mixture into the pot.

Cover with a lid and steam for 10 minutes until the dough becomes slightly translucent.

Transfer the mochi dough to another plate, cover with plastic wrap, and let it cool to room temperature.

Cut the mango into half-inch square cubes.

Wet your hands with water and take about 1 ½ tablespoon of dough.

Shape the dough into a ball and flatten it using your hands.

Place a piece of mango in the center. Pinch the four corners of the dough, and then pinch the remaining corners together.

Coat the mochi ball with shredded coconut. Chill the mango mochi balls in the refrigerator for at least 30 minutes before serving.
Nutrition
Calories:
138
kcal
|
Carbohydrates:
28
g
|
Protein:
2
g
|
Fat:
2
g
|
Saturated Fat:
1
g
|
Trans Fat:
1
g
|
Cholesterol:
5
mg
|
Sodium:
21
mg
|
Potassium:
76
mg
|
Fiber:
1
g
|
Sugar:
12
g
|
Vitamin A:
348
IU
|
Vitamin C:
9
mg
|
Calcium:
35
mg
|
Iron:
1
mg
Tried this recipe?
Follow or tag us on Pinterest @izzycooking