Mango Panna Cotta is a classic Italian dessert recipe with stunning mango layer and creamy vanilla panna cotta layer. This panna cotta recipe is the perfect make-ahead dessert and it's the best mango recipe I've ever made!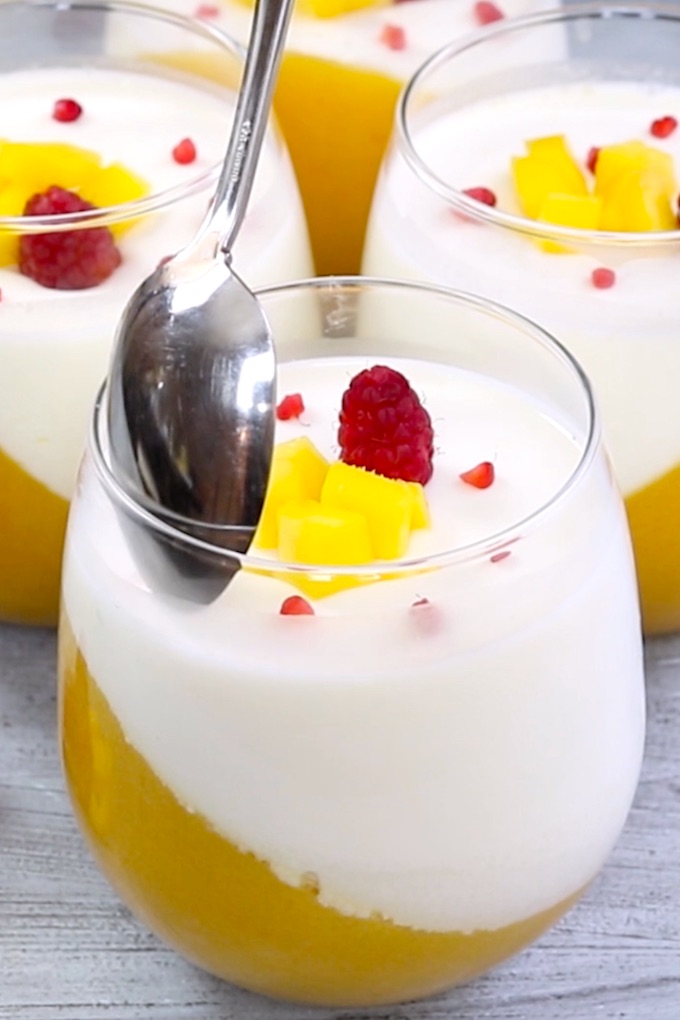 WHAT IS PANNA COTTA
Panna Cotta originates from Italy and it means "cooked cream" in Italian. It's sweetened creamed thickened with gelatin and a molded chilled dessert.
Besides Mango Panda Cotta, you can make it into many different flavored panna cotta such as strawberry, vanilla, chocolate, lemon, coffee or pumpkin.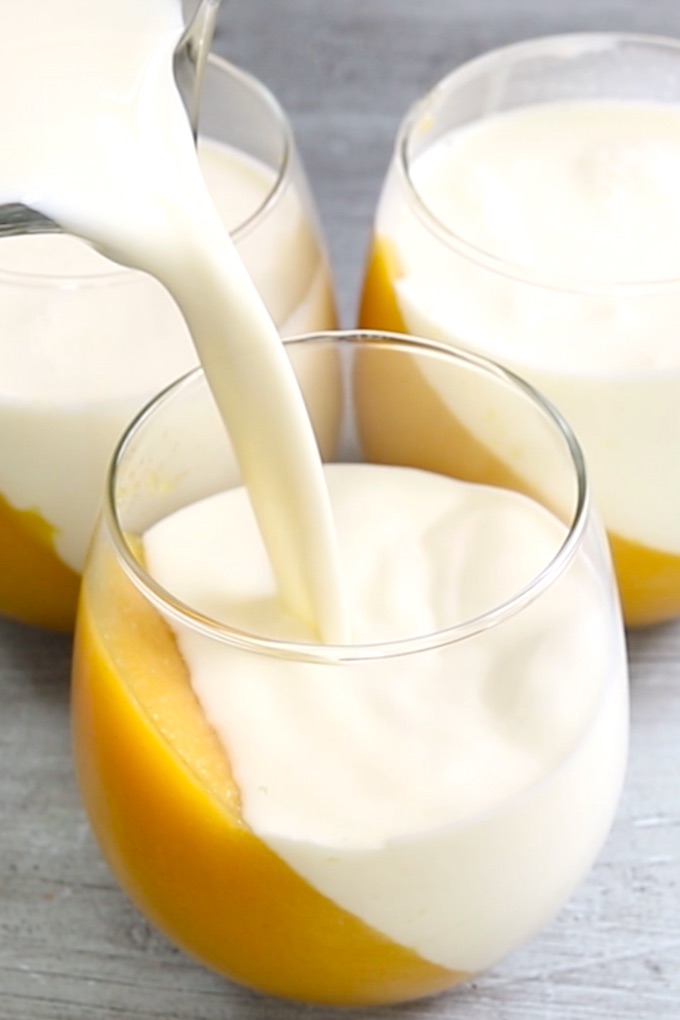 EASY PANNA COTTA
This two-layer mango panna cotta is a stunner, an incredibly rich dessert recipe that's easy to make! It's one of my favorite easy dessert recipes along with Oreo Cheesecake Bites, Chocolate Pudding and S'mores Pie.
You can also make it ahead and it's perfect for entertaining!
HOW TO MAKE PANNA COTTA
This classic panna cotta dessert has two layers: mango layer and vanilla panna cotta layer. You only need a few simple ingredients for this recipe.
MANGO LAYER
Start with the mango layer. Add unflavored gelatin powder to mango juice. Wait a few minutes and then add freshly pureed mango into the mixture. The ripe mango works best for this recipe. Then pour it into wine glasses. Place them on an angle in a muffin tin and cool in the fridge for over 2 hours.
PANNA COTTA LAYER
Panna cotta ingredients are essentially milk, gelatin, cream, vanilla and sugar. Cook them together over low heat. Let them cool to room temperature, and pour it over the mango layer. Refrigerate until fully set.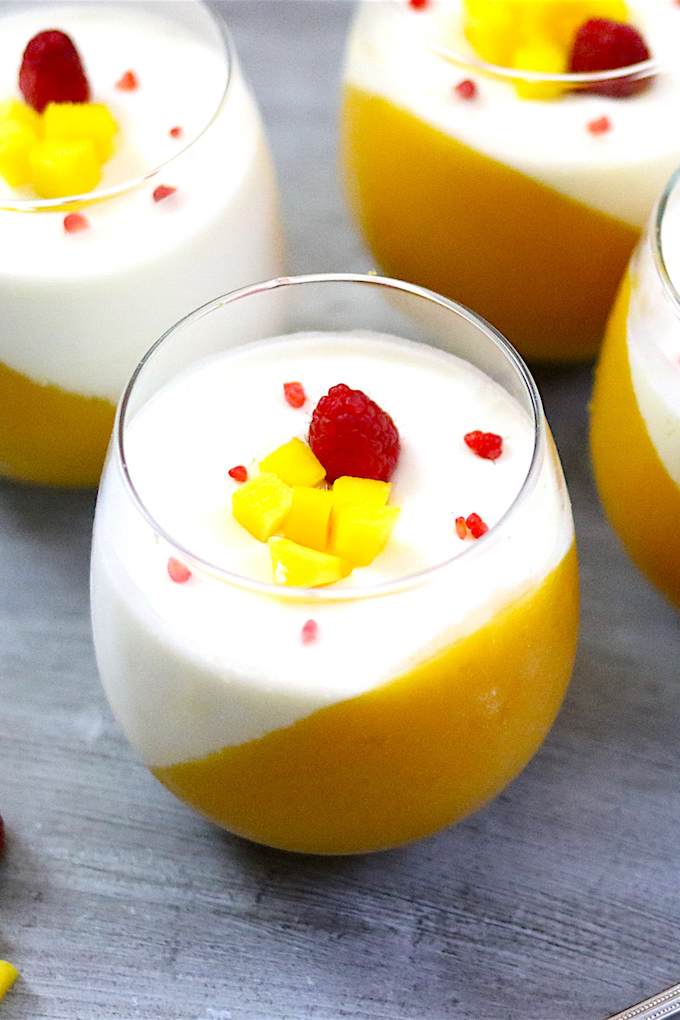 MANGO PANNA COTTA VARIATIONS:
• Buttermilk Panna Cotta: Replace milk in this recipe with buttermilk for a delicious buttermilk panna cotta. You can also make it into coconut panna cotta with coconut milk.
• Chocolate Panna Cotta: Simply add 4-5 ounces chopped chocolate into the panna cotta layer. Please note that the color will change to brown instead of white.
• Strawberry Panna Cotta: Swap out mango juice and pureed mango for strawberry juice for the strawberry layer.
• Lemon Panna Cotta: Use lemon gelatin and follow instructions on the package for the lemon layer.
TIPS FOR MAKING THE BEST PANNA COTTA
• Keep in mind that this recipe needs to sit at least 4 hours but overnight is the best. You can also make mango panna cotta ahead for 3-4 days and store in the refrigerator.
• Garnish with raspberries, strawberries before serving.
•  Use ripe mangos for the best flavor. 
PANNA COTTA RECIPE VIDEO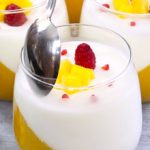 Mango Panna Cotta Recipe
Mango Panna Cotta is an incredible rich panna cotta recipe, finished with fresh mango and raspberries topping!
Ingredients
Mango Layer
2

cups

cubed fresh mango

1

cup

mango juice

1

envelope

unflavored gelatin powder
Panna Cotta Layer
1 1/2

cups

milk

whole milk preferred

1/3

cup

sugar

3

envelopes

unflavored gelatin powder

1 1/2

cups

heavy cream

1/4

tsp

vanilla extract
Instructions
Make mango puree using a blender or food processor.

In a small bowl, add mango juice and sprinkle 1 envelop gelatin on top. Wait for a few minutes until gelatin softens and then mix with a spoon.

In a saucepan over medium heat, add the mixture. Stir until gelatin totally dissolved, about 1-2 minutes.

Mix the mango puree with the gelatin mixture.

Set wine glasses on an angle in a muffin tin. Pour the mixture into glasses to ¾ inch below the rim.

Chill in fridge for at least 2 hours to set.

In the meantime, in a small saucepan, add milk and 3 envelopes of gelatin and wait for 5-10 minutes.

Turn on the heat to medium, add sugar and mix well.

Remove saucepan from heat and stir in cream and vanilla.

Let it cool down to room temperature. Add the mixture to glasses on top of the mango layer. Chill for at least 4 hours or until set.