Lemon adds a delicious zesty flavor to dishes that's so delicious! We've rounded up 36 easy Lemon Recipes for you to try. Whether you're adding grated lemon zest to cakes or using lemon juice in savory dinner, it's the perfect ingredient to lift and enhance the flavors of a dish.
From sweet dessert to savory seafood and even cocktails, this versatile citrus fruit should be a staple in every kitchen.
Grab a couple of lemons and get ready to be inspired by these easy lemon recipes. 
Lemon Dessert Recipes
Fresh, sweet blueberries complement the tart taste of lemons in this tasty dessert. Nobody will be able to tell that you used a boxed cake mix!
Sweet, tangy lemon truffles have an irresistibly creamy texture and are topped with powdered sugar. This simple, no-bake dessert needs only five ingredients and can be ready in 20 minutes.
This pound cake is moist and sweet with a hint of zesty lemon flavor. The finishing touch is a generous drizzling of your homemade lemon glaze.
No list of lemon desserts is complete without lemon meringue pie! You won't believe how easy it is to make this decadent dessert from scratch.
Lemon curd is a creamy lemon-based sauce that's perfect for toppings, fillings and lemon meringue pie. This homemade lemon curd comes together in just ten minutes.
This sweet, creamy dessert is a delicious cross between a cake and a pudding. This recipe is so good, you'll think your grandma made it.
These Italian-inspired pancakes melt in your mouth thanks to creamy ricotta cheese. Add them to your brunch menu for
You'll love the texture and flavor of this moist lemon cake, baked completely from scratch. If you love the Starbucks Lemon Loaf, here's your chance to recreate it at home.
If you've never experienced a chocolate-lemon combo, you've been missing out! This impressive dessert combines the tangy flavor of lemons with a rich chocolate ganache.
Homemade muffins are perfect for a wholesome breakfast or snack. You can even freeze them to enjoy later on.
Want to give your sweet tooth something new? Lemon panna cotta is a rich and creamy dessert that originated in Italy.
A layer of creamy, lemon flavored cheesecake is sandwiched between a crunchy Graham cracker crust and a homemade lemon curd topping.
With a few simple ingredients, you can have a fluffy whipped dessert bursting with citrus flavor. Serve with a layer of crunchy Graham cracker crust for a simple, yet satisfying treat.
Enjoy freshly baked lemon cupcakes and minimal cleanup with this one-bowl recipe. Add a dollop of lemon cream cheese frosting to make these cupcakes irresistible.
Lemon trifle makes for a light dessert that's ideal for warmer weather. Whether served at barbecues or a potluck, it's sure to be the star of the show.
This homemade bread has a healthy serving of zucchini for added fiber. It's the perfect way to sneak in a serving of veggies while enjoying dessert.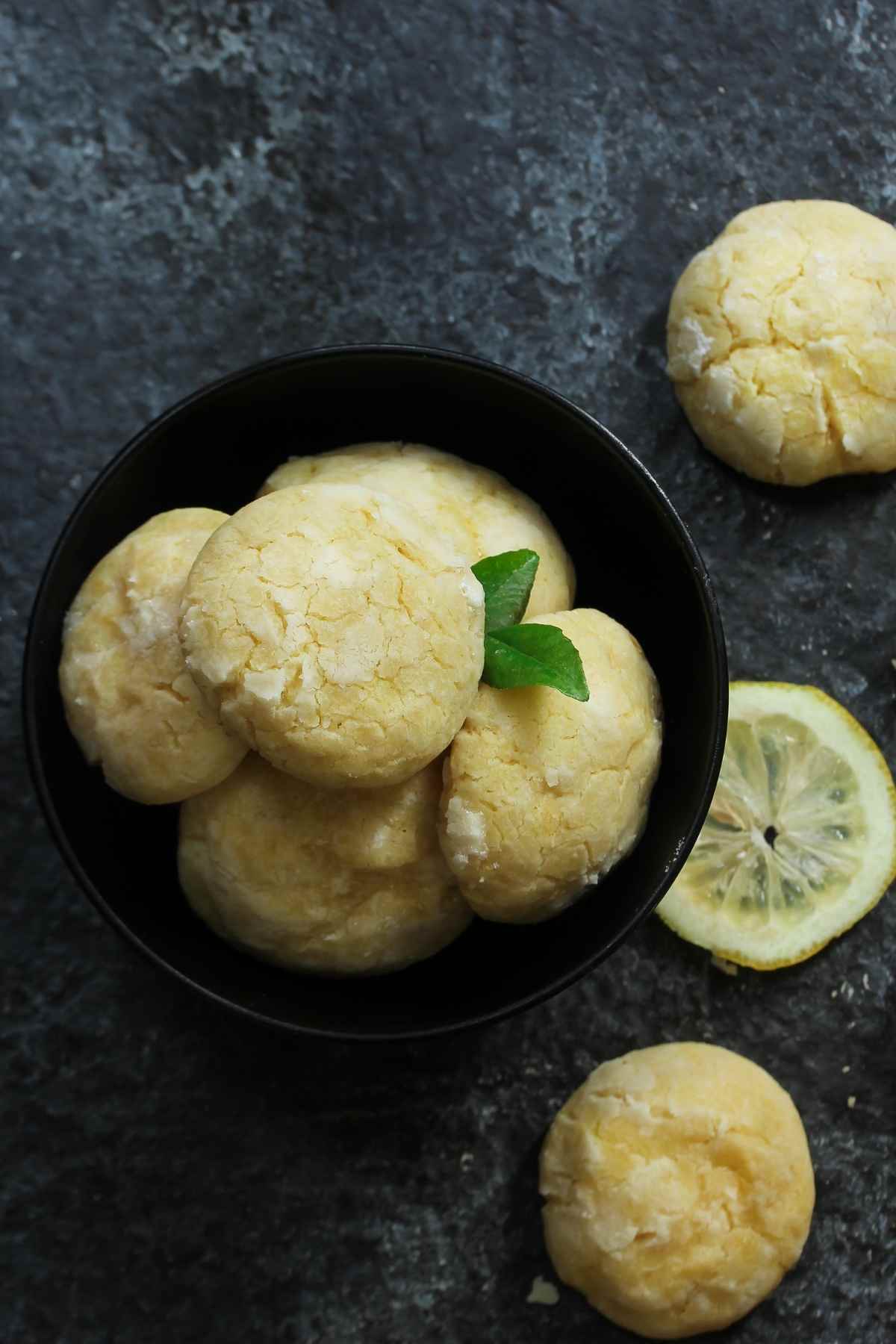 No-frills lemon cookies are soft, chewy and sugary. These sweet treats are perfect for kids' lunchboxes or as a thoughtful homemade gift.
When the weather starts getting warmer, there's nothing quite like a refreshing lemon sorbet. Best of all, this dreamy dessert is dairy-free with less calories than ice cream.
Thanks to freshly squeezed lemon juice, these cookies are bursting with tangy citrus flavor. They're crispy on the outside, buttery on the inside and drizzled with a sweet lemon glaze.
This simple dessert is sweet, citrusy and made with fresh lemon juice and zest. With just ten minutes of prep time, it couldn't be easier to whip up this lemon loaf for an after dinner treat.
These classic lemon squares are made using only five ingredients. You'll love the crispy bottom and creamy lemon topping.
Breakfast will never be the same with these fluffy, flavorful muffins. They're super moist and made with tangy lemon zest, fruity blueberries and topped with lemon icing.
Savory Lemon Recipes for Dinner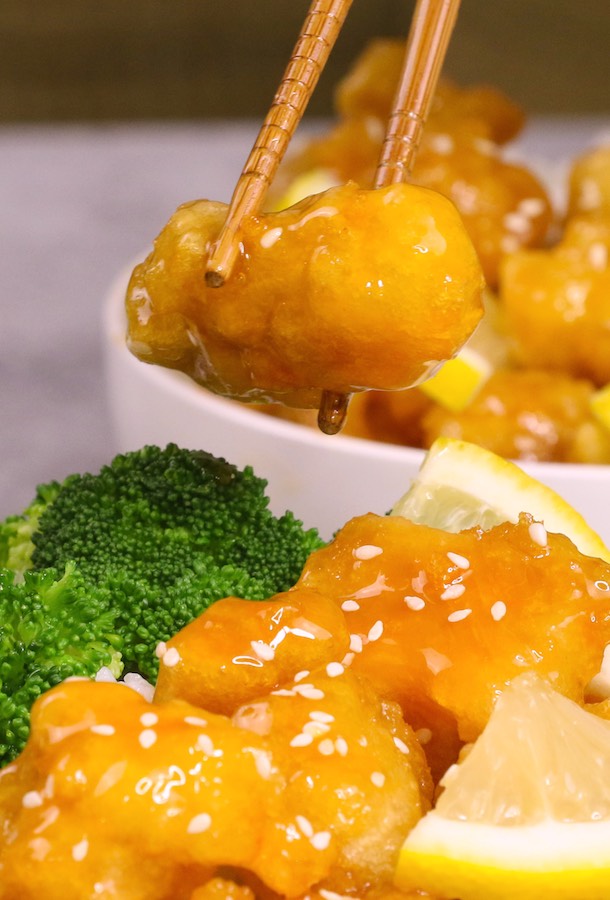 This Lemon Chicken is an easy and crispy Chinese chicken dish that's sweet and savory, balanced with tangy flavor. It's a perfect weeknight meal as Chinese lemon chicken can be ready in under 30 minutes, so much better than takeout.
Crispy and crunchy Oven Baked Chicken Fillets are life-changing! Chicken breast fillets are soaked in lemon garlic flavors and then coated with a golden parmesan panko crumb. No mess, no flour needed, no deep-frying! This restaurant-quality recipe is so easy to make and popular with kids and adults!
Lemon Rice also known as chitranna or nimmakaya pulihora is a crunchy, flavorful and tangy dish that is easy to make and tastes so good. This vegan lemon rice recipe is sure to become one of your favorite rice dishes.
Salmon baked in foil is a smart technique that ensures perfectly cooked, moist salmon every single time. Plus, cleaning up is a breeze.
This is a perfect summer weather dish. It takes very little time to make, which is great on hot days when you don't want to spend too long in the kitchen!
These Crab Claws are meaty and delicious with succulent seafood flavors. Whether you've got snow crab claws or Jonah crab claws, they're easy to prepare and fun to eat with friends!
For something different and healthy to serve for dinner, take a look at the recipe for Baked Dover Dole. It'll be on your dinner table in about 20 minutes and is delicious served with mashed potatoes and steamed broccoli!
This Lemon Vinaigrette is my favorite homemade salad dressing, and it's incredibly simple to make. Store-bought dressing truly doesn't compare!
The perfect, traditional Greek lemon potatoes recipe, ideal for your Sunday family roast!!! Crispy on the outside, fluffy on the inside with a delicious lemony flavor.
Lemon Cocktails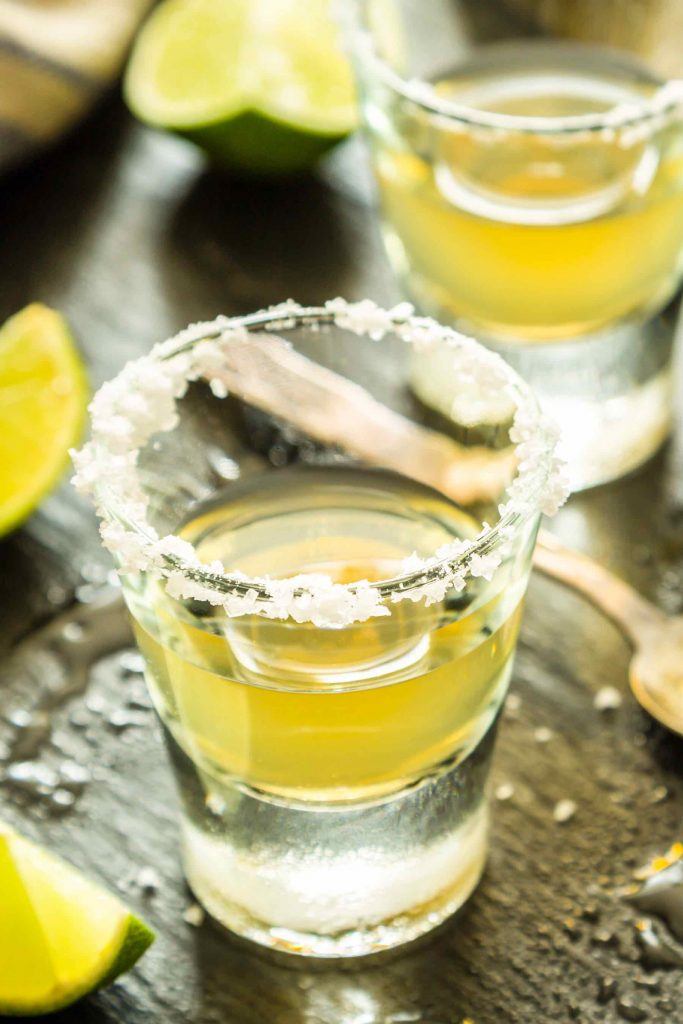 Lemon drop shot is a twist when the drink is served in the shot glass. It seems fancy, but the good news is that it's really easy to make.
Made with bourbon whiskey, fresh lemon juice, and simple syrup, this Whiskey Sour is a classic cocktail that's easy to make. Just 3 ingredients and a few minutes is all you need to make this sweet tart drink!
Learn how to make the best vodka lemonade cocktail with this easy guide to classic, fruit, frozen, slushies, and big batch vodka lemonade drinks!
This Meyer lemon margarita recipe was one of our first recipe posts back in 2010. It's fun to see how our photography and garden has changed over the years!
A Mojito Cocktail with a fun Italian twist, this cocktail is made with limoncello, fresh lemons and plenty of mint. It's super refreshing, delicious and perfect for sipping on when the sun is shining!
Best Lemon Blueberry Poke Cake Recipe
Fresh, sweet blueberries complement the tart taste of lemons in this tasty dessert. Nobody will be able to tell that you used a boxed cake mix!
Print
Pin
Rate
Ingredients
1

box lemon cake mix

1 box plus ingredients called for on the box

2

cups

blueberries

fresh or frozen

1/4

cup

sugar

1

tablespoon

lemon juice

2

teaspoon

cornstarch

3

cups

whipped cream

or thawed whipped topping such as Cool Whip
Instructions
Preheat oven to 350°F. Grease a 9×13 inch baking pan and set aside.

Prepare the cake batter according to the package directions and pour into the prepared pan. Bake according to the directions.

Meanwhile, prepare the blueberry sauce. Place a medium saucepan over medium heat and add the blueberries, sugar, lemon juice and cornstarch. Cook for 5 minutes, stirring constantly until thick and bubbly. Set aside to cool.

Remove cake from oven and cool in the pan for 1-2 minutes. Using the shaft of a wooden spoon, poke inch-deep holes across the surface of the cake in a 1-inch grid pattern.

This shows how to poke holes in the cake using the shaft of a wooden spoon

Pour the blueberry sauce over the cake surface, spreading evenly using a spatula and pushing the blueberries into the holes. Set aside for another 30 minutes or until completely cooled.

Spreading blueberry sauce over a rectangular yellow cake

Whip the cream into stiff peaks in a medium bowl. Then sift the powdered sugar into it and fold in using a spatula to incorporate. Spread the whipped cream evenly over the top of the cake. Pour on top of cake, using a spatula to spread evenly. Chill one hour.

Cover with plastic wrap and chill for one hour in the fridge. Garnish with fresh blueberries and lemon slices before serving.
Notes
Cake Mix: If you can't find lemon cake mix, you can use a white or yellow cake mix instead, but grate one teaspoon of lemon zest into the batter for flavor.
Make Ahead Tip: This cake can be prepared up to a half-day ahead of time. Cover with plastic wrap and store in the fridge until serving.
Tried this recipe?
Follow or tag us on Pinterest @izzycooking