Instant ramen noodle packets are great for an easy, budget-friendly meal that's ready in just a few minutes. Did you know that with a bit of effort and a few extra ingredients, these noodles can be transformed into truly delicious, restaurant-worthy dishes? Have a look at the 11 best Instant Ramen Recipes that are quick and easy to make!
What Can I Add to Instant Ramen to Make It Taste Better?
Here are some ingredients that can instantly upgrade an ordinary pack of ramen noodles. Just stir them in and enjoy!
Peanut Butter
Dried Seaweed
Miso Paste
Sriracha Sauce
Kimchi
Ramen noodles can also be enjoyed with eggs, nori, or slices of chicken or pork. Garnish with chopped green onions or sesame seeds if you're feeling fancy!
Quick and Easy Instant Ramen Recipes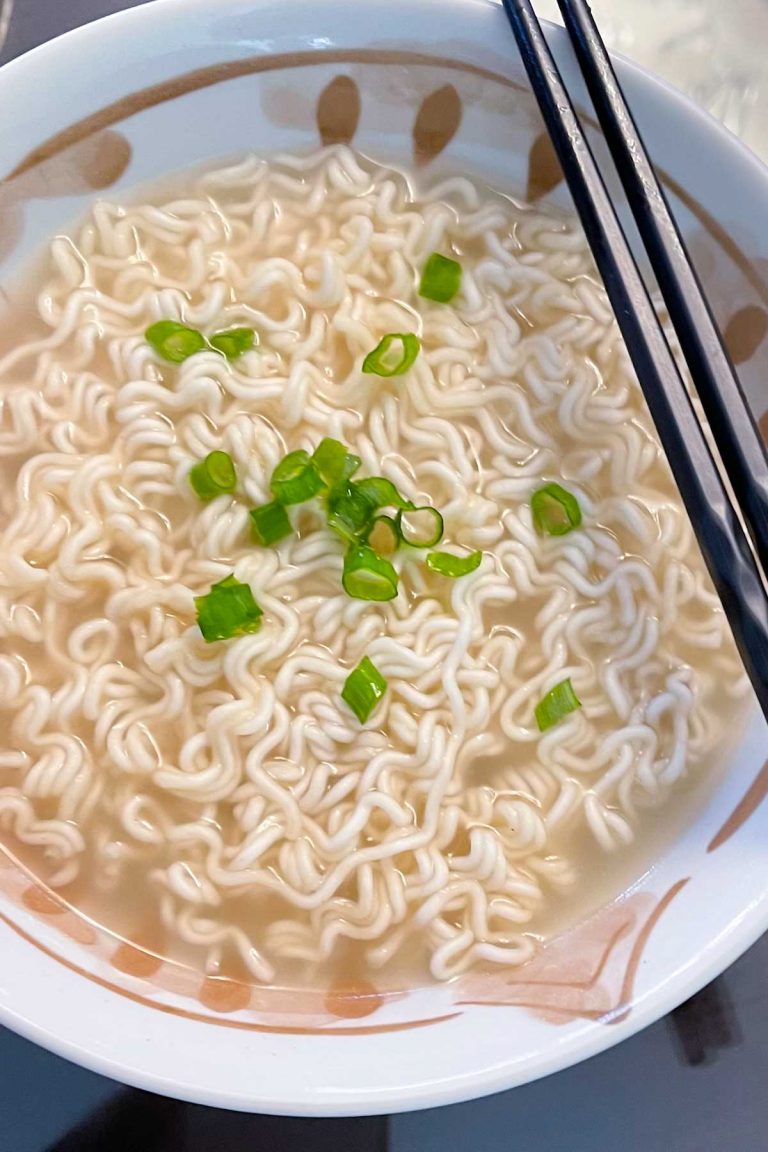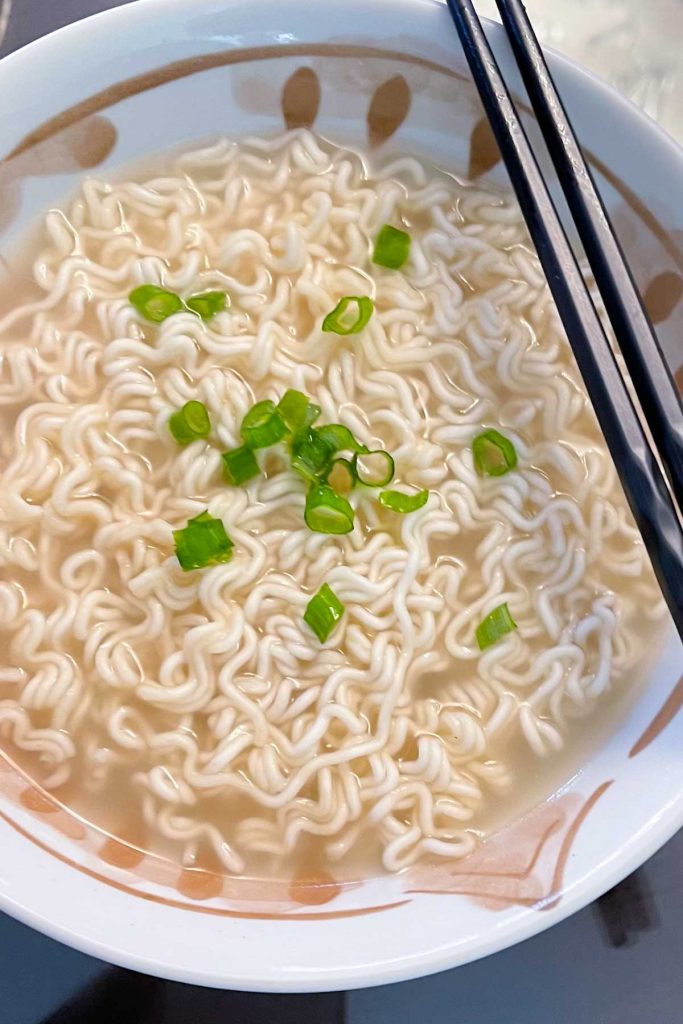 When hunger strikes but cooking feels overwhelming, the microwave is the way to go! Learn how to make the most delicious bowl of ramen noodles in the microwave with this foolproof recipe.
This recipe went viral on TikTok and it's easy to see why. Ramen noodles are stir fried in a sweet and savory soy sauce, then served with scrambled eggs for a quick, effortless dish.
When you're feeling lazy but still want something delicious for dinner, give this top-rated recipe a go. You won't believe how easy it is to upgrade the pack of ramen noodles that's been sitting in the back of your pantry!
For a saucy, vegan-friendly bowl of noodles, look no further than this 20-minute recipe. Include your favorite veggies and plant-based proteins for a filling meal with a mouthwatering combination of sweet and umami flavors.
With tasty toppings like braised pork, soft boiled eggs and roasted seaweed, it's easy to transform a boring bowl of ramen into an authentic culinary experience. Using this recipe, you'll learn the easiest ways to make restaurant-quality ramen at home.
If you're craving a rich, creamy soup, this is the recipe for you! With a regular packet of ramen noodles, a handful of other ingredients, and 15 minutes, you can recreate a meal that rivals the bowls at your favorite ramen bar.
Skip the flavor packet and use your own homemade seasonings for a more delicious bowl of ramen noodle soup! This vegan-friendly recipe is full of flavor and takes just 5 minutes to throw together.
Need a quick and tasty lunch while working from home? This Spicy Ramen Noodles Recipe takes just twenty minutes and couldn't be easier to make. Serve with slices of chicken or soft boiled eggs for a filling, protein-rich meal.
Here's a healthier take on instant ramen noodles that's just as quick and easy to make. With veggies like broccoli and mushrooms, this homemade miso soup is as wholesome as it is comforting.
Crispy Korean Fried Chicken is served with flavorful ramen noodles, pan fried in a sweet and savory soy garlic sauce. Garnish with chopped scallions for a meal that's even better than takeout.
Korean and Japanese flavors combine to make spicy, tangy Kimchi Ramen Noodles. With this simple recipe, you can instantly upgrade your dinner from an ordinary packet of instant noodles to a hearty bowl of soup.
FAQs about Instant Ramen
Is Instant Ramen Good For You?
It may come as no surprise that ramen noodles aren't especially healthy. Besides being high in carbs and sodium, they offer little to no nutritional value and are often loaded with chemical preservatives. Enjoy these instant noodles as the occasional treat, but definitely don't make them an everyday meal.
Is Ramen Healthier Than Rice?
Rice and noodles are both very high in net carbohydrates, making them less ideal for low-carb diets like keto. At the same time, rice is lower in calories than noodles, making them a better option for maintaining a caloric deficit if you want to lose weight. While both have their nutritional disadvantages, rice is less processed than ramen, which arguably makes it the healthier option of the two.
You May Also Like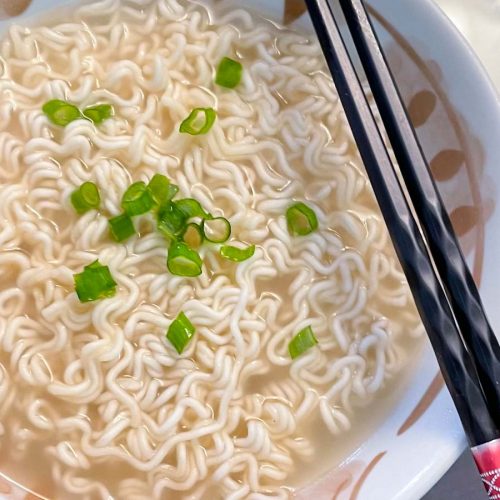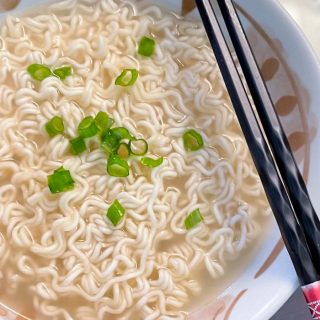 Best Instant Ramen Recipe
When hunger strikes but cooking feels overwhelming, the microwave is the way to go! Learn how to make the most delicious bowl of ramen noodles in the microwave with this foolproof recipe.
Print
Pin
Rate
Ingredients
1

package

ramen noodles

including flavor packets etc.

salt-free chicken broth

or cold water
Optional Additions
green onions

minced

1

hard boiled egg

vegetables

such as sliced carrots, mushrooms

meat

such as leftover cooked chicken or pork
Instructions
Open the package of ramen noodles and place into a microwave safe bowl.

Add the flavor packet included if desired and discard the packaging.

Pour in water/broth to cover.

Add any optional additions as desired (except for green onions, which go in at the end).

Microwave the ramen noodles for 1 minute on full power, followed by 30 second intervals, until steaming hot. (Note: times may vary by microwave strength, so add extra time for tabletop microwaves, and reduce time for powerful microwaves.)

Using oven mitts to prevent burns, carefully remove the hot ramen from the microwave.

Garnish with optional green onions. Serve with a large spoon and chopsticks.
Notes
Ramen can be high in sodium. To manage the saltiness, use salt-free broth and do not add any extra salt.
To go further, omit the flavor packet and use your own seasonings: 1 teaspoon soy sauce, ½ teaspoon garlic powder, ½ teaspoon onion powder, ¼ teaspoon cayenne pepper, salt and pepper to taste.
Tried this recipe?
Follow or tag us on Pinterest @izzycooking