The most incredible Fried Cheesecake – Crispy on the outside and creamy on the inside! you can't resist this perfect individual dessert made with your favorite frozen or leftover cheesecake!
Deep fried cheesecake is one of my favorite treats at the state fair. Now you can make this delicious cheesecake bites at home from your leftover cheesecake with this simple recipe. Serve them at your next party and watch them disappear!
Watch video: How to make fried cheesecake
I usually don't like deep fried dessert but there are a few exceptions, like oreo, ice cream, cookie dough or these fried cheesecake bites have a perfect combination of crispy and creamy texture! You won't believe how easy they are to make!
These party-perfect treats feature your favorite cheesecake wrapped in a delicious puffy batter and dusted with powdered sugar, then drizzled with your favorite sauce!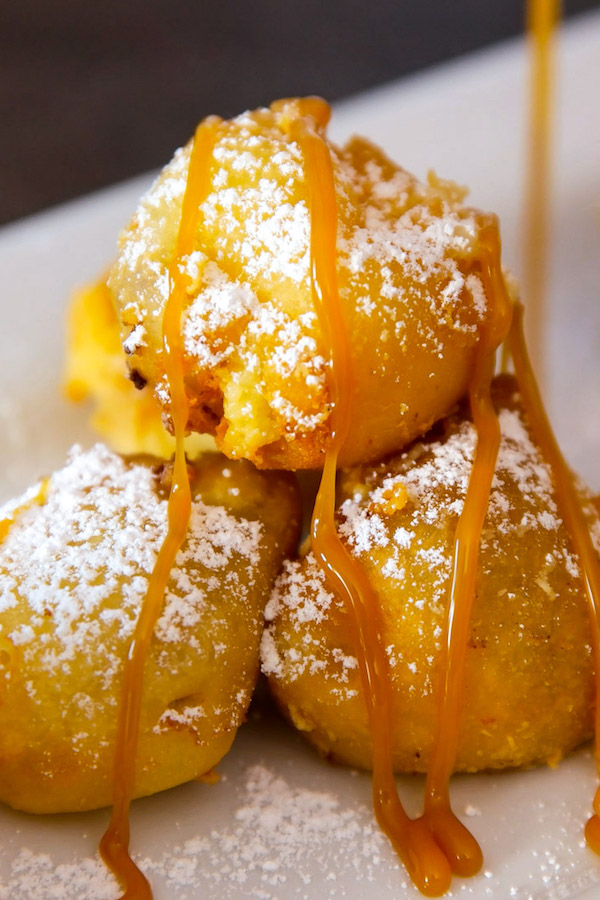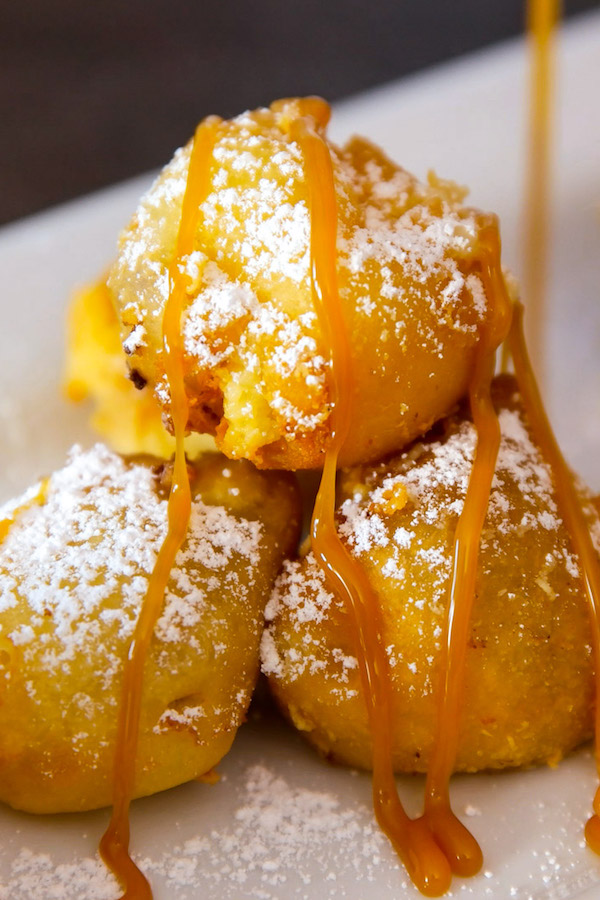 HOW TO MAKE FRIED CHEESECAKE
Deep Fried Cheesecake only requires a few simple ingredients: flour, baking powder, salt, sugar, milk and oil. Scroll down for recipe video!
First, freeze your leftover cheesecake for 1 hour, and then cut it into 1-2 inch cubes. (Don't worry, and it will turn into ball shapes after being covered with batter and deep fried!)
You can use pancake batter or make your own homemade deep fried cheesecake batter.
Then heat up a quart of oil in a saucepan to 375°F (this can take 10 minutes or longer). A thermometer is recommended to make sure the oil stays at the right temperature. Then dip your cheesecake pieces into the batter and slowly drop it in the saucepan. Fry about 3 minutes for each piece. The square piece will magically turn into cheesecake balls in the oil. Repeat the process until all the pieces have been fried to perfect golden-brown.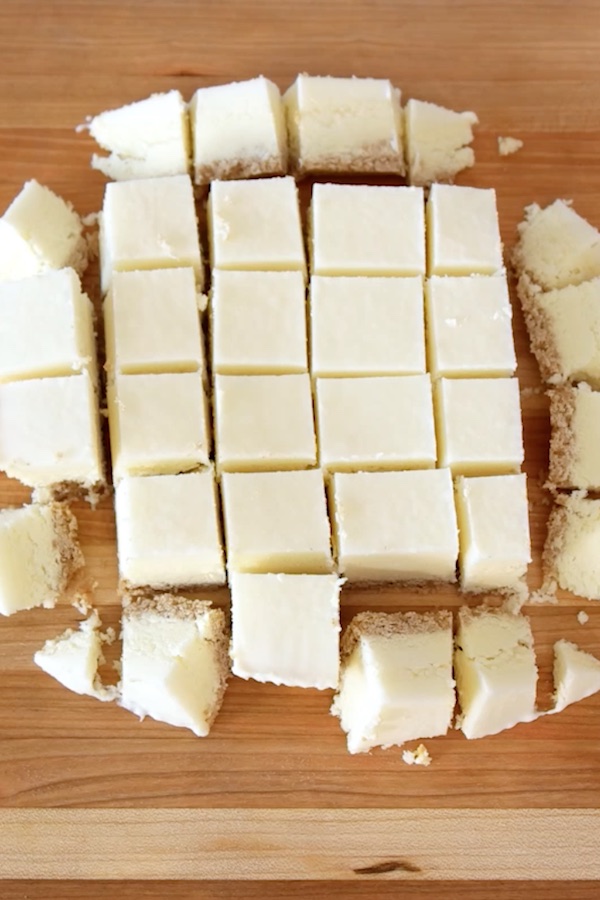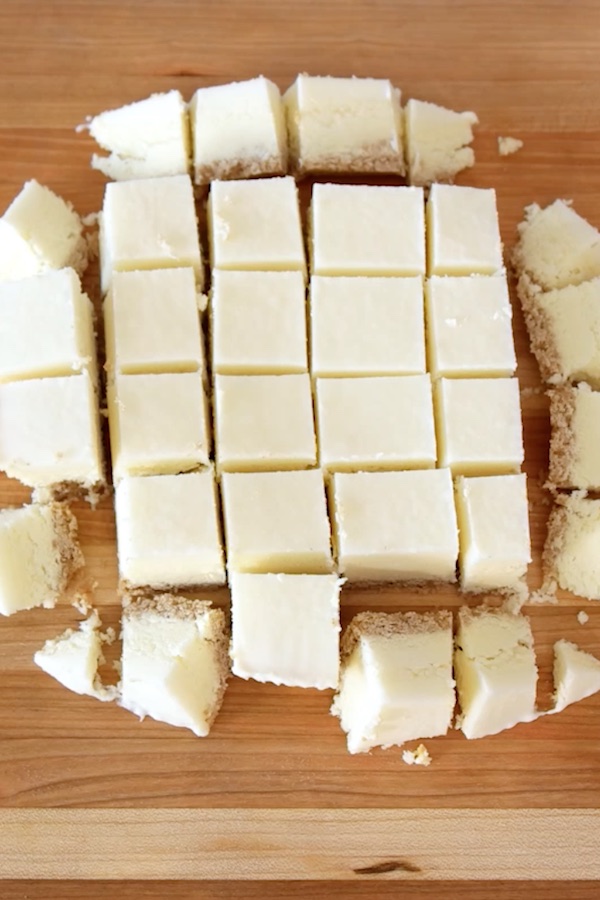 Use a slotted spoon to take them out and place on a plate with paper towel on top. Dust with powder sugar and drizzle with your favorite sauce.
The secret to making perfect Fried Cheesecake is the deep-frying technique. You have to get the temperature right and fry them for the right amount of time to achieve the perfect texture!
If you'd like a lighter crust for these delicious bites, you can use the combination of wheat flour and rice flour in the batter. This variation is called tempura cheesecake.
WHAT KIND OF SUACE GOES WITH FRIED CHEESCAKE?
Some of my favorite dipping sauce include strawberry sauce, caramel sauce and chocolate sauce. When combined with fried cheesecake balls, they taste out-of-this-world delicious!
CAN YOU REHEAT DEEP FRIED CHEESECAKE?
These fried cheesecake bites taste best when they are fresh. I don't recommend reheating them, as you will lose the crispy texture and it's easy to break them.
CAN YOU MAKE FRIED CHEESECAKE IN A PAN?
Deep fryer works best for this recipe, but if you don't have one you can make it in a deep pan. Add at least 2 inches of oil and follow the instructions to fry the until crispy and brown.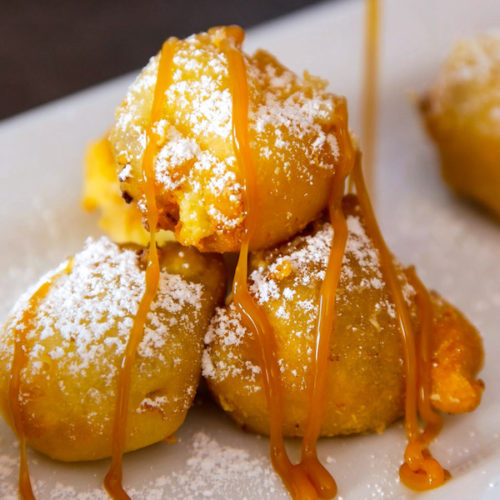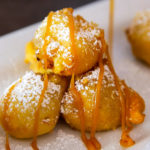 Perfect Fried Cheesecake
Fried Cheesecake – Crispy outside and creamy inside! you can't resist this delicious dessert made with your favorite frozen or leftover cheesecake.
Ingredients
15 

ounces

leftover cheesecake

1 1/4 

cups 

all-purpose flour

1 

tsp 

baking powder

1/4 

tsp 

salt

1/4 

cup 

granulated sugar

1 

cup 

milk

1 

quart 

vegetable oil
Instructions
In a medium-large bowl, add flour, baking powder, salt, and sugar, and mix well.

Add milk and 2 teaspoon oil, mix until smooth.

Place the frozen cheesecake on a cutting board. Cut into small squares.

In a medium saucepan, heat the oil to about 375 °F.

Dip a frozen cheesecake square into the batter until coated, shake off excess and drop into the hot oil. Fry for about 3 minutes or until the cheesecake is golden brown. Remove to a paper-towel-lined plate using a slotted spoon.

Repeat and finish all the pieces. Dust with optional sugar and drizzle with optional sauces. Serve and enjoy!
Recipe Video
MORE CHEESECAKE BITES RECIPES