These Sous Vide Cheesecakes are creamy and smooth, with a graham cracker crust at the bottom and topped with fresh, colorful berries for a classic treat! It's an easy make-ahead dessert recipe. Sous vide technique allows you to cook the cheesecake to the precise temperature you set, guaranteeing a perfect crack-proof texture every time!
When I cook for a dinner party at home, cheesecake is a must-have for dessert. I often serve Oreo Cheesecake Bites, Deep Fried Cheesecake, or these rich and creamy mini sous vide cheesecakes for a holiday party.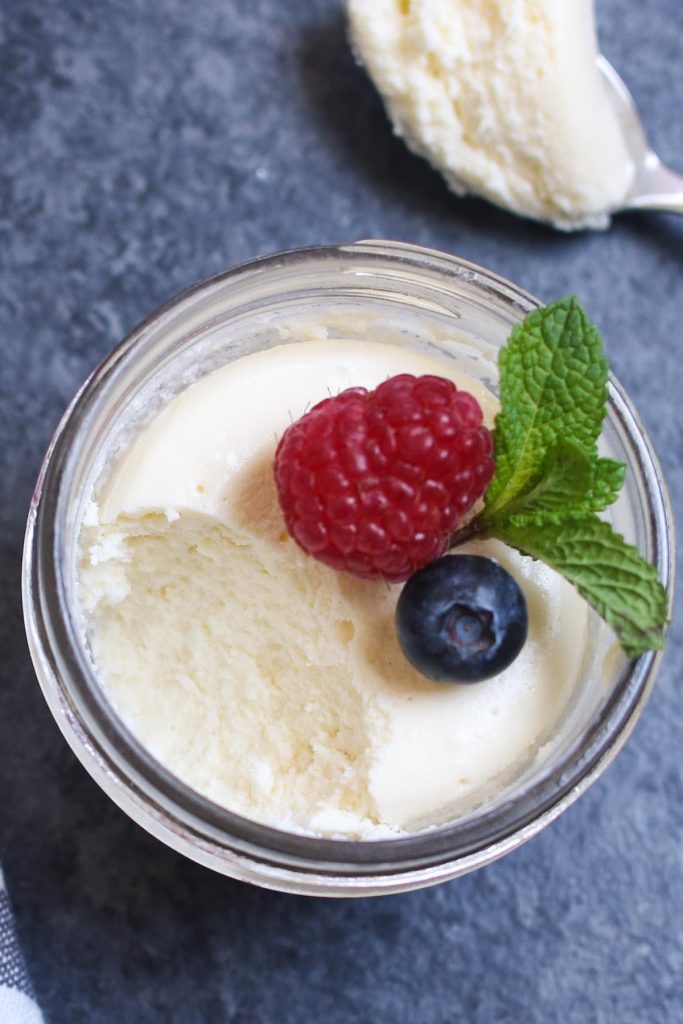 Sous vide cheesecake in a jar
The classic baked cheesecake can be intimidating for home cooks since oven temperature varies by model, and slightly overcooking can cause cracked tops. Plus it's quite stressful to know when your cheesecake is done and needs to be removed from the oven. 
Say hi to sous vide cooking! It's the BEST way to cook cheesecake, as it allows you to control the temperature precisely, producing the consistent silky smooth and crack-less cheesecake EVERY TIME!
Like Sous Vide Crème Brûlée, these foolproof sous vide cheesecakes are made and served in mason jars, making them a crowd-pleaser dessert for a picnic or fun dessert for kids!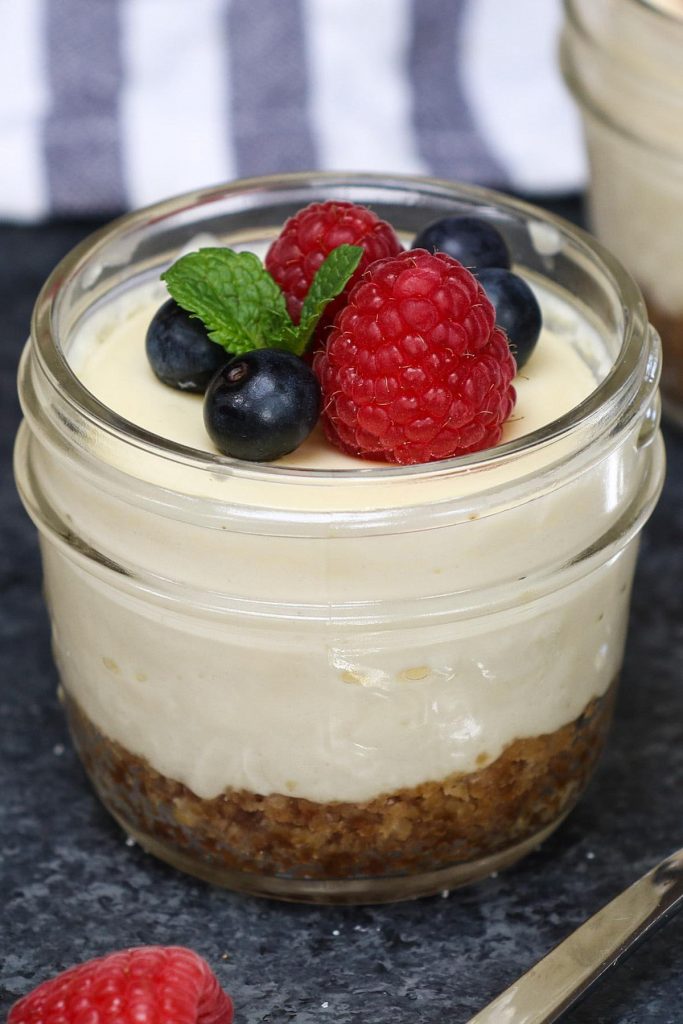 What is sous vide?
Sous vide is a French cooking technique and it means cooking "under vacuum". The food is first vacuum-sealed in a bag (or canning jar), then cooked for a long time to a very precise temperature in a warm water bath. This technique is known for being a precise and consistent way to evenly cook the food.
How to make sous vide cheesecake
Start with the crust: I used the classic graham cracker crust by crushing graham crackers into crumbs. Combine it with melted butter for a sweet and buttery crust.
Make the batter: The filling is made of a few simple ingredients: cream cheese, sugar, eggs, vanilla extract, and sour cream. Beat cream cheese and sugar first, and then add eggs gradually. Finally, add in sour cream, and mix gently until combined. The sour cream softens up the texture as well as adding a slightly tangy flavor. You can substitute plain Greek yogurt.
Sous vide cook cheesecake: Assemble the crust and cheesecake filling in mini mason jars, and cover with lids. Sous vide cook them at 185˚F (85˚C) for 1.5 hours.
Chill the cheesecake: store in the fridge for 4 hours and serve with fruits.
Watch video: how to cook sous vide cheesecake:
Tips for making the best sous vide cheesecake
Use room temperature cream cheese
It's very important to bring your cream cheese to the room temperate so that it doesn't get lumpy in the batter. Room temperature eggs and sour cream also help to ensure the smooth texture. If you forget to take the cream cheese out in advance, just place it on a microwave-safe plate and microwave 20 seconds at a time until softened (about 1-2 minutes in total).
The best ratio
It took a little bit of testing to figure out the best ratio, but I love the combination below:
16 oz cream cheese + 1/2 cup sugar + 1/2 cup sour cream + 2 eggs
This ratio produces the best cheesecake filling close to the traditional cheesecake texture. It tastes smooth and creamy, and looks pale with the edges that are barely puffed.
Close the lid "fingertip tight"
As the jars are cooked in the water bath, it's important to seal it properly. Twist the mason jar lids very gently until "fingertip tight", which means the lid is barely closed and can be easily open with your fingertips. This tightness prevents water from getting into the jar while allows air bubbles to escape. If it's too tight, the jars can crack when the trapped air presses against the glass once heated.
Cool at room temperature before moving to the fridge
Let the cheesecake come to room temperature before chilling. For the best results, open the lid of the mason jar, and pat dry any moisture from the lid. It may take 30-60 minutes to cool down completely. Put the lid back on before moving them to the fridge.
The texture is much smoother after chilling for about 4 hours in the fridge. See the photos below to see the texture before and after chilling:
Texture: Before Chilling

Texture: After Chilling
How long does sous vide cheesecake last?
Sous vide cheesecakes are a great make-ahead dessert. They should be stored chilled in the refrigerator and can last up to 5 days.
Can you freeze sous vide cheesecakes?
Yes, sous vide cheesecakes freeze well in the freezer. Make sure to let them cool down completely before storing them in the freezer. Don't top with fruits as the juices can leak from the fruits, making the cheesecake soggy. They will last up to 2-3 months. Let them thaw in the fridge overnight before serving.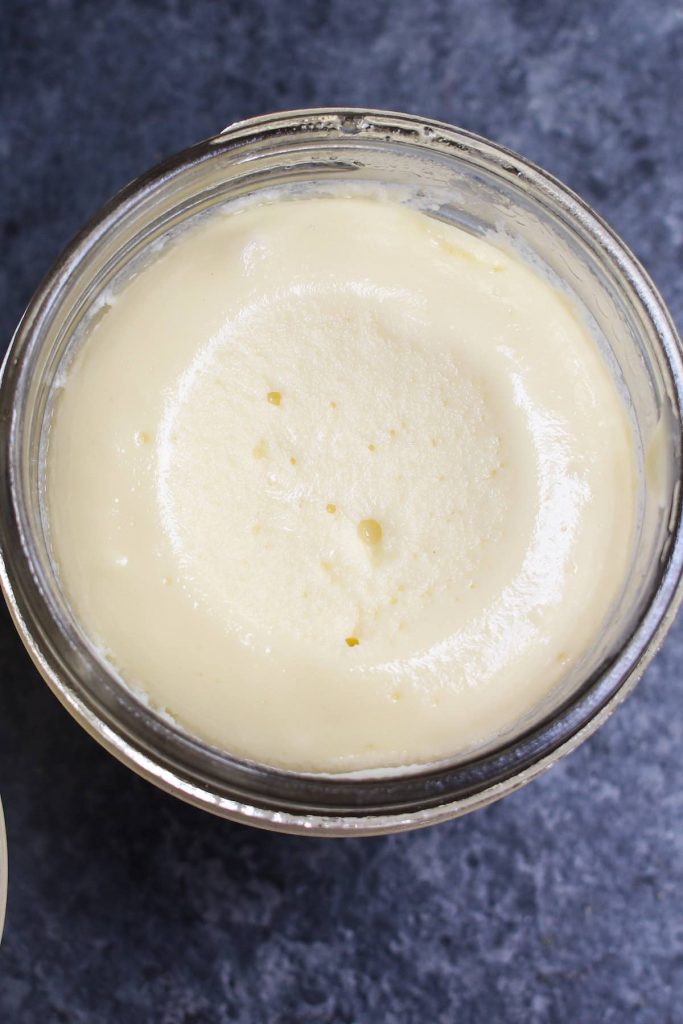 Variations
Crust: You can swap out graham crackers for vanilla wafer cookies or Oreo cookies for different flavors of crust.
Filling: Other popular fillings include strawberries, Oreos, lemon and pumpkin flavor.
Topping: Feel free to add whipped cream, other fruits, or even S'mores for some fun twists.
Other Cheesecake Recipes You'll Love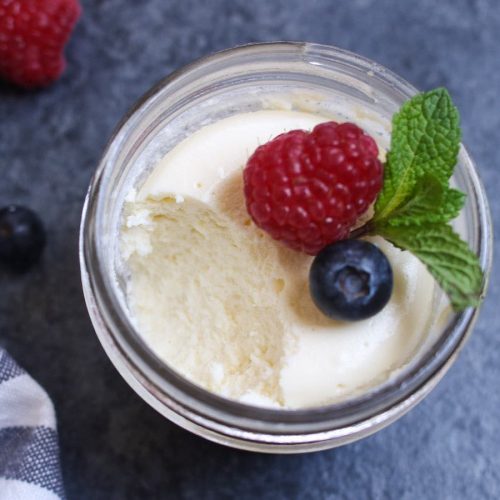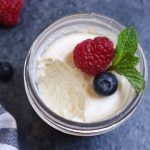 Crack Proof Sous Vide Cheesecake
Sous Vide Cheesecakes are creamy and smooth, with a graham cracker crust at the bottom and topped with fresh, colorful berries for a classic treat! It's an easy make-ahead recipe. Sous vide technique allows you to cook the cheesecake to the precise temperature you set, guaranteeing a perfect texture every time!
Cook Time
1
hour
30
minutes
Total Time
1
hour
40
minutes
Servings
9
4-oz mason jars
Ingredients
Filling:
16

ounces

cream cheese

softened

1/2

cup

granulated sugar

1/2

teaspoon

vanilla extract

2

eggs

1/2

cup

sour cream

or plain Greek yogurt
Crust:
1

cup

graham cracker crumbs

about 15 graham crackers

3

tablespoons

unsalted butter

melted
Instructions
Preheat Sous Vide Machine: Fill a large container or pot with water, and set the sous vide precision cooker to 185ºF/85ºC. Set side nine 4-oz mason jars (make sure the mason jars and the lids are dry).

Make the Crust: Combine graham cracker crumbs and melted butter. It should have the consistency of wet sand. Add the mixture to the mason jars (about 1.5 to 2 tablespoons for each jar), and press firmly into the bottom of the jar with the handle end of a wooden spoon. Set aside.

Make the Batter: In a large bowl add cream cheese and sugar, beat until smooth and creamy. Start with low speed and gradually increase to medium. (don't over-beat or you'll trap too much air.)

Add eggs, one at a time, beat on low speed until each egg is just incorporated.

Add sous cream and vanilla extract to the mixture, and use a spatula to gently combine everything together.

Pour cheesecake batter into each mason jar, leaving about 1/2 inch from the top.

Place the lid on each mason jar, and twist it gently until "fingertip tight" (This means the lid is barely closed and can be easily open with your fingers.)

Sous Vide Cook the Cheesecake: Use a kitchen tong and slowly place the mason jars into the sous vide water bath. Cook for 1.5 hours.

Chill the Cheesecake: Remove the mason jars from the water bath and pat dry the surface of the lid with paper towels.

Open the lid and let them cool at room temperature for 30 minutes. In the mean time, dry the inside of the lid.

Once the jars are cool to the touch. Put back the lid and fasten it. Let the cheesecake chill in the fridge for about 4 hours or up to 5 days.

Decorate with fresh berries and mint and serve.
Recipe Video
Recipe Tools