This post may contain affiliate links.
Please read my disclosure policy.
My favorite way to cook Chinese cabbage! This easy stir fry has a balanced savory, tangy, and sweet flavor with a kick of heat. The cabbage is nicely caramelized with a tender but still crunchy texture. Ready in 10 minutes, serve as a side dish to fluffy rice, noodles, or soups!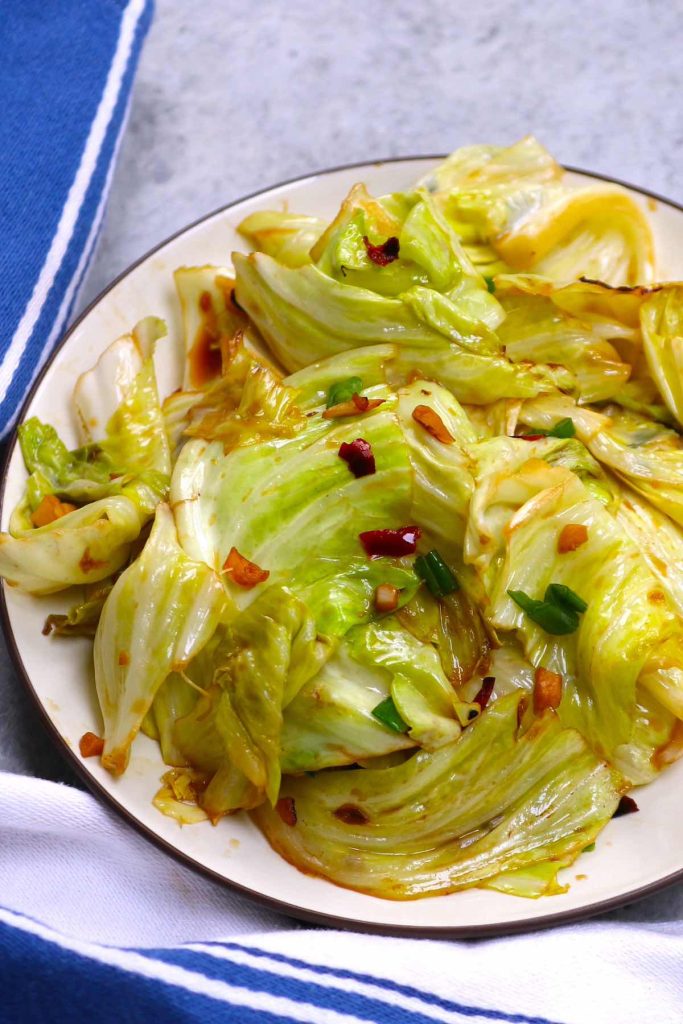 The Secret to this Stir Fry
The biggest challenge for this stir fry recipe is that you can easily burn the garlic. Burnt garlic is bitter and unpleasant. So make sure to get your cabbage ready and add it immediately as soon as the garlic starts to sizzle. For beginners, you can even add the garlic to a cold pan to avoid burning.
One special thing about this dish is the tender but crunchy texture. The trick is to cook it covered for about 2 minutes, and stir fry for another 2-3 minutes uncovered!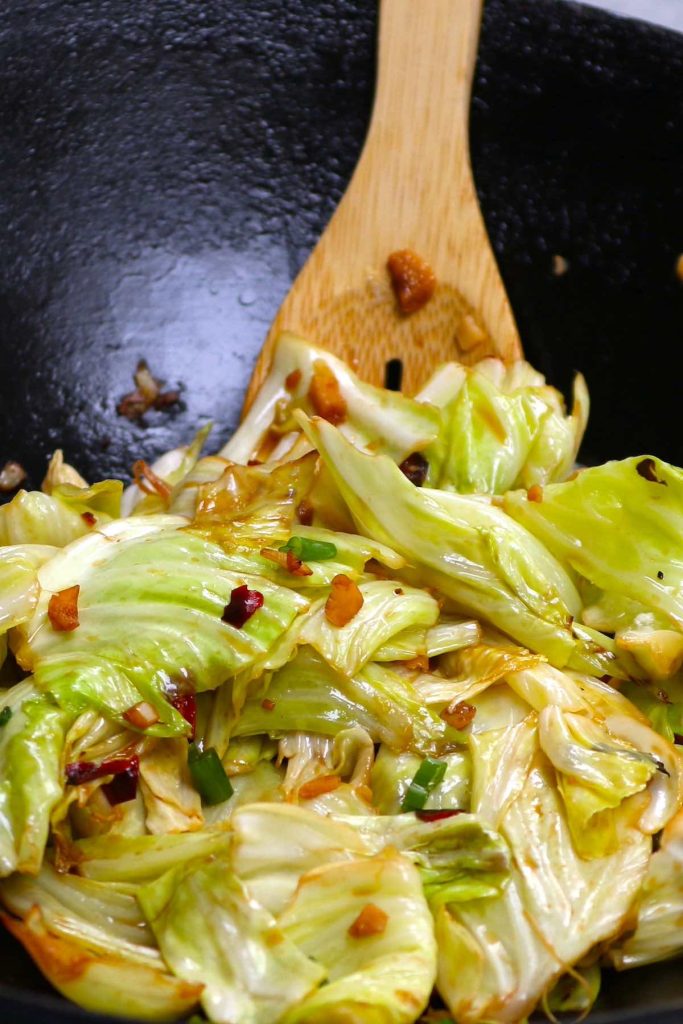 Different Types of Chinese Cabbage: Which One to Use?
There are many types of Chinese cabbage. Napa cabbage, green cabbage, or even bok choy can all be labeled as Chinese cabbage at your local grocery stores.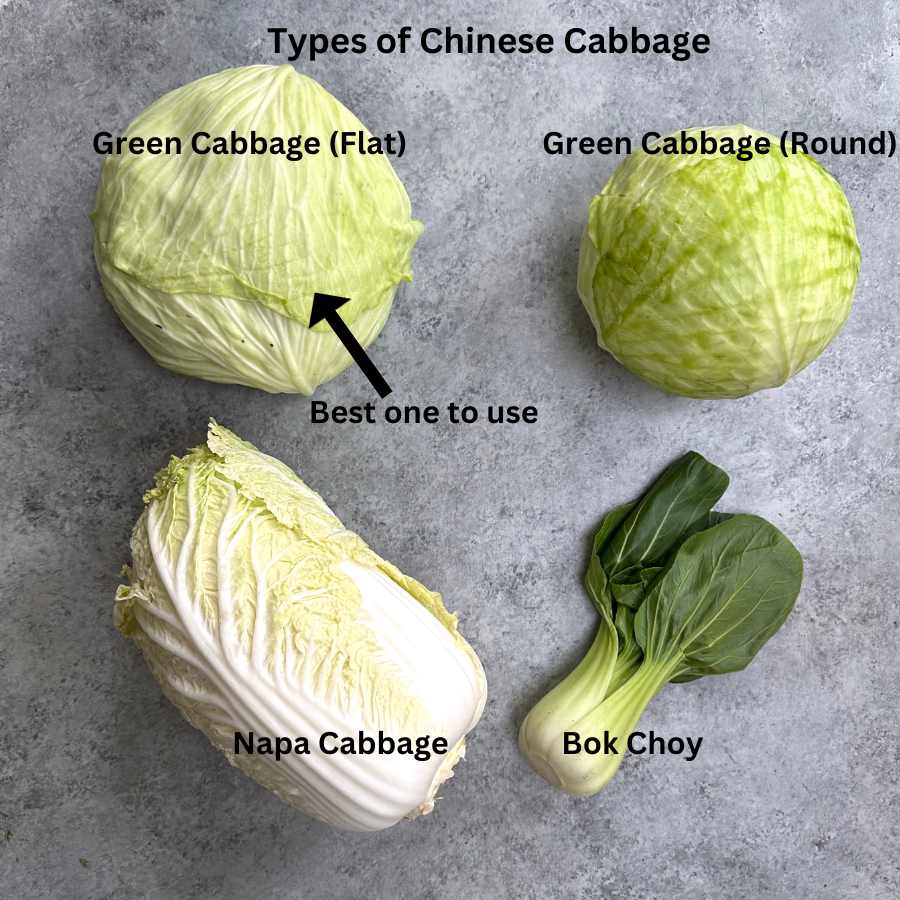 The cooking method in this recipe works great for all cabbage, but the traditional Chinese cabbage stir fry (also called Sou Si Bao Cai 手撕包菜, or Hand-Torn Cabbage) uses green cabbage. It could have a flat shape or a round shape. The flat-shaped green cabbage gives the best tender and crispy texture, but the round version will have a pretty tasty result as well!
The traditional recipe requires that you TEAR the leaves, as the uneven edges will create more flavor to the dish. Once you buy the right Chinese cabbage, here's how to tear it by hand:

First, wash the cabbage and cut it in half with a kitchen knife through the stem.
Cut out the tough core.
Separate the leaves and use your hands to gently tear the leaves apart (2-3 inches in size) along their natural lines.
Other Ingredients
Chinese cabbage stir fry has a nice balance of savory, sweet, spicy, and tangy flavors. This combination suits most vegetable dishes, and pairs so well with other Asian dishes.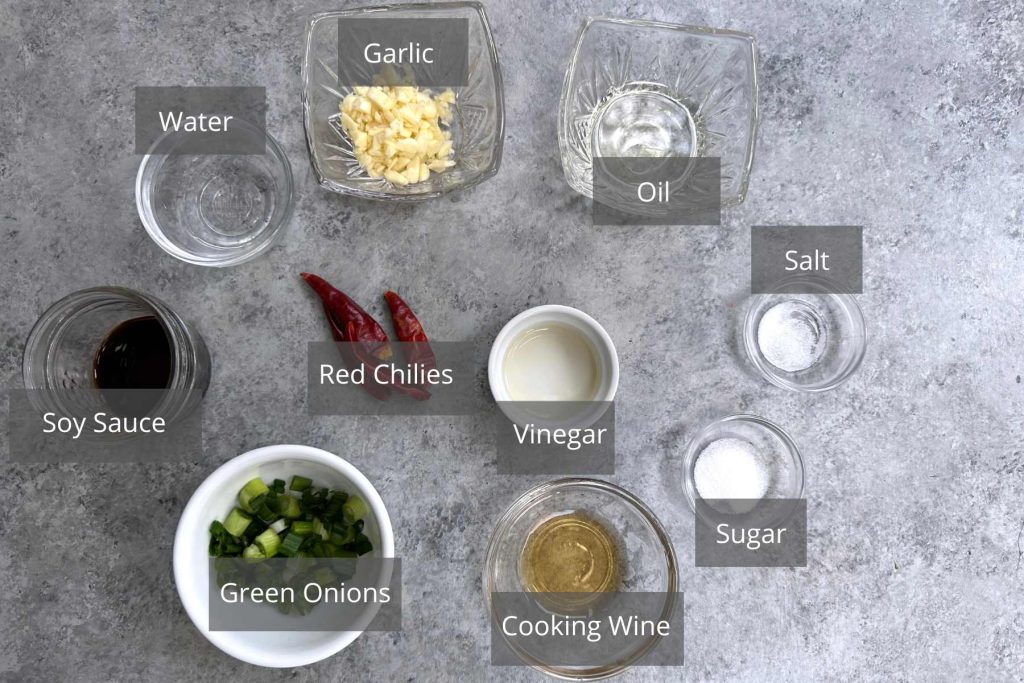 Vegetable oil: Use cooking oil with a high smoke point.
Garlic: It creates a nice aroma and adds a garlicky bite. This dish needs a lot of garlic!
Dried red chilies: For heat. Remove seeds and chop them to small pieces.
Cooking wine: I use "Shaoxing wine" in this recipe, but you can use any type of cooking wine.
Soy sauce: For a savory and umami flavor.
Sugar: Balance out the flavors with a touch of sweetness.
Vinegar: Give your cabbage a nice tangy flavor.
Green onion: For garnish.
Salt: Adjust the amount of salt so that you can easily tailor the flavor to your preference.
How to Make Chinese Cabbage Stir Fry
Chinese cabbage cooks so quickly, and you'll need to get all the ingredients ready before cooking. The cooking process itself only takes about 5 to 6 minutes! Once you have your cabbage torn by hand, and other ingredients prepared, here is how to make the stir fry: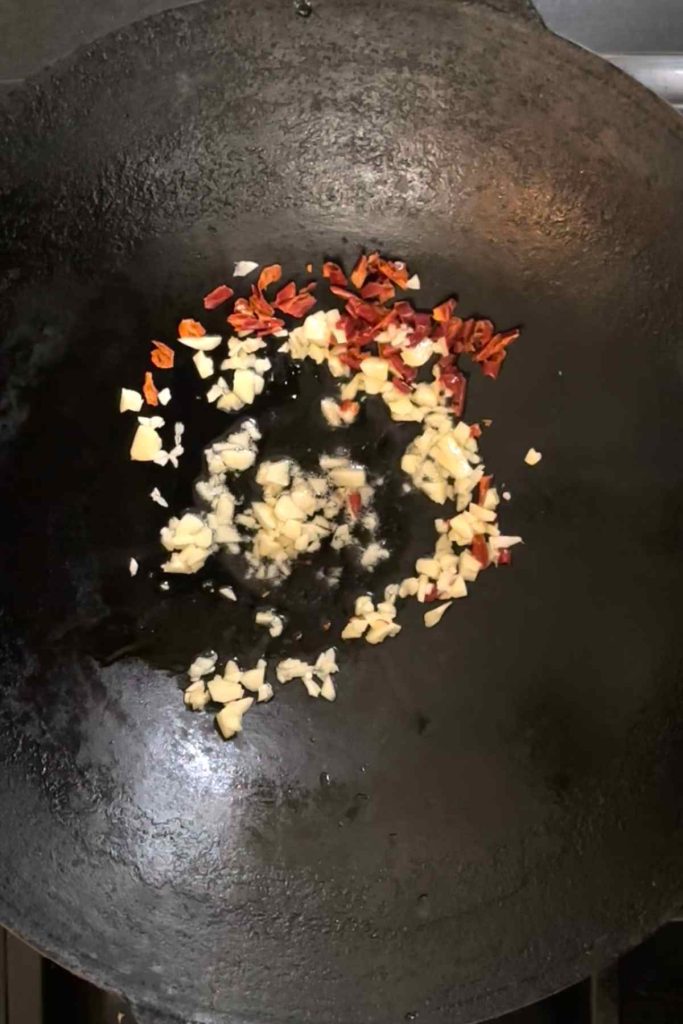 1️⃣ Heat the oil in a wok, add chili and garlic. Stir-fry for about 30 seconds. Do not let the garlic burn.
Tip: If you are a beginner, you can start the chili and garlic in a COLD pan to avoid burning.
2️⃣ Add the cabbage, and quickly mix with chili and garlic. Add cooking wine, soy sauce, sugar, and water. Saute to mix everything.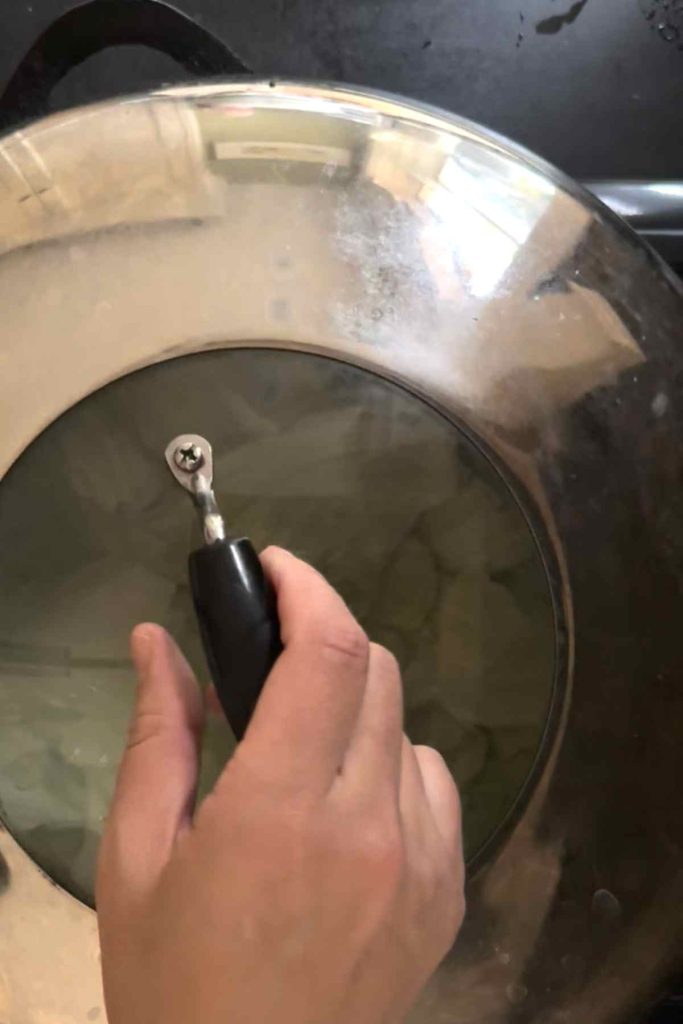 3️⃣ Cover the wok, and let the cabbage cook for about 2 minutes.
4️⃣ Uncover the wok and add vinegar and green onions. Adjust salt to taste. Stir fry the cabbage for an additional 2-3 minutes until your cabbage is tender but slightly crunchy and caramelized.
Tip: Covering and then uncovering the pan helps to cook a tender yet crunchy texture.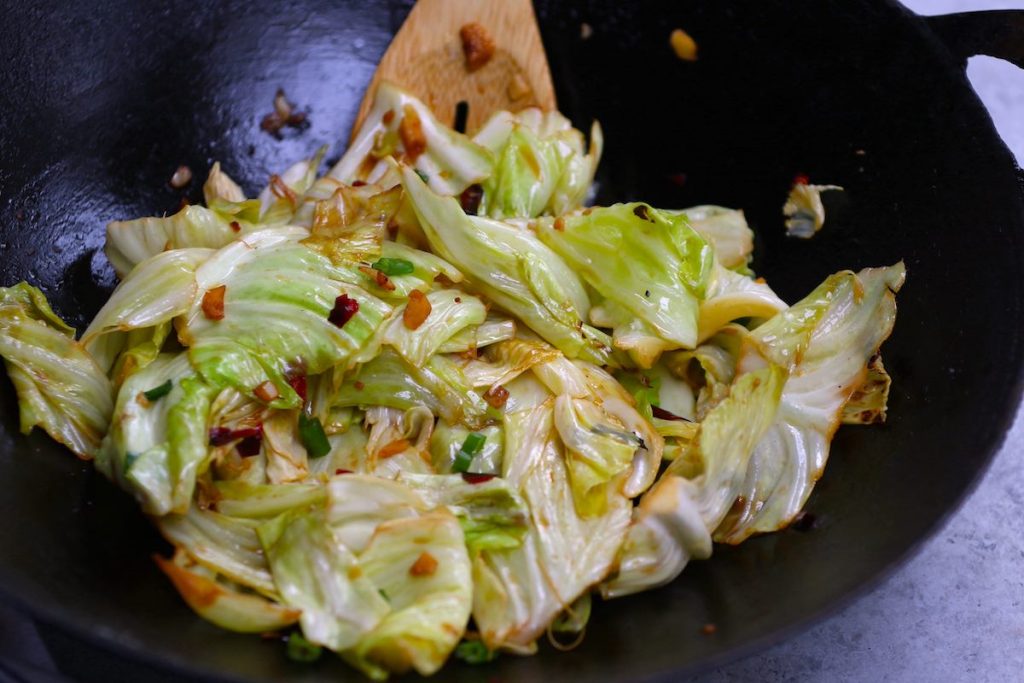 And that's it! Only a few minutes and now you can transfer it to a serving plate!
Serving Suggestions
This cabbage stir-fry is an incredibly flavorful side dish. You serve it with pork belly, beef, chicken, tofu, noodles, and a bowl of steamed rice!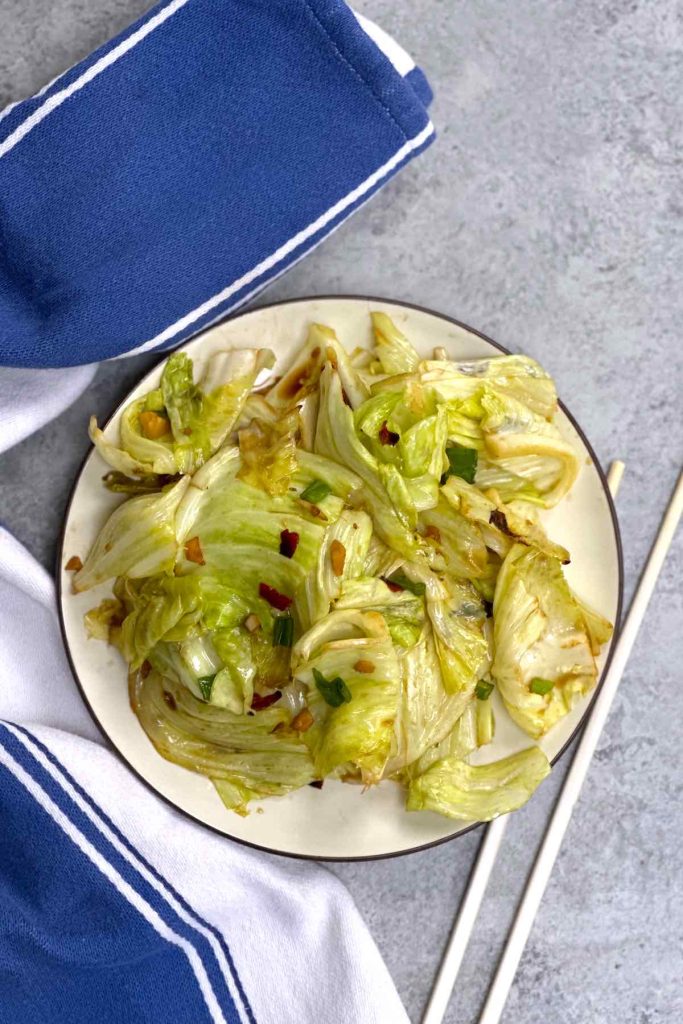 Other Ways to Cook Chinese Cabbage
You can cook it with noodles, or add it to salad, soups, and casseroles. It'll add a nice crunchy texture and freshness to your dish.
Chinese Cabbage Recipe Video (1-Minute Video)
For More Chinese Recipes, check out:
Easy Chinese Cabbage Stir Fry Recipe
This Chinese cabbage stir fry is a quick, easy, and flavorful side dish. Make sure to get all the ingredients ready before starting cooking. It only takes about 5 minutes to cook! Serve it with pork, chicken, and steamed rice.
Print
Pin
Rate
Ingredients
1

head

Chinese cabbage*

(about 1 pound)

2

tablespoons

vegetable oil

2

tablespoons

minced garlic

4-5

dried red chilies

seeds removed and chopped

2

teaspoons

cooking wine

1

tablespoon

soy sauce

or more if needed

1

teaspoon

sugar

1-2

tablespoons

water

1/2

teaspoon

vinegar

1

green onion

chopped

salt

to taste, I used 1/4 teaspoon
Instructions
Prepare the Cabbage
Cut the cabbage in half with a kitchen knife and remove the core.

Tear the leaves apart into 2-3 inch sizes by hand.
Stir Fry
Add the cabbage, and mix it with chili and garlic.

Increase the heat to high, and add cooking wine, soy sauce, sugar, and water. Stir fry and mix everything.

Cover the wok, and let the cabbage cook for about 2 minutes.

Uncover the wok and add vinegar, green onions, and salt to taste. Cook the cabbage for an additional 2-3 minutes. The cabbage should be wilted, but still slightly crunchy and caramelized. Serve hot and enjoy!
Notes
* The Chinese cabbage is often labeled as green cabbage at the grocery stores. Use this type for the best result. Alternatively, you can use napa cabbage, but it won't be crunchy.
If you are a beginner, you can add garlic and chili to a cold pan to avoid burning.
If you don't have a wok, you can cook the cabbage in two batches in your skillet. It cooks very quickly anyway.
Don't forget to cover your wok, as this process will cook your cabbage faster, producing a nice crunchy texture. Make sure not to overcook your cabbage as it can become mushy and limp. It will be cooked in only 5-6 minutes!
You can also add protein such as pork, chicken, or beef to this recipe. Simply cook them separately and add them back to the stir fry at the end.
To store, let it cool down to room temperature. Place it in an airtight container and it can last for about 4 days in the fridge.
Nutrition
Calories:
67
kcal
|
Carbohydrates:
12
g
|
Net Carbohydrates:
12
g
|
Protein:
5
g
|
Fat:
1
g
|
Saturated Fat:
0.01
g
|
Polyunsaturated Fat:
0.03
g
|
Sodium:
536
mg
|
Potassium:
313
mg
|
Fiber:
0.4
g
|
Sugar:
2
g
|
Vitamin A:
797
IU
|
Vitamin C:
13
mg
|
Calcium:
102
mg
|
Iron:
3
mg
Tried this recipe?
Follow or tag us on Pinterest @izzycooking