Ever wonder what's the best flour for pizza? There are many types of flour on the market, including gluten-free options such as almond flour and oat flour. How do you know which will make the best pizza dough? Here's your definitive guide.
Making homemade pizza from scratch is a fun and delicious experience everyone should have at least once. Once you've mastered the technique, you'll be rivaling your favorite pizzeria and you'll ditch the frozen stuff forever. What's the secret to the best homemade pizza? It's the dough.
Though the toppings are the most exciting part of a pizza, they're nothing without a good crust. When done incorrectly, homemade pizza can turn out tough, chewy or otherwise unappealing. With the right dough, you can create the pie of your dreams.
Which Flour is Best for Pizza Dough?
If you were to do a survey, you may find that most people use bread flour for pizza dough. Bread flour is easily found in any grocery store and creates a crust that's crispy on the outside, but textured and fluffy on the inside.
Let's say that survey was done with a group of professional chefs. They're more likely to vote for Italian Tipo "00" Flour, which is the finest grade of Italian flour. This is used in many restaurants and pizzerias and is, therefore, less available at your average grocery store.
What Kind of Pizza Flour to Use for Crispy and Chewy Pizza?
Bread flour produces a tasty crust that's similar to what you've come to expect from Pizza Hut or Dominoes. This flour produces a crispy, chewy crust that's the perfect foundation for all your favorite toppings.
Type of Pizza Flours
1. Bread Flour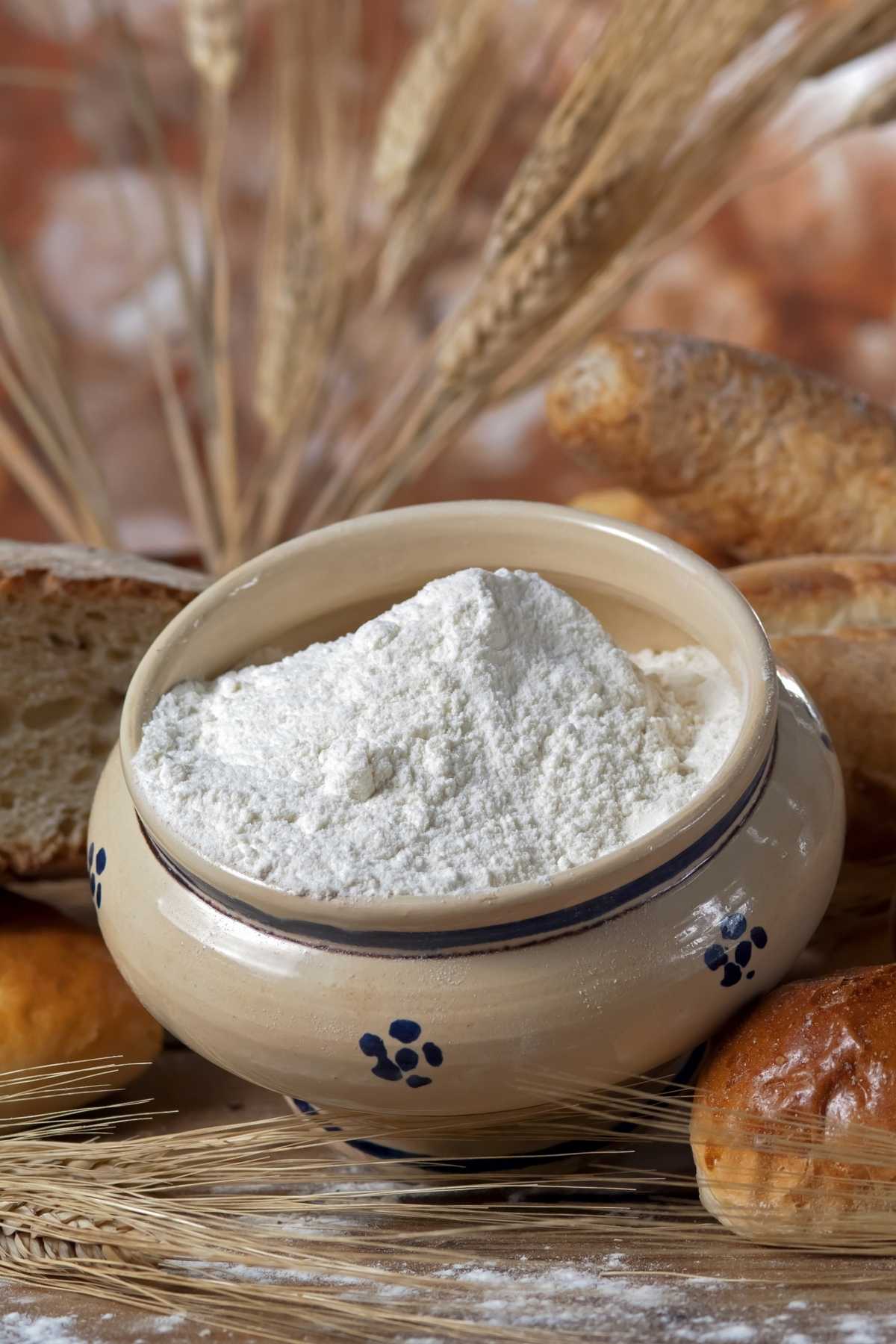 Bread flour has a higher protein and gluten content, which produces a light, stretchy dough. Pizza crust made with this kind of flour is crispy and chewy, with a light, airy texture. Pick up a bag of bread flour at your usual grocery store.
2. Italian Tipo '00' Flour
You could call this the crème de la crème of pizza flour. Italian Tipo '00' Flour is the finest grade of Italian flour and is the go-to choice for many restaurants, pizzerias and chefs. This flour is less likely to be in your regular supermarket but can be found online or at specialty grocers.
3. All-Purpose Flour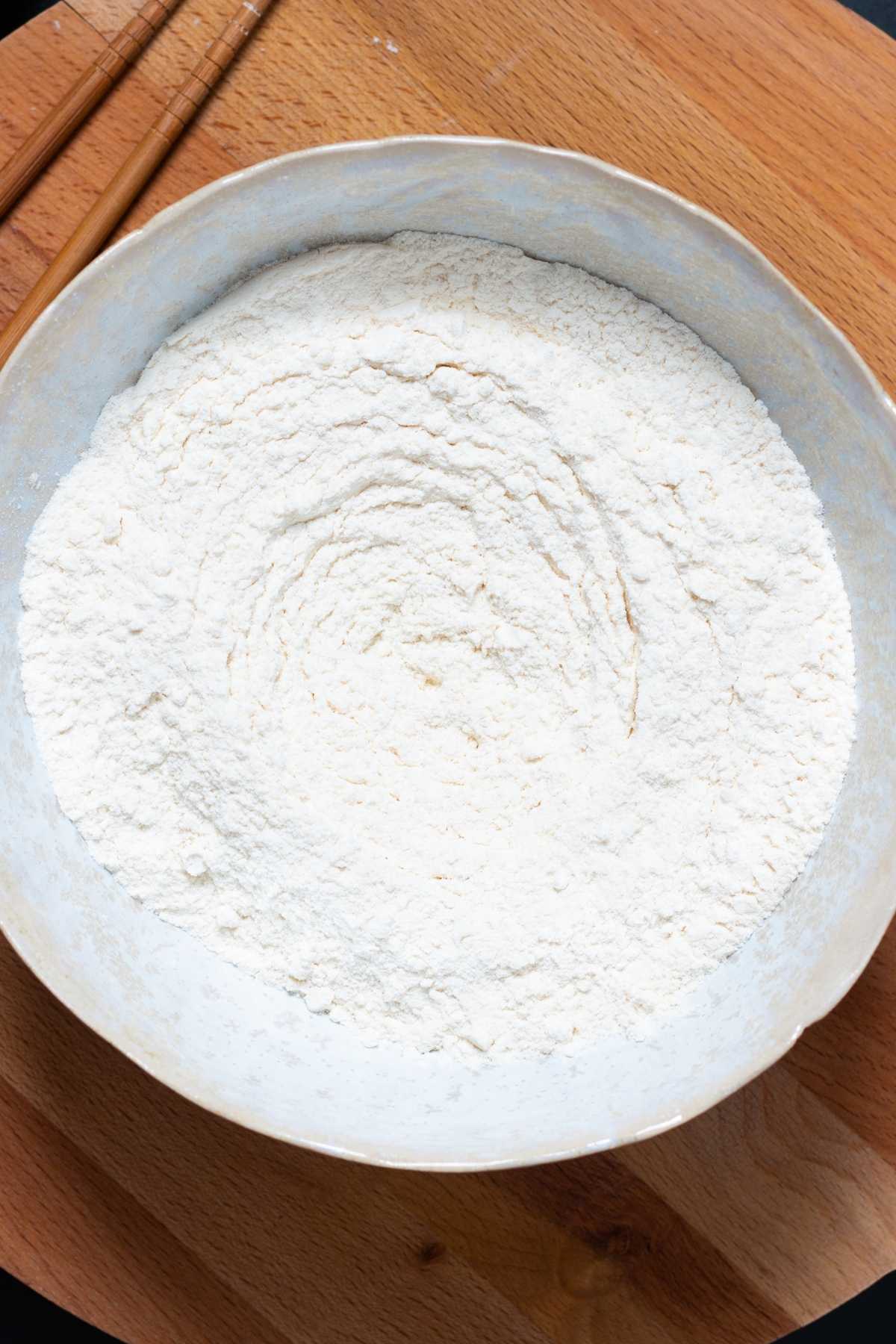 Tried-and-true all-purpose flour makes a surprisingly tasty pizza crust. This versatile flour makes a crispier crust but can be chewier than crust made with bread flour.
4. Almond Flour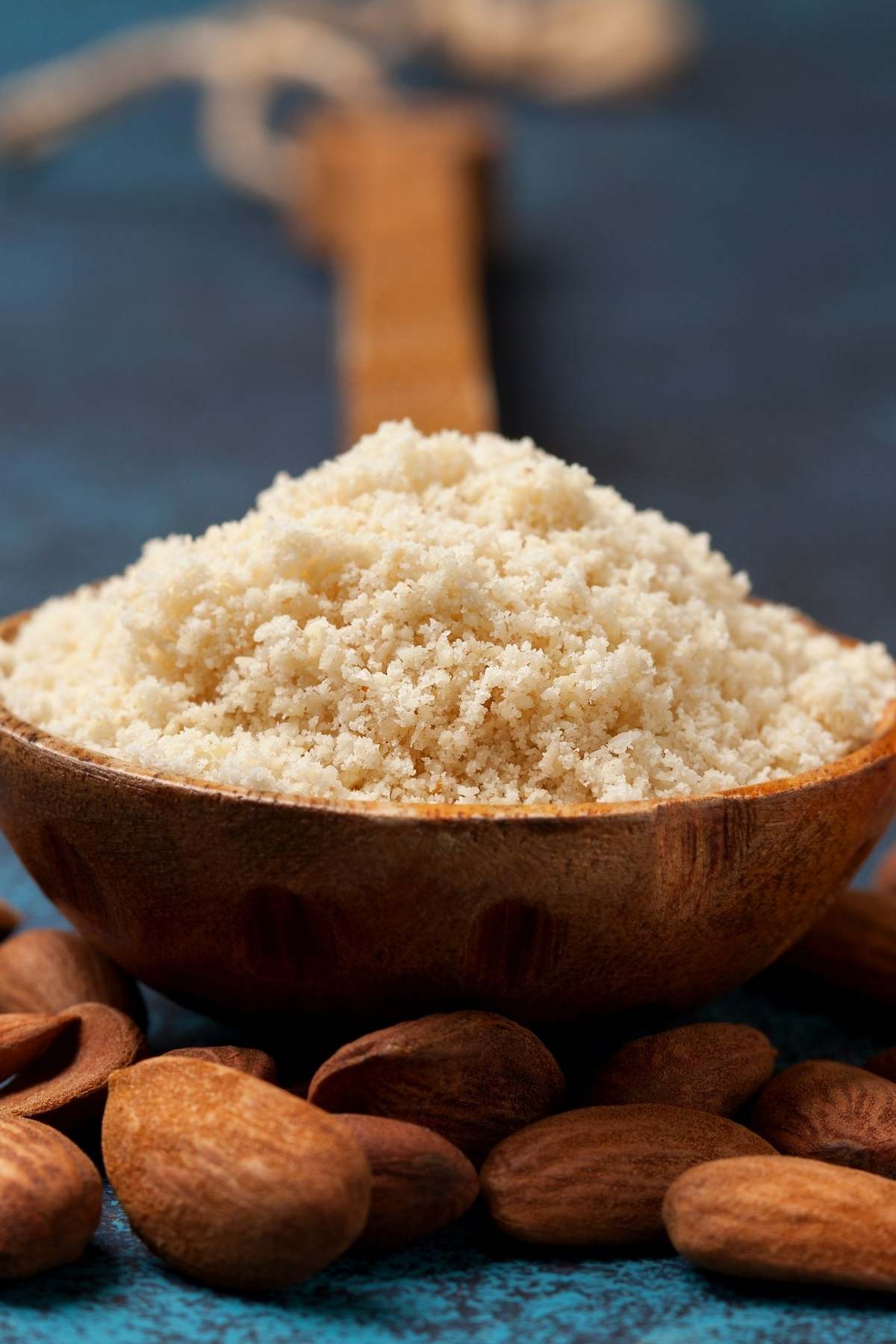 Almond flour is a great gluten-free option that yields a super-thin, crispy crust. These days, you can find almond flour in most grocery stores.
Ingredients for Pizza Dough
Yeast: Yeast causes your dough to rise and gives your pizza crust a light, airy texture. You can use Instant Yeast or Rapid Rise Yeast. This easy option can be found in the baking aisle.
Warm water, 105-110°F (40-43°C): You'll need warm (not hot) water to make your pizza dough. Use a thermometer to ensure it's not hotter than 110°F/43°C.
Sugar: You can use a bit of sugar in your dough if you prefer a slightly sweet crust. It's not essential, so go ahead and skip this ingredient if you're watching your sugar intake.
Flour: Have you decided on the best flour for your pizza? Whether you opt for bread flour, all-purpose, a gluten-free flour or authentic Italian flour, you'll create a delicious homemade pizza you can be proud of.
Salt: Salt always helps to improve the taste of baked goods. Without it, you'll have a bland, unappetizing crust.
Olive oil: Olive oil helps to prevent the dough from drying out as it bakes. Most pizza chefs incorporate extra-virgin olive oil into their recipes, but you can use vegetable or canola oil if that's what you have.
How to Make Pizza Dough at Home
Combine dry yeast, sugar and warm water. Let it sit for 10 minutes.
Mix together flour, salt and yeast mixture. Mix for a few minutes and add oil.
Beat and knead until the dough is soft and elastic.
Place the dough in a greased mixing bowl.
Cover and let it rise for 30 minutes or until doubled in size.
Stretch the dough by gently flattening the dough ball into a 12-inch circle.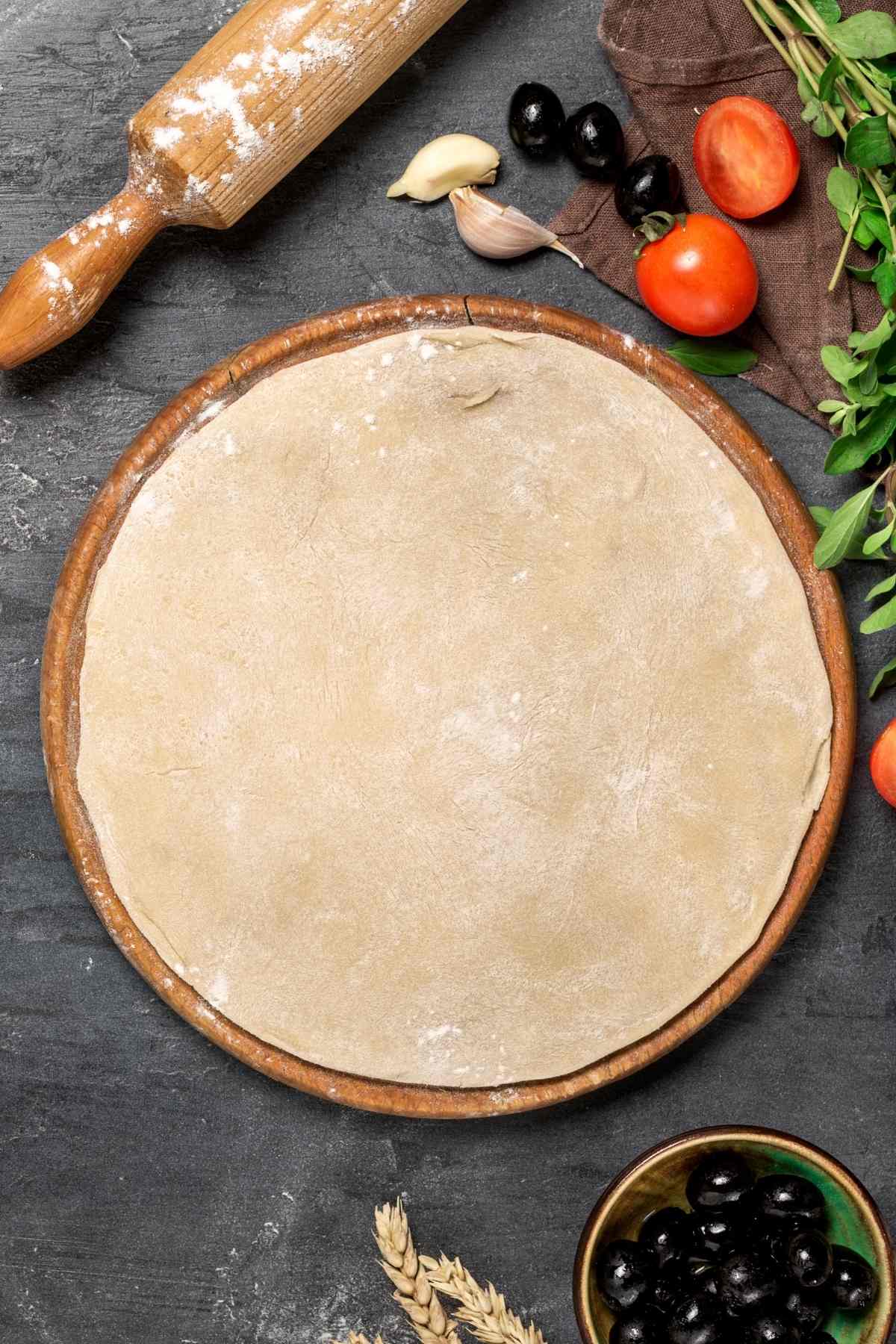 Top Tips for Making the Best Pizza Dough
Use warm water to active yeast: Make sure it's about 105-110°F degrees. Anything over 130 °F will kill the yeast.
Do not knead the dough after rising: The purpose of kneading is to develop gluten in the dough, so you need to knead before rising. But if you knead it again after its rise, you'll destroy many bubbles and your dough can become flat and dense.
The best way to stretch out the dough is to press it out gently with your fingers: This will help to preserve all the little bubbles that will make your pizza fluffy.
Use a fork to poke holes across the surface of the dough crust: This will avoid the dough from developing large bubbles when it bakes.
You May Also Like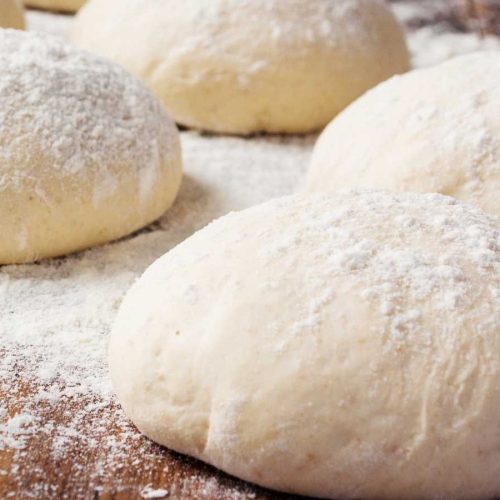 How to Use the Best Flour for Pizza Dough
Ever wonder what's the best flour for pizza? There are many types of flour on the market, including gluten-free options such as almond flour and oat flour. How do you know which will make the best pizza dough? Here's your definitive guide.
Print
Pin
Rate
Ingredients
1

packet active dry yeast

(2-1/4 teaspoons)

1

cup

warm water

105 to 110°F

1

teaspoon

sugar

2 ½

cups

all-purpose flour

½

teaspoon

salt

1

tablespoon

olive oil

plus extra for greasing
Instructions
In a small bowl combine yeast, sugar and lukewarm water. Let it sit for 10 minutes until a bubbly foam starts to form on the surface.

In a large bowl mix together flour and salt. Create a well in the middle.

Pour the yeast mixture into the well. Bring the flour in gradually from the sides with your hand and blend into the liquid.

When everything is slightly mixed, add oil.

Keep mixing and when everything starts to come together, knead your dough by hand for about 10 minutes until it's smooth and elastic (You will need about 8 minutes if you use a mixer).

In another large bowl, grease with olive oil. Place the dough into the bowl and rub the dough with oil.

Cover with plastic wrap and let it rise at room temperature for 30 minutes or until the dough has doubled in size. (After rising, you can wrap and store it in the fridge or freezer for later use, or if you use it immediately, continue to the next step)

Place the dough to a flour-dusted surface and stretch the dough by gently flattening it into a 12-inch circle.

Transfer it to a no-stick pizza pan or baking sheet lined with parchment paper.

Add your favorite toppings and bake at 450°F for 15-20 minutes until cheese is melted. Serve warm and enjoy!
Tried this recipe?
Follow or tag us on Pinterest @izzycooking