I've collected 12 of our all-time favorite and best Swordfish Recipes that are easy to make! From grilled swordfish to garlic pan-roasted swordfish to kid-friendly swordfish nuggets, there are plenty of options that will have you wanting to cook swordfish every week!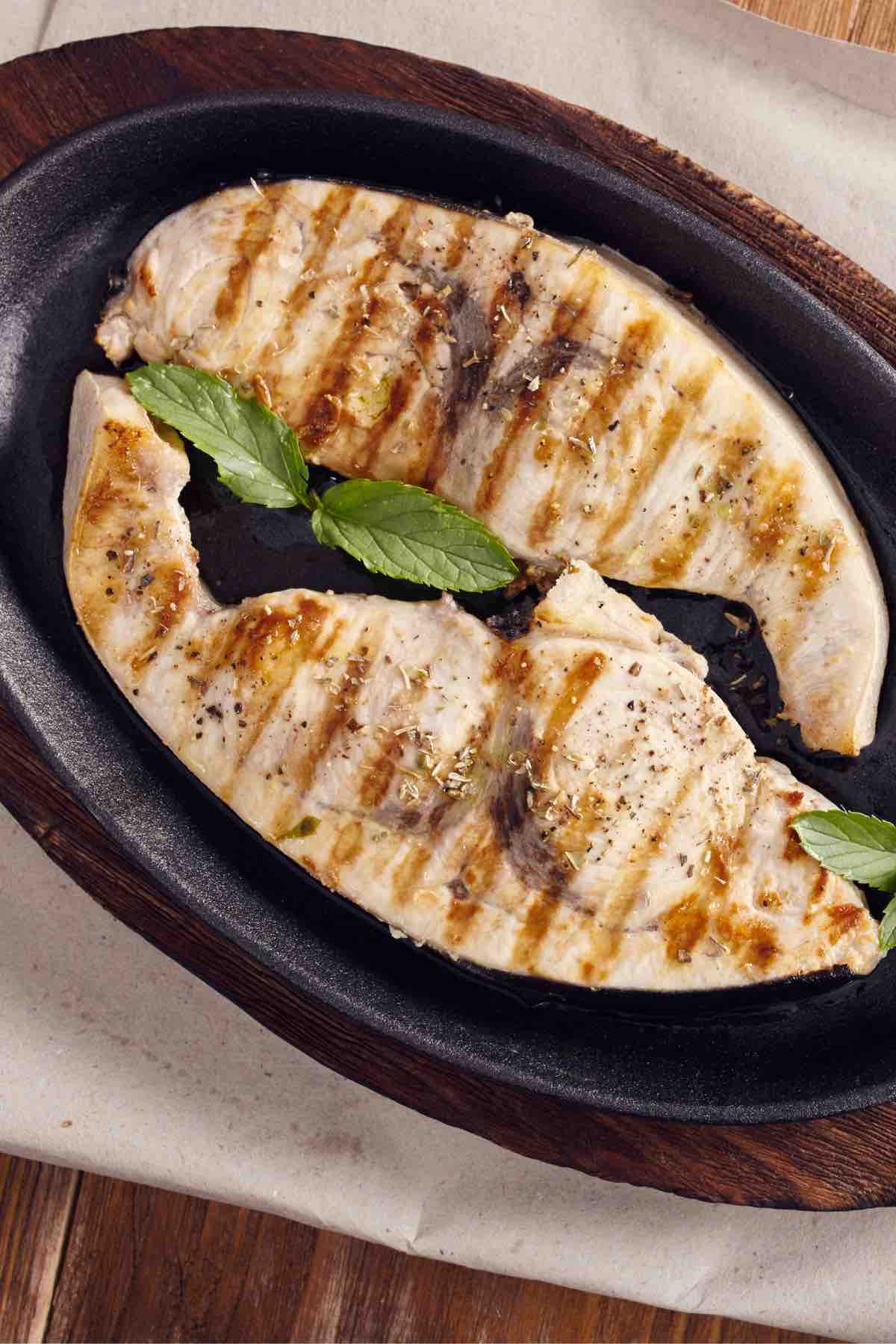 Swordfish is a healthy and delicious seafood that's quick and easy to cook, quick for a busy weeknight dinner. You can cook it on the stove, bake it in the oven, or grill it for a BBQ party.
So go ahead, try one, you definitely won't be disappointed! In fact, you may just be inspired to find a few more recipes to add to the list.
What's the Best Way to Cook Swordfish?
The best way to cook swordfish depends on how much time you have and what you are craving. You can pan-sear swordfish, which will take you about 10 minutes of your time, or grill on the BBQ for about 5-6 minutes on each side.
The secret really is in the marinade, not overpowering the fish but putting in just enough to give the swordfish a flavorful taste.
What Goes Well with Swordfish?
Due to its heavy texture and taste, you will want to choose something light to pair with your swordfish.
Some great options are salad (such as bean salad, Greek salad), couscous, green beans. If you really want to keep things light and fresh, try adding in a nice fruit salsa.
Should Swordfish Be Cooked Rare?
There are some meats and seafood that you can cook rare but swordfish is not one. You should cook this fish until it's opaque and flakey or, in other words, cooked to medium or medium-well.
Don't be too disappointed. Follow any of the recipes below, and you'll see just how good cooking swordfish can be!
Grilled Swordfish Recipes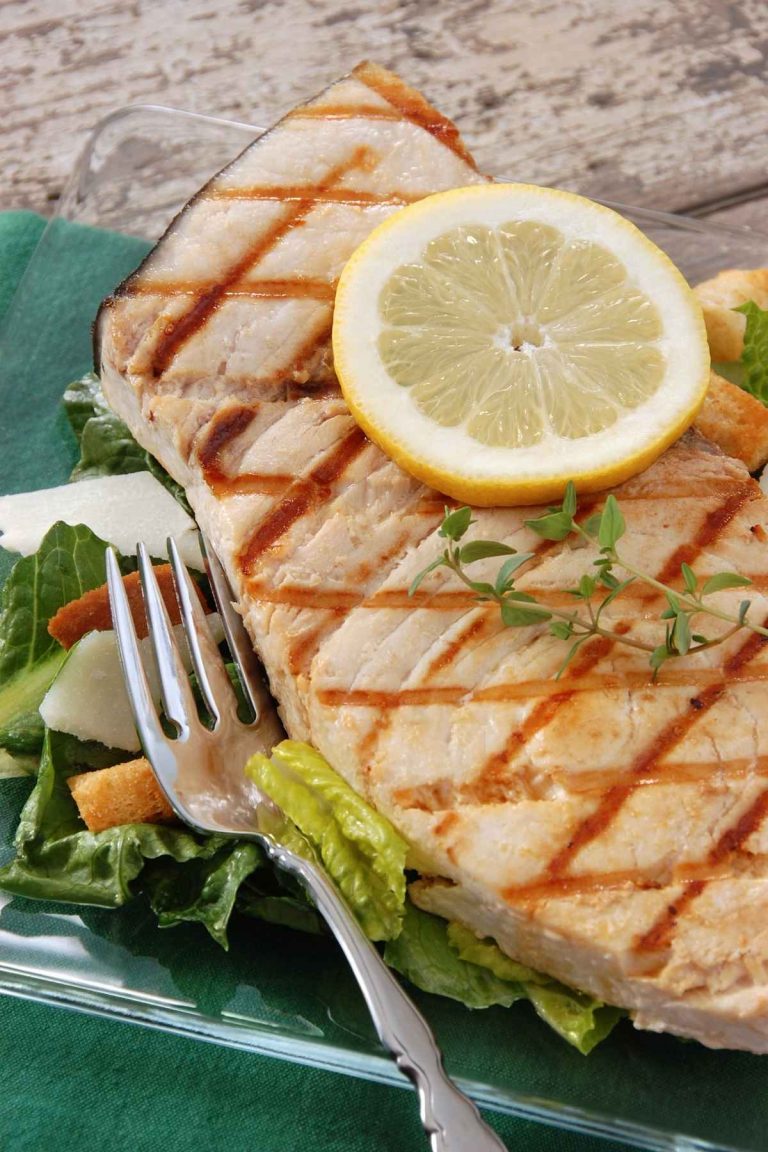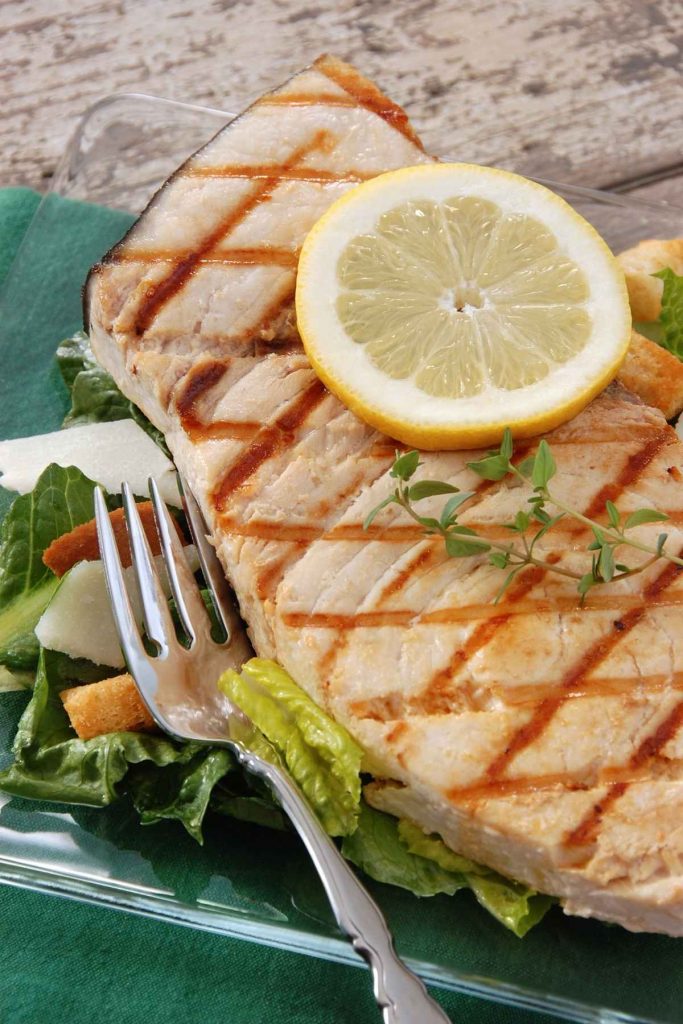 Looking for great lean fish that is easy to make? Well here's your answer – grilled swordfish.
It is a firm and meaty fish that requires very few ingredients to make it a mouthwatering dish. If you want, switch things up a bit with a little lemon or lime.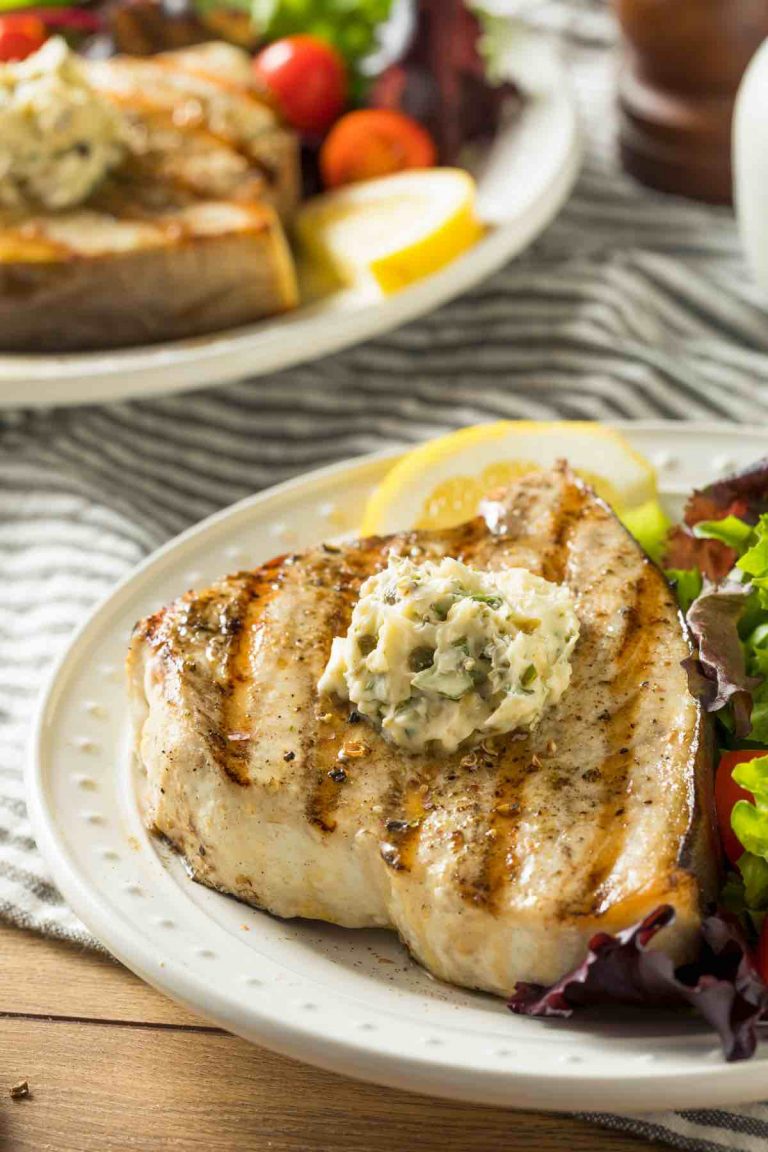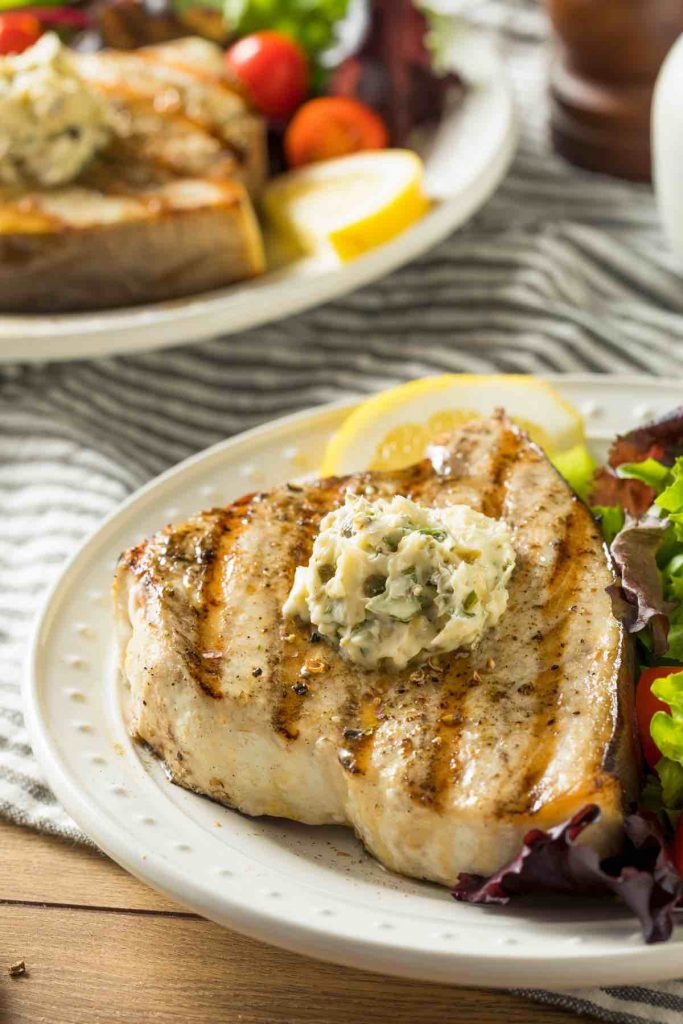 Marinated in an herby vinaigrette and then grilled, this swordfish with lemon oregano marinade is a must-try.
You can keep it extra simple by using an Italian dressing as your marinade or keep it fresh by mixing together some lemon, olive oil, garlic, oregano, and thyme.
This recipe calls for ingredients you may have on hand – olive oil, garlic, vinegar, herbs, salt, and pepper.
To finish it off, you can squirt a bit of lemon over it or step it up a notch and put a dollop of pesto on each piece.
Delectable and wonderful, this grilled swordfish with a blueberry balsamic glaze will have you going back for more.
The swordfish provides a sweet and tender taste, while the blueberry reduction complements that with a sweet and slightly tart taste.
Cooking Swordfish in the Oven
This baked swordfish comes out flakey, juicy, and tasty every time! Perfect for those busy weeknights, this recipe is simple and easy to make.
The secret here is in the 4-ingredient marinade, which is what makes this swordfish juicy. You'll definitely fall in love with this recipe!
Grab the salt, pepper, and garlic to season this swordfish, then stick them in the preheated broiler. Watch those swordfish steaks as they brown and caramelize quickly, don't bother removing the skin.
It'll come off easily after cooking, and if you choose to marinade in this recipe, don't overpower it with more than 2 ingredients.
Place the asparagus in the foil with tomatoes, then add marinated swordfish on top. You will have your whole meal prepared in just 20 minutes.
Flavorful and aromatic, this ginger garlic pan-roasted swordfish will have you feeling like you ordered straight from the restaurant.
Be careful not to overcook here because it can turn out to be quite disastrous. The secret is that you use compound butter composed of ginger and garlic with softened butter.
Stove Top Swordfish Recipes
The simple and delicious entree is perfect for those weeknight dinners! It's simply seasoning your swordfish with cayenne pepper, garlic, paprika, oregano, salt, and pepper, then cooking it until it is…yes…blackened on both sides.
Looking to spice it up a bit? Try a little cajun seasoning.
Simply add some spices to your swordfish, pan-sear for 1-2 minutes on both sides, then add to your taco shell.
You'll want to premix the avocado salad here and refrigerate it for at least 15 minutes so that all those delicious flavors can mingle together.
These swordfish steaks are low carb and keto-friendly and ready in just 10 minutes!!
All it takes is a bit of olive oil and salt and a few minutes of your time, and you will have swordfish that are golden and crisp on the outside, juicy and tender on the inside.
Last but not least, something for the kiddos, crispy swordfish nuggets!
They pair perfectly with salsa verde or a mayo-based dipping sauce.
You May Also Like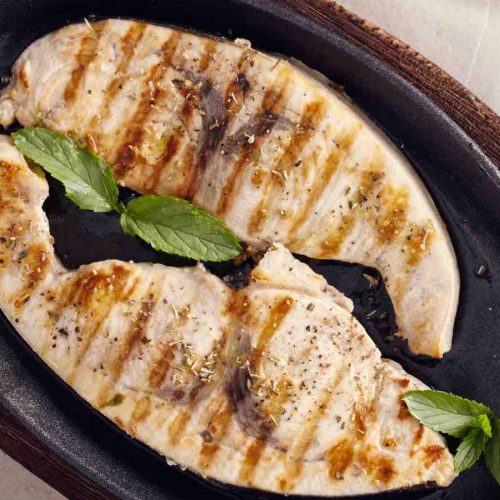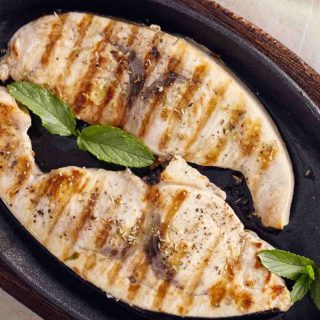 Best Swordfish Recipes (Easy Grilled Swordfish Recipe and More)
Grilled Swordfish is one of the best ways to cook swordfish. You can find more options above for more delicious swordfish recipes.
Print
Pin
Rate
Ingredients
4

swordfish steaks

(about 5 oz each)

1/4

cup

olive oil

1 1/2

tablespoons

honey

1 1/2

tablespoons

soy sauce

1

teaspoon

lemon zest

3/4

teaspoon

minced garlic

salt and pepper

to taste
Instructions
In a medium-sized bowl, add oil, honey, soy sauce, lemon zest, garlic, salt, and pepper. Mix well.

Add swordfish to the marinade. Cover with plastic wrap and marinate in the refrigerator for 30 minutes, or up to 8 hours.

Preheat the grill over medium-high heat.

Remove the fish from the marinade and shake off any excess. Place the swordfish steaks onto the grill and cook for 5-6 minutes on each side or until the fish is opaque throughout. Serve and enjoy!
Nutrition
Calories:
322
kcal
|
Carbohydrates:
7
g
|
Protein:
34
g
|
Fat:
17
g
|
Saturated Fat:
3
g
|
Trans Fat:
1
g
|
Cholesterol:
112
mg
|
Sodium:
515
mg
|
Potassium:
732
mg
|
Fiber:
1
g
|
Sugar:
7
g
|
Vitamin A:
204
IU
|
Vitamin C:
1
mg
|
Calcium:
12
mg
|
Iron:
1
mg
Tried this recipe?
Follow or tag us on Pinterest @izzycooking