This post may contain affiliate links.
Please read my disclosure policy.
It's a good idea to always keep a bag of frozen shrimp on hand, as they are incredibly versatile, quick, and easy to cook. I've rounded up my favorite Frozen Shrimp Recipes that are a delicious change from eating chicken for dinner every day.
Unlike frozen chicken, steak, or pork, frozen shrimp can be thawed quickly and they also cook in minutes. In addition, shrimp are a healthy, low-fat source of protein.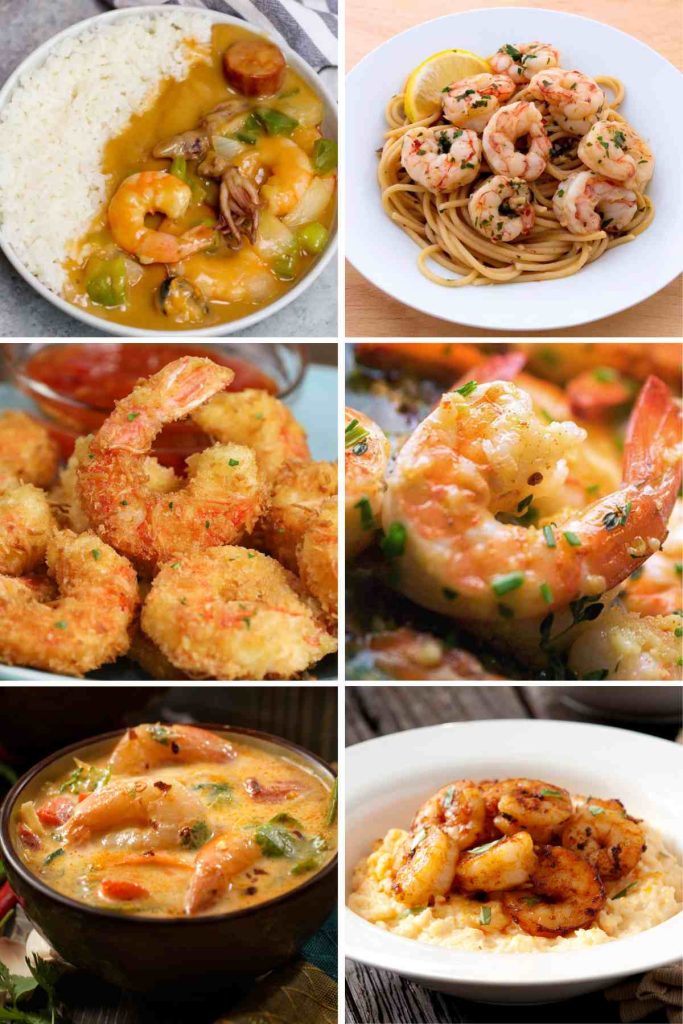 Advantages Of Using Frozen Shrimp
I'm not a fan of running to the grocery store every other day for a single fresh ingredient. Frozen shrimp is a lifesaver for me! Here's why you should consider making frozen shrimp a staple in your kitchen. 😉
Convenient at Your Fingertips: Unlike fresh shrimp or meat, frozen shrimp can last for an extended period in the freezer. This means you have a time-saving protein source on hand whenever you need it.
Incredibly Versatile: Whether you're whipping up a quick stir-fry, seafood salad, or pasta dish, you can rely on frozen shrimp to add protein to a well-balanced meal. I've used them in a wide range of dishes, from finger-licking appetizers to healthy sides to hearty main courses. 
Quick and Easy: Frozen shrimp cook much faster than chicken, pork, or beef, making it a secret weapon for a last-minute weeknight dinner. 
Cost-Effective: They are cheaper than fresh shrimp, especially when fresh shrimp are not in season. You can take advantage of sales and buy in bulk too!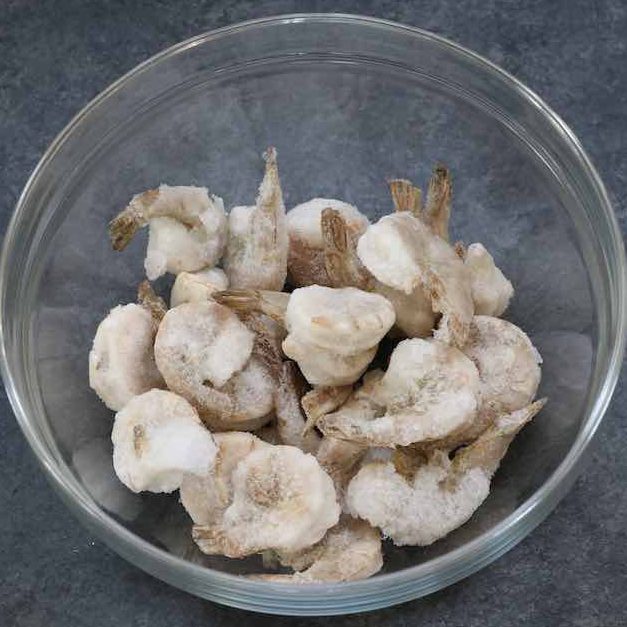 Frozen Shrimp Problems
There can be a few potential challenges when cooking with frozen shrimp. I'll show you some tips for addressing them.
1️⃣ Rubbery Texture And Change Of Flavor
The key to fixing it:
Check whether the recipe requires thawing. Don't use frozen shrimp directly if the recipe calls for fresh shrimp. Make sure to thaw them properly before cooking for these recipes.
Avoid overcooking by removing shrimp from heat once they turn pink and opaque. It takes only 2-3 minutes per side to cook shrimp.
2️⃣ Mushy or Soggy Shrimp
Excess moisture can lead to a mushy or soggy texture. The key to fixing it:
Pat the shrimp dry with paper towels before cooking.
Using a hot pan and avoiding overcrowding can also help.
With these tricks up your sleeve, you'll create restaurant-quality shrimp every time!
Frozen Shrimp Purchasing Tips
I recommend buying high-quality frozen shrimp from a reputable store. Check the packaging and make sure there are no ice crystals on the surface of your shrimp. It's the sign of freezer burn. This can also happen when shrimp are not stored or sealed properly. So seal your package tightly if you don't use up all the frozen shrimp in the bag.
Next, decide whether you want to cook shrimp with the tails on or off, and whether your recipe calls for raw shrimp or pre-cooked ones.
How To Thaw Frozen Shrimp
Refrigerator Method (The Easiest Way)
Simply take the frozen shrimp from the freezer and place them in your refrigerator. Let them thaw overnight. Do not refreeze them after thawing.
Place the frozen shrimp in a resealable plastic bag and seal it properly. Submerge them in a large bowl with cold water. Change the water every 30 minutes to keep it cold. It will take about 1 hour for the frozen shrimp to thaw.
Running Water Method (The Fastest Way)
The fastest way to thaw is to place them in a colander in the sink. Let cold tap water run through the shrimp. It takes about 15 to 20 minutes for the shrimp to be ready.
Remember to pat them dry with paper towels before cooking. Removing excess moisture ensures they get a good browning.
The Best Way To Cook Shrimp From Frozen Without Thawing: Air Fryer
If you'd prefer to cook your shrimp without defrosting, the easiest and fastest way is to cook your frozen shrimp in an air fryer!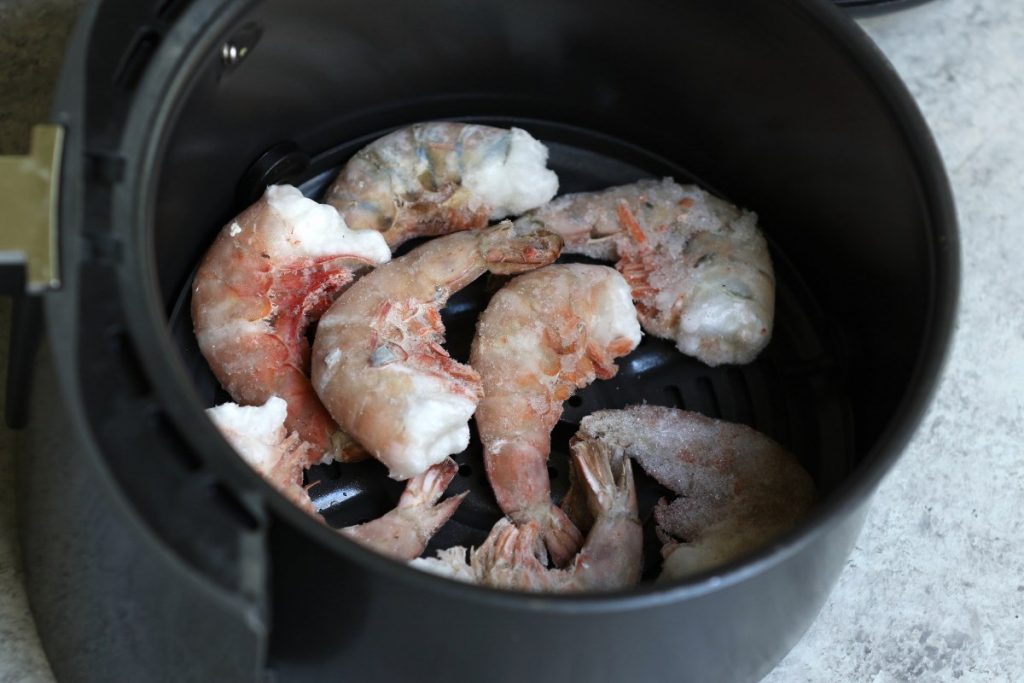 With this Air Fryer Frozen Shrimp recipe, you can have plump, succulent shrimp in less than 10 minutes. Best of all, you don't need to thaw your frozen shrimp before cooking! Use this recipe for breaded frozen shrimp.
The air fryer is an easy way to cook frozen popcorn shrimp and frozen tempura shrimp.
More Recipes For Cooking Shrimp From Frozen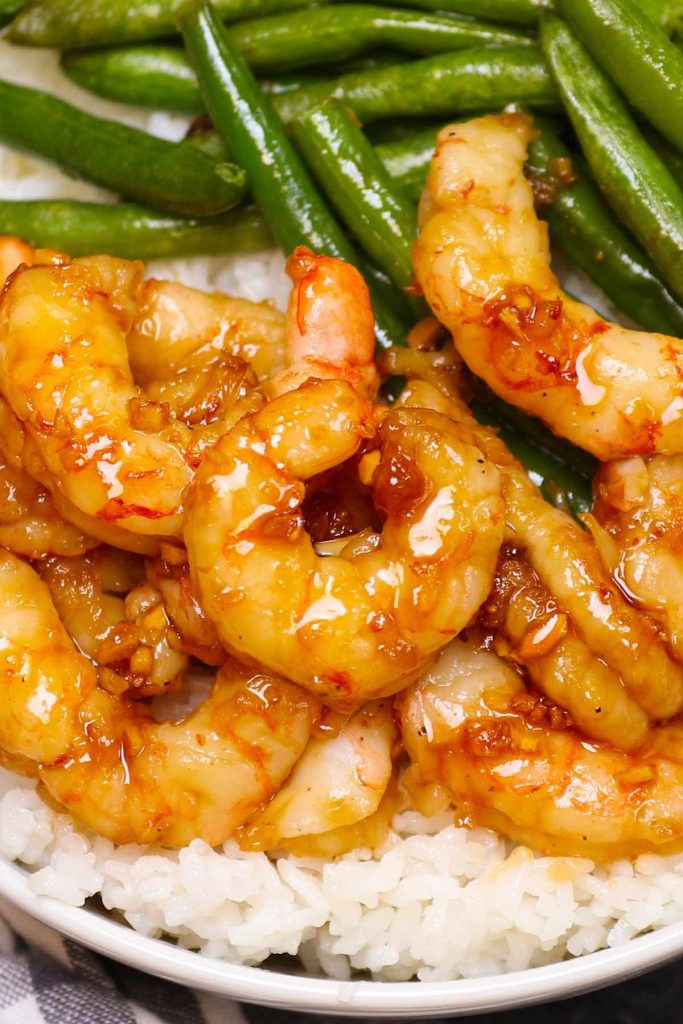 How Long to Boil Frozen Shrimp? Add the frozen shrimp to boiling water, and cover the pot. It takes 2-5 minutes to cook depending on size.
Check out this ultimate guide on how to cook frozen shrimp.
For Other Methods, It's Best To Thaw Frozen Shrimp Before Cooking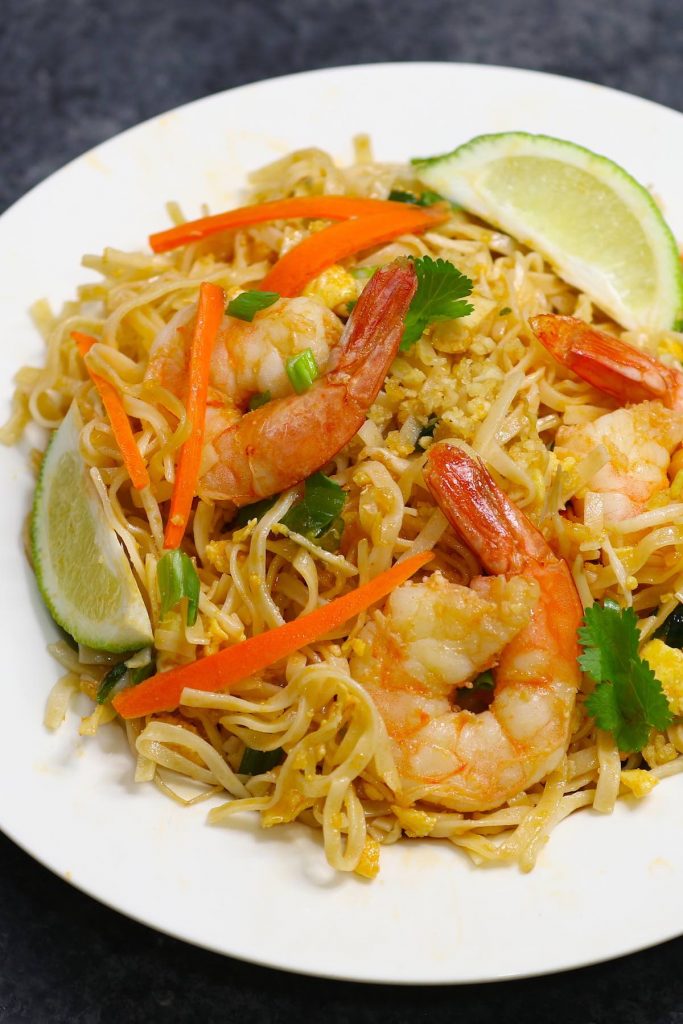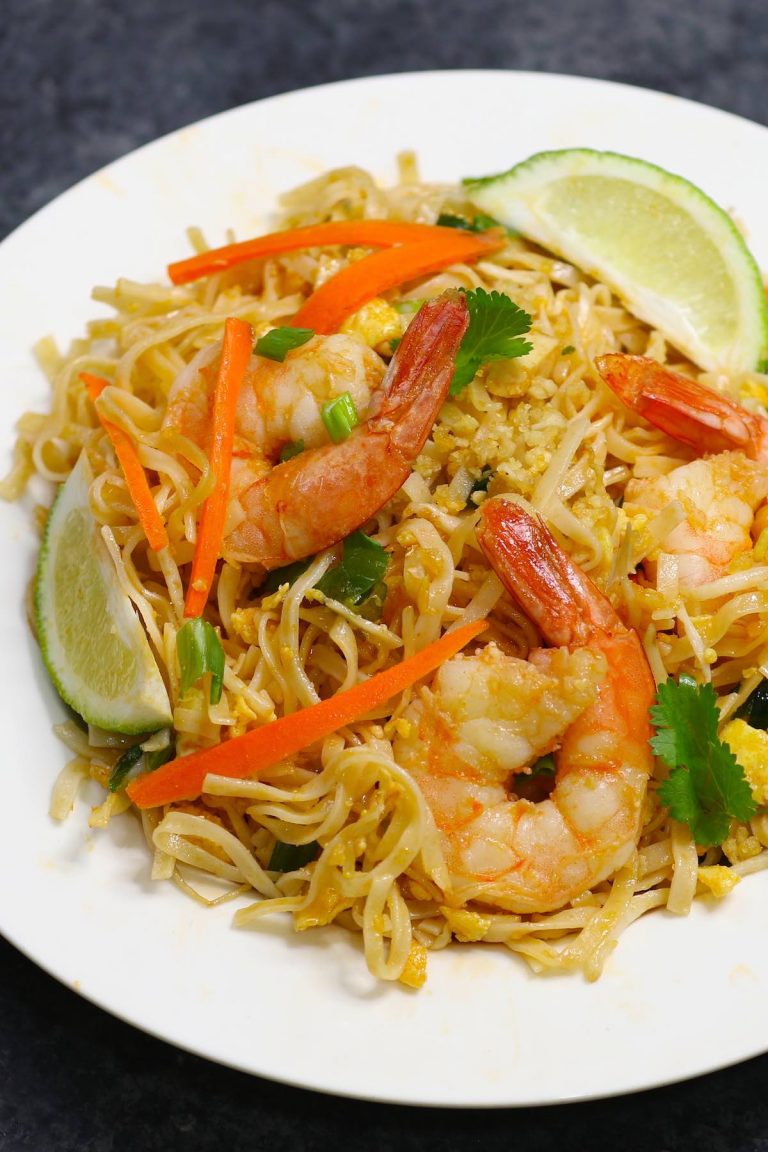 Stir-frying: Use a hot pan with oil to cook the thawed shrimp quickly until they're pink and opaque. Shrimp Pad Thai, Sriracha Shrimp, Shrimp and Grits, Tiger Shrimp with Garlic, and Thai Coconut Shrimp Curry are my favorite sautéed shrimp recipes.
Baking: Make sure to pat dry your shrimp after thawing and place them on a baking sheet lined with parchment paper to prevent sticking. Check out my Sheet Pan Baked Shrimp Fajitas and Shrimp Boil Foil Packet.
Grilling: If you're grilling shrimp, it's a good idea to thaw the shrimp first. Check this delicious Grilled Shrimp Tacos recipe for a perfect weeknight dinner. Make sure to thaw your shrimp ahead of time for this meal.
If Your Frozen Shrimp is Pre-Cooked, Try These Recipes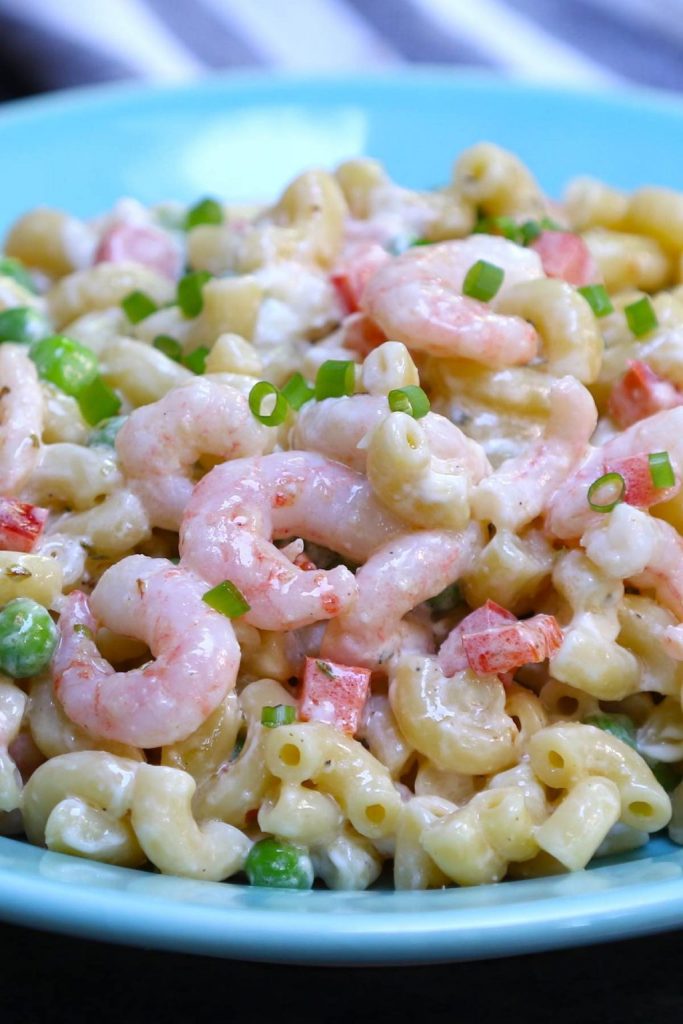 Since these shrimps are already cooked, you can thaw them in the fridge and add them to your tacos, wraps, sandwiches, and rice directly, or quickly sear them in the pan for about 1-2 minutes to warm them up.
Shrimp Macaroni Salad: This versatile shrimp salad can be served on its own as an appetizer or stuffed into a wrap for a quick lunch. Serve chilled for a refreshing summer dish. As the shrimp is pre-cooked, it's an ideal quick and easy weeknight meal!
Shrimp Cocktail: This quick and easy appetizer is always a crowd-pleaser. Serve with a classic cocktail sauce and lemon wedges.
Lemon Garlic Butter Shrimp: Lemon, butter and garlic make a classic sauce that is simply delicious with shrimp. Serve with pasta or roasted potatoes.
Best Frozen Shrimp Fried Rice Recipe
Shrimp Cauliflower Fried Rice is a healthy and light meal that's flavorful and low carb. It will be on your dinner table in under 20 minutes and is one of our favorite frozen shrimp recipes.
Print
Pin
Rate
Ingredients
1

lb

frozen shrimp

thaw it before cooking

1

medium cauliflower

grated

2

tablespoons

vegetable oil

divided

salt and pepper

to taste

3

large eggs

1

cup

diced carrots

3/4

cup

peas

2

tablespoons

minced garlic

1

tablespoon

minced ginger

2

tablespoons

soy sauce

green onion

chopped
Instructions
Thaw the shrimp with running cold water before cooking.

Shred the cauliflower into breadcrumb-size pieces using a box grater or food processor.

Add 1 tablespoon oil to a large skillet or wok over medium-high heat. Then add shrimp.

Season with salt and pepper to taste, frying for about 1 minute per side. Remove from heat and set aside.

Add the remaining oil to the skillet, then add carrots, garlic and ginger, frying for about 1 minute or until fragrant.

Add the cauliflower pieces to the pan and sauté for 5 minutes.

Add the peas, soy sauce, and fry for another minute.

Make some space in the middle of the pan and add in the beaten eggs. Scramble the eggs using a spatula or spoon, and then mix into the cauliflower.

Add the cooked shrimp and toss with green onion. Serve and enjoy!
Nutrition
Calories:
96
kcal
|
Protein:
23
g
|
Fat:
1
g
|
Saturated Fat:
0.1
g
|
Polyunsaturated Fat:
0.2
g
|
Monounsaturated Fat:
0.1
g
|
Trans Fat:
0.01
g
|
Cholesterol:
183
mg
|
Sodium:
135
mg
|
Potassium:
299
mg
|
Calcium:
73
mg
|
Iron:
1
mg
Tried this recipe?
Follow or tag us on Pinterest @izzycooking