This post may contain affiliate links.
Please read my disclosure policy.
Snow Crab vs King Crab – explore the differences between the two popular crabs! Whether you're ordering in a restaurant or cook your own at home, you'll find everything you need with this complete guide.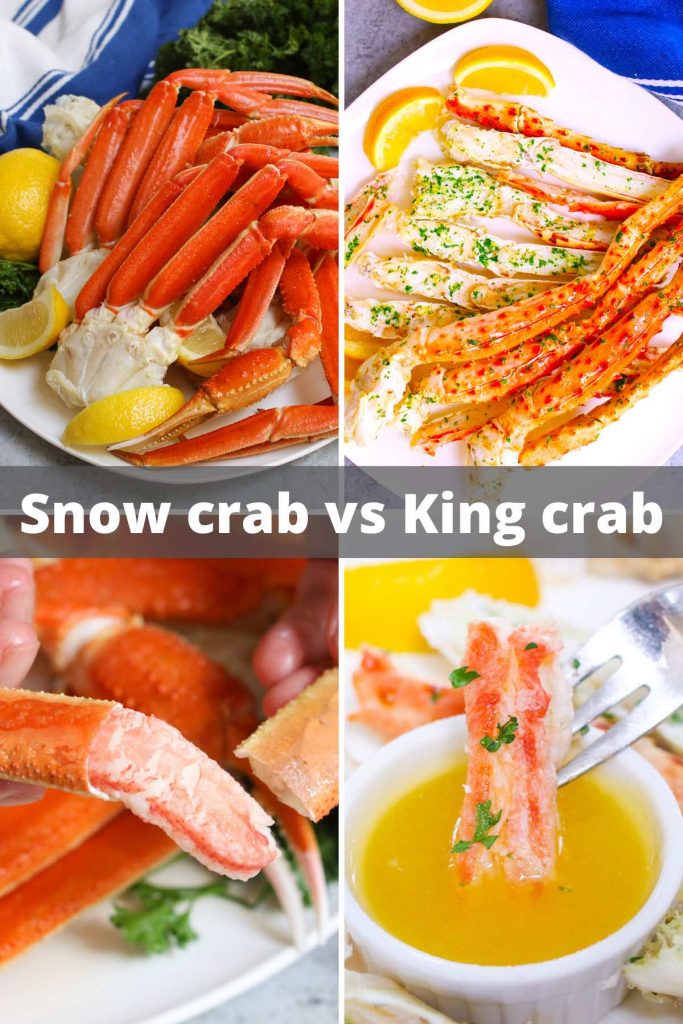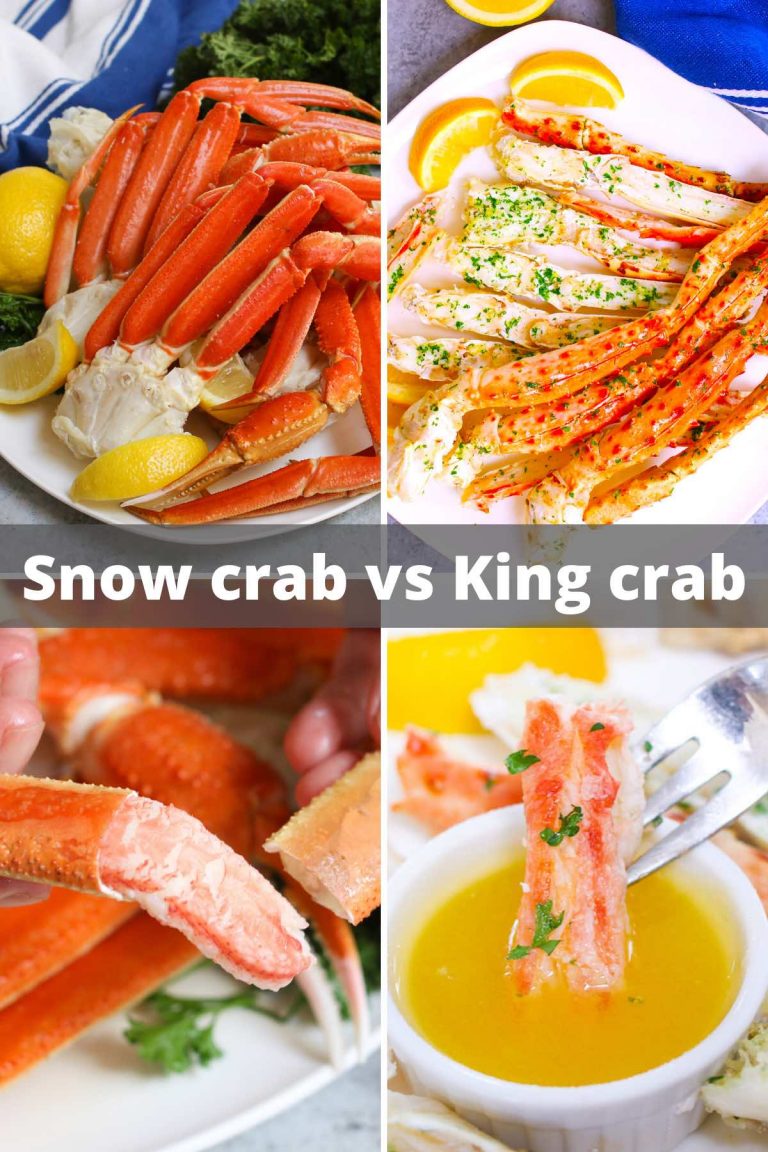 There are many types of crabs including snow crabs, king crabs, Dungeness crabs, and stone crabs. Snow crabs and king crabs are common for culinary use, and you can find their legs available at grocery stores. Most of the legs were cooked and flash frozen for easy transport.
They both have delicate and sweet white meat, which primarily comes from the legs, and can be cooked the same way, but they are also quite different in many aspects.
The differences between snow crab and king crab
There are 6 factors distinguishing snow crabs and king crabs: the size, taste, texture, price, ease of eating and fishing season. The chart below summarizes these differences:
| | | |
| --- | --- | --- |
| | Snow Crab | King Crab |
| Size | Much smaller than king crab | Large |
| Taste | Sweet and subtly briny flavor | Delicate, rich and sweet (lobster-like flavor) |
| Texture | Shred more easily (more fibrous) | Tender and smooth |
| Price | More affordable | Most expensive |
| Ease of eating | Easier to handle | More difficult, and have to use crackers |
| Fishing season | Fall to summer | Late fall to early winters |
Different sizes
King crab is much larger than snow crab. The weight of a king crab could be over 20 pounds while a snow crab weighs 1-3 pounds on average.
Different tastes and texture
Snow crab's meat has a sweet and subtly briny flavor. The texture is firm and shred more easily into pieces (therefore more fibrous) than king crab meat. King crab's meat is more delicate and softer with a rich and sweet flavor.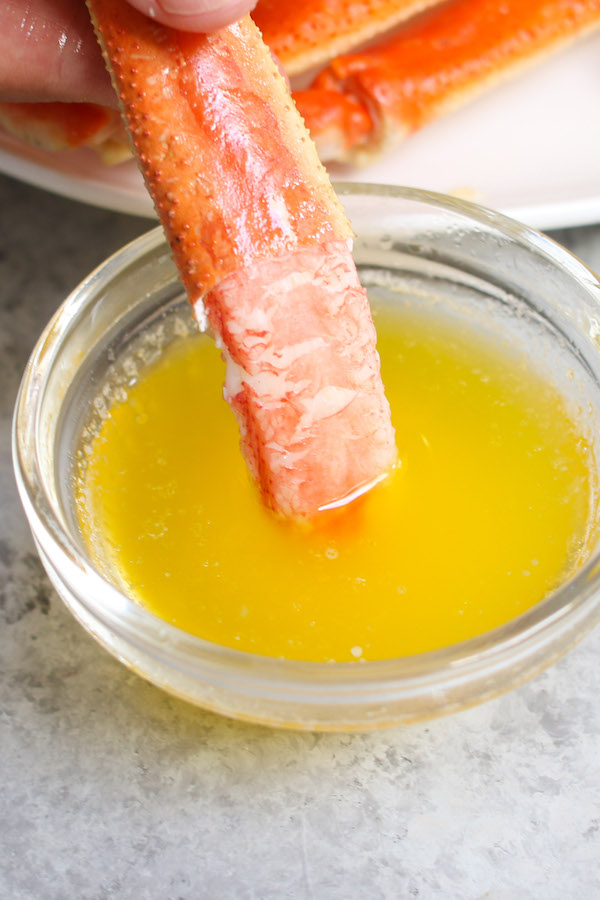 Different prices
Due to its superior lobster-like flavor and limited availability, king crabs are much more expensive than snow crabs. The legs from snow crabs are also thinner and less impressive, making them a more affordable option.
Ease of eating
Snow crab leg shells are softer and most of the time you can crack them open with your hands, while king crab is more labor intensive to eat. You'll need crab crackers to take the meat out from king crab legs.
Fishing season
While frozen snow crab legs and king crab legs are available year-round at the grocery store, the harvesting season for snow crab is from late fall to the summer. Alaskan king crab fishing usually occurs during the fall and winter months. Most king crabs are harvested in the North Pacific and Bering Sea.
Snow crab legs vs king crab legs
Snow crab legs are smaller and cheaper than king crab. They're sold in clusters with some body meat attached to the legs and claw, weighing in at about a half-pound per cluster (5 legs).
King crab legs have the largest, meatiest legs and are the most sought-after! They have a spiny and prickly shell that can be tricky to handle. King crab legs are often sold in 1 pound packages in supermarkets.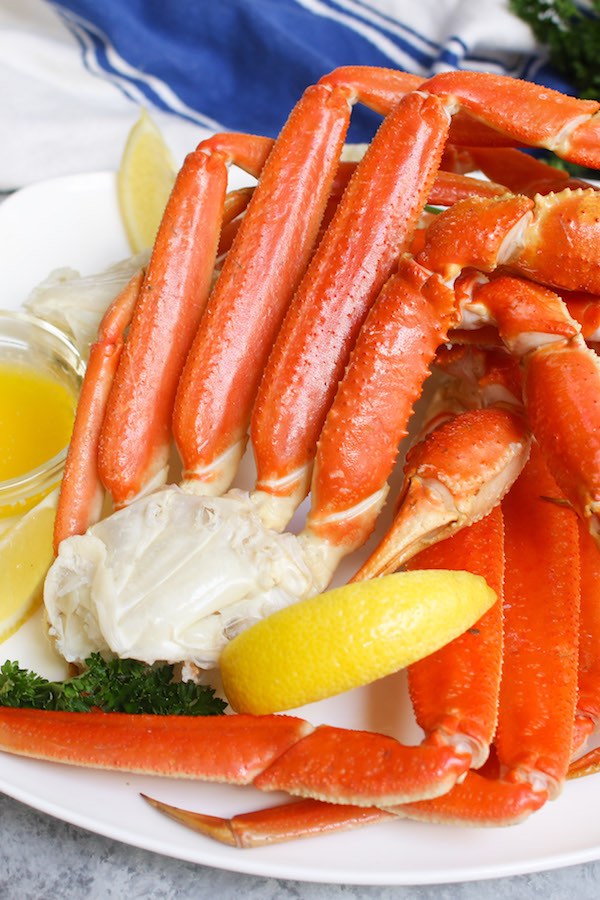 Which crab to buy: snow crab or king crab?
Choosing between snow crab and king crab largely depends on your budget and personal preferences. In terms of flavor, you won't go wrong whichever you pick.
How to cook snow crab legs and king crab legs
As most king crab and snow crab you'll find have been caught, cooked and flash frozen on the finishing boat, all you need to do is to thaw and reheat in order to get them ready to serve. You can reheat by boiling, steaming, baking or even grilling. My favorite method is to bake them in the oven. Here is a recipe that works well for both snow crab and king crab legs.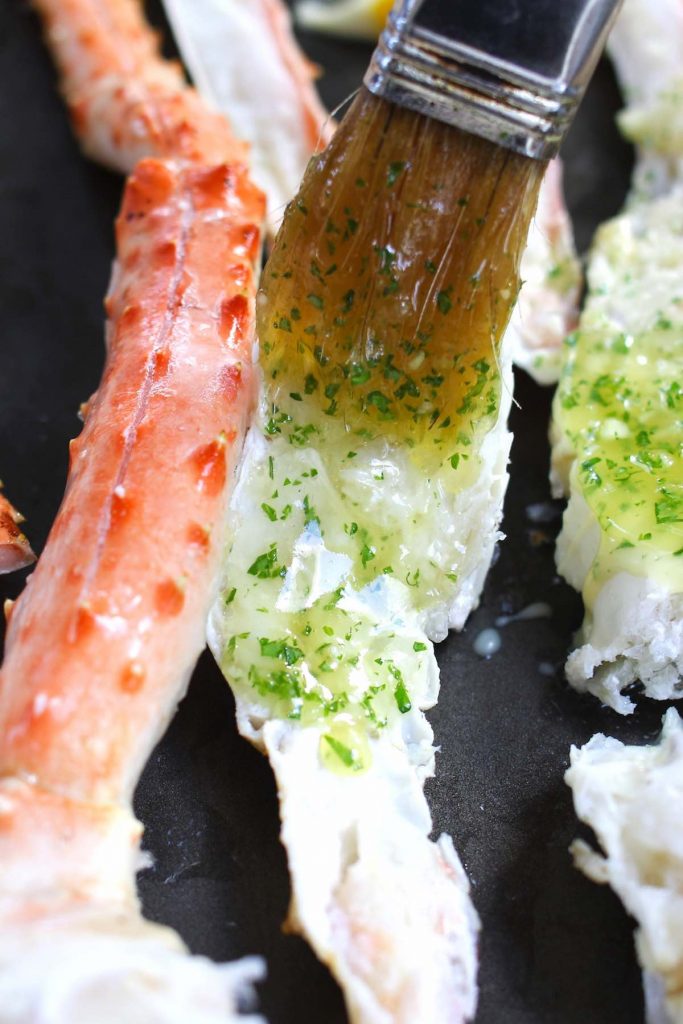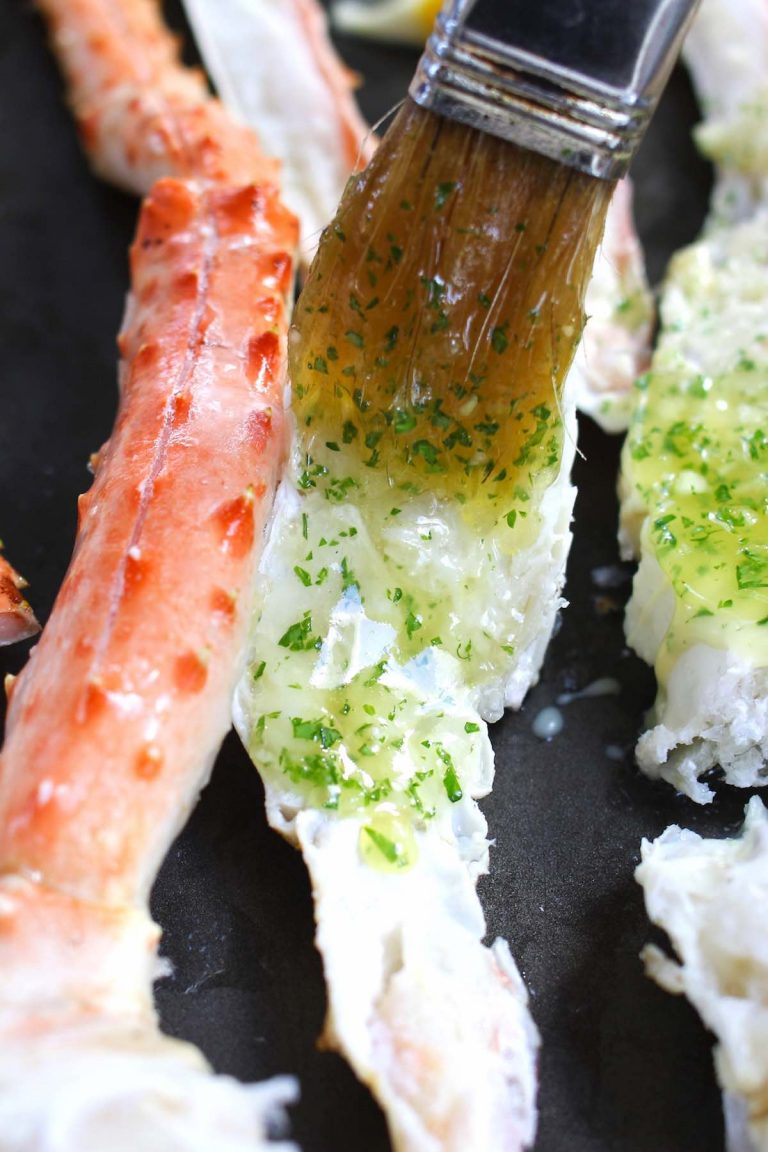 First thaw the crab legs overnight in the fridge. When they're completely thawed, place them on a baking sheet and brush with the mixture of melted butter and chopped parsley. Bake at 375°F (191°C) for 7-8 minutes or until cooked through. I like to serve them with lemon wedges and dip into melted butter.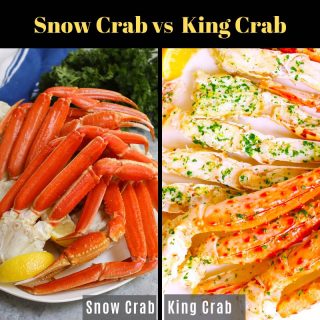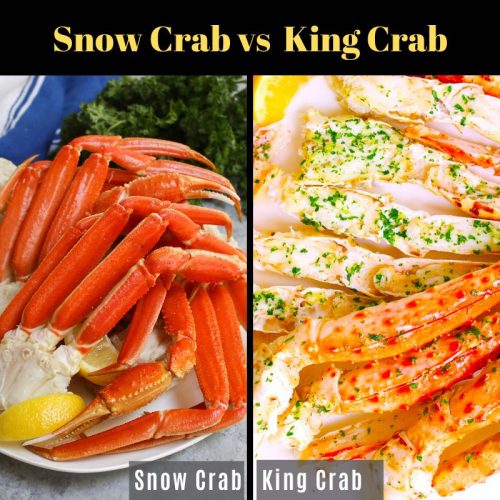 Snow Crab vs King Crab (Crab Legs Recipe )
Learn how to cook snow crab and king crab legs with this easy recipe guide.
Print
Pin
Rate
Ingredients
3-4

pounds

crab legs

snow crab or king crab

1/4

cup

unsalted butter

melted

1

lemon

1/2

tablespoon

freshly chopped parsley

plus more for garnishing
Instructions
Thaw crab legs in the fridge the night before. (If you forget to thaw them before cooking, you can place them under cold running water for about 15 minutes.)

Preheat oven to 375°F (191°C).

In a small bowl, mix together melted butter and chopped parsley.

Place the crab legs on a baking sheet and brush with the butter and parsley mixture.

Bake for 7-8 minutes or until cooked through.

Remove from oven and sprinkle more fresh parsley on top.

Serve with lemon wedges and melted butter.
Notes
Make sure you don't overcook the crab legs, otherwise, they can get rubbery and chewy.
Tried this recipe?
Follow or tag us on Pinterest @izzycooking